Winter NAMM 2016
Shabat Custom Guitars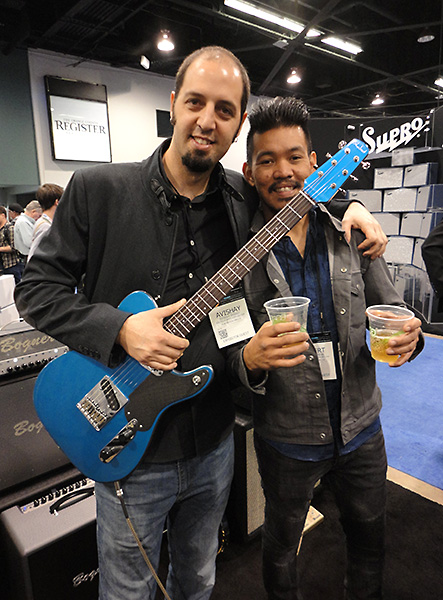 I have bumped into Avi Shabat at NAMM for a number of years now, and every year he has upped his skills and shown me some wonderful instruments. This year he really entered the big leauges with a blue Tele style guitar that looks like the best Tele ever. It certainly sounded like one of the best Teles ever. The neck has a very comfortable profile that I think everyone but the most avid shredder would enjoy. Here's Avi with his co-builder Robert Canlas.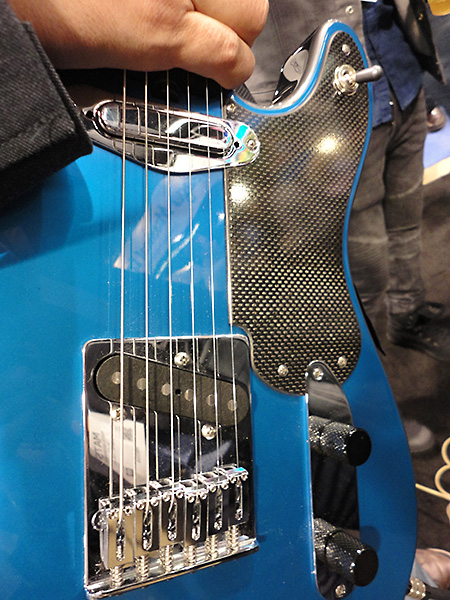 I love the blue color together with the graphite pick guard. Good thing I didn't carry cash, as I possibly would have bought it on the spot.
Slaperoo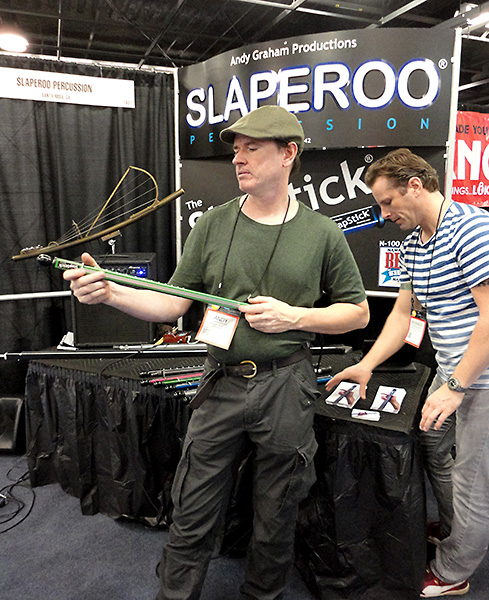 Andy Graham, designer of the Slaperoo Slapstick is so funky when he plays his Noodle Stick. The groove is so heavy, my knees hurt even if I was standing still.
SoloDallas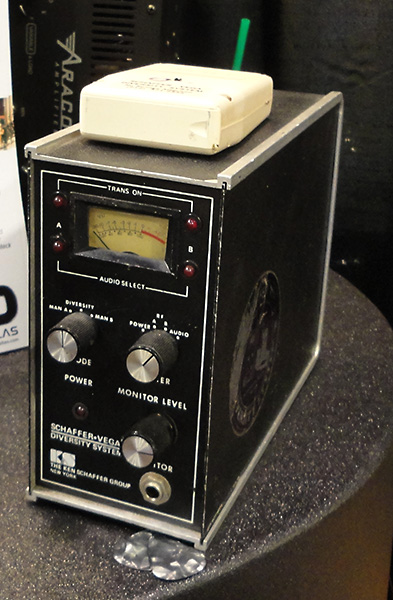 Many years ago, guitarist Fil Olivieri started obsessing about Angus Young's guitar tone on AC/DC's Back In Black album. He got a Gibson SG and a late '70s Marshall but he still couldn't get quite "that" sound. Fil read an interview where Angus Young said he used a Schaffer-Vega wireless unit. So Angus did not just use the SG straight into the Marshall. The Schaffer-Vega had some controls that gave more opportunity to overdrive the amp. The picture above is such a system.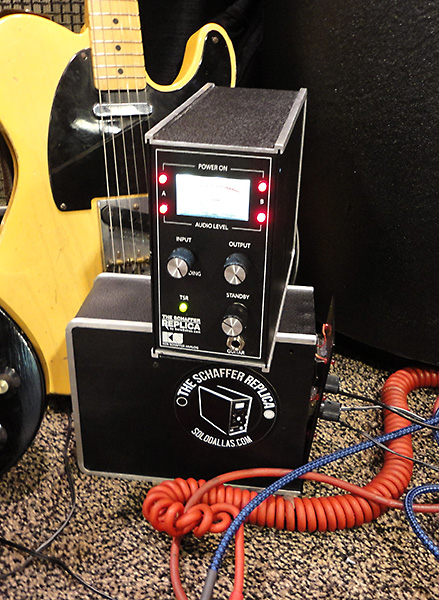 Fil wasn't interested in the wireless part of the system. Only the the part that affected the sound. He contacted Schaffer to learn more. To make a long story short, he then started SoloDallas and released The Schaffer Replica you see above.
Soul Tool Guitars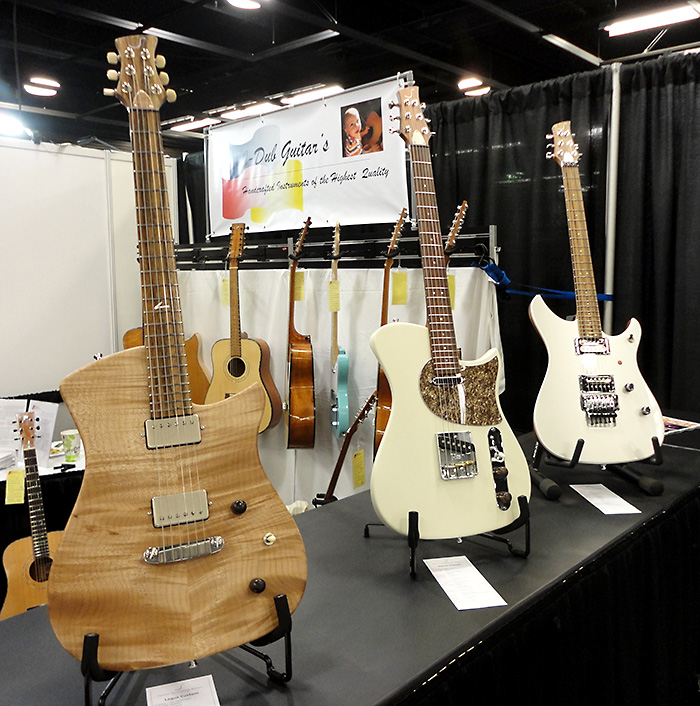 Soul Tool Guitars from Switzerland has always impressed me with their quality and sound.
| | | |
| --- | --- | --- |
| This red color is nothing less than yummy! Love it! | | |
Sound Toys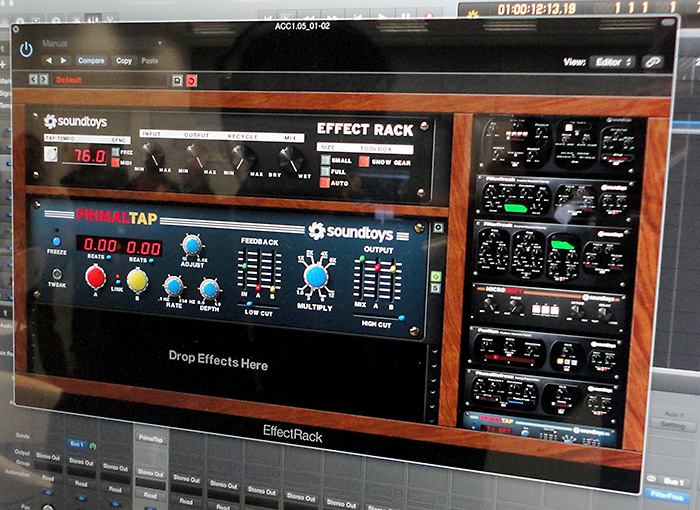 As a recording person and composer, I'm spoilt for choices when it comes to DAW based virtual instruments and effects. It's been a long time since I was really impressed by an effects demo, but here I was. Sound Toys have some seriously good sounding effects. I was especially impressed by the Decapitator, which is a analog preamp saturator and it can take your tracks from sterile to warm to creatively decapitated.
Stone Deaf Effects & Amplification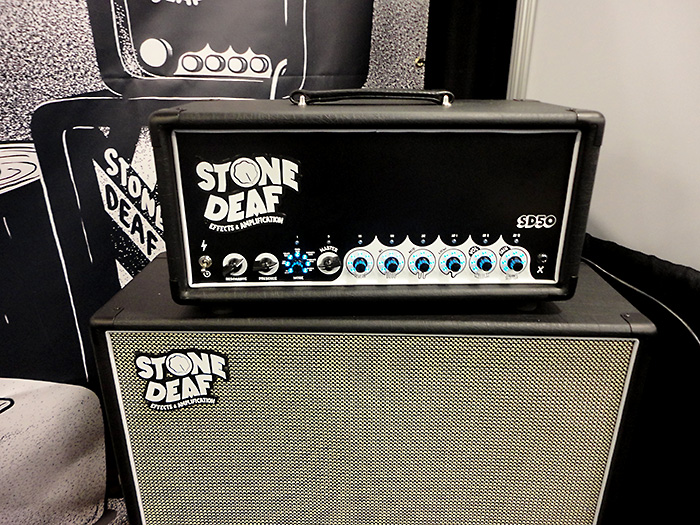 A somewhat unusual amp design from a company I had never heard of before. Didn't catch a demo so I don't know what it sounds like.
Straight Ahead Samples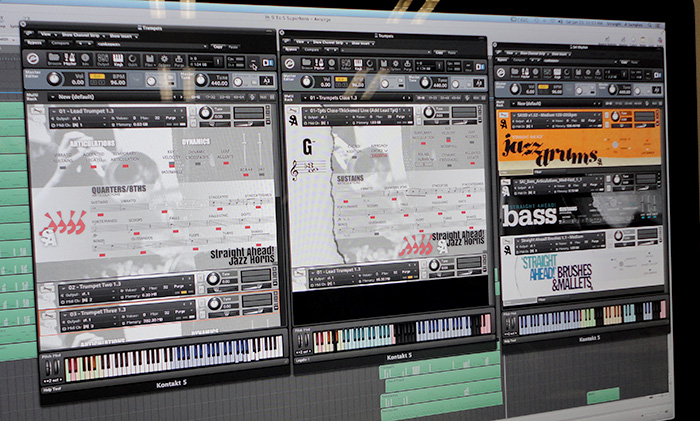 In case you're into composing or arranging jazz tunes, there has been a shortage of good brass instruments. Also, if you're new to arranging jazz, there's the added obstacle of maybe not knowing how to arrange for jazz horns. The virtual instrument Jazz Horns will solve that for you. It's has a number of very authentic sounding trumpets, tombones and saxophones you can play with a lot of articulations to choose from. Then there's the added bonus of the instrument playing with you. Yes, you read it right! You play a chord in the left hand (or have the sequencer play it for you) and then play a melody. Jazz Horns will play correctly voiced harmonized parts to go with your melody. I didn't think it could work until I heard the demo. Impressive work!
Strymon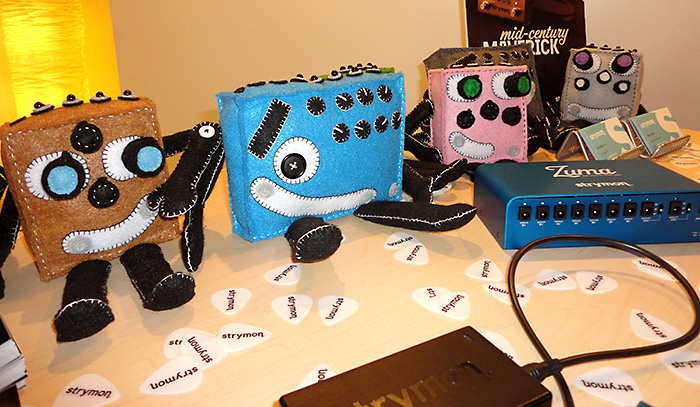 As a guitarist I had my hopes up when Strymon said they would release three new products at NAMM. Learning that these were two power supplies and a system 500 module made me really disappointed. But these soft toys looking like pedals got many positive comments.
Supro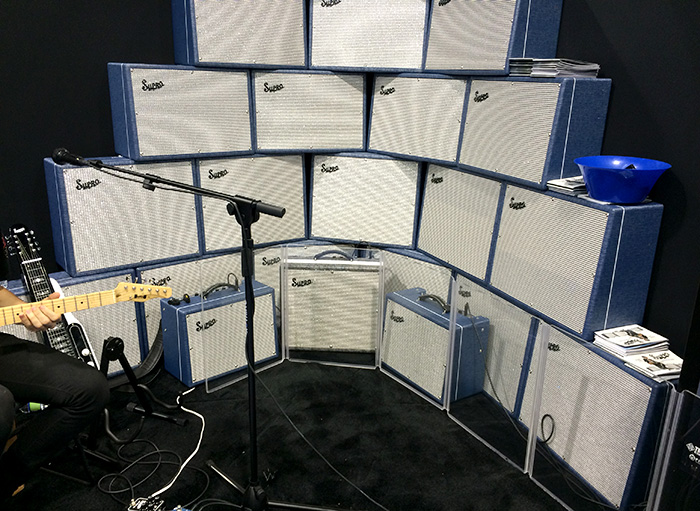 Wall of Supro! The demo guy extracted some nice vintage sounds from these good looking amps. I really hope these will succeed commercially and that we will see great things coming in blue.
Synergy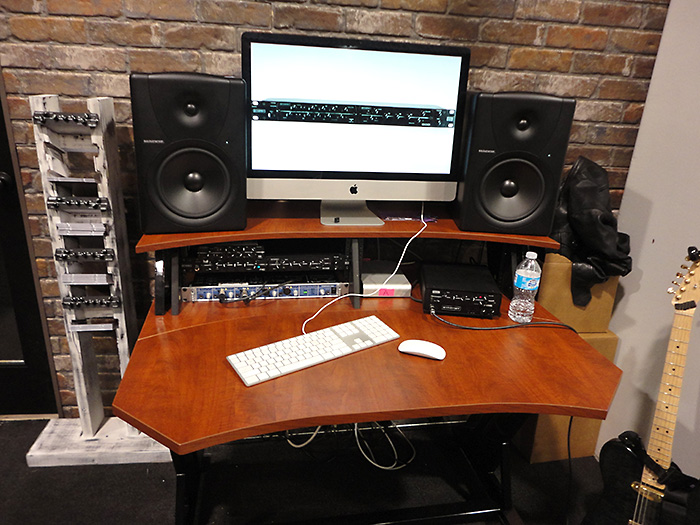 I had read a little here and a little there about the new Synergy products about to hit NAMM. But I had no idea about the scope of the whole concept. Ray Espinoza of Boutique Amps Distribution kindly took his time with me and put a merciful end to my ignorance. Being much more of a studio player than a live player, I was drawn to this studio set-up. I looked at it and as a didn't see any speaker simulator products either in hardware or software, my curiousity was seriously piqued.



The Synergy concept is based on exchangable preamps you put in an enclosure that fits your present needs. The preamps are designed by well known and respected amp designers and all have two channels. Here's one by Soldano, another designed to sound like a Marshall JCM800 and a gloriously sounding Friedman Hairy Brown Eye.
All preamps are the real deal with glowing tubes.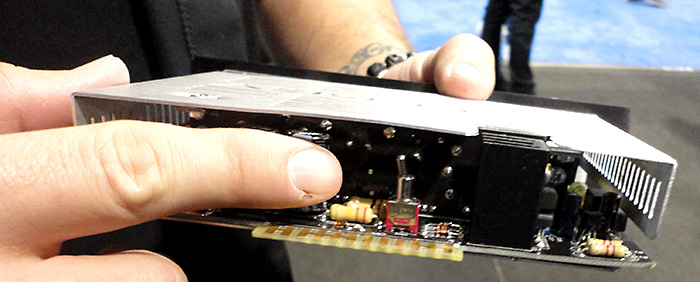 On the back of the preamp you can selecthow it will react with the input tube and power supply in the encloure you use. Very cool feature.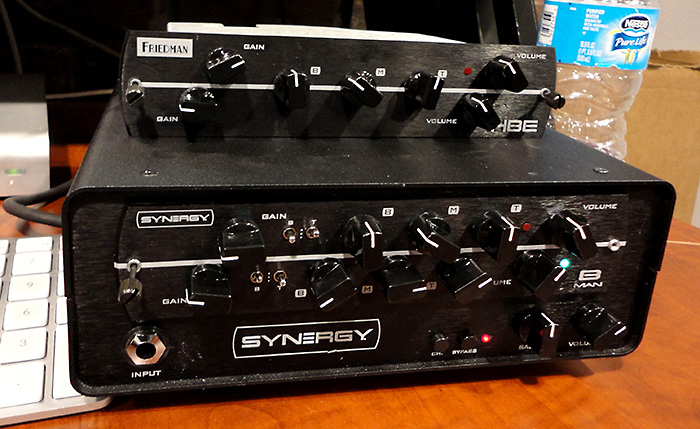 This enclosure is the SYN 001 and takes one preamp module at a time. On the back of the module you have connections to please everyone. You can use it as a channel expander using it to give your amp two extra channels in addition to those already present in your amp. But what I liked the most was a great sounding speaker simulator circuit. Ray had the HBE growling and screaming through the studio monitors in a very authentic way. He hooked up a B-Man module and had some funky spank in no time. In case you want to have two preamps mounted at the same time you can get the rackmountable SYN 002 and then you also get MIDI control.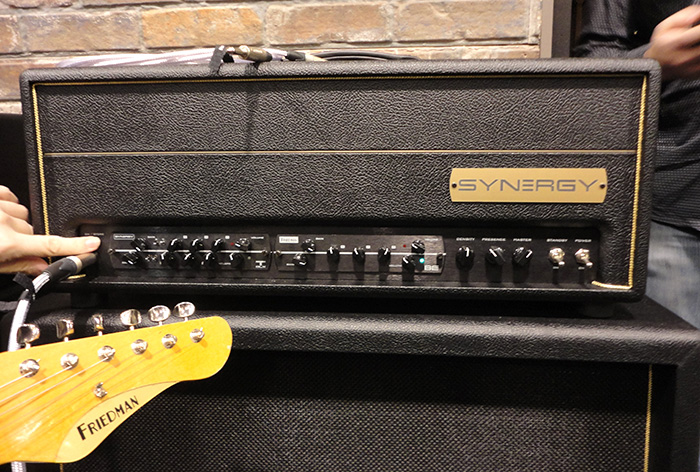 If you are a live player you can get the SYN 50 which takes two modules of your choice and has a 50 watt EL-34 power amp. This is a new and very exiting concept where you take traditional technology we all love and use it in a modern way. Top marks to Synergy for this!
T-Rex Engineering
New from T-Rex in Denmark was the Replicator analog tape delay. It looks sturdy and it sure looks sexy good.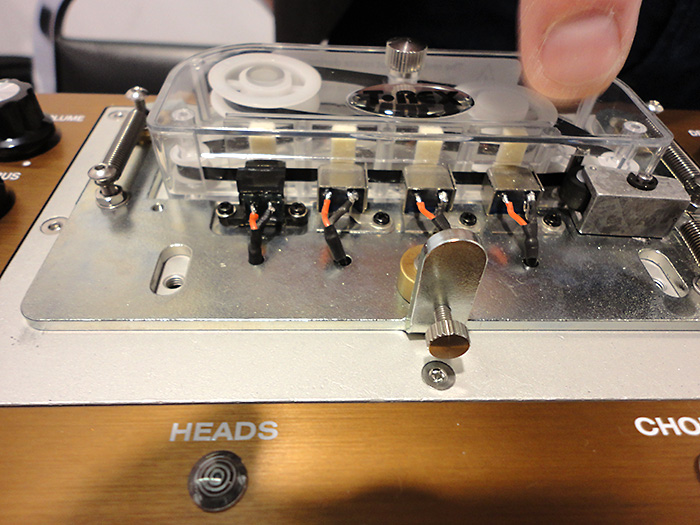 Yes, there are multiple heads and exchangable tape cartridges.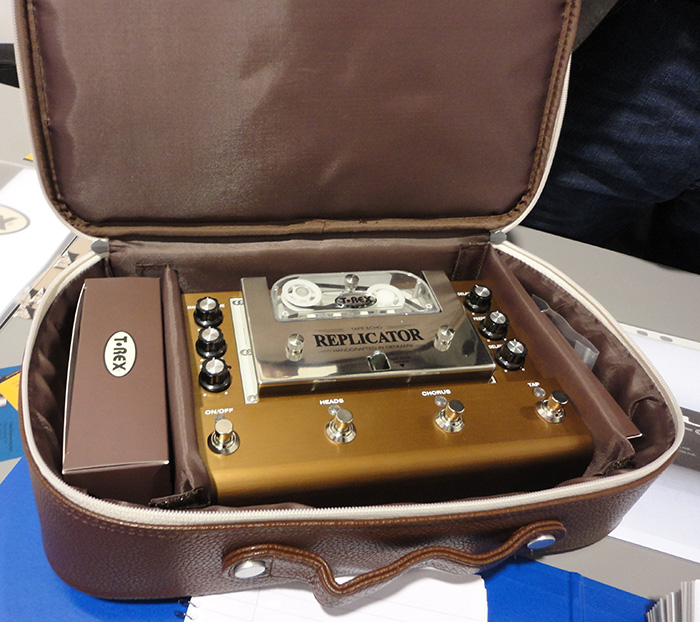 It comes in a nice carry bag.

You can connect an expression pedal to control speed in real time.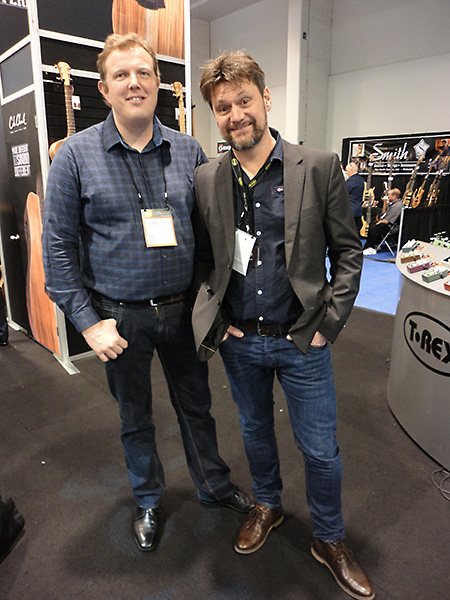 Sebastian and Lars, the two cool Danes behind T-Rex and the Replicator.

Tiptonic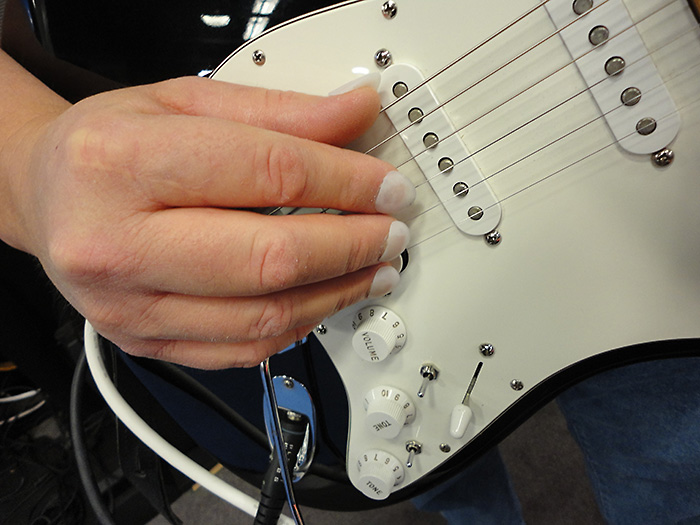 I like to play bass but I don't like long nails when I do. Which means my nails are too short when I want to play some classical music or do some fingerpicking. Tiptonic has come up with a way to measure you nails and then use a 3D printer to print extra tough removable nails you put on top of your own when you want to use them. For those of us who are afraid to go the acrylic route with possible allergies and all, this could possibly be the solution.
Tip Top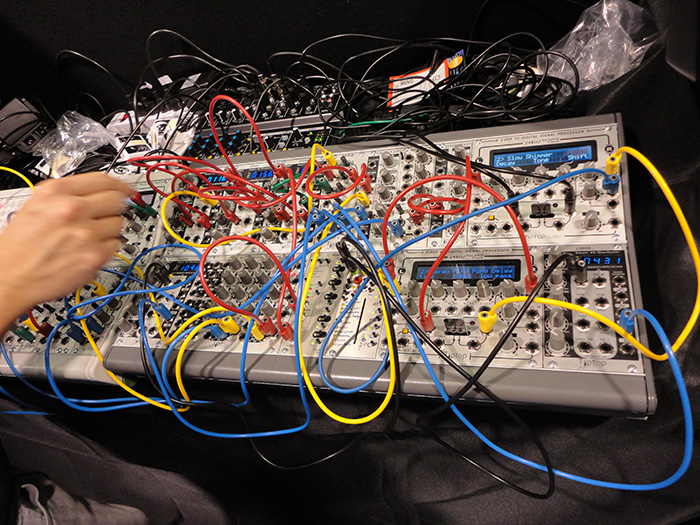 I started my synth programming carreer on something similar to this, but I'm so glad I don't have to use all these patch chords any more.
Tom Anderson Guitarworks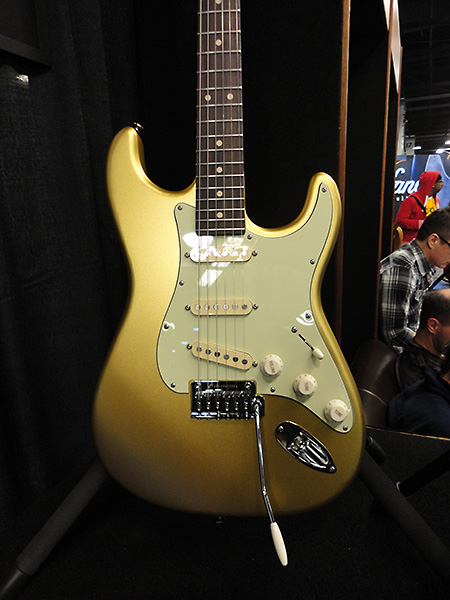 I have never played a Tom Anderson that was less than a stellar build. Here's Tom's version of the tried and true with some improvements.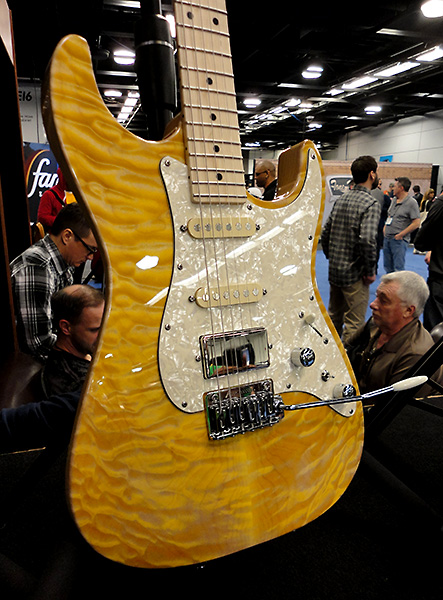 And here's the kind of guitar Tom Anderson initially got famous for. A superstrat.
Tree Audio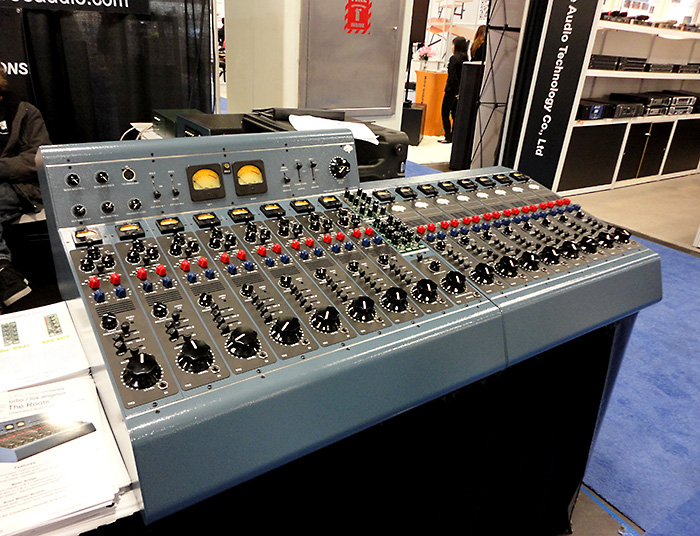 There's something almost romantic about these old style recording consoles.
Trussart Guitars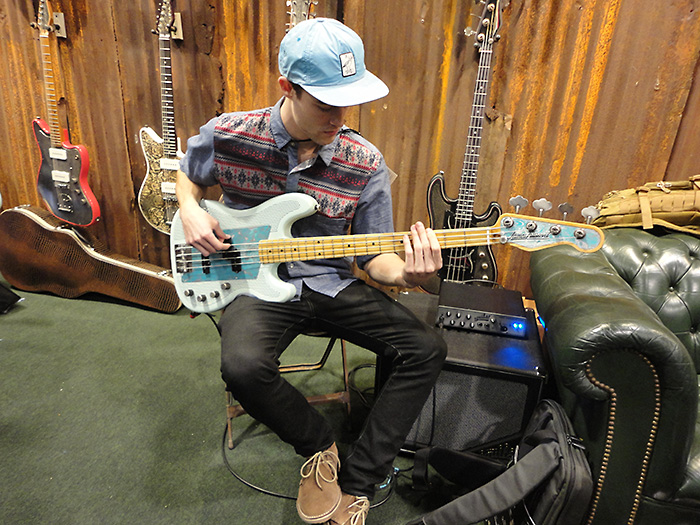 This is a very cool bass from James Trussart.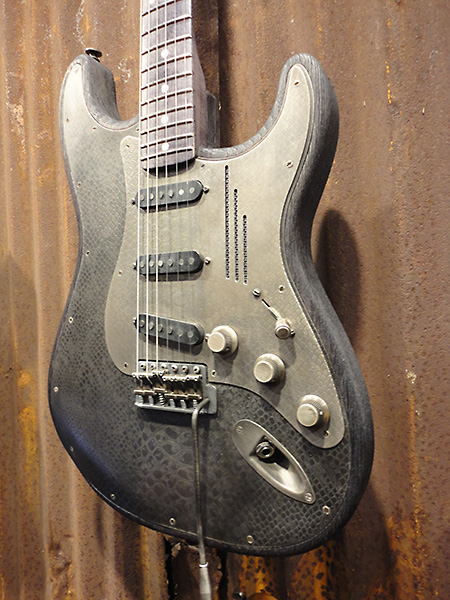 For some reason I always end up taking a picture of this guitar. To me, this is equal art, equal guitar.
Two Notes Engineering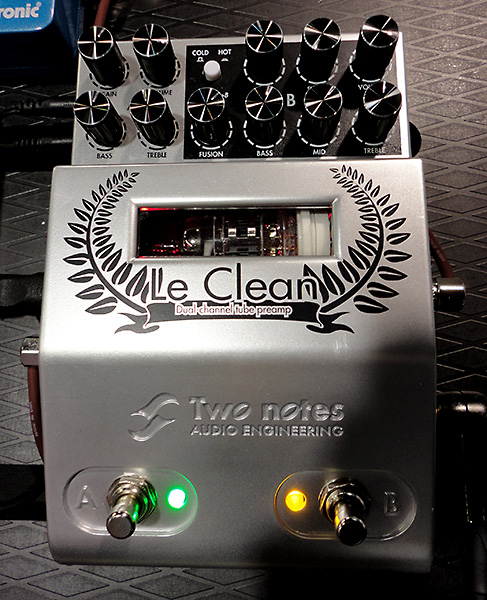 To accompany their wildly successful Torpedo C.A.B. power amp and cabinet simulator pedal, Two Notes have released no less than four analog tube preamp pedals. Each pedal has two channels and you can use both at the same time (Fusion) either in paralell or in series. The pedal sends MIDI so it can tell the Torpedo C.A.B. what preset IR to use for each sound. The four preamp pedals also talk to each other, so if you have selected a clean sound on channel A on the above Le Clean and want to use a OD sound using the ...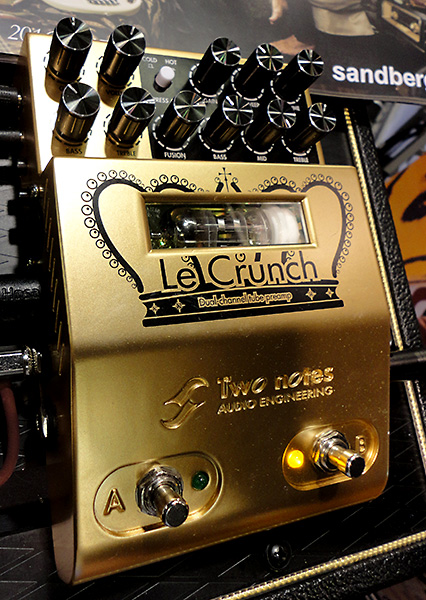 ... Le Crunch channel B, all you have to do is step on the B switch and it automatically turns off the Le Clean channel. More tricks to be had. Read the manual!
Vox Guitars
| | | |
| --- | --- | --- |
| Like most self respecting car manufacturers at car shows, Vox showed this prototype concept guitar called the Gulietta GA-4PS. Read the specs below. | | |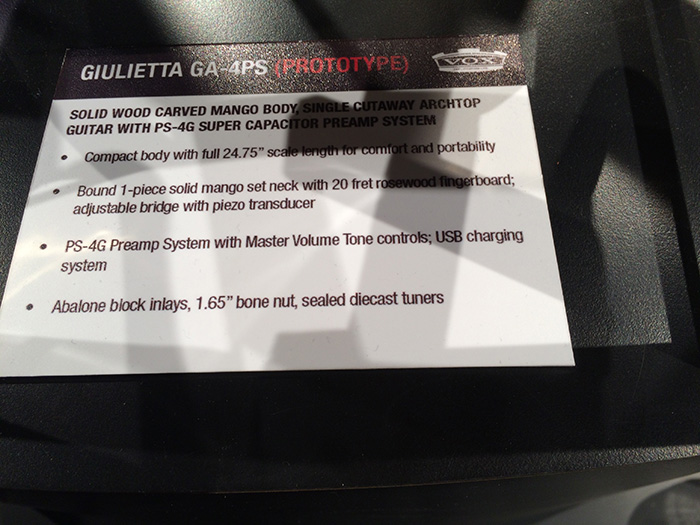 | | | |
| --- | --- | --- |
| | | Vox presented this futuristic looking guitar. I have my personal opinion about this guitar when it comes to feel, function, ergonomics and the sounds. I hope Vox calls me to find out what I think, because the guitar market need some serious players looking into the future of the guitar. and Vox could be one of them. |
Walrus Audio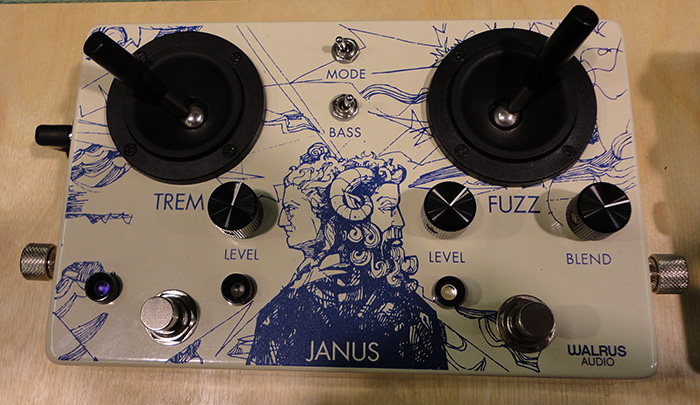 I love joysticks on pedals. You can almost never get the same sound twice. It may be frustrating at times, but it forces you to be creative! Fuzz and trem. Can it get any better?
Wild Custom Guitars
| | | |
| --- | --- | --- |
| You have to pay some serious coin to get a guitar from Wild Custom Guitars. Like this steampunk inspired axe. | | |
Willcox Guitars
| | | |
| --- | --- | --- |
| | | Willcox showed new guitars and new basses, all using the Light Wave Optical Pickup System. It has a separate pickup for each string and is, according to the marketing text, ideal for modellers and synths. |
Zex-Coil
Andy Fuchs told me to check out Zex-Coil. They make pickups that are humfree but still sound like single coils. This is accomplished by putting six coils (one per string) side by side. From what I heard on the noisy show floor, they did sound like single coils.
The end
I came away from NAMM 2016 full of enthusiasm. NAMM as an organization once again came through and made the show possible. I felt more energy in the MI business than I have felt for many years. There were some very innovative and good sounding instruments that I would be more than happy to own and use. The ones I can afford, I will get and enjoy. I have met many people I am forutnate to call friends. I met many people I had not met before but I hope I will meet again, and in time have the honor of calling them friends.
So until next time, I wish you all peace, love and creative freedom!
Cheers,
Mats N