Winter NAMM 2016
Nik Huber Guitars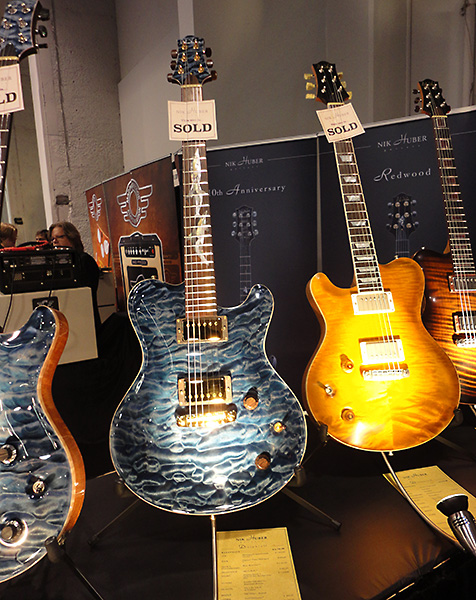 I should not be surprised. By now I should know the abilities of luthier Nik Huber. But this Dolphin guitar spoke to me in a very loud voice.

Of course, this inlay, added to its allure.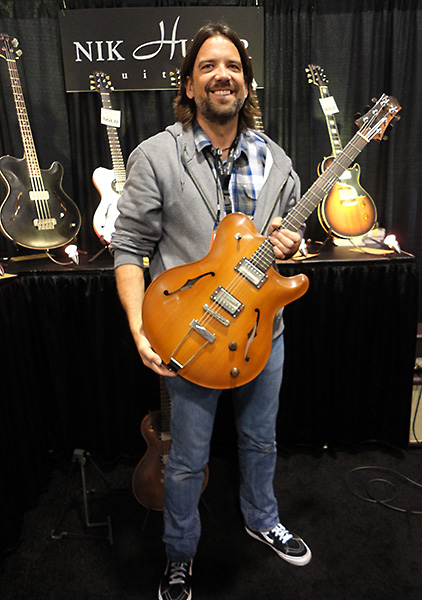 As I like good semi hollow guitars, I also like the guitar Nik is holding. If I remember correctly, the first guitar that Nik build of this model was bought by Prince's guitar player.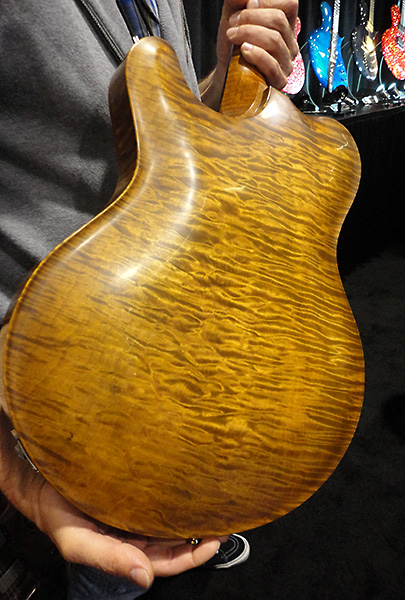 Nice maple back!
Nordegg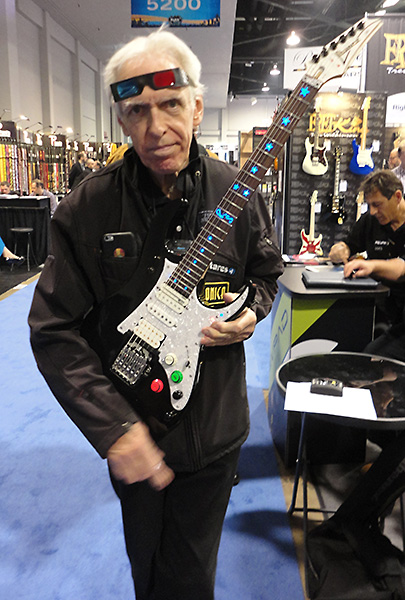 Thomas Nordegg is not an exhibitor but if any one person ever deserved his own headline, it's Thomas Nordegg. Guiter tech for numerous great players, most notably Frank Zappa, Mr Nordegg is a guitar visionary extraordinaire.
The guitar he's holding is a guitar he put together for Richie Sambora. Riche S saw a guitar Thomas made for Steve Vai and simply had to have a similar one. So basically it's an Ibanez JEM but then Thomas went kind of crazy with it, in a good and creative way. There's Don Ramsey's Linnear Tremolo. If you haven't seen or heard that in action, you should definitely check it out. There's also a Sustainiac.
| | | |
| --- | --- | --- |
| The back shows the inclusion of the Antares auto tune and guitar modeling system for guitar as well as a battery pack for everything . Down right you see the Line 6 digital wireless transmitter. | | |
| | | |
| --- | --- | --- |
| | | Richie Sambora's signature stars and his initials as illuminated fretmarkers. |
Oberheim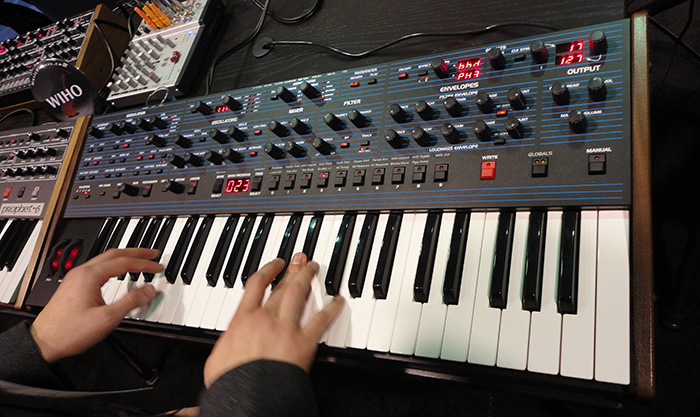 The first synthesizer I ever trie,d that made me think that someday before I die I have to get myself a synth, was an Oberheim. Therfore it was a very pleasant surprise to see a brand new Oberheim synth. It's a collaboration between Tom Oberheim and Dave Smith of Prohet fame. I'm happy to report that the OB-6 sounds wonderful.
People
While NAMM wouldn't exist without the instrument, the instruments would not exist without the people. And I seriously doubt if I would visit NAMM if it weren't for all the interesting people I meet. Here are some of them.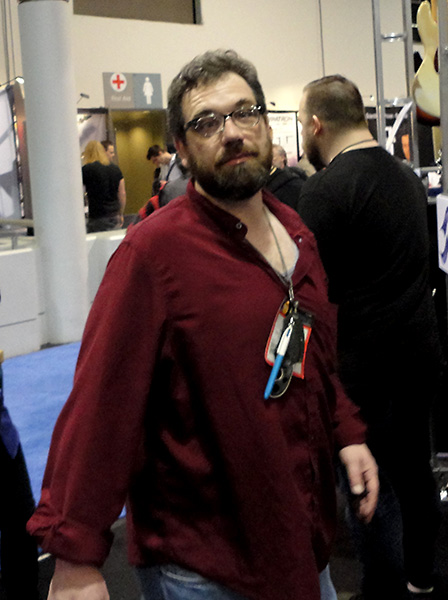 Mike Van Tine at Diffusion Audio. He's the man if you want to talk bass. He's also one of the few people who can appear totally relaxed in the chaos of a fully packed booth.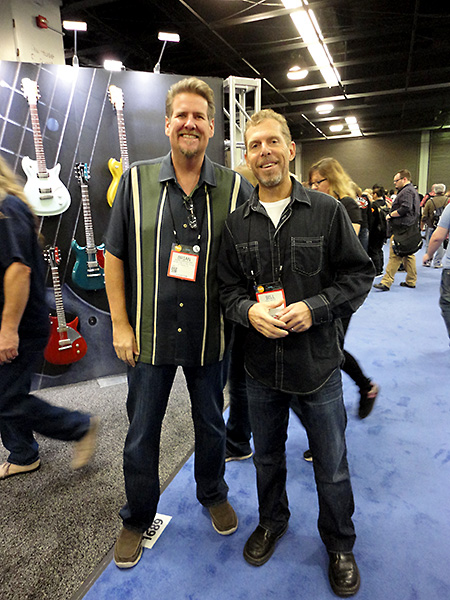 Found in the isle of Hall E, Brian Swerdfeger of Tone Lounge Guitars and Bill Asher of Asher Guitars (see his headline). These gentlemen invited me to spend a few fun minutes with them. Hanging with guys like this is always a learning experience.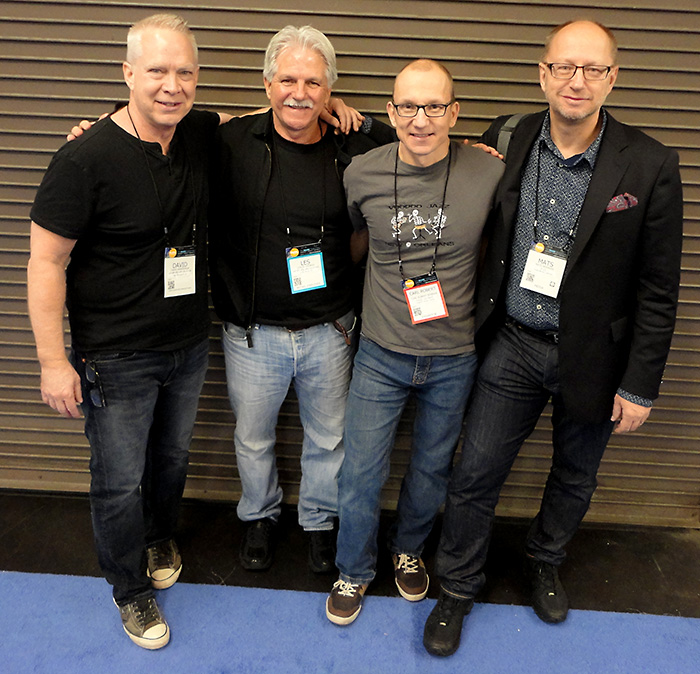 While there are a lot of awful and stupid things happening on the Internet, there are also friendships made. Without the Internet I would never had met these good people who are also fine players from whom I have learned a lot. From the left, Dave Hendersen, Les Thomas, Robert Renman (Master Guitar Academy) and myself.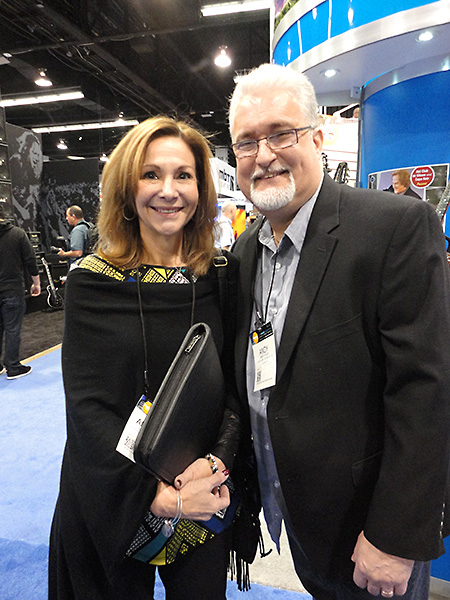 Amp guru Andy Fuchs with his lovely wife Annette. Not having a booth this year meant having more time to be social. For those not in the know, Andy makes some of the best Dumble style amps out there.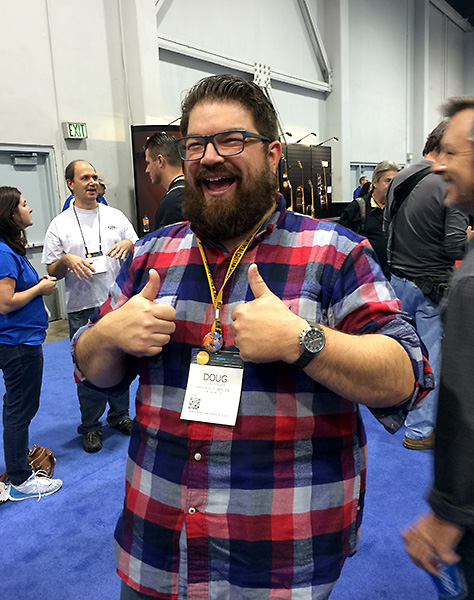 Doug Kauer of Kauer Guitars were too busy building guitars for having his own booth this year. One of the reasons he looks happy is that he's about to release an all California built series of guitars at a retail price of no more than USD 1.299. I'm sworn to secrecy, but I think the guitar I saw looked exciting.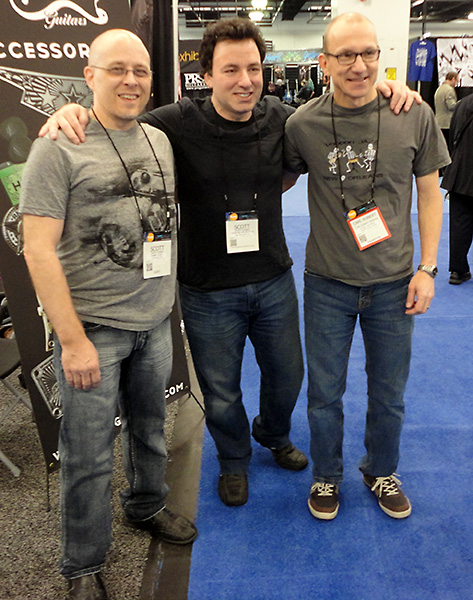 Another photo op I jumped at. Scott Jones, Scott Lerner and, once again Robert Renman.
Prisma Guitars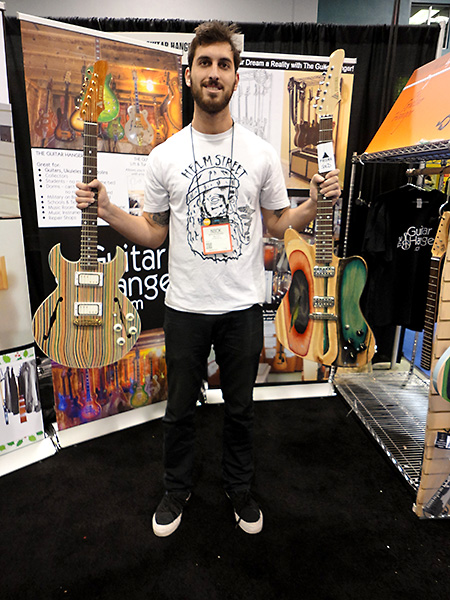 Nick Purfard didn't have a booth of his own but his guitars were pointed out to me by Chris Samu of Guitar Hanger who had them in his booth.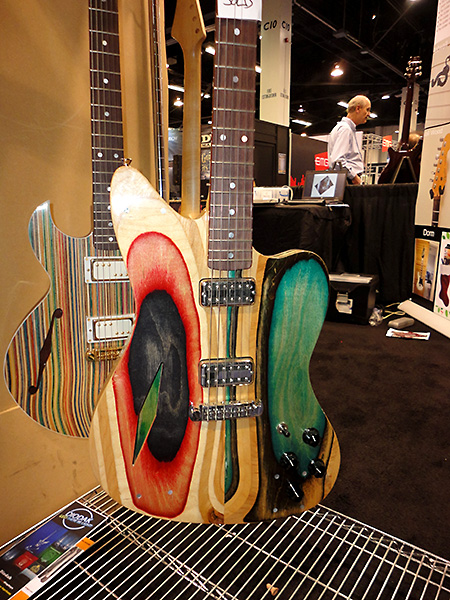 Nick makes all his guitars out of skateboards.
PRS Guitars
| | | |
| --- | --- | --- |
| Paul Reed Smith Guitars always have a few new guitars on display. Here's an interesting combination of pickups and switches. | | |
| | | |
| --- | --- | --- |
| | | To celebrate the 20th Anniversary of the Private Stock concept, PRS will release a very limited number of Private Stock Guitar of the Month. First out is a hollow body bass. |
| | | |
| --- | --- | --- |
| If you like the PRS birds inlays to the extent that you want more, here's a flock of birds for you. | | |
| | | |
| --- | --- | --- |
| | | My favorite PRS ever, the McCarty is back! Now with the new 58/15 pickups and bound fingerboard. |
| | | |
| --- | --- | --- |
| Also reintroduced in 2016 is the CE24. Here in a very tasty blue finish. | | |
| | | |
| --- | --- | --- |
| | | A very interesting guitar! A hollowbody baritone PRS with string through body bridge. |
Rickenbacker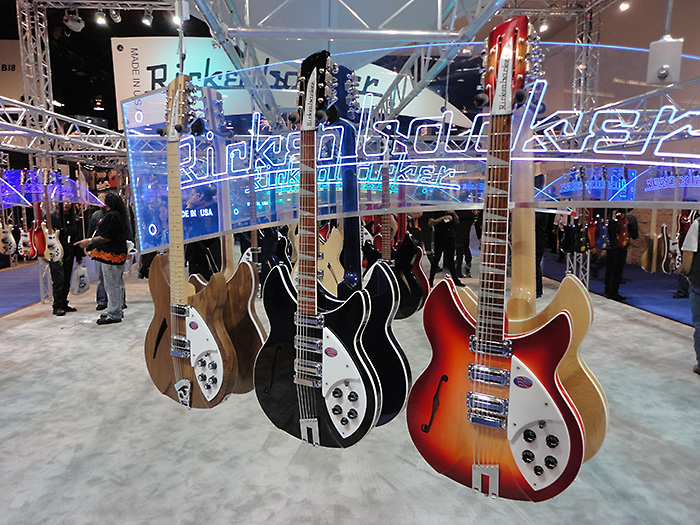 The Rickenbacker booth is done very quickly. Same as last year? Yes. OK, moving on!
Rockett Audio Designs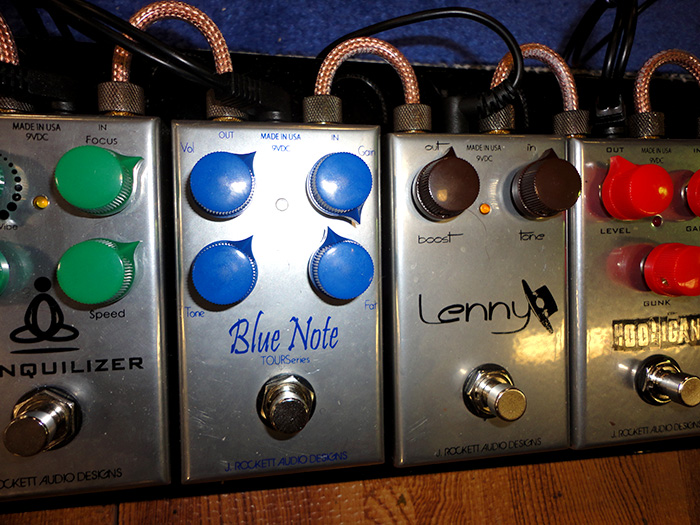 If I had to choose a Best Pedal in Show at NAMM 2016 it must be the Blue Note Overdrive. It does something magical to the tone of the guitar. Chris Van Tassel who demoed Rockett pedals made his Tele sing with the Blue Note into a Wolly Coats Extra Spanky. Simply tone to die for. Second place for pedals? Probably a tie between the Lenny and the ...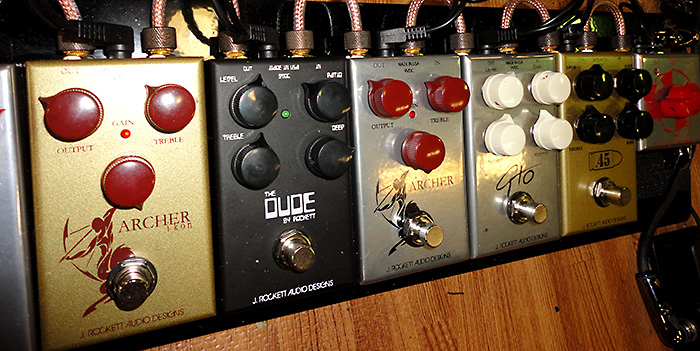 ... Caliber 45 almost all the way to the right in the picture. Angus Young in a box sort of thing was the word from Rockett but I think it did so much more. If you want to go the D-style route you should audition The Dude. Fat and dynamic.
Roland Blues Cube Hot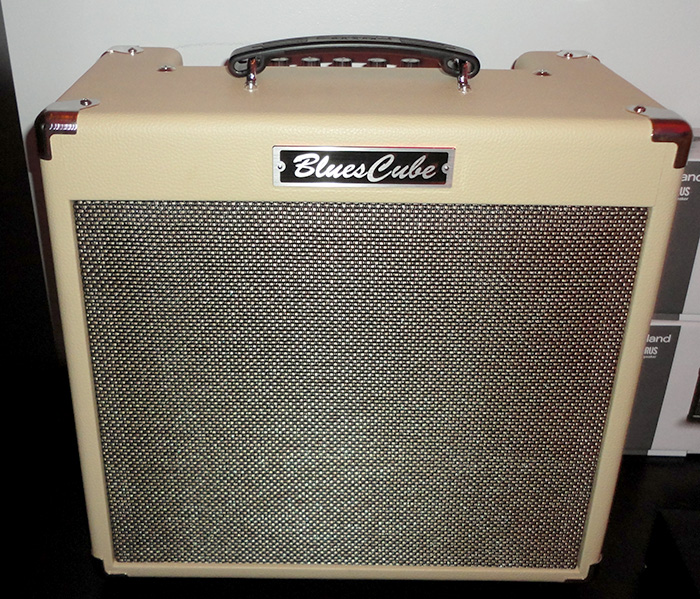 A slightly smaller 30 watt Blues Cube Hot. Without the option of putting in a Tone Capsule but at a lower price point.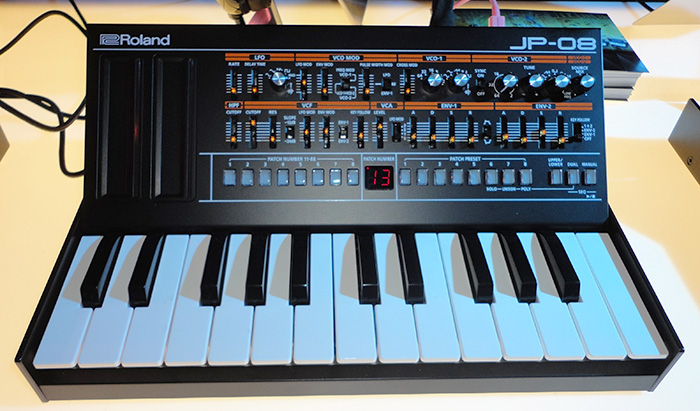 Roland showed the limited edition Boutique Series synthesizers based on their legendary synths. Rumor has it that all planned production was sold out before the show. Here's the JP-08 based on the Jupiter -8.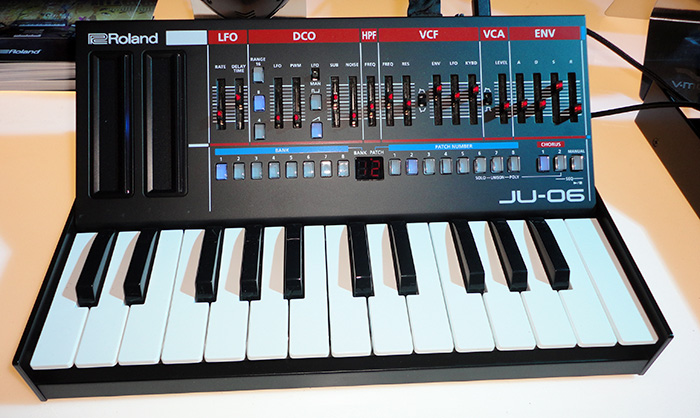 JU-06 not surprisingly based on the Juno-6.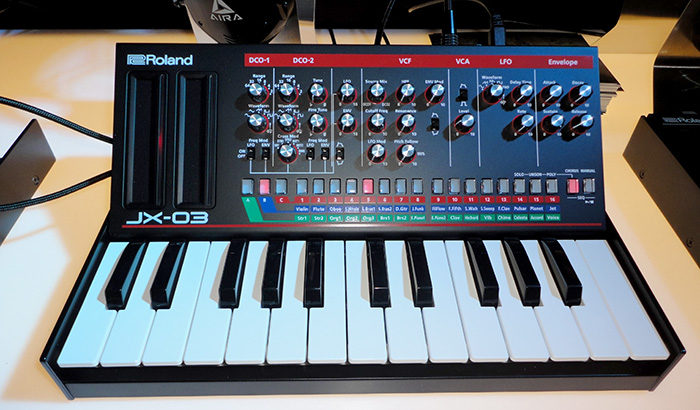 The JX-03 is based on the JX-3P.
Ruokangas Custom Guitars
Juha Ruokangas is one of the world's most interesting luthiers today. His long standing work with thermo timber, locally sourced wood and a keen eye for cool design is very refreshing. The fact that his open minded and generous with his time and ideas make our meetings far more fun than just business.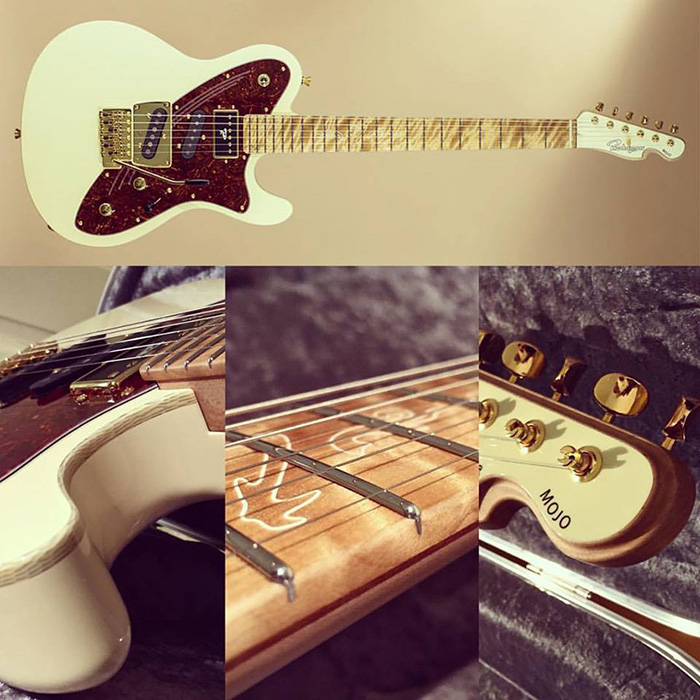 I usually only use my own pictures for my reports but I couldn't get a photo that did this Mojo King justice, so I took the liberty of using this one from his Facebook page. The Mojo King embodies all that's great with Ruokangas Custom Guitars. Excellent wood choices, thermo timber, great and innovative electronic and hardware and a superb "retro-futuristic" design. It sounds absolutely fantastic and is very comfortable to play!
Sandberg Guitars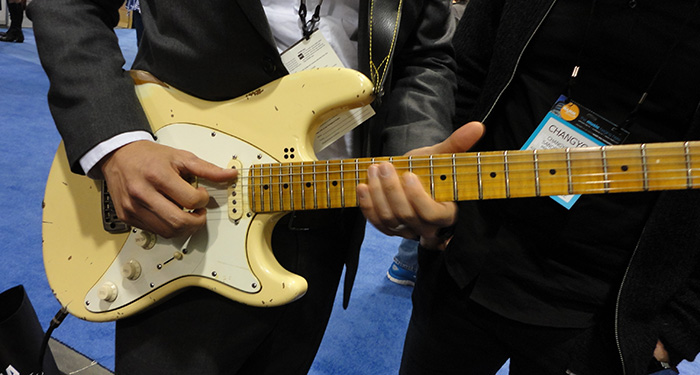 Sandberg Guitars from Germany are perhaps more welll known for their excellent basses but they also make top notch guitars. Here is their new version of the Strat concept. I like everything about it.
Sansamp

Seeing the popularity of the Sansamp Fly Rig, it's not surprising that they are releasing a Bass Fly Rig. This is a really nice sounding and well thought-out piece of kit.
Schecter Guitars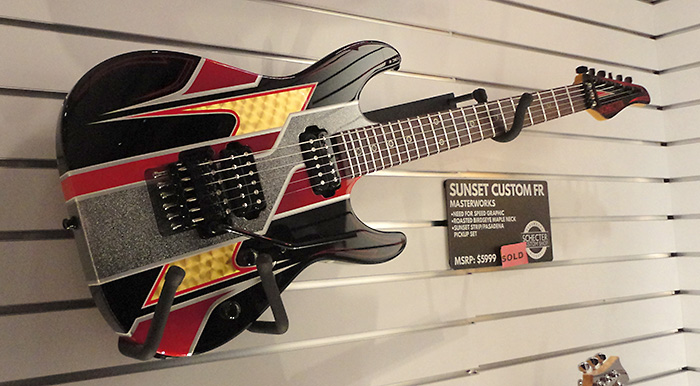 Thís Sunset Custom was already sold when I saw it. I like these car inspired finishes.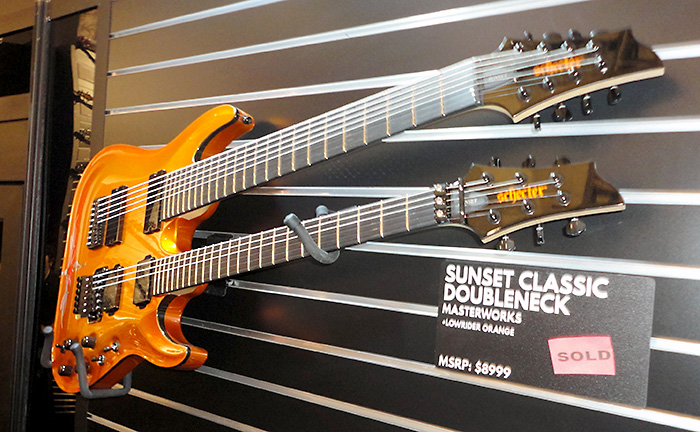 This is the first double neck 6-string and 8-string I can remember seeing.
Sever Custom Guitars
A Rolling Stones inspired guitar was what first draw me into the booth of Sever Custom Guitars. But it was not what made me stay.
| | | |
| --- | --- | --- |
| Davoriv Sever from Slovenia in Europe has some very nice and innovative ideas regarding his designs. Like this way of accessing the truss rod adjustment. | | |
And this headstock with the unusual zero fret, string guide and groves in the headstock for the strings.

I will follow Sever Custom Guitars with interest.