Winter NAMM 2016
GTC Sound Innovations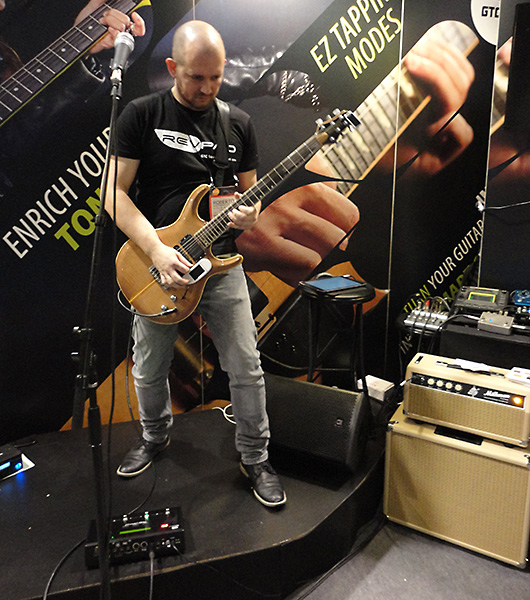 The REVPAD from GTC Sound Innovation easly took my Best of Show price at last year's NAMM. They were back and now with an even better product. They were quoting a delivery time in April and the way the demo players went at it, I can't wait to get my hands on a REVPAD. The two demo players, Amir (above) and Royi (below) really understood the possibilities presented to them by he REVPAD and they took guitar playing in directions I've never heard before. Top players!
| | | |
| --- | --- | --- |
| They were also good at explaining things. New for this year with the REVPAD is that not only does the remote on your guitar wirelessly control a vast array of effects in the REVPAD floor unit, but it also sends MIDI so you can control all your other stuff as well. In this demo the REVPAD also controlled the pedalboard you see in the background which also included a Kaoss Pad for some exceedingly cool soundscapes. | | |
The REVPAD controller mounts easily on any guitar using two small non-slip velcro pads that will not mar your guitar finish. The remote can easily be moved from one guitar to another.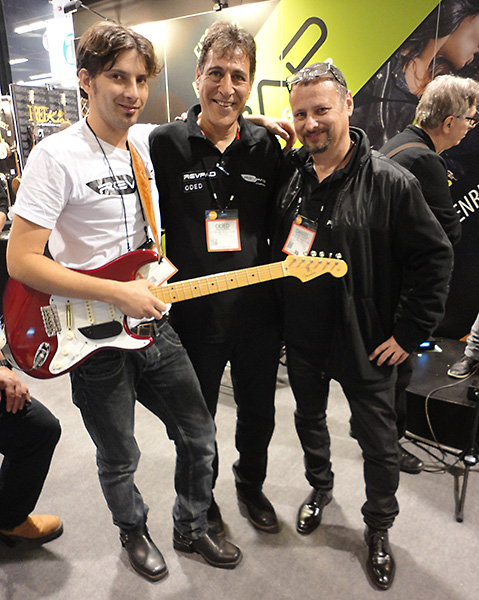 Part of the gang behind the REVPAD. Royi the demo guy, Oded the sales guy and Daniel the inventor guy.
Guild
No longer owned by Fender, Guild was making a decent showing at NAMM, looking as much as they have always done, which after all I think is a good thing.

The instruments felt good to play and there were always people in the booth trying them out. A good sign for the future of the brand.
Hughes & Kettner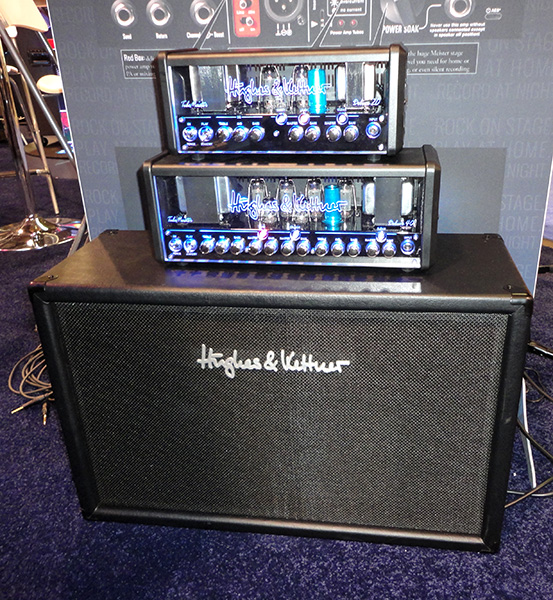 The new Tube Meister amps from Hughes & Kettner manage to look both cute and sexy at the same time. Apart from sounding really good. The demo player used both the guitar cab as well as a powered FRFR monitor to demo the new Red Box cabinet simulator. As you have a built in power soak in the amps you can record silently while still getting the sound of the total amp including the power tubes working up a sweat. It sounded great with the guitar cab and equally good though the monitor. Severe GAS warning here as they are priced right!
IK Multimedia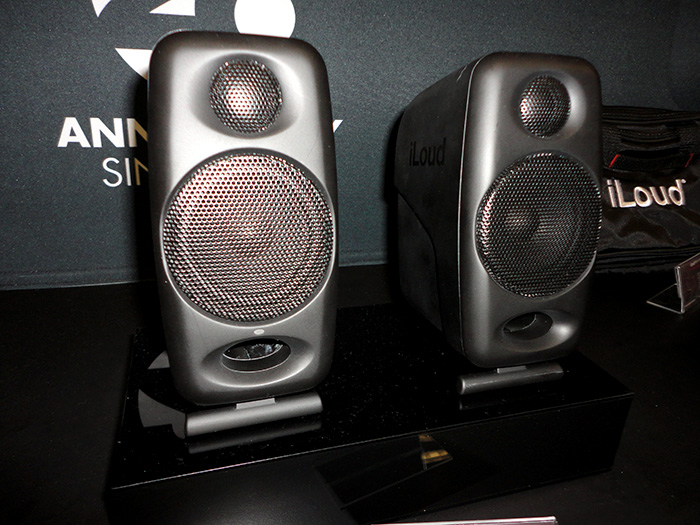 IK Multimedia introduced a new set of very small monitor speakers called the iLoud Micro Monitor and they are according to the manufacturer "the smallest studio reference monitors in the world". I will not argue that fact as it's impossible to judge sound quality in an acoustic environment like a big trade show like NAMM. I willl, however, say that I was impressed by what I heard and would be very interested in checking them out in a more controlled environment as they certainly are small and would be very practical in a number of situations.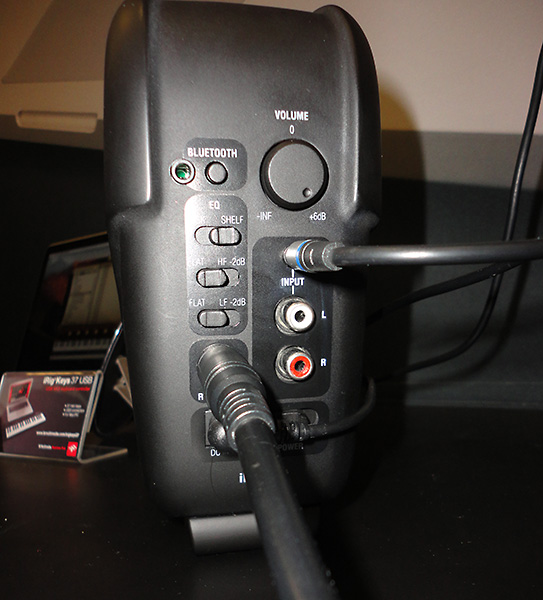 As you can see, there's a number of ways to hook these up, including Blutooth.
James Tyler Guitars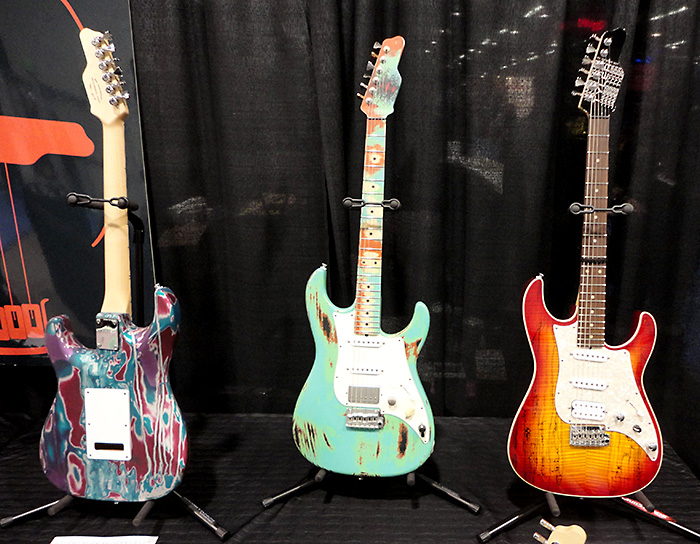 If there's one luther I like the most, it's James Tyler. His quirky sense of humor puts his guitars squarly at the top of the list for me. This picture above shows everything that's good about his work. The Psycedelic Vomit on the left shows that he's not afariad to stand out from the all too common "me-too" crowd. The all new Barn Find finish in the middle is evidence that there's a lot more fun to come and the Studio Elite to the right is clearly proof that the man knows good wood and how to put it together. And the neck is so comfortable it's almost unbelievable. Playing a Tyler neck spoils you for life and it's suddenly very hard to find another guitar you enjoy as much.
| | | |
| --- | --- | --- |
| | | A closer look at the Barn Find guitar. |
| | | |
| --- | --- | --- |
| This is the 25th Anniversary Psychedelic Vomit. | | |
| | | |
| --- | --- | --- |
| | | The 25th Anniversary Psychedelic Vomit has a special headstock logo in the same colors as the body |
The really big news from JTG this NAMM was the introduction of a line of guitars made in Japan. Using the same CNC programs to make the bodies, luthiers trined at JTG in Los Angeles will asseble the guitars in Japan with the same hardware as the US made models and ship direct to your dealer. James mentioned a price point at about 40% lower.

This guitar to the right from Japan, was one of the new guitars at the show.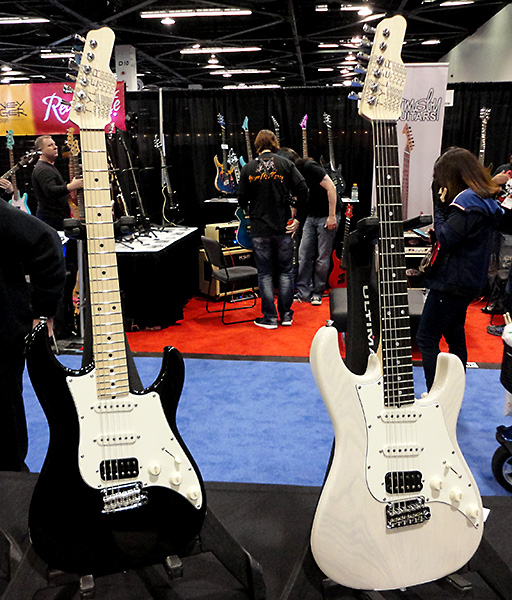 Two more Japanese Tylers.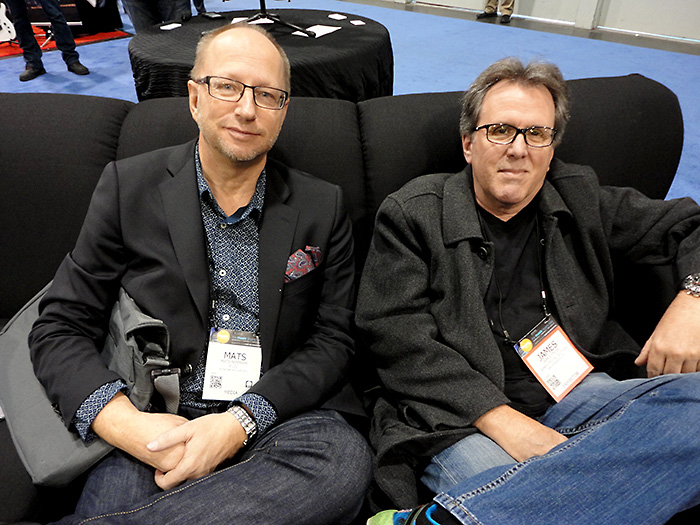 James Tyler provided his visitors with some well earned rest in comfortable sofas. I always come away from my meetings with James, wanting another Tyler.
Jens Ritter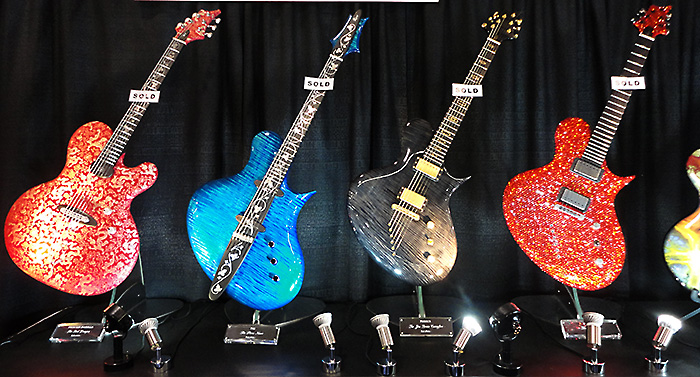 Jens Ritter usually outdoes himself when presenting guitars at a show. This year is Mr Ritter's 20th anniversary so now he outdid himself, outdoing himself. I don't even know if that is correct English. Suffice to say that Jens' new guitars left me awestruck. So unique!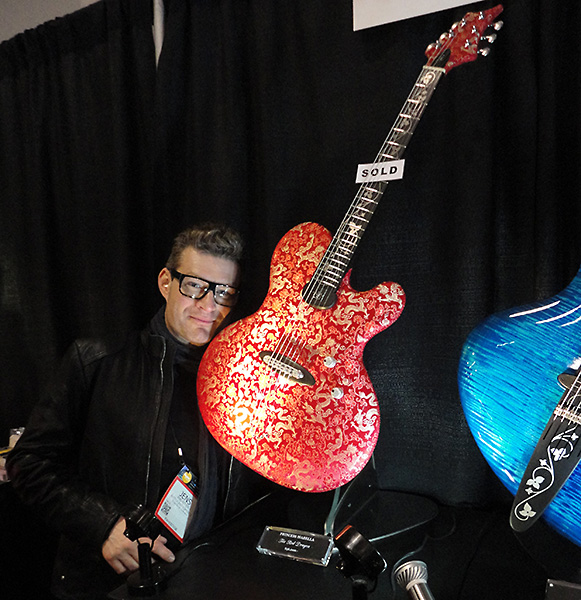 Here's the jubilee guy himself.
JJ Guitars
| | | |
| --- | --- | --- |
| | | Jeff Guilford of JJ Guitars was as hospitable as ever and showed his guitars whith pride. All sold at the show! |
| | |
| --- | --- |
| If you're looking for a set-neck guitar you should include JJ Guitars in your list of guitars to investigate. | |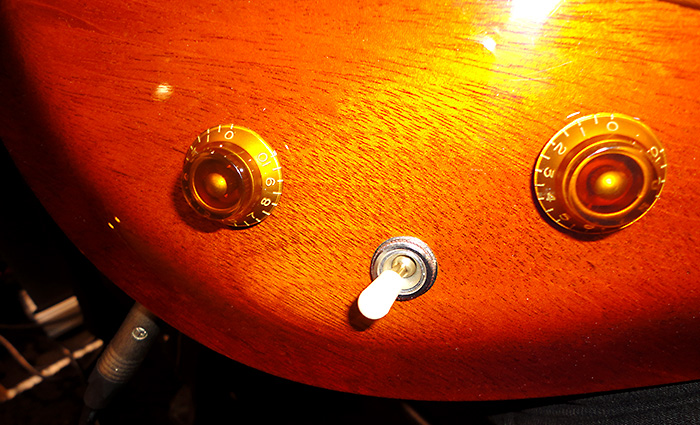 Beyond the obvious reasons of looks and playability, there's this 6-way switch to consider. Yes, it's a 6-way that looks like a 3-way and is as easy to deal with as a 3-way. It matches a traditional Gibson 3-way in size so you can drop it in an old axe if you want to. Jeff even designed it so you can use it in a Telecaster. I can see a number of cool reasons why you would want to do that.
John Page Guitars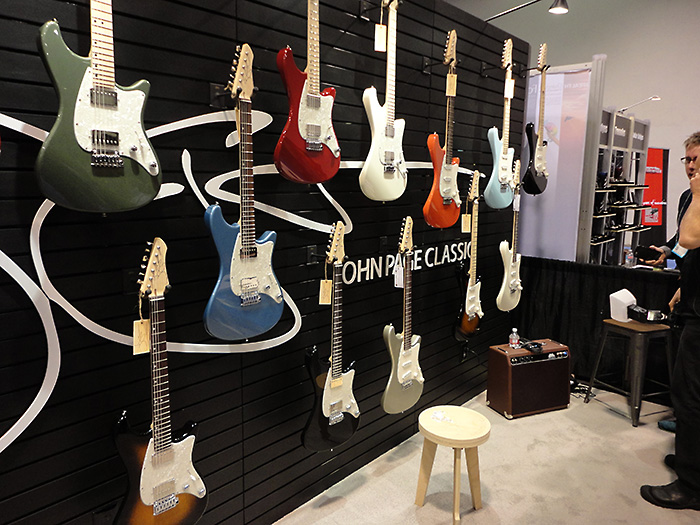 John Page is by any measuring stick a legend in the guitar industry. His custom guitars are fantastic and are much sought after. They are, like most custom guitars, attached to a price tag that is a bit much for many players. So John has now created a line of guitars he calls the John Page Classics. These are his vision of how you can take the old classics and make them into new classics. They are built in Japan and are quite a bit less expensive.
| | | |
| --- | --- | --- |
| | | The AJ is interesting. Not the least due to the reverse slant on the bridge pickup. According to John this will decrease the ice pick treble of the original design. |
| | | |
| --- | --- | --- |
| New at NAMM, was this dual humbucker Ashburn. Same everything as the Ashburn but with the two Bloodline humbuckers. | | |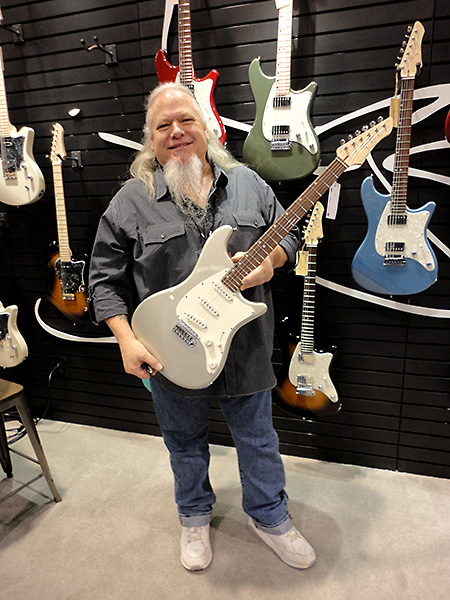 Here's John Page with the three single coil Ashburn. This also have a reverse slant bridge pickup in order to reduce ice pick tendencies as well as get more twang on the lower strings. If I could build guitars like these, I would also be smiling. All day long!!
K-Line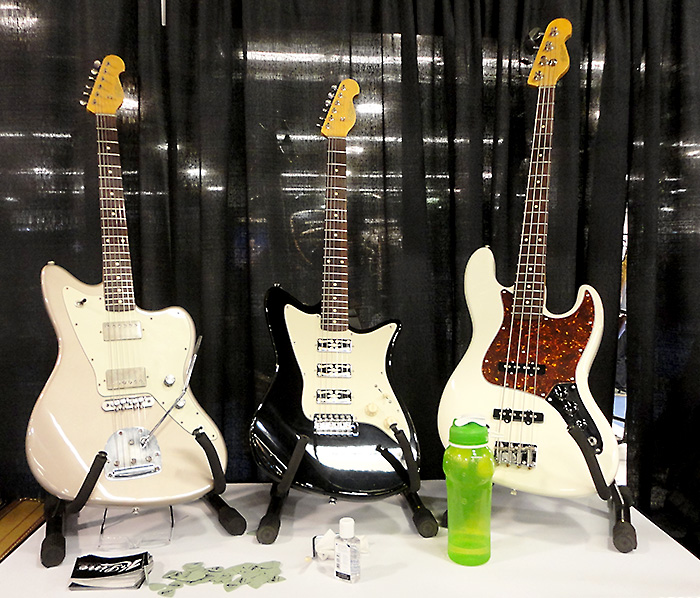 Chris Kroenlein of K-Line Guitars reported a lot of traffic in his booth and much of it aimed at his new DelMar guitar (middle). You can get almost any pickup combination you want. Here it is equipped with Klein mini humbuckers.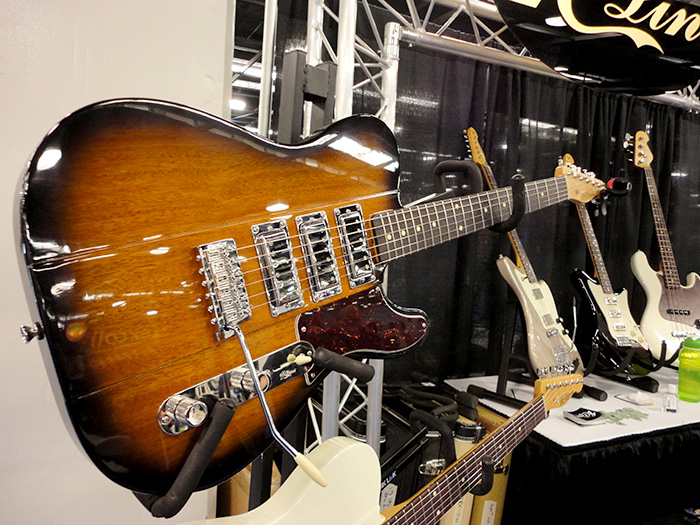 I'm personally fond of this Truxton Byrd which looks like a Tele meets Strat meets Firebird.
Kaliumstrings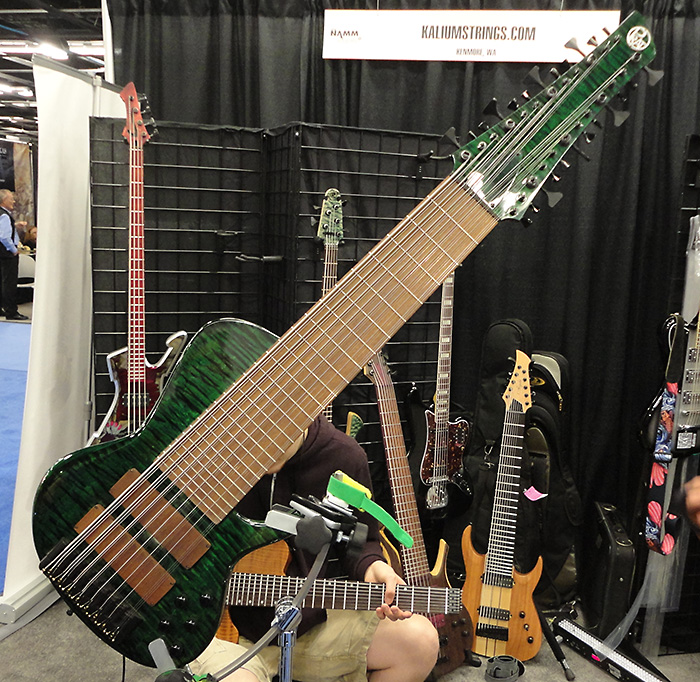 And that's a whole lotta strings!!!
Keeley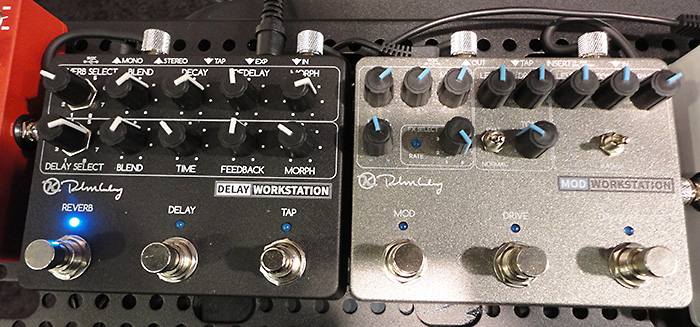 Robert Keeley got famous for his compressor but has since then bransched out in all kinds of effects. Here are the Delay Workstation and the Mod Workstation.
Kemper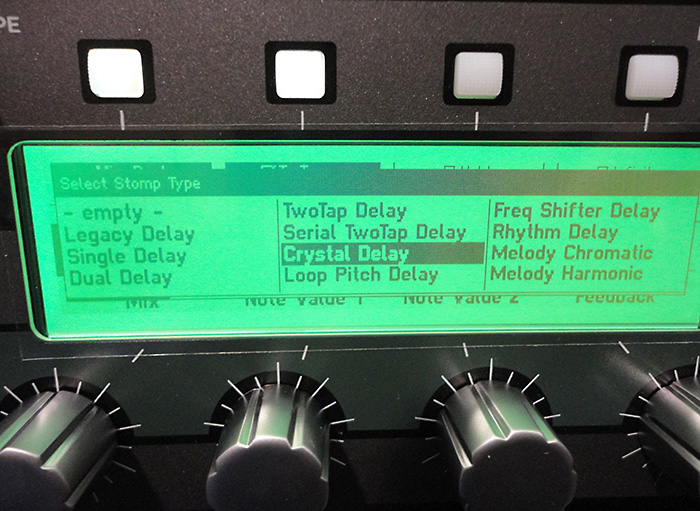 Great news for all Kemper users is the morph feature. But also coming is an update with loads of new delay algorithms. And, trust me, these are some seriously good delay effects. Some of them heard before but some totaly new where Christoph Kemper put his wicked mind to good use. I have heard them and I have used them and they sound really good. I was thinking of putting a delay pedal from a well known manufacturer in the Kemper loop. Now I won't need to.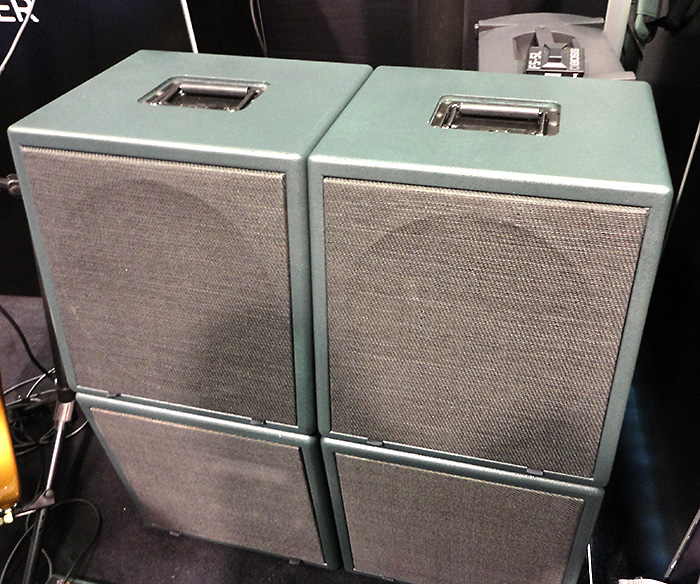 Modular speakers from Kemper? Yes, and they are light weight too.
| | | |
| --- | --- | --- |
| | | I had seen his name and I have played many of his profiles. Ladies and Gentlemen! Please meet Uwe Bossert who has the honor of having some of his profiles as part of the Kemper factory rigs. |
Knaggs Guitars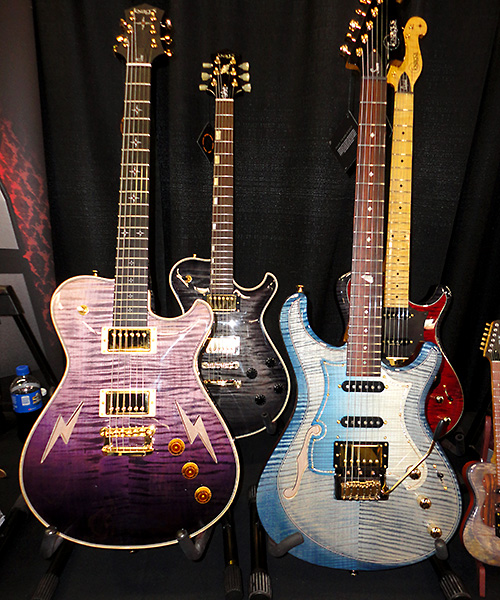 Joe Knaggs sure knows where to find nice tone wood. He also sure knows how to build nice guitars.
| | | |
| --- | --- | --- |
| Here are Joe Knaggs (left) and Peter Wolf (right) from Knaggs Guitars. | | |
Koll Guitars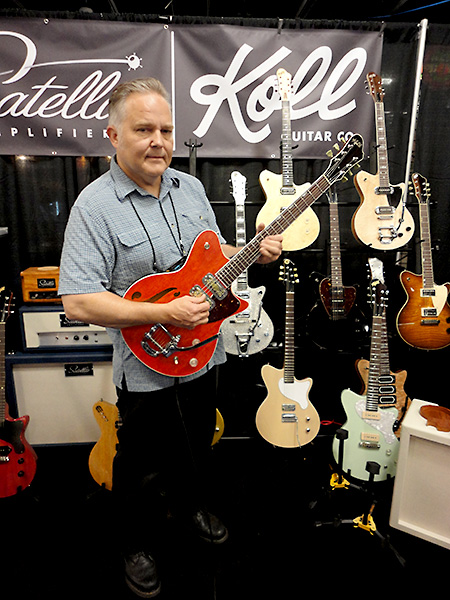 Saul Koll makes a kind of guitar that looks retro-new to me. Here Saul holding a orange smei hollow with a Bigsby and three goild foil pickups. I liked those pickups a lot.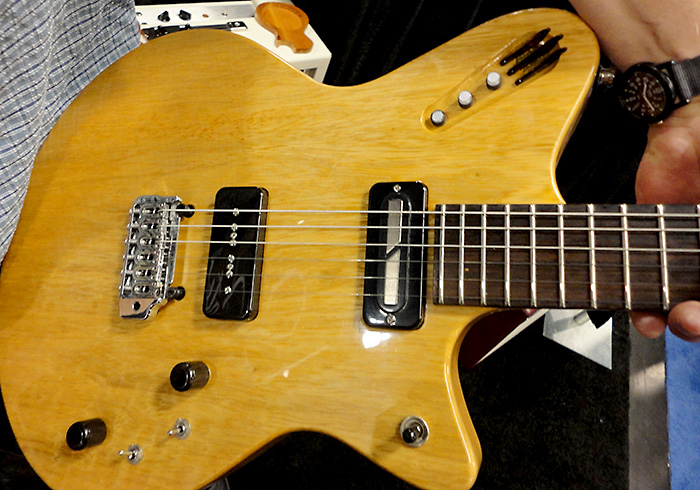 This is a whacky guitar with a lot of wicked features. Among them a microphone built into the top horn with activation switches for instant feedback.
Lipe Guitars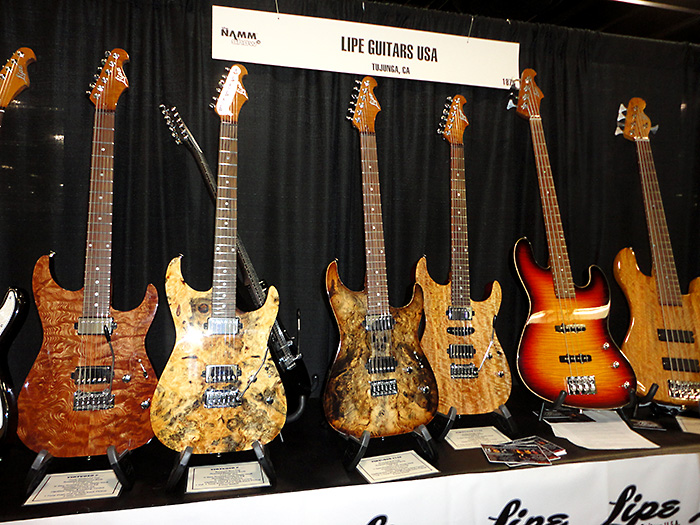 Mike Lipe knows his way around guitars. I always enjoy visiting Mike's booth too see his stunning guitars.
| | | |
| --- | --- | --- |
| I wasn't at all surprised to learn that this Soldato was already sold. | | |
| | | |
| --- | --- | --- |
| | | And the man who makes the guitars. He shouldn't look so surprised at seeing me as I visit every year. |
LokNob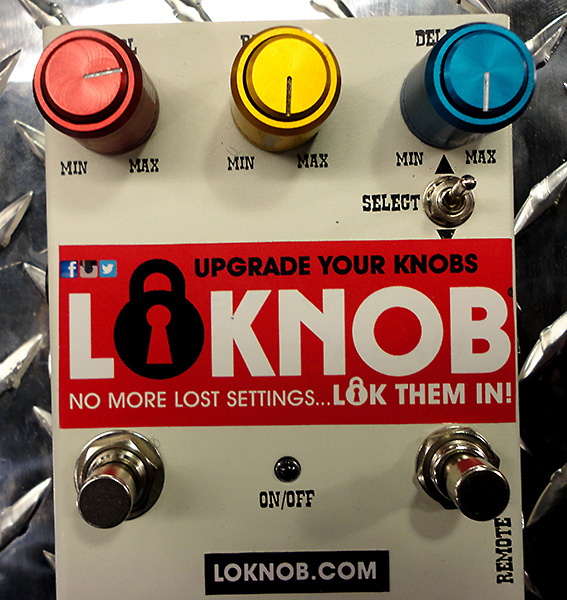 If you are tired of your pedal knobs moving when you don't want them to, you should check out LokNob. You can set the knob at whatever position and then it stays there. Easy to mount and easy to use.
Lowrey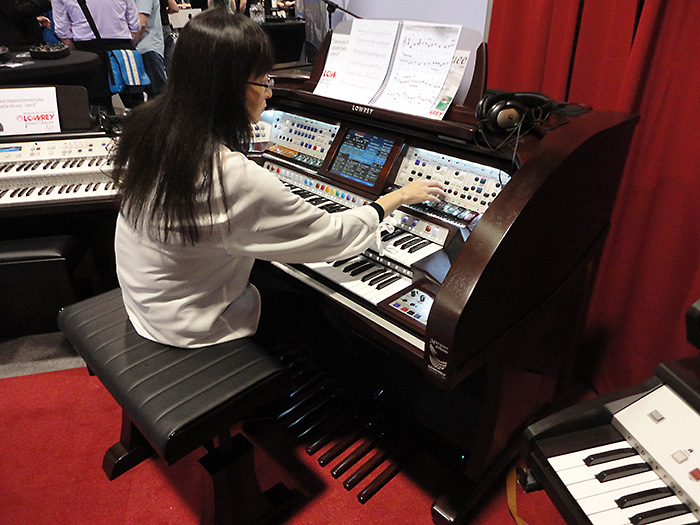 I wonder why organ demonstrators never play any tunes I like?
Marchione
Stephen Marchione prodly holding one of his gorgeous archtops. Truly a pleasure to play and an instrument to dream of.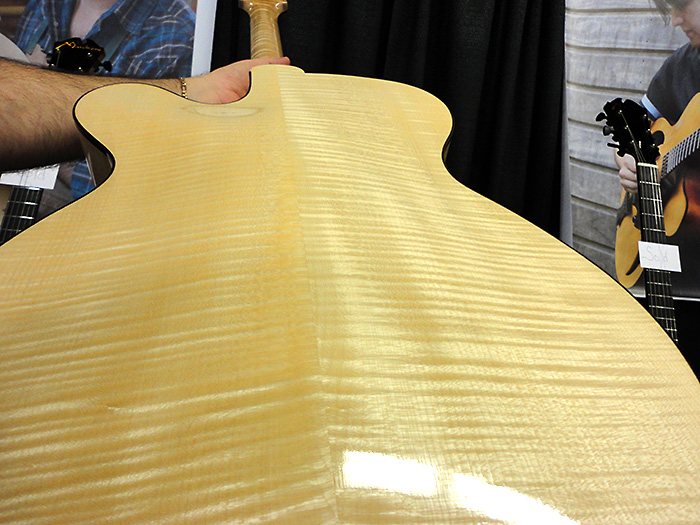 Turning it around reveals a very nice flame maple back.
Morgan Amplification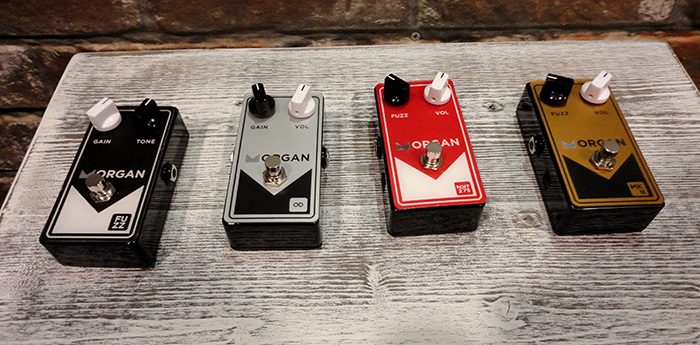 Before noticing the stylyzed letter "M", I thought these were a bunch of organ pedals.
NAMM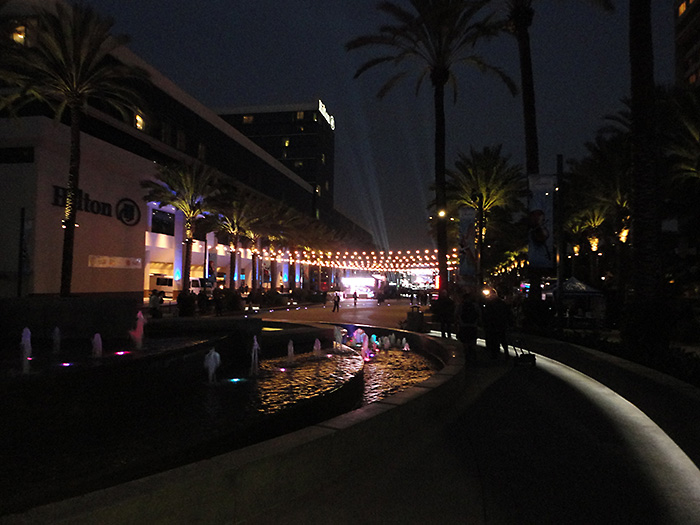 NAMM is so much more than the instruments we all love to see and try. There's loads of education and music and outside, open to the general public is an open area (see above) with a big stage and great food trucks. I could get addicted to the food of Porco Rico. Friday evening there was a free concert by the legendary Dr John.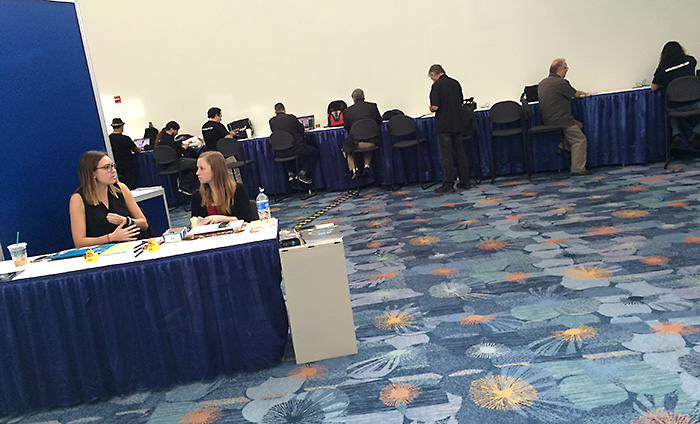 For us in the media business, there's the press area where we can sit down, have a cup of coffe and do our thing away from the nosie of the show floor. Every time I visit NAMM, I get the impression that this is as good as it gets. But every year I experience improvment in one way or another. This year there were lockers where we could keep heavy stuff for a while. The only disappointment I've had over the years was when they stopped serving donuts in the mornings. Yes I know I'm spoilt rotten but we can't get donuts in Sweden and the NAMM donuts were soooo good!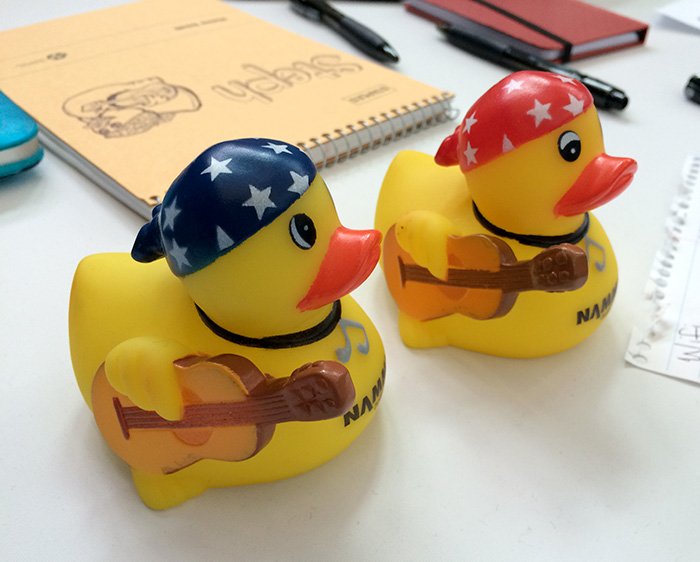 These firendly creatures greeted us in the morning at the Media Center. As a collector of ducks I felt right at home.
Neuenaber

I'm seeing more and more pedalboards with a reverb from Neuenaber on it.
| | | |
| --- | --- | --- |
| Latest from Neuenaber is the Immerse Reverberator. It's loaded with a number of reverb algos taken from their other pedals. | | |