Winter NAMM 2016
Fender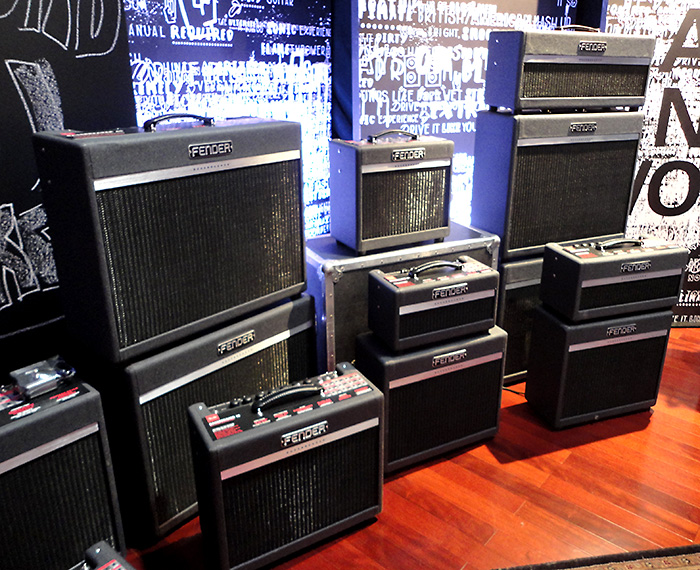 When a company comes up with a new amp series, they usually have the same basic designs coupled with different size power amps and cabs/enclosures. Not so in the case of Fender's new Bluesbreakers. It's common knowledge that Jim Marshall based his first designs on the Fender Bassman. So now Fender is sort of reclaiming the original design but, here in many different amp types with EL84 and EL34 power tubes. So in this series, every amp is different.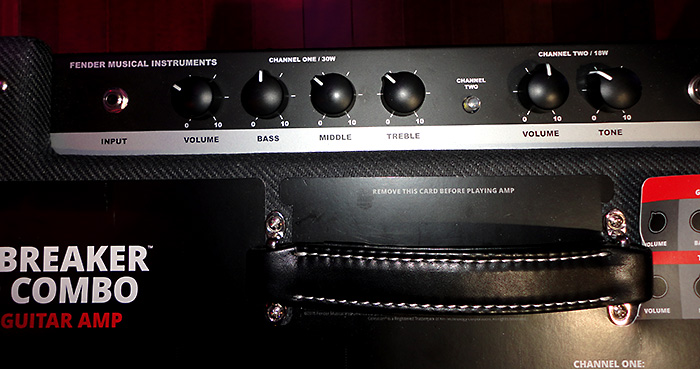 This Bluesbreaker combo has two channels but with different topology.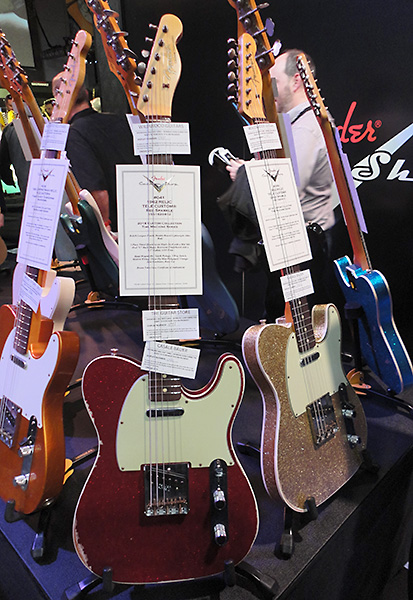 I've always had a soft spot for glittery Teles so this was a treat for me.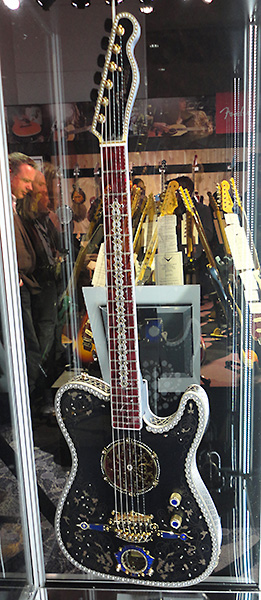 Every year Fender show an "art piece" with load of diamonds. gold and other expensive ornaments. While I can appreciate the craft, I do think it's kind ridiculous as I honestly think guitars are to be played rather then be displayed.
| | | |
| --- | --- | --- |
| | | This eye catching silver finish Strat was nice. |
| | | |
| --- | --- | --- |
| A paisly variation containing the Fender "F". | | |
| | | |
| --- | --- | --- |
| | | A stain glass Tele. I don't see this as viable in a roudy bar setting. |
| | | |
| --- | --- | --- |
| This is, in my opinion the coolest guitar in the Fender room. A Strat made out of cardboard. I didn't get a chance to find out what process they used to strengthen the material but it certainly looks interesting. I asked a Fender representative what it sounds like. The answer was simple. "Like a Strat". | | |
| | | |
| --- | --- | --- |
| | | New for 2016 is the American Elite Series which replaces the American Deluxe. This series sees a number of developments to the classic Fullerton concepts. Belly cut for the Tele (bravo!), compound fretboards AND compound neck profiles. |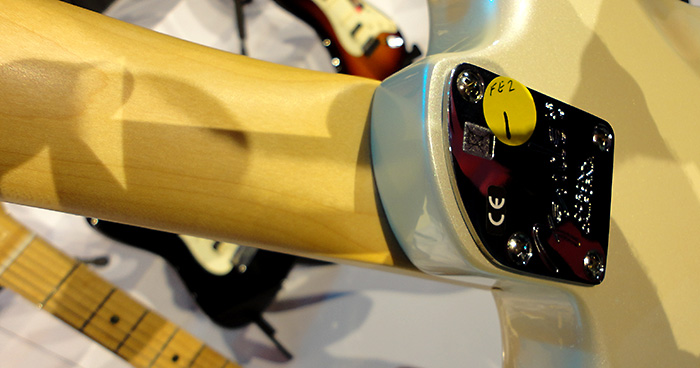 Contoured heels are now standard. A change long overdue!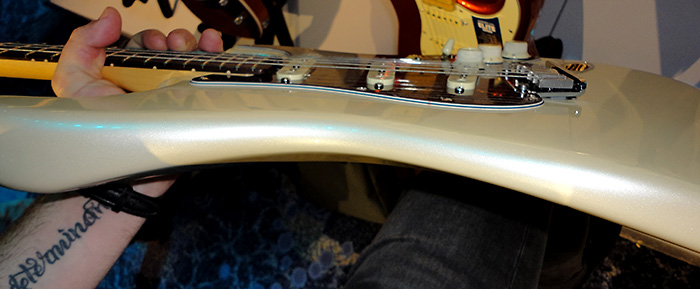 A slightly changed body contour for the Strats for better comfort.
| | | |
| --- | --- | --- |
| A new logotype. Slim and traditional but with a modern touch. I like it! | | |
| | | |
| --- | --- | --- |
| | | The most stylish guy at the show? This doll wore a suit made out of Fender straps. Very sharp! |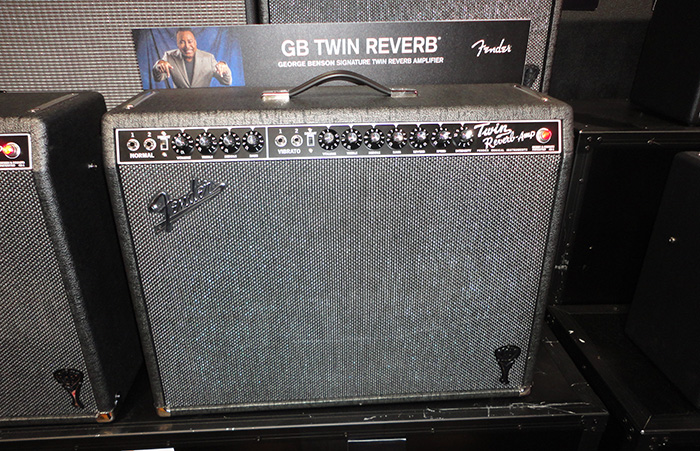 This is the new George Benson Twin Reverb. Mr Benson was at the show endorsing his new amp.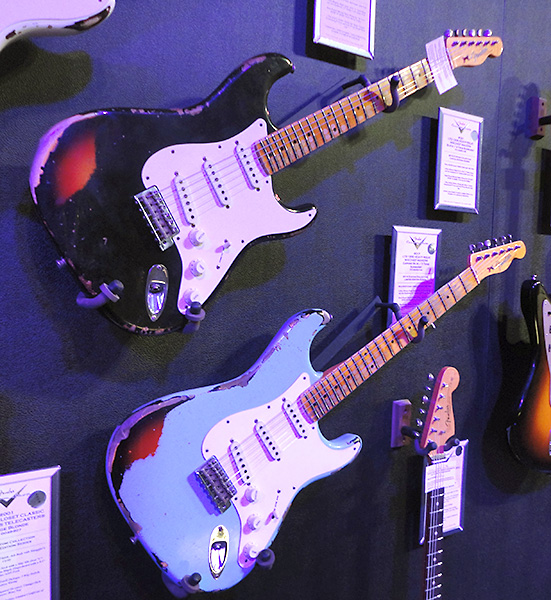 Fun guitars from the Custom Shop. The Mischief Maker. Strats with a Tele neck and those necks are hefty. A neck for the grown adult!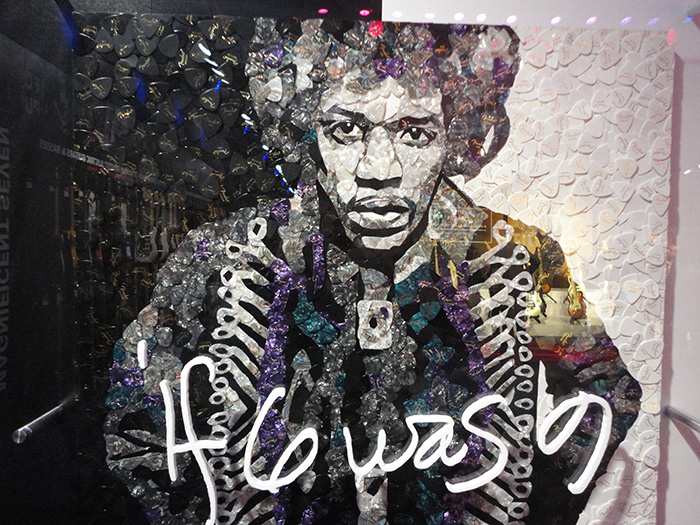 Impressive artwork! This was done entirely by using Fender picks.
Free The Tone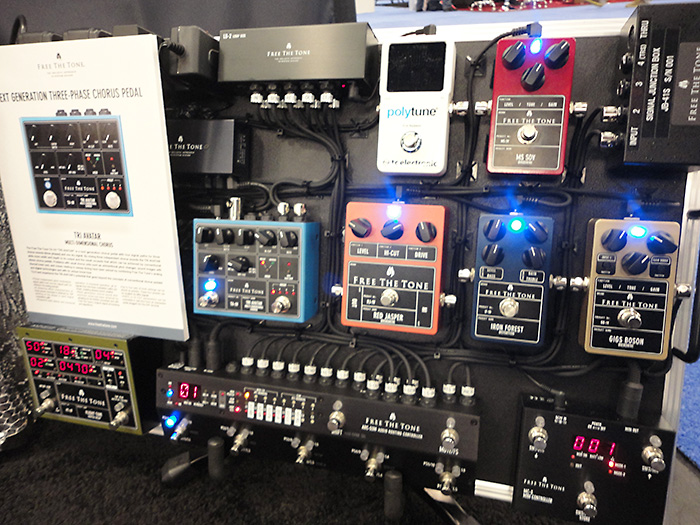 Free The Tone has generated a lot of Internet buzz with their delay and chorus pedals, so it was nice to see them at NAMM. I couldn't try their products so a personal opinion has to wait.
Fret-King
| | | |
| --- | --- | --- |
| This Corona model is equipped with the Fishman Fluencepickups. When I saw Greg Koch demontrate the Fluence pickups in the Fishman booth he used Fret-King guitars instead of the Fender Custom Shop guitars he's usually seen with. That is indeed food for thought. I can somehow see a Corona like this in my future! | | |
| | | |
| --- | --- | --- |
| | | Meet your maker! Trevor Wilkinson, the man behind so many guitar inventions. And a very nice gentleman to boot. |
Fryette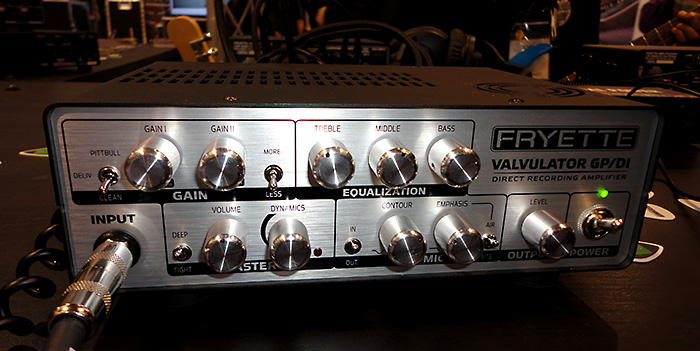 The Fryette Valvulator GP/DI has been in the works for a very, very long time. Now it was finally shown to an interested public. I tried it and it's a very interesting product. As I tried it with unfamiliar headphones, it's hard to come to a conclusion.
Furniture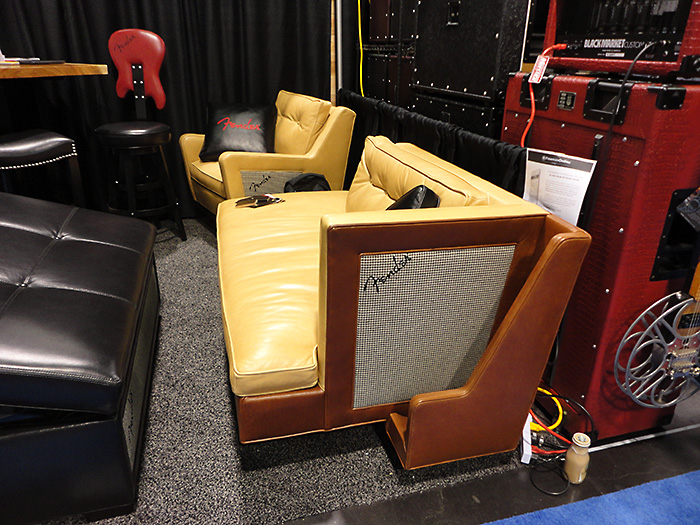 If you want to establish that you are a bona fide Fender fanatic, then you can talk your significant other into equipping the living room with some furniture that pays homage to the brand.
Fuzzrocious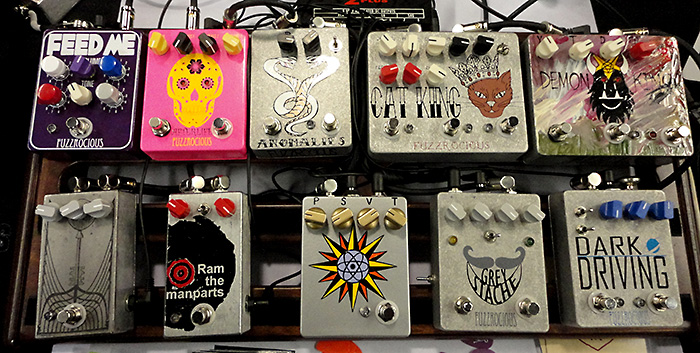 With names like "Fuzzrocious" and "Ram the manparts", it's hard not to take a look at these pedals meant to make your guitar enter sonic mayhem.
Gibson
| | | |
| --- | --- | --- |
| One of my best moments at NAMM was meeting the people in charge of the Gibson Custom Shop and the Gibson Memphis operation. Here's Thom Fowle of the Gibson Custom Shop holding a True Historic Les Paul. Thom went far and above the call of duty in spending time with me and telling the most marvellous guitar stories. | | |
| | | |
| --- | --- | --- |
| | | This True Historic 58 Les Paul was my favorite LP at the show. |
| | | |
| --- | --- | --- |
| When the True Historics entered the market Gibson discontinued the 2014 Historics. As there continued to be a market demand for these Les Pauls priced in between the Nashville factory Les Pauls and the True Historics, the first Historics are reintroduced as the 2016 Historics. | | |
| | | |
| --- | --- | --- |
| | | From the Memphis factory comes the 1958 ES-335 Reissue. Please note the unbound neck. A neck that feels wonderful. People who know me, are aware of my liking for 335s and I have a hard time stopping my craving for the blonde one seen here. A superb guitar with a neck that's soooo comfortable. |
| | | |
| --- | --- | --- |
| Gibson has done quite some resarch on what kind of guitar their customers would like to see. One of the answers was a jazz guitar for the younger players but not as big or thick as an ordinary jazz guitar. So this year Gibson showed the brand new ES-275. It's an L-5 shaped guitar with the waist of an ES-175 but about an inch thinner. Comes in the three versions you see here. | | |
| | | |
| --- | --- | --- |
| | | My favorite of the three. Looks good, feels good, sounds good. What part of that don't you want? |
Gizmotron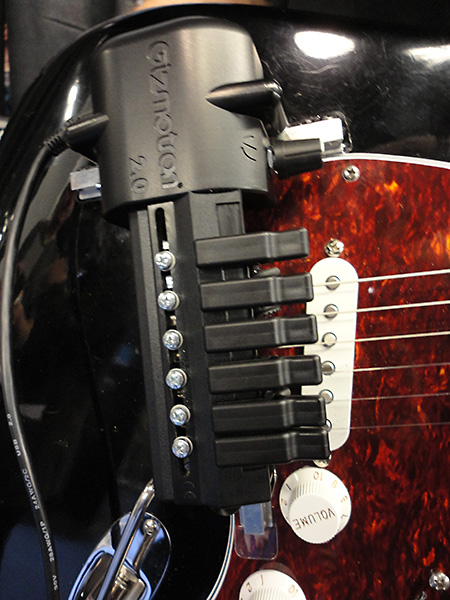 Sometimes at NAMM you will experience a blast from the past. The Gizmotron was that blast for me at this NAMM. Created a long time ago by Lol Creme and Kevin Godly from the band 10cc, it has one wheel per string and when you press one or more levers the wheel will "play" the string, creating infinite sustain. I remember seeing 100cc in concert many years ago and the sound they got with the Gizmotron was truly exiting. It was, mind you, before the age of readily available synthesizers, so I don't know how I would have reacted if I had heard it for the first time today.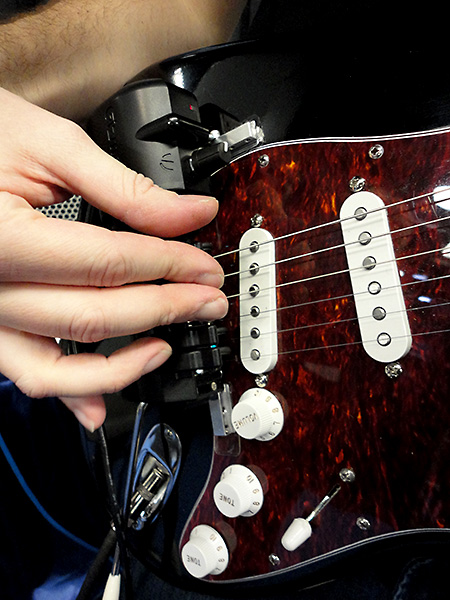 The Gizmotron in action.
Godin
| | | |
| --- | --- | --- |
| | | I admit to having a soft spot for "art style" guitars" as long as they are meant to be played and doesn't cost an arm and a leg. Robert Godin and his crew showed this Les Paul inspired semi hollow guitar. |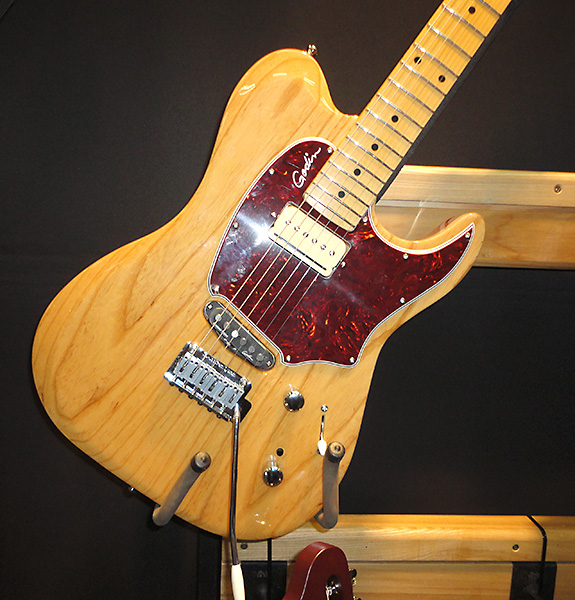 Is it a bird? Is it an airplane? No, it's a stratotelejunior!
Gretsch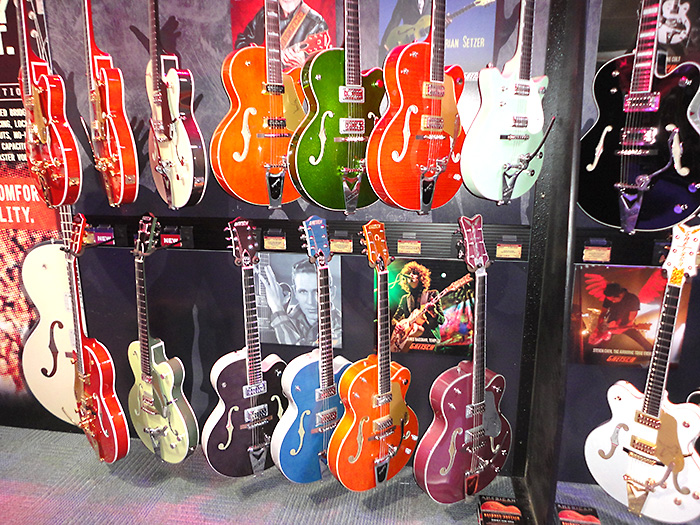 I have always loved color, and color is what you get when you enter the Gretsch exhibit. In spades! Those two tone finishes are so attractive to me.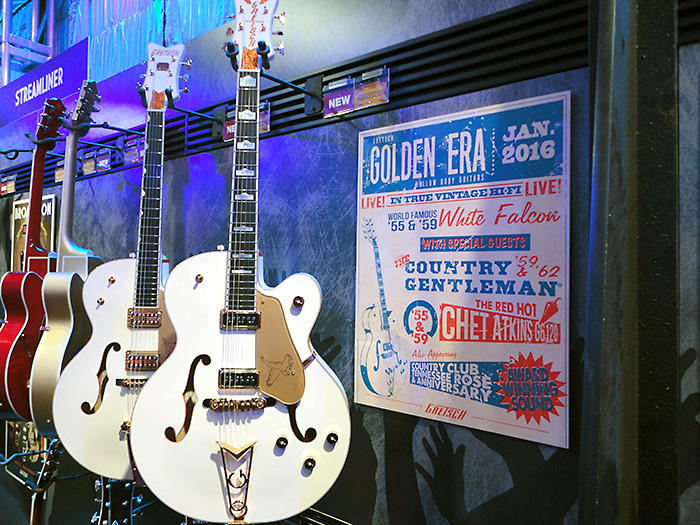 According to the Fender representative (yes, Fender owns the Gretsch brand), Gretsch now has two major product segments. The Golden Era has faithful replicas of the guitars from yesteryear.
| | | |
| --- | --- | --- |
| | | Tthe guitars in the Player's Edition are clearly in the Gretsch tradition but with some modern refinments. |