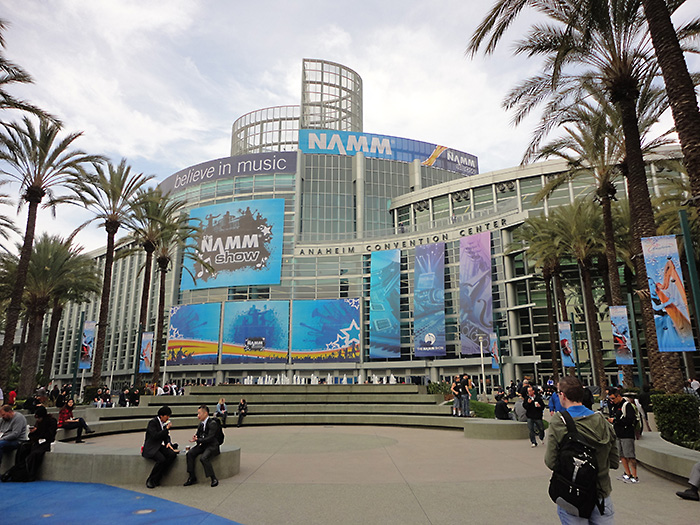 NAMM 2016
- better than expected in many ways
There are many reasons to go to NAMM in Anaheim. There are great people, cool instruments and lots to learn. But there's also the California weather and great food if you know where to go. So as I love all the these things, I'm always looking forward to NAMM. Not the least getting away from the dreary Swedish winter. So, after a horrendous flight, a broken down luggage conveyor belt at LAX, twice as long wait time as promised for the shuttle and a bad driver, I'm in Anaheim in a surprisingly good mood.
During four days I enjoyed more new products than I thought I would see. Some nice, some cool and some downright awesome. And also most important, I met people who are as much into good musical instruments and recording as I am. Almost all of them very generous with their time and their knowledge. I can't acknowledge them all by name, but if you met me at NAMM, you're one of them and I thank you.
I hope this report will convey all the fun to be had an NAMM!
Please read my usual disclaimer here.
This personal report should bee seen as my very own point of view and does not reflect the wiev and/or opinions of any other person or company of which I may be associated either through my work or in these pictures. If you find any faulty information in this report please e-mail me at mats.n[at]nermark.com.
I have placed the products in alphabetical order for your convenience. I also have divided the report into 5 sections. Otherwise the load times would be problematic.
Please also accept my apology for any language errors as English is not my native language.

3rd Power Amplification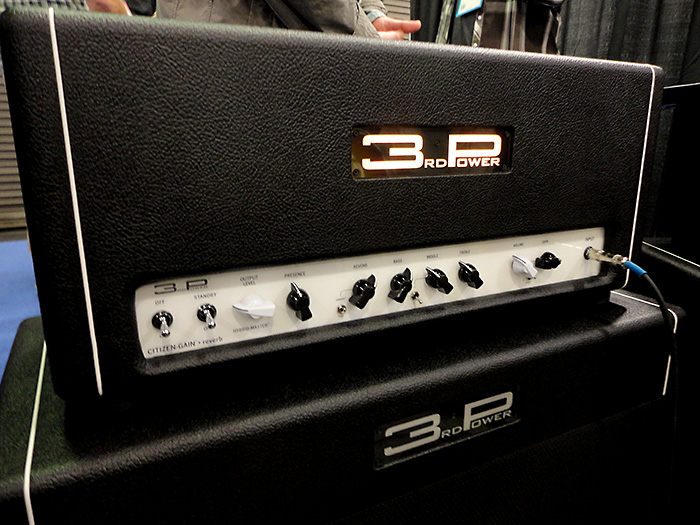 Why not start out with two of the best amps I have ever heard. I've been playing now for more than 45 years and I love it when I find products that let me take my playing to a new level. This 3rd Power Citizen Gain gives you 50 shades of gain with ease. James Scott, who designed the amp took me through the amp and there are few, if any, gain sounds I can think of that's not covered by this amp. The coolest thing is that other visitors with musical styles vastly different from mine, said the same thing.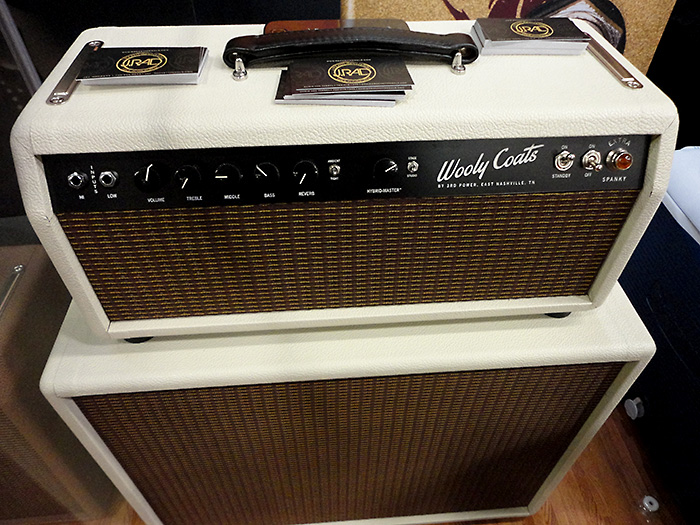 The other amp is the Wolly Coats Extra Spanky. This combines everything I like about different small combo amps and puts it in one amp. I can't say how much I love this amp. Fat and chimey with a really fast attack. Also dynamic and articulate. Chris Van Tassel at Rockett Pedals used this amp as a clean platform when demoing their pedals and it worked very well.
Good news for owners of the Kemper Profiling Amps. Michael Britt has bought one of these and is in the process of profiling it. Can't wait!

65 Amps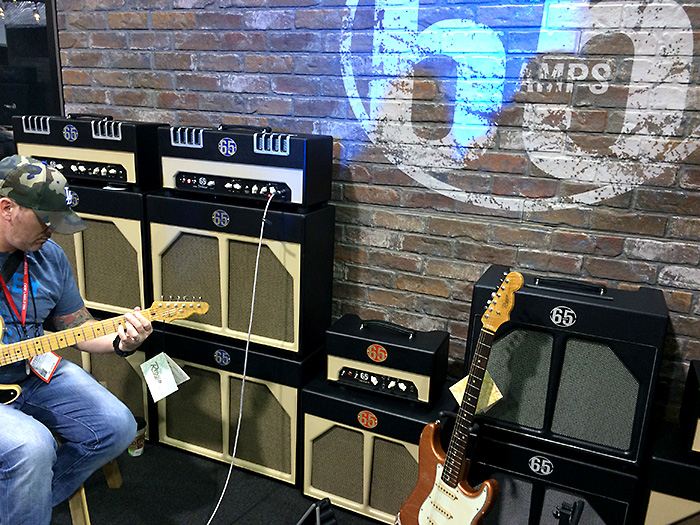 65 Amps displayed an impressive array of amps. Lots of good sounds to be heard.
Aalberg Audio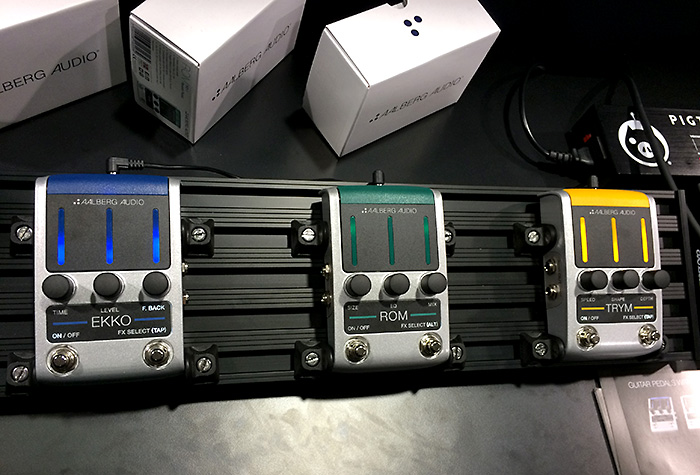 Aalberg Audio was a newcompany to me. They displayed their remote controlled effects pedals. It's a Norweigan company so they use Norwegian titles for their pedals. So here you have a delay, a reverb and a tremolo. Trym may not be a proper Norwegian word, but close enough for the imagination.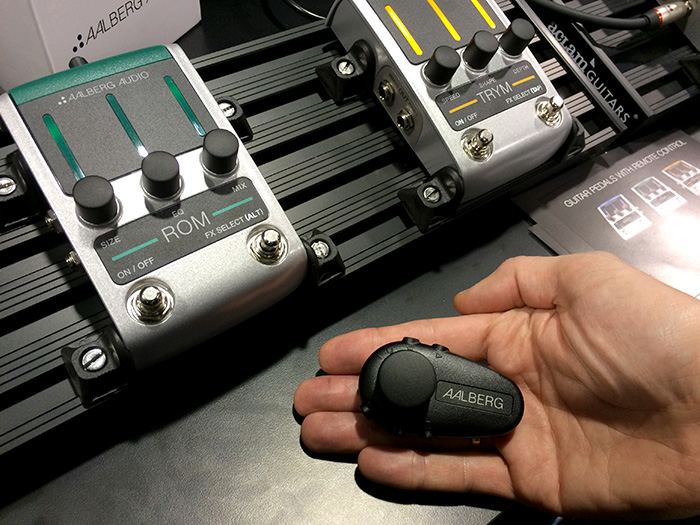 All their pedals can be remotely controlled by their Aero remote.
Accel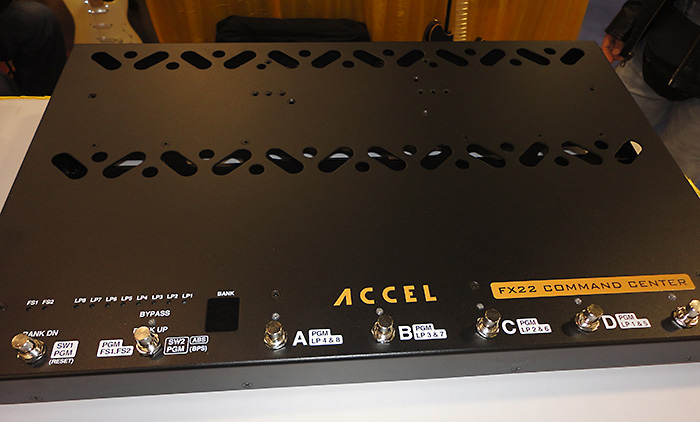 If you need a pedaboard and a basic switching system, why not go for all in one? Accel provides just that.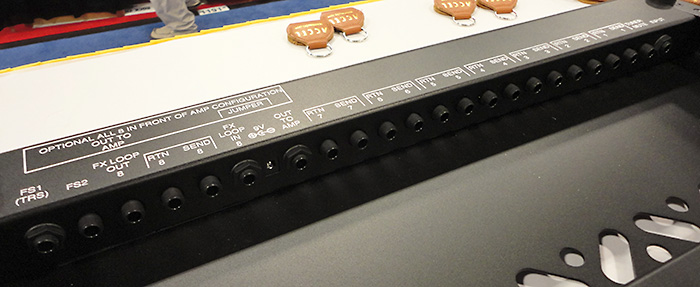 Here are the loops for your pedals on the underside of the board.
Asher Guitars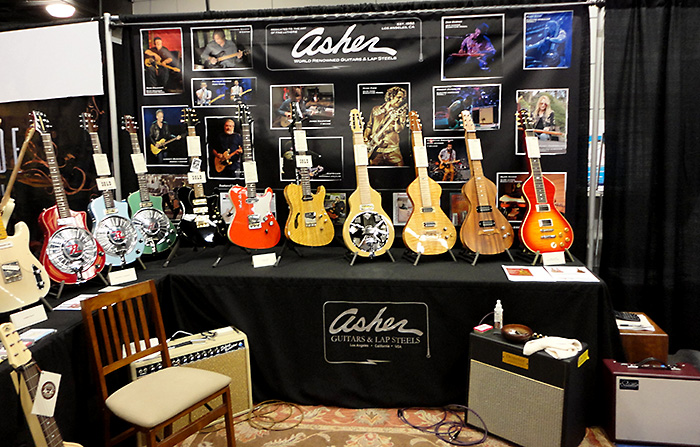 Bill Asher's booth was filled with mouth watering goodness.
| | | |
| --- | --- | --- |
| | | I especially like this T Delux Bel Air. In my opinion, the T Deluxe is one of the two best developments of the Tele concept ever made. |
Audible Genius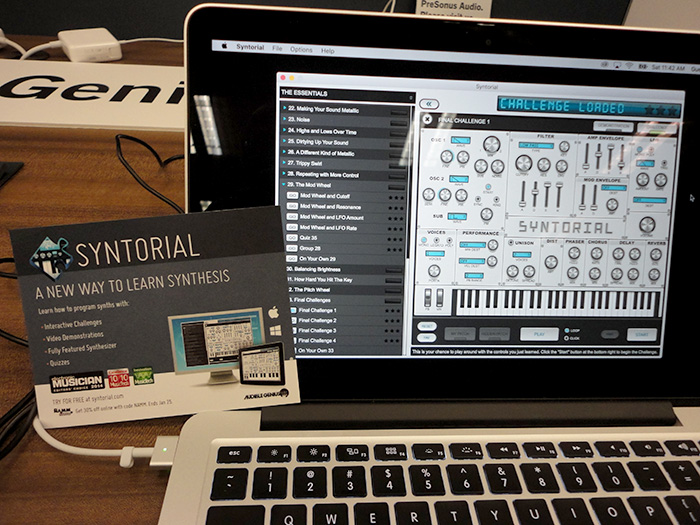 With a corporate name like that, I simply had to see what they had on offer. The Syntorial is an educational program for Mac/PC/iOS that is aimed at anyone who would like to know more about synthesizers. There is a synth in the program that you will used to answer the questions and you will learn as much by ear as by seeing and reading. As a music educator, I think this concept is well thought out and easy to follow. English seems to be the default language among synth users, so I think international users can deal with this course as well. And as an extra benefit you will also get the synth used in the course in the shape of a VSTi plug-in for use in your DAW.
Audio Sprockets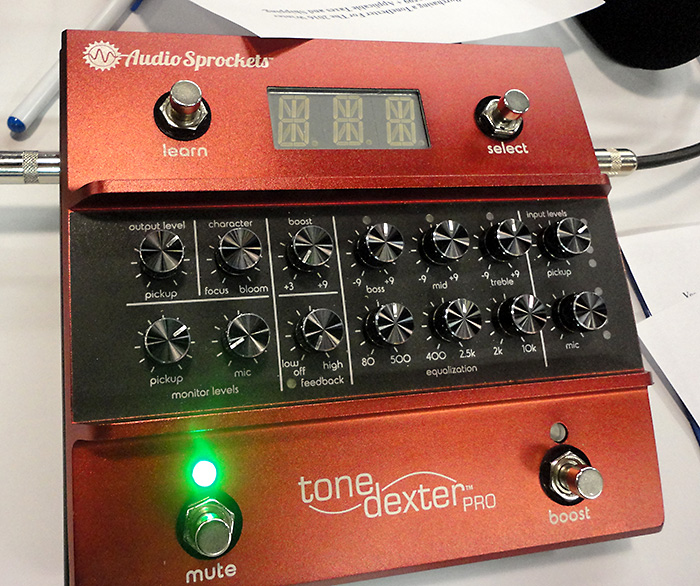 Once in every great while there comes a product that changes a lot of things for musicians. A few years back it was the Kemper Profiling Amplifier. Last year it was the REVPAD. This year it was undoubtedly the ToneDexter from Audio Sprockets. This lets you record your acoustic (steel and nylon strings) equipped with a piezo and store a file. When you later play through the ToneDexter using only the piezo, the saved files let the ToneDexter superimpose the file information and your guitar sounds like it's properly miced. I was very suspicious of the claims made prior to NAMM, but after a demo I was both very pleasantly surprised and convinced that the ToneDexter will be the reason why many will start to record acoustic guitars in their home studios where leakage is a real problem. Myself included. Can't wait to try this one out!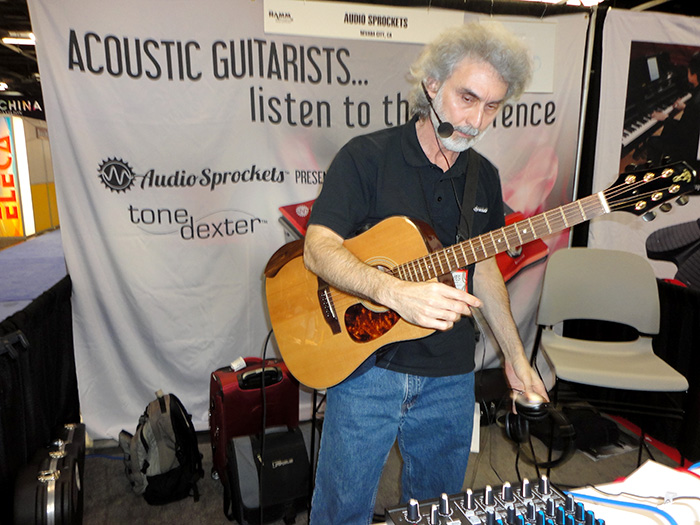 "Here, have a set of headphones and I willl show you!" James May of Audio Sprockets in full demo mode.
Beigel Sound Lab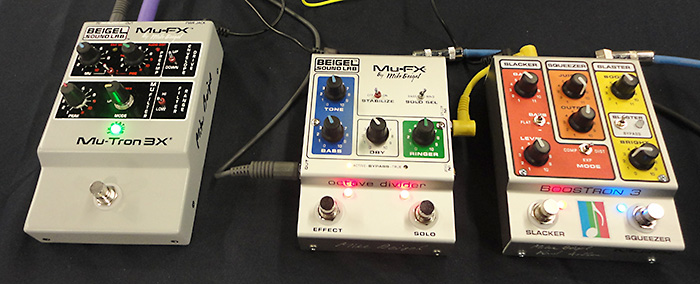 Back in the old days, I always fancied the Mu-Tron pedals. Beigel Sound Lab is bringing them back.
Bogner
| | | |
| --- | --- | --- |
| Bogner makes alot of amp but this is of one the coolest among them. Both in sound and design. | | |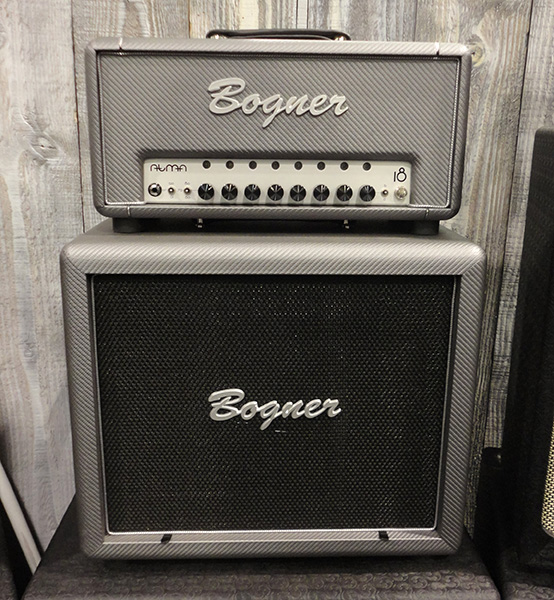 Another nice looking product.
Boss
| | | |
| --- | --- | --- |
| While I'm a guitar player I also enjoy playing bass. Like many other bass players I have a hard time with compressors. Most of the time I don't like what they do to my sound or to the feel. But when I get to work with a good studio engineer, they usually make me sound good. When that happens I make a point of asking how they did it and with what. The best sound usually comes from using a multiband compressor. I have tried, that but it's often complicated. And bringing a studio compressor or a software based unit on a laptop on stage is not going to happen for me. So the Boss pedal is a godsend. The demo guy turned an average sound into a great sound. I'm really curious as to how this could work with electric and acoustic/piezo guitar. | | |
| | | |
| --- | --- | --- |
| | | One of the most sought after pedals on the used market, the Boss VB-2. Now it comes back as VB-2w as it belongs to the Waza Craft product line. How does it sound? Just how I want it to! |
| | | |
| --- | --- | --- |
| This is an interesting product. The VO-1 Vocoder gives you a number of options to "vocalize" your guitar or bass. Like a traditional vocoder or like a talk box but without the tubing. They both sounded good and authentic. There's also a Choir mode where you don't even need to hook up a microphone. If you try it and expect it to sound anything remotely like a human choir, I think your will be very disappointed. | | |

Last NAMM Boss made a splash with the ES-8 which went on to be very successful. This years sees the ES-5 come to market with a somewhat reduced feature set but with a very compact foot print and at a significantly lower price point.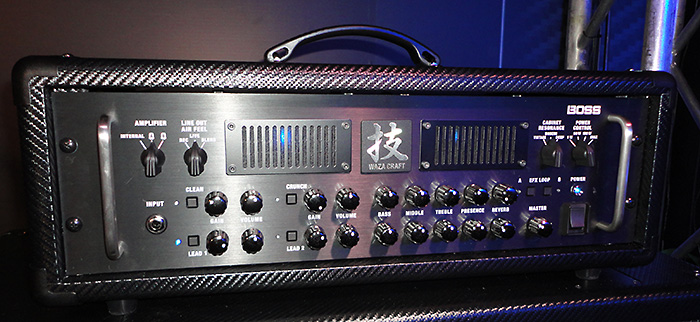 The biggest surprise from Boss, however, was the Waza Craft amp. It works along the same principles as the Roland Blues Cube amps where the sounds are produced without tubes but is aiming at sounding just like a traditional tube amp. In this case they are aiming at the early Marshall stacks. At delivery there are two amplifier types on board, both with four channels. The internal type is the Marshall style amp. The second is set in a Tone Capsule (using similar technology as the Blues Cube) and Boss says they have captured their vision of "the ulimate hardrock sound". There's an additional Tone Capsule connector in the amp where you can put a Tone Capsule. It was announced at the show that Steve Via is designing a Tone Capsule that will be available soon. For some reason you can't put the Roland Blues Cube Tone Capsules in this amp. The amp has a fairly high price point.
Chase Bliss Audio
| | | |
| --- | --- | --- |
| | | Chase Bliss Audio showed some pedals with analog circuitry under digital control. Here's the Tonal Recall. |
Warped Vinyl Vibrato/Chorus is another pedal based on the same technological concept.

I liked both the concept and the sounds!
CIOKS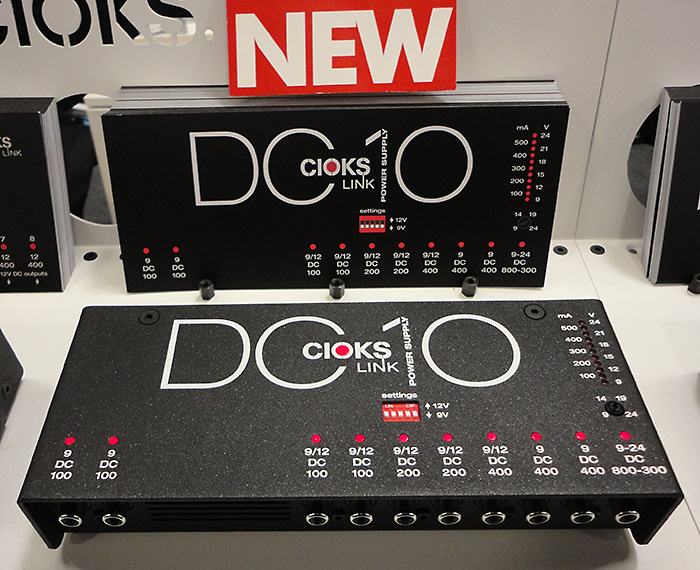 How about a power supply for just about everything? DC10 seems to fit the bill. I have two CIOKS supplies and they have never failed.
Claas Guitars
| | | |
| --- | --- | --- |
| This is a guitar so different from what I'm used to so I didn't even try it out. But it certainly looks interesting. | | |
Collings Guitars
This year Collings introduced a thinner Eastide.
Does it sound good?
Does it make me sound like a better player?
Do I want one?
Yes, yes and YES!!!!
| | | |
| --- | --- | --- |
| The day I can afford a top notch acoustic the Collings OM model will be high on the list of guitars for serious consideration. I tried this one and the seemed tailor made for my left hand. | | |
CruzTools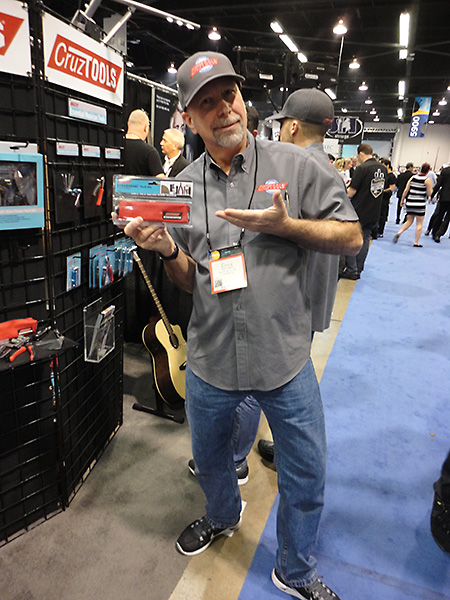 Dan Parks of CruzTools holding up his Stagehand Compact Tech Kit.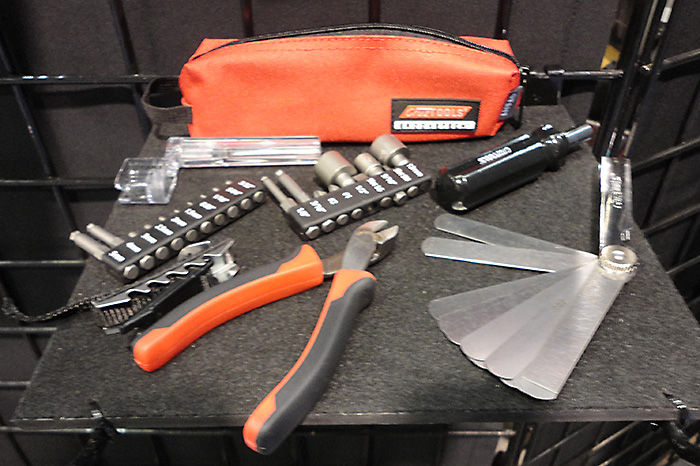 Believe it or not, all these tools are included andthey all fit into this, what seems like an impossibly small bag.
D'Angelico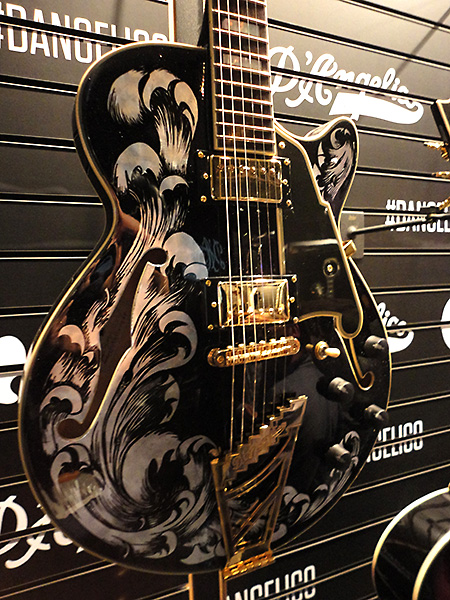 Everything about this New Yorker screams Art Deco.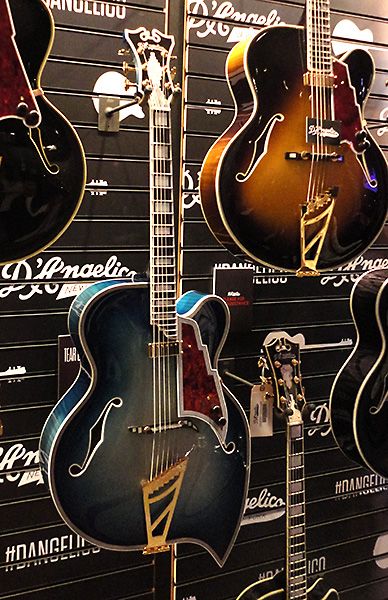 The D'Angelico Teardrop is back.
Shin's Music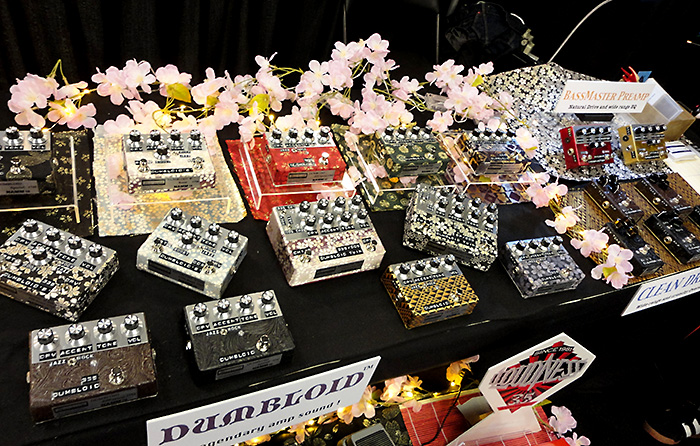 Sin's Music makes a lot of pedals aimed at the Dumble crowd. There are different Dumble amps and thus there are different Dumbloid pedals.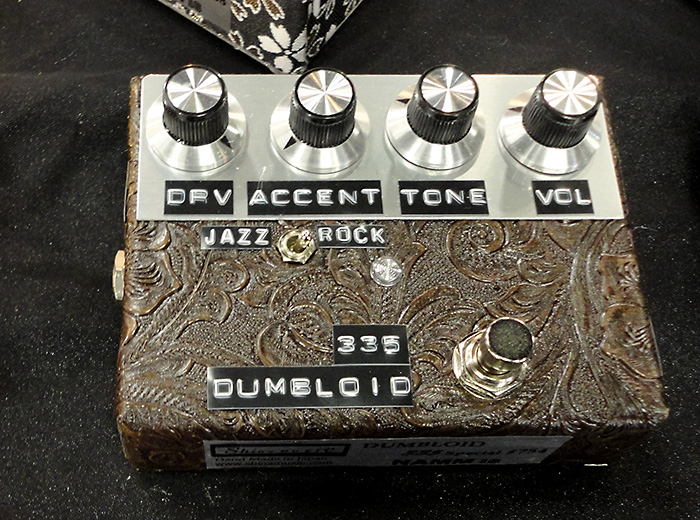 I would not be surprised if we are to think this will make us sound like Larry Carlton, a.k.a. Mr 335. I have heard good things about the Dumbloids, but there was no way to audition them.
Eastman Guitars
| | | |
| --- | --- | --- |
| | | Eastman showed an upscale ES-175 style jazzer. |
Electro-Harmonix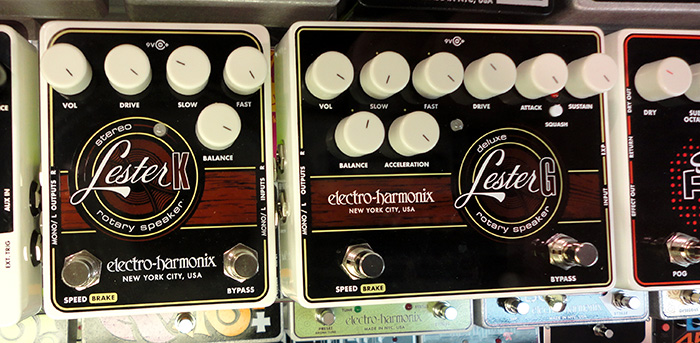 Electro-Harmonix showed their two Leslie simulator pedals.
| | | |
| --- | --- | --- |
| | | This is Bill Ruppert! He's one of the true sound wizards in this universe. If you haven't seen and heard his demos of certain Electro-Harmonix pedals you have missed out. Bill is also one of the few chosen to have his profiles included in the Kemper factory set and he's a Roland VG-99 master Jedi. With all this in mind, is it strange that I get very curious when he mentions that he's designed a new Electro-Harmonics product? Nope, not at all! |
ESP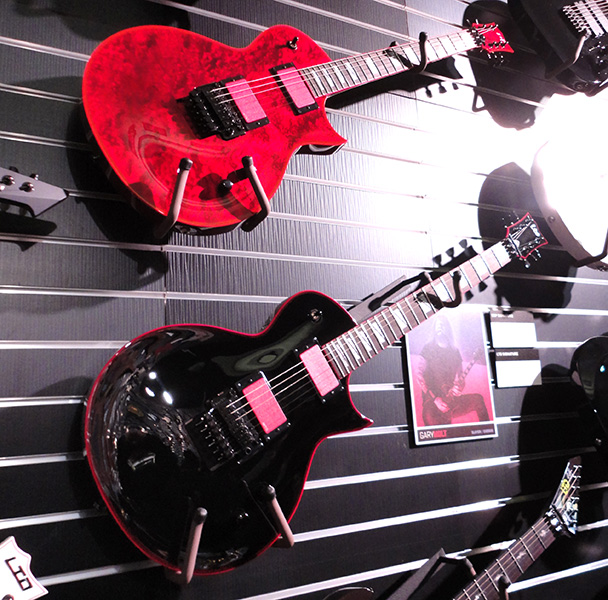 If I had to compress my impressions of the ESP booth in one word, it would have to be "color". There were lots of color and intriguing shapes there. It was probably the nicest ESP booth I've seen in many, many years.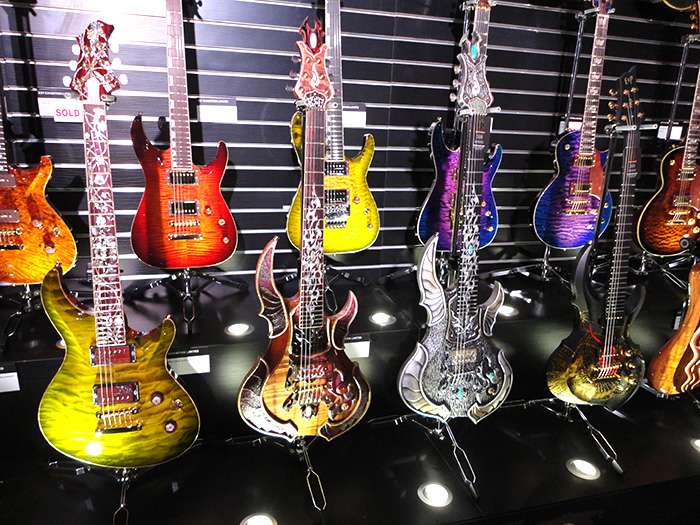 More color in some traditional and some non-traditional shapes.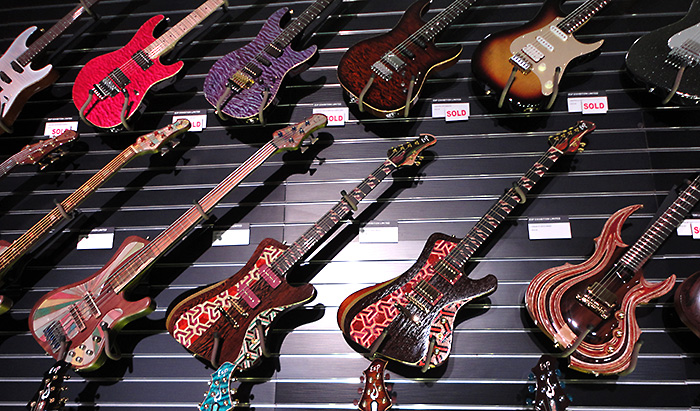 I really like the second from the left in the lower row.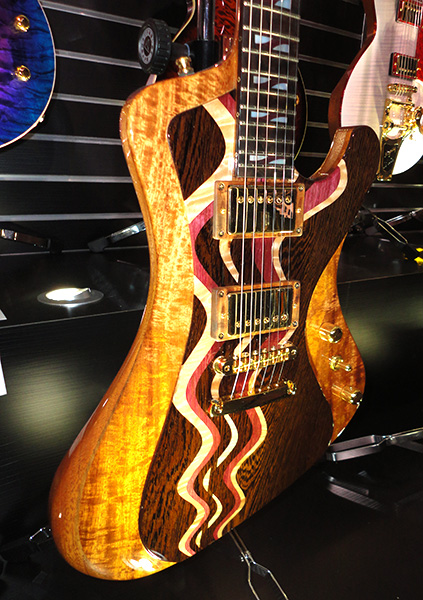 This is no slouch either.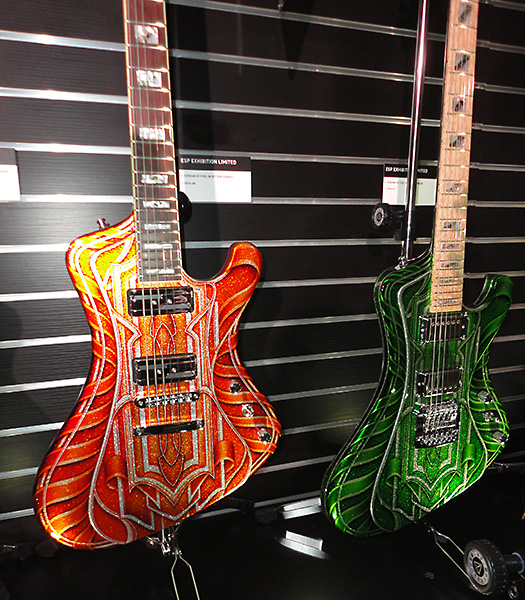 But the orange one to the left was my favorite in the room. A very cool mix a vintage Gibson shapes with a decidedly non-Gibson paint work.
Fano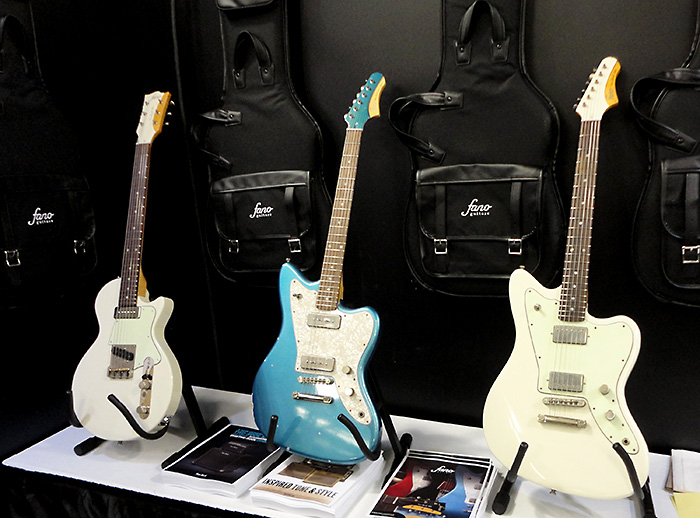 Dennis Fano has always been good at mixing traditional concepts and putting his own twist on them. These are no exceptions. There are those, including myself, who wonder if Fano is still part of the Premiere Builder's Guild and, unfortunately, I couldn't find an answer.