Winter NAMM 2012
PRS Guitars
For some reason the lighting in the PRS booth really doesn't like my camera. I never get any decent shots in there which is a pity because there are always a massive number of guitars of mouthwatering quality in that booth.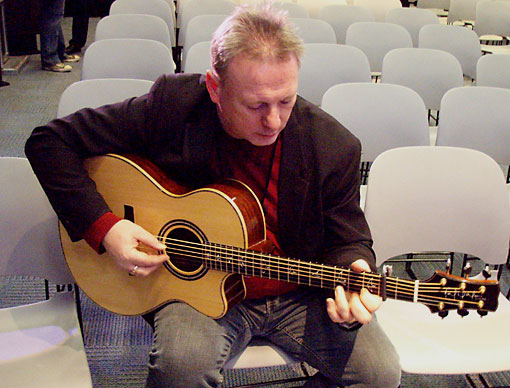 Up in the demo room finger picker supremo Tony McManus passed the time with his PRS Signature while waiting for the demmos to begin.
At the press conference there were a number of great players like Neal Schon, Martin Simpson, Brent Mason, Cody Kilby, Gary Grainger, Dave Grissom, Dave Knowles and Michael Ault.
Paul Reed Smith himself was there and told us a press conference without getting to hear the products is a waste of time. How I wish more companies realized this. In the end it really is about the music.
Reverend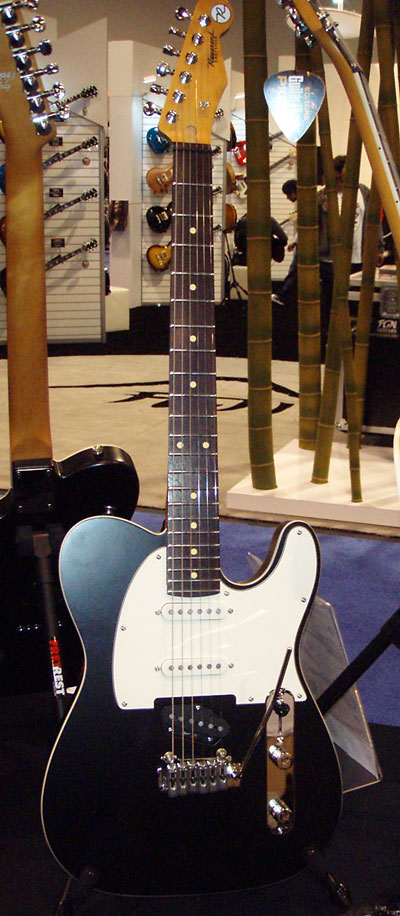 Pete Andersen already has a signature guitar from Reverend but as he is such a versatile player he needed more than one so here is the next. This is a very comfortable chambered T-style guitar with S-style electronics but the twist of a T-style bridge pickup. This guitar has stayed with me in my thoughts so when it hits the marekt I will give it a serious go!
Ritter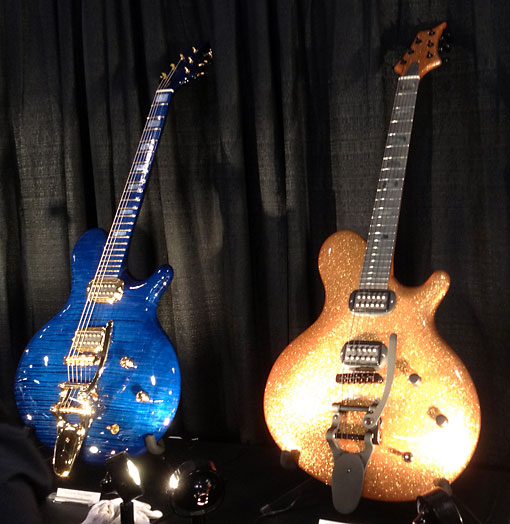 Jens Ritter was recommended to me by Nik Huber so, of course, I go there to see what's up. I realize I have seen these very Zornesque female shapes before but usually in stark white finishes. These more colorful options looks very nice.
Rivera Amplifiers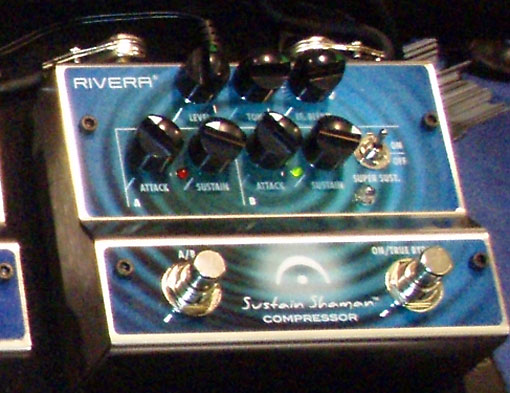 Paul Rivera seems to know knows most everything about sound and the signal chain. This year he showed two very interesting pedals. This Sustain Shaman is a studio grade compressor in a pedal casing. It has two channels of which channel B is equipped with a Super Sustain circuit to give you just that. There is a matser tone and a blend control to give you what you need. I like the fact that yoy can preset two sounds and switch. This may be my new compressor.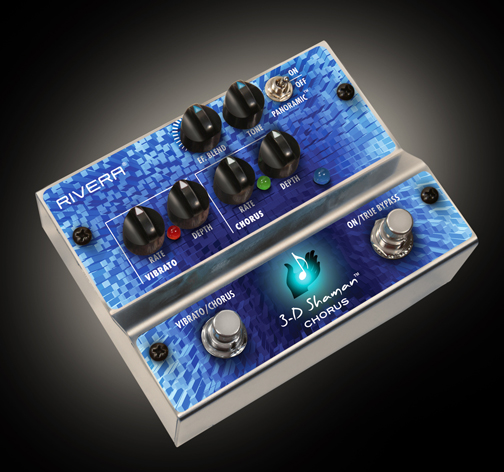 This 3-D Shaman is a 3-output chorus/vibrato designed to run mono, stereo or wet/dry/wet. It has both wet left and wet dry to give you a stereo experience like no other chorus according to the broschure. A blend and a tone control give more tone tailoring options. Given Paul's track record I very interested in hearing this one.
Rockett Pedals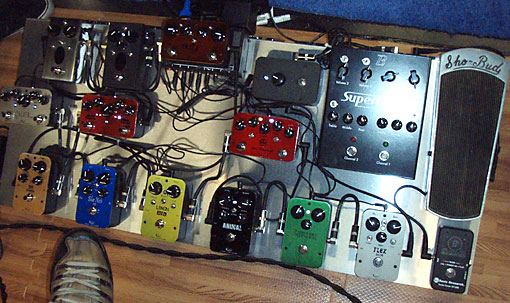 Somethin old and something new was on this pedalboard at Rockett's booth. Funny thing is that whatever he stepped on sounded vey good.
Spear Guitars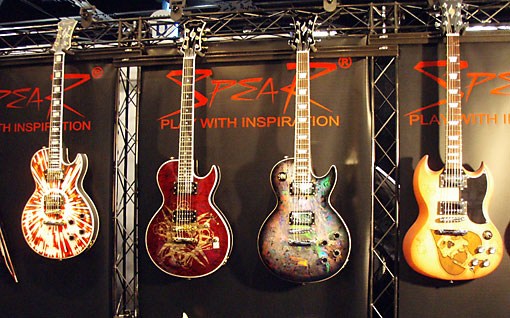 Spear Guitars was a new brand to me but I was drawn into their booth by some very striking finishes.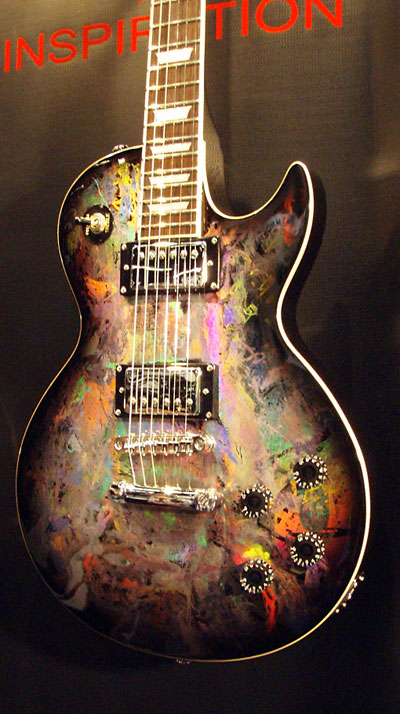 Sugi Guitars

Sugi Guitars shared booth with John Page and here's one of Sugi's own designs. Wonderful guitar!
T-Rex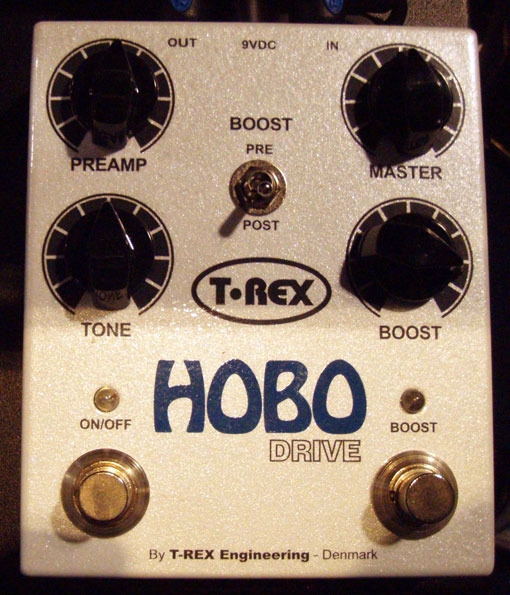 Holy growl, Batman! It's a Hobo Drive. This was new for the US market but has been available to us Eruopeans for a short while. The Hobo Drive has a unique growl that deefinitely justifies its existence among all to many "me too" pedals. I particularly like that you can select if you want tohe boost to be pre-OD to goose the drive something extra or post-OD for a solo boost. Hats of to the Danes!
Tama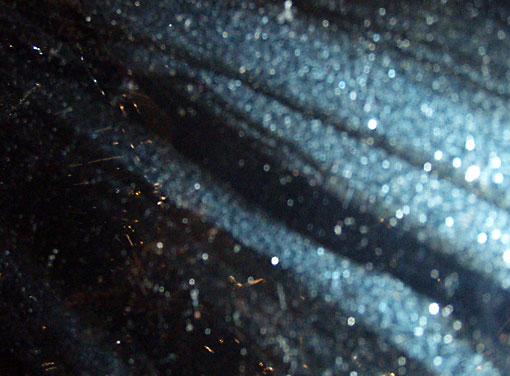 You would be forgiven if you thought this was a close up of a James Tyler Black Schmear but in fact it is a Tama drum set with this very cool finish.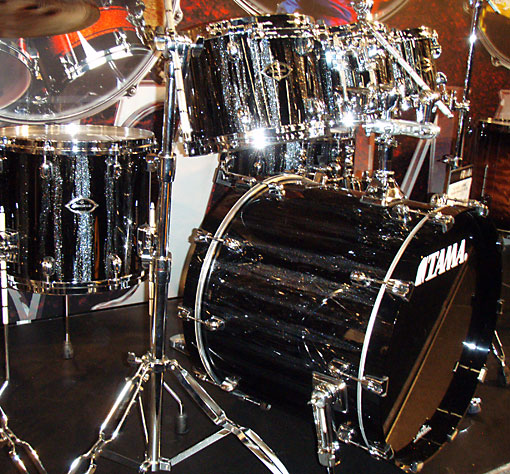 Taylor Guitars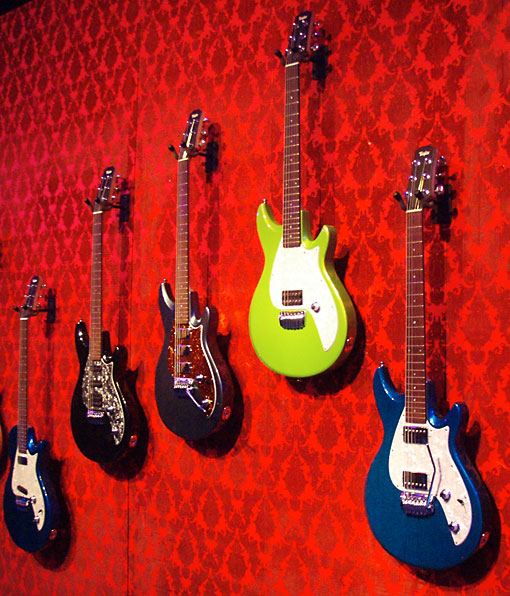 On this very colorful wall Taylor displayed new finishes and new pickups. I like Taylor's idea where you can slack the strings and exchange the entire pickguard with a few screws and one (1) connector. 3 singles to 2 buckers? No problem! A Tele setup? Easy as pie! They sound good too.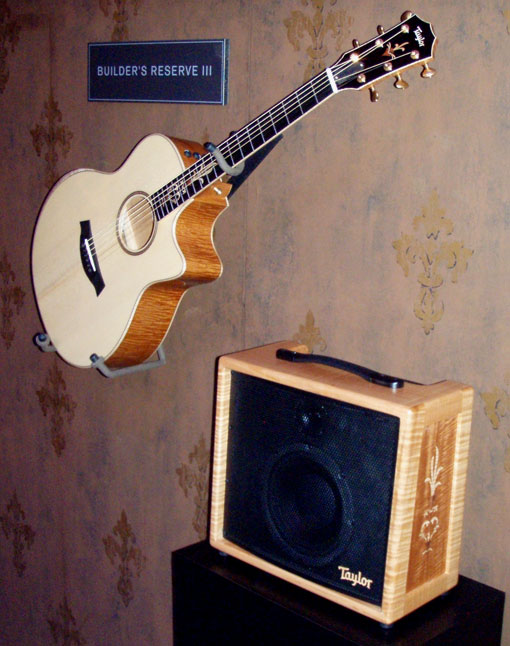 This Builder's Reserve edition of a matching acoustic and combom amp looks the part. Not inexpensive but very nice.
Tom Anderson Guitarworks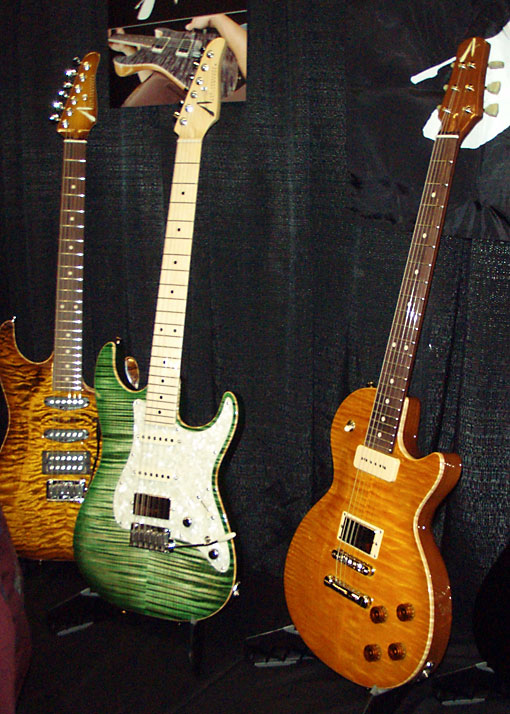 I have admired Tomd Anderson's guitars since I first became aware of them too many years back to count. Apart from doing enhanced versions of the legacy from Fullerton, California, they are now offering improvements of designs from Kalamazoo and some unique designs of their own.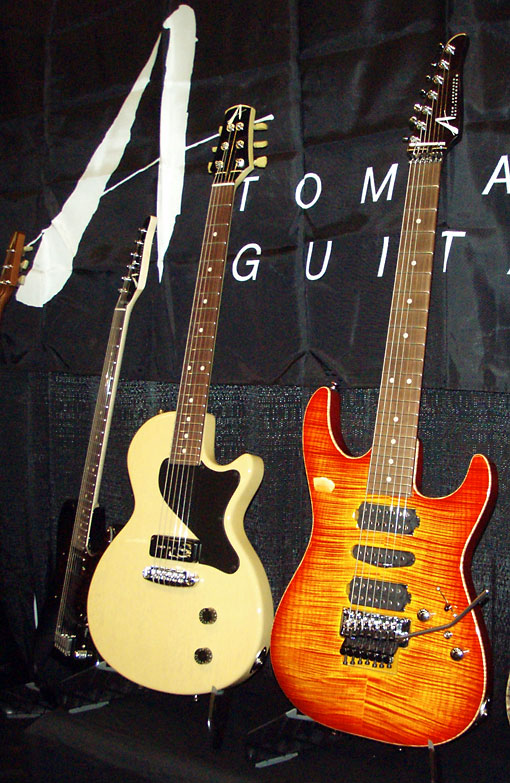 To the right is the first 7-string guitar I've see from Anderson.
Trussart Guitars

LP-style rusty metal? Yay!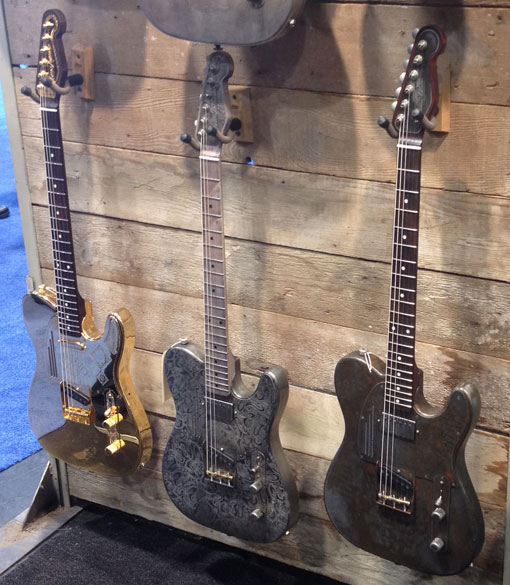 Gold, engraved or rusty? The choise is all yours.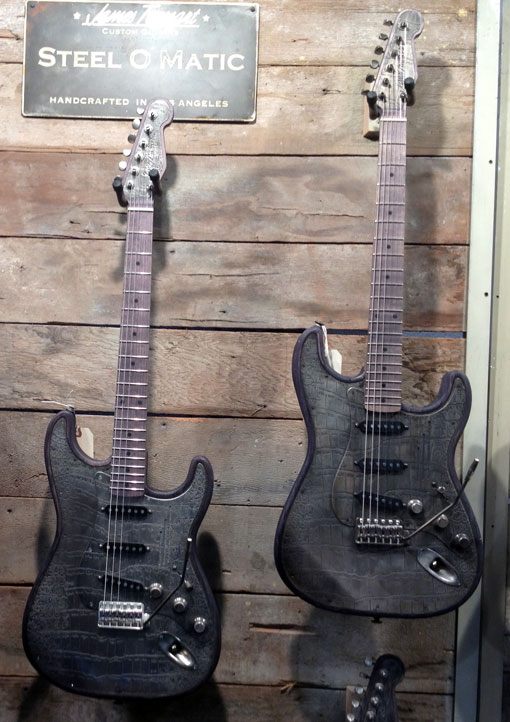 These are my personal favorites from the stable of James Trussart.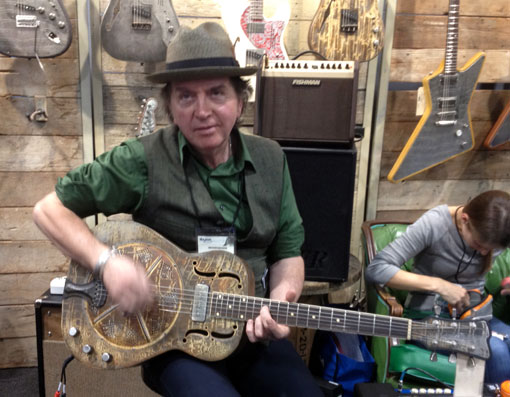 James Trussart himself entertains visitors with some licks.
Two notes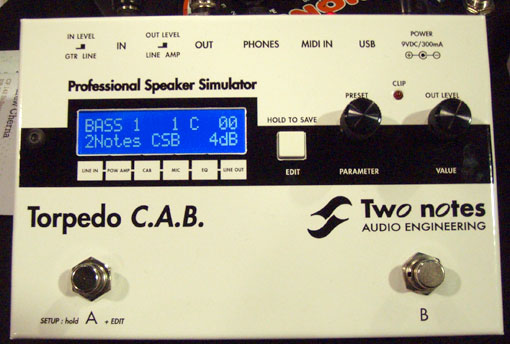 This Torpedo C.A.B. pedal from Two notes has me intrigued. It has both digital power amp and speaker simulation built in of the same quality as their acclaimed VB-101. One of the purposes of this pedal is to put it at the end of your pedalboard and go direct to sound card or FOH and you can consider your pedalboard as a giant flexible preamp. Great idea, if you ask me. I've been waiting for a product like this for a long time. It accepts either guitar level or line level input so it flexible enough to use also with your preamps.

Torpedo Live is the little brother of the VB-101 and is a load box with speaker sims built in.
Valoy Guitars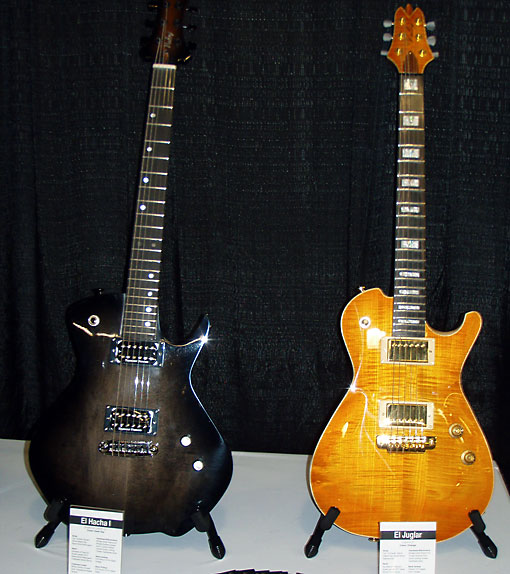 Valoy Guitars is a new name in my book but I like both the looks, feel and sound of these instruments.
Z-Stick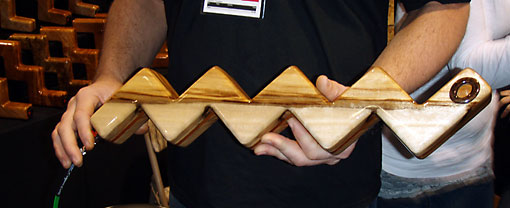 Yes, I'm well aware of the fact that this report will be read mainly by guitar players but even though I'm a guitar player myself, I just have to say that the Z-Stick was probably one of the most creative instruments at NAMM. This stick is made of wodd and is hollow. Inside there are some "beans" like in a maracca. So you shake and hit the stick with your hands and depending on where you hit it and where the "beans" are you will get a different sound. The demonstrator had a great groove going and I just could not stand still. Then he put the Z-Stick through a guitar multi fx processor and then there was no end to the fun to be had. If I was anything even close to a drummer or a percussionist, this would be on top of my list. I probably would not rest until I owned one. Totally unexpected product and just so inspiring.
The end
So dear readers, thanks for joining me in my journey through the halls of NAMM. Being at NAMM is certainly an experience I appreciate and for some reason the joy of being at NAMM doesn't diminish from one year to the next. This year everything about NAMM was better than the past few years. The NAMM organisation was top notch. No glitches anywhere and the NAMM personel were kind and efficient. The food was better (but still expensive). The music entertainment was of a better class than last year. There were more people for the people watchers. There was more optimism among the ehibitors. The only thing I absolutely hate with going to NAMM is coming back to a wintry cold Sweden with a jet lag bad enough to kill a medium sized dinosaour.
I hope to see you after my next journey that will probably be to either the Frankfurt Music Messe in Germany or the FUZZ Guitar Show in Göteborg, Sweden. I you see me somewhere, plase stop and say hello.