Winter NAMM 2012
Collings Guitars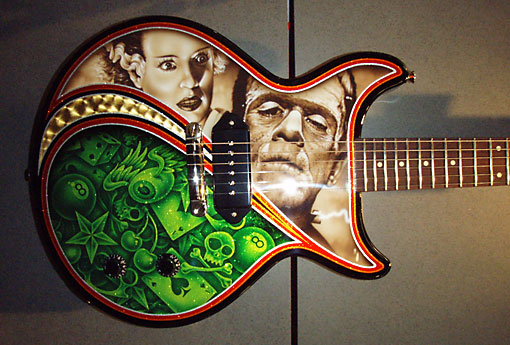 The Collings booth is always an abloute must for me as I consider the work they do to be top notch. And they are always friendly and very open and sharing with their knowledge. I always leave Collings with a smile on my face and a feeling that everything is well in guitarland as long as there are people like these.
Unfortunately my camra didn't work to well so I missed a few of their new guitars like the SoCo LC and Eastside LC. I did however get this cool junior style guitar with Frankie on its front.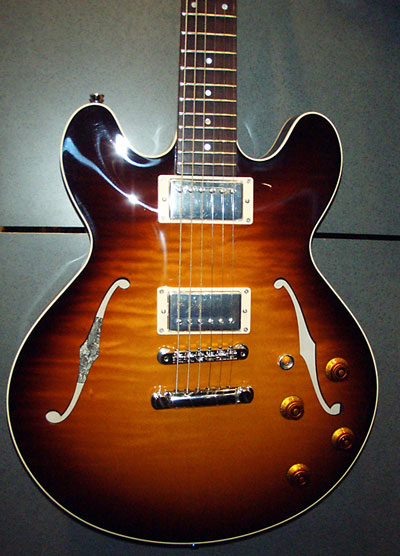 Technically, this I-35 LC is not a new model but it was just so nice I couldn't resist including it. No matter who played it in the booth and no matter what style they played, this instrument is just stellar in every way. Smooth if you want to or biting if that's you thing. Clean or gritty, it's always dynamic. One of my absolute favorite guitars at NAMM 2012.
Cruz Tools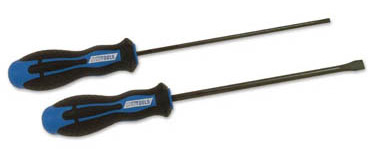 Dan Parks at CruzTools has an uncanny knack for finding solutions for problems musicians may have. This year he showed the GrooveTech Truss Rod Drivers. These tools are designed to make truss rod adjustments easier and the Cheater Driver even lets you make adjustments to vintage style truss rods without having to remove the neck.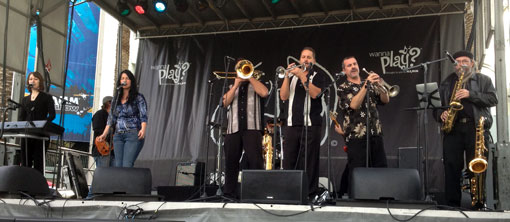 Not only is Dan your friendly tech solution provider. He's also the bass player for party band Chains Required and this totally grooving band entertained on the outisde stage at NAMM. Soul and sunshine, what more can you ask for?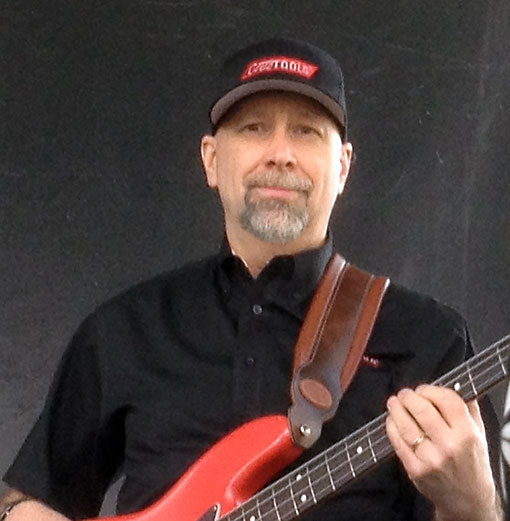 Dean Guitars

While I probably won't buy one, I still think this original Dean shape is a cool sort of shape and serves me well as a reminder of good times in the past.
DigiTech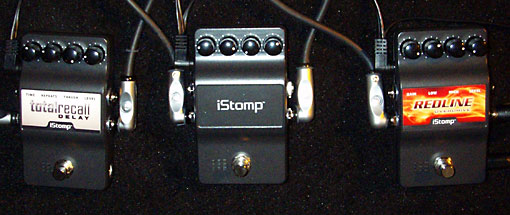 DigiTech showed the iStomp that theoretically lets you decide what kind of effect you want it to have. When you buy it it comes with only two algorithms. Then you hook up your iPad to the AppStore and buy new types of effects. These cost from USD 10 and upwards according to the company rep I spoke to. Could get expensive in the long run.
I have two concerns regarding this concept as it was demoed. It took approximately 40 seconds to load the iStomp with a new fx algorithm/type. Way too long to do in a live set between tunes unless you plan on long intros without guitar. While the iPad interface looks good, you can't edit the fx from the iPad screen. You only select and load from the iPad. All fx edits are done with the knobs on the pedal. As these are not labeled then I would think it would be hard to remember what know does what for what effect. Having said this, I must say that some of the effects I heard sounded good.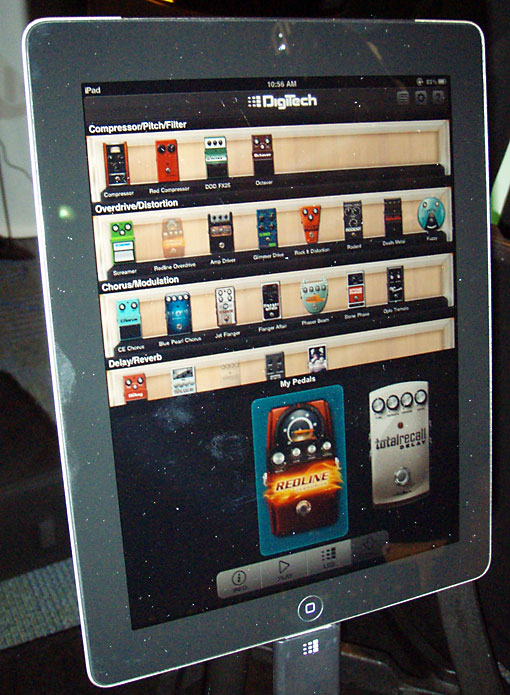 Dwarfcraft Devices
Ben at Dwarfcraft Devices lovingly shows off his Tractor Beam creation. This lovely lady had quite a few surprises for the daring. If you want to find someone who follows his own mind and does not do "improved versions" of old designs, then Ben is your man.
Here are some of Ben's creations. I would love to see what I could coax out of a selection of these.
ESP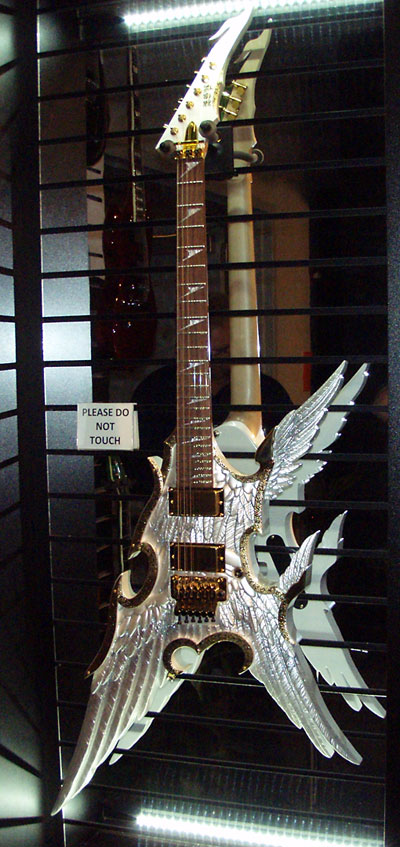 People sometimes ask me why I include many guitars from ESP in my NAMM reports. Easy answer is that they display many guitars that look good. So here's a "small" selection of what was available. Some of them looks to be more art guitars as I don't think they are very comfortable to play. Still look cool though!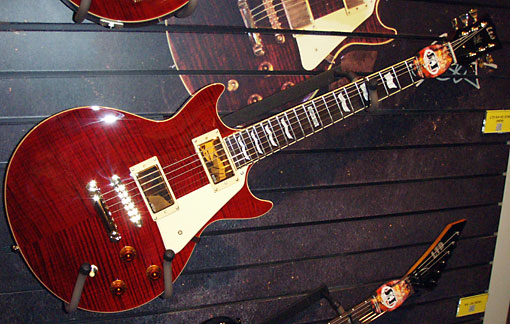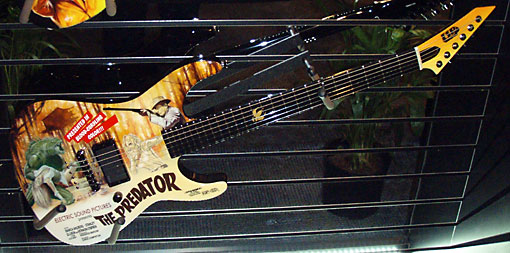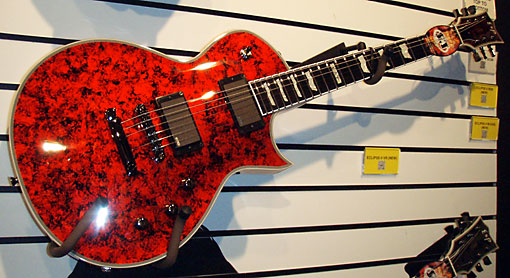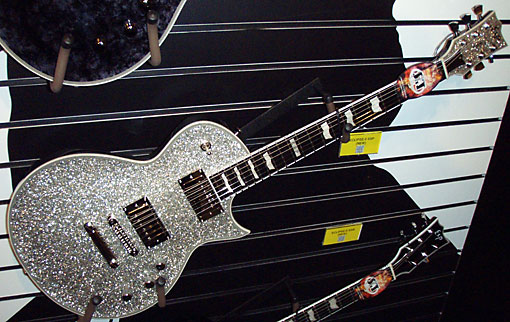 EVH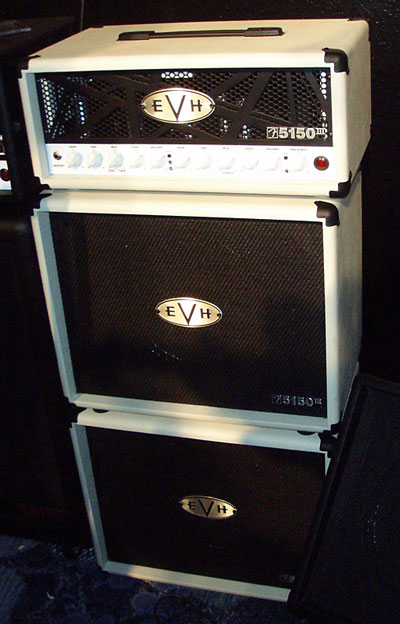 I like the looks of this EVH mini stack.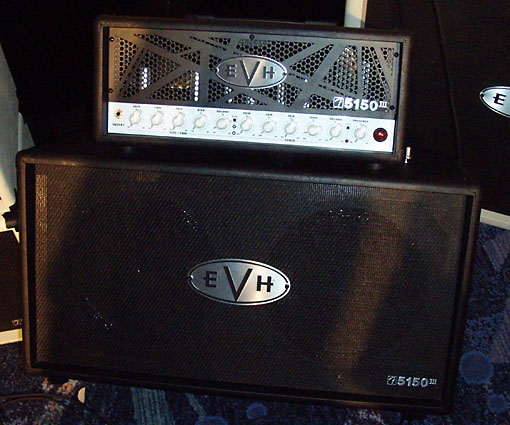 Same amp on a 2x12".
Fender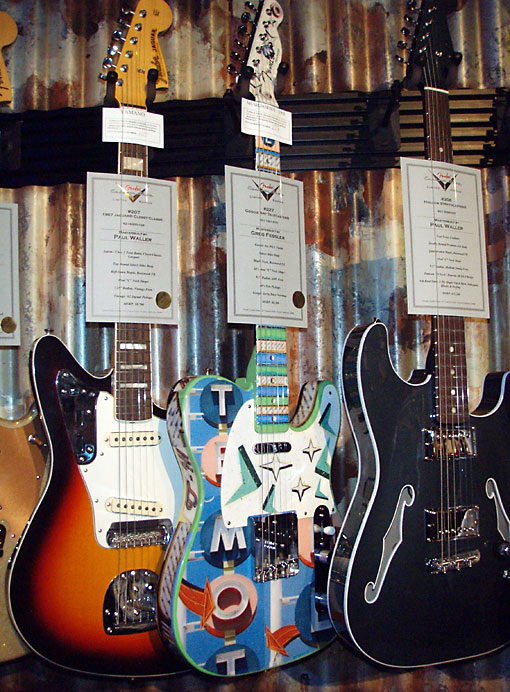 There's no denying some of the craftsmanship and creativity at the Fender Custom Shop. I love this Tele.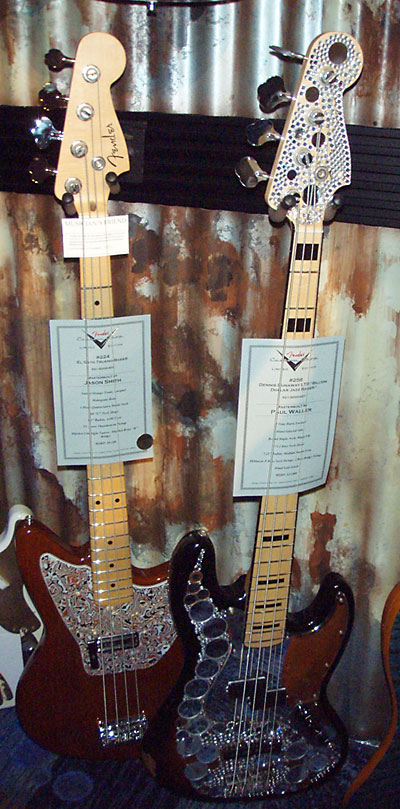 A gaudy bass or two, anyone?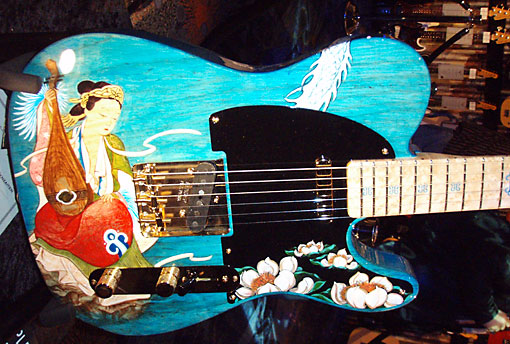 While not made in Japan, this Tele definitly takes its graphic inspiration from the land of the rising sun.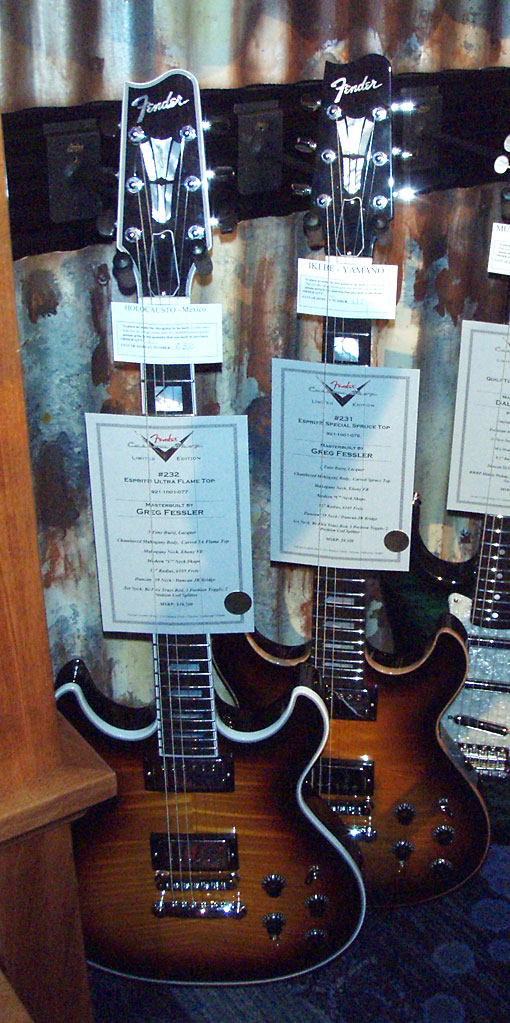 The Esprit, also known at one time as the Robben Ford Signature Model is still being made at the Custom Shop.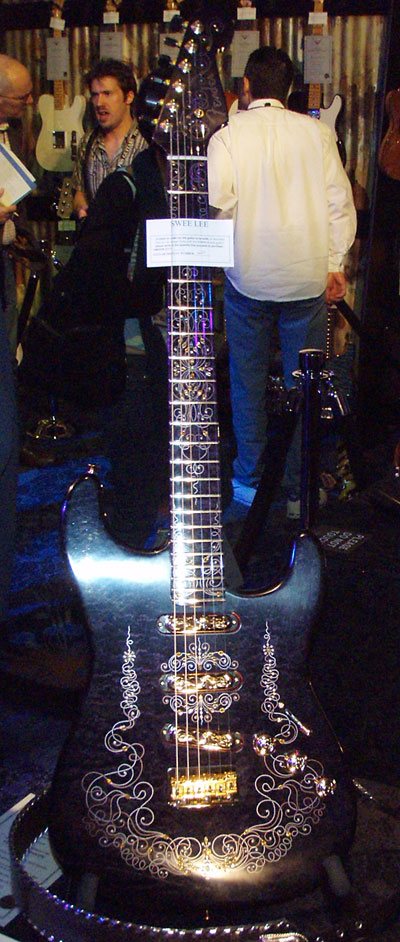 An engraved Stratocaster with matching strap. Sorry about the pic quality but the lighting conditions were not optimal.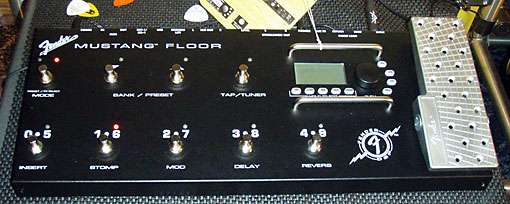 This is a very interesting product. When I tried the Mustang II amp I found it had a very good speaker emulated output for direct recording and found myself wondering what would happen in the world of PODs, ToneLabs, RP's and GTs if Fender released this technology in a floorboard. Now we shall soon see.
FGN Guitars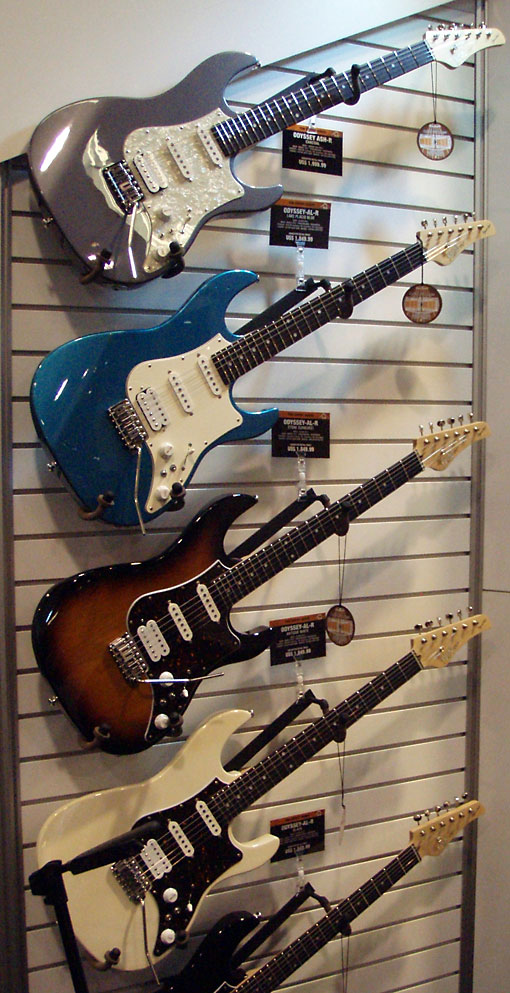 Behind the FGN name is the Japanese factory Fuju.Gen. These are very nice guitars even though they do borrow heavily in their design from some US boutiqe builders.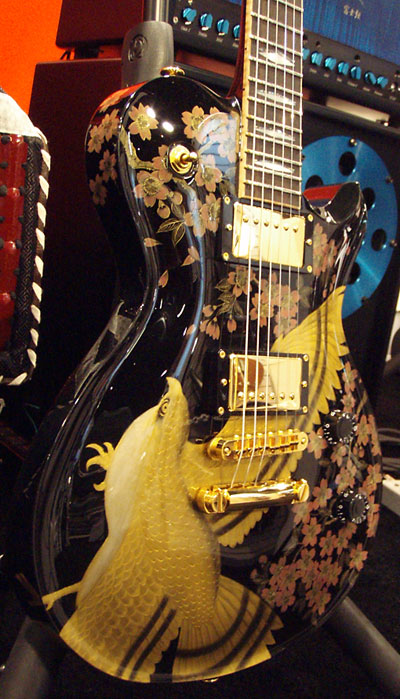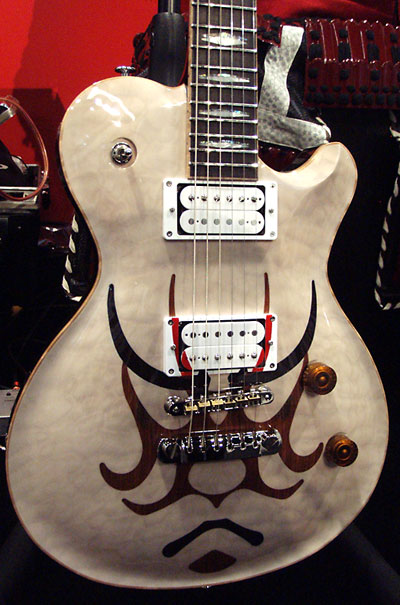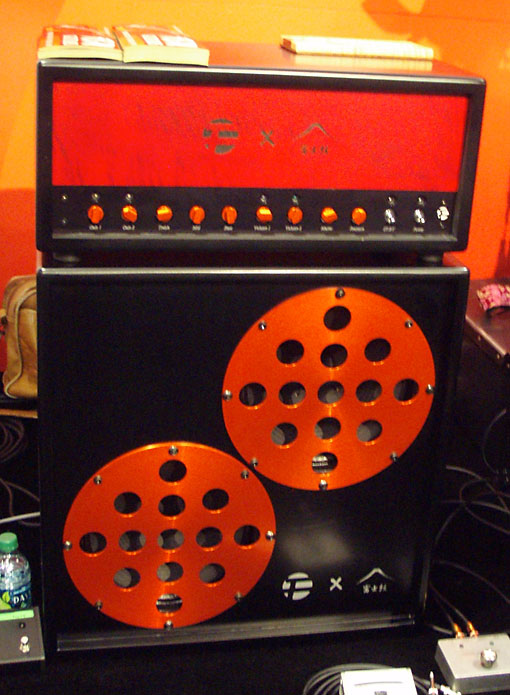 I didn't get to hear this FGN amp but would very much like to.
Four Force Amplifiers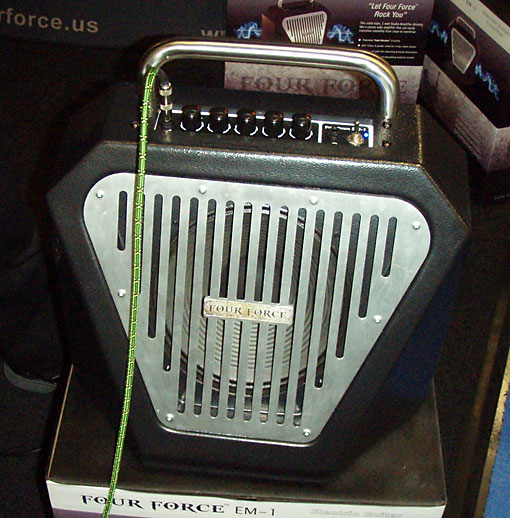 This is a very cool practice and beginner amp. Surprising amount of gain and it weight almost nothing. Check it out in the Hall E Crawl video.