Winter NAMM 2012
Kemper Amps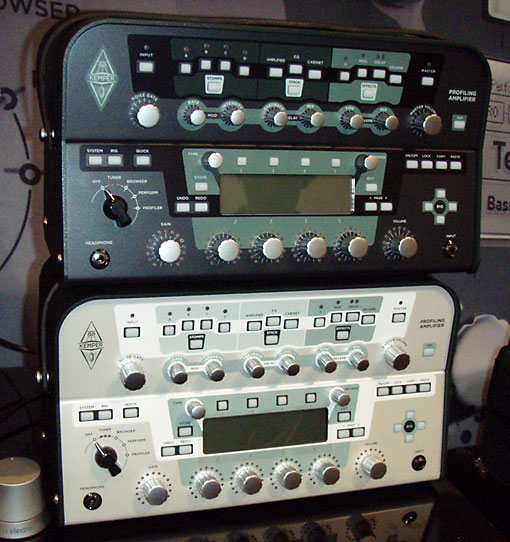 While the Kemper Profiling Amplifier wasn't new for this NAMM the fact that it was released was good news for expectant customers. What was shown was an alternative color scheme for the unit.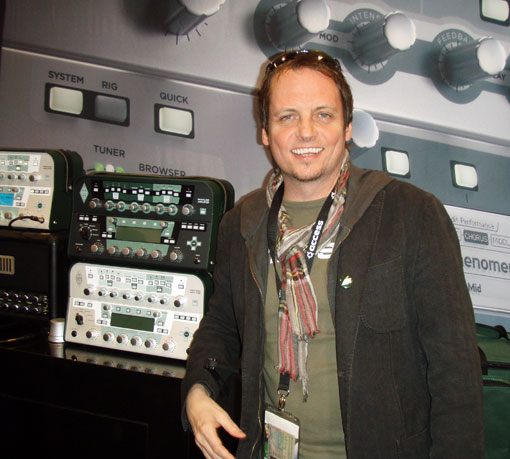 Christoph Kemper is not only the brains behind the Kemper Profiling Amplifier but the Access Virus Synthesizers are also his creations.
Knaggs Guitars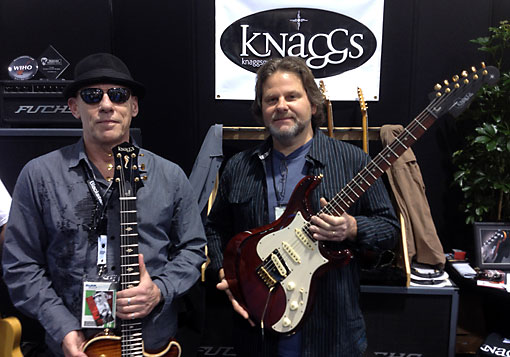 Peter Wolf and Joe Knaggs at Knaggs Guitars. Joe was one of the master builders and guitar designers at Paul Reed Smith Guitars for many years. The guitars that Joe builds under his own name makes me think there's a possibility for a new name among the "big guns". Looking very much forward to trying these out.
Lipe Guitars
Master luthier Michael Lipe used to work at Ibanez building guitars for their endorsers like Steve Vai, Joe Satriani and others. Now he's bulding under his own name and the guitars I tried were much worthy of attention. One thing I tend to notice with every American luthier of distinction I meet, is that they are all gentlemen and thus very easy to get along with.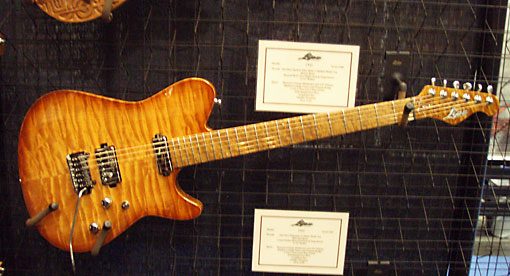 w

The guitar to the right was painted by Pamelina.
LSL Guitars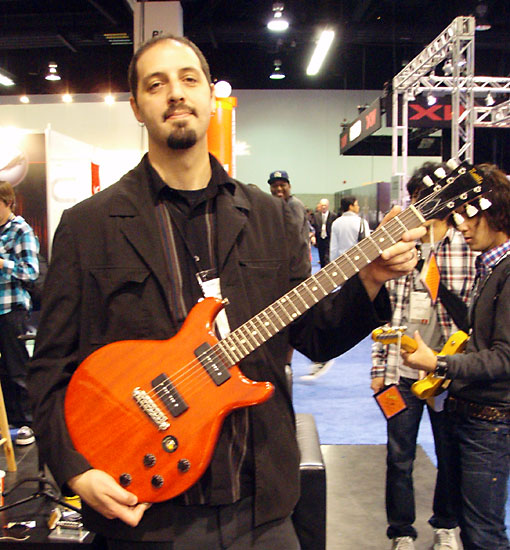 Avi from LSL is prodly holding up their first setneck offering and as with their T-bones and Saticoys this is a home run. Don't try it if you don't have the money.

Here's LSL's mix between a Tele and a Strat.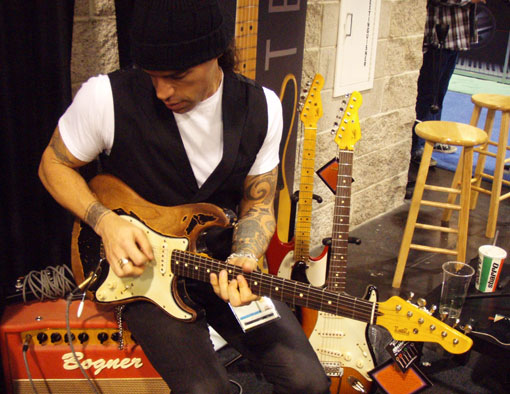 A very aged Saticoy sonded soooo good. Can you tell I really like LSL?
Matchless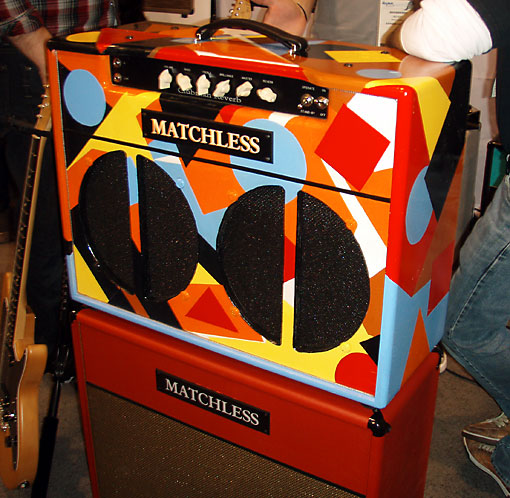 I like whacky graphics so this Matchless gets my approval.
Moollon
Moollon showed a new series of pedals at a lower cost as they do not have the engraving that is sort of a Moollon trademark.
Nik Huber Guitars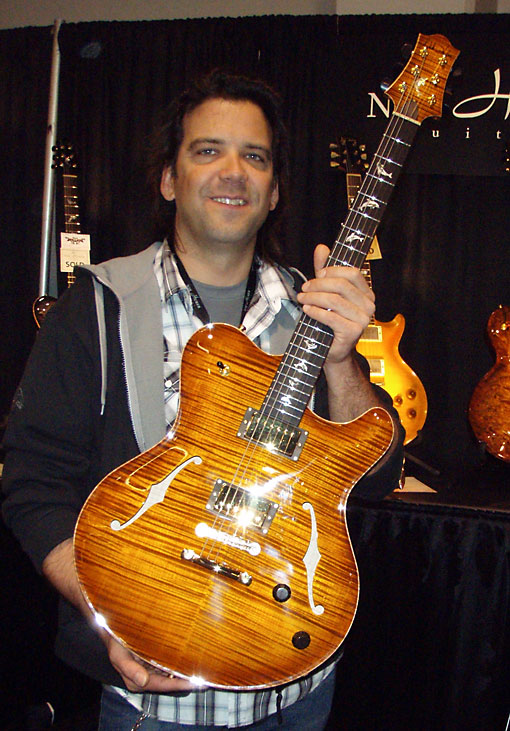 I always make a point of chatting with Nik and playing some of his beautiful creations. This show he was really on about his semi-acoustic guitar in this picture. AFter trying it I can understand why. At USD 11.000 it's definitely not inexpensive but the player getting it is getting a lifetime of pure musical joy.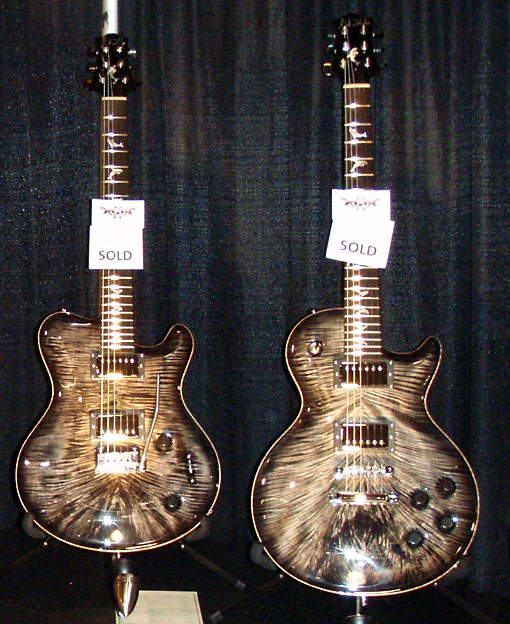 Nik saved these spectacular maple tops for a special occasion and these guitars were it.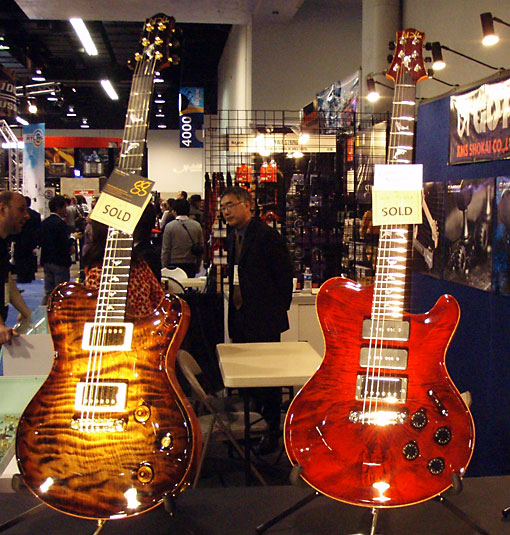 Two Dolphins that are easy on the eye.
One Control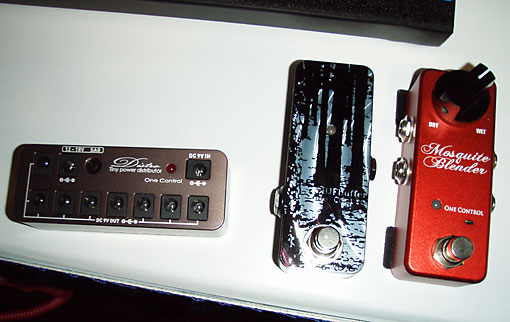 One Control seems to focus on saving pedal board real estate with small pedals. The Mosquite Blender is a small mixer you can use to select any blend of dry and effect signal for any effect pedal you care to hook up to it. The power supply to the left is the smallest on the market according to the rep I talked to.
People
Apart from meeting a lot of trade show friends I've made over the years, it's impossible to not notice some of the more or less famous people you bump into.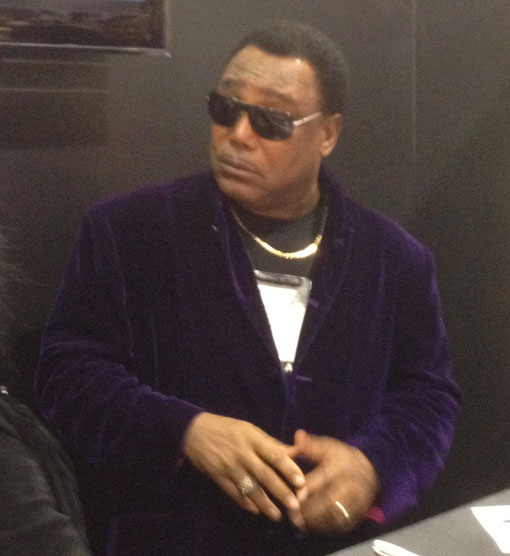 Here is guitar giant George Benson.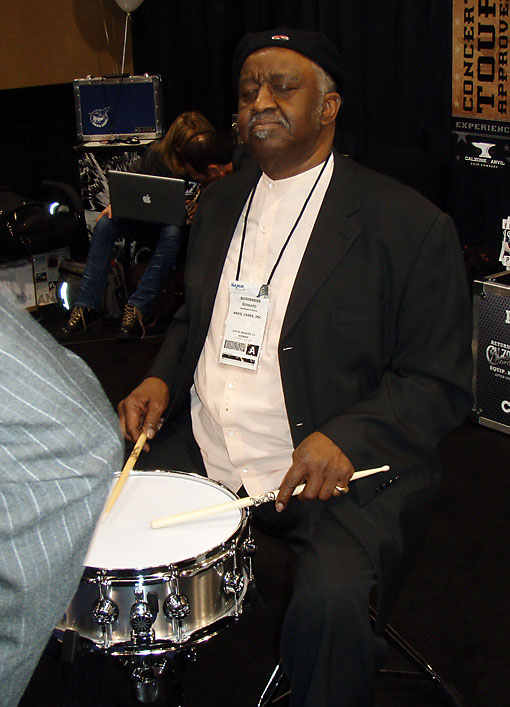 One of the grooviest drummers ever, Mr Bernard Purdie.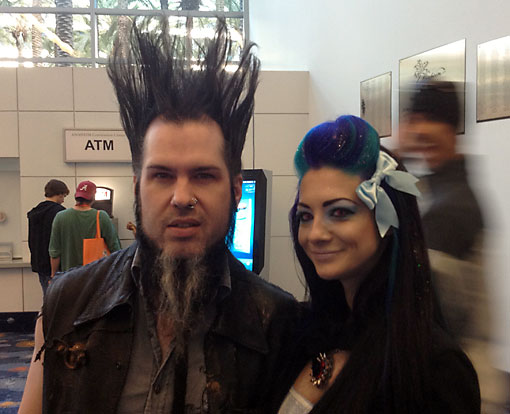 I have no clue who this couple is but they sure look the part and were kind enough to pose for a picture.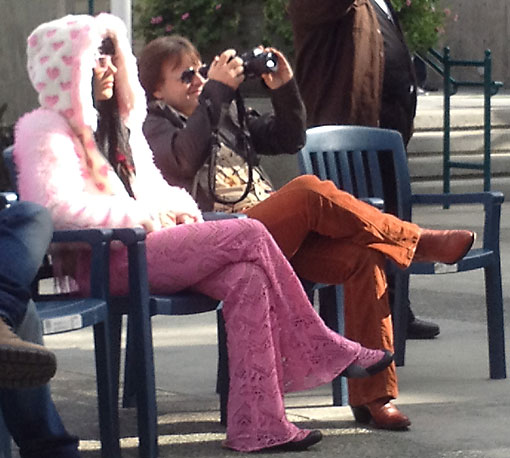 In the sunshine, outside the NAMM arena listening to Chans Required, I found this fur equipped lady in pink attire.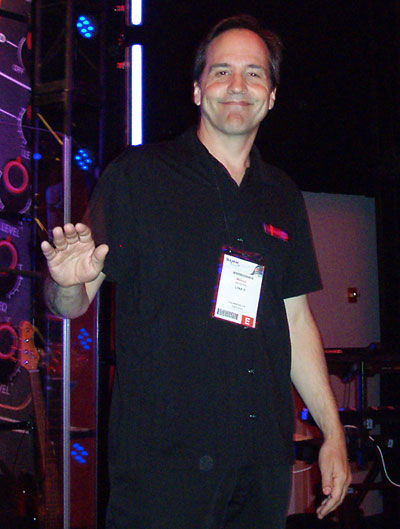 Marcus Ryle is one of the musical industry super heroes. The man was instrumental in the creation of the Oberheim system, the Alesis HR-16 Drum Machine, the Alesis ADAT and the POD. I truly believe that music would not sound the same today if not for Mr Ryle.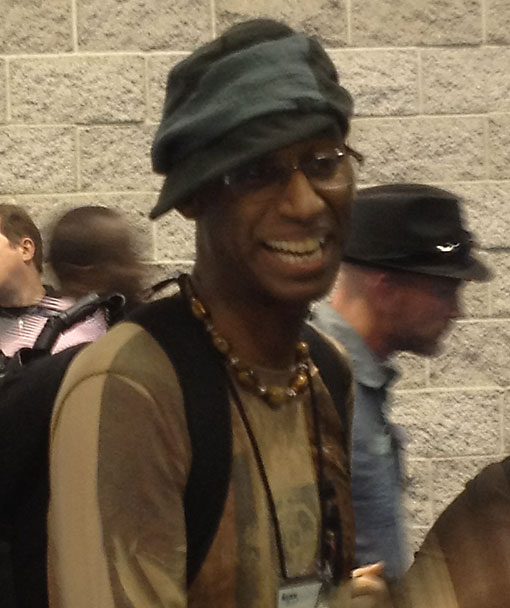 You want to make sure the band is steady? Ask Omar Hakim to play the drums!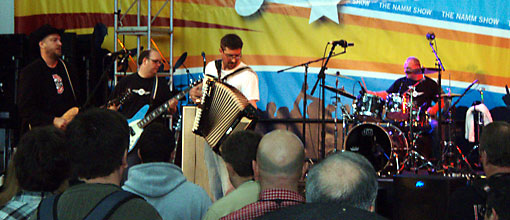 This band is called Polka Floyd. Yes, you guessed it. The do Pink Floyd tunes in polka style.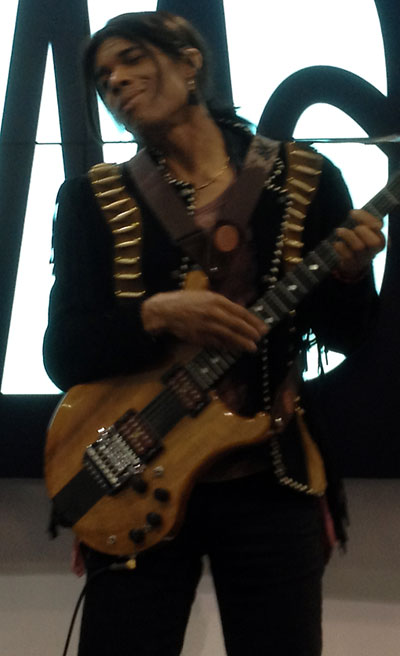 Stanley Jordan performed at the PreSonus booth and he is truly an extraordinary musician.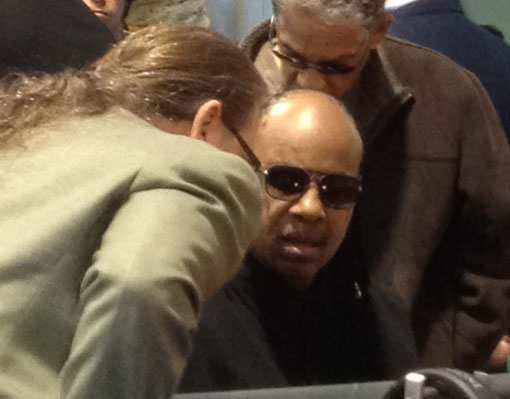 Stevie Wonder roamed the halls with a number of security guards surrounding him at all times. I think this man has the respect of everybody.
Pocket Strings
Need to practice but can't bring your guitar. Pocket Strings may be the solution.
Premier Builders Guild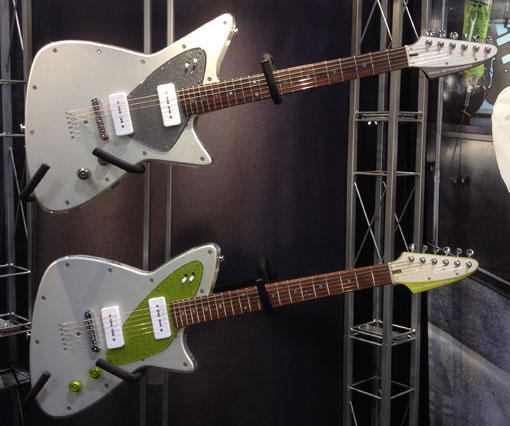 Sometimes you see a guitar that can be considered new in a way that it's not more or less a variation of a Strat, Tele, Les Paul or a 335. Dennis Fano's new guitars belong in this category. And before anyone says it's a variation of a Les Paul Special because it has two P90s let me tell you that these are proprietary design pickups that just happened to fit very nicely in P90 covers.

The pickups and the switching are the same in all three models. The bodies are made with acrylic and brushed aluminum. I tried them and they both sound and feel great. The sound was also sort of "new" and I would happliy consider adding one of these to my set of working guitars. Price is USD 1999:-.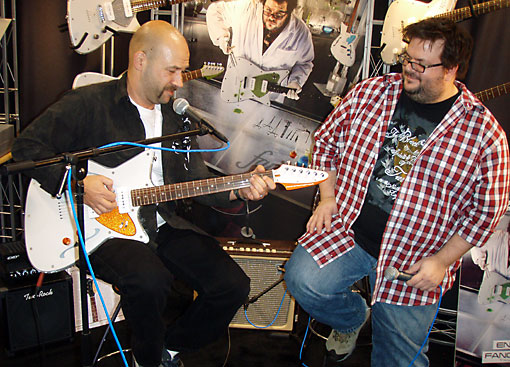 Gene Baker to the left playing the guitar and Dennis Fano to the right looking justifyably content with his work. Good work!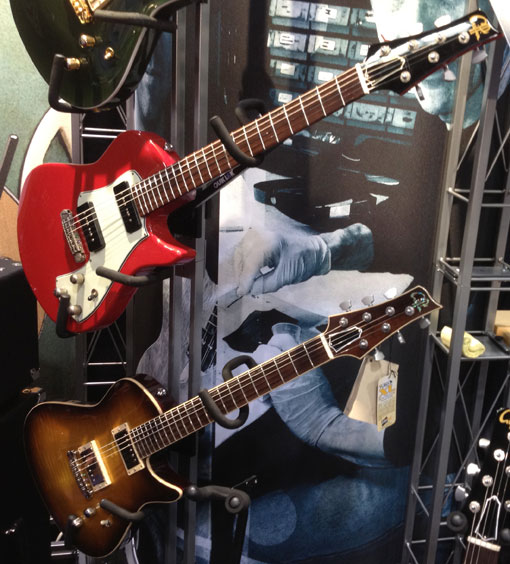 Roger Giffin is one of the builders in the guild that has some very nice guitars.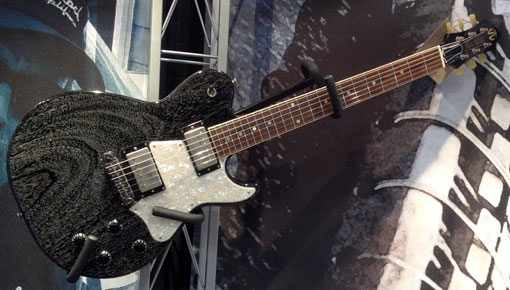 If you want a Johan Gustavsson guitar but can't hack the cost or the waiting time you may consider this model. Looks great, plays great, I want one!
PreSonus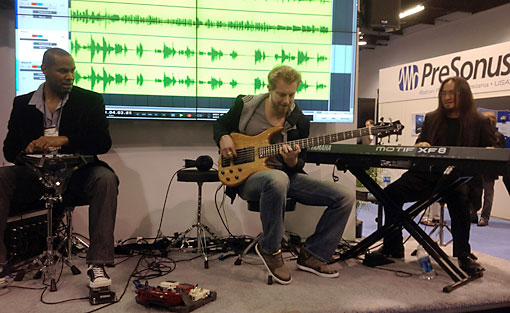 I always count of PreSonus to provide first class musical experiences and this year was certainly no exception. This trio was simply astounding. David Hayes on "drums" is always a pleasure to both watch and listen to and the bass player whose name I forgot was one of those musicians your really don't want to play with because they are just too damn good and you will not be happy with any other for the rest of your life. He is just one extremely talented player that I certainly hope to hear again.
On the product side of things, PreSonus showed the latest version of Studio One, the flagship Daigital Audio Workstation with a huge number of added features. Just a few attention grabbers were integrated Melodyne editing of pitch and the conection to the PreSonus Exchange. This is a server where users can upload songs, presets, clips, MIDI for other users to download. I can see great things coming from there.