FUZZ Guitar Show 2017
I just love the FUZZ Guitar Show. I've said it before but I'll say it again. It's not the biggest and it's doesn't have the most guitars and basses, but it is the people that makes it such a nice place to visit. It definitely contends with Disneyland as "the happiest place on earth"!
The exhibitor list contains is a mix of stores, luthiers, hobbyists, distributors and most of them have products to sell. There's are also concerts and clinics, some of which are truly great.
As always, you're welcome to join me in my explorations, but before we embark on the journey, please read my standard disclaimer.
This personal report should bee seen as my very own point of view and does not reflect the wiev and/or opinions of any other person or company of which I may be associated either through my work or in these pictures.
I have placed the products in alphabetical order for your convenience. I also have divided the report i 5 sections.
Please also accept my apology for any language errors as English is not my native language.
Blade
Blade designed by guitar guru Gary Levinson. The guitars and the bass here are from his Custom Shop. I tried both these HSH guitars and the GAS came on strong. The necks felt wonderful and the on-board VSC circuit makes these guitars so versatile.
Great news alert! The VSC control will soon be available in a pedal. I have mine on order!
aditional nylon guitar necks are way too big. These necks are very comfortable and the sound doesn't seem to suffer from necks with less mass.
Bluetone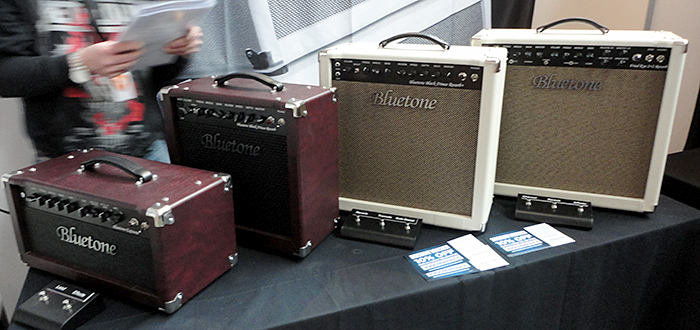 When I first saw the name and the logotype I though it said Bludotone which is a sort of famous American brand. Bluetone is a Finish company making very interesting amps deserving a lot more awareness than they yet have accumulated.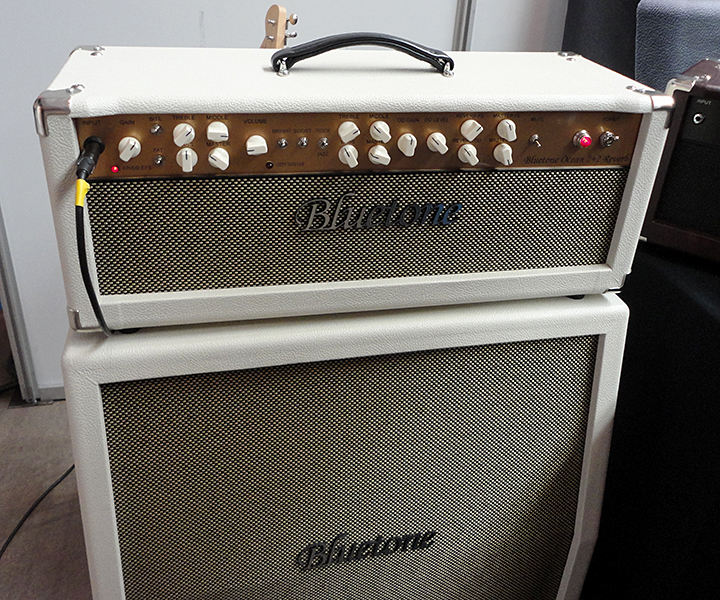 This Bluetone 2+2 Reverb has two full amps in the head. Yes, what initially seems like two channels are actually two full dual-channel amps which preamp and power amp. The right side is based on a Dumble ODS with a 6L6 power amp and the left side is based on a Friedman Brown Eye with a EL34 power amp. Quite a combination.
The amp sounded great. The clean ODS was very warm and dynamic and the OD was very creamy and mid-focused. The left side was pure rock.
The coolest thing about this amp is that it's modular in construction. So if you want a Blackface Fender style amp instead of either the BE or the ODS, then that will not be a problem. If you want to go for more vintage sounds, you can have a Twin side and a Plexi side. Just place your order.
While the sound definitely can do vintage, the ampitself is very modern making use of technology in new ways. For example, you can control the bias settings of the power amps using an iPhone app.
BluGuitar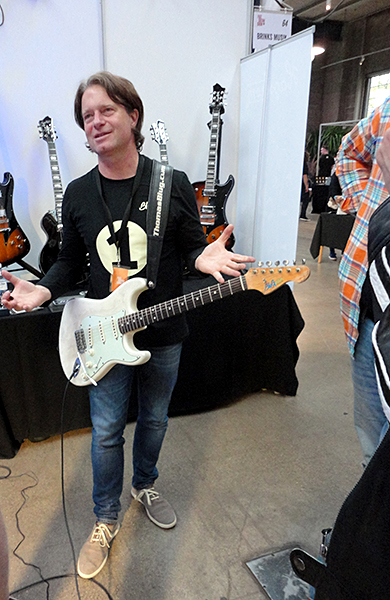 Superb guitarist and inventor/designer Thomas Blug was on hand and delivered a very convincing demo showing his BluGuitar Amp1. Thomas' demos are always a pleasure to attend as he's a very knowledgable and funny in addition to being a great player and composer.
Boss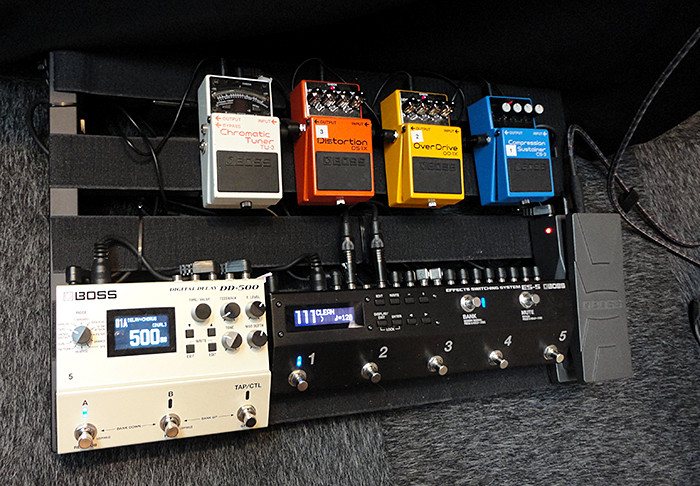 Visitors to the Boss booth got to try all kinds of pedals in all kinds of combination courtesy of the ES-5 effects switchers. I have read the manuals for the ES-5 and big brother ES-8 and those switchers can be great additions to your setups no matter if you play live or only live in the studio as you can use them as signal routers.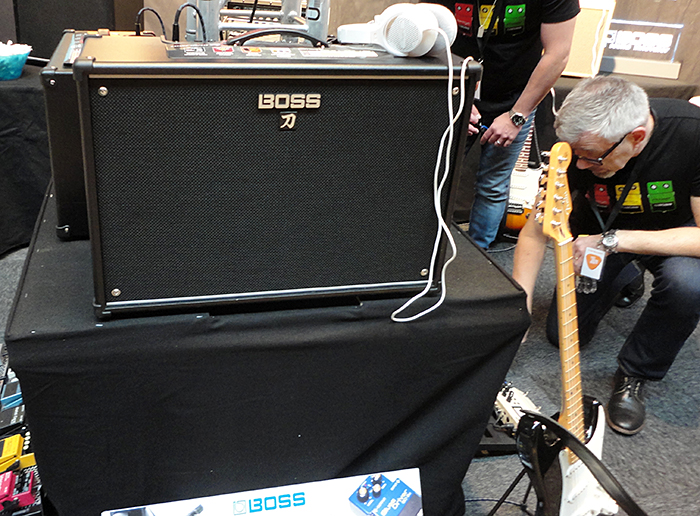 The Boss Katana amp were shown and people flocked to them. No surprise as they are sound good and doesn't cost an arm and a leg.
Bromander Handcrafted Guitars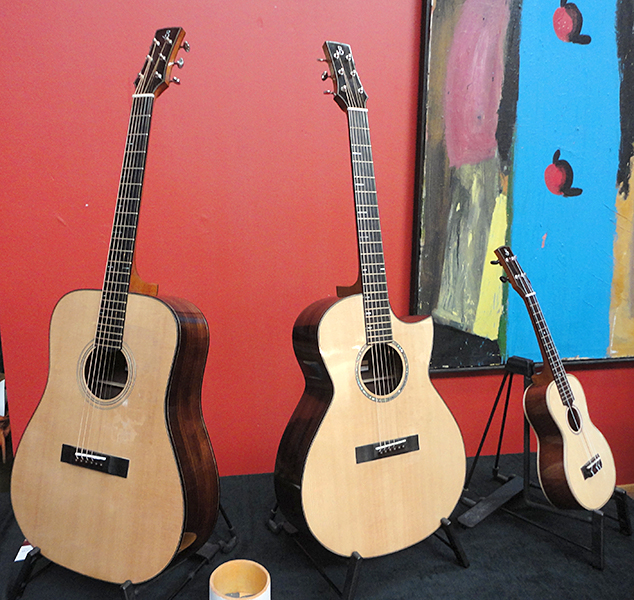 Swedish luthier Jonas Bromander from Rättvik in Sweden supplied the surprise of the show. I had never heard of his guitars before and just happened to have a few minutes before a meeting so at his invitation I sat down with the guitar to the right in the picture. I love the way it looks and it even sounds better than it looks. The sound was at once both delicate and powerful. I found it very dynamic and worked well when playing with fingers or a pick. If you're looking into getting a high end acoustic, I suggest you give Mr Bromander a call.
CruzTools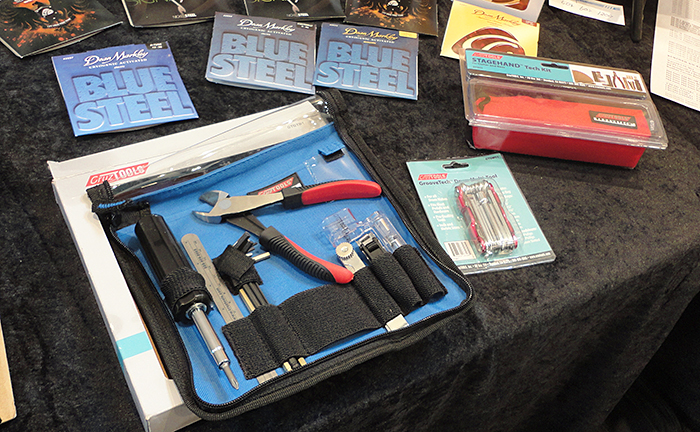 If you love your guitars you are serious about caring for them. And if your serious about your tools you should get a kit from CruzTools. Everything you need in a handy pouch. I got my kit some years ago and my guitars are kept in good shape.
Eastman Guitars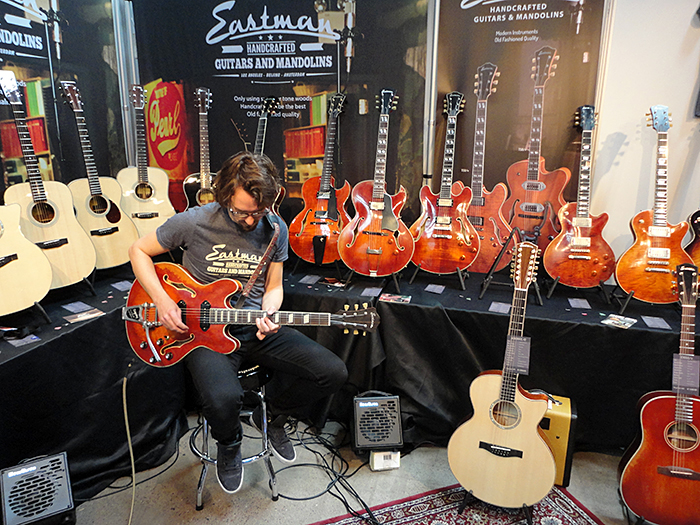 Eastman was on hand with a wide variety of both acoustic and electric guitars. I tried two ES-175 inspired jazz archtops and they represent good value for the money.
Electron
This is probably my favourite dirt stompbox. But I would make it gross injustice if I just called it a stomp box. The analog drive gives you 8 different analog circuits under advanced but easy to use digital control. All circuits benefit from the use of the analog 3-band eq with semi-parametric mid and everything is programmable and you can do realtime control with an expression pedal. There are so many sounds you can get from the Analog Drive that I can't possibly describe them here, but I will say I've had a ton of fun with the Harmonic Fuzz, and I'm not even a big fan of fuzz. This one is a "must try"-item.
Ernie Bll/Music Man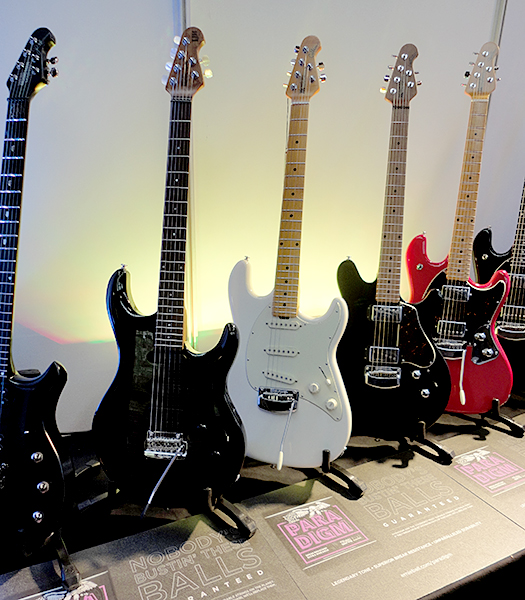 Music Man has always made interesting instruments. That may not be surprising considering who founded the company. While I realize the practicality of the 4+2 headstock I can't say I'm very fond of how it looks. But as I never look at the headstock when I'm playing I'm more than willing to overlook that if it gets me the absolutely gorgeous necks of these guitars. The gun oil finish they have is just superb and gives an unsurpassed feel.