FUZZ Guitar Show 2012
While Sweden may not be the largest country in the world and the FUZZ Guitar Show definitely is not the biggest guitar show in the world, it is without doubt one of the most people friendly I have ever been to and the location in an old ship building factory next to the canal leading to the ocean just a few minutes away lends an almost exotic quality to the event. The weather is usually good and so are the visitor numbers. 2012 was not exception and this year was an all time high.
The show is a healthy mix of old and new, products and music, amateur and professional and the best thing about this show is that everybody always seem to be in a good mood. There are smiles all over the place.
So, without further ado, please accept this invitation to join me in my walk around the 2012 FUZZ Guitar Show.
But before we begin, please read my standard disclaimer.
This personal report should bee seen as my very own point of view and does not reflect the wiev and/or opinions of any other person or company of which I may be associated either through my work or in these pictures. If you find any faulty information in this report please e-mail me at btking[at]telia.com.
I have placed the products in alphabetical order for your convenience. I also have divided the report i 5 sections. Otherwise the load times would be problematic.
Please also accept my apology for any language errors as English is not my native language.
Blackstar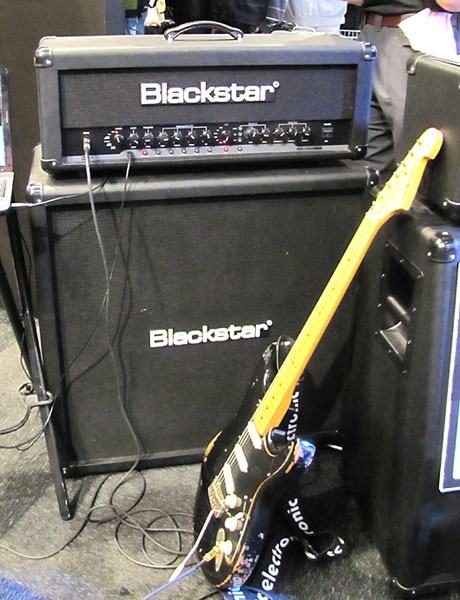 Not only is Blackstar first in my report, they also showed the coolest new amp at the show. The ID series is their first digital offering and I was thoroughly impressed. It is flexible, light and inexpensive. This wouldn't mean anything to me unless it also sounded good, felt good and was very flexible and it was all that and more.
These amps have 6 classic preamp types, 3-band eq with their acclaimed ISF-circuit (which I personally love on my Blackstar HT-Dual pedal), built in multi effect, a very flexible audio routing scheme using the USB connection, a good speaker simulated direct out and as "coup de grace" True Valve Power (TVP). TVP is a power section that allows the ID-series to act with tube like power amp characteristics, i.e. the soundt doesn't just disapperar when playing with a loud band.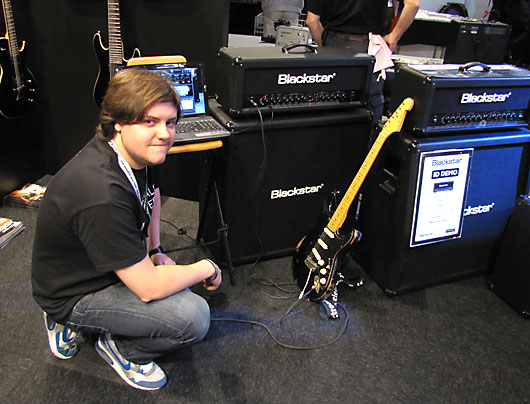 Dan Wright from Blackstar, flown in from the UK especially for this occasion, demoed the ID in a special demo room and the dynamics of this amp surly belies it's modest price tag. With this amp, Blackstar have significantly raised the bar for what we should expect for our money. Well done, Blackstar!!
Boss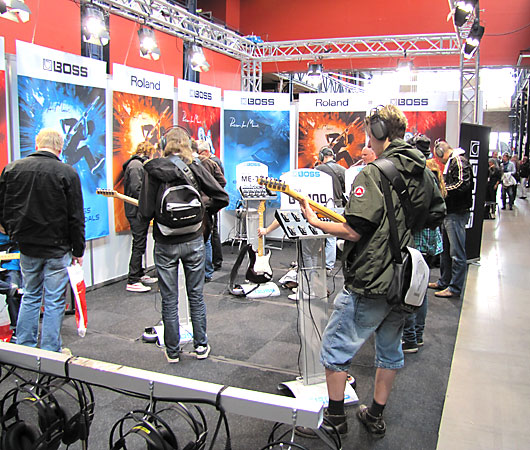 Boss was very much about the brand new GT-100. The booth was busy most of the time with happy widdlers trying out the new stuff.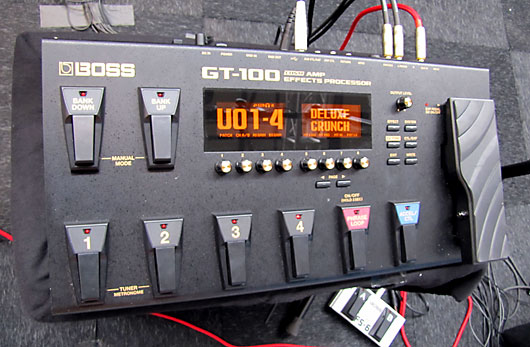 The GT-100 close-up.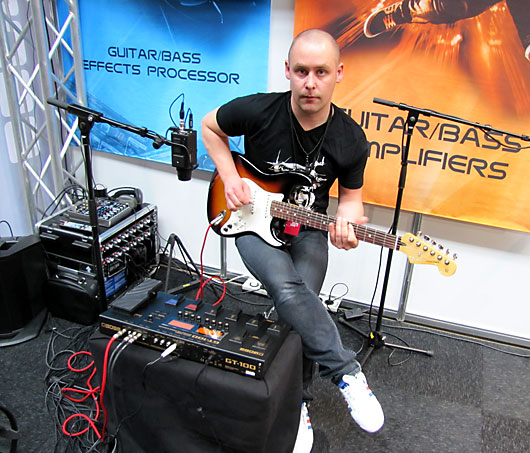 Swedish Boss product specialist Tobias Persson was on hand to demo the GT-100 together with the Roland/Fender VG-Stratocaster.
Breedlove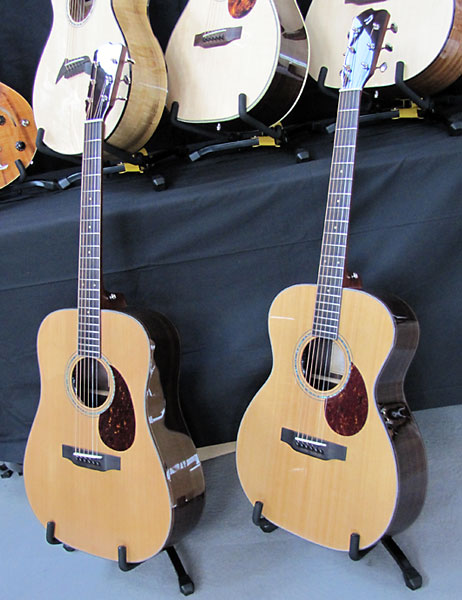 Here are two of Breedlove's new Asian products. I thought they felt good to play.
Brian May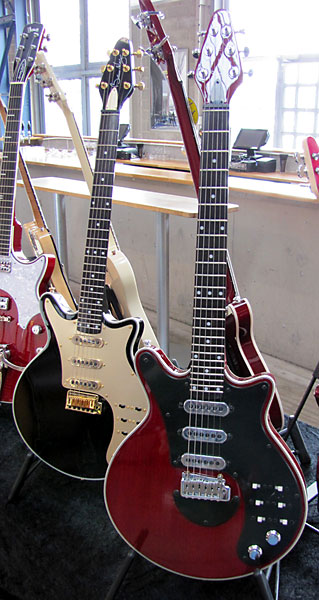 Brian May guitars are not new but as I seldom see them in the stores I thought I would include them. They are definitely not your ordinary Strat/LP clone.
Carl Martin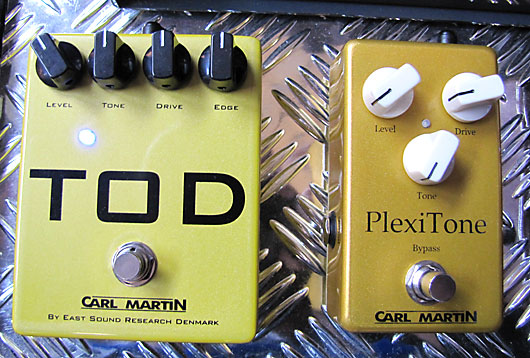 Carl Martin from Denmark displayed a number of new products. The TOD was new to me and while I've seen ads for the Plexitone in this enclosure this was the first live showing I've seen.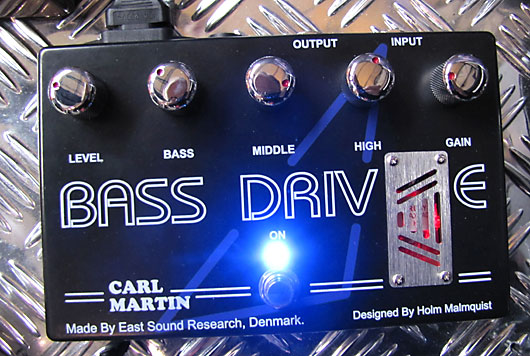 Bass players got their GAS filled by this Bass Drive.

The Carl Martin 6 Pack is a pedalboard with 6 fully analog effects under digital control and is programmable. I will definitely check this one out.
Carr Amplifiers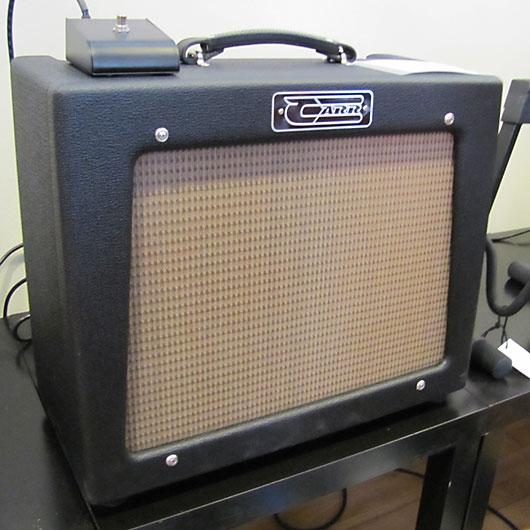 This Carr Rambler is such a sweet sounding amp and it manages to stay sweet without being wimpish when pushed. In my opinion the nicest amp at the show.
DooDad Guitars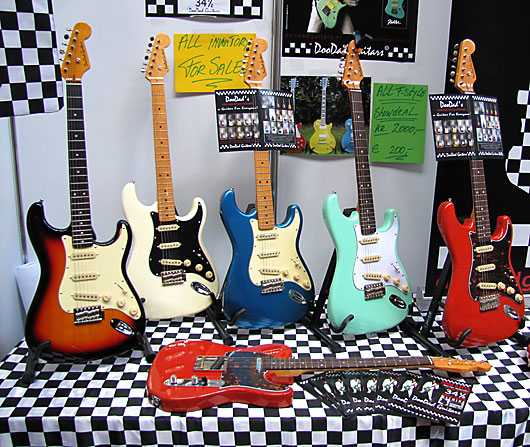 DooDad Guitars have both original designs as well as "tribute" designs at low prices. Some of them are good bang-for-the-buck guitars.
Dusenberg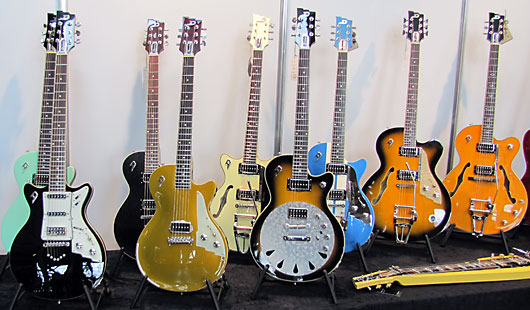 Dusenberg is a very cool line of guitars that I all too seldom see in music stores. I wonder when people will wake up to the individuality and quality of these guitars.
ESP
ESP and Ltd have both supplied the Scandinavian market for a long time with quality guitars. There has been a few hickups regarding distribution but now it is settled that Gullmoen & Eng from Norway will handle distribution in Sweden as well. Welcome back ESP!