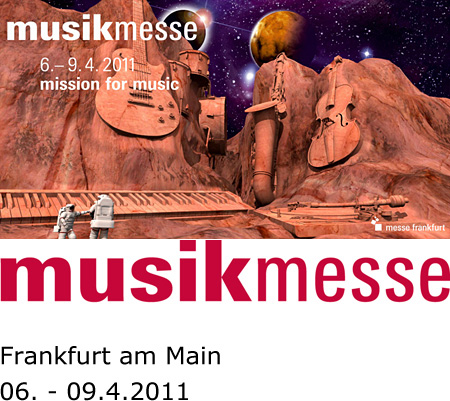 Musikmesse Frankfurt 2011
- sign of the times
Usually nice weather seems to be reserved for the NAMM SHow in Anaheim but this year we were surprised by the unseasonably good weather in Frankfurt. I heard somewhere that this was a record for this time with a temperature of 28 Celsius. Warm enough to sit outside during lunch and eat you wurst mit brötchen in your shirt sleeves and enjoy the music being played outdoors. The only major difference between NAMM and Frankfurt was the absence of of ukuleles here in Frankfurt.
Unfortunately Musikmesse Frankfurt followed the same trend as NAMM with fewer exibitors and fewer visitors. Despite that I found it to be a good show with a lot of new and interesting things and the people I talked to were generally in a very good mood.
One positive trend I noticed was that there were more musical demos this year than I remember from the past 10 years. Lots of great music in different styles to be heard at numerous places. The only downside with these demos was the Warwick booth that seems to have bought a license to play load as hell at regular intervals that made conversation in neighbouring booths almost impossible. Shame on them.
Before you go on please read my standard disclaimer.
This personal report should bee seen as my very own point of view and does not reflect the wievs and/or opinions of any other person or company of which I may be associated either through my work or in these pictures. If you find any faulty information in this report please e-mail me at btking[at]telia.com.
I have placed the products in alphabetical order for your convenience. I also have divided the report i 5 sections. Otherwise the load times would be problematic.
Please also accept any language errors as english is not my native language.
Albion Amplifiers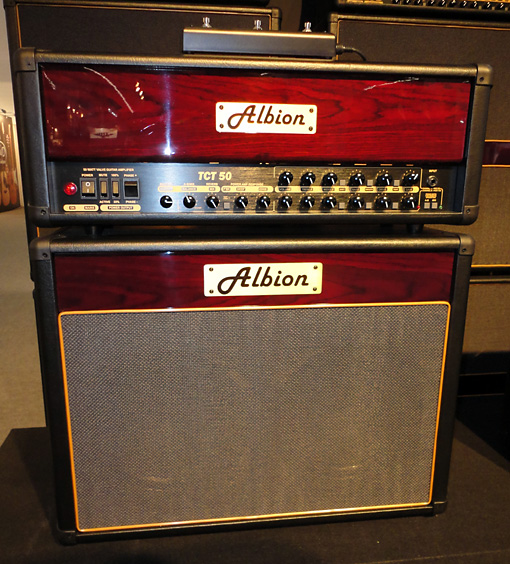 A new name for me was Albion. Their marketing material states that these amps are designed by a well knows amp designer. I can't remember his name but what I do remember is not having heard of him before. Didn't get a chance to try them but they look nice and I will try to get a chance to try them when they hit the market.
Alhambra Guitars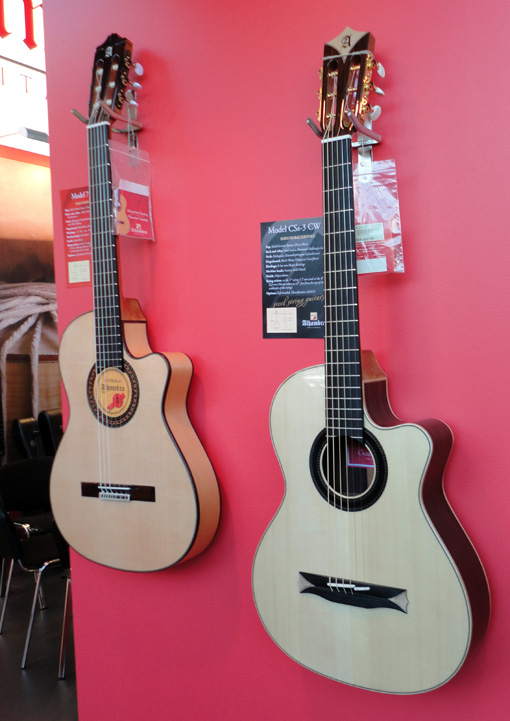 I started my life as a guitar player with a nylon string classical guitar and I still try to play when the urge hits me and I always enjoy it when a producer asks me to lay down some nylon string parts. These thinner body Alhambras sounds good and looks good and are on my "really-do-want" list.
Aristides Instruments
These guitars look cool and play great. In the hands of guitarist/demonstrator Magnus Tveiten it sounded wonderful. Check out his Yoytube videos for some wicked tapping withg the guitar in his lap. WHile Magnus seems to be most known for that style he also did some great "ordinary" playing that was much more than ordinary.
Blade Guitars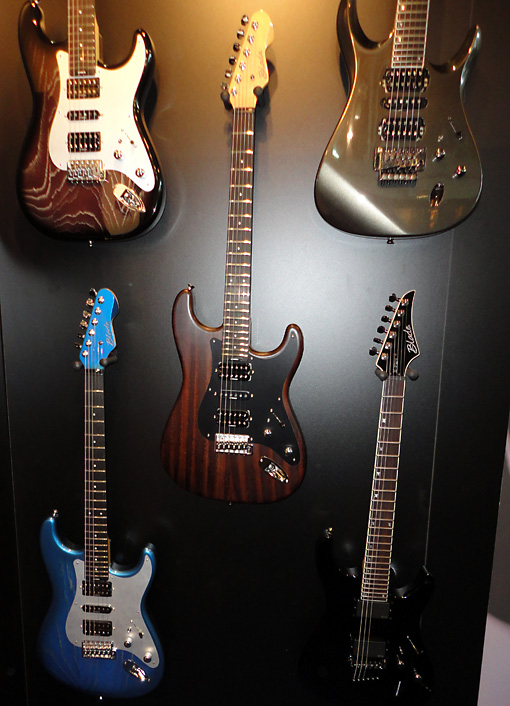 Designed by Gary Levinson, Blade Guitars are back in style. These H/S/H to the left combines everything that is great about vintage guitars with the refinements made possible by modern technology. I particularly liked the neck shape.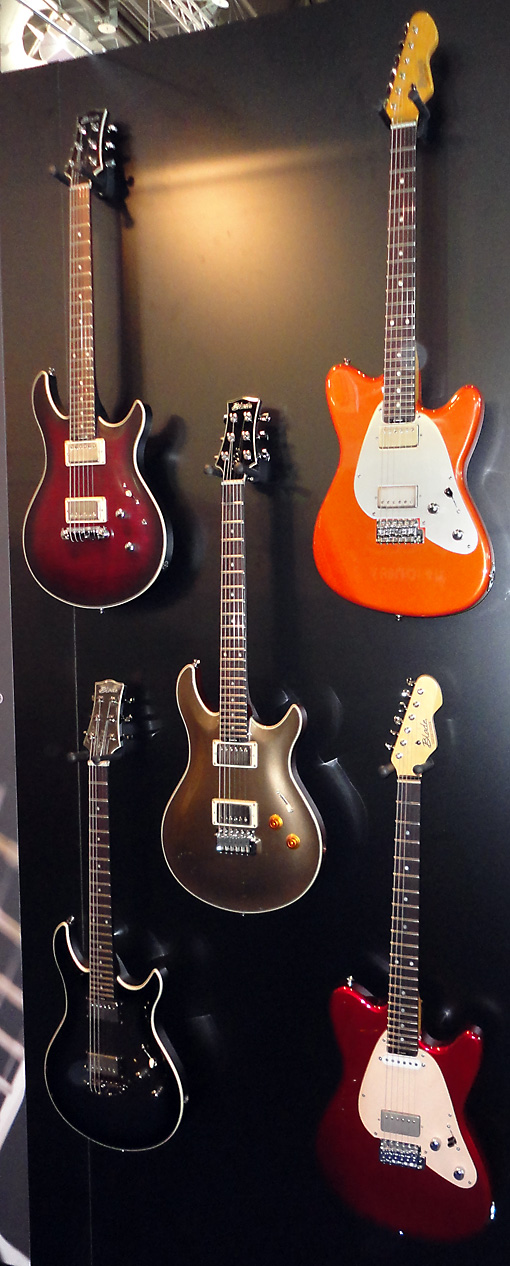 The Durango (to the left and in the middle) is a very nice alternative to well known and more expensive brands if you are looking for a 2 humbucker guitar. Can be had with trem if that is your wish.
Boss
At NAMM Boss debued the GR-55 Guitar Synth so the only new guitar related product from Boss was the Micro Recorder BR-80. This is soo cool. It has 8 simulateous tracks with each track having virtual tracks so you can record up to 64 tracks to choose from. There is a Lice Recording mode where you record 2 tracks using the built-in microphones. What makes the BR-80 especially interesting for guitar players is that it has the eBand function built in. You can liten and play along with all these backing tracks and you can also download more including mp3 files you download from the net like BT King. The BR-80 alos includes all the amp simulations and effects from the Boss GT-10. I didn't get a firm price but the ball park figure I was told was amazingly low.
Chairs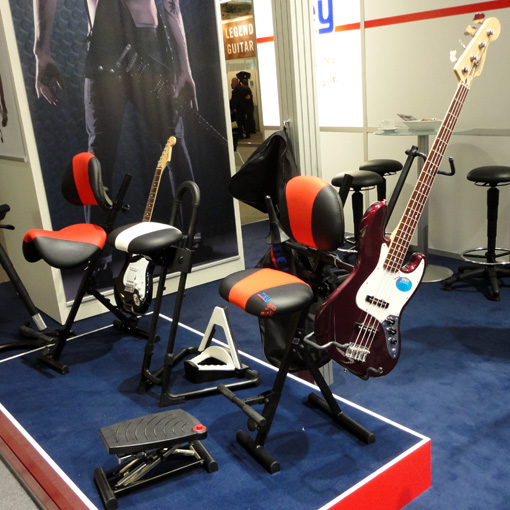 I apologize to the manufacturer of these chairs as I forgot their name. I do, however, think they have a nice idea and the models I tried were very comfortable. They had some nice options for drummers as well.
Ciognani Amplifiers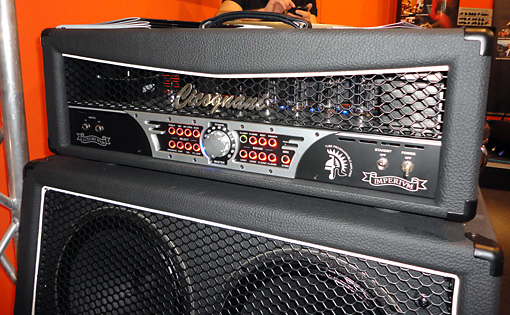 Didn't get to try or hear these amps but I like the design so I included them based on the cool look.
Cuntz Guitars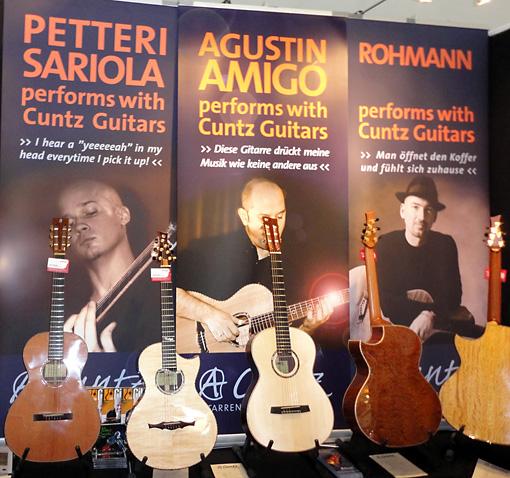 Don't be fooled by the somewhat unfortunate name. These are serious guitars and they played well and looks the business.
Dark Matter Audio (DMA)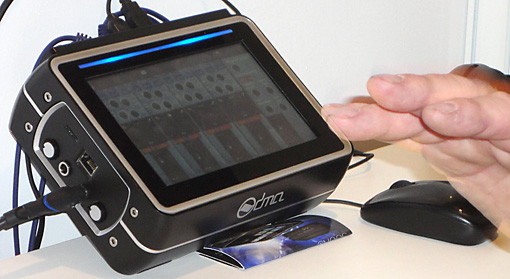 Undoubtedly one of the coolest new products in Frankfurt. This litte unit is equipped with a touch screen but you can also control it with a mouse if you wish. The unit can be anything you like and there a SDKs available to developers who want to do their own thing. The unit on display had a four channel guitar processor with amps and effects. Due to the high capacity processor in the unit you can do massive things at the same time as well as creat long effects chains. Latency is as low as 3 samples. You have individual inputs and outputs for all channels and can also mix to stereo and/or 5:1. You can hook it up to the Internet and you can also view vidoe on the screen. They were talking about some seriously interesting educational concept with this thing hooked up to the Internet and utilizing the video and the audio components together. The team behind this come for well known companies like SSL, Akai and Alesis wich should indicate a level of ability. Price for the unit should land around 500 Euros.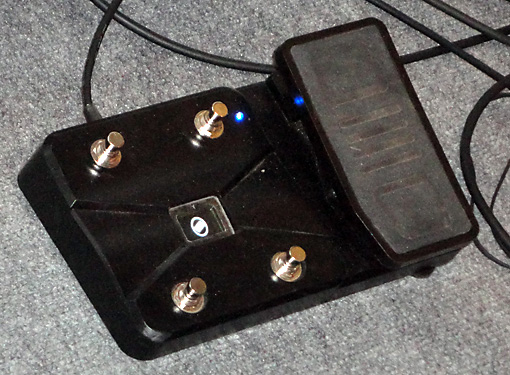 You can of course control it with a foot pedal and this is DMA's first prototype but according to well placed sources "the first release will be alot cooler". Looking forward to this.
Eastman Guitars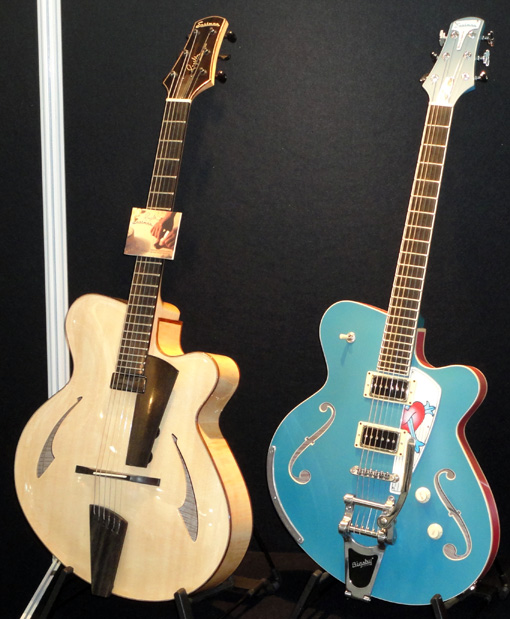 Eastman Guitars have enlisted the design services of acclaimed designer duo Mr and Mrs Pagelli. To the left is the first Pagelli design offered by Eastman and to the right is a prototype of the next model to be released. If you like guitars with a twist of Art Deco,this is it.
ESP

I was really impressed when I got the Fender Mustang II for review but the Mustang III shows even greater promiseESP always shows a number of strange guitars as well as their standard offerings and here is one specimen.

And here is another.