Musikmesse Frankfurt 2011 - part 2
Fender

Don't know if you want that boat or a new Tele? Get this Custom Craft Broadcaster from the Fender Custom Shop. The guys at the Custom Shop never stop to amaze me with their new ideas for show guitars like this.

This inlaid beauty is another collector's show piece item that probably will not see too much playing.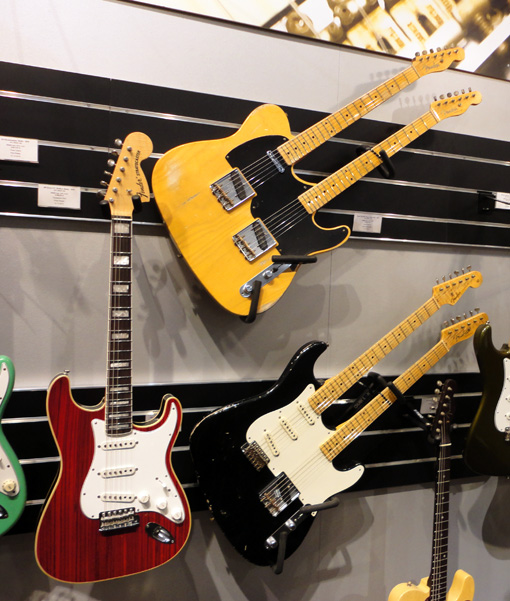 The Strat/Tele double neck looks like fun. Note the reverse trem so the trem arm can't fall down over the Tele bridge and impede playing.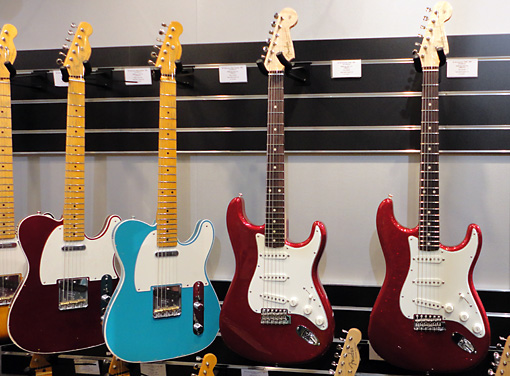 I'm personally more into these closet classics but it's still clear to me that Fender is not afraid to charge a bit much for theese guitars.
FGN Guitars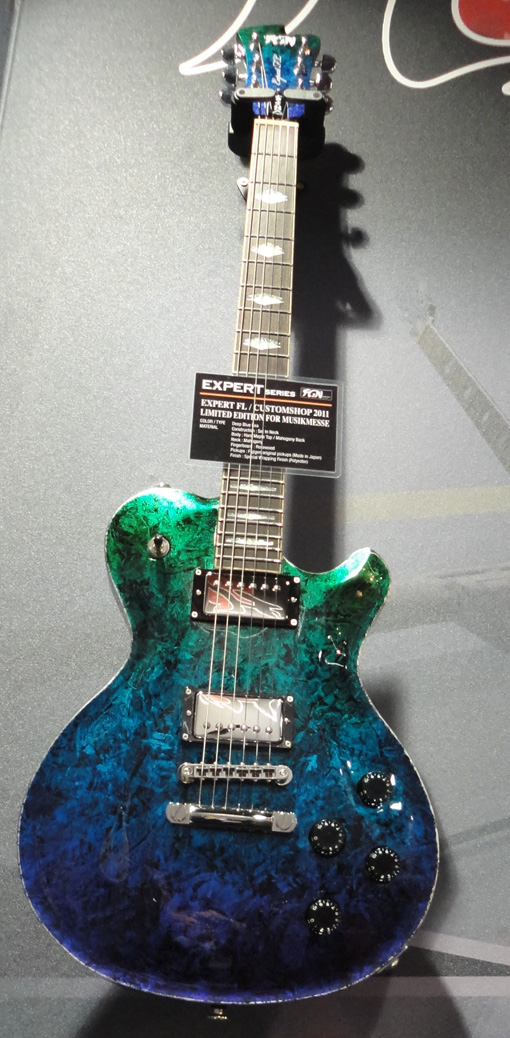 FGN was a new brand to me but behind the FGN name is one of the best guitar factories in Japan, Fuju-Gen. After having supplied well known companies like Fender with high quality guitars for decades they have decided to have their own brand name. The guitars, unsurprislingly, was very nice to play and some of them sported cool finishes. The Expert FL is influenced by both PRS and Gibson.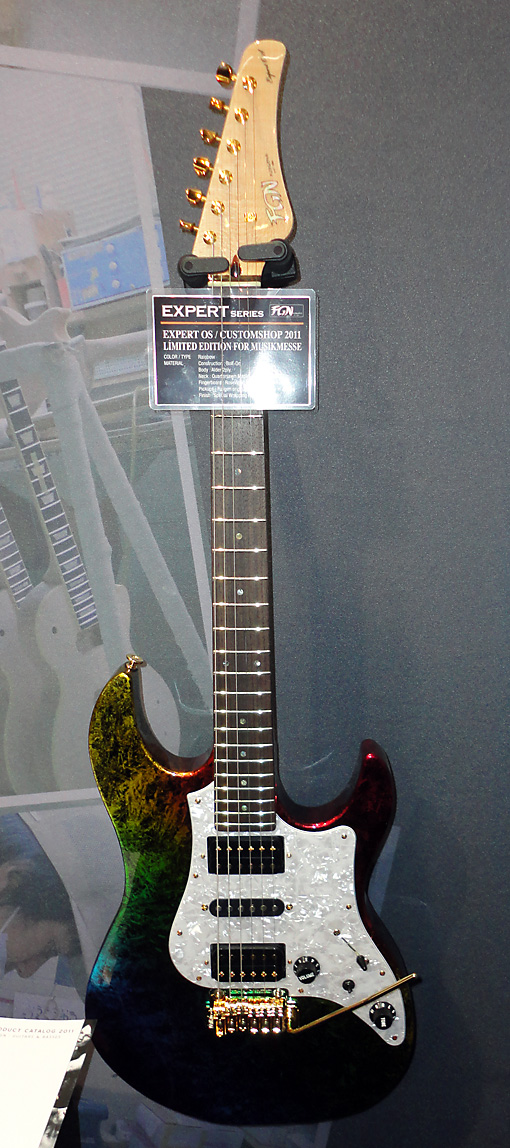 This FGN Expert OS has a multi color marble finish. This picture doesn't make the finish justice.

Here is another Expert OS in Geisha White on a purple back.

This Expert OS in blue makes me want an FGN.
Flamenco Home Studio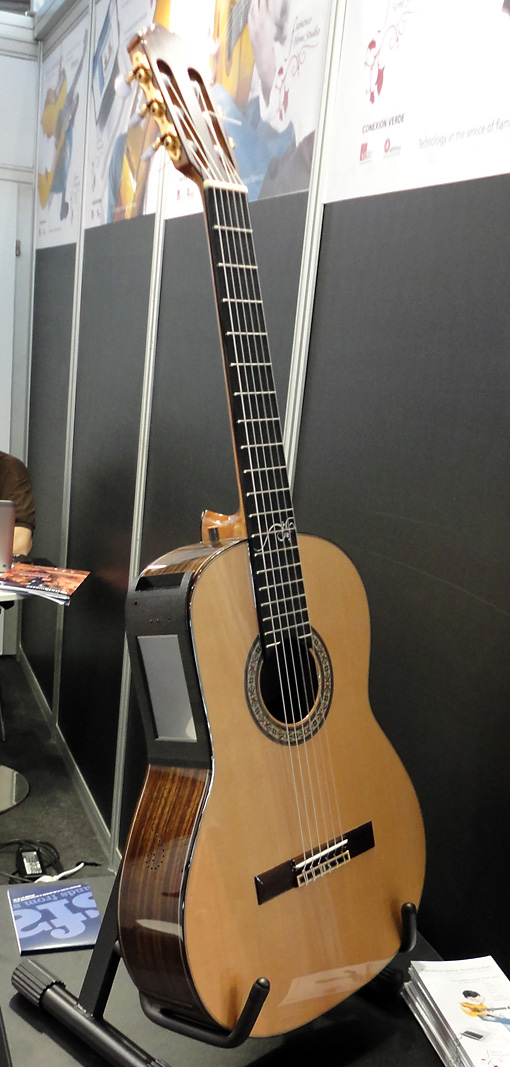 Tradition meets high-tech! The Flamenco Home Studio is a combination of this classic style guitar with a built in screen for lessons and such and educational computer software all hooked up through USB. Very interesting development.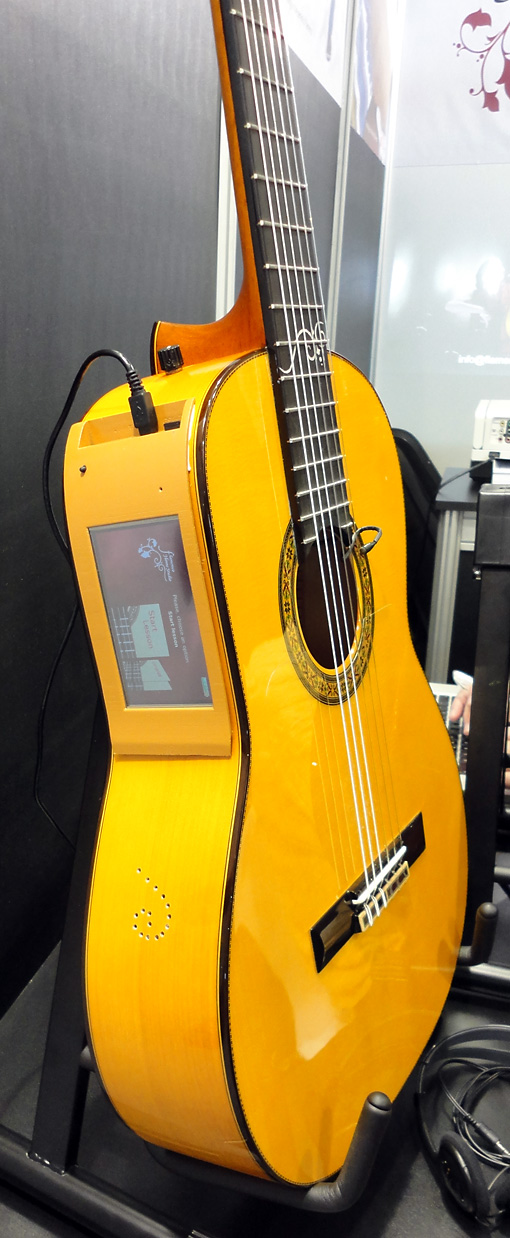 Frank Guitars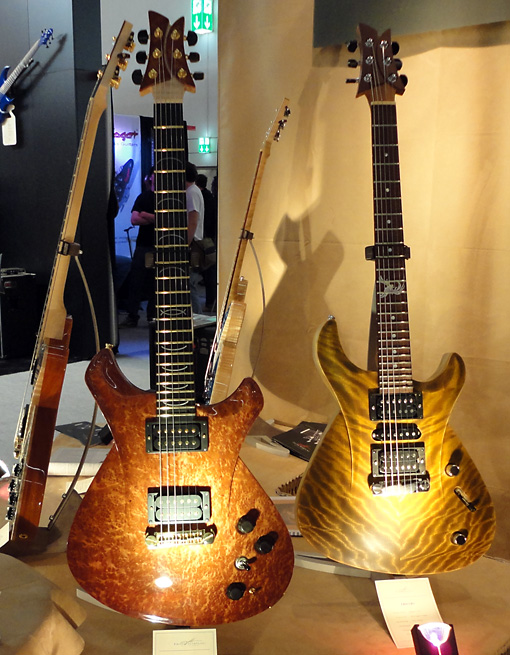 I just love the slick lines of these guitars and would very much like to own one.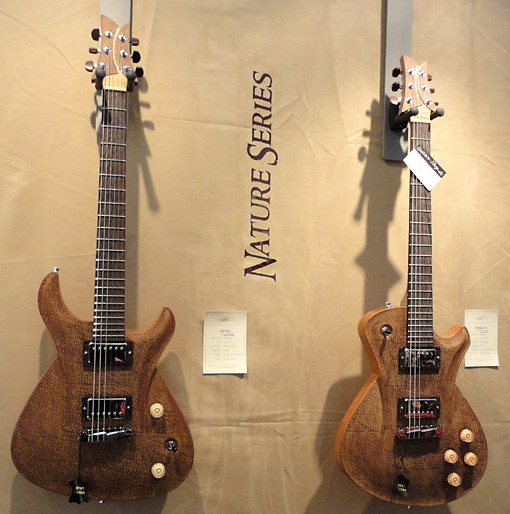 The single cut to the left was one of my two favorite single cuts at the show.
Fun guitar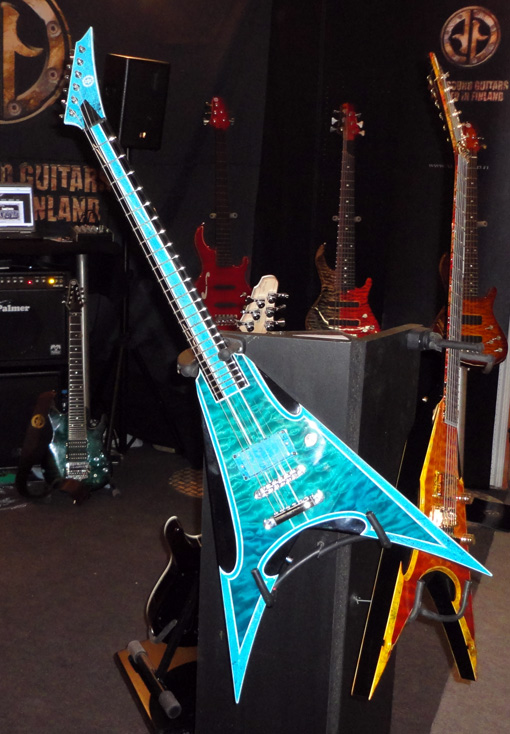 Once again a brand I didn't get. I was in a hurry to another meeting but could restist snapping a shot at this creative V. If anyone have the name of the builder, please let me know at btking(at)telia.com.
G-Lab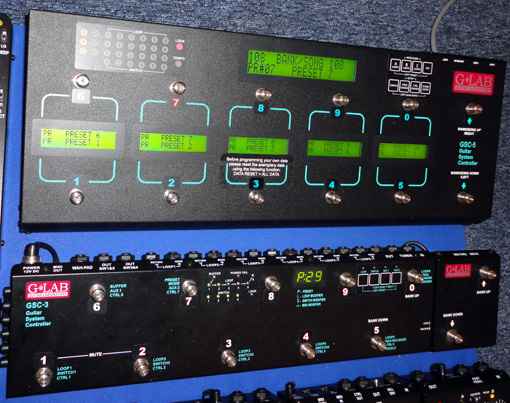 G-Lab showed all their products to ease the life for the guitar player using a lot of pedals and rack effects. On top above and the picture below is their new GSc-5 system controller with displays making it possible to label each switch differently for each preset.

Huges & Kettner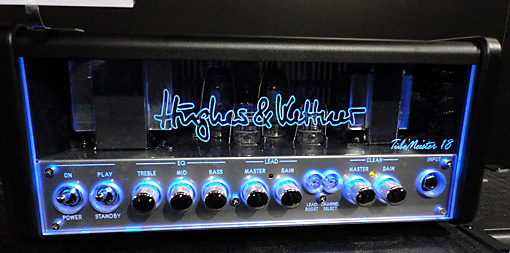 Tubemeister 18. This little 18-watt amp was the talk of the show for most players. With two foot switchable channels, lead boost, power soak, built in Red Box and a low price it's easy to understand why.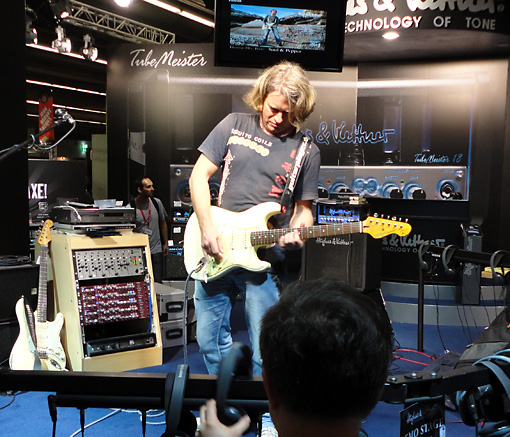 Another reason for people talking about the Tubemeister 18 was the wonderful demo by Thomas Blug. I have all his records and one of his DVDs but very little compares to seeing Thomas perform in person. The man is so dynamic and so varied in his playing it's just beyond words. Mr Blug is simply one of my favourite players alive. I made time to catch his demo 3 times. In this picture he's playing his Vintage V6MRTBG Signature Model.
Häussel Pickups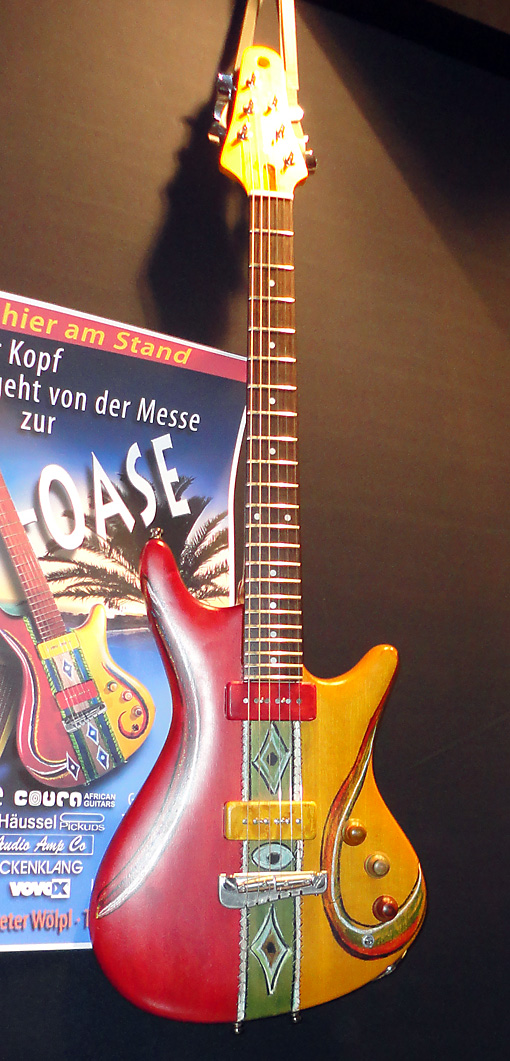 Harry Häussel makes very good pickups and that's why premium builders like Nik Huber and Juha Ruokangas uses his pickups as standard in their guitars. This Coura African guitar hang in his booth and I thought it deserved a place here.
Hiwatt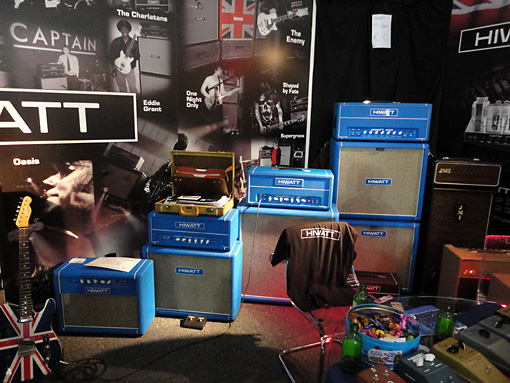 If you wantto make sure you are not confused with a Marshall this is a way to do it.
Höfner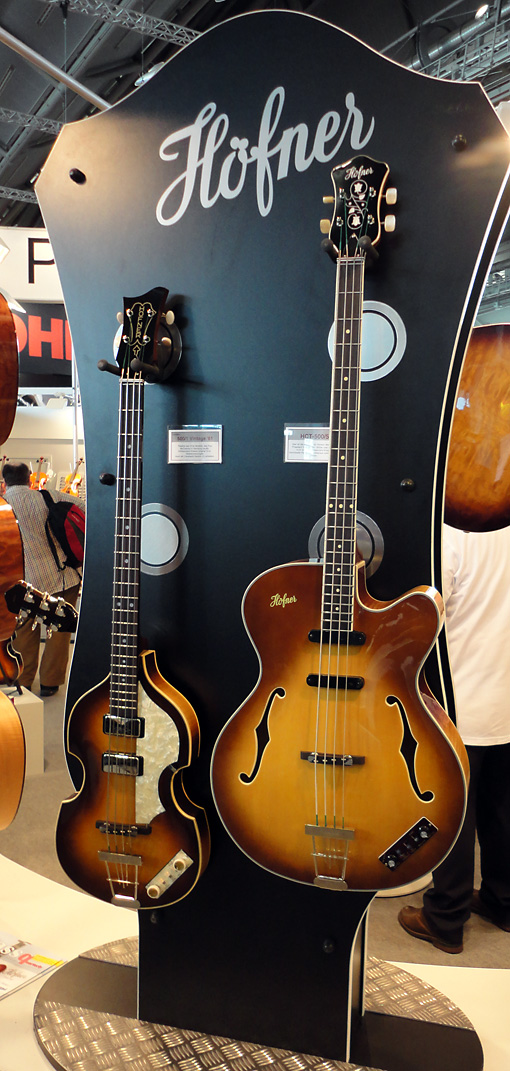 New takes on an iconic design at Höfner.
Huber Guitars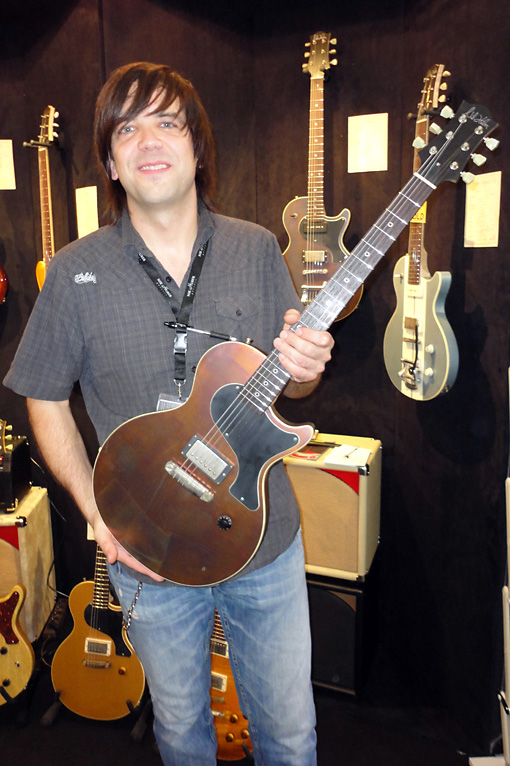 It's always one of the absolute highlights to meet Nik Huber at the trade shows. The man is so relaxed and generous both with his time and his knowledge. Here he is proudly showing off a Krautster in his new burnished silver finish.
Here's a close up of the burnished silver finish. It's actually a very thin layer of real silver that is used.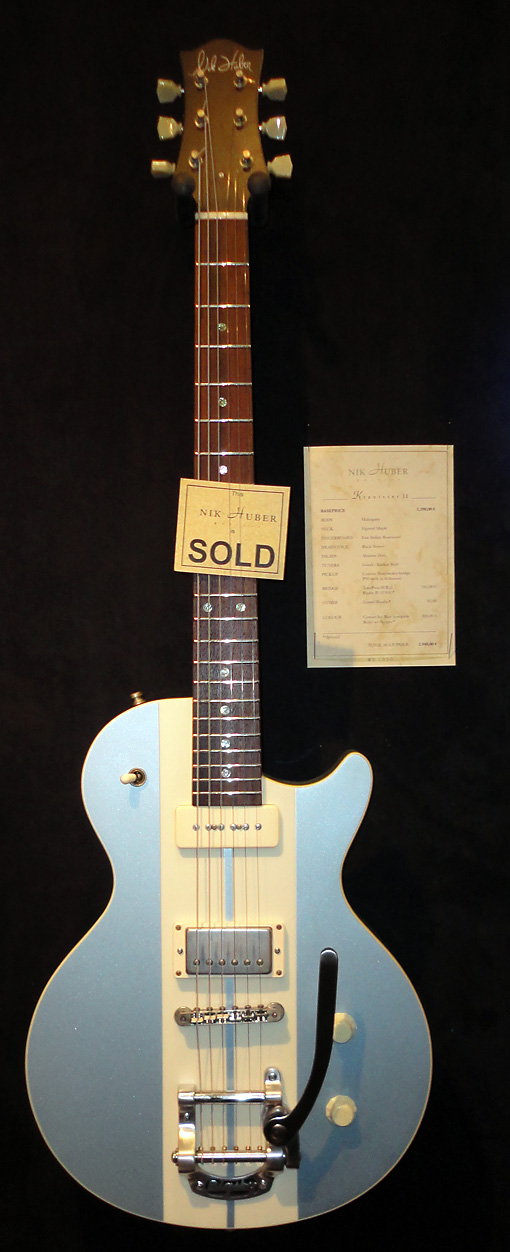 This Krautser 2 is ubercool.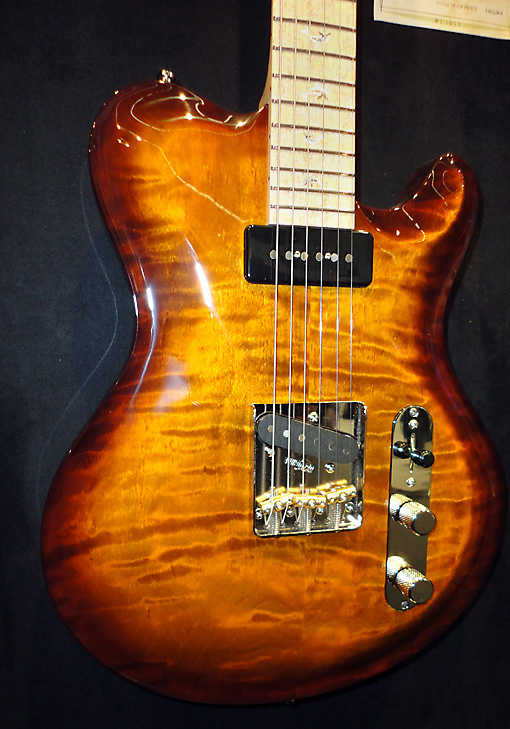 This Huber Dolphin has a flamed alder top.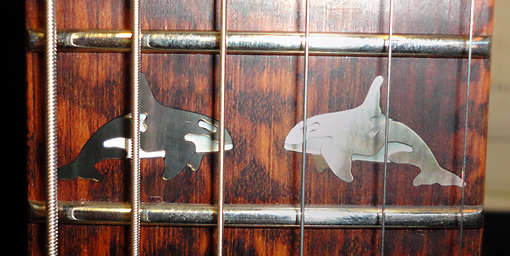 Dolphin inlays.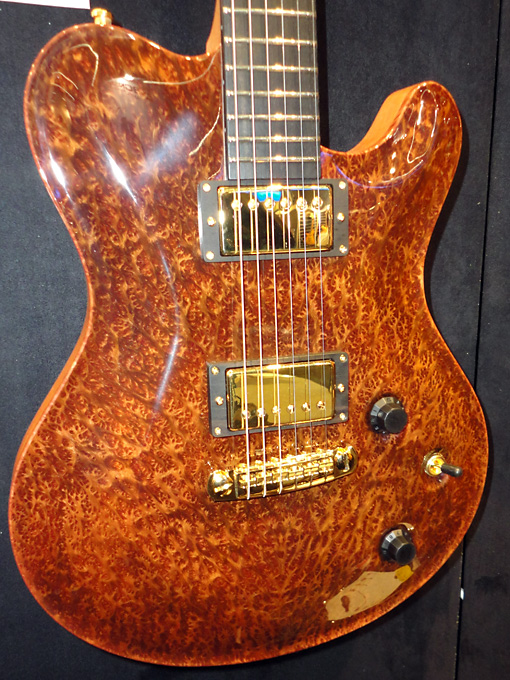 Nice figure to this top.