Musikmesse Frankfurt 2011 - part 4
Music
There are ample opportunitys to hear great music in the halls and on various stages set up around the fair grounds. We managed to catch a few acts.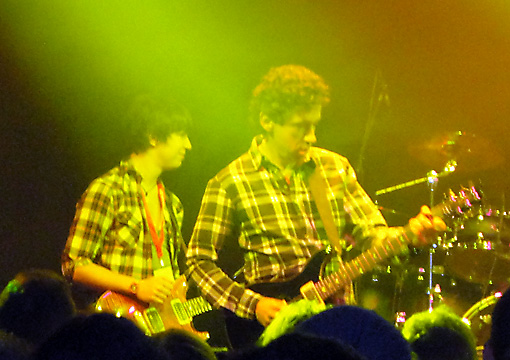 Dave Grissom performed with the Grainger brothers and Michael Ault with great help by David Knowles performes at the PRS Guitars gig at the Agora Stage.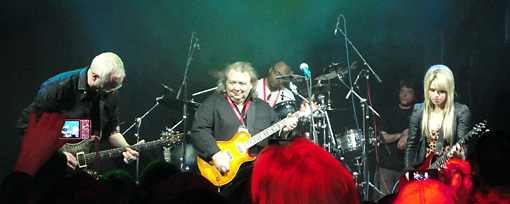 The man, the myth the legend Paul Reed Smith himself together with Bernie Marsden and Orianthi grinding out more than a few tasty licks at the Agora Stage. My favorite musical moment at the show was the surprise gig all the PRS artist had at the MIPA Awards Ceremony on Thursday evening. They played a funky tune that had my knees in constant rhythmic spasms. Gary Grainger on bass really set the bar for funky bass playing. What amazed me most was not the guitar playing (even if Dave Knowles and David Grissom had a great duel of trading licks) but the amazing vocals. Just one of the moments where you realize there is actually magic in music.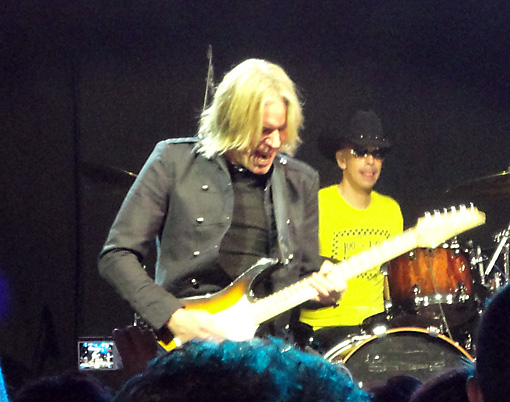 Also on the Agora Stage was Andy Timmons Band. They played a great set with the Sargent Pepper's medley being the highlight.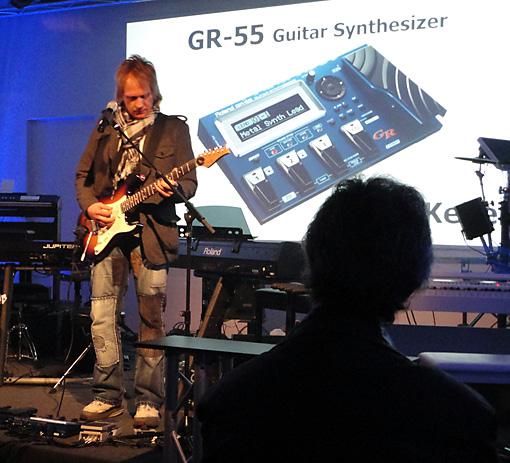 German guitar player Gundy Keller demonstrated the Roland GR-55 Guitar Synthesizer. Gundy concept of a demo includes innovative use of combination of new and traditional technologies, great guitar playing and a wonderful sense of humor. I try to never miss an opportunity to see his demos.
Musikmesse Frankfurt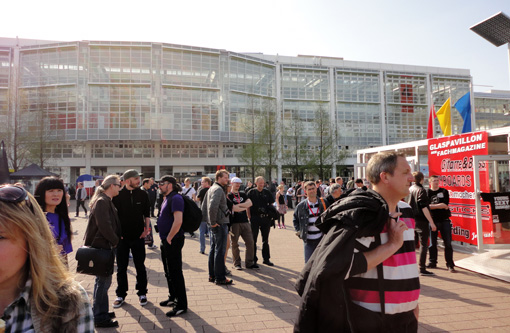 It's hard to descirbe the Frankfurt fairgrounds to anyone who hasn't actually been there. It's big. It has it's own local train station, a hair dresser, a supermarket, a travel agent and loads more of facilities for the visitor. About half of the fairgrounds are occupied by the Musikmesse. Most of the halls are located around a sort of open square where there are activities if the weather permits. The picture above was taken from the middle of the square facing Hall 4. What yoy see is about 3/4 of Hall 4 which has two floors just for guitars and amps. There are other halls where you can also find guitars and amps but most of them are found in Hall 4.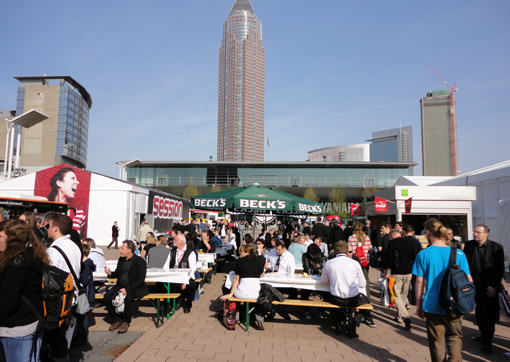 Every day we had lunch in the square. The hall you see before the tower in the background is the forum. Yamaha rents the whole buildning to promote every line and instrument category they have. They also buildt a fair size sound stage in there for demos as well.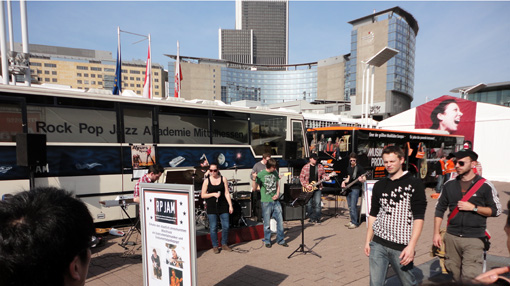 All through the day we visitors were treated with music performances by student at a German music school who took their bus to Frankfurt to market their school.
Pagelli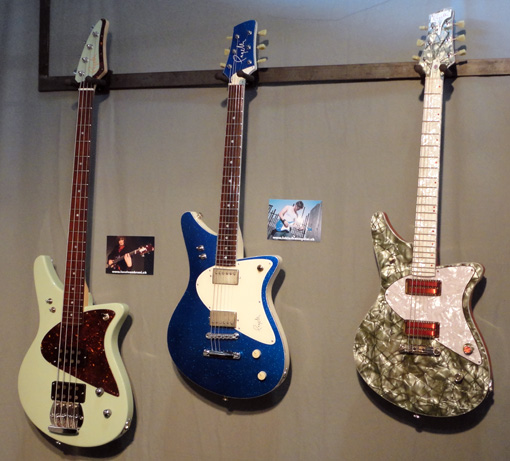 Mr and Mrs Pagelli makes the coolest guitars and they are definitely not just show pieces. Theey are very, very nice instruments and I'd love to buy many of them.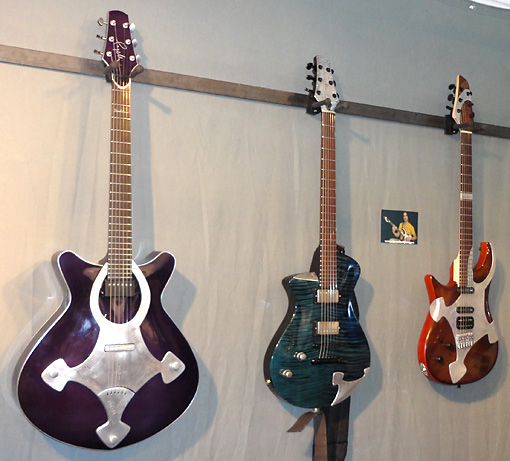 Here are three more examples of the Pagellis' artful output. With the innovative vision of the Pagellis it's hard to see why we don't see more guitars that looks different from what we usually see.
Parker Guitars

This Parker Fly Signature caought my fancy as it seems to have a lot of fun technology built in. Rumor had it that it is VERY exensive.
Rhodes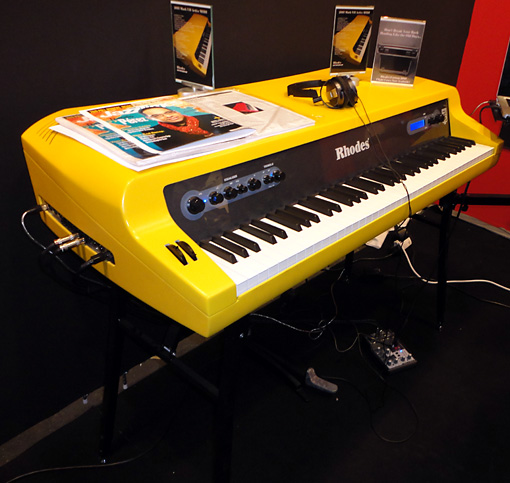 Having owned an old black Rhodes back in the early 80s I couldn't resist visiting the Rhodes booth. This pieno looks decidedly more modern and cheerful then my old workhorse.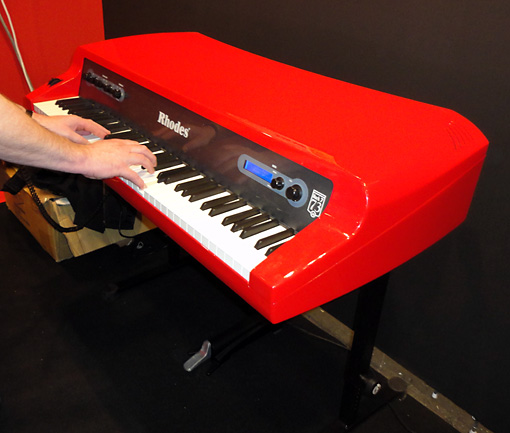 If yellow doesn't fit your stage image you can go with red.
Ruokangas Guitars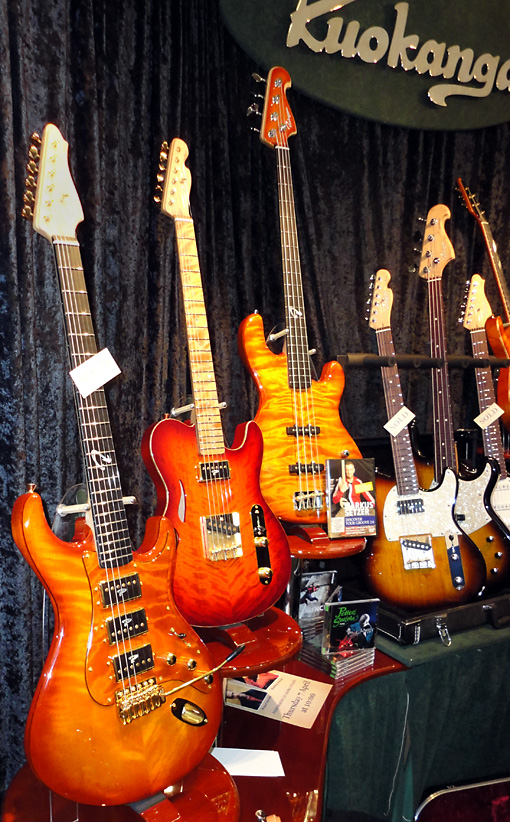 Finnish luthier Juha Ruokangas brought a number of his guitars made to his usual exacting standards. Juha definitely brings something of himself to the guitars he builds.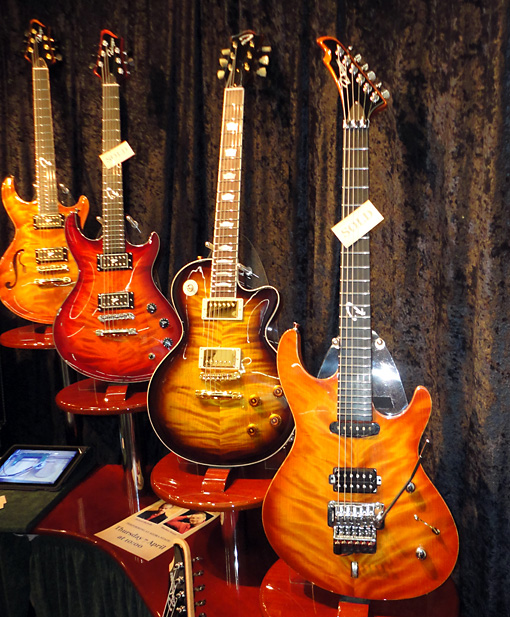 The guitar to the right is a new model and it is equipped with a wheel behind the Floyd Rose that gives the ability to lock the trem in place.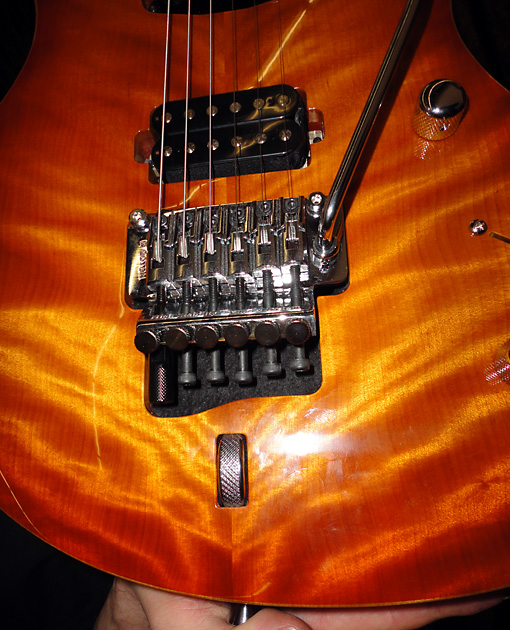 Close-up of the stopper wheel. It's totally passive and reportedly makes life a lot easier for Floyd users.
Sandberg Guitars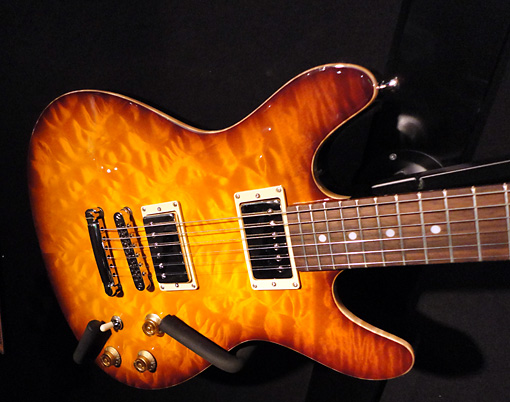 Sandberg is mosly known for their excellent basses but they started as a guitar company and is now back to making guitars. Here is the set-neck Florence model.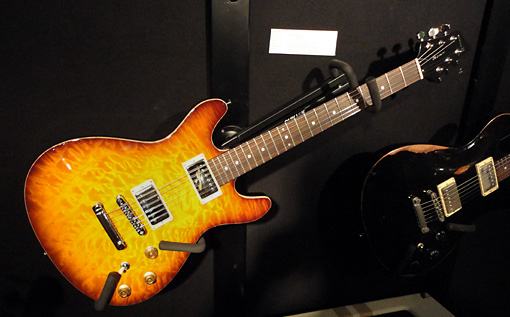 Here agin the Florence with a maple top. To the right you have an all mahogany Florence with a "distressed" finish.
Soultool Guitars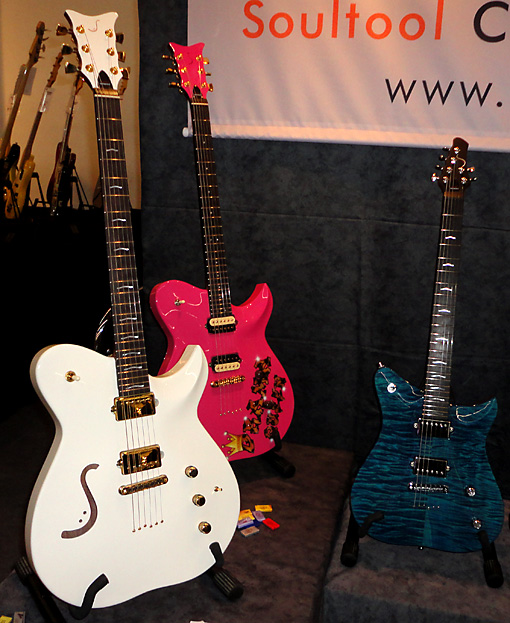 Something different is always interesting. Soultool makes some interesting guitars.
SSL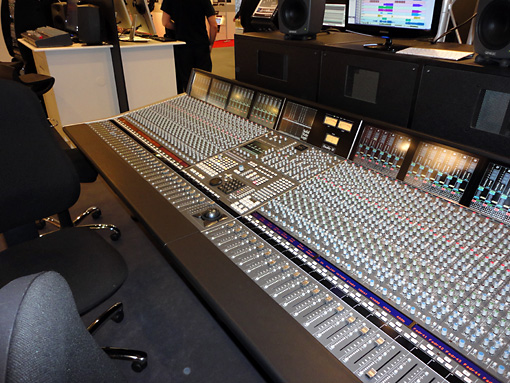 Some people may think that SSL has no place in a guitar report but as I'm very much into recording and many great guitar takes has been recorded using SSL consoles I couldn't resist visiting their booth. Here's a large console that I would love to build a studio around. In my dreams!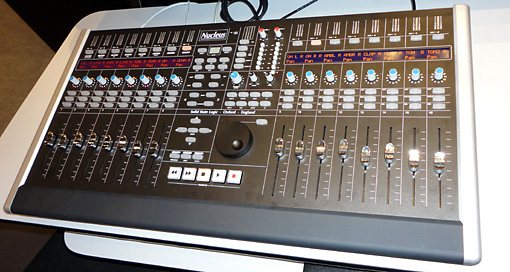 The SSL Nucleus is a control surface for you DAW. It rocked my socks off and I want that too. A somewhat more realistic thought than the one above.
T-Rex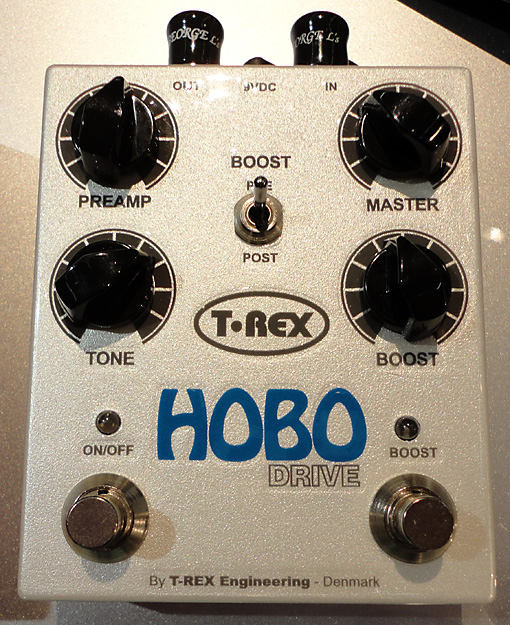 A new fat overdrive from T-Rex. The cool thing about the Hobo Drive is that the boost can be switched either per or post the overdrive circuit. Before (pre) it gooses the OD section into more OD and after (post) it works more like a solo volume boost. No matter if you set the switch to pre or post you can use the boost independently of the OD unlike a lot of other pedals.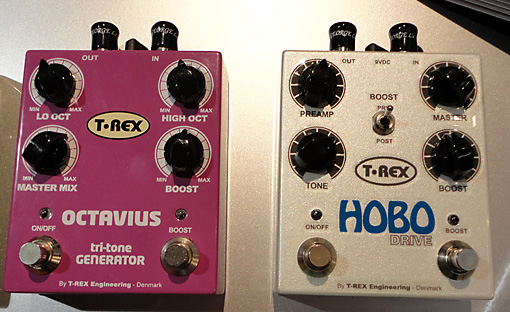 Here you see the Hobo together with the Octavius which is a polyphonic octaver where you can get octave up and octave down with a balance you set yourself. I have tried it extensively. With a clean sound and only octave up I got some really useful almost psuedo 12-string sounds. With an overdrive pedal in front of it and the Octavius set to but octave down (4 o'clock) and octave up (2 o'clock) I started playing power chords and got a really powerful sound that started me playing Hammond riffs like the ones played by Jon Lord of Deep Purple. Loads of fun to be had. Please note that you need a polyphonic octaver to do this and if I remember correctly the Octavius is the only one.
Tanglewood Guitars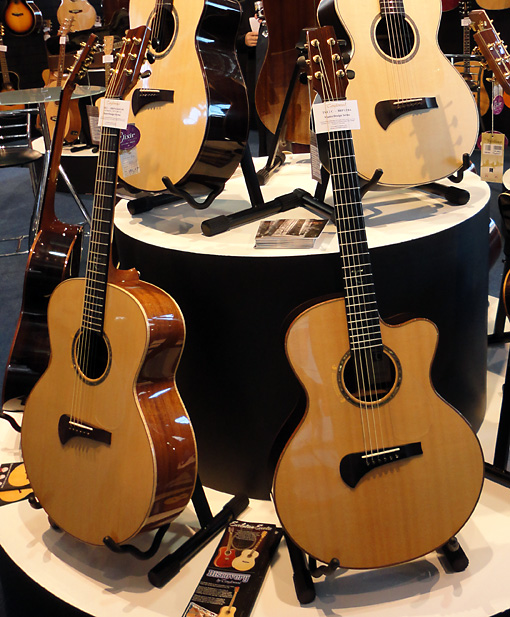 The Tanglewood Master Series Guitars designed by Master Luthier Michael Sandén are a good mid price alternative for those looking for a nice guitar wbut has a limited budget.