Winter NAMM 2018 - part 4
Neuenaber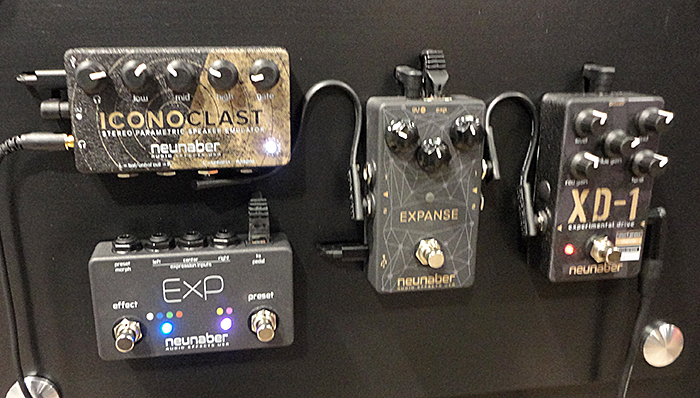 I apologize for the blurriness of this picture, but I have to blame my imbalance on crutches. The Neunaber Iconoclast proved to be a very effective speaker simulator and the eq section made it easy to dial in just what I wanted. The XD-1 Experimental Drive gave me a lot of sounds I have not heard in many overdrive pedals and it was also pleasantly dynamic.
Nexi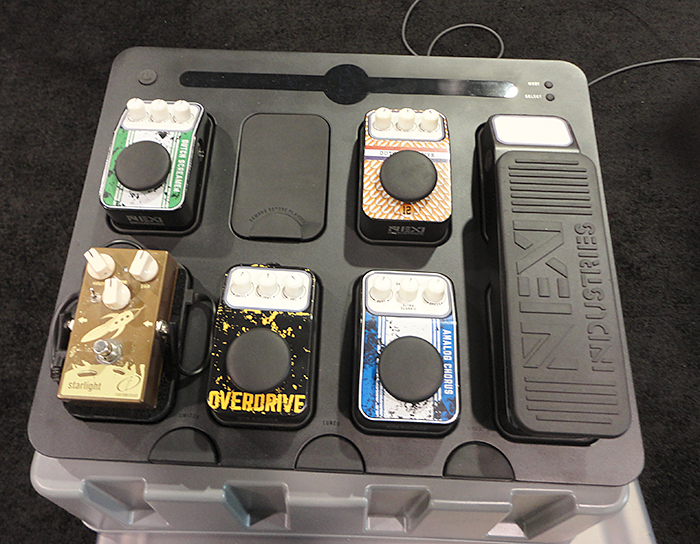 Nexi showed this modular pedalboard with their own quick mounted pedals. The quickmout connection socket has the in and out connections as well as the necessary power. In case you want to use one or more pedals not made by Nexi you can get a mounting plate (see lower right).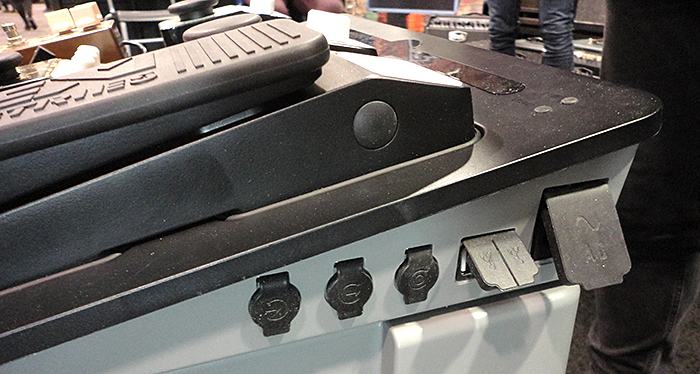 External connections (including charging USB devices) are made on the side.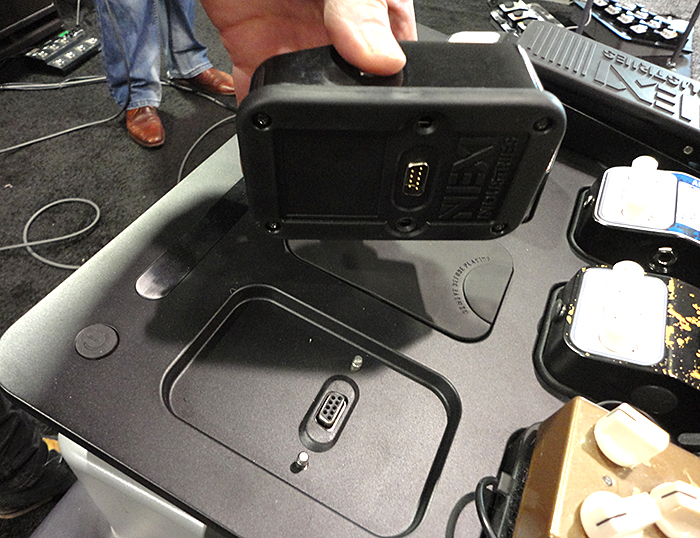 Here the connector previously mentioned.
Nik Huber Guitars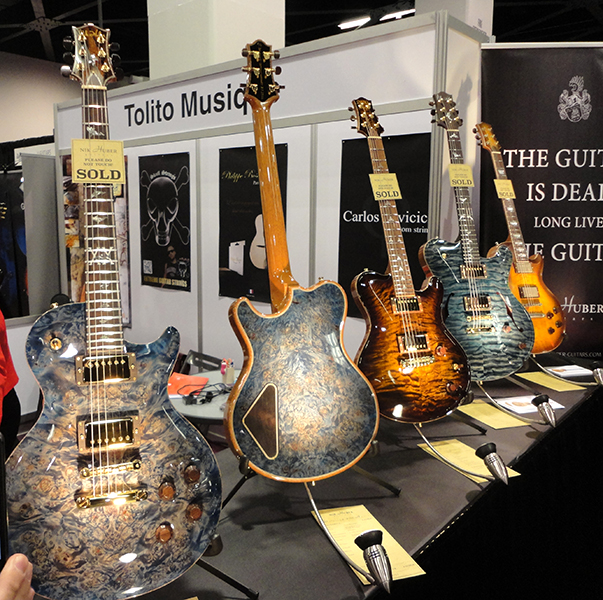 If you want extravagant tops, you can definitely get from Nik Huber, but ...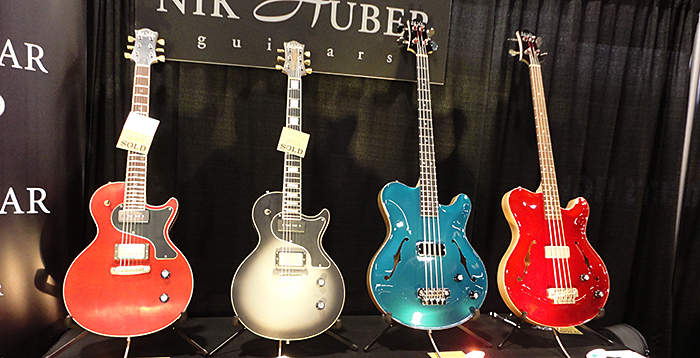 ... if you want a more down to earth looking rock'n'roll machine, you can get that too. I have my mind set on a Krautster II.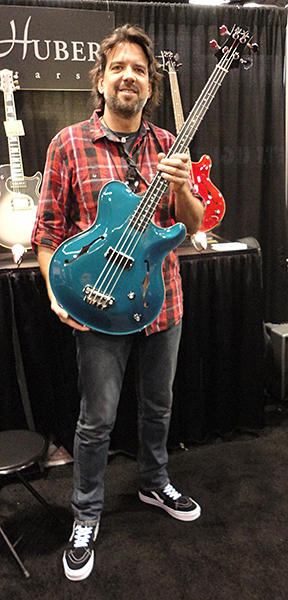 Nik's not known (yet) for his basses but here he is holding up a semi-hollow bass that looks decidedly cool.
Olsson Amps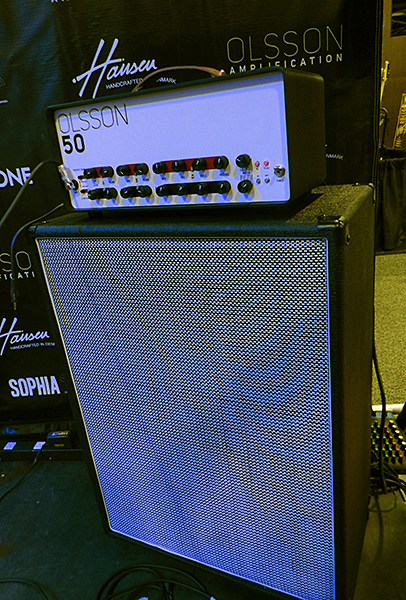 Swedish amp builder John Olsson displayed for the first time at NAMM and raised more than a few eye brows with his Olsson 50 amp. Olsson Amps are, IMHO, some of the most rewarding amps to play. If you see one, make sure you try it!
One Control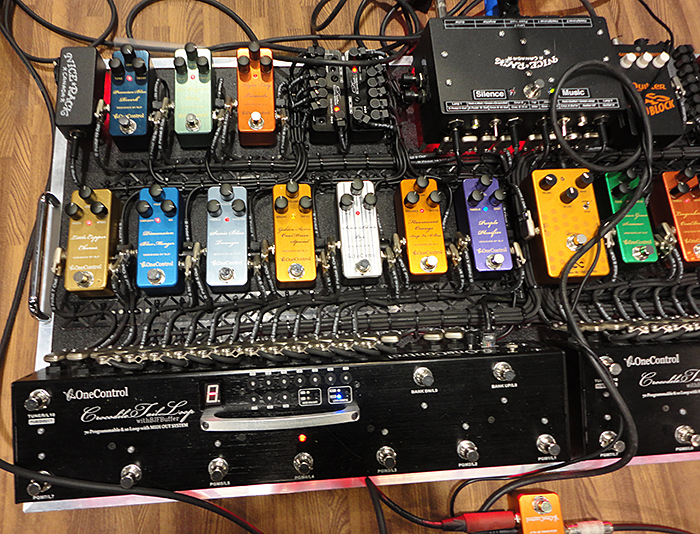 Swedish pedal designer Björn Juhl (BJF) has ended his relationship with Mad Professor and is now designing for One Control for mass production.
Pagelli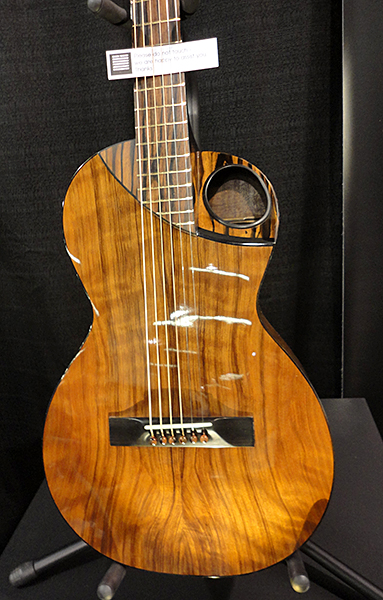 Claudia and Claudio Pagelli also belong to Luthiers Beyond Limits and lokking at these guitars, it's easy to see that they belong in that select group.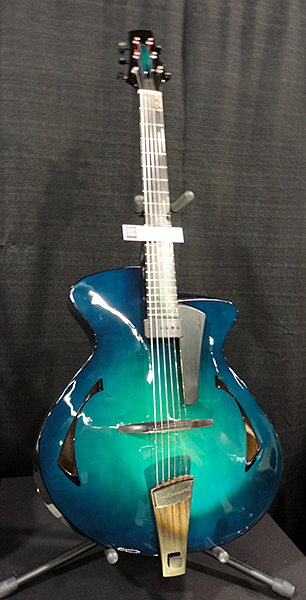 A typical Pagelli archtop.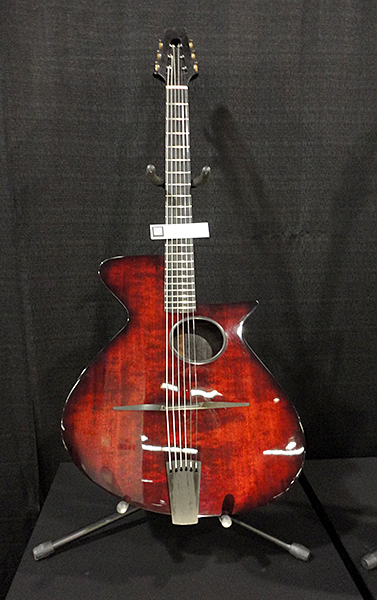 This could be a Picasso creation, and I say this with the utmost respect and admiration.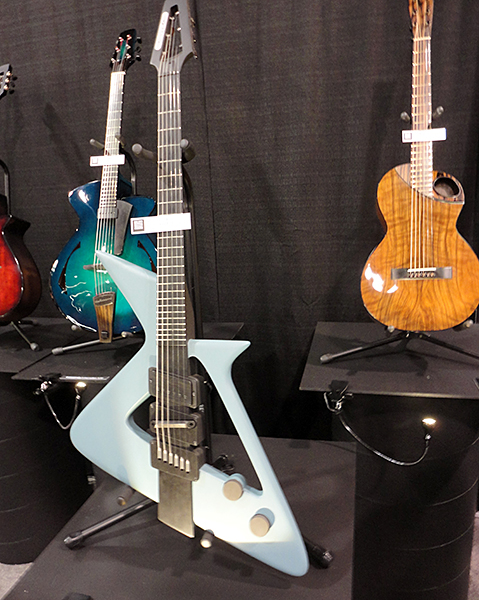 This was custom ordered by Billy Gibbons of ZZ Top.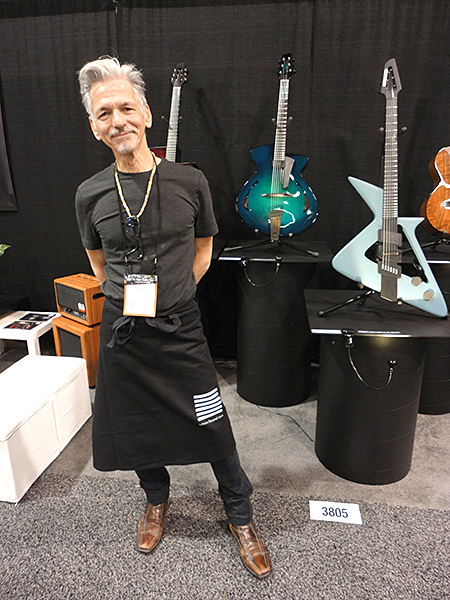 Half of the team, Claudio Pagelli.
Paoletti Guitars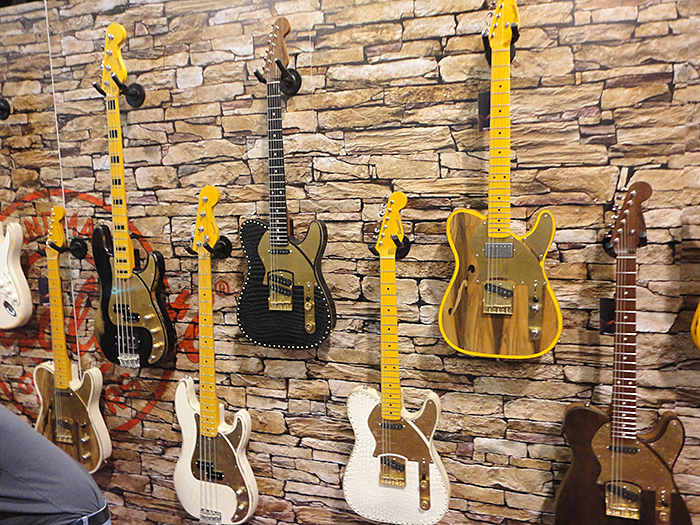 Guitars with a western theme.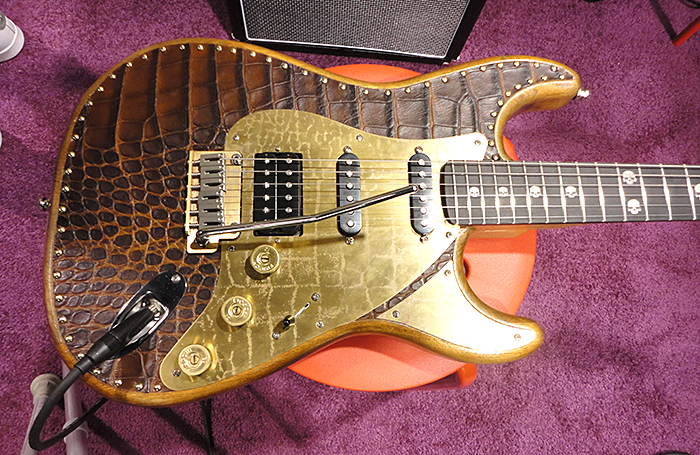 Aligator skin and skulls. Some kind of swamp voodoo? I like it!
Peter Malinoski Guitars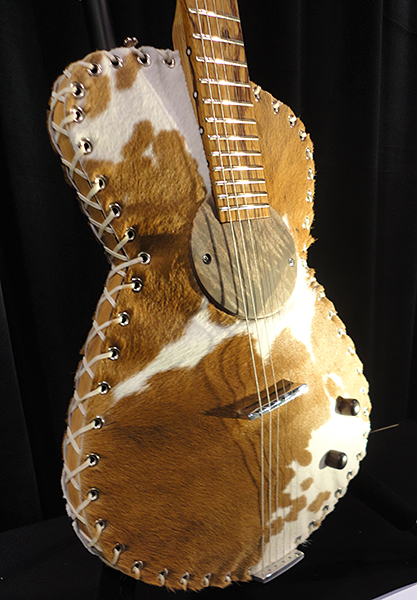 Unique design? You bet! Peter Malinoski walks his own way. I see his personal individuality and biting sense of humour reflected in his designs. This is the Hobo #344.
And this is Hobo #345. The text on the pickup cover says "Your name here". Why does it say that?
Because Peter put his on the back!
PreSonus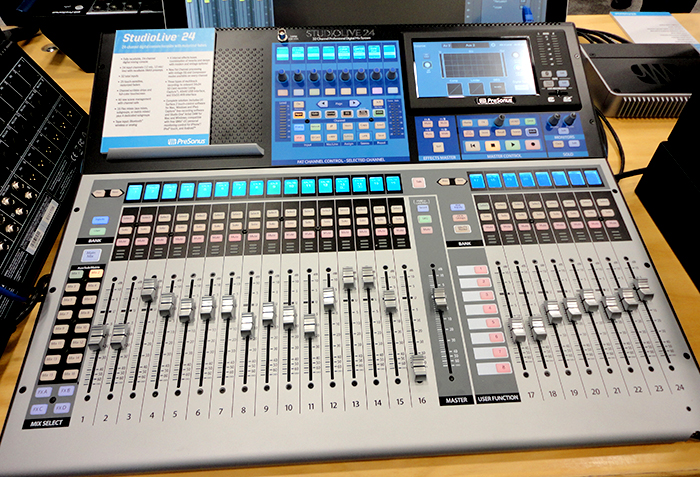 In my personal opinion PreSonus is one of the most interesting companies in the MI business as they cover such a lot of products with a very interesting product cohesion. Since they use the same code base for both their software and hardare, they have a lot of integration between their products that works to the user's advantage. Like the DAW control mode in their StudioLive Series 3 mixers, that obviously controls Studio One which I have used to record and master all my tracks for a number of years but also works with other common DAWs. If I had a bigger room, I'd definitely get a StudioLive series 3 as I'm sure my workflow would improve substantially.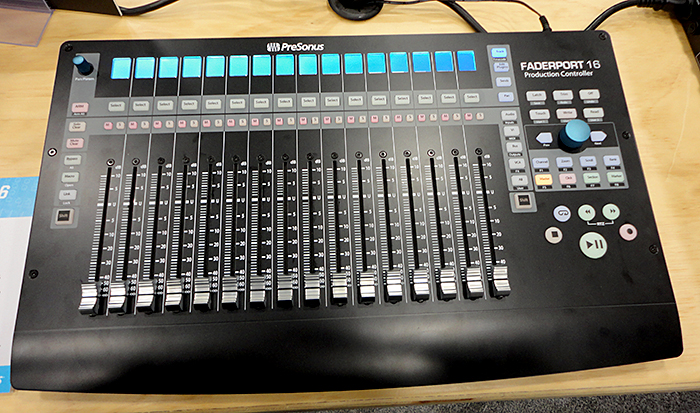 While waiting for the bigger room, I'm considering this FaderPort 16.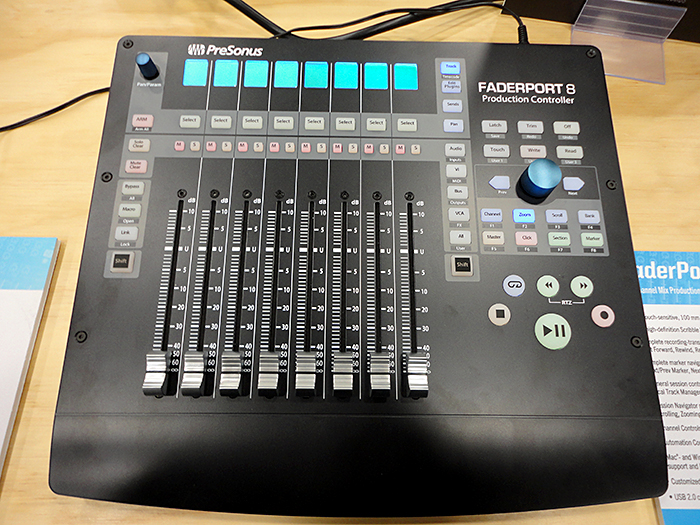 Unfortunately my room is so small that I may have to settle for this FaderPort 8. But that will also be a massive improvement to my current set-up.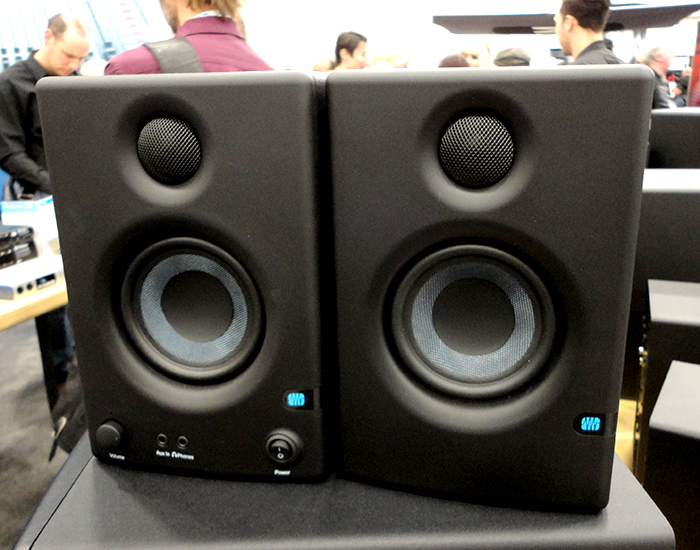 New at NAMM were these Eris E3.5 speakers that fits a small desktop. A very interesting speaker at USD99 per pair.
PRS Guitars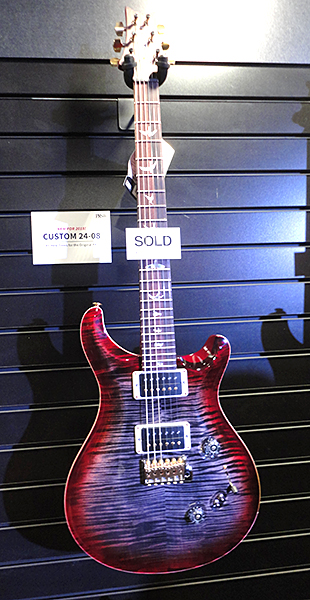 The PRS booth has very nice lights but only for watching, not for taking pictures with ordinary non-professional cameras.
But I did try and here's the all new Custom 24-08.
This is a very fine guitar and one of my NAMM favourites. The McCarty 594 Figured Ash.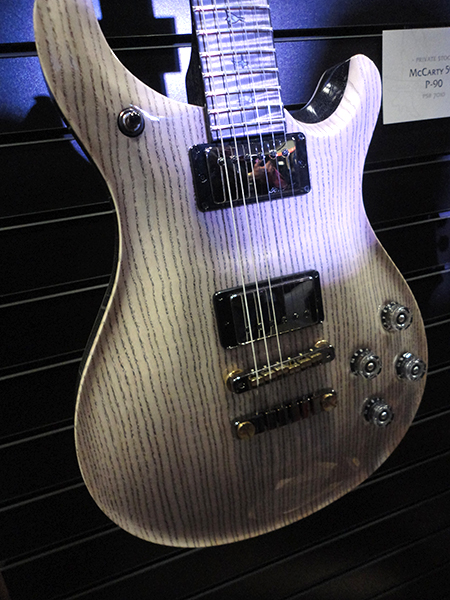 Spectacular top in a grey scale finish.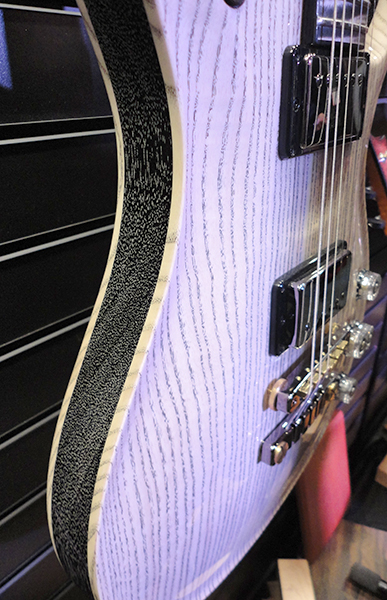 The "dog hair" back and sides complement the top very nicely.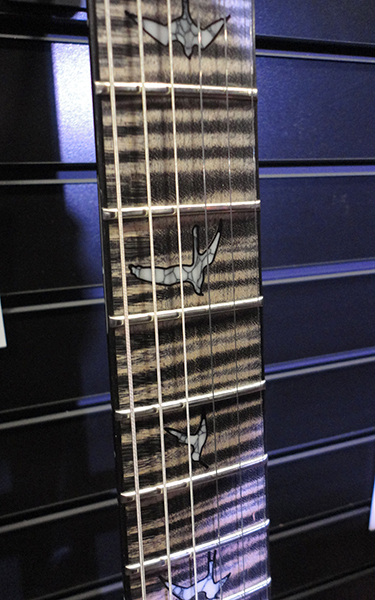 The flame maple neck with the mosaic bird inlays makes it even more desirable.
The PRS SE Chris Robertson vombines a humbucker with a P90. Please note the adjustable stop tail piece.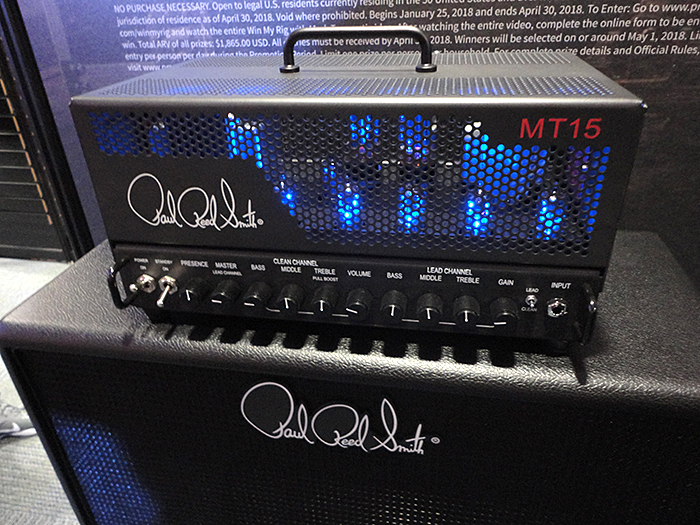 Mark Tremonti demonstrated the MT 15 amp on the press conference.
Relab Audio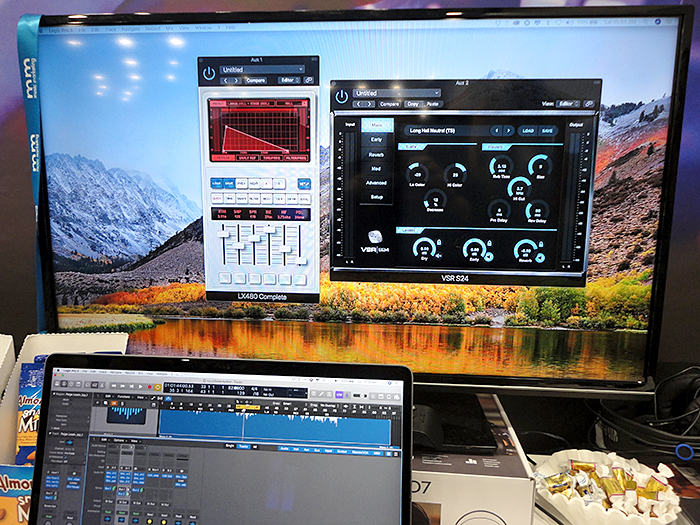 Despite the fact that NAMM is not a good environment for critical listening, there's no denying the high quality of the Relab reverbs. I especially liked the 480 as it sounds like what I have heard on many of my favorite records.
Royer Labs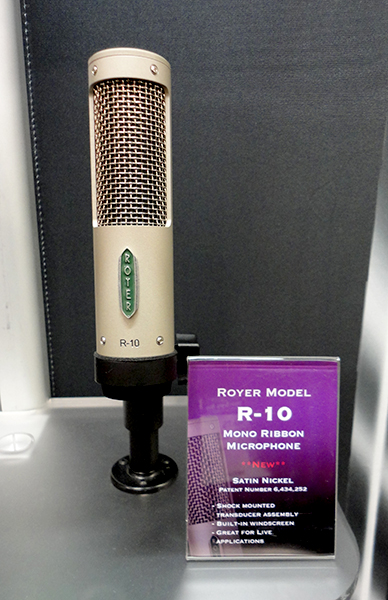 There are many guitar players who think the best way to record a guitar amp is combiningg a dynamic microphone with a Royer ribbon microphone. Unfortunately a Royer has been a bit expensive for many guitar players. The R-10 may change all that as it cost less than half of the industry standard Royer R-121 but according to a company spokesman exhibits very similar carachteristics. Looking forward to trying it out.
Sankey Guitars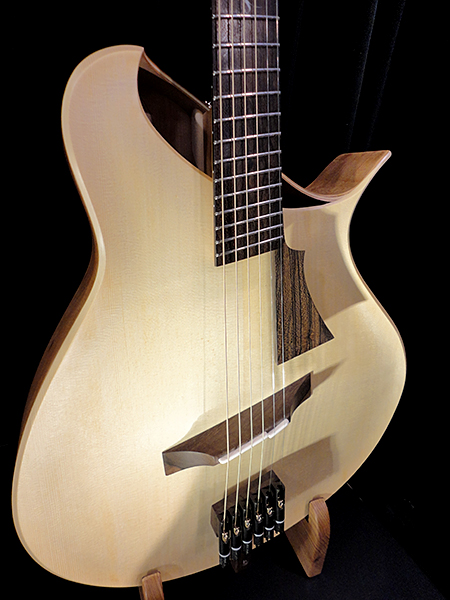 A very intriguing acoustic design.
Sauvage Guitars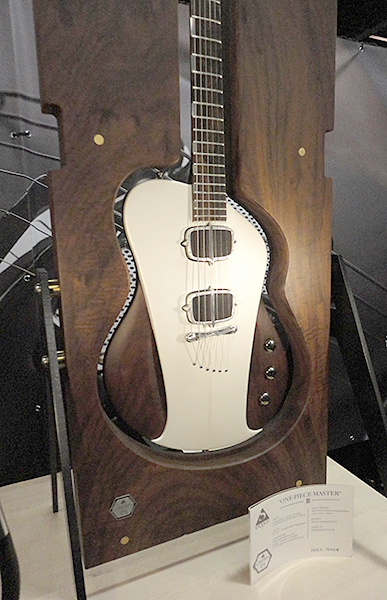 At every show where I have seen Sauvage they have displayed a guitar made out of one piece of wood and they display it inside the original square of wood. I like it very much!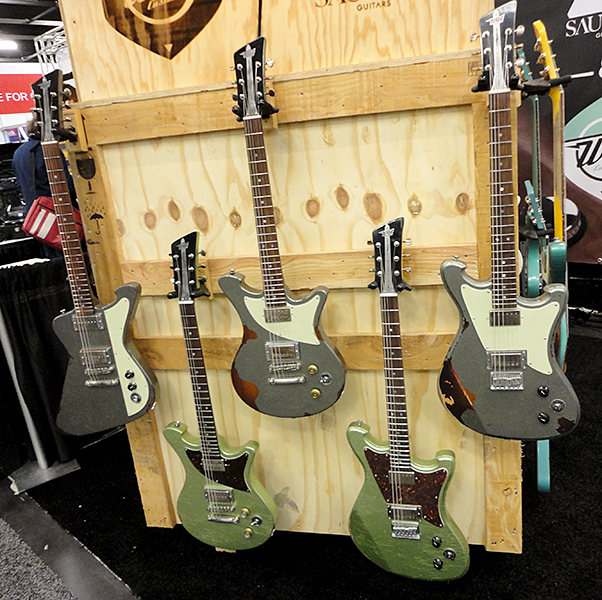 This is the Automotive Series in their Wild line of guitars.
SF Guitar Company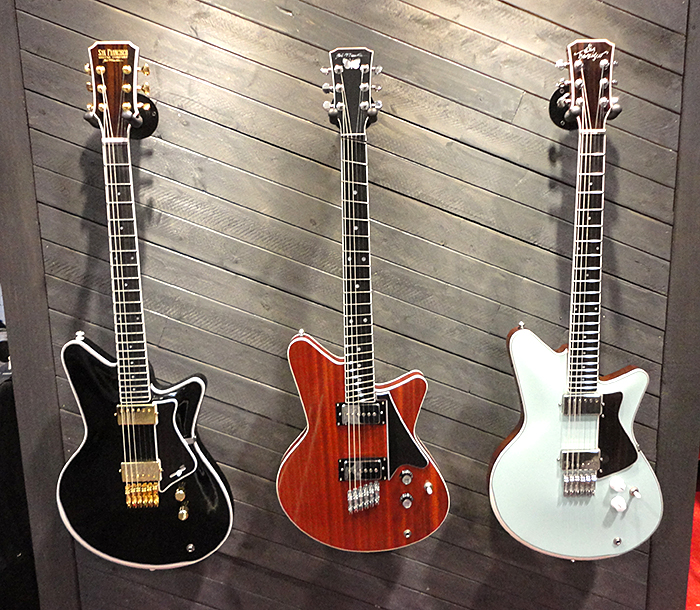 I like the looks of these.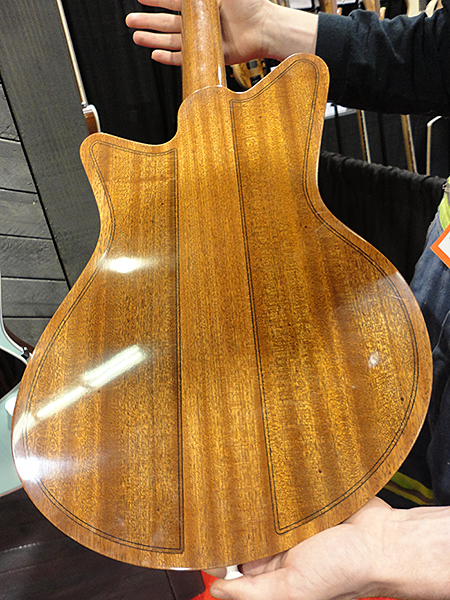 These guitars are also made of one piece of wood.
Shabat Guitars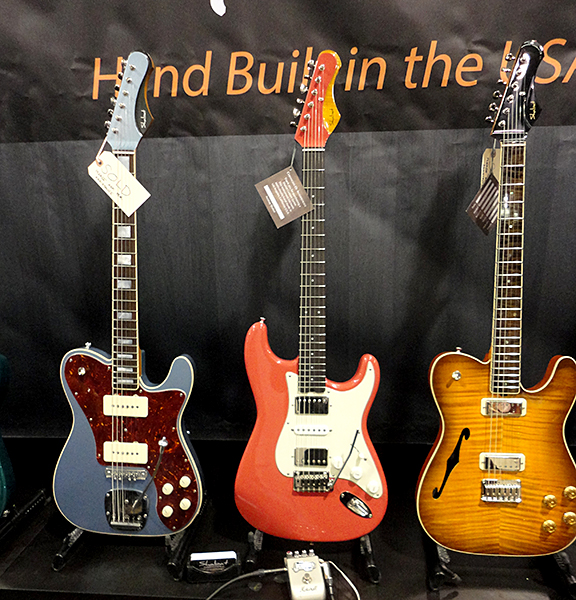 I just want the red one in the middle. Great neck and very versatile.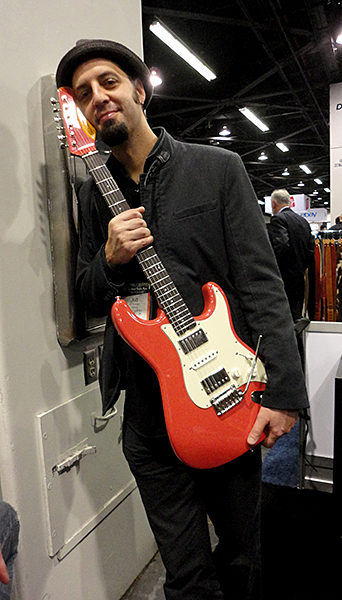 Luthier Avi Shabat also likes it!
SIM1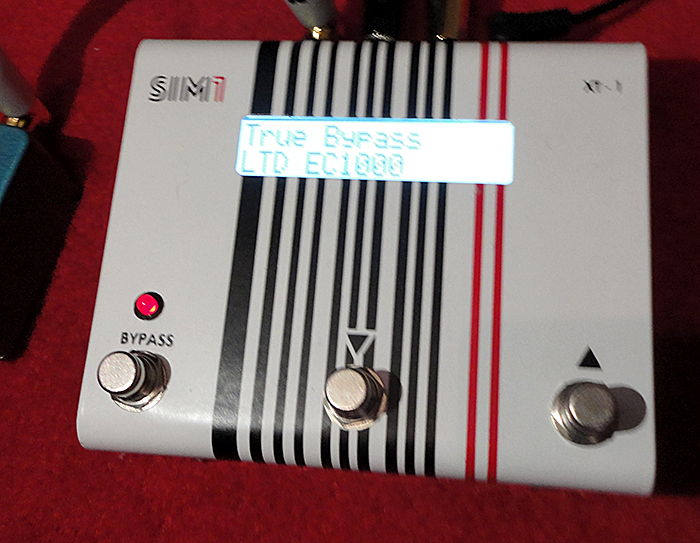 The XT-1 was the product that most caought my imagination. The XT-1 analyzes your electric guitar and superimposes a profile of another to make your guitar sound like the superimposed instrument. The demo guy used a LTD Les Paul style guitar and made it sound like a credible Tele, ES-335 and ES-175. It will come preloaded from the factory with 12 different guitars, electrics and mic'd acoustics. Then you can buy additional profiles from their web shop at approximately USD10 per instrument. What's exciting is that they will host a web site where users can uplouad their own profiles and exchange them with other users, sort of the thing Kemper owners are enjoying with amp profiles. Can't wait to see what the finished version will sound like.
I apologize for the poor picture. The lights in the demo booth were not optimal.
SoulTool Guitars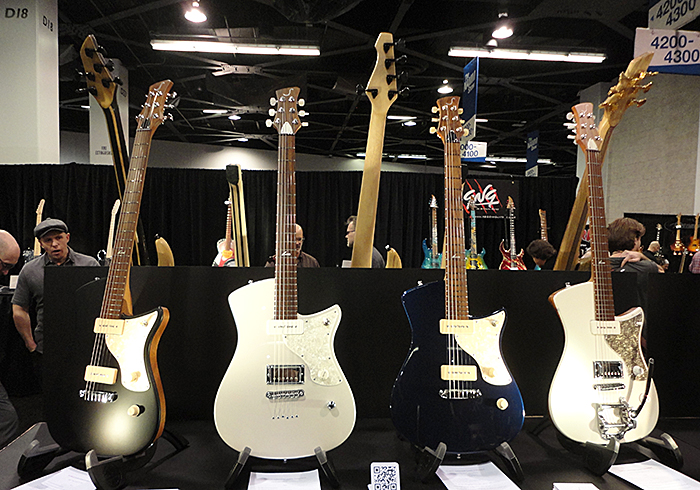 SoulTool displayed some fine guitars in the Boutique Builders booth.
Solid State Logic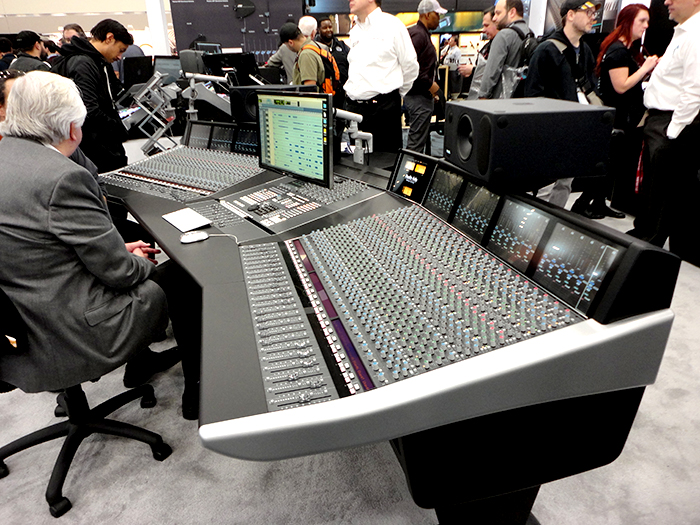 Another of these dreams reserved for the Lotto money I'm hoping to win someday. Hopefully soon!
Steve Klein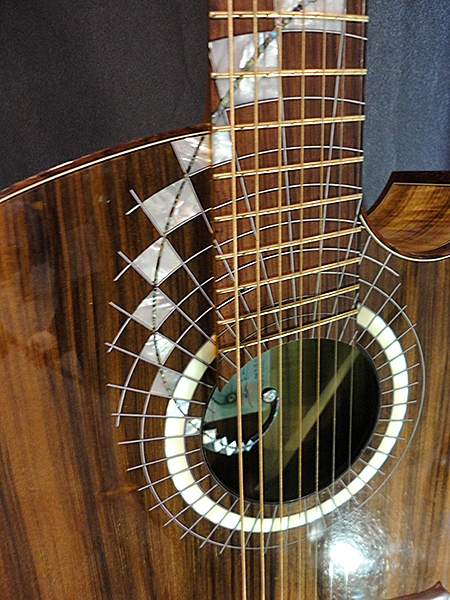 Steve Klein also belongs to Luthiers Beyond Limits. I can't recall ever seeing such an elaborate yet tasteful soundhole decoration.