Winter NAMM 2018 - part 3
Jens Ritter Guitars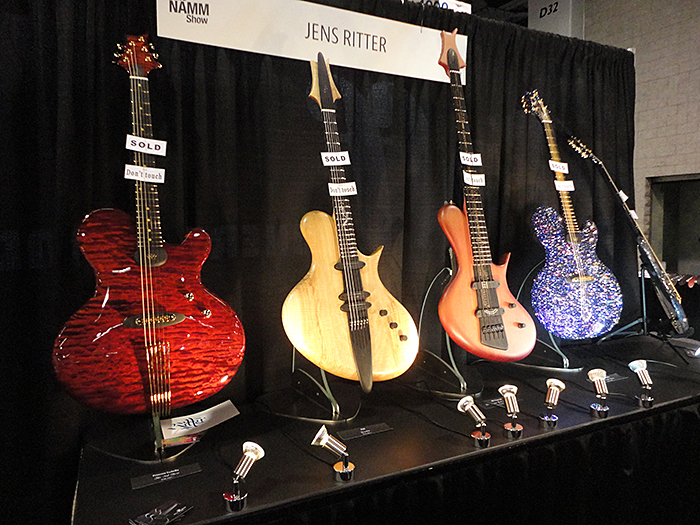 Jens Ritter's guitars and basses are like no other guitars and basses. That's just the way you are. Customers like George Benson and Nile Rogers own his creations which should say something. Like most pieces of true art these guitars command premium prices so as of yet I do not own one. But when I win the lottery, I will stand in line to get one. A guy can dream, right?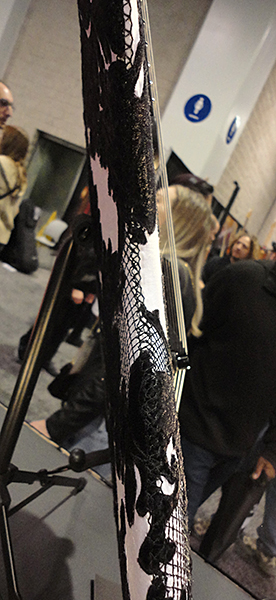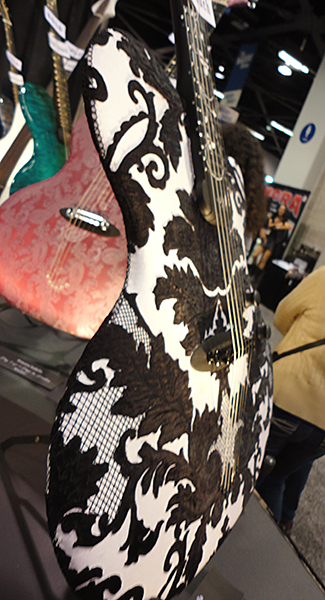 This model is so thin.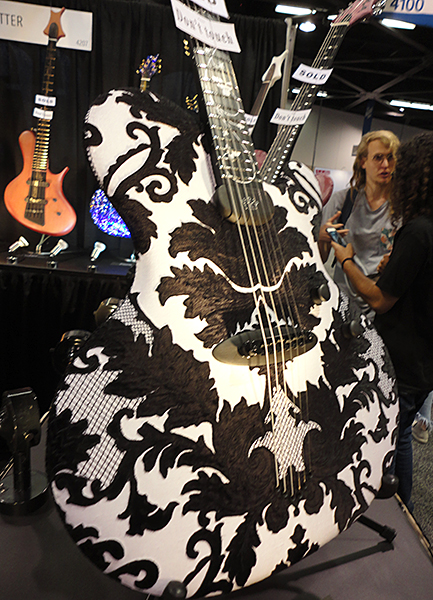 Absolutely stunning!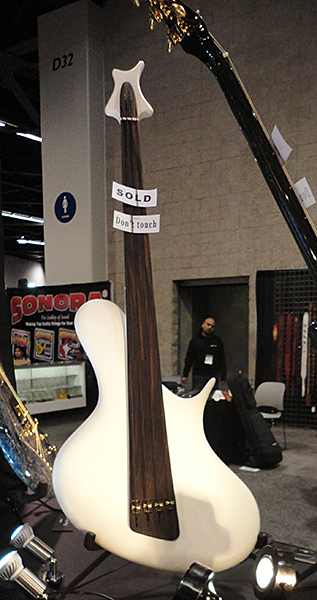 A very fretless bass!
K-Line Guitars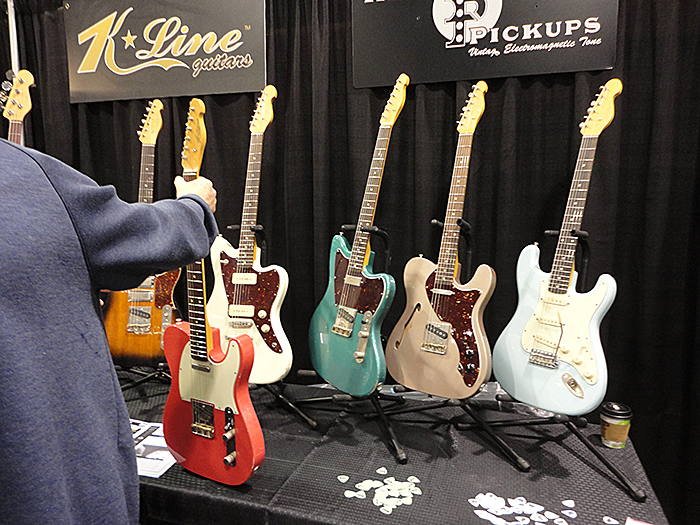 If you want a classic design with the extra details and TLC that only a top luthier can provide and want it at a decent price, then K-Line should be on your radar.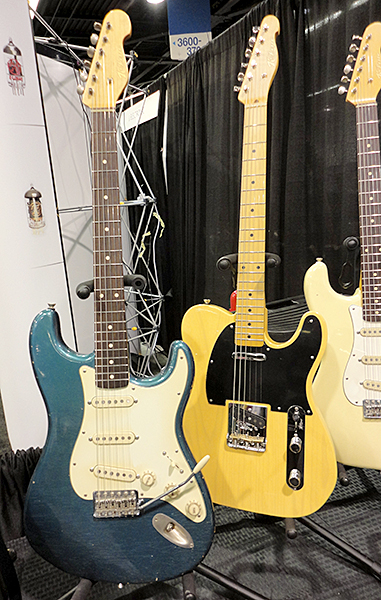 I'm very fond of this Springfield to the left. So are many others and they are all frustrated when Chris doesn't particulary want to sell it as it is his personal guitar.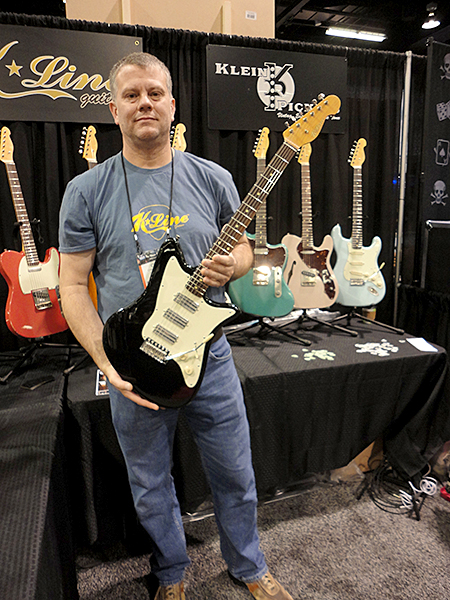 Chris Kroenlein is an imposing looking fellow but a really nice guy and a great source of knowledge and always patient when it comes to describing things. I always learn things from Chris during these short NAMM conversations.
Kauer Guitars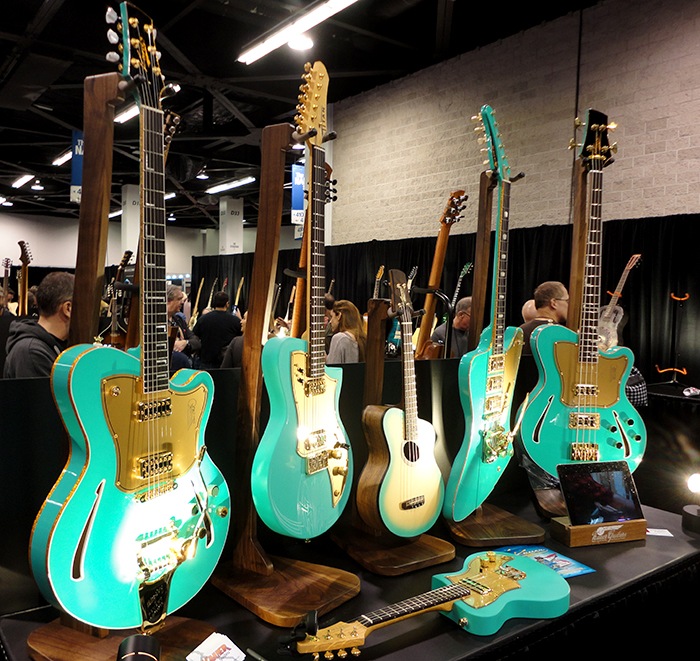 Anyone looking for a green guitar should be all set with Kauer as you obviously can get any model you would like. Even a cool electric ukulele. It seems ukuleles have spread from Hall E to the upper echolons of NAMM.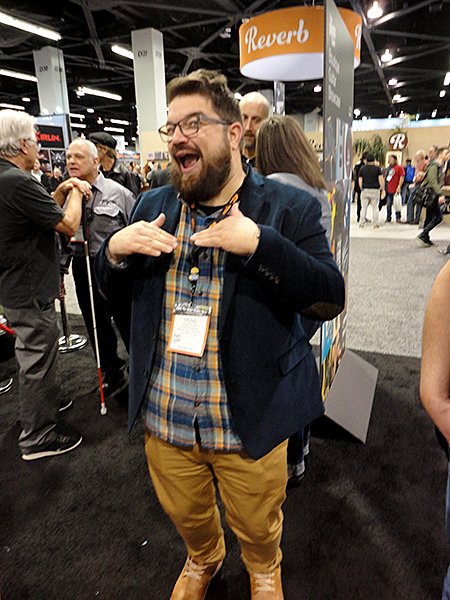 Doug Kauer expressing happiness of being at NAMM and having a lot of fun talking to like minded people.
Keeley Pedals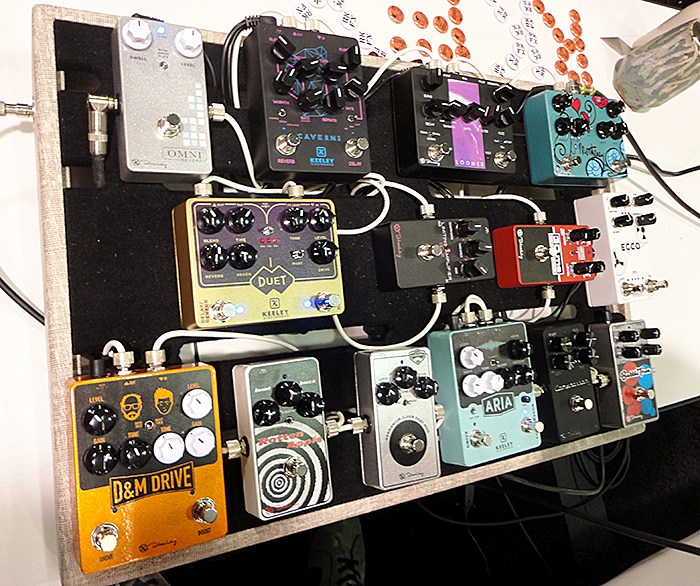 As a fond user of Keeley pedals I made sure to stop by to see what news Robert Keeley and his merry gang had to offer.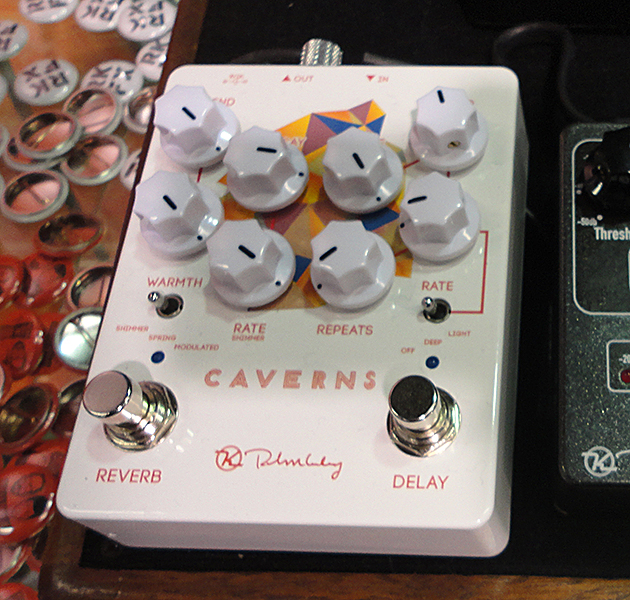 Caverns is a very useful combination of delay and reverb. Most of us want both, so why not have both in a space saving format?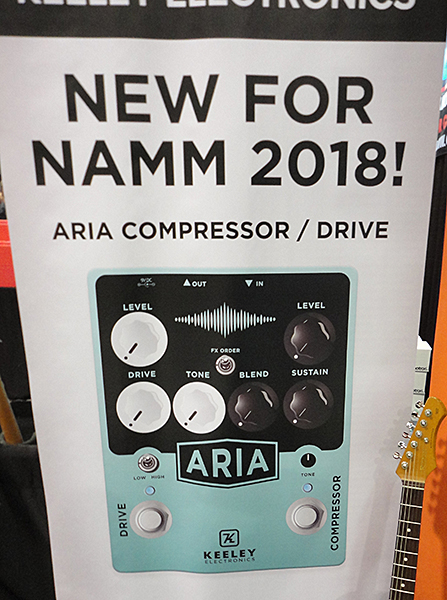 The Aria is another cool dual effects pedal. Keeley's compressors are famous and well used and their Tube Screamer-tinged overdrives are great, so once again, why not have both in one and save pedalboard real estate?
Koll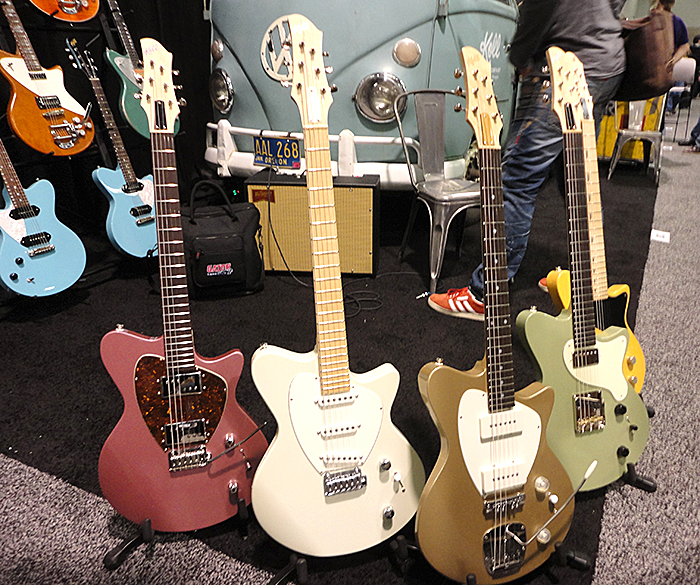 What I really like about Saul Koll's work is that he's found a body shape that, in my eyes, visually works with all pickup configurations and tremolos. It also looks good as a flat top or an arched top like on a Les Paul and even as a hollow body. I also like the fact that they sound really good too.
Komet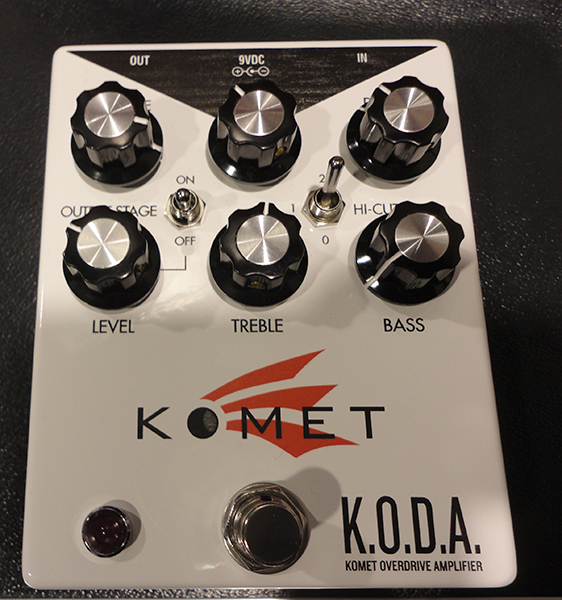 Komet is well respected brand of amps so when they release a pedal my curiousity is seriously piqued. The K.O.D.A. (Komet OverDrive Amplifier) pedal is definitely not your garden variety Tube Screamer circuit or Klon clone. They make a point of saying it's an amplifier in a box with both a preamp and a power amp section and you can control the gain staging at all points.
The demo I heard showed the K.O.D.A. to be an extremely versatile pedal and the frequencies chosen for the eq section were just right and made it easy to get all the overdrive sounds I wanted in conjunction with the gain,drive and Output stage level controls.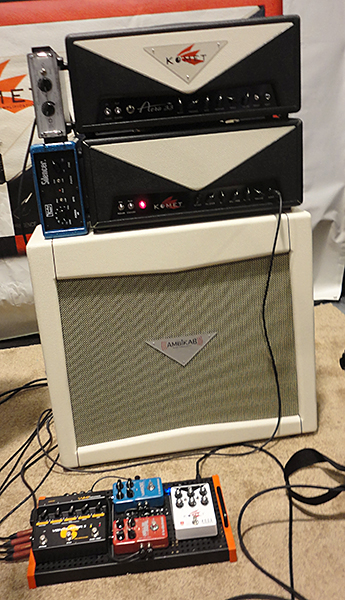 The Aero 33 amp on top proved all the rumours of the touch sesitivity of Kopet amps to be true.
KSR Amplification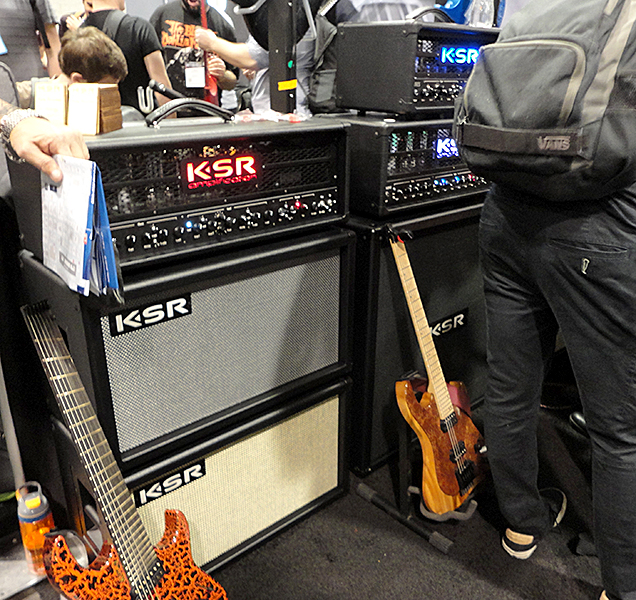 Kyle Rhodes amps are so good looking.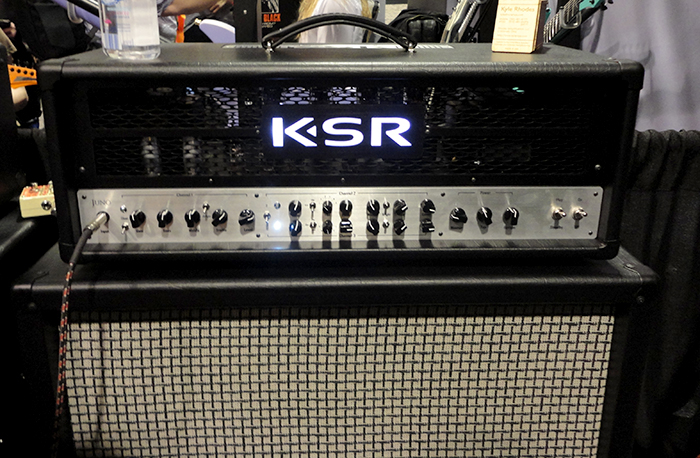 Kyle's new EL34 based Juno amp. Considering Kyle's design ideas, I would not be suprised to find that even the clean sound will feel heavy.
Lace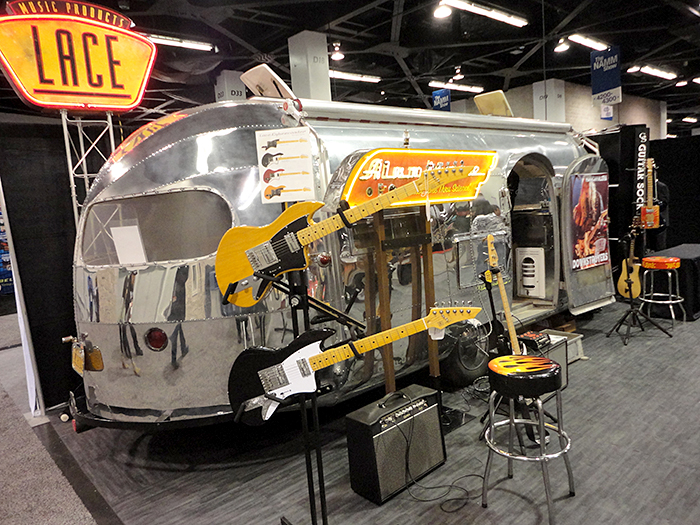 This old camper made me smile. The Lace brothers always seem to have one of the more unusual and eye catching booths.
Lame Horse Instruments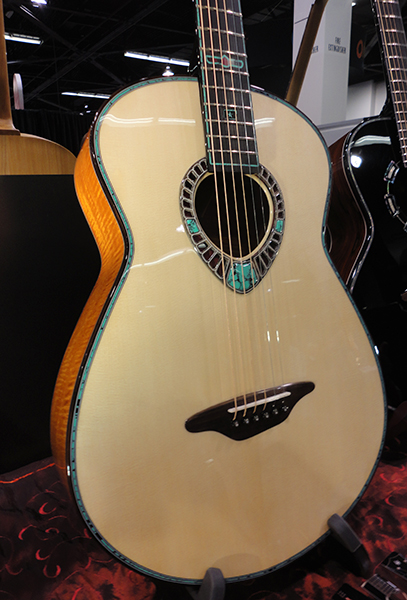 Some very intricate and beutifully done inlay work on this acoustic. There's nothing even close to lame about this instrument.
Lipe Guitars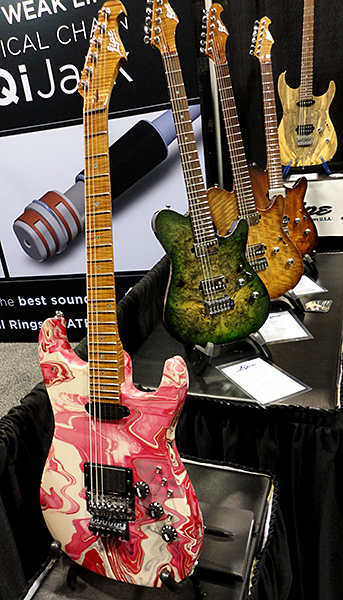 Michael Lipe showed a great number of cool guitars. The flame on this neck is almost unbelievable.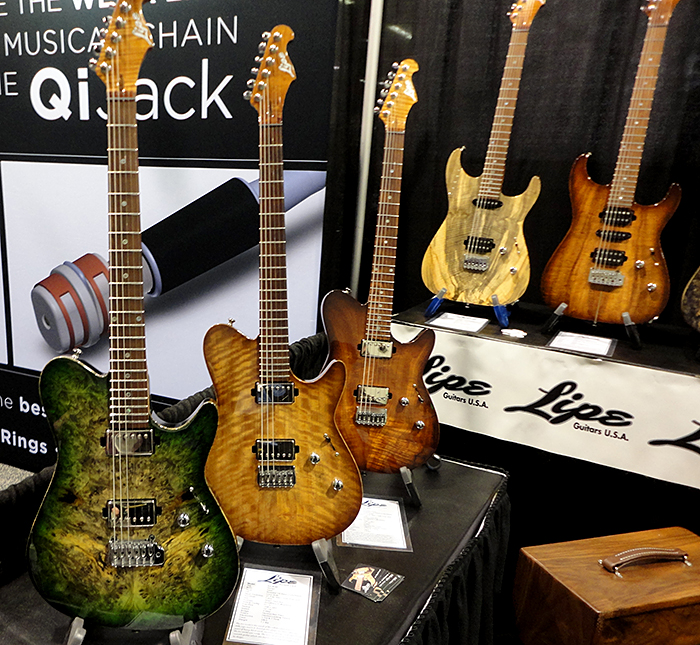 He certainly has an eye for nice tops.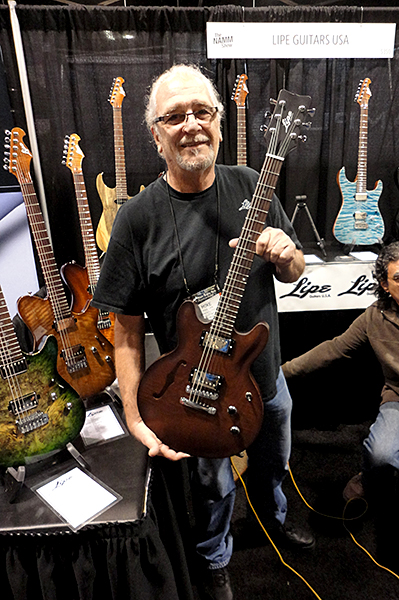 Mike posing with his version of a smaller 335-style set neck.
LsL Guitars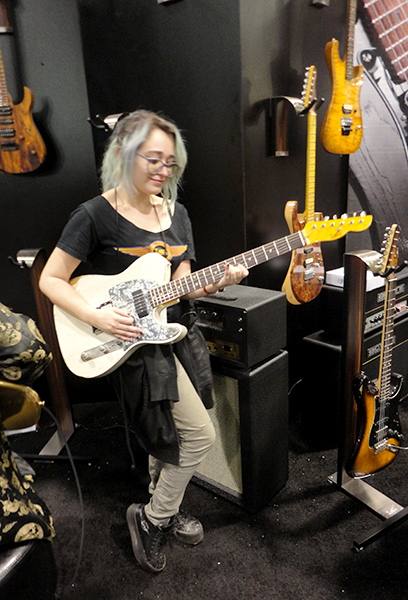 I've been an admirer of Lance's instruments since the first time he displayed at NAMM many years ago. Now it seems like the new generation is joining the business. This is Lance's daughter showing a very tasty T-Bone with a neck P90.
Lunastone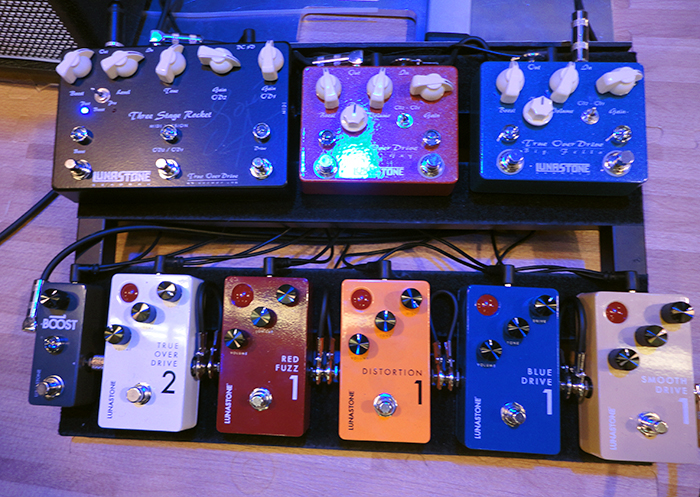 Last year I was turned on to Lunastone's True Overdrive and I loved it. This year, Lunastone showed three new pedals. Their booth was always crowded so I didn't get a chance to hear them properly but rumour has it they will display at the FUZZ Guitar Show in Gothenburg so I'm hoping to catch them there.
Maegen Well Guitars and Mandolins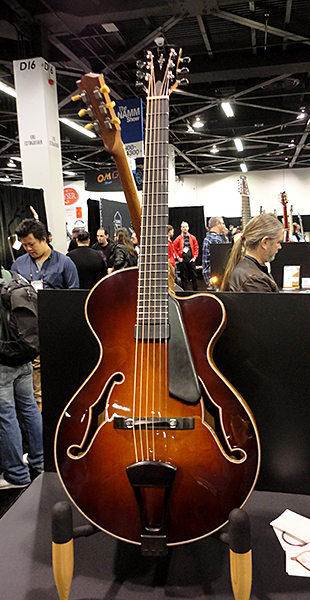 It's always pure joy seeing a well built instrument that's obviously been showered with love and care. This is just an exquisite instrument.
Manson Guitars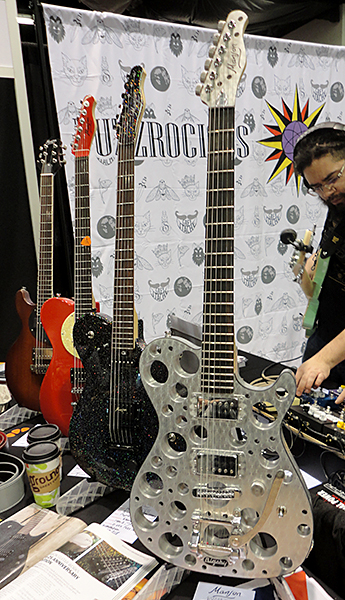 Manson guitars definitely displays some out-of-the-box thinking.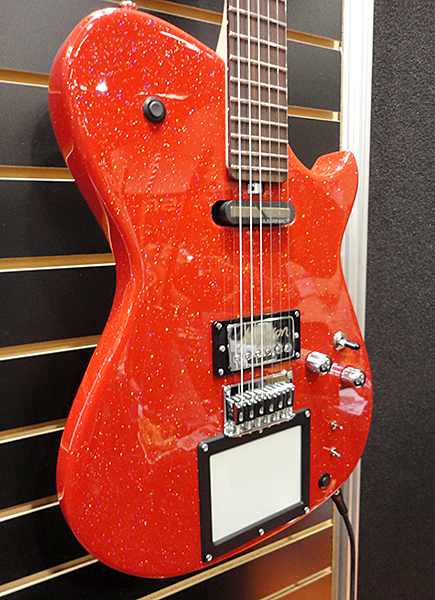 A red glittery fun guitar with a Kaoss pad on board.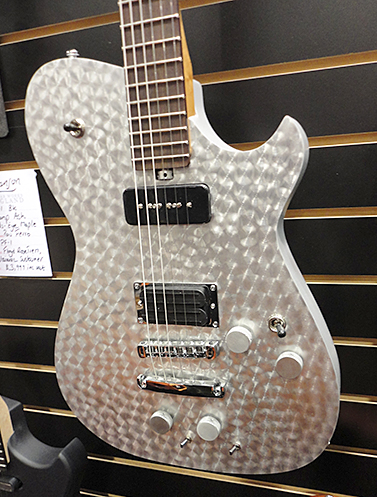 This one is equipped with a fuzz circuit.
Marchione Guitars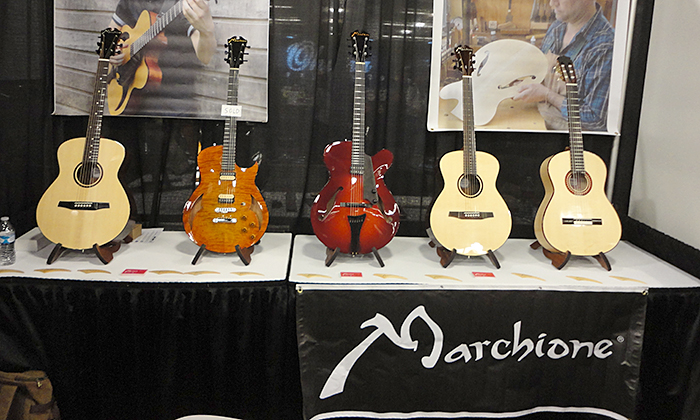 Another builder to consider if I wanted to go arch top shopping.
Matsuda Guitars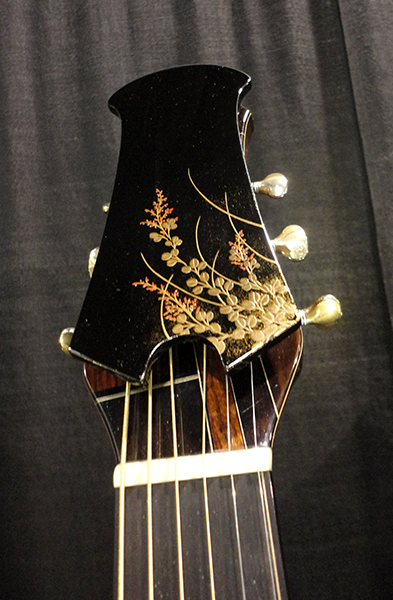 Mr Matsuda belongs to Luthier Beyond Limits and this headstock design gives a hint why.
Mattoverse Electronics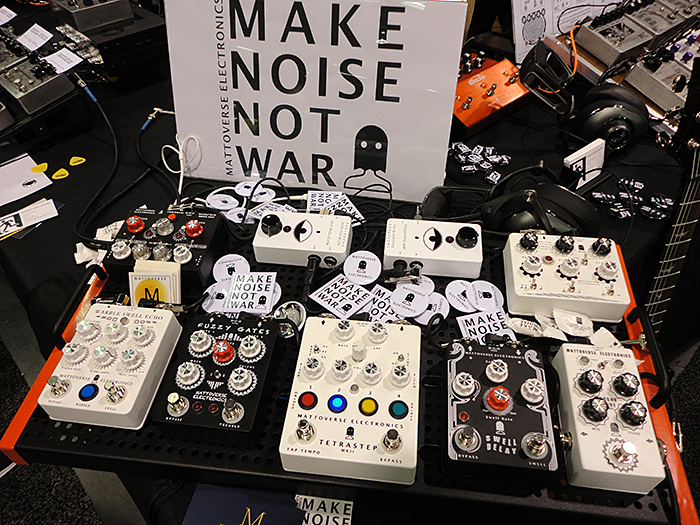 With a slogan like this they definitely deserve aplace in this report.
Mayone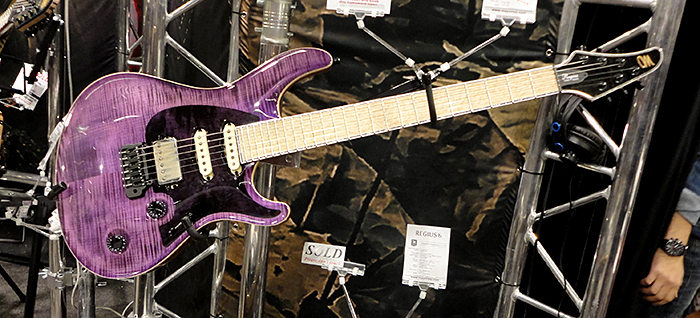 My wife's favourite color.
Mellotron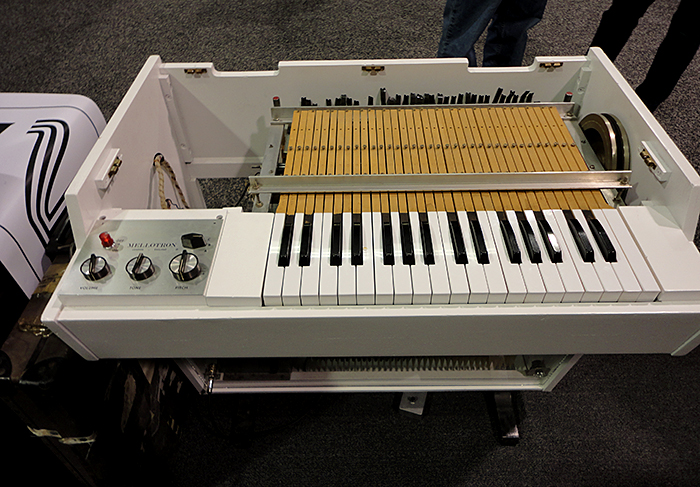 When walking the aisles, I hear a spot-on rendition of The Fool On The Hill and when I turned a corner I saw a guy playing an original Mellotron.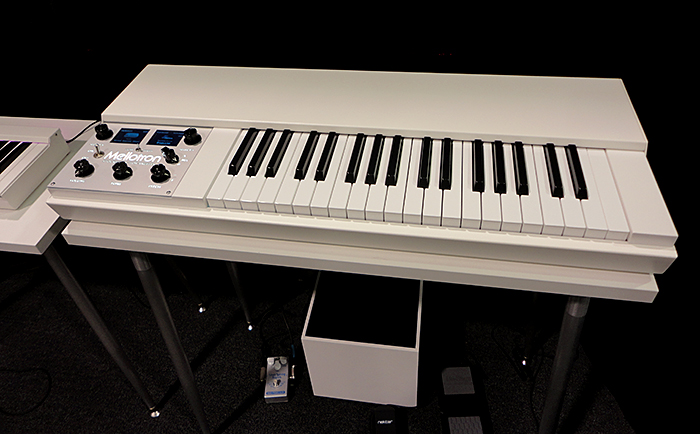 Here's the new version of the venerable classic.
Michael Spalt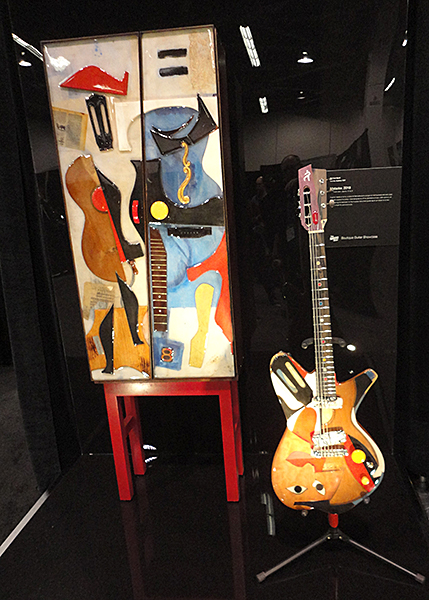 If I had to mention a luthier that perfectly embodies the idea of the luthier as an artisan creating as much art as an instrument it would have to be Michael Spalt. The is Matador and I would love to own it and proudly display it.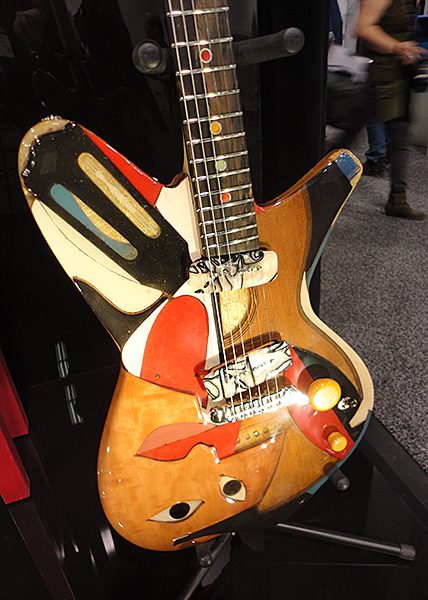 A close up of the guitar.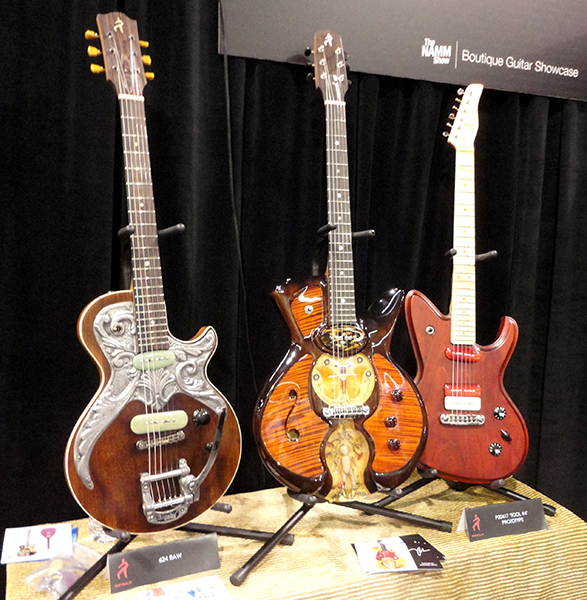 Three other guitars by Michael Spalt.
Milkman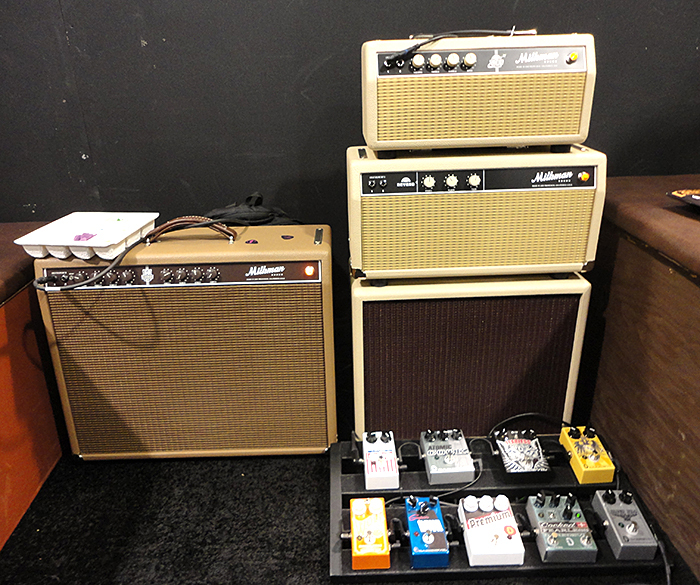 Lots of people were talking about the Milkman amps. After hearing them I understand why. Great sounding combos.
NAMM
I'm always amazed at how smooth the entire NAMM experience is so kudos to the NAMM organization for making it so.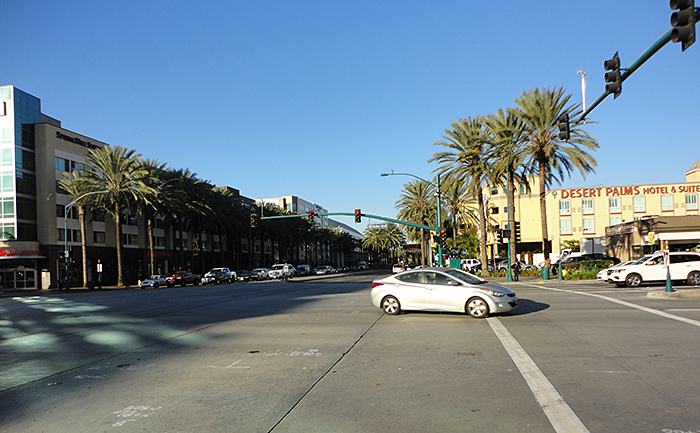 To me, the NAMM experience start when I walk from the hotel to the Convention Centre in the sunshine. A very welcome change from the cold, snowy and wet Swedish weather.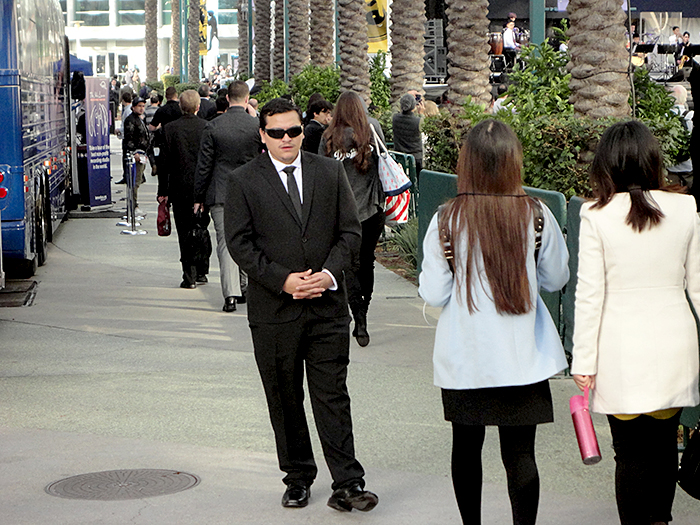 The men in black handles secutiry and if you don't have your NAMM badge prominenty displayed around your neck you will not pass.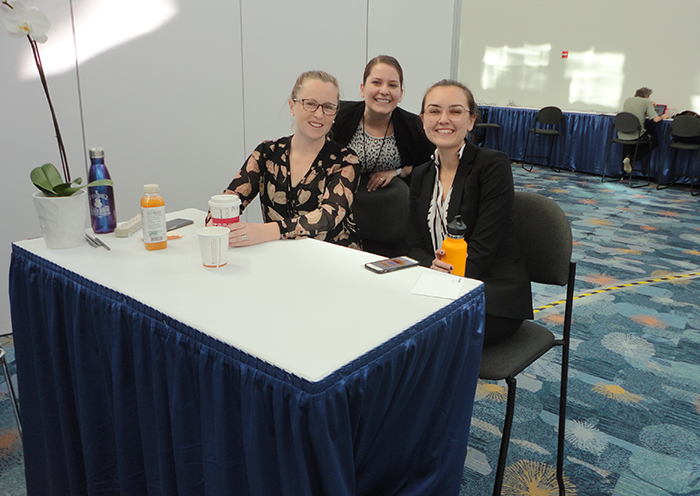 I always start my day in the Media Center outside Hall E. The past years I've been meet by these smiling young ladies so now it feels like coming home. The Media Center is a place to rest my weary feet and ears after long days on the noisy show concrete floors.These ladies set the bar for visitor/customer service and I wish other venue organizers would make a study visit and learn from it.
Old meets new. To the left is the old arena and to the right is the new building, housing the companies into recording and sound reinforcement. This is also where you find most of the softwere companies.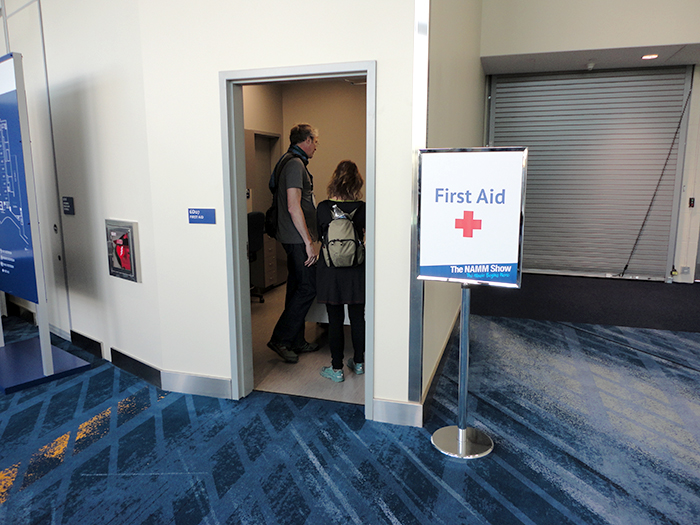 As I was walking around on my crutches, I noticed the first aid station and I immediately felt better.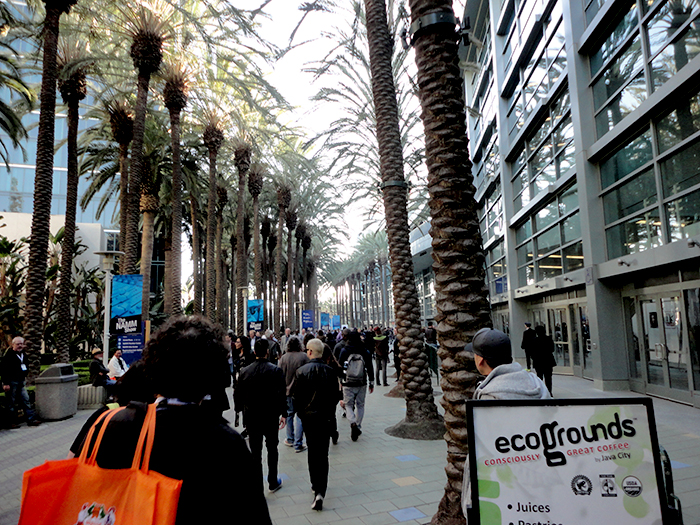 If you don't like being confined to the indoors you can go outside and enjoy good live music from the outdoor stages and some great food from the myriad of food trucks.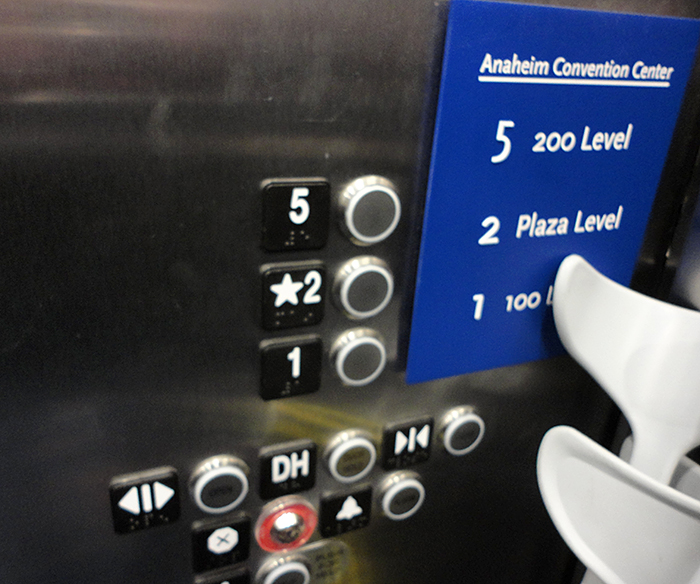 Floors 1 and 5 had booths and floor 2 was the entry level to get in and out of the building. So where are floors 3 and 4? Calling Mulder and Scully!! This is obviously a case for the X-files.
Every year I see signs that combines wisdom with humour.
Another one that has had me thinking quite a bit.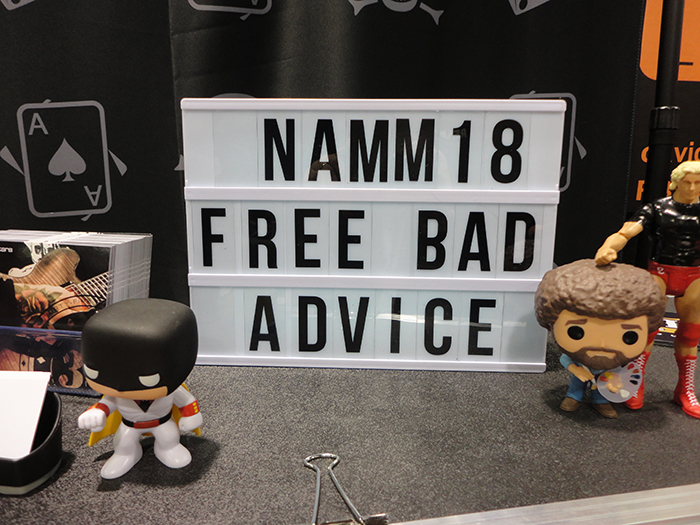 There's a lot of this, too.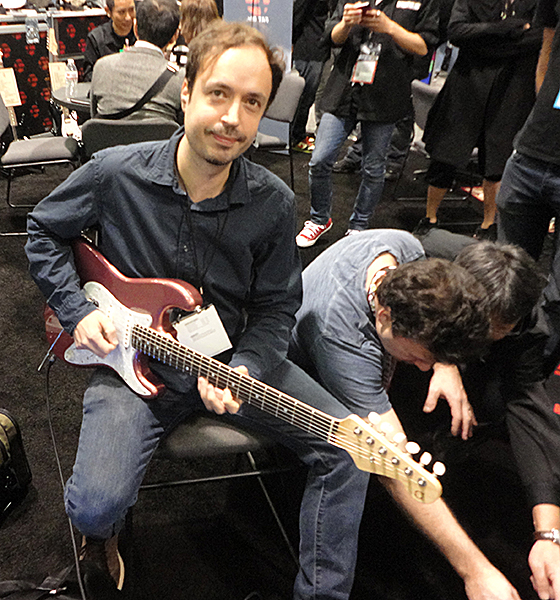 At NAMM you can bump into any number of great musicians. Let me introduce you to Jostein Guldbransen, an eminent jazz guitarst from Norway but since many years living and playing actively around NYC.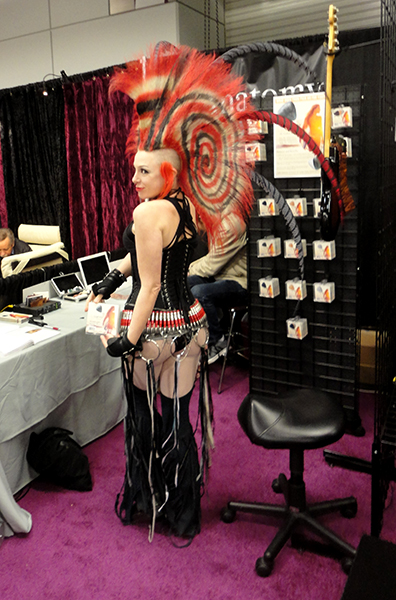 You also see a surprisingly large number of people whose seemingly sole intention is to grab the attention of others. This is a prime example of such a person.