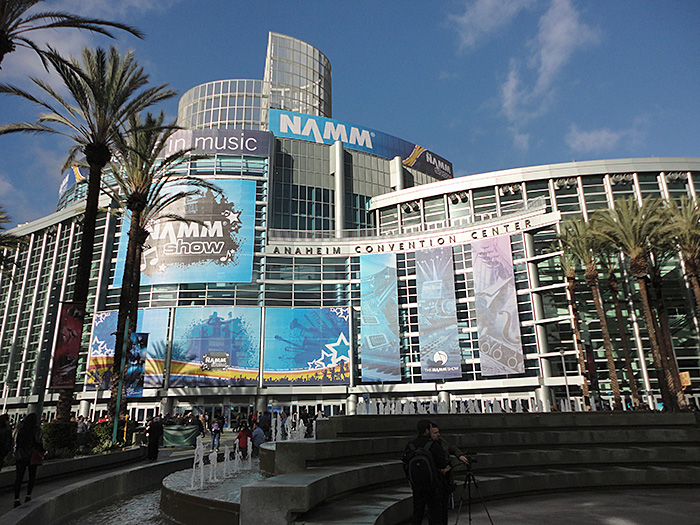 NAMM 2018
- lots of cool gear, nice people and no rain
One of the lasting impressions of NAMM 2017 is the rain. There were lots of it. The highways were flooded and people were really and truly wet. This year there was no rain and people were thankful and talked about it.
Another lasting impression from last year, and on a more positive note, is all the nice people. Seems like NAMM has sort of an "obnoxious filter" that makes people nice. Or maybe it's just the simple fact that lots of people with a common interest congreate to enjoy themselves and learn new things. For me, NAMM has developed into a social sphere and without doubt I consider myself lucky to have so many friends in the business that is equally about having a good time as it is conducting business.
So to the gear. Were there any really groundbreaking new products at NAMM 2018? I'd venture to say no, but there were quite a few developments on already existing product types that I found interesting. While this may not be as exciting as it was back in the 80s and 90s when each year brought something I felt I just needed to have, this slower development is easier on the wallet. Having said that, I found enough stuff at NAMM 2018 that were tempting enough to make me want to pull out my credit card.
This year brought a lot of changes. A new building and a totally revamped placments of exhibitor booths. I feel like this was a major step foreward. All exibitors were grouped according to category. All acoustic guitars were to be found at one place, electric guitar and bass gear in one area, studio stuff in the new building, etc. For an old timer like myself it was a bit confusing not to find people where they used to be but with the use of the NAMM app, I found everything I needed.
This year due to a medical issue, I had to experience NAMM on crutches. Four days walking the halls on crutches is no fun. And what's worse is that I had to take most pictures with one hand so unfortunately the pictures are not as good as I would like. But I hope you'll enjoy this coverage anyway!
Please read my usual disclaimer here.
This personal report should bee seen as my very own point of view and does not reflect the view and/or opinions of any other person or company of which I may be associated either through my work or in these pictures. If you find any faulty information in this report please e-mail me at mats.n[at]nermark.com.
I have placed the products in alphabetical order for your convenience. I also have divided the report into 5 sections. Otherwise the load times would be problematic.
Please also accept my apology for any language errors as English is not my native language.

Alquier Guitars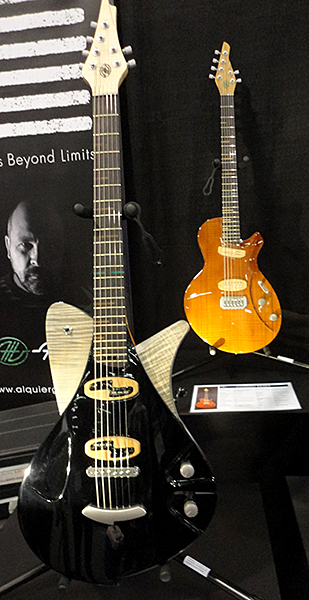 A number of small but incredibly talented and unique luthiers have gone together in an organization they call Luthiers Beyond Limit and they had a booth where they displayed a number of artisan instruments. Imagine a wall full of unique guitars that you have never seen before and just by looking at them you realize that these guitars are as much art as they are instruments. To me it was breathtaking.
The first maker I came across was Alquier Guitars. I will leave it up to you to form you own opinions.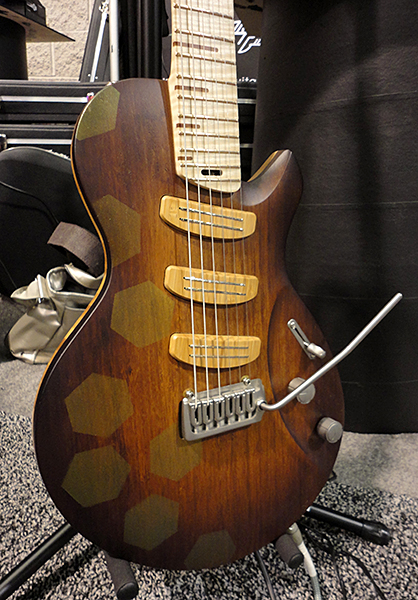 Ampeg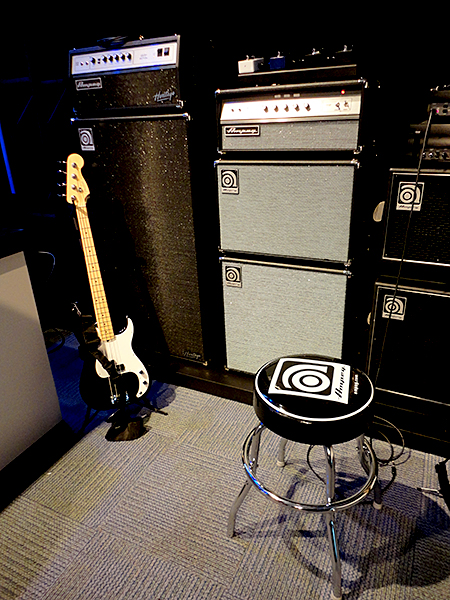 I know most people think I'm a modern kind of player when it comes to gear, but my heart always beats a bit extra when I see a trusty Ampeg bass rig.
Antares
The new Auto-Tune Pro was shown and it was actually the product I came across on the Media Day that NAMM arranges the day before NAMM officially opens. A great service to us media people who got the opportunity to speak to the manufacturer reps in a more interview friendly environment than the NAMM floor.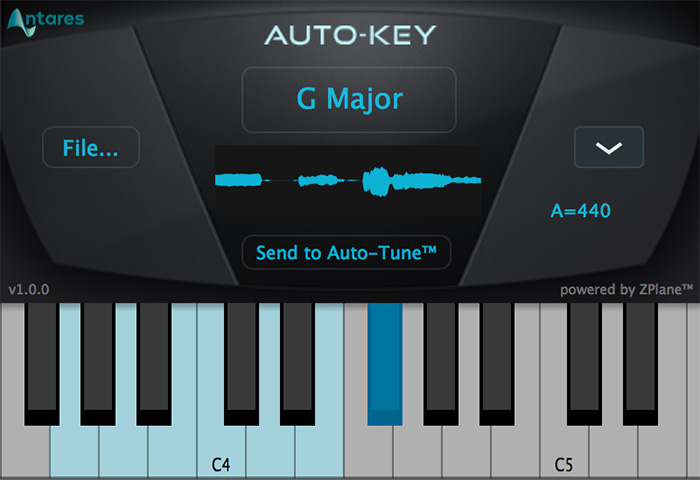 Auto-Tune Pro brings both old and new as it builds on previous versions but, funny enough, it also has a "Classic mode" to give you the well known Auto-Tune 5 sound that has been instrumental in creating more than a few hit vocals. New is the included Auto-Key plug-in that automatically detects the key of the song and sends that info to Auto-Tune Pro. Great news is that it also supports ARA and makes it possible to use Auto-Tune in real-time with ARA compatible DAWs like PreSonus Studio One without first having to run the track through before editing. It helps my work flow a lot.
On the creative side the MIDI Control feature lets you control Auto-Tune parameters via MIDI in realtime and can thus use it as a performance tool. I love all effects that does this.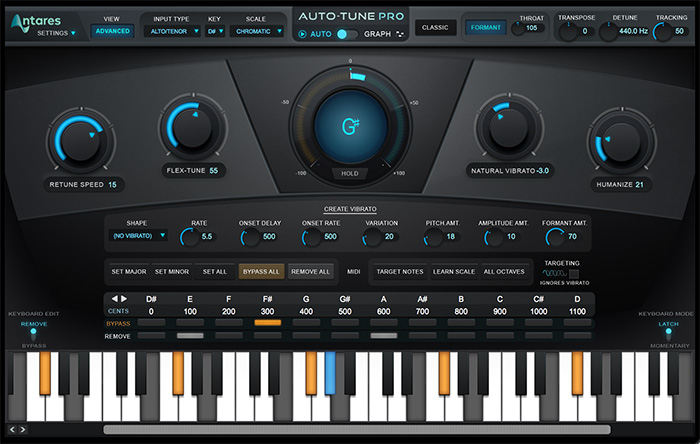 According to a company spokesman it will work great with electric guitars in correcting the notes while not interfering with the intricacies of slurs and bends we all tend to use. I'm really looking forward to trying this out.
Atomic Amps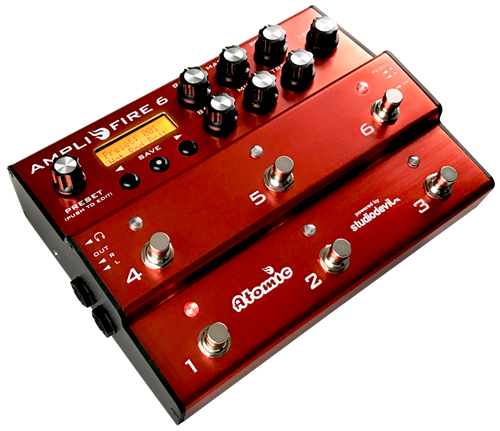 New in their incredibly successful AmpliFire line is the AmpliFire 6 and was first shown at NAMM. It will replace the original AmpliFire and at the same price. It comes with the same capabilities as the AmpliFire 12 (albeit with six switches) and full backwards preset compaility.

Audio Sprockets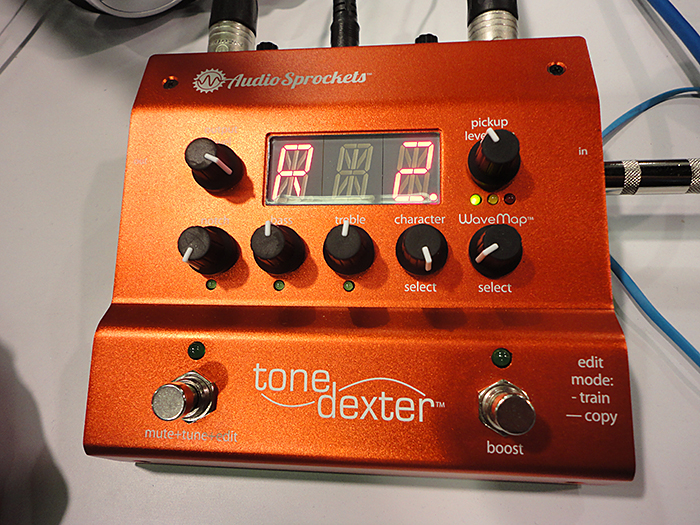 The Tone Dexter allows you to analyze how your acoustic guitar sounds when picked up by a studio microphone compared to how it sounds with an under saddle piezo and save that profile to memory. Then you can hook up your piezo and apply the profile and you get the sound of the guitar through the studio microphone. Does it wark? Oh, yes! It sounds so much better. I have checked it out at two previous NAMM shows and it has always sounded good but being a Kemper user, I wanted to know how a guitar not having been analyzed would sound when used with a profile of another guitar. This year James brought a Yamaha Silent Guitar and ran it through the Tone Dexter using a profile of a nice Cordoba classic guitar. It sounded really nice adn when I tried it, I realized that this is going to change the way I record acoustics at home. Not only do I get a better sound, but I never have to worry about noise leaking into my recordings from external sources like trucks passing by or the washing machine on the other side of the wall. If you record acoustics at home, you owe it to yourself to check this out!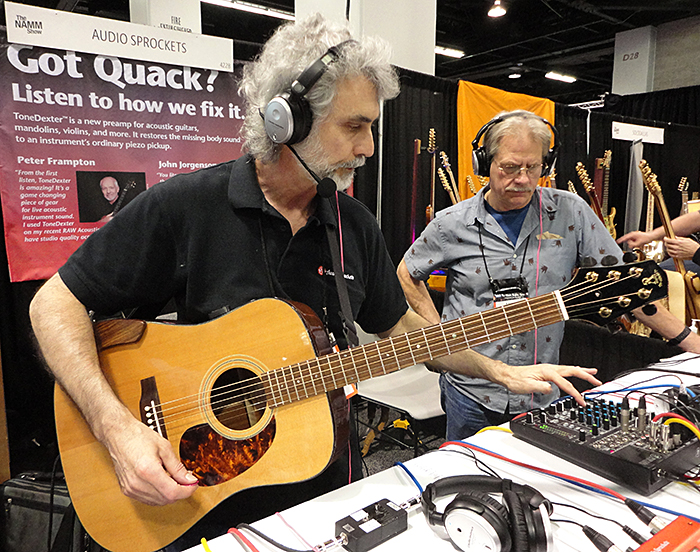 James May and Andy Norrell of Audio Sprockets deeply into demo mode.
Bartel Amps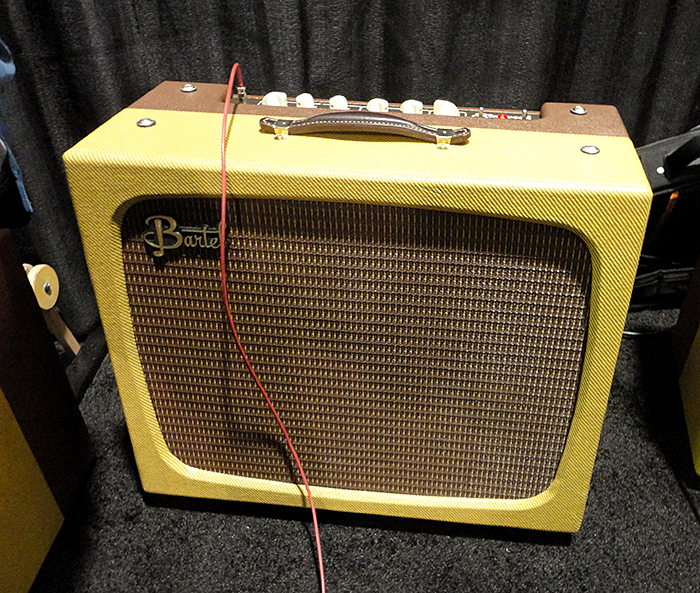 Mark Bartel, who was the owner/designer at Tone King amps, has started a new amp company under the name Bartel Amps. Mark's design objective was to make a amp that wasn't defined as BF, tweed, or plexi amp or any of the other typical amps. He wanted to do an amp that could be its own thing while satisfying the players who like the sounds of the aforementioned designs.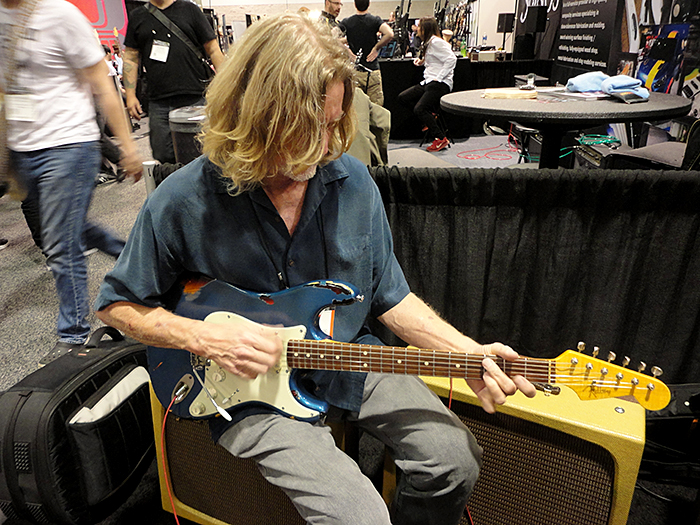 The demo by the very talented Dana Olsen showed that Mark's claims had merit. If I was looking for a great sounding and versatile combo, Bartel would be at the top of my list.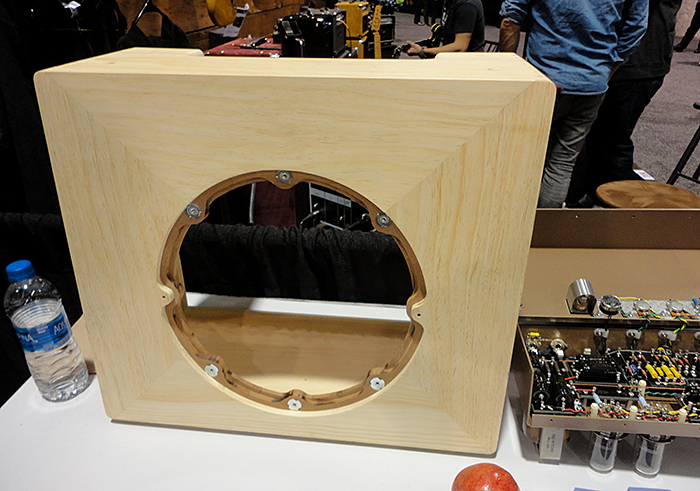 And they are built to last a lifetime or two.
Bassics
I'm getting more and more into playing bass and thus I'm looking for good ways to make me sound better than I actually am. A good sound and controlled dynamics could be a good way of doing that. In the Diffusion Audio booth I was shown this Bassics preamp and it's a cool piece of gear to be sure. It has a very interesting and surprisingly useful take on the eq section. It's a three band semi-parametric with individual bypass on each band on a foot switch in addition to a total eq bypass switch. Simple to set and use and sounds good. What's not to like?
Benedetto Guitars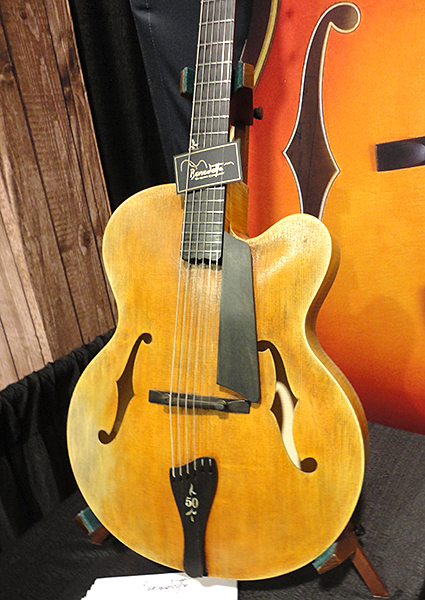 Bob Benedetto is one of the legendary archtop builders still around. If I ever get the the finances to get a nice archtop, this will certainly the place to visit. Such beautiful instruments.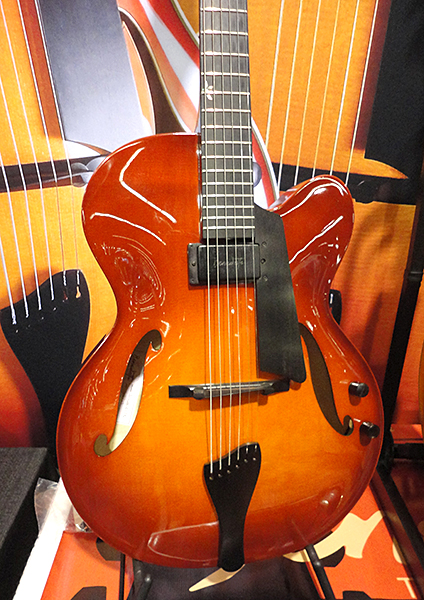 Bluesman Vintage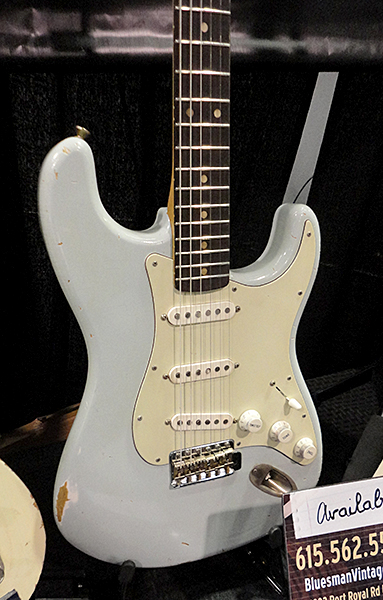 I've been aware of the Bluesman Vintage guitars from reading about them on the Internet but have never seen them in real life before.
Funny thing is that I was in a kind of "don't-need-another-strat" mode when I arrived at the booth and when I was invited to try this Sedan model out, I was not properly mentally prepared. I was totally blown away by it!! This gave me everything I have always wanted in a great strat style guitar. The neck pickup was round and full. The bridge pickup twangy and bright without the dreaded ice-pick element that plauges many strats and positions 2 and 4 were beautifully clear and funky. And so dynamic in all positions. I have strat style guitars but I really truly want this instument.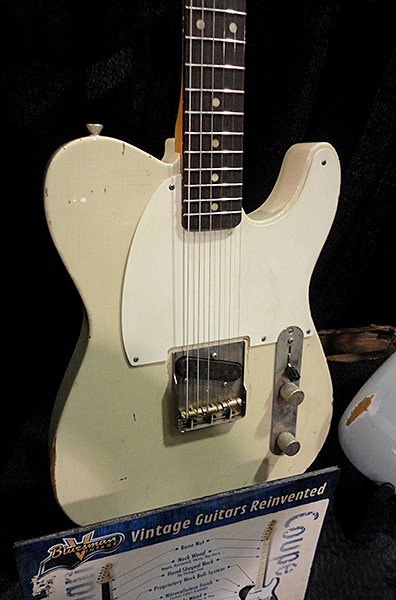 This Bluesman Vintage Coupe gave similar lustful feelings.
Boss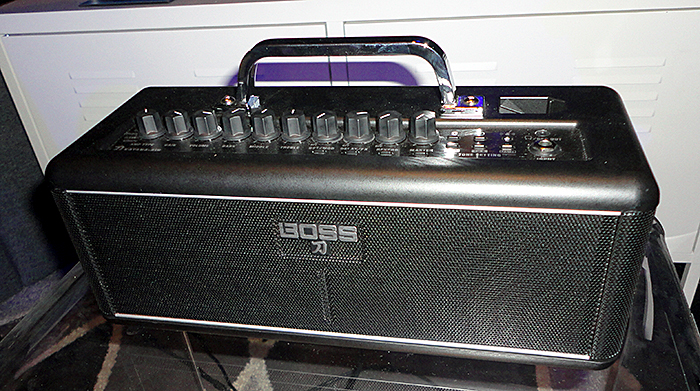 A NAMM would not be a proper NAMM without a lot of new guitar products from Boss. One of the coolest concepts at NAMM was this Katana Air, a truly wireless amp solution.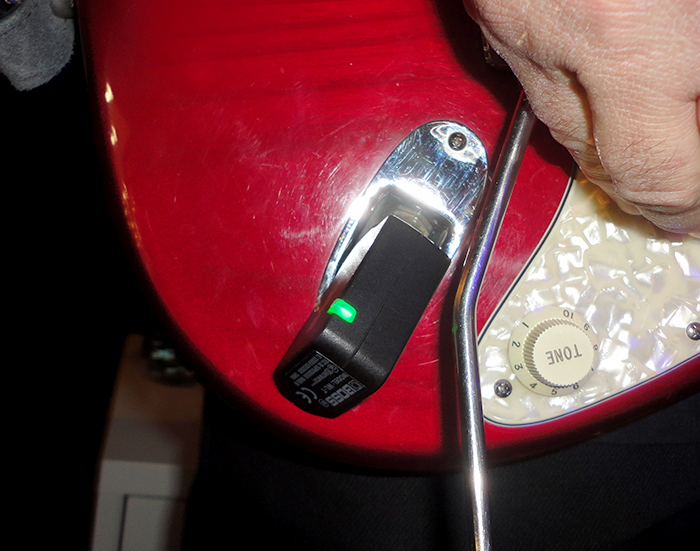 Plug in the wireless transmitter into your guitar and you're all set to go. When you put the guitar down, the transmitter goes to sleep and when you pick the guitar upp the motion sensor in the transmitter turns it on again.
You can edit the amp from the panel or via Bluetooth from your smartphone or tablet. Of course, you can connect to Boss Tone Central to download new presets.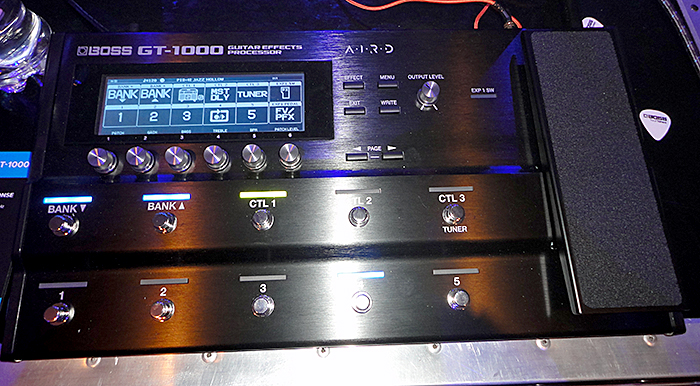 I've been using Boss guitar pedals for as long as I can remember. For many years I got excellent results from my old trusty GS-10, which is still in occasional use. This brand new GT-1000 seem to have it all. A totally new 32 bit sound engine running at 96kHz sampling rate, effects from the 500-series pedals, new Augmented Impulse Response Dynamics speaker simulation, good display, USB audio interface capability, smooth switches, expression pedal, editing on Mac/PC and wireless editing on your smartphone/tablet via Bluetooth. Considering the market penetration of Roland/boss, this will most probably be a bestseller.
Boz Transgressor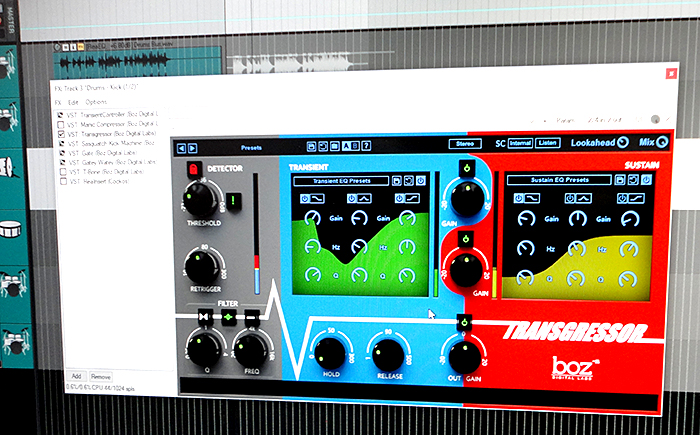 There are a lot of plugins trying to emulate the SPL Transient Designer abd many do a very good job of it. But plugin developer Boz Millar has taken the ide a step further and added eq and filter to each of the transient and the sustain parts of the sound. The demo showed that this plugin can be very helpful in a number of situations.
Carl Martin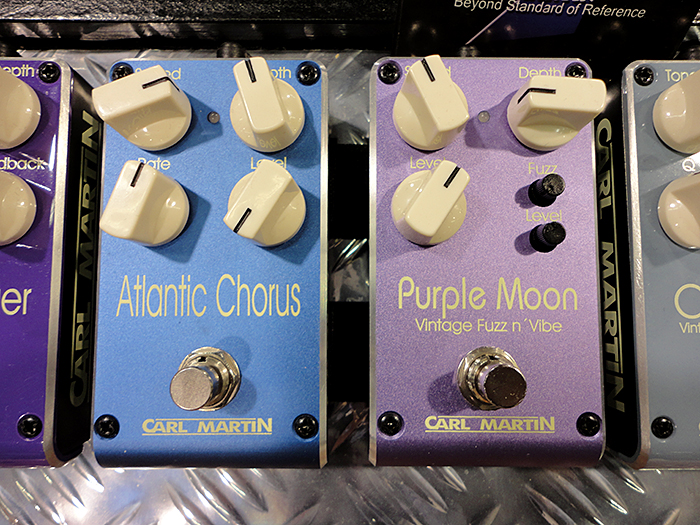 I didn't get to speak to the very busy people at Carl Martin so I don't know if this series is new or not. All I know is that they are new to me and they look very nice. Very Danish in the design.

Celestion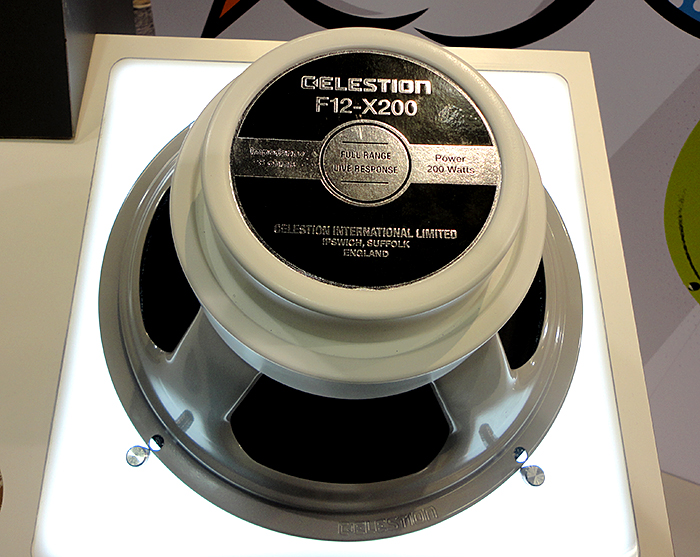 Last NAMM Celestion surprised a lot of people by entering the IR market. This year they release even more IRs but what cought my interest this year were some new speakers. The 12-X200 is a 200 watt speaker aimed at the guys with a Kemper or an AmpliFire who want a full range speaker in their cabinet.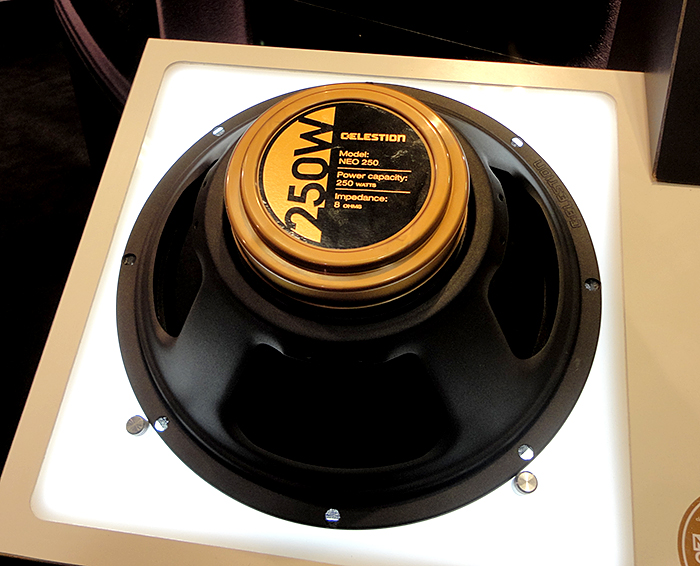 The NEO 250 is a more traditional speaker capable of handling 250 watt for the players who want really good headroom.
Chase Bliss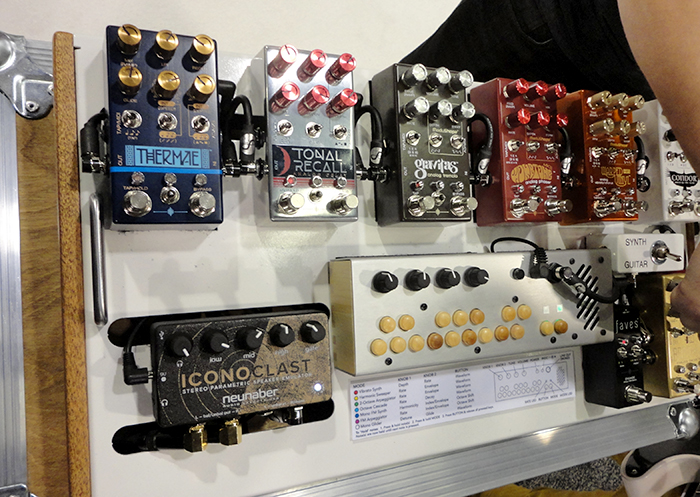 This pedalboard at Chase Bliss made a huge number of unique and mouth watering sounds possible. I could have been standing there all day exploring just the tip of the iceberg of all the possibilities on offer.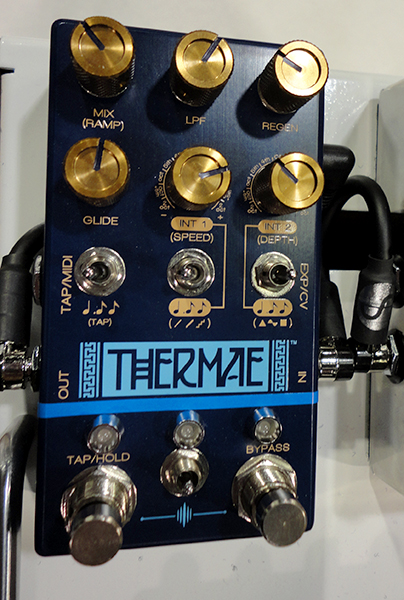 People interested in delays out of the ordinary should take a close look at this digitally controlled analog delay.
Chicken Pick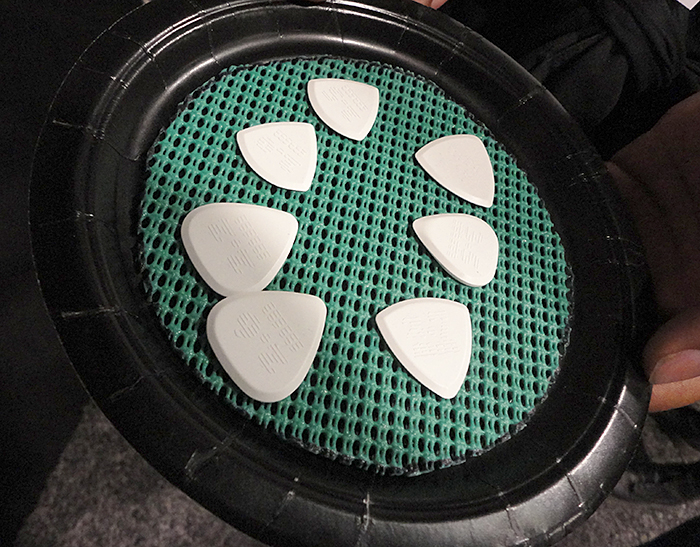 When someone asked me what my most significant gear purchase was for 2017, I realized it was the Chicken Pick. I have always been into dynamic picking and the Chicken Pick makes that easier and I also get a better tone out of all of my guitars. It's thick enough to be comfortable when playing single string lines but not too cluncky to play rhythm with. I strongly recommend them!
Cioks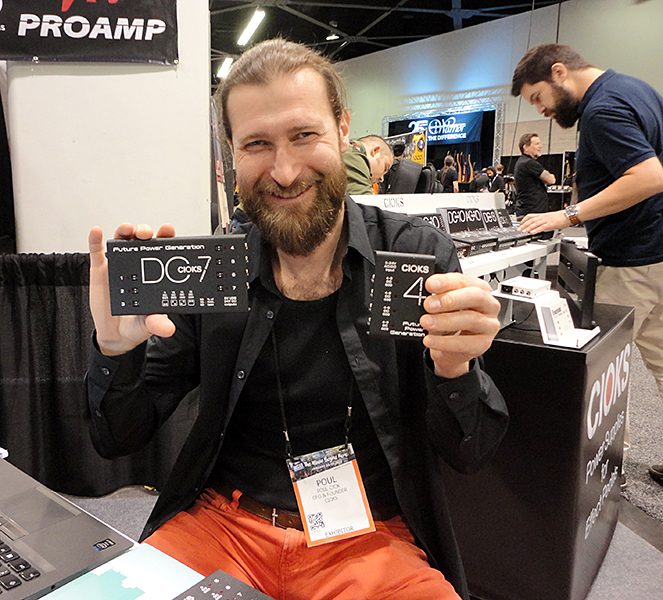 Power To The People! The songs title seems to be made for Puol Cioks whose producs has been powering my racks and pedalboards for years.
This year Cioks introduced the new Future Power Generation series. Every output can have its own setting for voltage and you can link them together.

Cloudmicrophones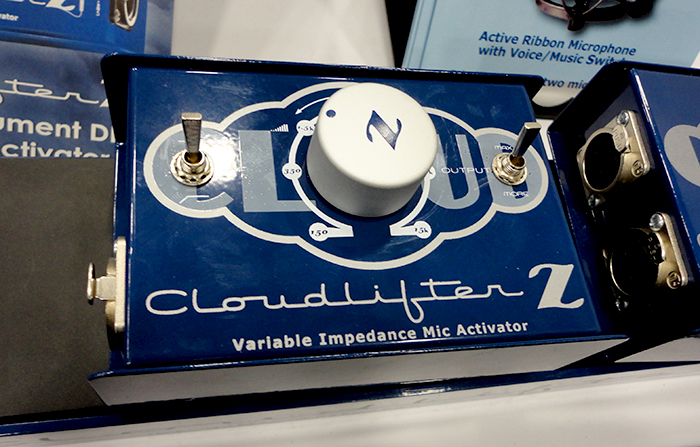 The Cloudlifter Z adds gain to your passive microphones and also allows you to change the impedance to experiment with the sound of your microphones. This year they also showed a Cloudlifter Zi that can be used with electric guitars and basses. Very interesting!
Collings Guitars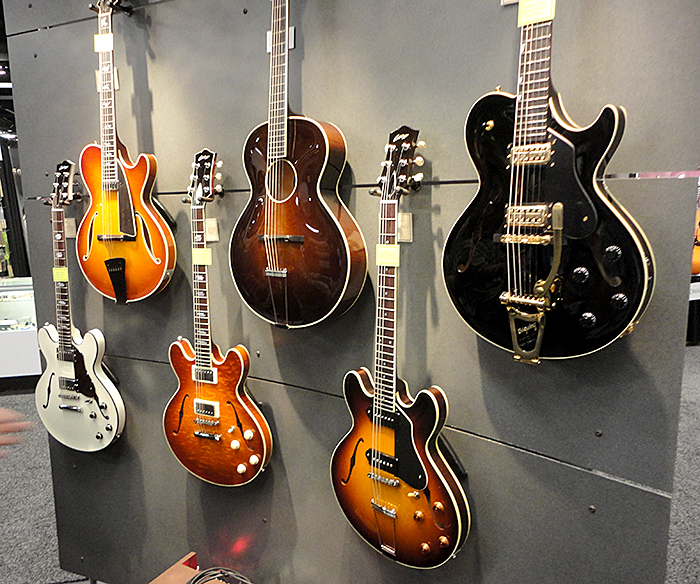 There's no way around it. I just love Collings Guitars. If I could choose to have just one set neck guitar with humbuckers, it would be either a City Limits or an I-35LC. Hard choice but defintiely one or the other.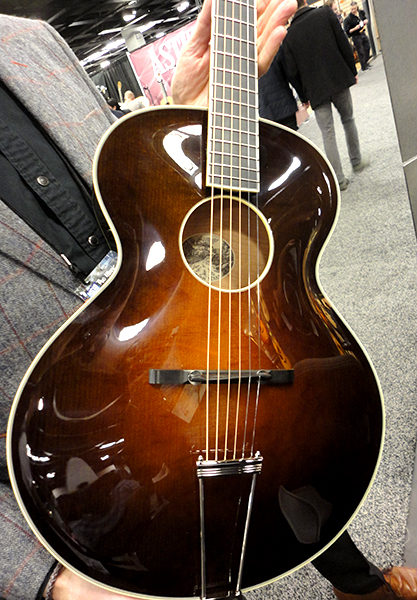 In memory of Bill Collings they made this archtop of their very best woods. If I remember correctly, they only have wood of this kind for just one more guitar like this.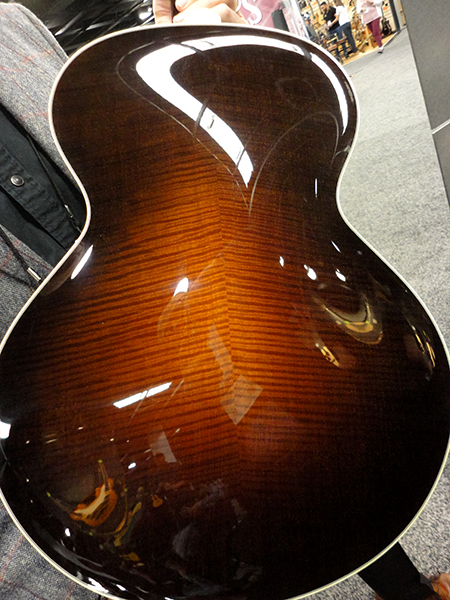 The maple back is stunning. The corls are beautiful and the sunburst is just so right.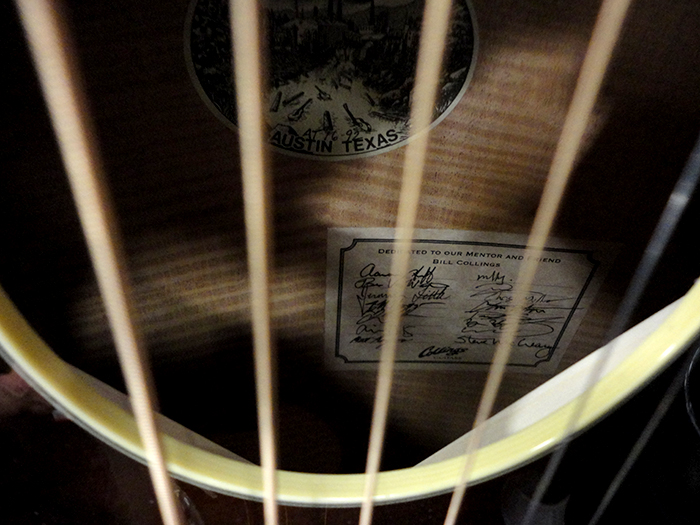 The insode label is signed by everyone who worked on this guitar.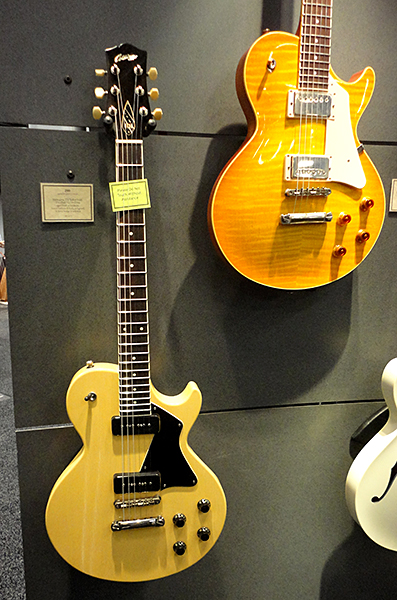 This is probably the best take on a Junior ever made.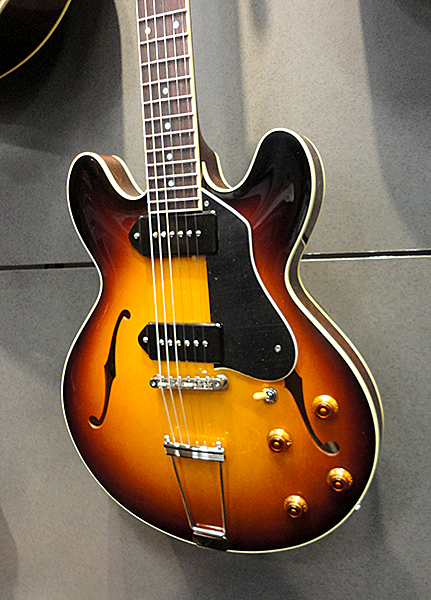 While this I-30 looks kind of similar to the I-35, it is a very different sounding instrument and has been met with enthusiastic reviews.
This Collings OM2 with a European spruce top and coccobolo sides and back was one of my absolut favourites at the show.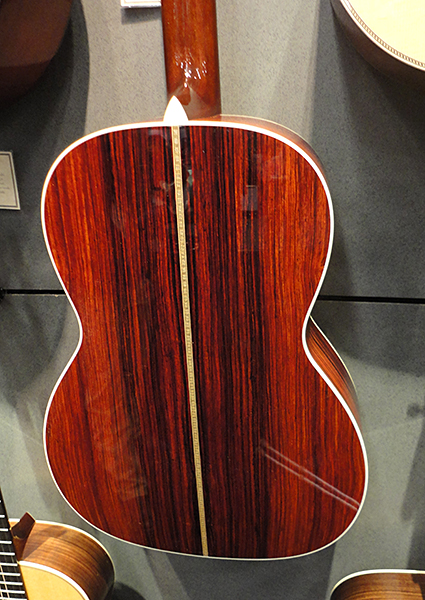 A quick look at the back.
CruzTools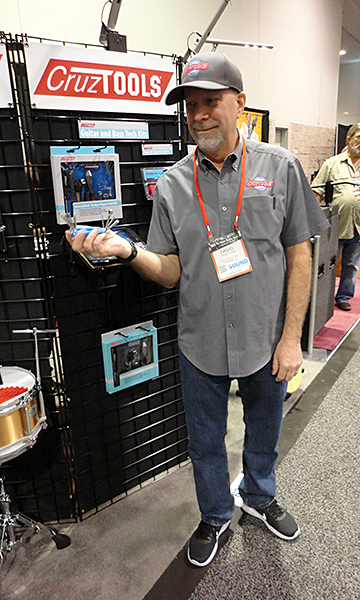 CruzTools founder Dan Parks, holding up his new version of the GrooveTech Multi-Tool for guitar and bass playersand techs.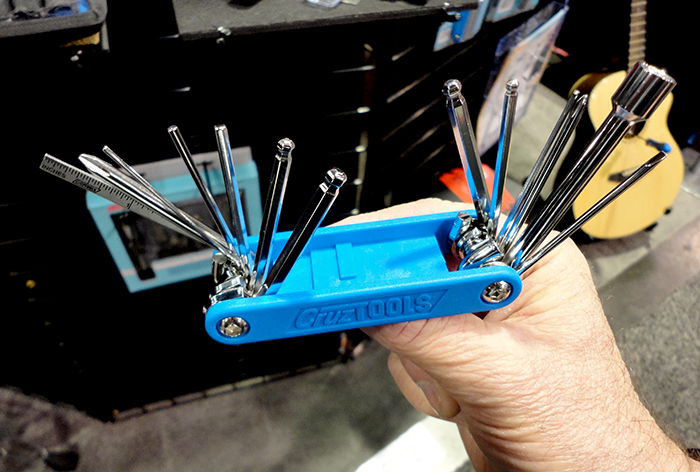 A closer look at the Multi-Tool. If you ever wonder what to get your guitar playing significant other or friend for birthday or Christmas (or any other festive occasion), I can assure you that the Multi-Tool will be met with approval.
Danelectro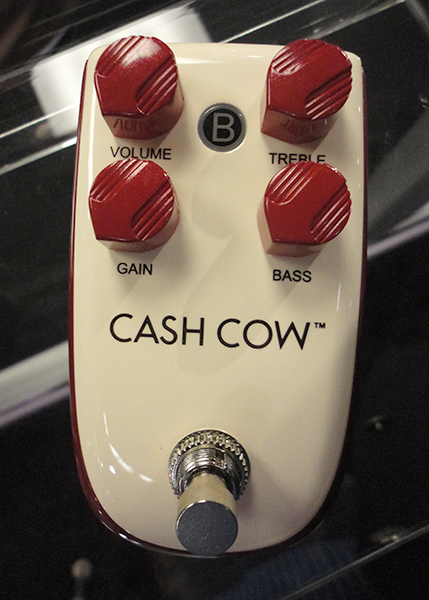 I just had to smile at this name. I'm sure someone had his tounge firmly in cheek when they came up with Cash Cow for this booster. It goes well with the Billionaire theme of the series and, like it siblings, it sounded great. This Billionaire series gives serious audio-bang for you you buck.
D'Angelico Guitars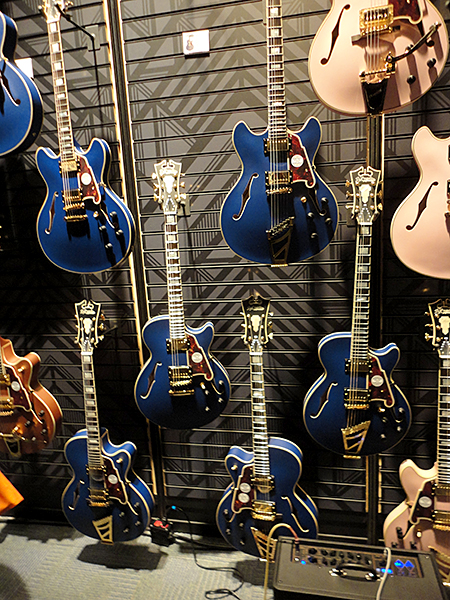 What a hollow body of some kind but can't decide what color? Well, D'Angelico has made it easier for you with all the colors you could possibly want.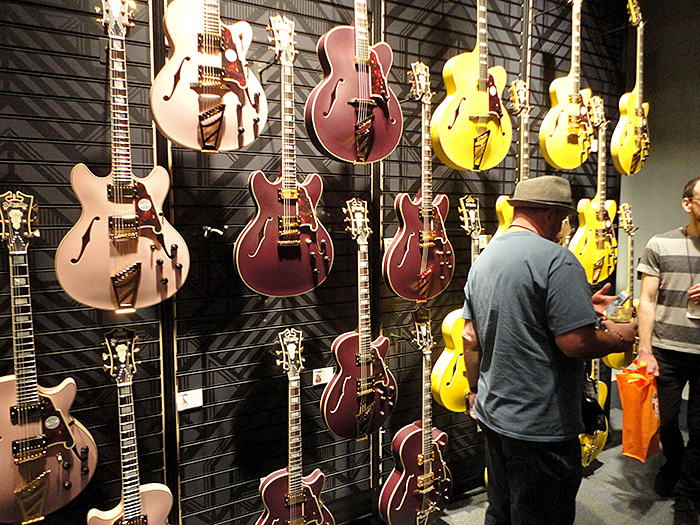 Want more?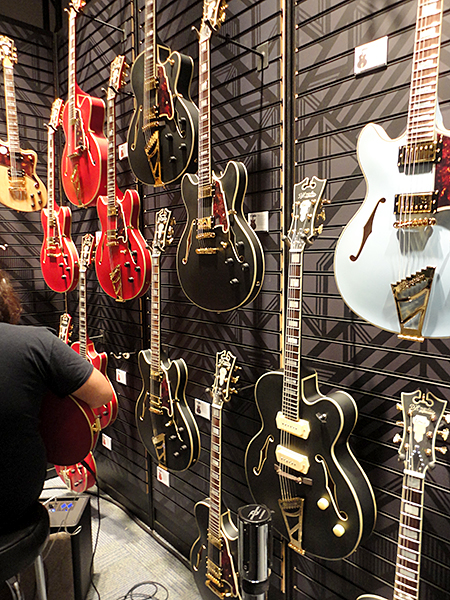 Here they are!
Still more!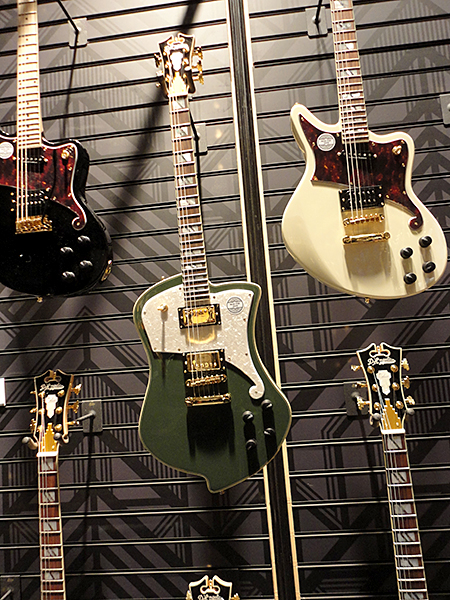 D'Angelico introduced these to new solid body shapes. I'm very interested in seeing if these will make it big.
Dean Guitars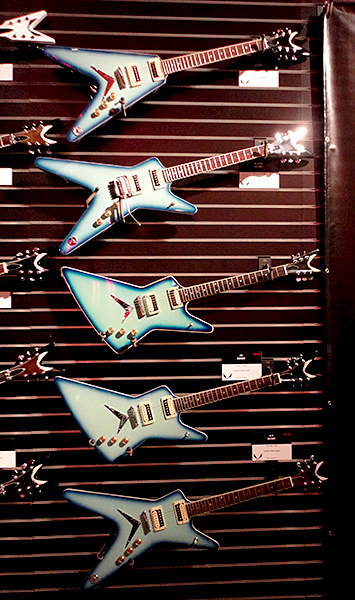 Dean also had the idea of offering more colors. Blue and ....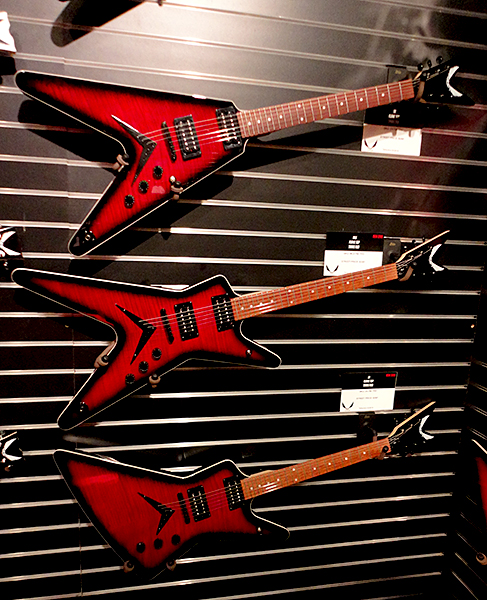 ... red.