Winter NAMM 2013
Hell Guitars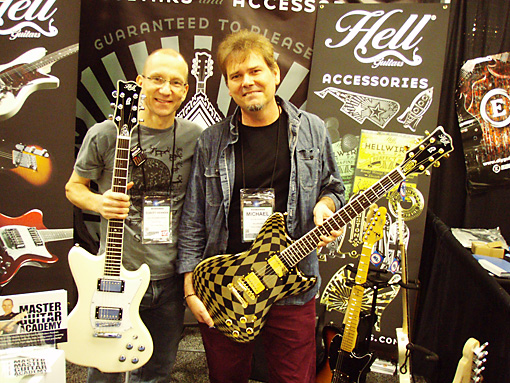 Hell Guitars had some interesting guitars. Equipped with renowned Bare Nuckle pickups and still very inexpensive. To the right is Hell Guitars Managing Director Michael Evanston and to the left is expatriate Swede Robert Renman, Hell Guitars endorser and the man behind the Master Guitar Academy.
Ibanez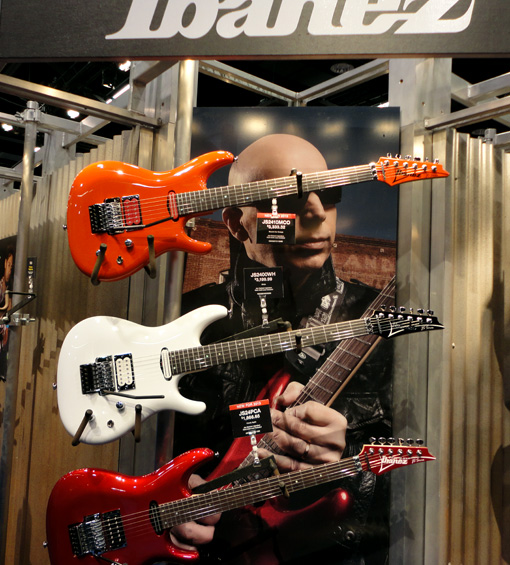 Does the world need yet another Satriani Signature? Ibanez obviously think so and so here it is! Two humbuckers, one traditional and one in single coil size in the neck position. Available in both daring and boring colors.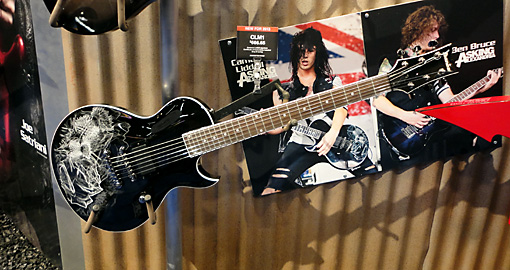 Here's another signature Ibanez for someone I have not yet heard of.
J Backlund Design
I have always liked retro-future designs and J Backlund Design is slap in the middle of that and so I have to admit liking these designs as designs. I wonder how they would feel while playing? Comfortable? Probably as J Backlund most likely have involved a number of players before going public.
JAM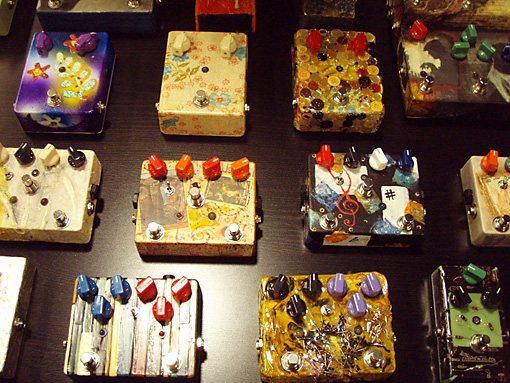 JAM effect pedals are hand made and individually designed and painted/dressed in Greece. These pedals will add a uniqeness both in looks and sound to your pedalboard.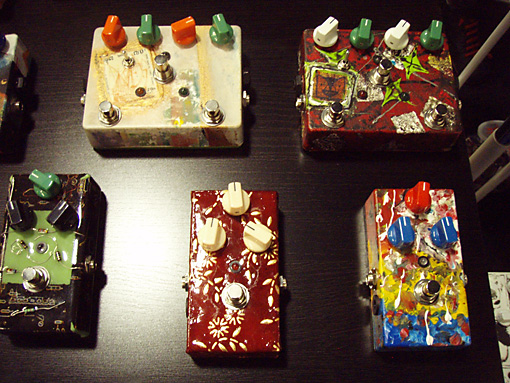 James Trussart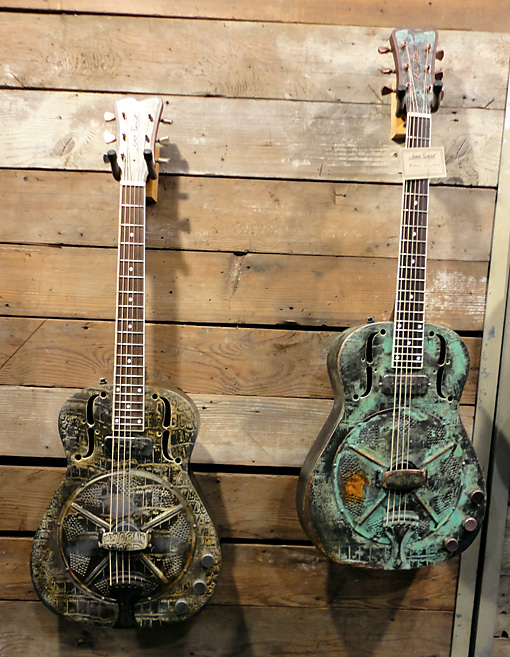 James Trussart can be trusted to show a number of cool looking instruments.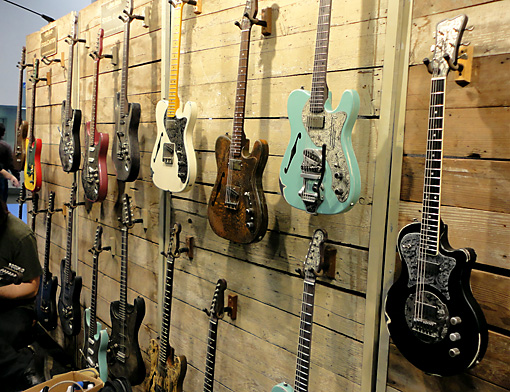 Here's a wall full of them and some of them want me to reach for my credit card.
Kemper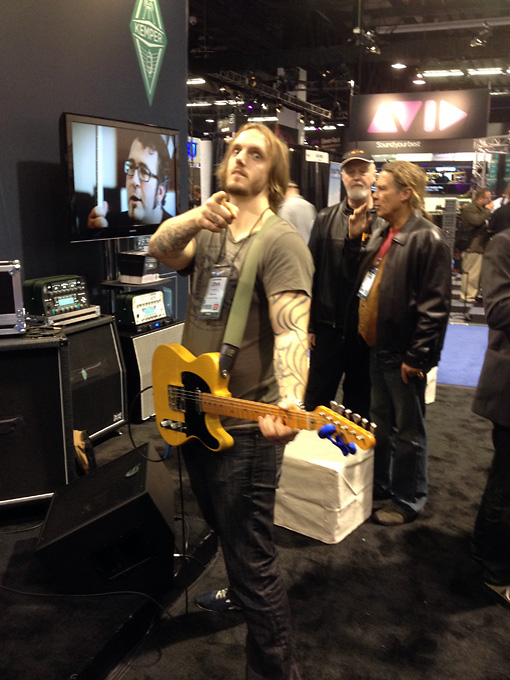 At the Kemper booth you could hear the skillful axe picking of John Huldt, a fellow Swede who dared to take the step and now works in Los Angeles. A short listen to him tells you why. :-)
Kemper introduced a rack version of their acclaimed Profiling Amplifier as well as a version of both the rack and the original amp with a built in 600 watt power amp.
The Kemper Profiling Amplifier is not a new product for 2013 but I'm still tempted to give it my "Best New Product" award since it still feels so much newer and ahead of everything else in the area of digital amps than the competition. It definitely gets my "Best User Interface for a Digital Product for Guitarists".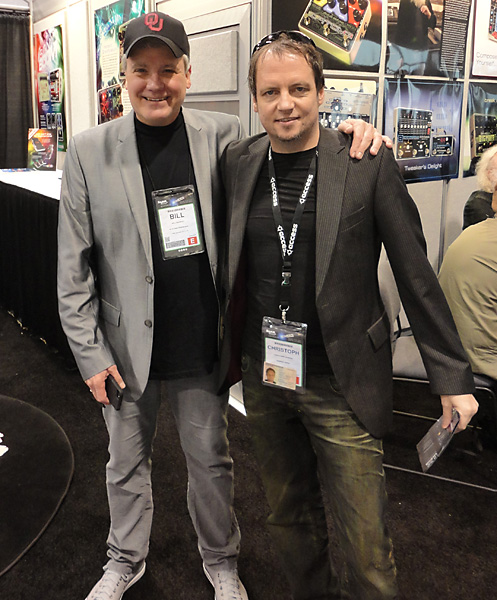 To the left is Bill Ruppert, a man with an ear tuned different than most other guitar player's. Bill has done some exceptionally clever effects setups and come up with sounds unlike anything else with the KPA. To his right is Christoph Kemper, sonic co-conspirator and inventor of the Kemper Profiling Amp .
Kill Switch Cable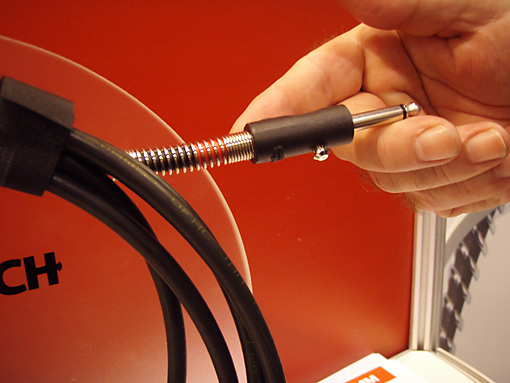 The demo player at Kill Switch demonstrated that not only can you unplug your guitar without any noice from your amp. You can also use it for musical effect. Interesting!
Lewitt Microphones
The nice people at Lewitt treated NAMM visitors to one of the grooviest and funkiest moments in my personal NAMM history. These guys could cause serious knee injuries just by jamming. That's how totally in the groove they were. I tried to find out who they were because I would try to buy everything they have recorded. The only thing I found out was that they are the house band at a local church in LA area. The young guitar player to the right was incredible. His playing was so spot on in the pocket and his funky rhythm chops had me manually getting my jaw up from the floor. If I could take lessons from this guy, I would!
Line 6
Line 6 displayed a new entry in their Stage Source speaker series. This one is smaller but can still be used the same clever way as the rest of the series including a mode where it emulates a guitars power amp and guitar cabinet. New at NAMM was also decreased pricing for all the products in the Stage Source series.
Michal Lipe Guitars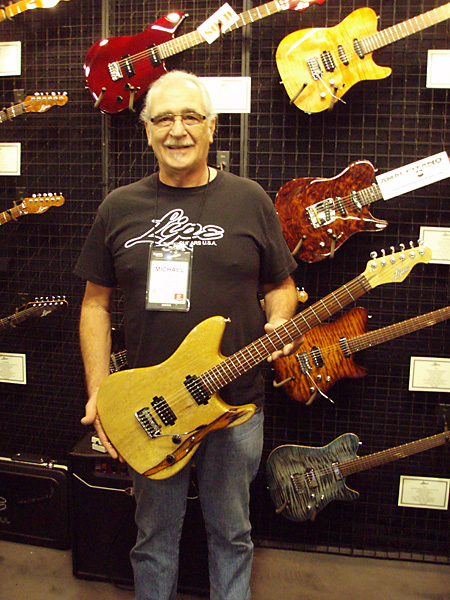 Michael Lipe used to work as Master Luthier at Ibanez and has built the guitars for the guys who endorse Ibanez, including, Vai, Satriani, etc. Since a few years back Michael builds guitars bearing his own name and if you haven't checked them out, you definitely should! These are top notch quality guitar and Michel belongs in the rare strata of exceptional luthiers who gives us guitar players such joy in out lives.
LSL Guitars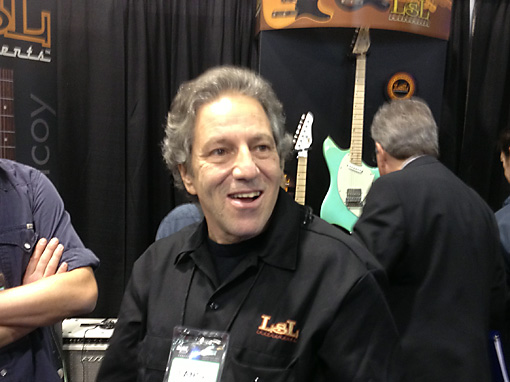 I met Lance (owner of LSL Guitars) the first time he had a booth at NAMM and since then I have made sure to visit every year. LSL take on the old and trusted designs from Fullerton is just fabulous. Now he's getting his paws on some set neck designs from the Kalamazoo tradition and they are equally fun to play.
Magnatone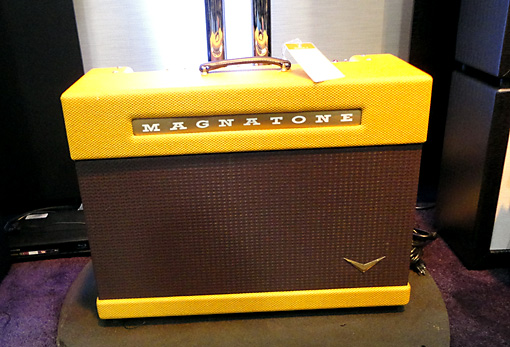 Another historic name pops up at NAMM and this time it's Magnatone. At times when I see an old name being used again it so often is a name associated with great products in the past now gracing a cheap import where the new brand name owner hopes to cash in on the name.
Judging from what I saw and heard at the Magnatone booth these guys seem serious with developing product worthy of the brand. I will keep an interested eye on this company.
MIDI - 30 years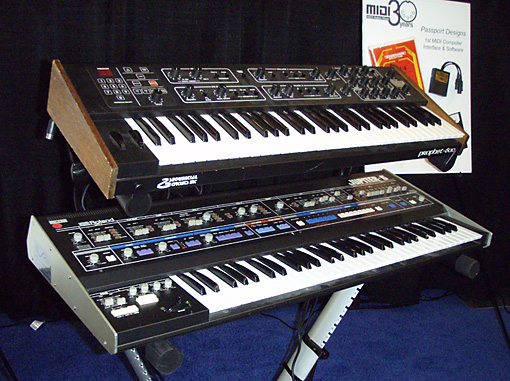 Yes, ladies and gentlemen! MIDI is now officially 30 years and these were the two first synths from different manufacturers to be connected 30 years ago to show the validity of the MIDI protocol. On top is a Sequential Circuits Prophet 600 and below is a Roland Jupiter-6. I remember being at the Frankfurt Musikmesse that year to experience this. To my knowledge there are VERY few digital protocols that have survived 30 years.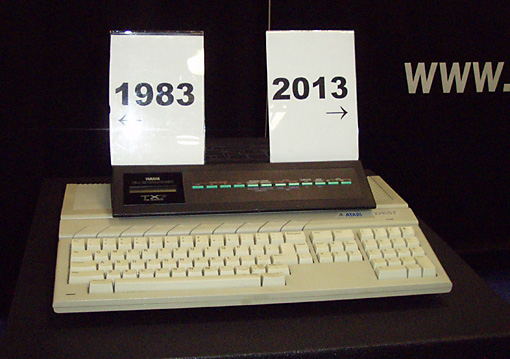 Here's a Yamaha TX7 (FM sound module) on top of an Atari 1040ST (first computer with built-in MIDI interface but with no harddisk). I have owned both products.
Music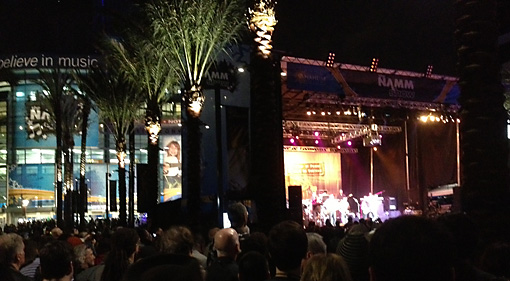 I think that I can assume that almost everyone who reads this report likes music in one form or another. Well, NAMM built a nice big stage between the Hilton and the Mariott outside of the actual conventions space and staged free concerts all day long with the major acts playing in the evenings. On the first evening was a stellar performance by Tower of Power. That band is tighter than a gnat's a**. What a great way to end a an already good day. Afterwards we had the Saint Louis Baby Back Ribs sampler at Tony Roma's.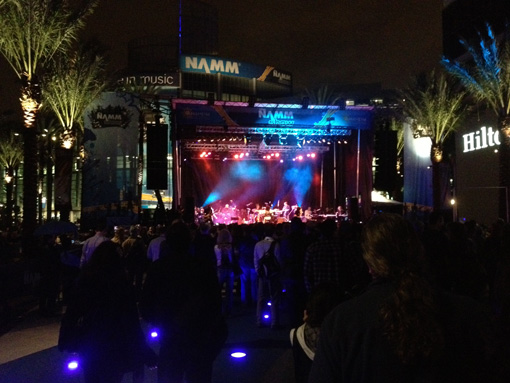 Day two's first evening music offering was called Living Legends and apart from my Harmony Central collegue Reek Havock there were people from different very famous rock bands.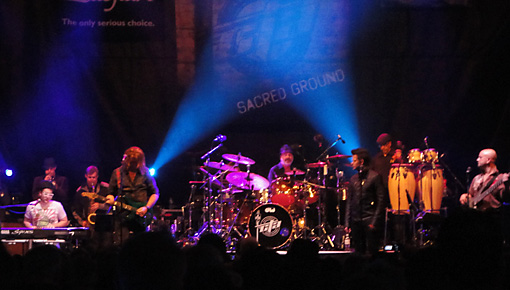 Last show before dinner time was California Transit Authority (CTA) formed by former Chicago drummer Danny Seraphine. He had two young vocalist in the group and they were very good. I remember one being Will Champlin and I'm trying to find the name of the other. CTA has good songs, great vocals and very good arrangements. Cinner was at Roy's Hawaaian Fusion. If you are fortunate enough to visit, do try Roy's Trio which is salmon, mahi mahi and butterfish and was an outstanding dish. The service was at the same level.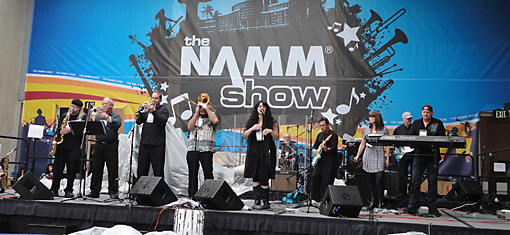 There were less well known bands playing during the days. One of the bands I make an effort to see/hear is Chains Required. Soul overdose!
Musicvox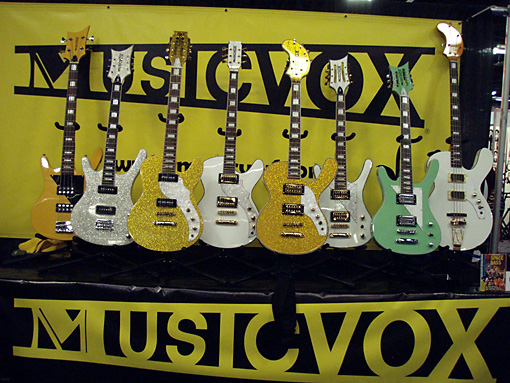 Guitars designed by an apprentice to Salvador Dali? You could be excused for thinking that very thought.
NAMM
I think the NAMM organization is worth a headline of their own. They really work hard at making the NAMM experience a problem free environment. And they succeed. The staff is nice and efficient and they treat everyone as a rock star. Thanks NAMM.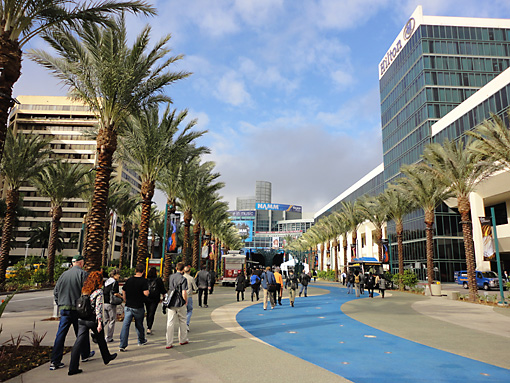 New this year was this new area with palm treesbetween the hotels. It lent an almost exotic holiday feel to the event I enjoyed.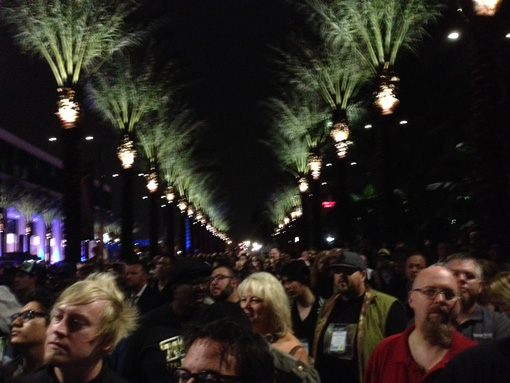 Here's the same area by night looking out over the crowd attending a concert.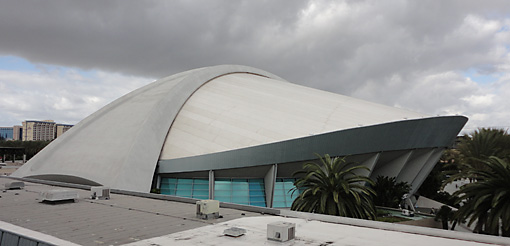 Seen from slightly abouve the Arena part of the convention centre looks like a UFO.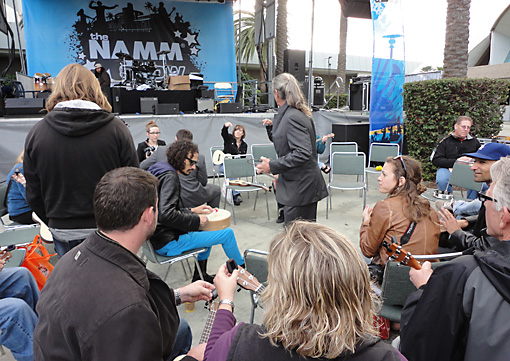 NAMM ukulele class!!!!!!!! You didn't have to pre-enroll nor did you have to bring your own uke. Just sit down, learn and play along. Can't get much easier than that. Unfortunately, we were busy, otherwise I would by now know at least three chords.
Nektar

I very rarely get excited about products that don't create or manupulate sounds, but when I get my hands on something that makes me play better and/or enhances my workflow a lot then I get on bord fast. This was the case when I was shown the new Nektar Panorama 6, MIDI controller. While it doesn't yet integrate totally with my favorite DAW, Studio One from PreSonus, it still is way better at allowing me to be creative with MIDI control than just about anything I've ever seen. It seems incredibly easy to set up the way I want it to be. This gets my "Coolest New Product at NAMM 2013" award.
Nik Huber Guitars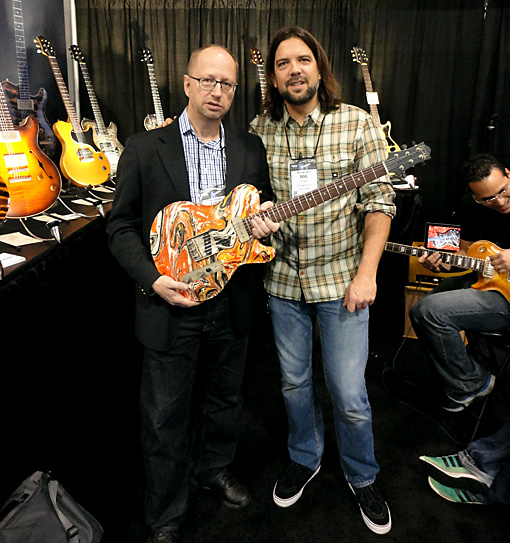 Usually I have Nik pose with one of his guitars but this year I felt the urge to fondle this mother-of-bowling-ball tele style wonder piece so I had someone take a picture of the three of us. Everyone who has not yet tried a Huber should do so immediately.
People
There are just so many people at NAMM that catches your eye for one reason or other. Here are just a few.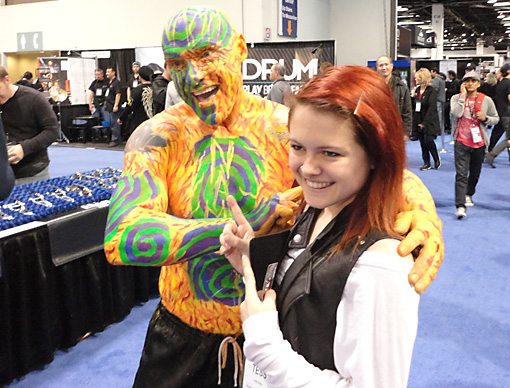 Why this guy caught my eye can hardly be a surprise. He browsed the hallways all show long and let people teka pictures of or with him. WHo got this guy a bagde? :-)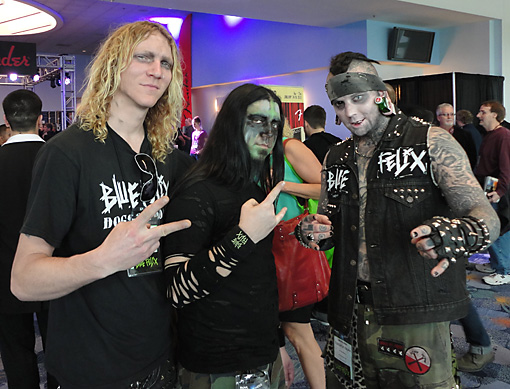 The band Blue Felix showed up and dressed to the teeth. You can't see it in this picture but the guy to the right had some scary contact lenses.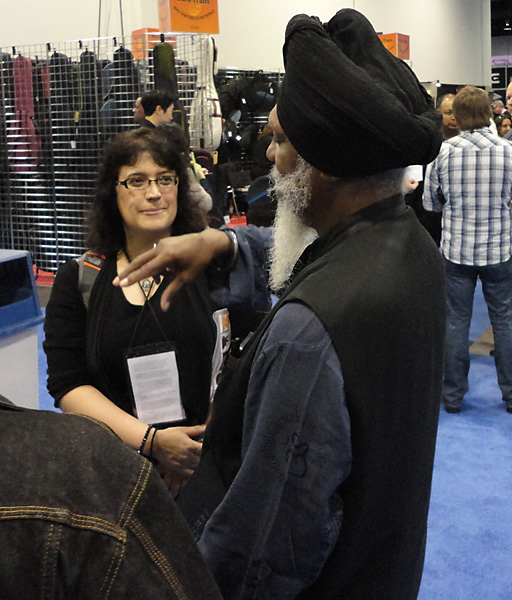 Didn't get a good picture so you have to trust me on this one. Here's Dr Lonnie Smith, one of the greatest Hammond players alive. Had the priviledge of hearing him one evening and it was awesome!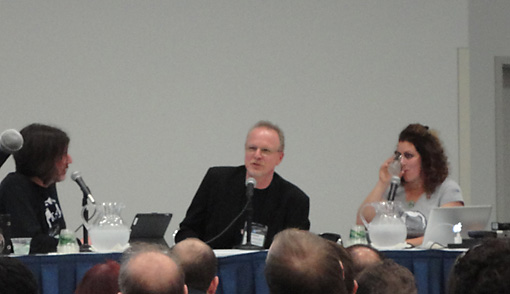 Michael Boddicker, in the middle, is one of my musical heroes. He's a monster synth player and programmer. In this session he and Boob Moog's daughter talks about Bob Moog and stuff they have found in Bob Moog's archives. Both fun and educational.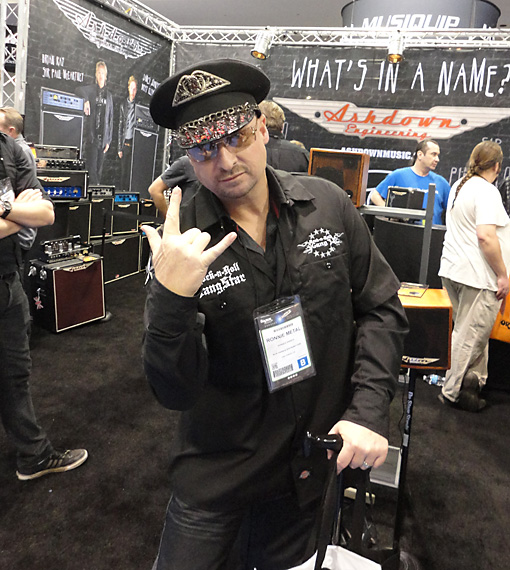 Didn't get this guys name but he had an interesting image.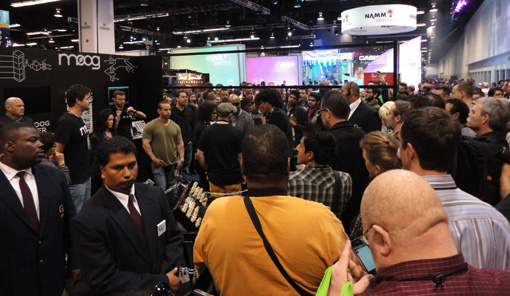 I don't know if yoou can see him among all the security and fans but in here, approximately in the middle is none other then Stevie Wonder. Without his music, I would not be who I am.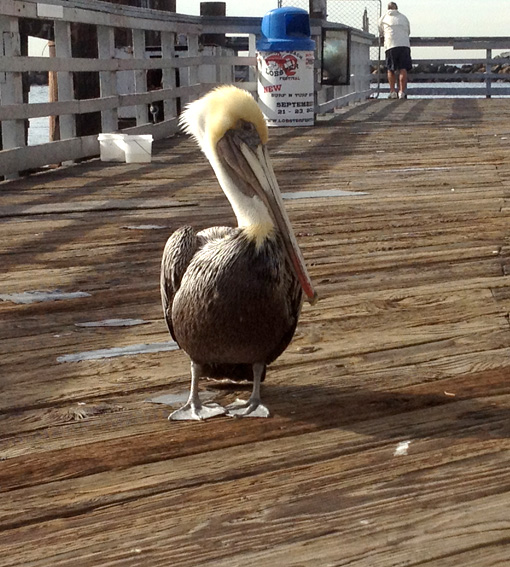 This is technically not "people" but he sure was friendly coming up to us when we had breakfast. When he discovered I had omelette and no fish, his interest waned.
Parker Guitars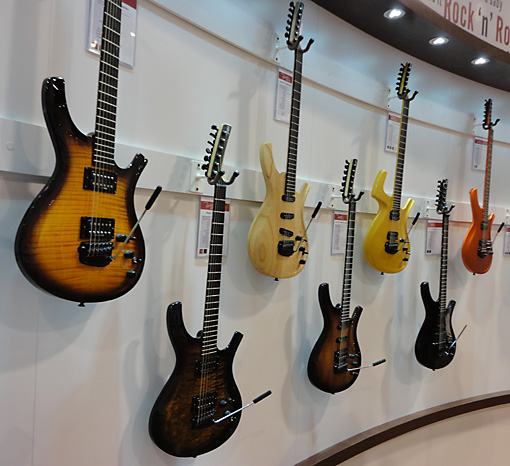 Parker is a mainstay at NAMM since they first came out. Now they seem to be owned by the same company that owns Washburn. I have always been intrigued by these guitars. They are always here but I see then so rarely on stage as almost never.
Peavey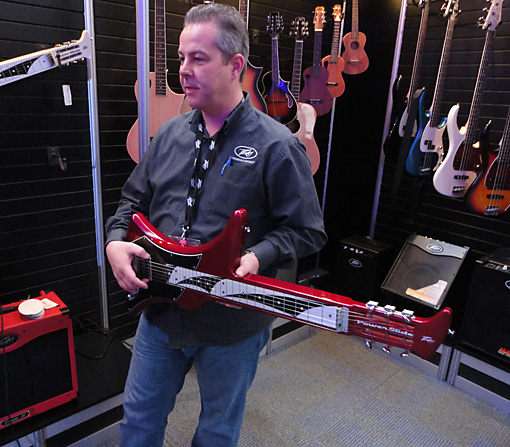 Here's a slide guitar that you can wear standing or sitting. IIRC it will cost less than USD200.
Peavey made a marketing move this year at NAMM and left the first floor and got a set of rooms on the second floor. Quite a bit of (old) product but the rooms still felt empty.
Perri Ink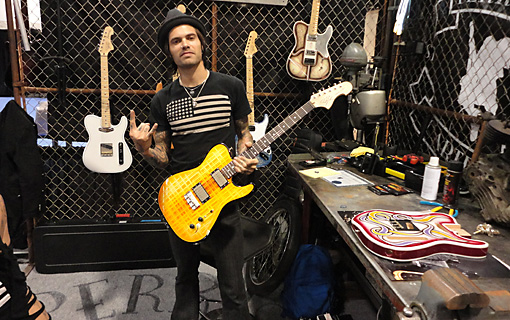 Perri Ink has his workshop together with tatoo artists and a bike builder. So Perri is tattooed and his guitars are painted by the bike builder. The guitars look awesome!
PreSonus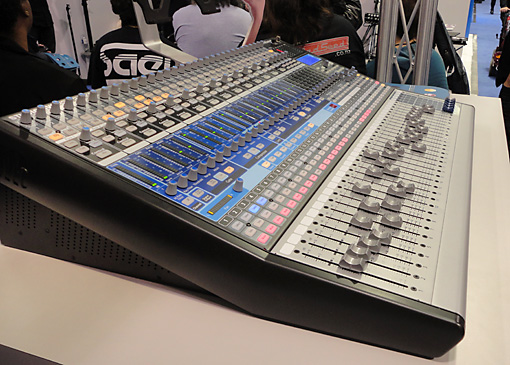 PreSonus showed a boatload of new product. The StudioLive 32 was the only one I got a decent picture of.
Other than that they showed a number of new speakers that utilizes a coaxial design. The studio monitor wasn't really linexpensive but still sounded way better than the price tag indicated.