Winter NAMM 2013
Evidence Audio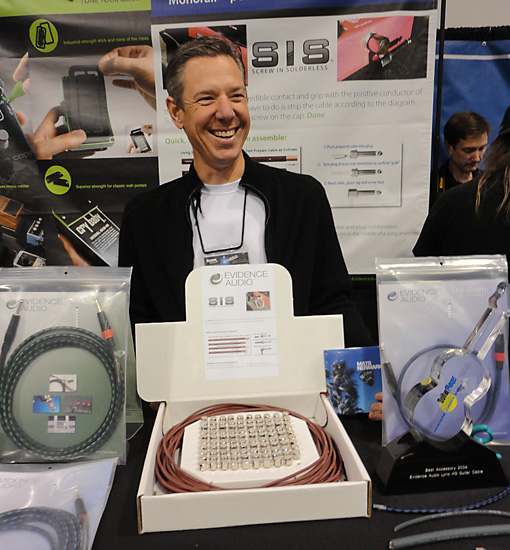 A very happy Tony Farinella of Evidence Audio proudly displaying his new connector for his Monorail series. A unique design where the connector screws directly on to the solid metal core of the cable. Tony had me pull at it and it feels VERY strong.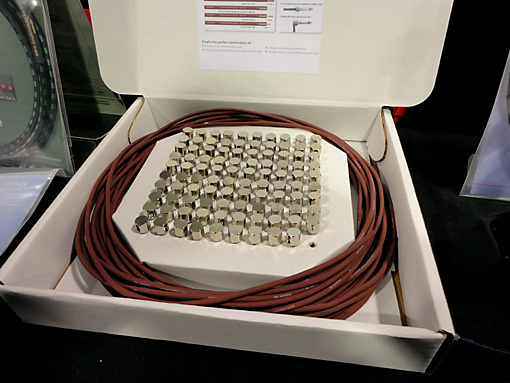 A close-up of the cable and connector.
Fender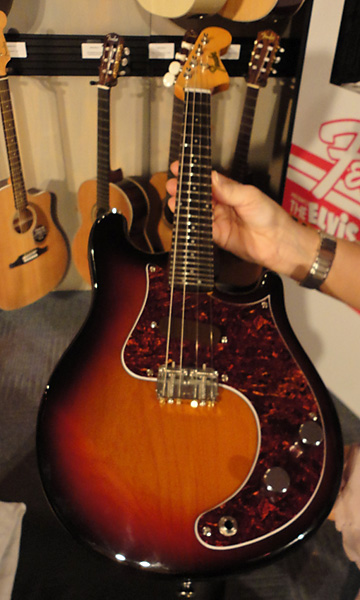 According to the Fender rep I spoke to, this was one of their coolest products at NAMM 2013. The Mando-Strat.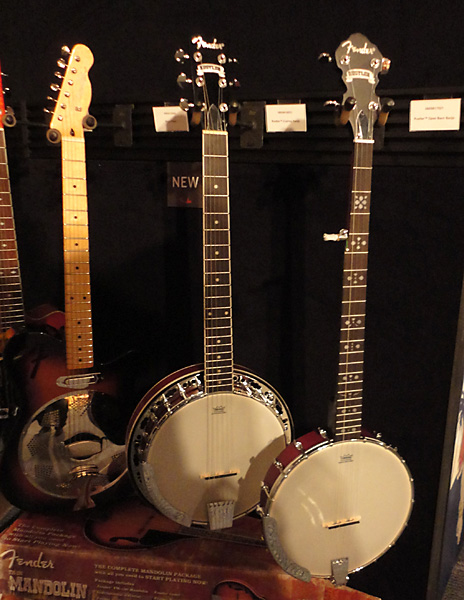 Personally I thought the Tele-Dobro was more interesting.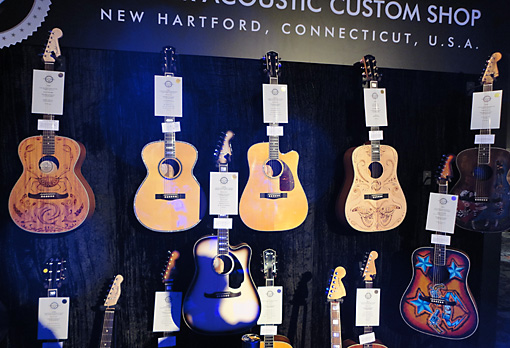 In New Hartford, Connecticut, Fender has started their new Acoustic Custom Shop.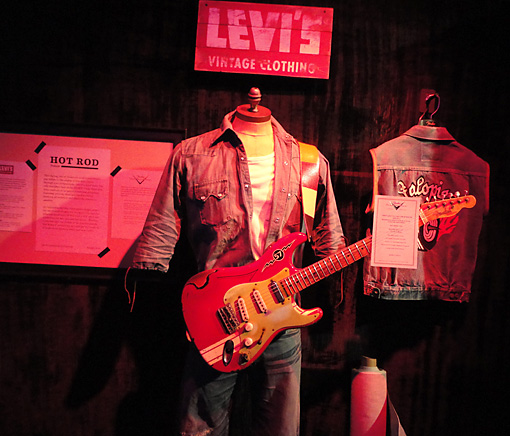 The guitar that caught my attention was this Strat with Tele neck.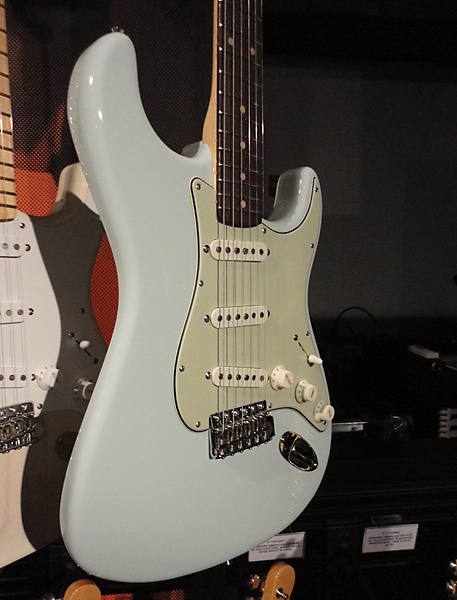 For the first time since a very long time I found a standard Fender model with a neck profile I actually like. Here's the new Vintage Reissue 59 Strat.
Four Force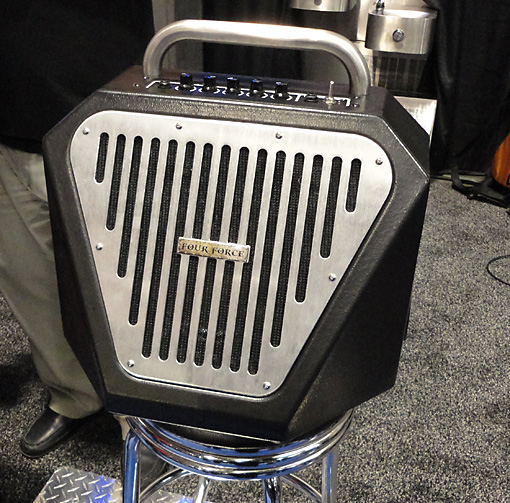 Inexpensive and light with a cool design. Clean or high gain. Very suitable for students and people on the go.
Framus
| | | |
| --- | --- | --- |
| | | Framus is an old an respected European brand that is doing well all over the world. Here's a design that gives a wink toward older Italian designs. |
Fret-King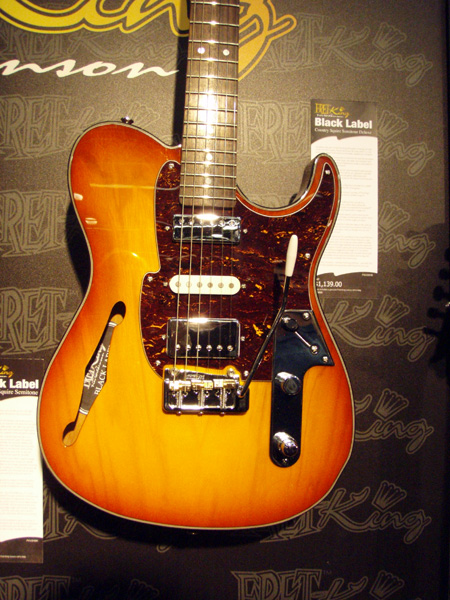 One of the true design legends in the guitar world is Trevor Wilkinson. Mostly known for his tremolo bridge designs, he's also a guitar designer and is the mind behind brands like Fret-King and Italia. Here's a Fret-King Country Squire. Please note the Tele style trem bridge. I found this guitar to be a very nice to play with some very nice sounds in it.
Friedman Amplifiers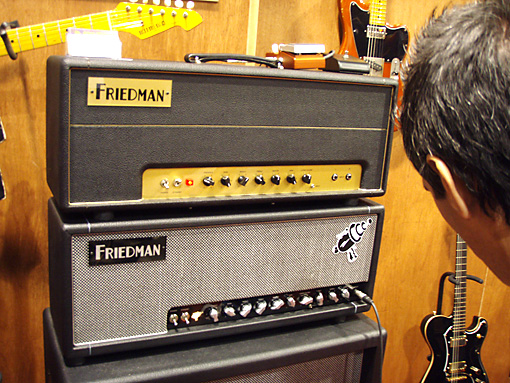 Dave Friedman started out modifying amps but now has his own series of amps. If you want a really good variation on the old Marshall theme, Dave might be your man.
Fuchs Amps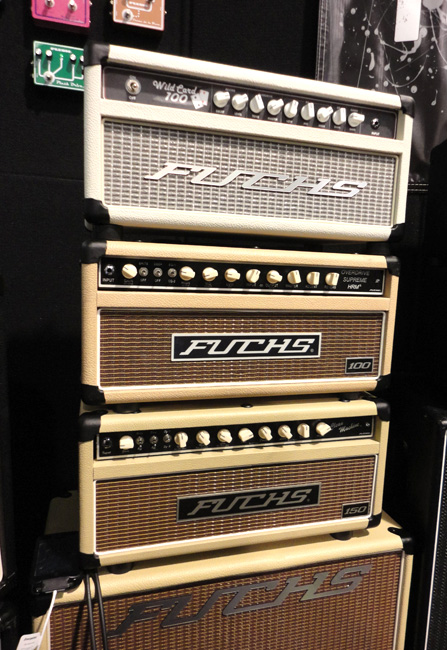 After the success with the lower watt Card models Fuchs now has a Wild Card 100. Here shown on top of my personal favourite, the Fuchs Overdrive Supreme.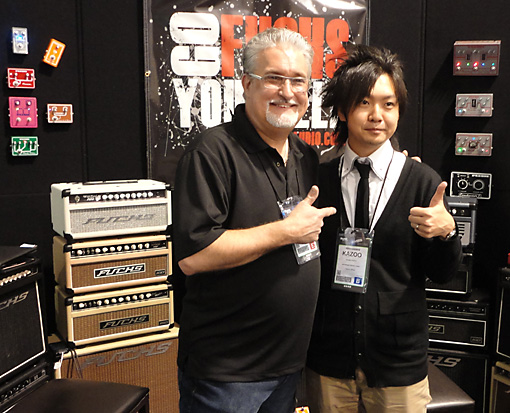 Andy Fuchs to the left and endorser on the right.
Garritan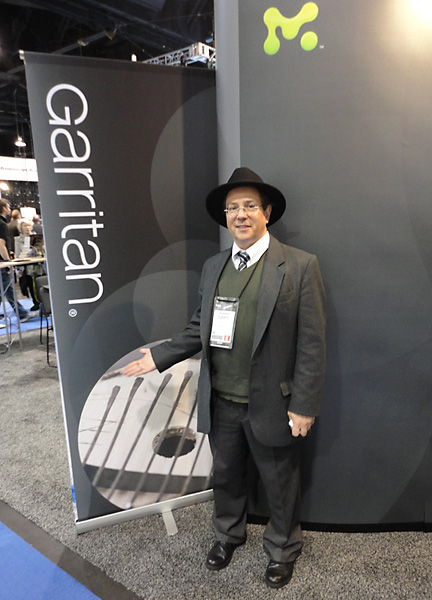 Gary Garritan's Instant Orchestra is a very nice sounding instrument plugin that seems very easy to use and you can make nice orchestral arrangement without having to know much about arranging. I will definitely look into this one!
Gianni Guitars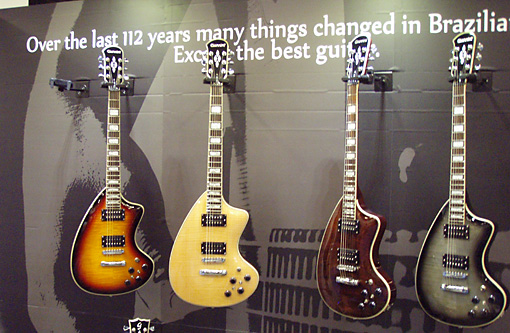 These guitars have been around for some time but the design still look odd to me.
Gittler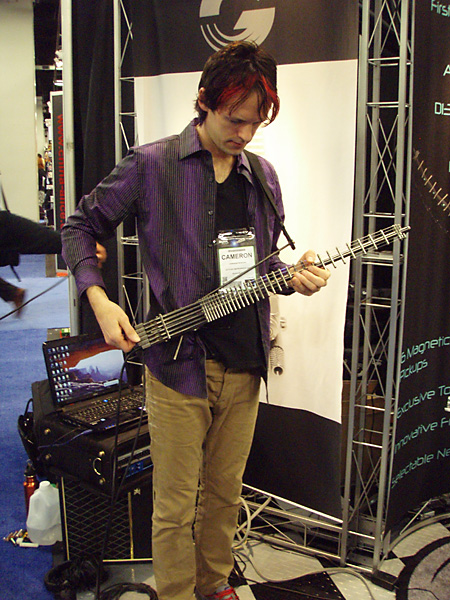 NAMM 2013 witnessed the return of the Gittler guitar. I never got the chance to try it although I'd like to. Seems like it would feel strange with so little mass.
GJ2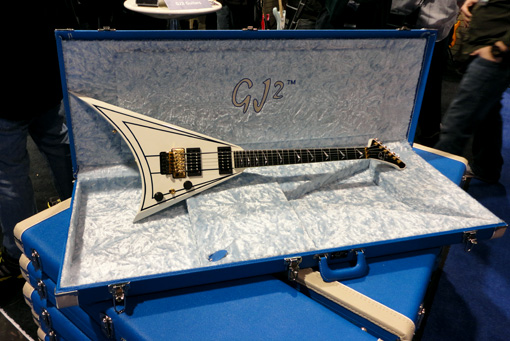 GJ2 is apparently a second incarnation of Grover Jackson's, by now, classic designs. This time in strikingly blue cases with white/beige trim. Looked really good and got a lot of attention.
Godin
| | | |
| --- | --- | --- |
| | | Godin has had some success with his jazz guitar designs. Here's one with a cool paint job. |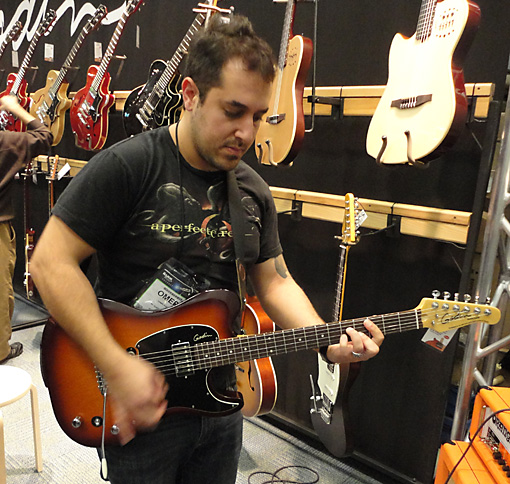 I found this to be one of the more interesting guitars at NAMM. A Godin electric with the new Fishman Triple Play built in. A VERY much expanded sonic palette.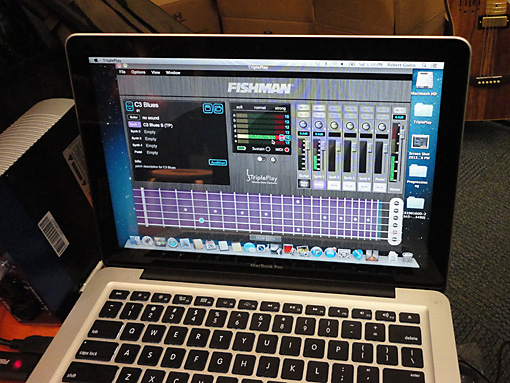 The Triple Play can be controlled using a program and you see here.
Graph Tech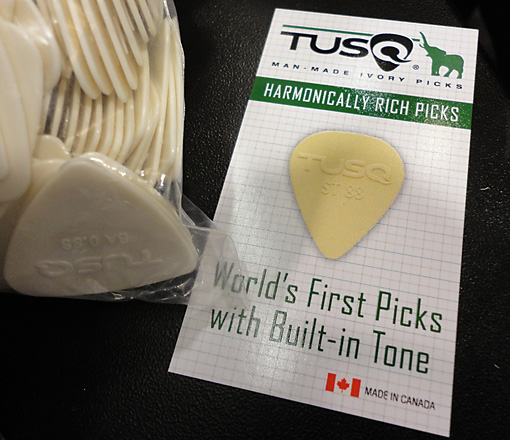 Harmonically rich picks was a new concept to me and to many others but Tusq had a lot of interested visitors. The samples they handed out show promise.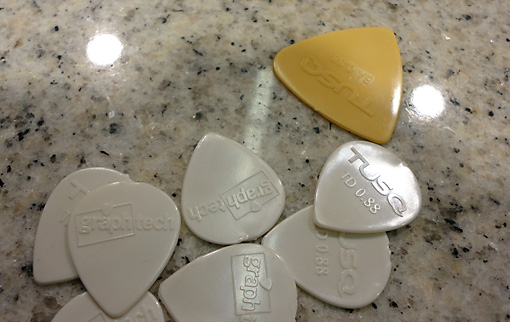 Guild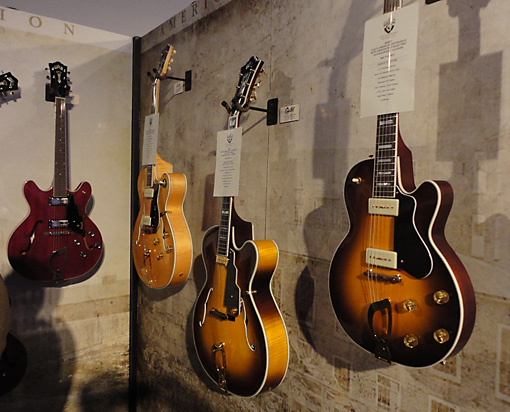 Guild Guitars are making electrics again. In this pictures you see a sample of what will be available. These lookked very nice so it will be interesting how they will show up in the stores.
Hagström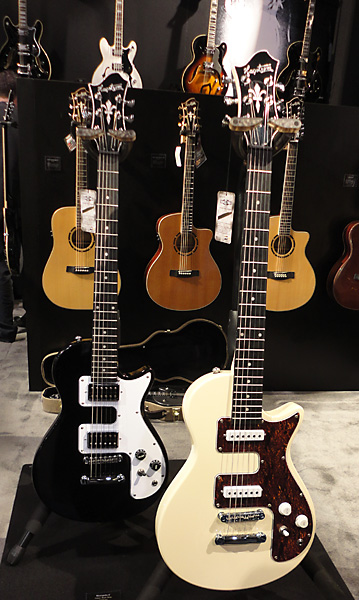 Vintage looks on a brand new series from Hagström. Single coil or humbucker is up to you.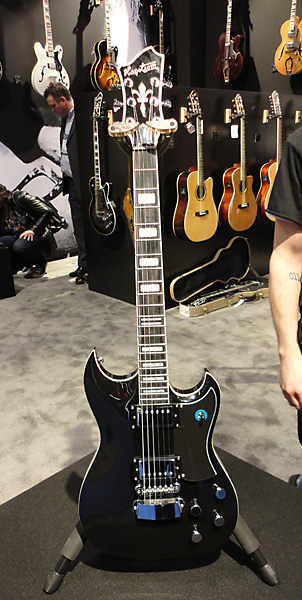 And here's a Pat Smear Signature model.