Winter NAMM 2013
Collings Guitars
| | | |
| --- | --- | --- |
| | | In my book there's no doubt that Collings makes some of the best guitars ever. The new Eastside LC is a jazz style archtop that makes me realize I really do need to spend more time playing this kind of guitar. Despite its very luxurious looks, the Eastside is remarkably inexpensive compared to a lot of other high end archtops. |
| | | |
| --- | --- | --- |
| In the same way I consider James Tyler and John Suhr to be the masters of the refined bolt-on neck tradition of guitars, Bill Collings and his merry men and women are the masters of the set neck tradition from Kalamazoo. This Collings City Limits was so soulful that I still dream about it. If I could get one guitar from NAMM, I think this would be it. | | |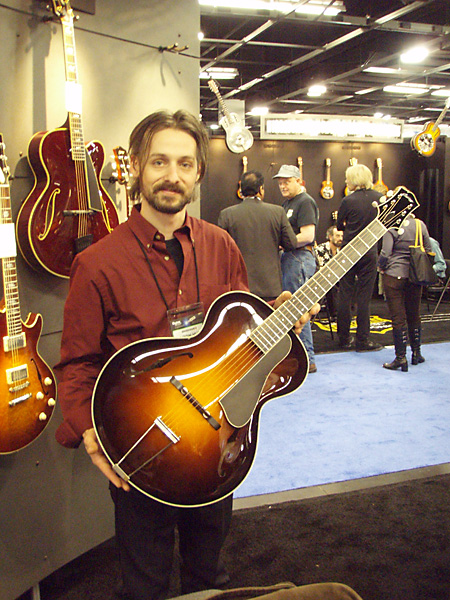 Aaron, who works with Bill Collings, built this beautiful old style jazz guitar.
Cruz Tools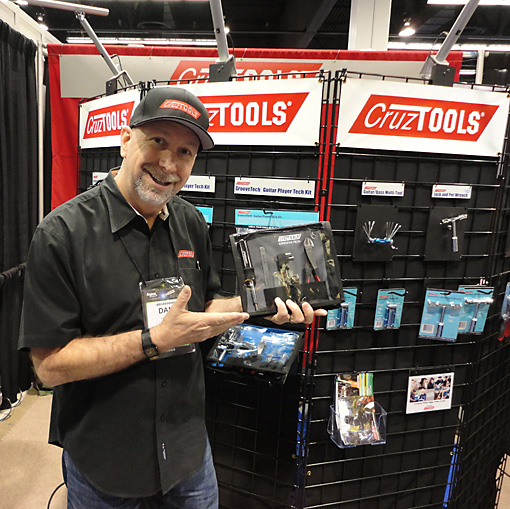 Your friendliest purveyor of fine guitar tools must be Dan Parks at CruzTools. Dan showed his tools and tool packs. Very soon you will see new packs at a dealer close to you.
D&H Stainless Steel Electric Guitars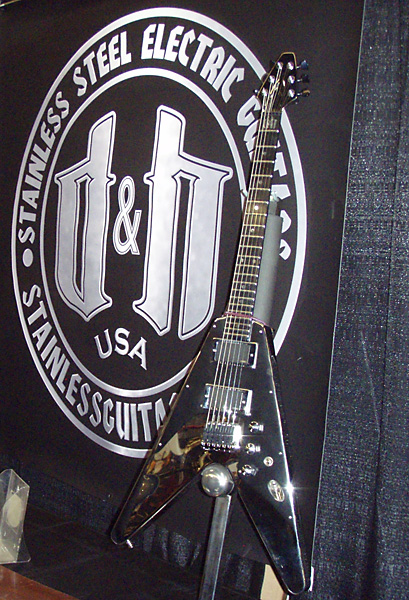 Heavy metal? Depends if you mean the guitar itself or music played with it. This V shaped guitar certainly cought the lights.
D'Angelico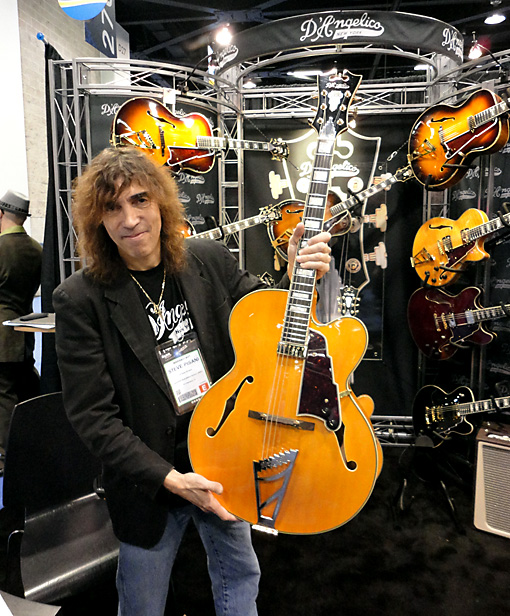 D'Angelico is back under the roof of Premier Builder's Legue. They already have a number of models in production but there will be at least one other classic design coming out shortly. Steve Pisani had me try this and it got me interested in a big box jazzer.
DB11

Programmable switcher are becoming more and more common as the capabilities of pedals increase almost exponentially. The Pedal Palette is a new product from DB11 and it had some nifty options I haven't seen before in a pedal switcher. Like the option to have some loops series or parallell.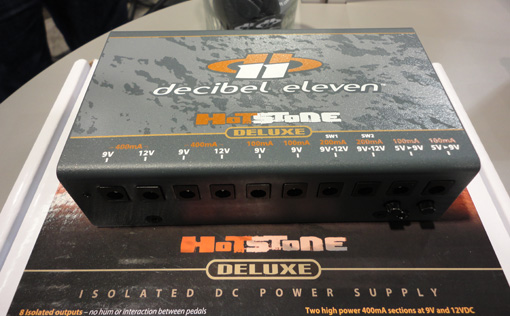 The Hot Stone power supply is, well, a power supply for pedals. I have seen this one used by Bob Bradshaw in one of his builds so I would guess it's good.
Dean
| | | |
| --- | --- | --- |
| | | Seems like everyone is trying to make a run for the Les Paul. For some reason this one did not tickle my fancy. |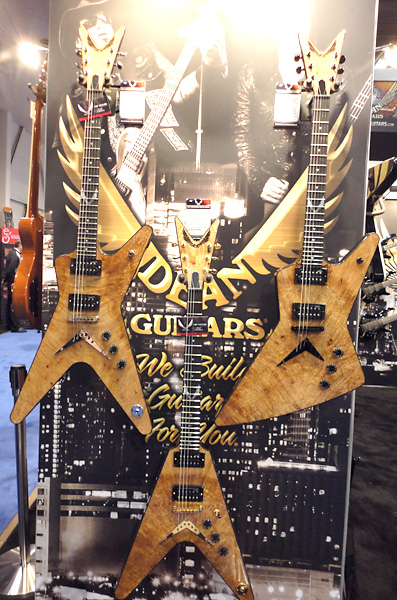 Now this is what I have come to expect from Dean. Yeah, I know I'm old and set in my ways.
DR Strings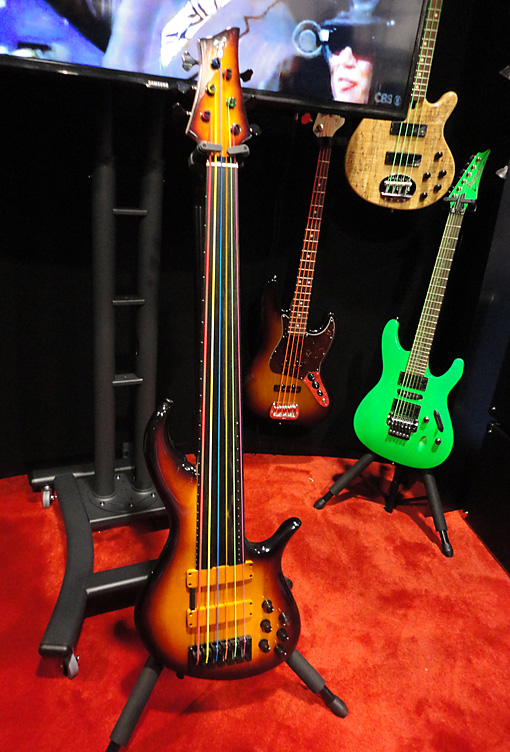 If your life is dull and colorless, why not go with DR String to lighten up both your life, your instrument and your image?
Dusenberg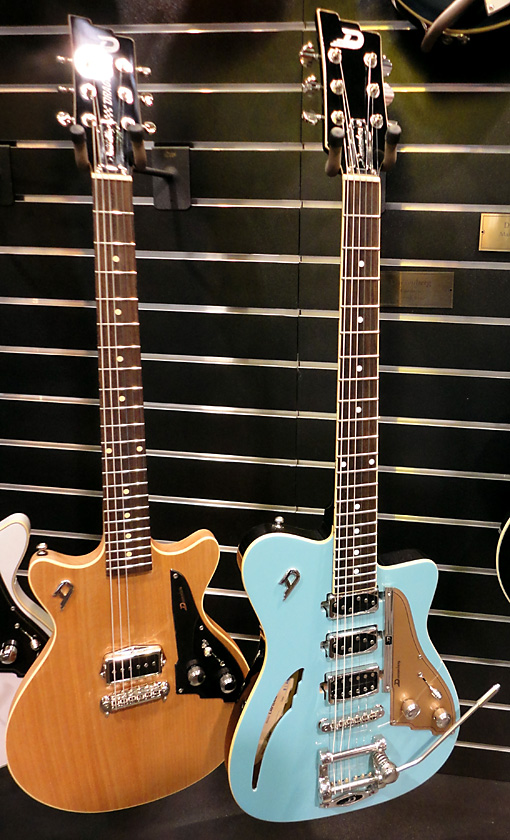 I do like the way Dusenberg take their design influences and mixes and matches in order to make it their own.
Dwarfcraft Devices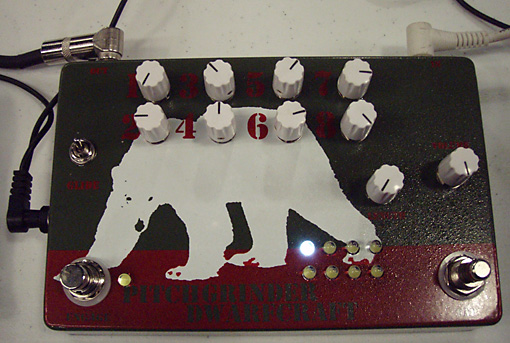 I can always trust Ben at Dwarfcraft Devices to come up with something I have never experienced before. Here is the Pitch Grinder, a step sequencer where each step has its own pitch. You can set the pitch for each step, the number of steps and the glide time. I know there are a few other pedals of this ilk out there but they do not sound the way this does. Check out this year's Hall E Crawl I filmed with Harmony Central for a demo out this!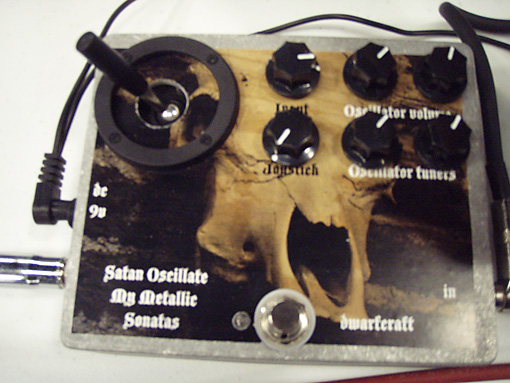 Here's someone not afriad of long and potentially confusing product names. Satan Oscillate My Metallic Sonatasis a fun noisebox that defies any explanation on what I saw and heard.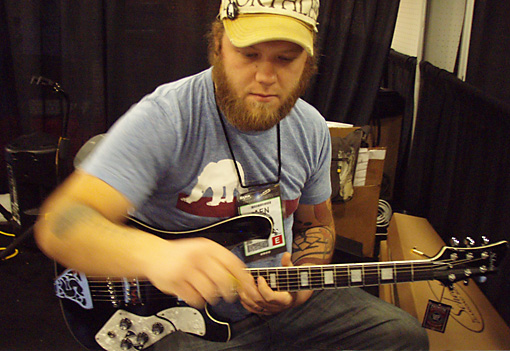 And here's Ben himself. FOunder, CEO, COO, general cool inventor and most other things at Dwarfcraft Devices.
Egnater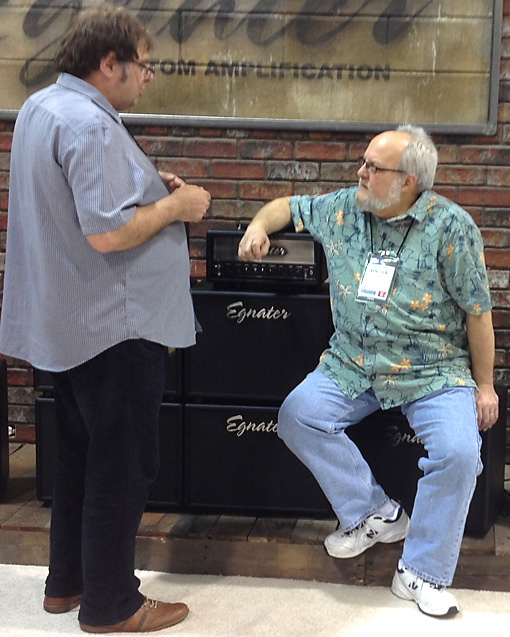 Bruce Egnater was busy with customers and business friends so I didn't get the chance to speak to him, but here's the man himself in conversation with Andy from Matrix Amps.
Electro Plex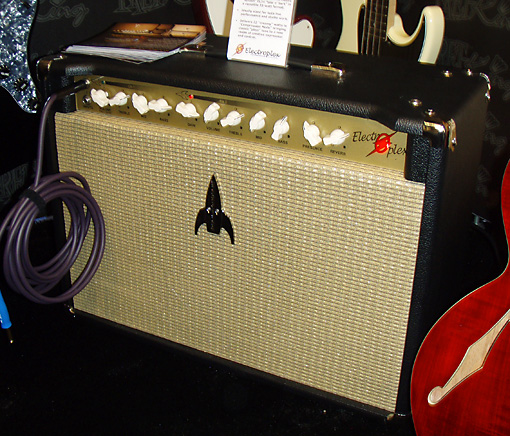 Electro Plex is an amp built in Fullerton, Califonia by Don Morris and has a small but select clientele. Sounded really good.
Electro Faustus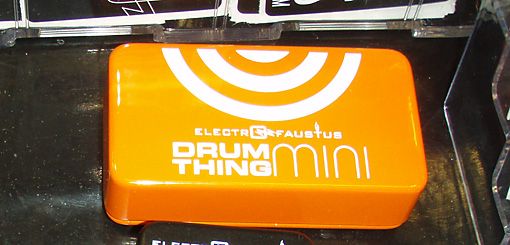 This is a very unassuming pedal that is really simple but alse very cool. It has no controls and just an output. What you do is hit it in various ways and then treat the output for sonic enhancements of your tunes. You can step on it, throw it at things, throw things at it, scrape it with a chain, etc. More fun than I first thought!
Electro Harmonix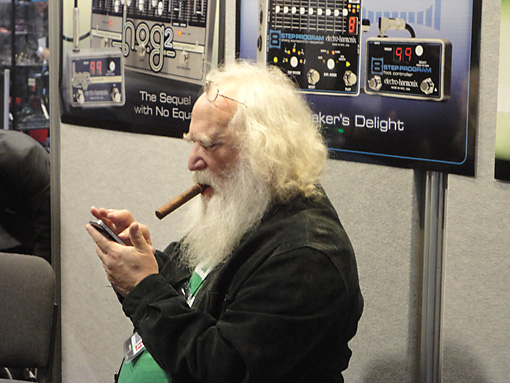 One of the legends in the MI industry, Mike Matthews, founder of Electro Harmonix. I remember visiting his operation on 48th Street in NYC in the 1980's. Mike is responsible for some of the whackiest pedals and pedal demos ever seen.
Engle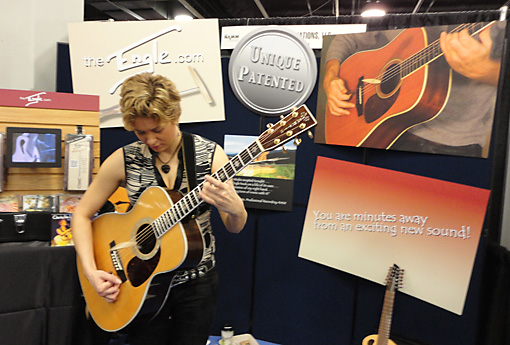 This was one of the new products at the show I really enjoyed and can very well see myself using. The Engle is a sort of hammer that you hit the strings with. You can either hit with the point or with the flat side. I can see this as an excellent tool for both guitar and bass.
Erine Ball Music Man
| | | |
| --- | --- | --- |
| | | They made a lot of noise about the Music Man Armada and while it definitely looks like nothing else, which is good in my book, I still don't really connect with the design. Felt good to play though! |
| | | |
| --- | --- | --- |
| I have talked to a lot of bass players about the Bongo Bass and it seems to be either you love it or you hate it. Leaves no one unmoved. Personally I think it looks cool. | | |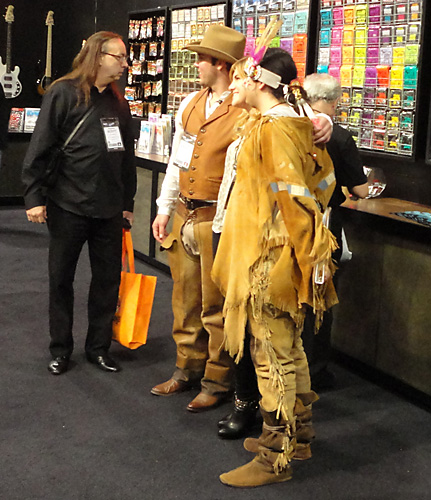 Every year the staff at Ernie Ball dress according to a theme and this year it was the Wild West.
ESP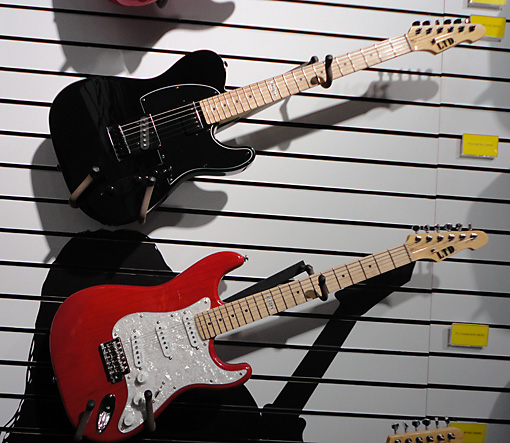 If you want a good Tele or Strat style guitar att a good price, I can recommend LTD by ESP.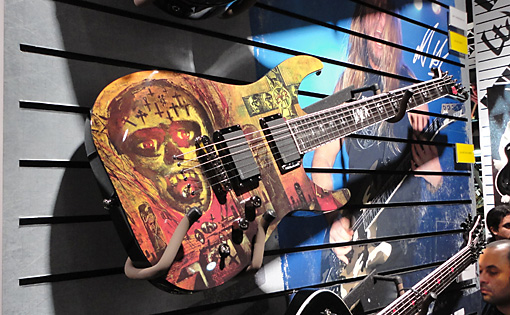 Scary designs? Look no further than ESP!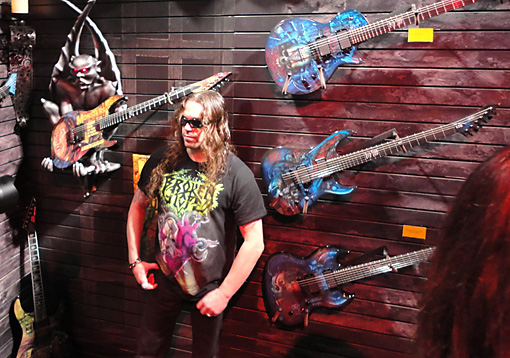 I don't know who this guy is but he was posing for photos inside the ESP booth.