Winter NAMM 2020 - part 5
Quilter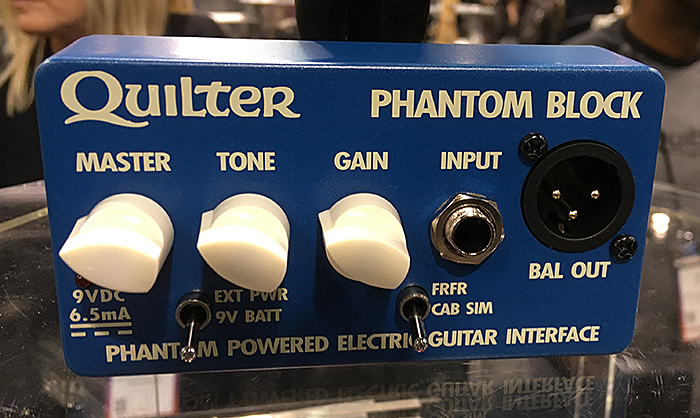 The Quilter Phantom Block was interesting as it works both as a DI as well as a amp/speaker simulation device. Sounded surprisingly good and the price was very reasonable.
Reverend Guitars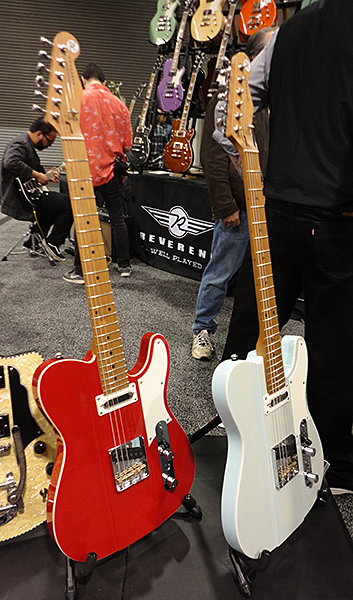 The Greg Koch Gristlemaster may new be all new but it's still very cool. I'd like one in my stable.
REVV Amplification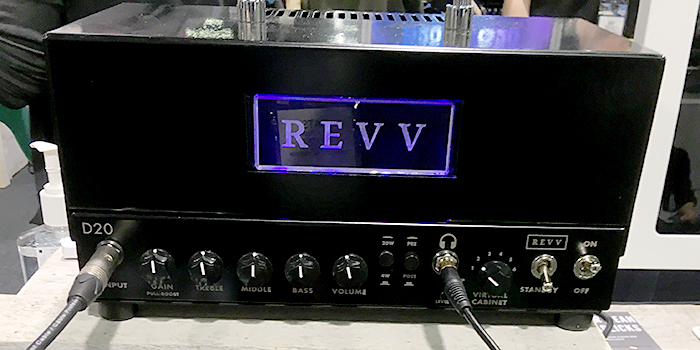 Sometimes I just get it wrong. Hot on the heels of this successful D20 amp with built-in Torpedo speaker sims comes the G20. I obviously took a picture of the wrong amp. To my defense I will say that the amps look very similar.
The G20 contains the high gain sounds from REVV's acclaimed Purple channel.
Ryan Guitars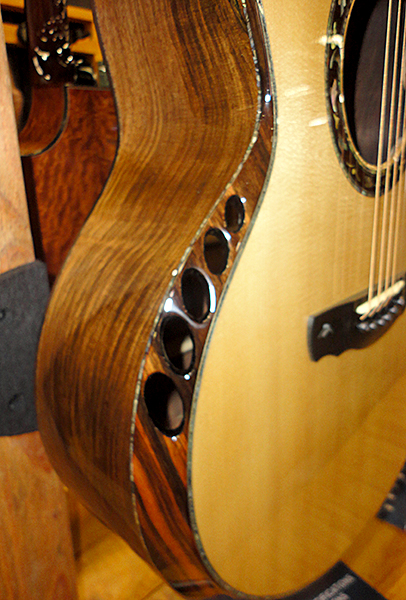 Ryan Guitars was new to me but the craftsmanship quickly caught my eye.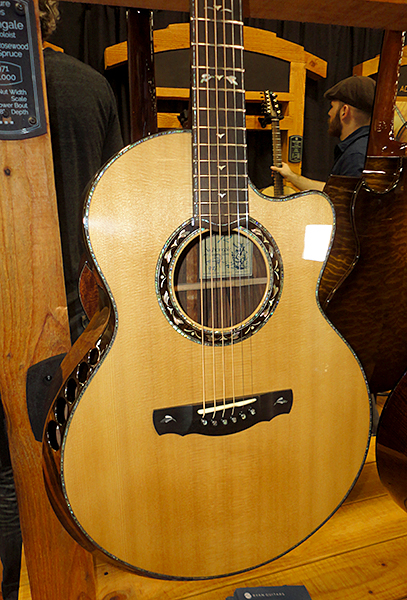 Bueatu is in the eye of the beholder. I like this.
A beautiful inlay!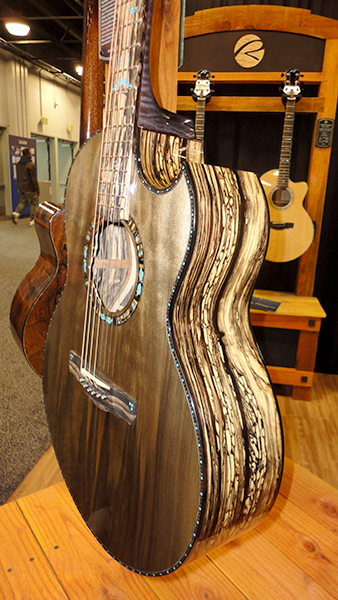 I really like the "blackish"finish and turqoise inlays.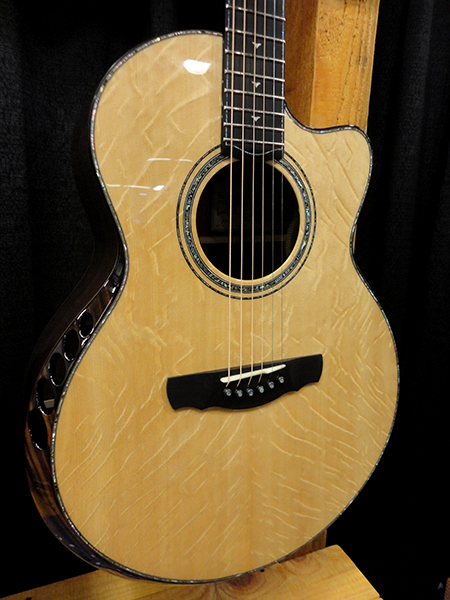 This is probably the coolest looking bear claw spruce I have ever seen.
Santa Cruz

The first time I ever experienced what an extraordinary acoustic could sound like was years ago when I first tried a Santa Cruz 000-size guitar. I remember that feeling like it was yesterday.
Shabat Guitars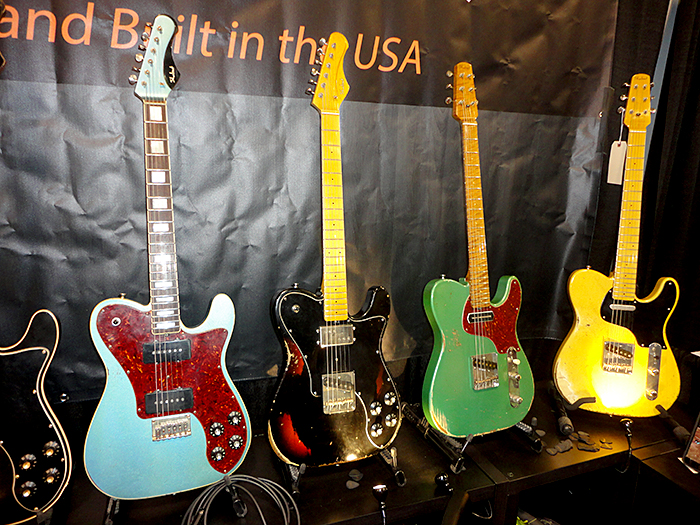 I just love Shabat Guitars. Everything about them speaks to me at a primal level. The neck profiles, the feel, the set up, the looks and the sounds.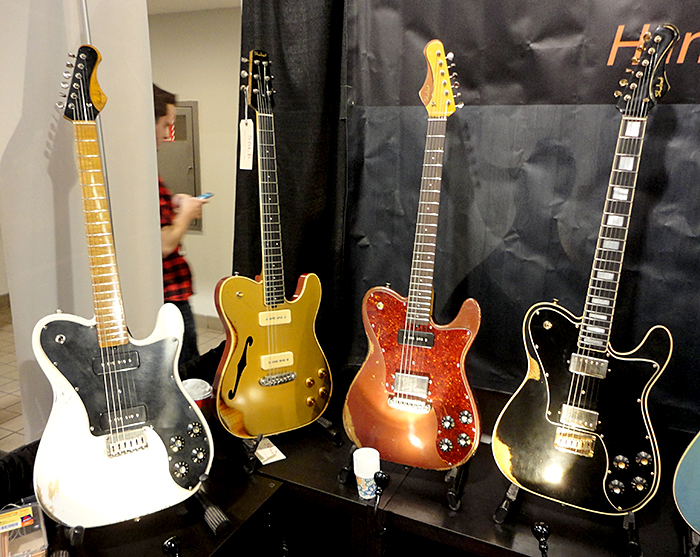 More axes in the booth.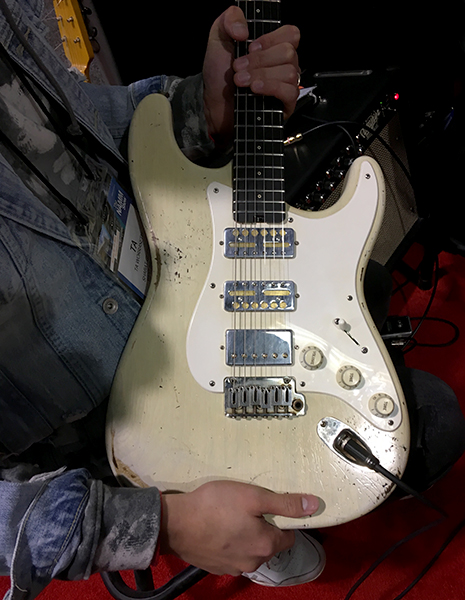 A Shabat Lynx with a humbucker and two gold foils. Very interesting!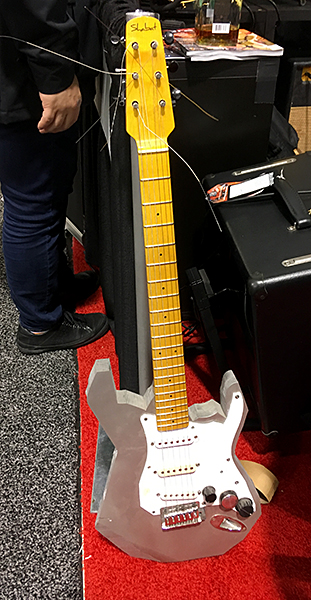 For fun Shabat diplayed this Hack-o-caster. It wasn't functioning but it sure is ugly-beautiful.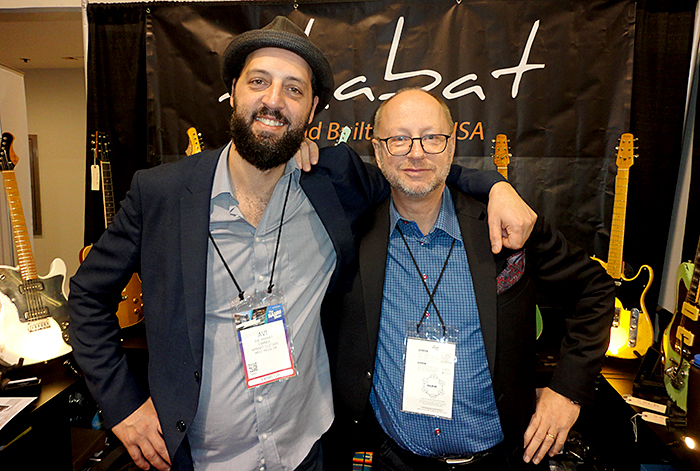 Avi Shabat and this author.
SIM-1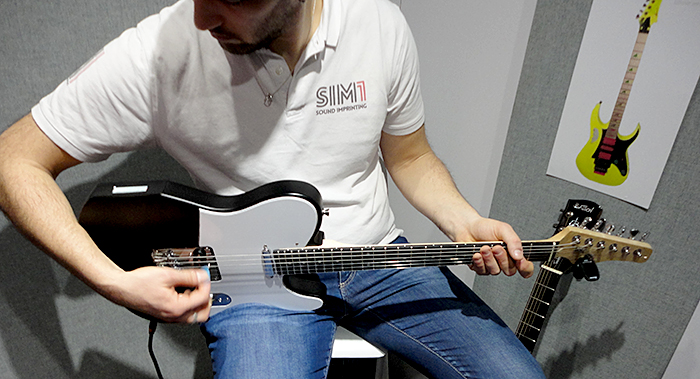 One of the biggest surprises at NAMM was this SIM-1 guitar with built-in XT-1 electronics and functionality. The guitar itself is made in Italy and felt like a good Tele should feel. It was really strange but in a very good way to play a Tele and have it sound scary like a Benedetto Bambino.
Sinvertek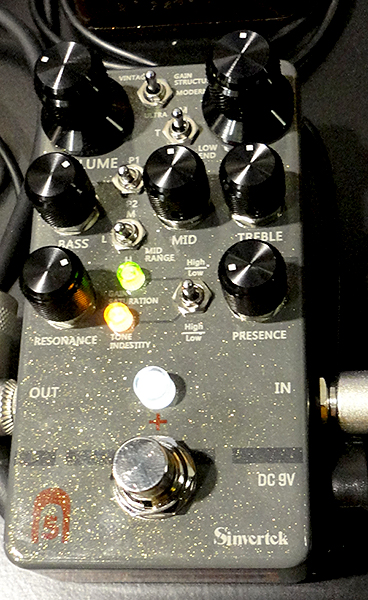 According to Sinvertek, the N5+ is a tube amp channel with advanced tone shaping system that you run into your clean channel. It has a lot of controls. to get you the sound you want.
Solcor Cables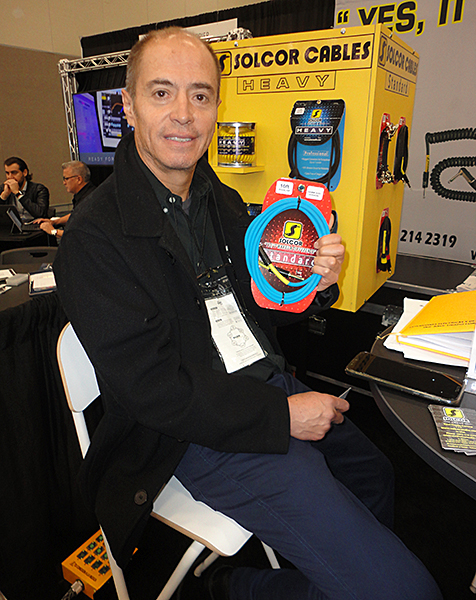 Solcor Cables is a company from Mexico making cables using high quality materias for the cables and connectors from renowned brands like Switchcraft and G&H Abbatron.
Spalt Instruments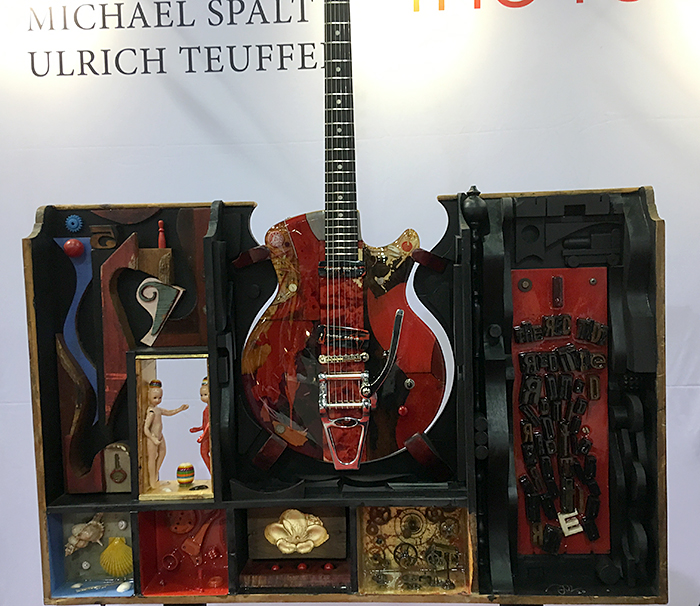 If I ever win the lottery, my first call will be to Michael Spalt, who, in my mind, is the greatest artisan/luthier alive. The piece above is testament to his artistic vision and his guitars are second to none.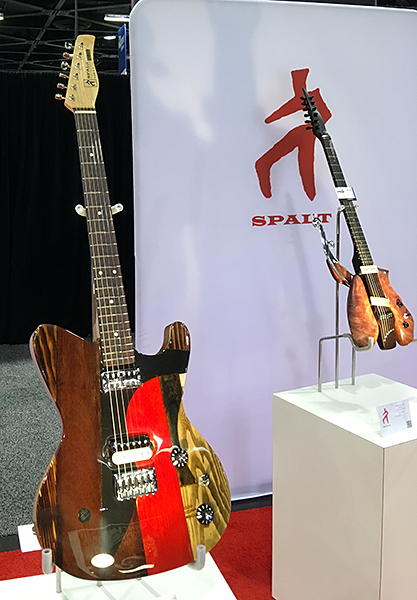 Yet another guitar from Mr Spalt.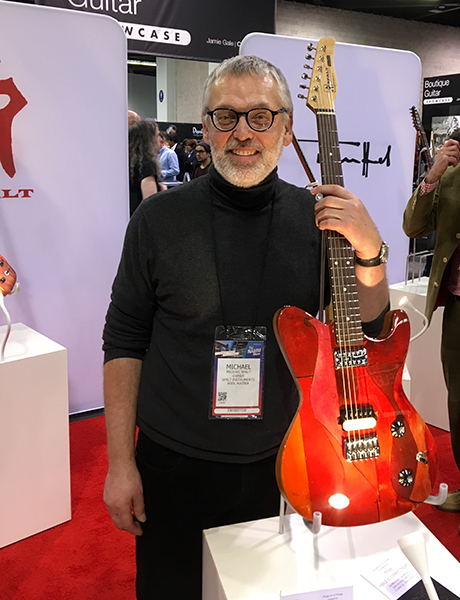 Besides being one of the few men in the world who actually look good in a turtle neck, Michael Spalt is also a very nice guy. Here he is posing with a guitar in the Red Collection.
Strandberg Guitars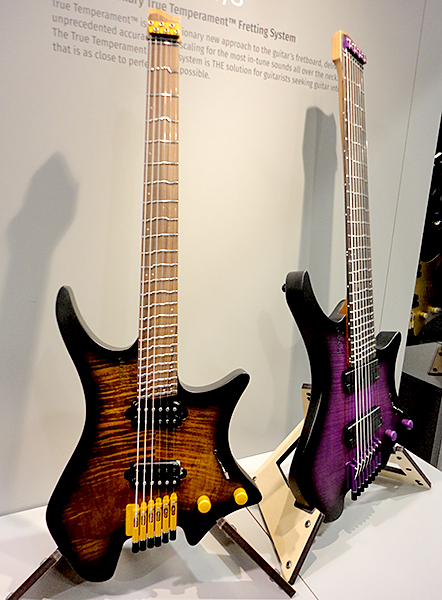 Swedish innovation all the way. A Sandberg with True Temperament frets. If you're not a traditionalist, you must try this! If you are a traditionalist, you really should try this!
Supro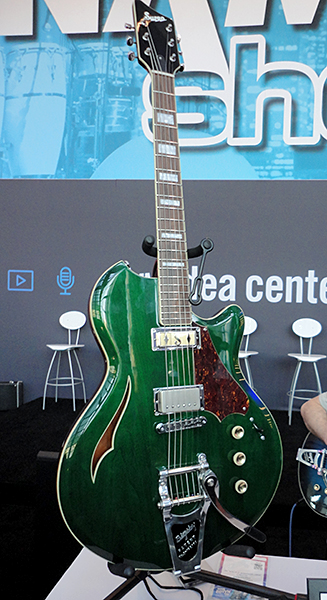 The Supro Conquistador was designed in collaboration with Nashville based guitarist Ford Thurston and features a gold foil in the neck and a humbucker in the bridge position and a Bigsby tremolo.
Tagima Guitars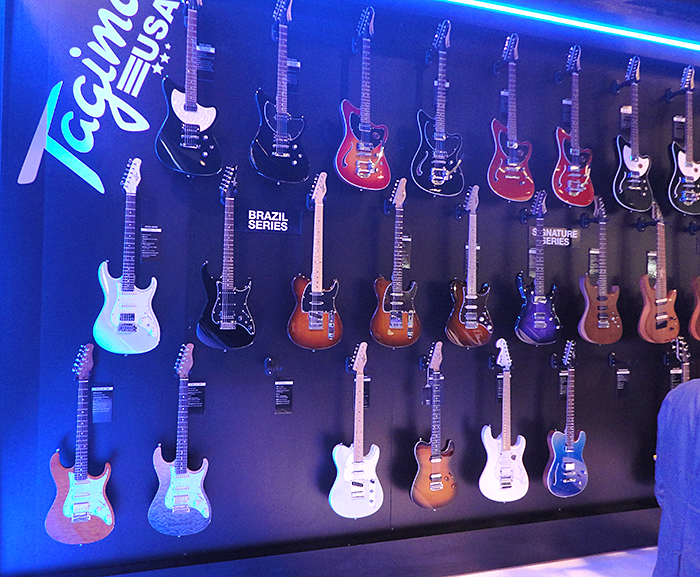 Tagima Guitars fro Brazil began popping up on my gear radar a few months ago and it was nice to be able to check them out at NAMM. Based on tried and trusty designs these guitars are more evolutionary than revolutionary. As I didn't get any pricing info, it's impossible to make a statement regarding the bang-for-buck ratio.
Tausch Guitars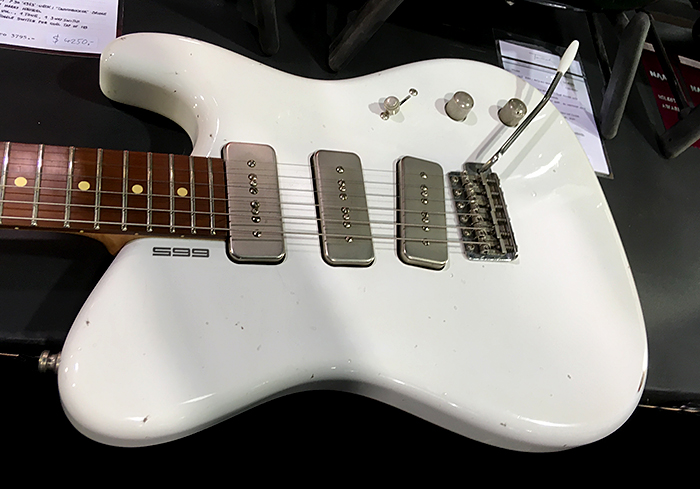 This slightly reliced Tausch 665 with three P90 from Harry Haussel is a great sounding guitar.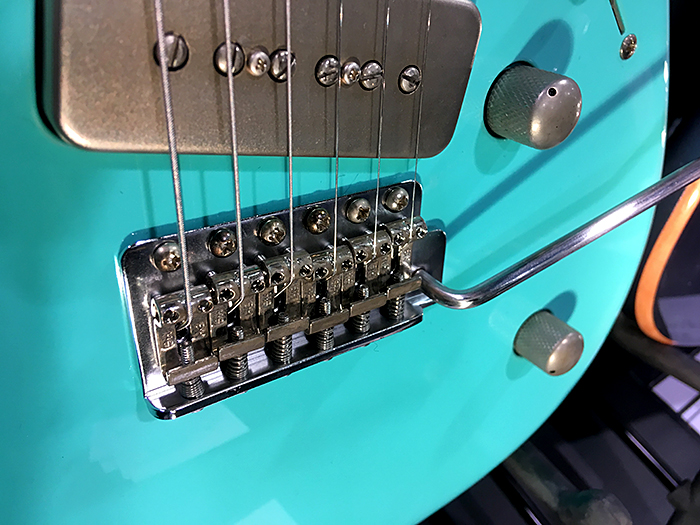 Rainer Tausch likes to use Highwood Saddles and after having played them I see why people talk highly about them.
Temple of Tone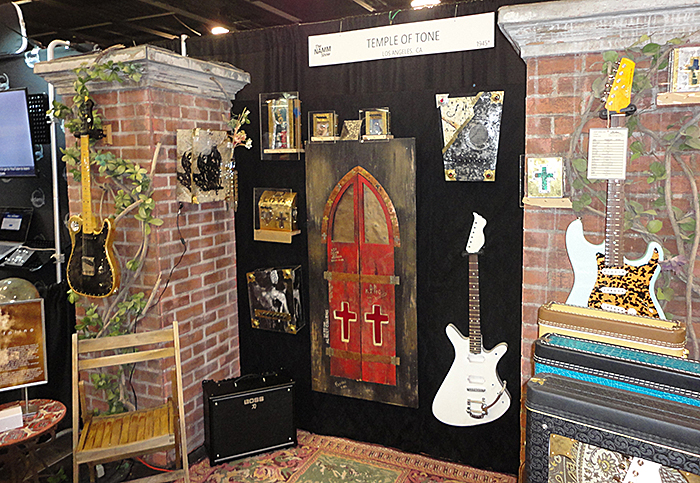 The booth was unoccupied so I have no idea what Temple of Tone is all about and a Google search shows a Reverb shop with no product listings so I still have no idea. I liked to design of the booth so I snapped a few pictures.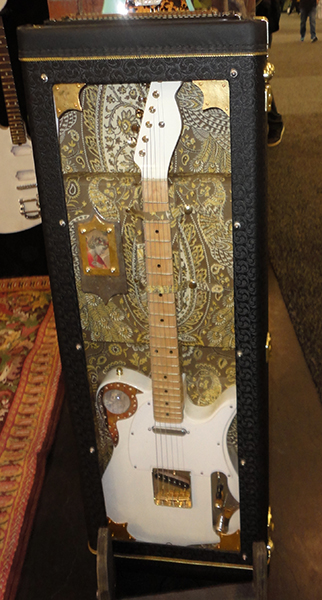 Maybe they sell guitars? Or cases? Or maybe both?
Teuffel Guitars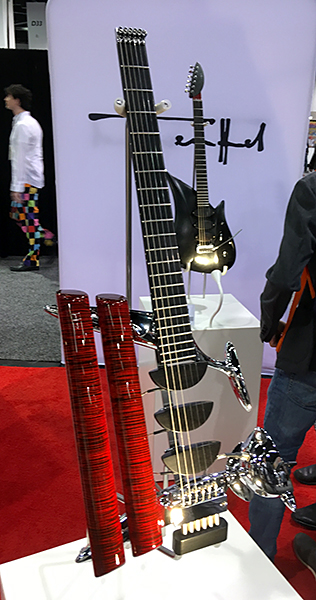 Ever since reviewing a Birdfish guitar from the first series of 100 instruments, I've been an avid follower of Ulrich Teuffel and his work. He's made some truly innovative instruments over the years and he keeps inspiring.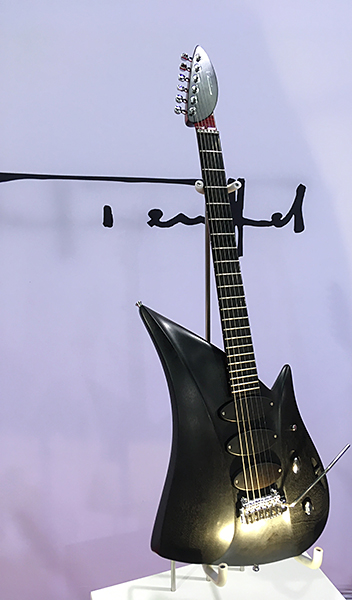 I love the Niwa body shape and how it seems to be shaped for my body. Black with a red maple neck. Need something red to get into the Red Collection with Spalt Instruments and Ergon Guitars.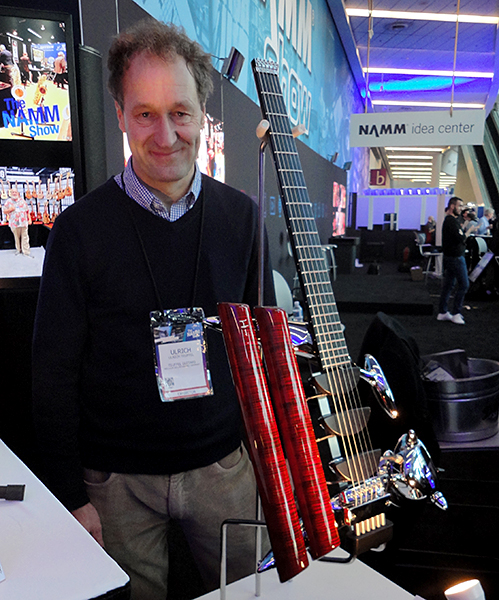 Ulrich Teuffel at the Media Preview Day. You may think that the Birdfish feels difficult to play, but I was amazed by how comfortable it is.
The Wolfmeister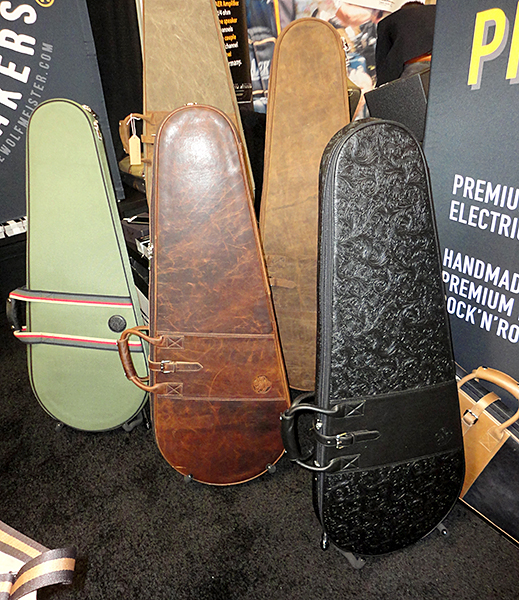 The Wolfmeister came all the way from Australia to offer his bags. I usually don't cover cases but these were just too nice to ignore.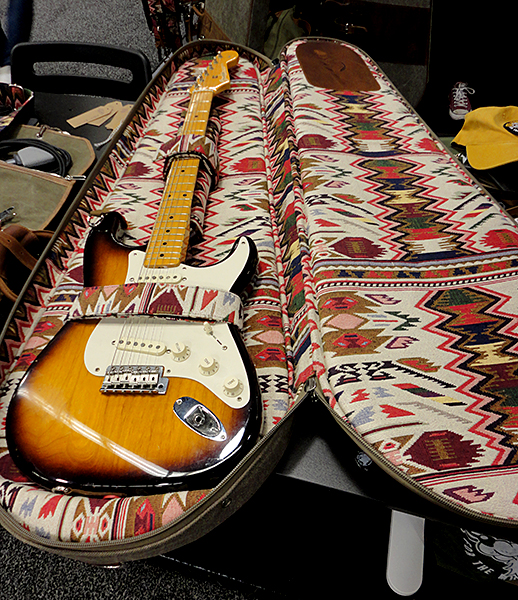 Available for all kinds of instruments with a special design to keep the guitar stable and safe.
Thorpy FX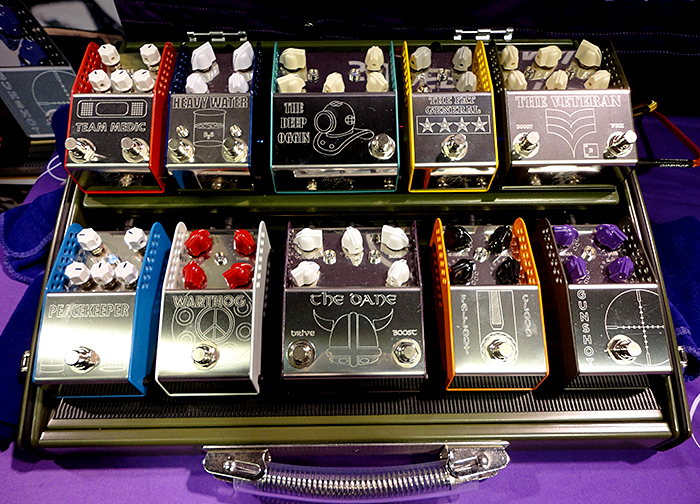 Thorpy FX first got my attention through Andrtons TV when Danish Pete played his The Dane pedal. SInce then I've had my eyes of Thorpy and there are quite a few very interesting pedals I'd like to have in my drawer.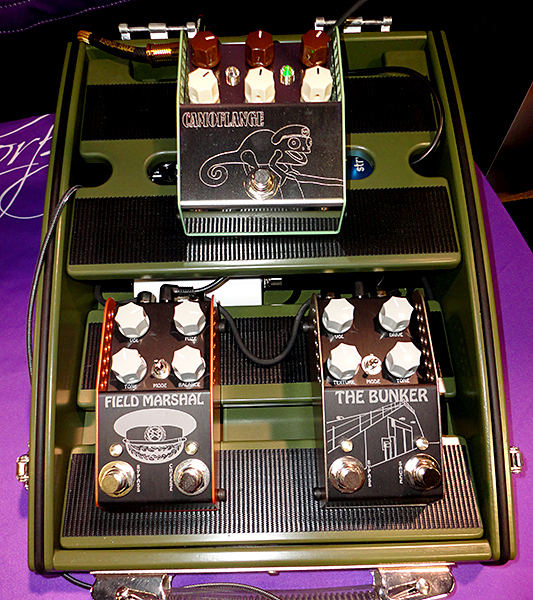 New for NAMM 2020 were the Field Marshall fuzz and The Bunker drive pedals.
Tom Anderson Guitarworks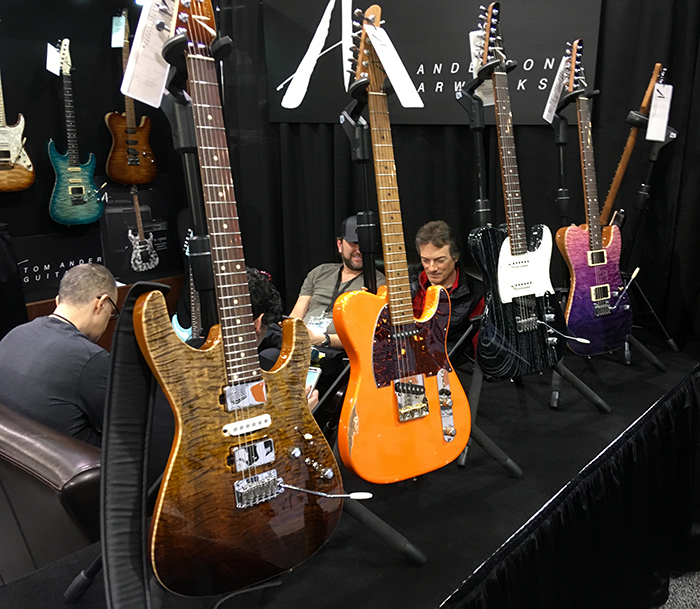 Tom Anderson always displays some of the nicest, best playing and greatest sounding guitars out there. To me, Tom Anderson was the first boutique builder.
Traynor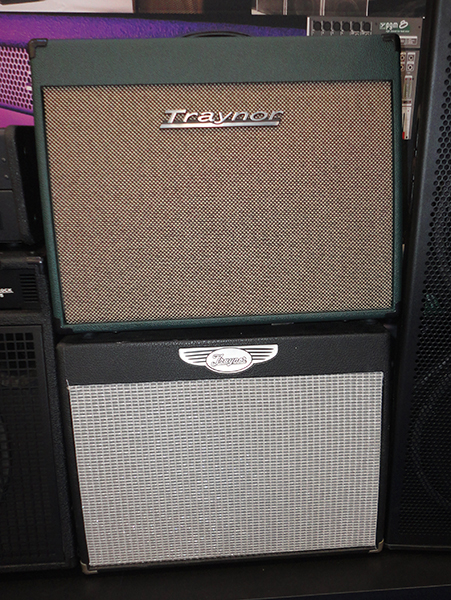 20 years ago I bought the original Traynor YCV-40 and it's been on numerous gigs since then. Great pedal platform clean amp. It was also the first amp I profiled when I got my Kemper. I call it the best amp Fender never built. Now 20 years later Traynor is issuing a 20th Anniversary model.
Two-Notes Engineering
New for this NAMM was the Torpedo Captor X. It's a reactive load box/ virtual cabinet, attenuator and IR loader. I'm very tempted to get this one as it ticks all the boxes for me. I love the fact that you can use it standalone with your favourite presets.
Two-Rock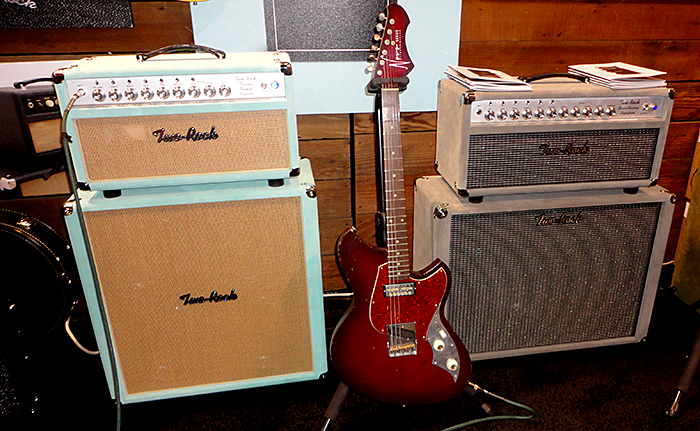 As I'm very fond of the D-style amp sounds, I'm an avid follower of whatever Two-Rock is doing nowadays since they are, once again, their own company. The Classic Reverb Signature to the left is a wonderful amp and one that's on top of my very short list of amps I will get as soon as I can afford one. Or at least it was #1 but now that I've heard and tried the new Silver Sterling Signature (to the right), that amp now holds the #1 spot. The lush and silky cleans with tons of powerful headroom is an experience everyone should experience once.
Vemuram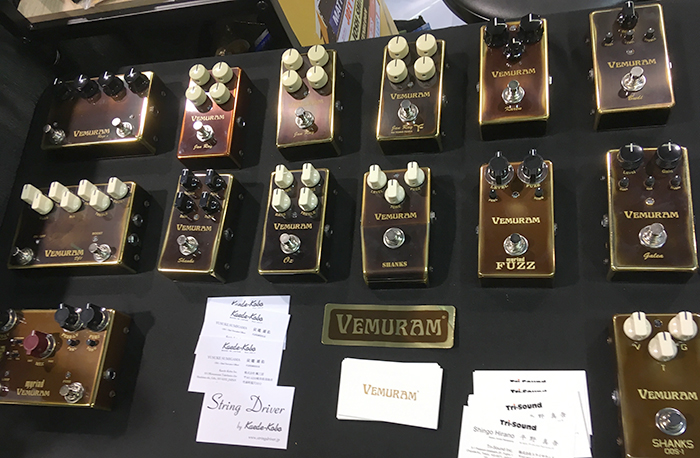 As desirable as they are costly? The Vemuram has a following that says that they are. Personally, I'd like one of each!
Virtual Jeff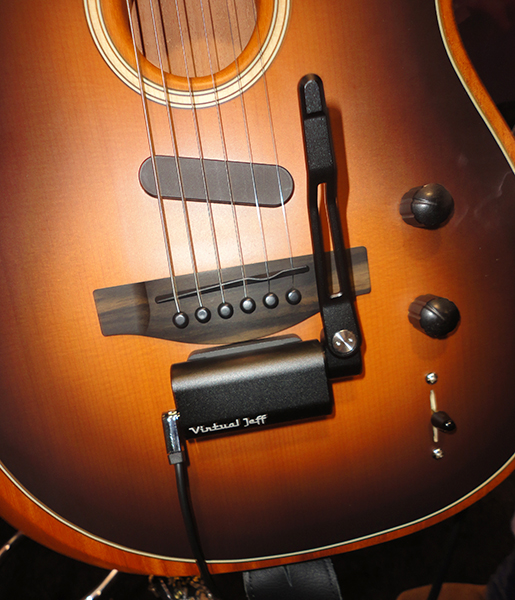 Virtual Jeff is an odd-ball name for an odd-ball product. This is a virtual tremolo bar that you can use on any instrument that has an output. The tremolo arm controls a digital system that you connect the guitar signal to and then you can do all sort of fun things with the signal. So now you can get tremolo even on your piezo equipped nylon string.
Waterloo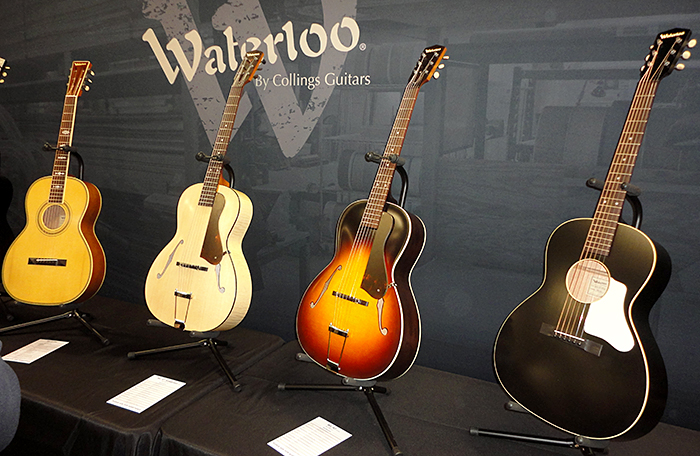 Waterloo by Collings Guitars is a line of guitars that Collings decided was different enough in sound and construction that they warranted a different name. These guitars strive to recreate the sounds of the depression era but well made.
Wilkinson Enterprises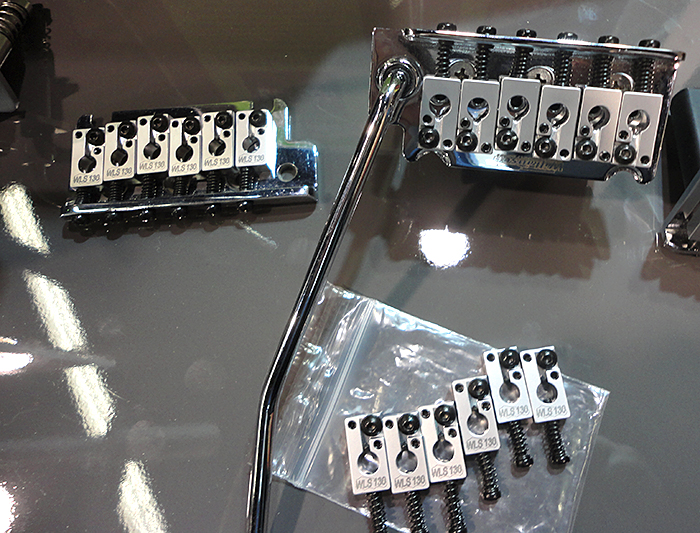 Trevor Wilkinson has ben a household name for a long time for making great improvements and innovations in guitar hardware. Now Wilkinson hardware is available therough their Reverb shop and one of the product is the new lockable saddles.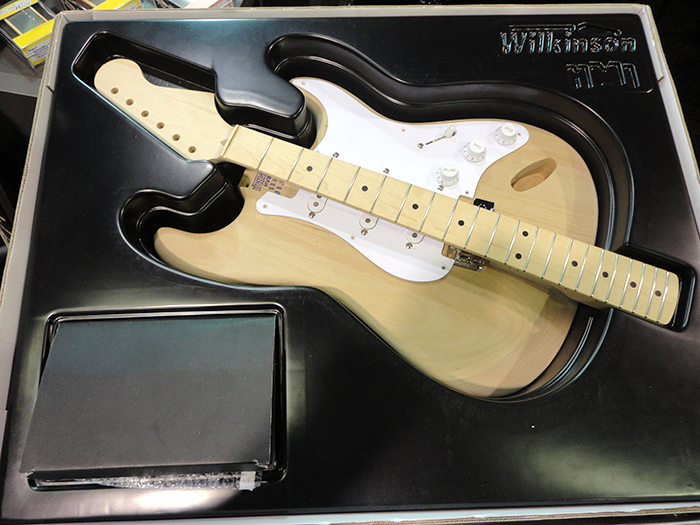 It's not as widely known that Trevor is also a guitar designer/luthier. Now they are offering guitar kits with Wilkinson hardware and WIlkinson designed pickups. The kits looks very nice and while they are somewhat more expensive than the usual cheap kits, there's nothing cheap about the Wilkinson kits and at a first glance seems to give great value for money.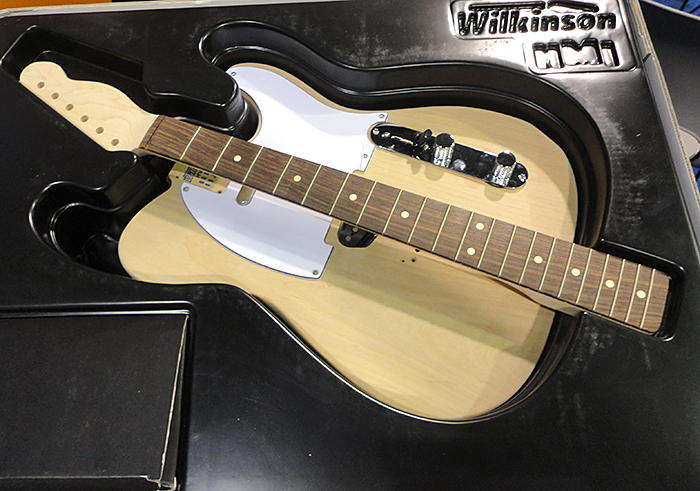 Another kit with a familiar shape.
Xils Labs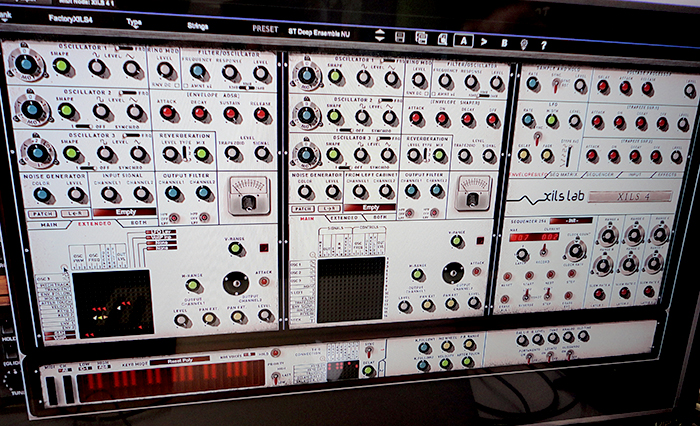 My nostalgia meter hit the roof when I saw this plugin recreating the Putney VCS-3. This was the first synth I was ever exposed to when I took my Masters in Music back in the early 80s. It's so cool to see somebody take this on. This is definitely something I need to get my hands on.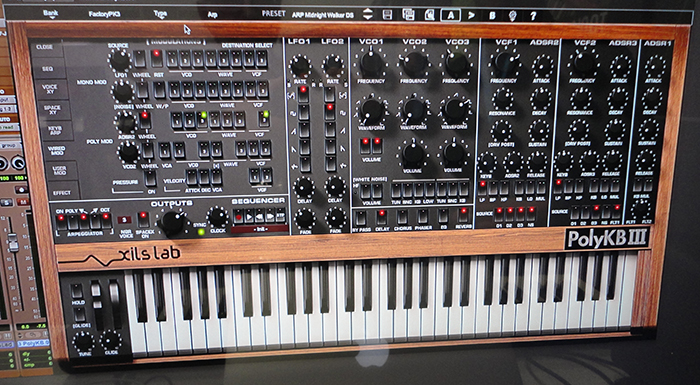 The PolyKB III demo was also very convincing and has its own sound.
Yamaha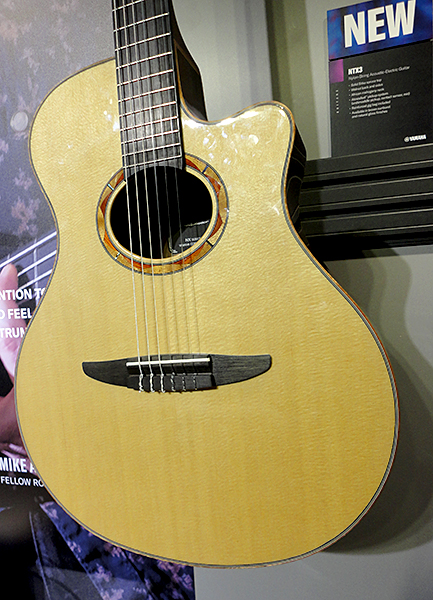 The NTX3 is a new nylon string acoustic from Yamaha and ...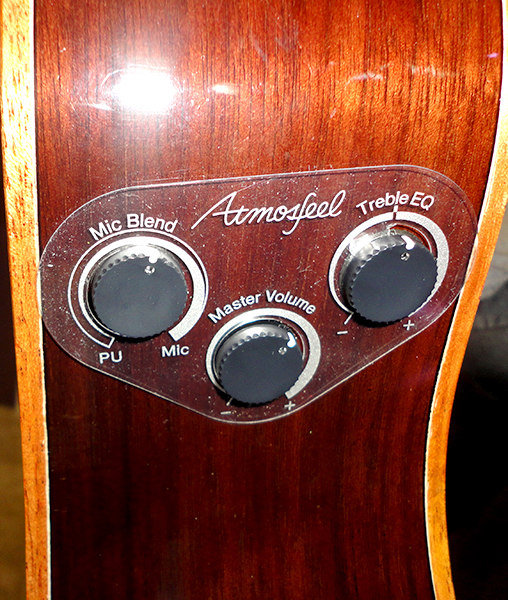 ... it's equipped with the Atmosfeel pickup system that combines a piezo that covers the low frequencies (who loves the piezo treble?) with a thin transducer under the soundboard and a mini-microphone.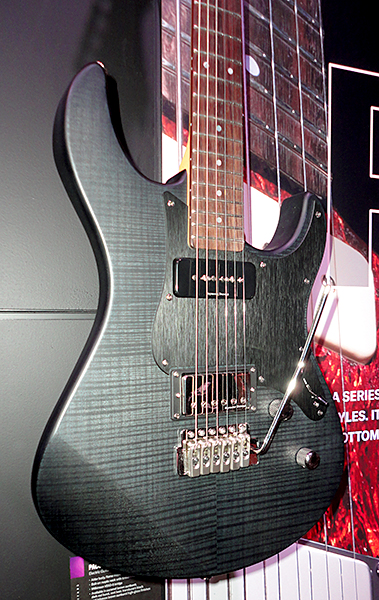 I still think Yamaha Pacifica is the guitar to get if you want a very good bolt-on electric but don't want to spend boutique money. I still have and still use and still love my Pacifica 604 S/S/H.

Yamaha has picked up the fact that Chris Buck is a great proponent of the Revstar range and has now made him a custom guitar according to his specifications.
The end
So, thank you for being with me all the way to the end. Another NAMM Show is over and the seemingly interminable wait for the next NAMM starts. While NAMM is undoubtedly changing as is the MI business it portrays, my enthusiasm for the show stays the same. The NAMM Show itself hones its operation and is working better every year I attend and while those of us who are pretty much "plugged into" the MI business through years of personal contacts know most of what's coming, there's always a interesting surprise or two. Add to that te music, the people, the donuts, the food and (for us whoo come from clolder climates) the weather and NAMM soon begins to look like heaven on earth for gear nerds like me.
Once again my thanks go to all the individuals who made me feel welcome and who gave generously of their time and knowledge.
I hope you have enjoyed reading my report. It took me a bit longer to publish this year as I caught both a kidney stone attack pneumonia before I left the US. Imagine sitting in a plane for almost 12 hours with that and you'll realize that my trip home was no fun at all.
As always, until next time, I wish you all peace, love and creative freedom!
Cheers,
Mats N