Winter NAMM 2020 - part 3
Hamstead Soundworks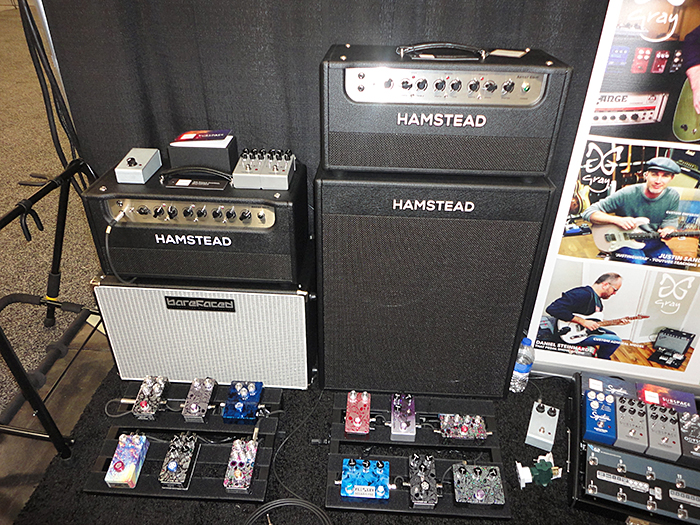 One very nice aspect of NAMM is that every once in while you stumble on a brand you didn't know but are very glad you found. Hamstead is one such example.
These amps can sound very different depending on how you set them up but the headroom was amazing and I would love to own one of these.
Equally impressive were their pedals. The Odessey Intergalactic Driver. This is the Swiss army knife of overdrive pedals. The fact that you can set the eq to pre or post overdrive, have three different clip variations and three different gain amounts makes it possible for the Odyssey to sound like very many other overdrive, distorsion and fuzz circuits. Extraordinarily flexible and very reasonably priced. Made with prime components so it should last a lifetime.
The Zenith Amplitude COntroller is a studio grade compressor and eq made to be easy to use. Hamstead demonstrator and great player, Tim Steer, showed how quick and easy it was to shape the guitar sound and how these two pedals would be great tools on any pedalboard or in any studio. I'd like both in front of my Kemper.
Hughes & Kettner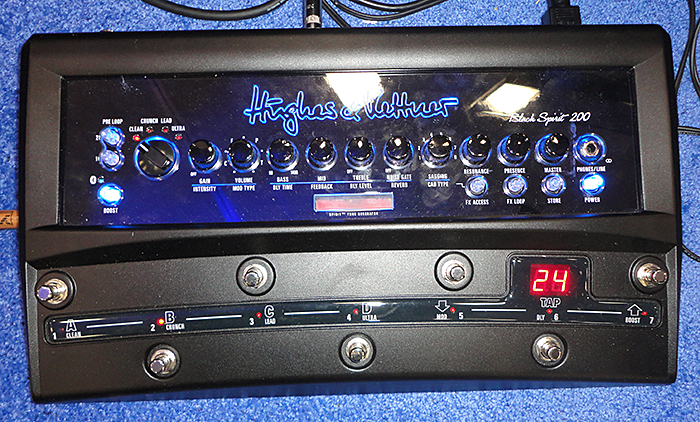 Last NAMM, Hughes & Kettner showed the Black Spirit 200 amp top and got showered with praise for it. This year, the same amp with some additional features appeared in a floor version. I really like this concept and the Black Spirit 200 is a great sounding amp.
Huss & Dalton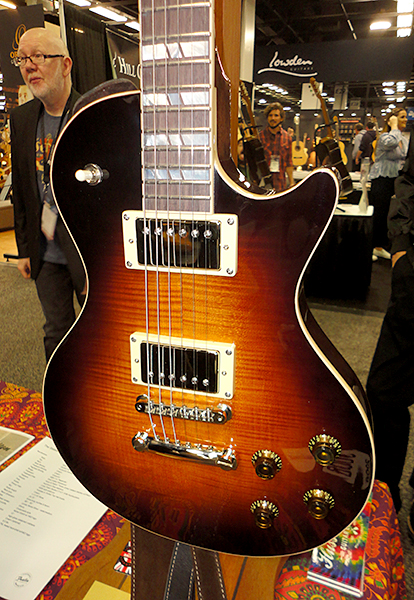 Huss & Dalton are well known for their excellent acoustic instruments. But this year they surprised us with a solid body electric that looked great.
IK Multimedia
After the success with Axe I/O IK Multimedia got requests for a smaller version as not everybody need all the features of the Axe I/O. So this year they presented the Axe I/O Solo with a reduced feature set and a reduced price.
IK Multimedia was also asked to make the Z-Tone circuit avalable to those who already had an audio interface that they like and want to continue using. IK Multimedia responded with not just one product but two. The Z-Tone DI and ..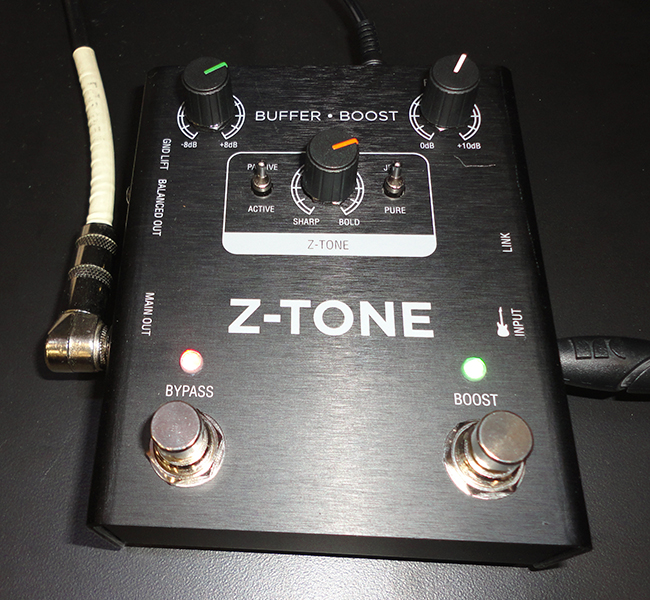 ... the Z-Tone Buffer Booster. IThe form factor of each will probably determine which unit to get. I would love to have the Z-Tone DI to get the most out of my computer based amp sims.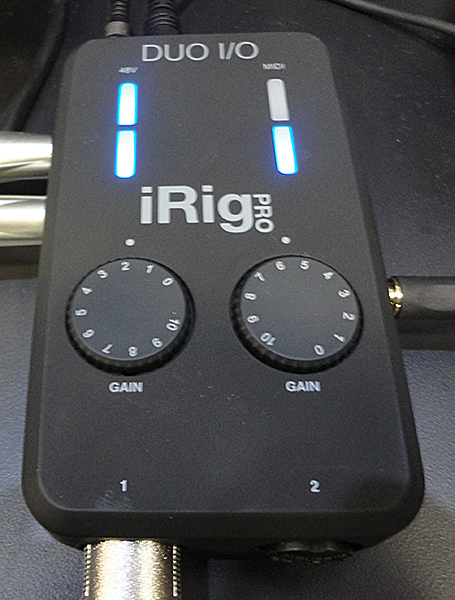 An updated version of the iRig for guitar players were shown in the shape of the iRig Pro Duo I/O with 2 XLR/1/4" combo guitar, line & mic inputs. It includes Lightning, USB-C and USB-A cables as well as a software package for Mac/PC and iOS.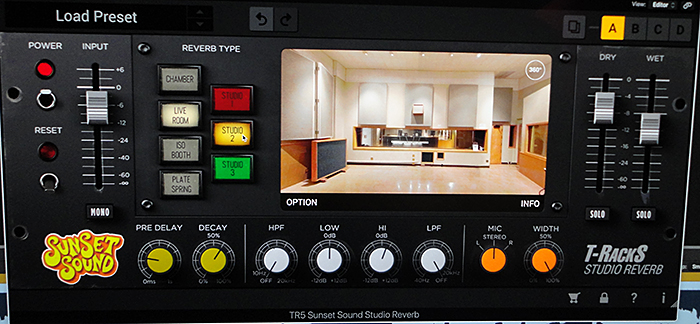 Also very cool was the Sunset Sound T-RacksS Studio Reverb. After trying it out for a bit I came away impressed and thinking I would treat it more like an actual room rather then an ordinary reverb plugin. This will make an excellent complement to my more traditional algorithmic reverbs.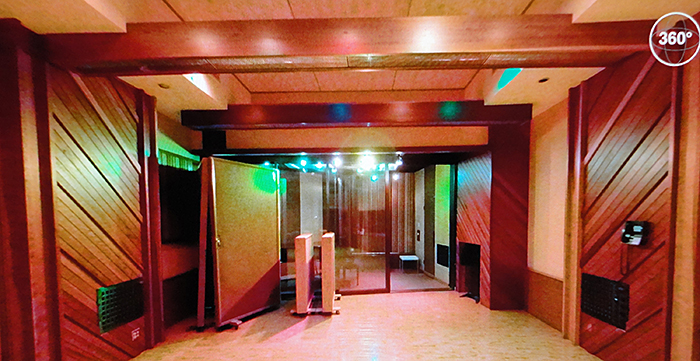 More then one room to choose from.
Jackson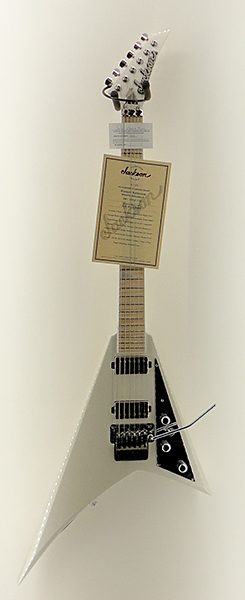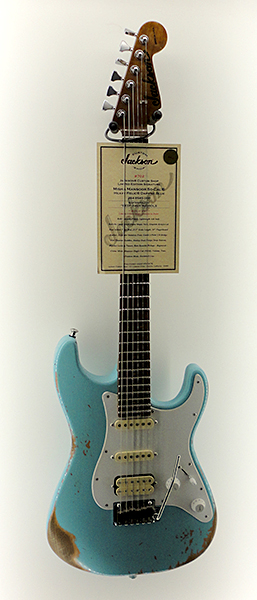 Jackson celebrates teir 40th anniversary with some special models.
JHS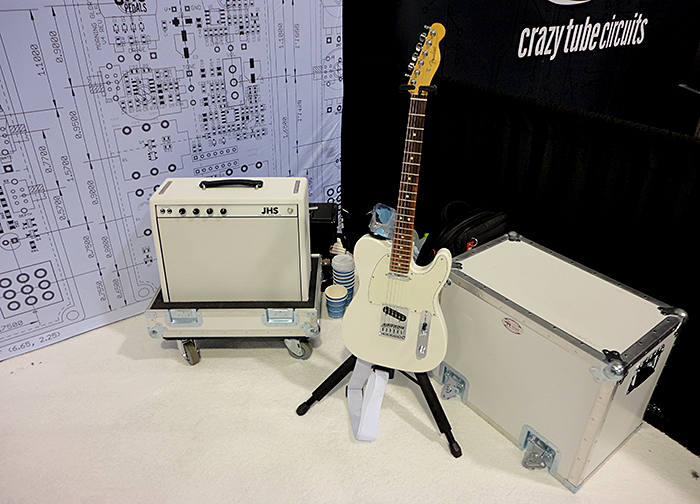 I don't know how many times I've seen this almost mythical amp in Josh's videos so it was almost surreal to see it in real life.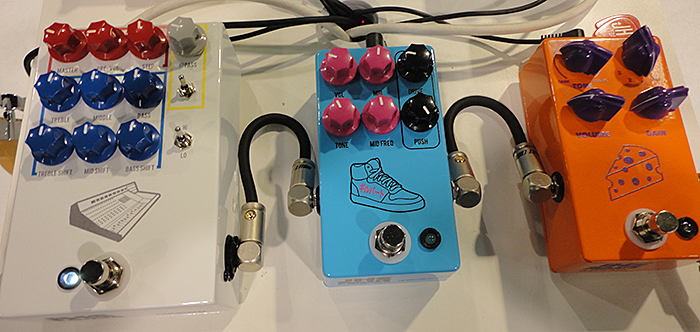 On display here is the Color Box (preamp/EQ/overdrive/distorsion/fuzz/DI), the PG-14 Paul Gilbert Signature (overdrive/distorsion) and the Cheese Ball (distorsion/fuzz).
Joe Doe Guitars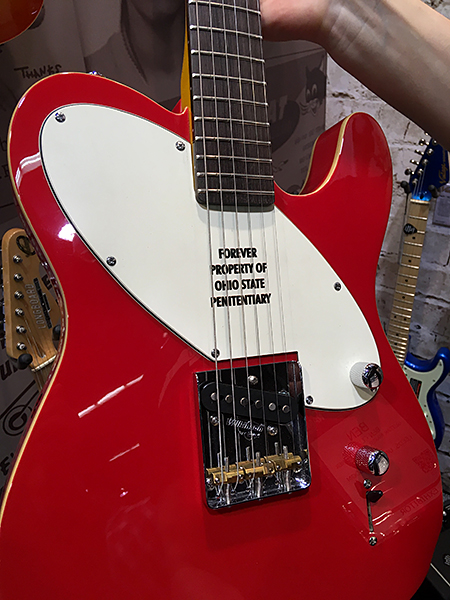 I love guitars but I also love a good story. So when artist Ben Court decided to design guitars around self authored stories I was very interested in meeting with him and see what he was all about.
This red Jailbird guitar, based on a Tele, has a very cool story behind it and it plays out in the Ohio State Penitentiary. One inmate by the name of Wilbur James played this guitar in the prison band and his soloing skills were so good that the inmate audice went wild and started rioting.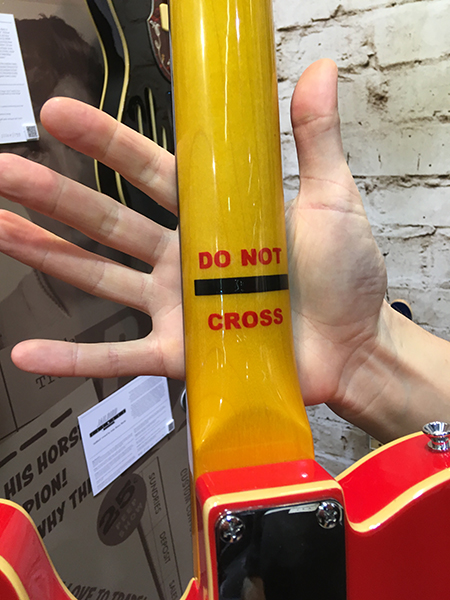 Therefore the warden made changes to the guitar and forbade playing in the upper registers to avoid future rioting and issued written instructions to that effect.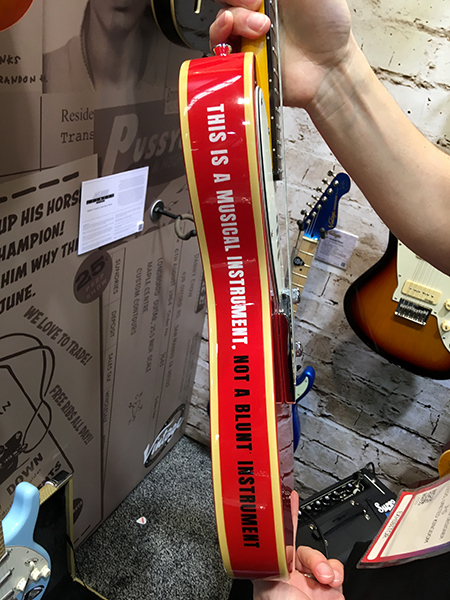 The warden thought more instruction was needed.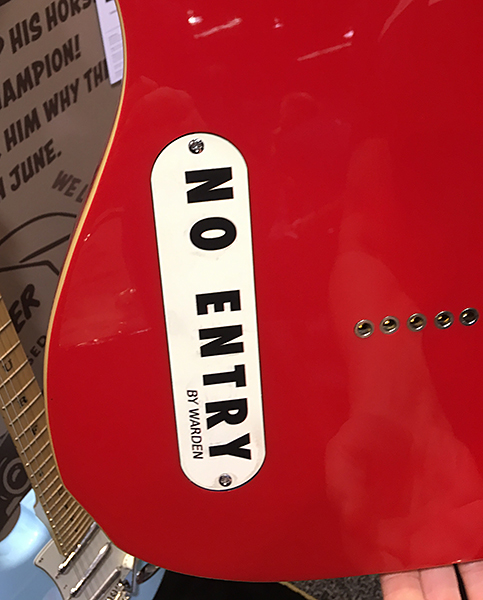 More to be read.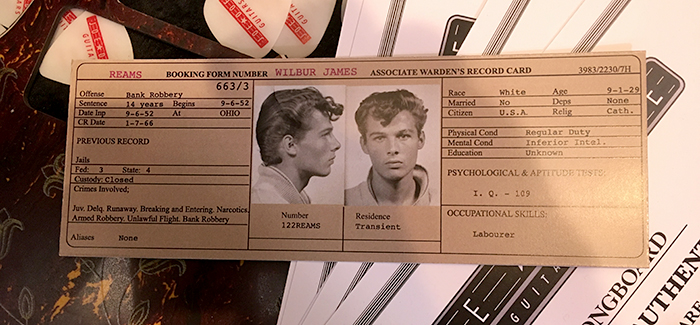 The case and case candy for each guitar has also been especially designed to go with the story. Here's the prison inmate card for Wilbur James.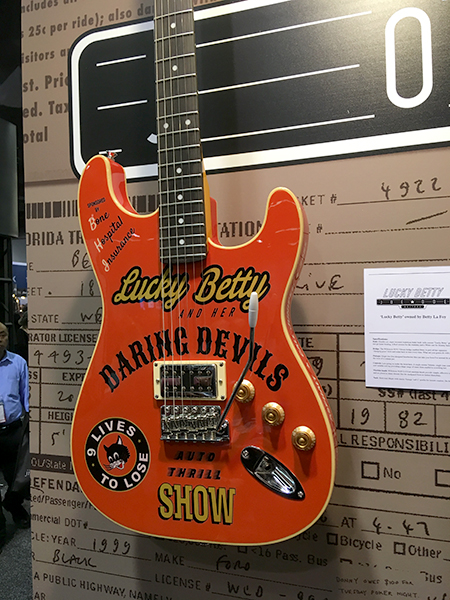 Lucky Betty is another story ...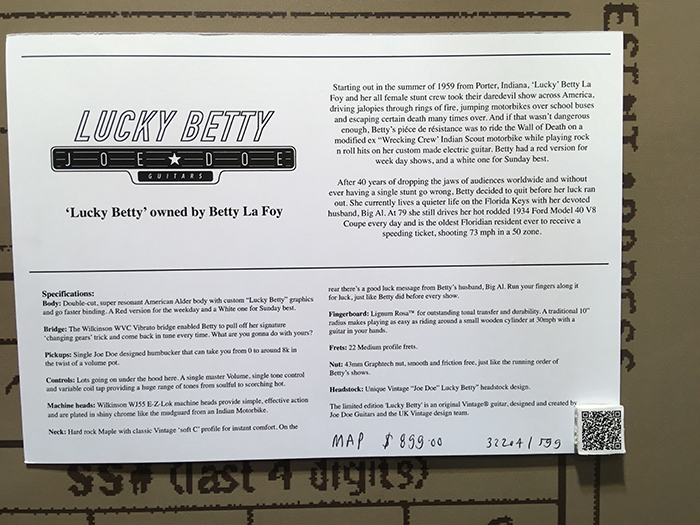 ... that you can read here.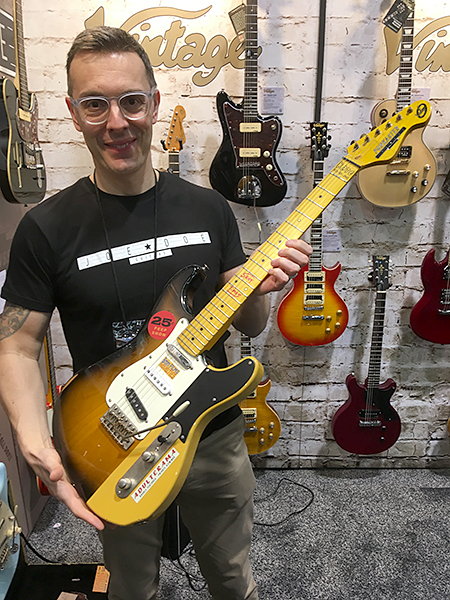 Here's Ben Court holding the PunkCaster.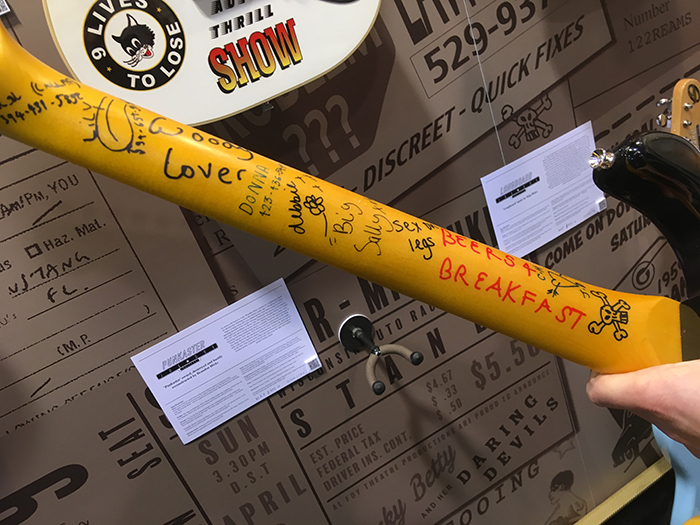 The back of the neck of the PunkCaster has been signed by a number of groupies.
Kauer Guitars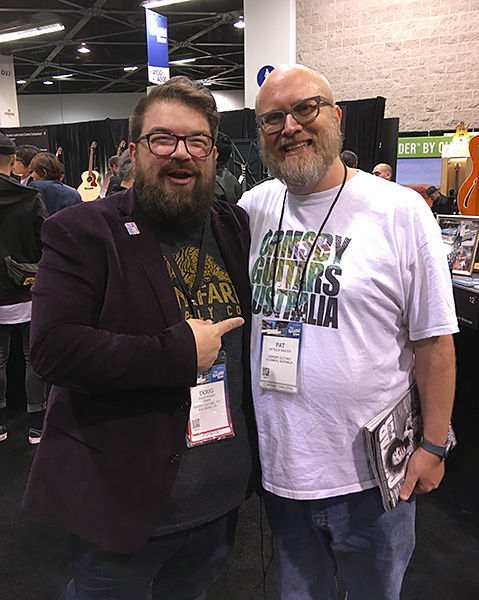 For some unfortunate reason, my camera went nuts at the time I was taking pictures of Doug's wonderful guitars. But I did get a picture of him and friend Pat.
Keeley Electronics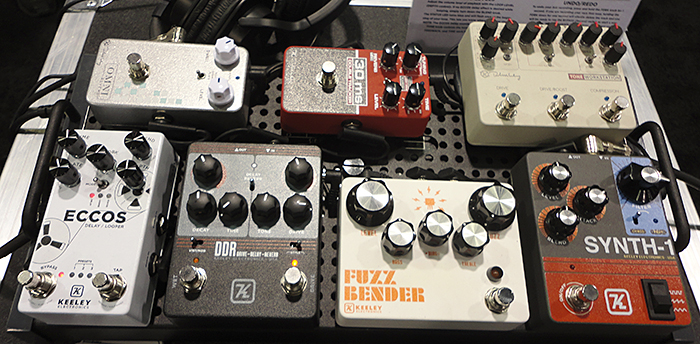 Robert Keeley always brings something new to NAMM and this time it was the Eccos Delay/Looper .
Kemper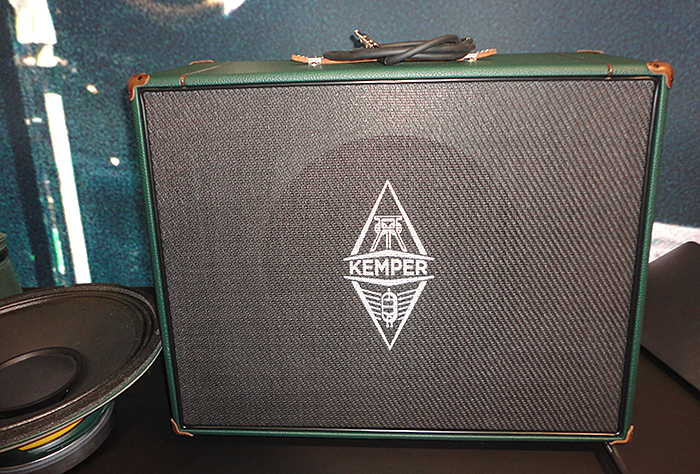 The long awaited Kemper speaker cabinet and the specially designed Kemper Kone seems to be ready for shipment. The concept and execution of the different speaker imprints is simply genius.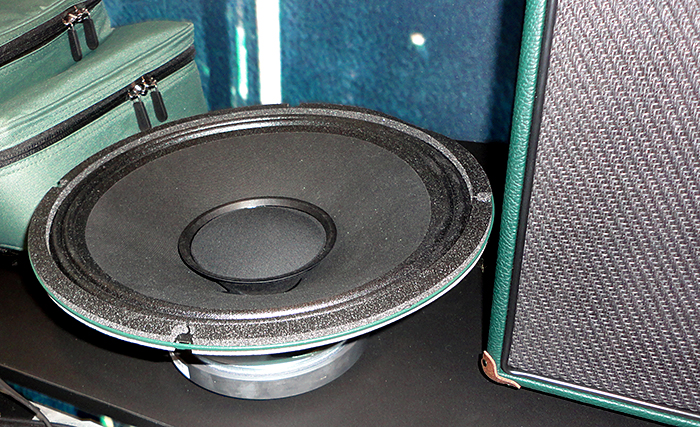 The Kemper Kone is made by Celestion and can be bought separately in case you want to build your own cabinet or if you have a cabinet where you want a new speaker.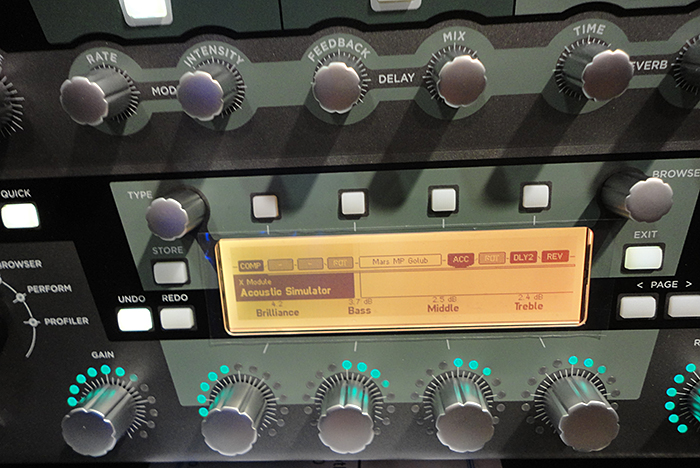 There was news regarding the Profiler software as well. The Acoustic Simulator is a way to convert you electric guitar sound into an acoustic sound. Christoph Kemper said that it will not sound axactly like an acoustic guitar it will work in a band context. From the demo I heard it sounded a lot better than most (if not all) other attempts at doing this very thing.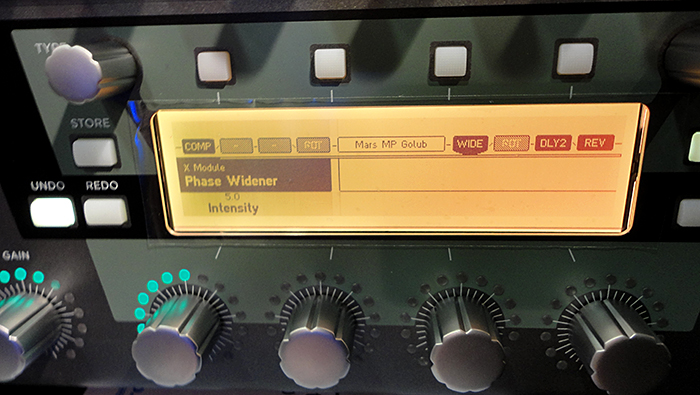 Another new effect is the Phase Widener. This is a way to get a wider sound field without using delay or other tricks that may cause problems with timing or mixing in mono.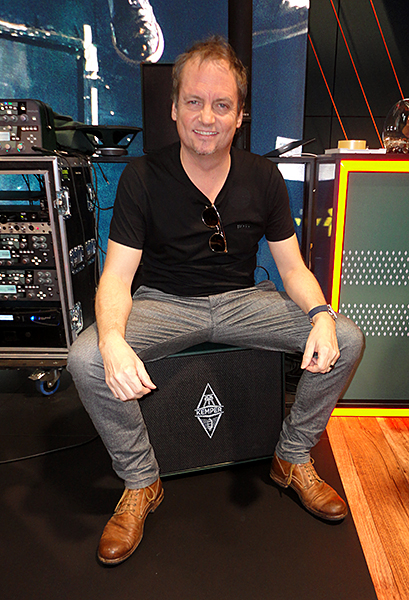 This man, Christoph Kemper, has done a lot to revolutionize the guitar world.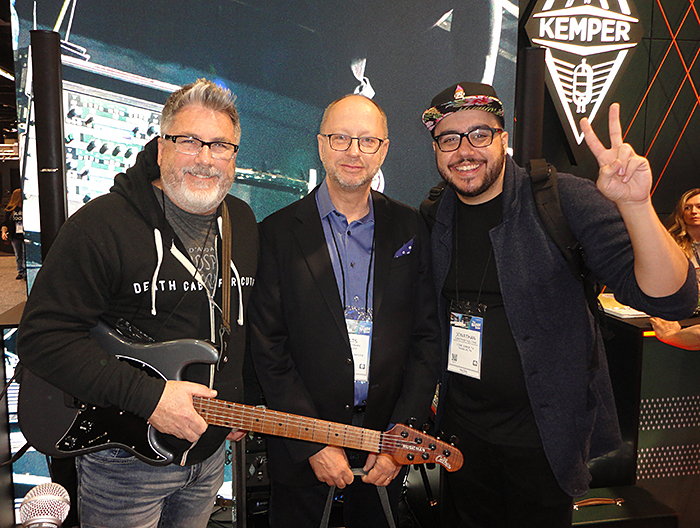 Michael Britt, HW from Tone Junky and myself. Soon I will be joining the people who have been asked to do an official Rig Pack for the Profiler. More info to come on this web site.
Koch Amplifiers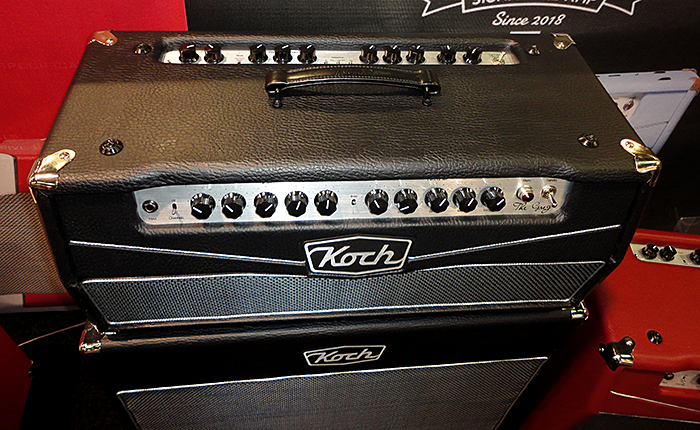 "The Greg" signature amp is now available as a head.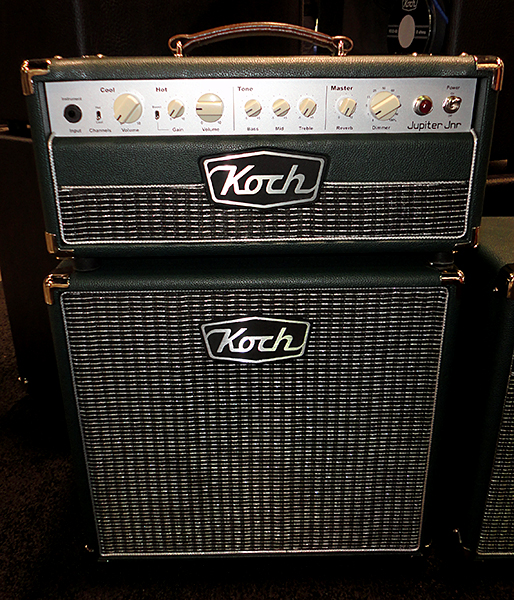 This sweet little Jupiter Junior with a matching 1x10" cabinet looks good enough to have on display in your living room.
Koll Guitars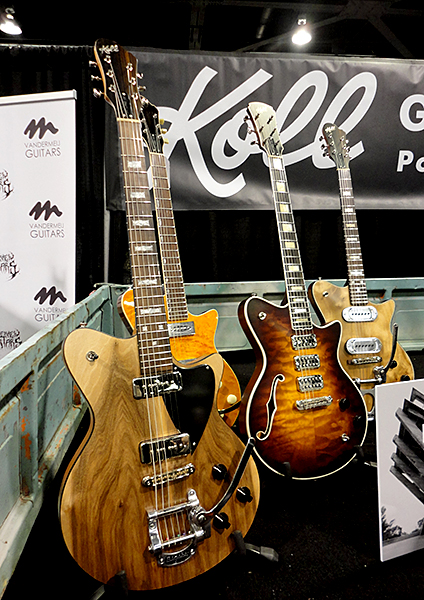 Saul Koll has found a body shape that seem to work with all kinds of designs and configurations. Arch tops, semi-hollow or solid bodies. Kudos!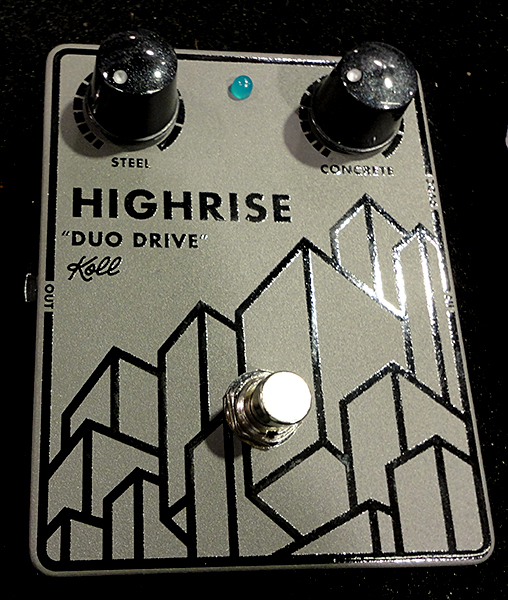 Koll's first foray into the pedal market is the Highrise Duo Drive.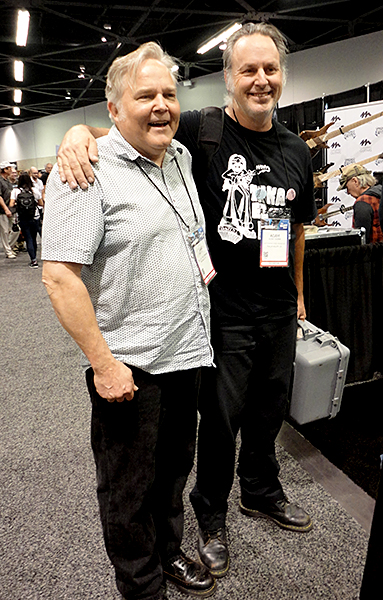 Saul Koll with Adam Grimm of Satellite Amps.
Korg Nu:tek
Korg is taking new roads with their Nutube technology. This is a DIY overdrive that you get in part and can assemble with no soldering. Most componenets are then easily exchangable if you want to mod you pedal. More pedals to come, like a Ccompressor.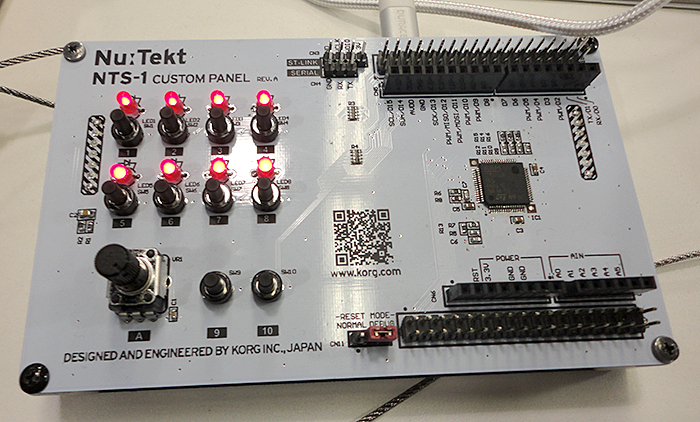 This is a custom panel you can mount on their DIY synth card.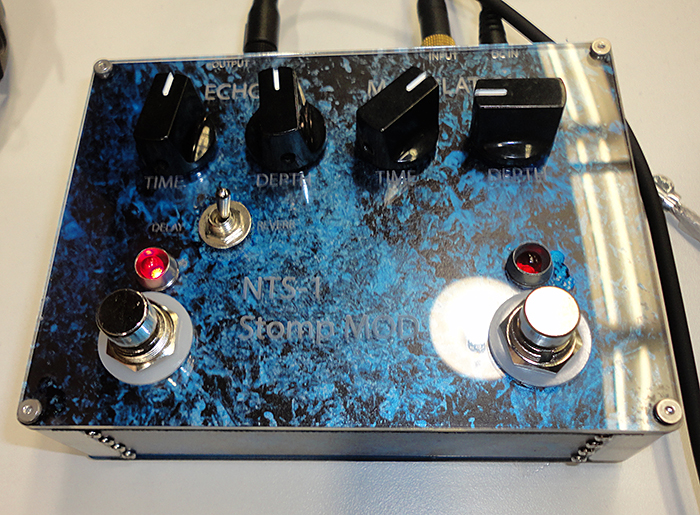 Someone made a modulation pedal.
Kramer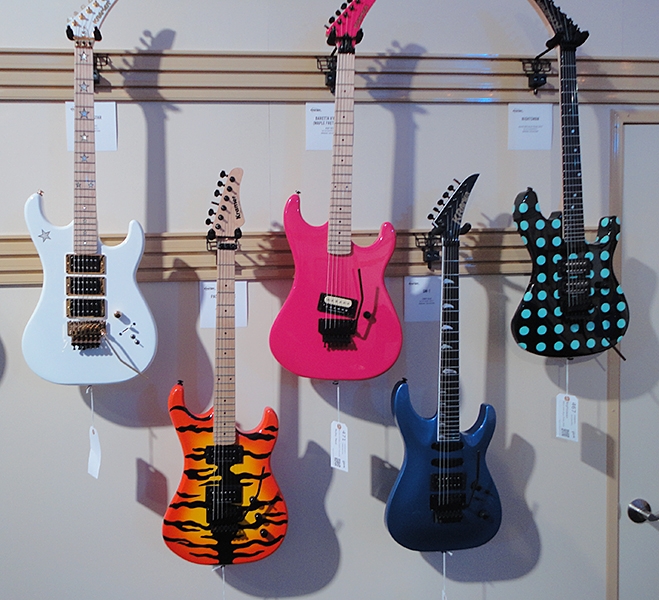 You want the 80s back? One of these Kramers may help fuel the illusion.
Lame Horse Guitars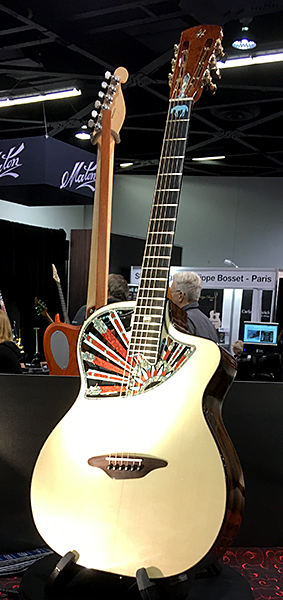 I found Lame Horse Guitars in the Boutique Guitar Showcase and was astounded by the craftsmanship involved in this guitar. Even the inside of the guitar is decorated.
Larrivé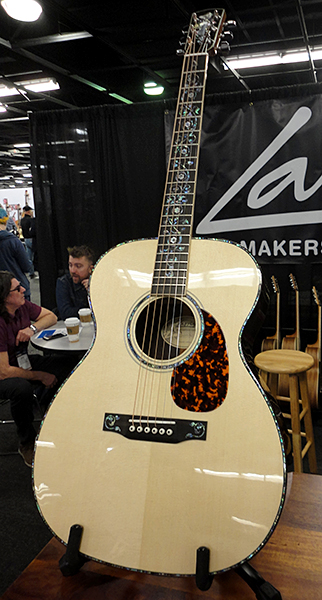 Jean Larrivé's guitars are very pleaseing both to the ears and eyes. I'd love to be able to own one of his master pieces one day.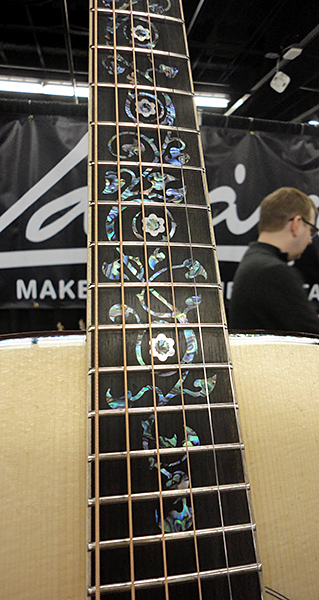 His inlay work is just beautiful.
Lava Drop Guitars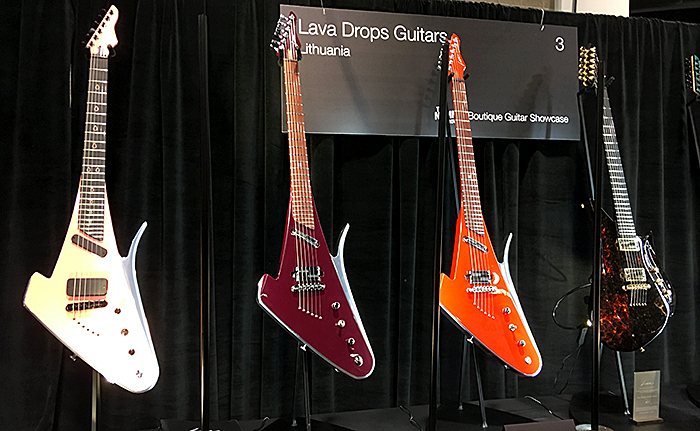 Lave Drop Guitars is the first time I've heard or seen a Lithuanian guitar.
Leo Guitars
Leo Guitars were also to be found in the Boutique Guitar Showcase. I could easily spend a day in there talking to all these talented builders who are unfailingly generous with their time and knowledge.
LHT Guitars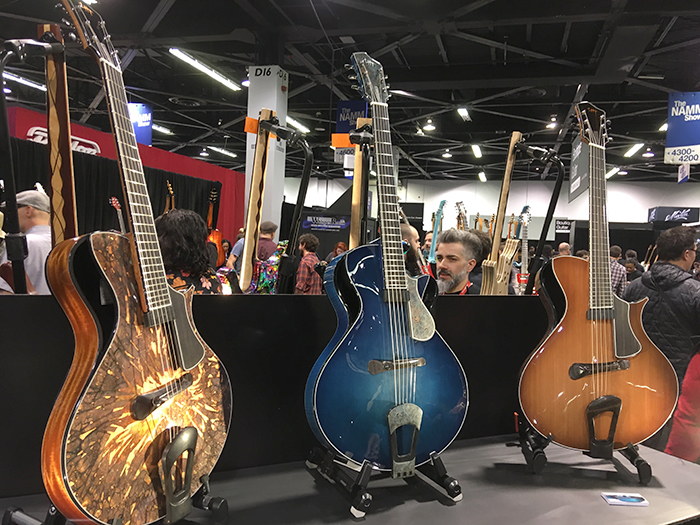 LHT Guitars is taking the acoustic archtop to the next level.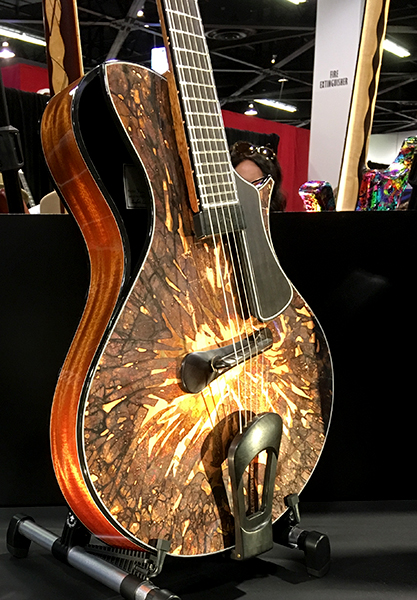 A closer look at this beautiful creation.
Line 6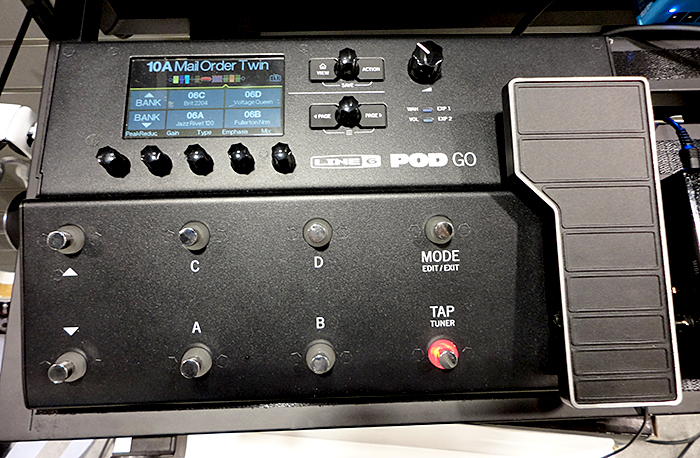 A POD with HX modeling? Yes it is! Slightly less cpu power means not being able to use everything at the same time. But that should not worry anyone but the most advanced user of weird soundscapes as most everything you would ordinarily want to do is possible with the POD Go.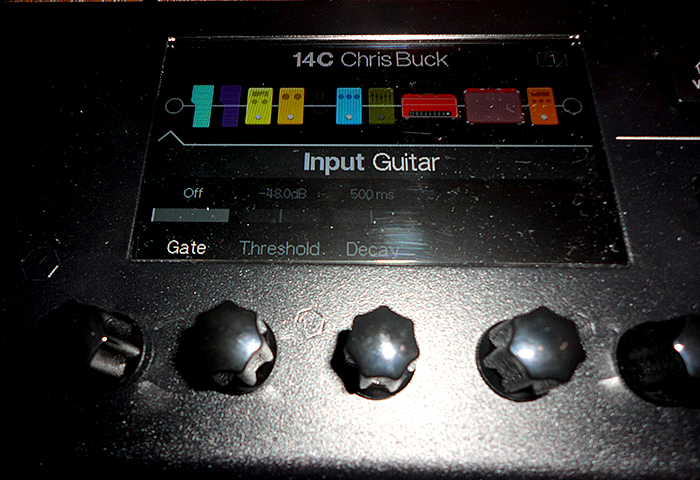 Taking a gander at the user interface I think the POD Go will be easier to use and edit than the Helix range.
Lollar Pickups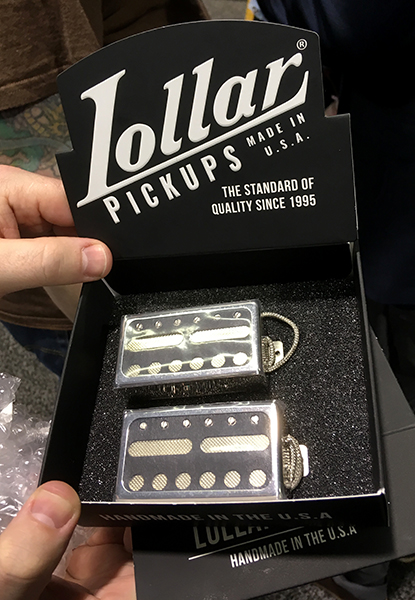 I was the first person to be allowed to take a picture of these brand new gold foil humbuckers from Jason Lollar and his band of merry men.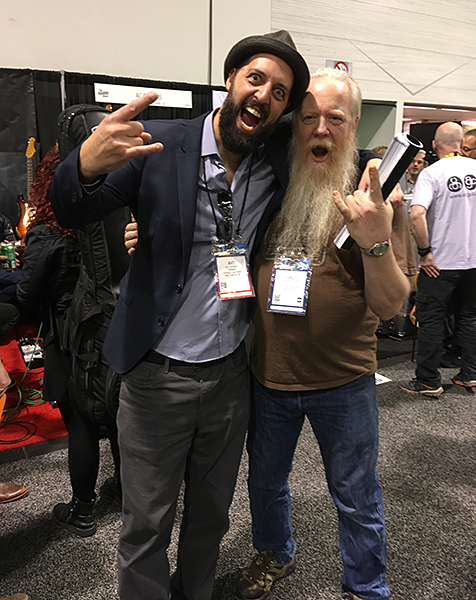 Master pickup builder Jason Lollar to the right with master guitar builder Avi Shabat to the left.
Loud Guitars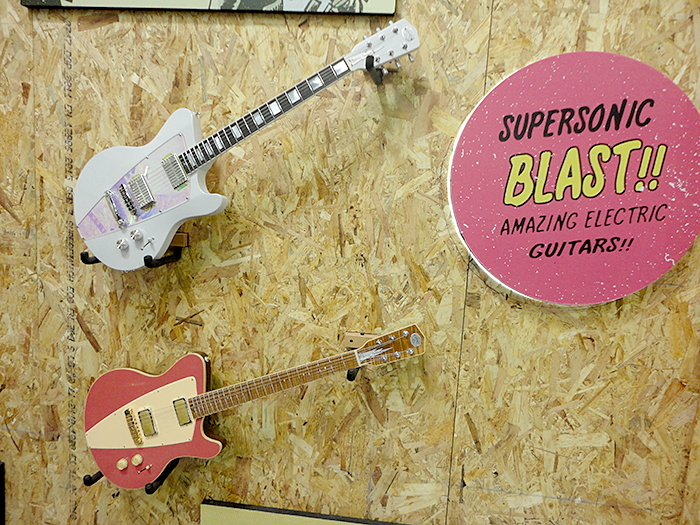 Loud Guitars was a new brand introduced at NAMM. I think they look very unique without being too "out there". Not an easy feat in todays over corwded market.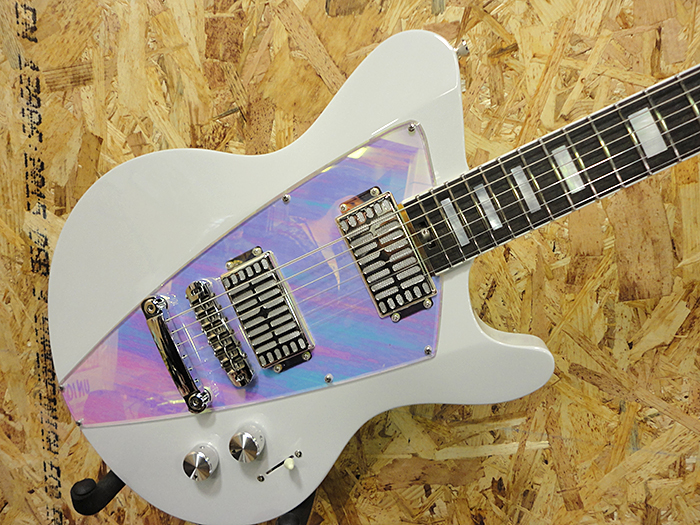 I like this design and it sat well in my lap and was very playable.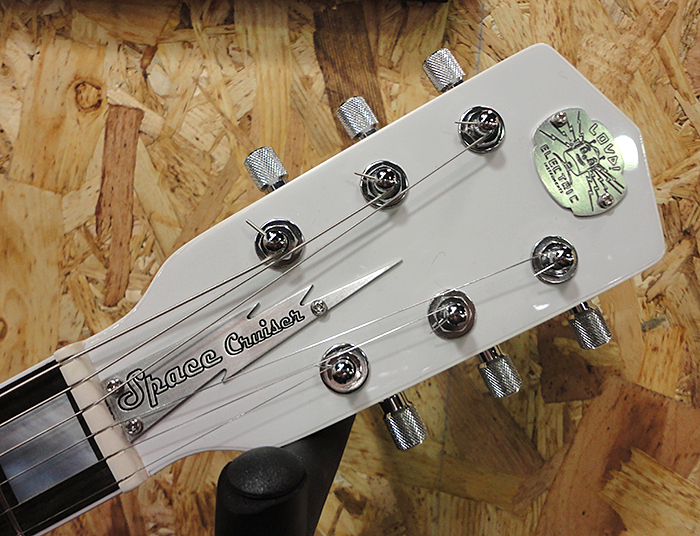 The Space Cruiser uses the Steinerger tuning keys.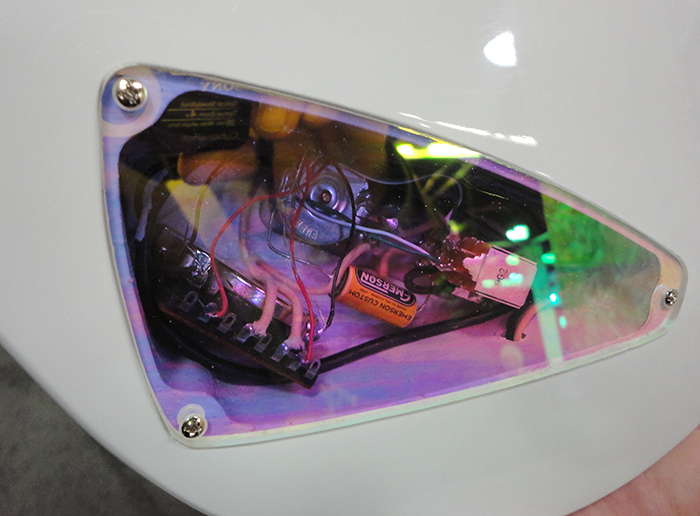 The back plate is transparent so you can see what's in there.