Winter NAMM 2020 - part 2
Fender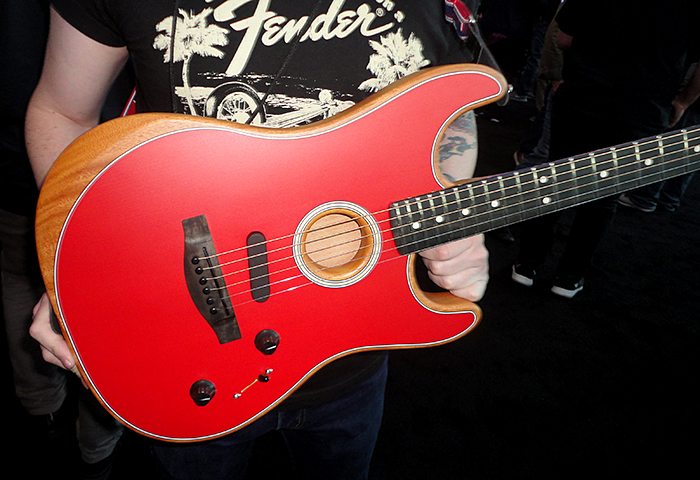 Last years big splash at Fender was the Acoustasonic Telecaster. This year, an equaly amount of show effort was given the brand new Acoustasonic Stratocaster.
They have given the Strat version alltogether different sounds so there's no overlap if you already own the Acoustasonic Telecaster. My favourite position was number 3 wich may be the sole reason why I decide to get one of these. To me, the Acoustasonic Stratocaster feels different and more comfortable to play than the Acoustasonic Tele.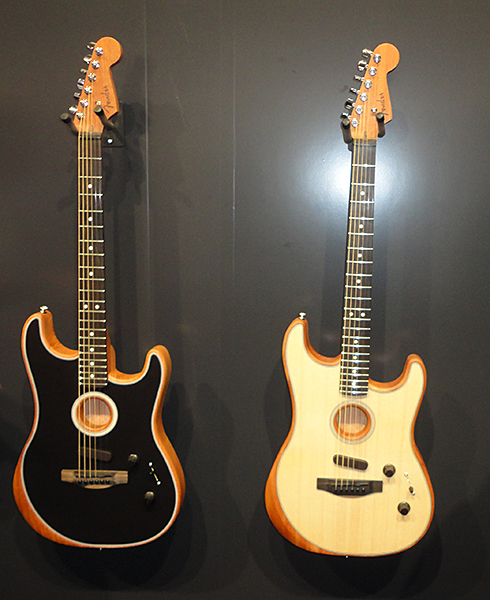 If you don't want red, you can get it in a number of more neutral finishes.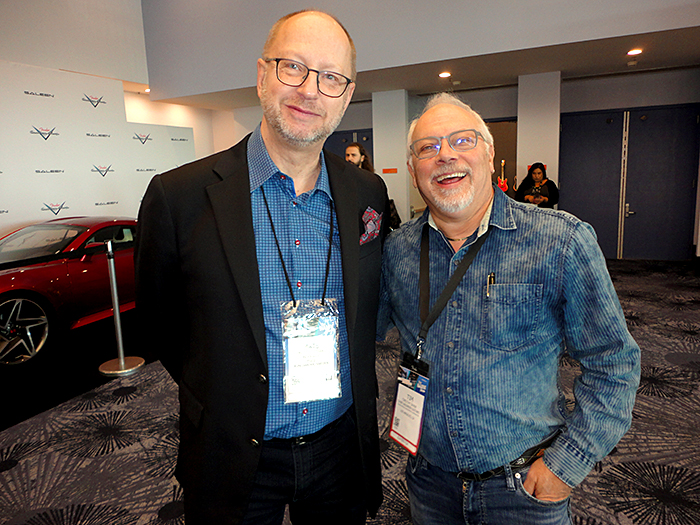 The legendary Tim Shaw is not only the name behind the Shawbucker but also one of the top minds behind the Acoustasonic series.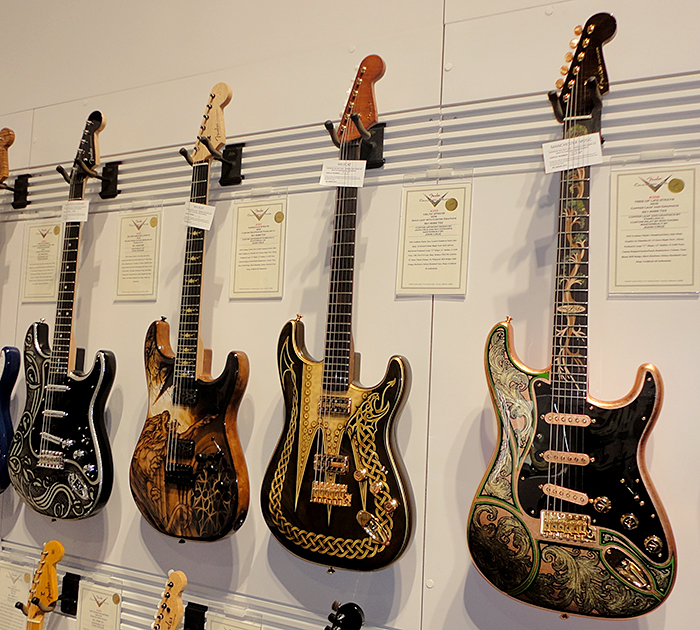 I don't know if these Custom Shop Strats sounds or feels better than ordinary Strats but I got to give the Custom Shop top marks for imagination and craftsmanship.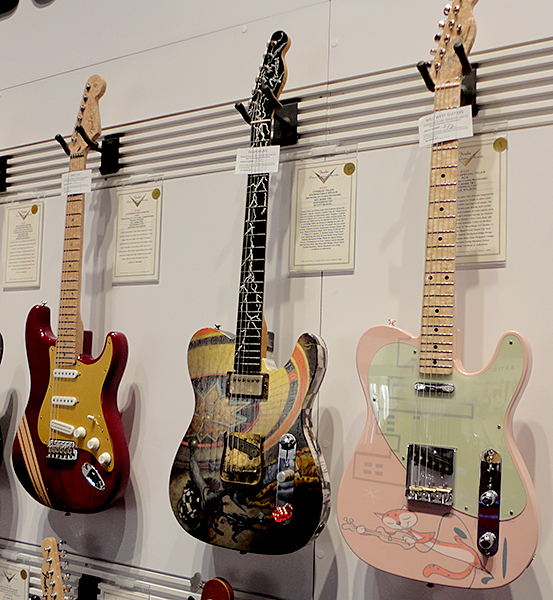 Two cool Teles and a Strat.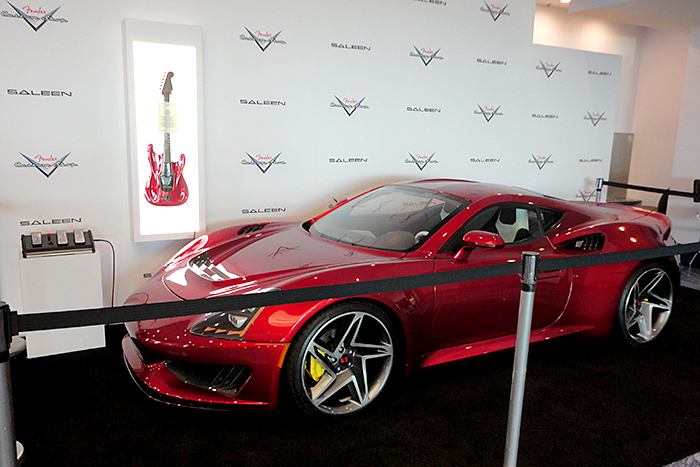 The Fender Custom SHop has done collaborations with car manufacturers before. This NAMM we got to see the Saleen Strat and pedalboard.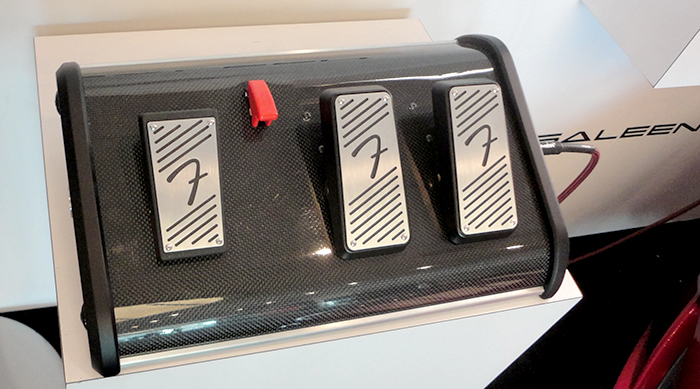 I have no idea about what this does but I still think it looks awesome.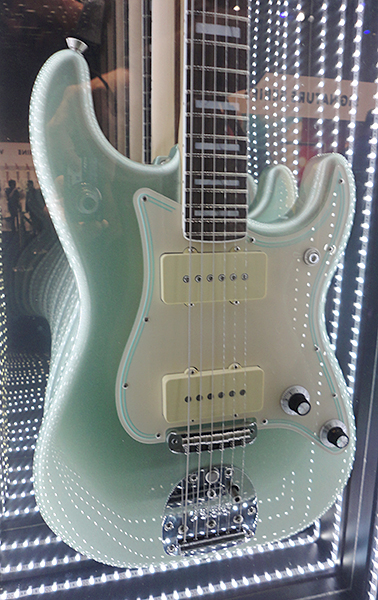 A Jazzmaster in a Strat body ...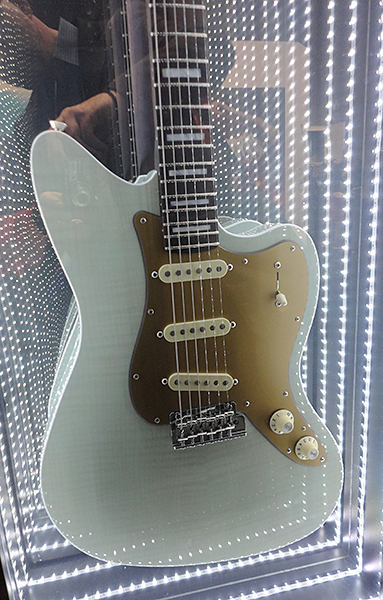 ... or a Strat in a Jazzmaster body. If you have the money, you have the choice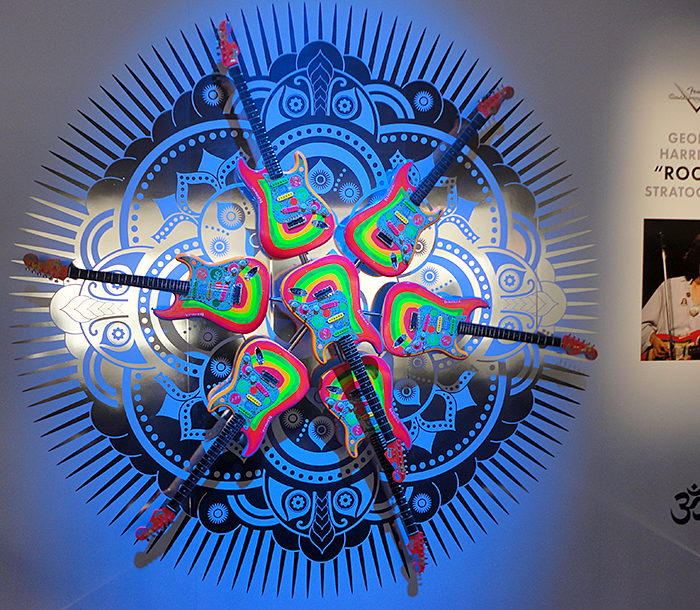 I have always wondered why there hasn't been a CS Rocky. Seems like it's been a legal thing but now, here it is, the George Harrison Rocky Stratocaster.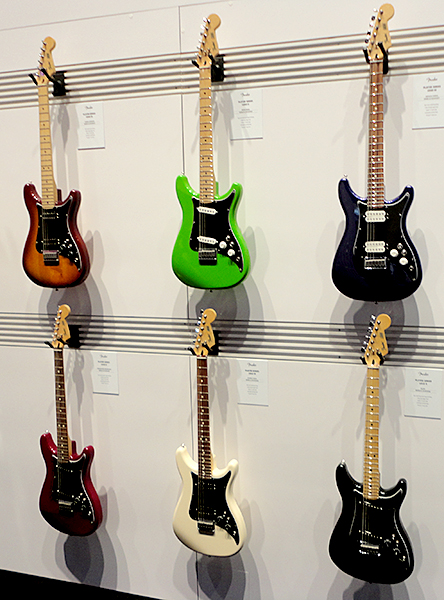 For us with a normal economy, Fender released the Lead I and Lead II. I remember these from the original launch way back when.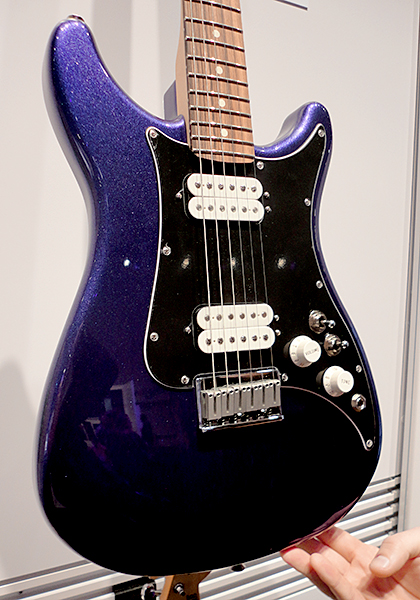 I really like the shape and the colour of this specimen.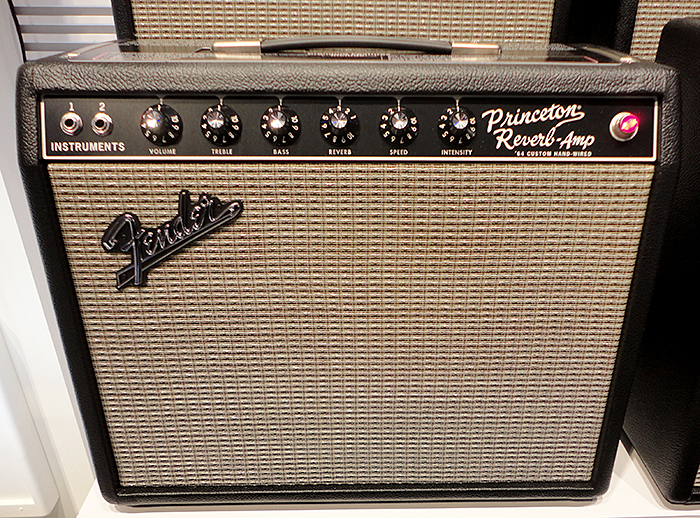 Among the amps I found this ´64 Custom Princeton Reverb-Amp hand-wired. Sounded great!
Fortin Amps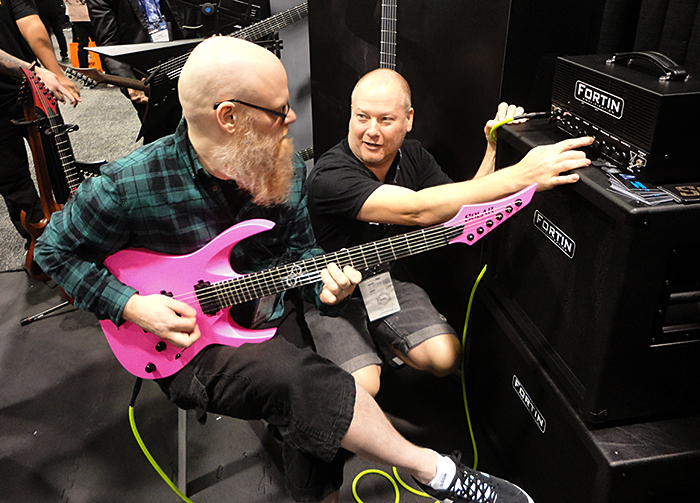 Jocke Skog from the band Clawfinger explains a lunchbox Fortin amp for a Swedish monster guitarist.
G&L Guitars
G&L must be one of the most underestimated and undervalued guitars on the market. Some G&L guitars I've tried has been exceptional instruments. I didn't get to try this guitar but it looks intriguing.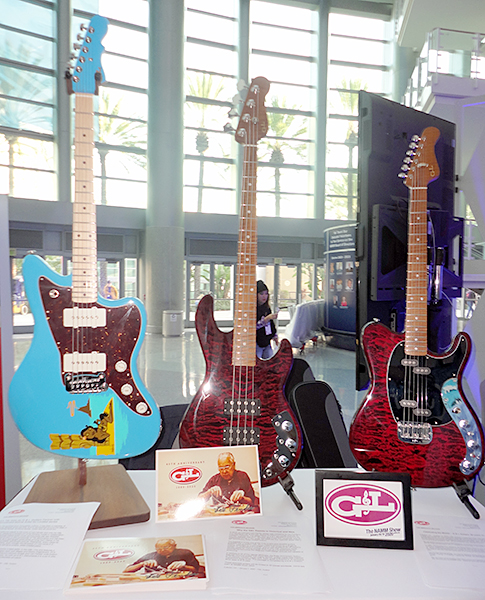 The spirit of Leo is watching the proceedings.
Gibson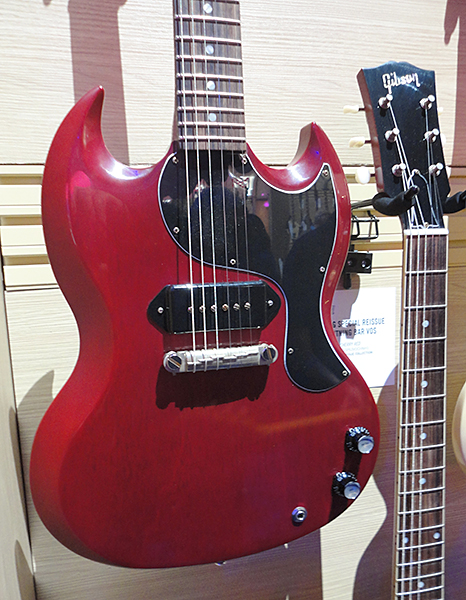 If Gibson came back with a bang last year, they really showed us this NAMM that they want to be a part of MI business for a long time and that they do listen to what the guitarist are saying.
The SG Jr has been requested so now it's a item in the Custom Shop price list.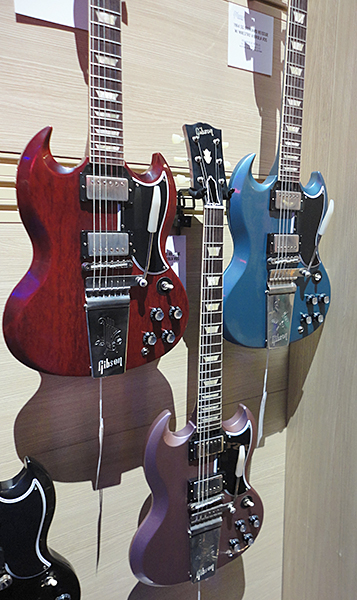 This 64 SG with the Vibrola is also now a part of the regular assortment of Gibson goodies. And, of course, you can get it in the traditional custom colours.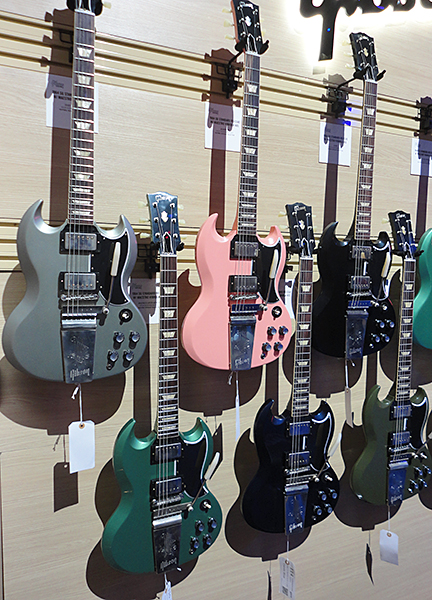 And may some not so traditional finishes.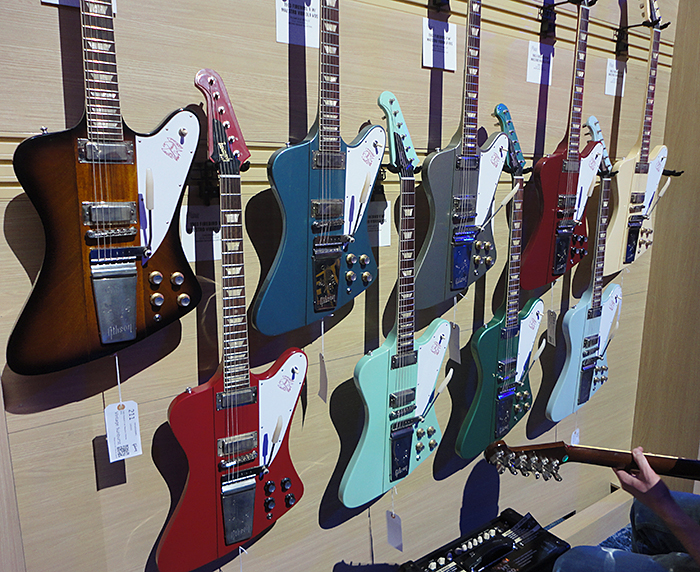 Same goes for the 1963 Firebirds. With the Maestro Vibrola and in custom colours.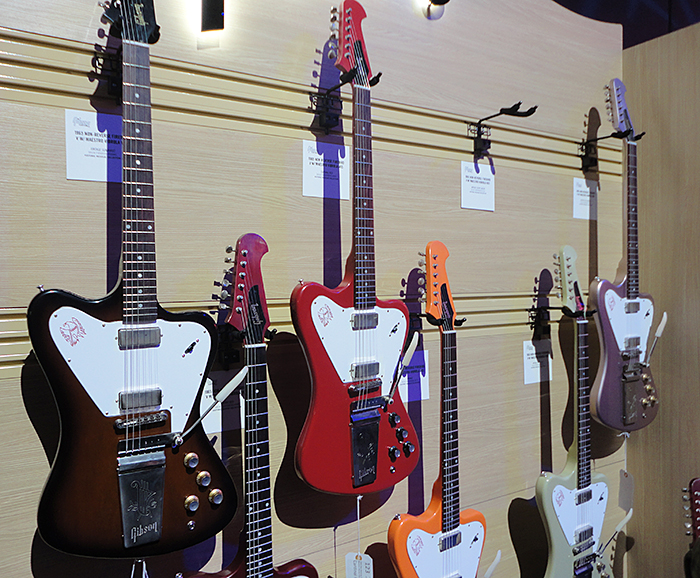 If a 1965 non reverse Firebird is more to your taste, you can get that too.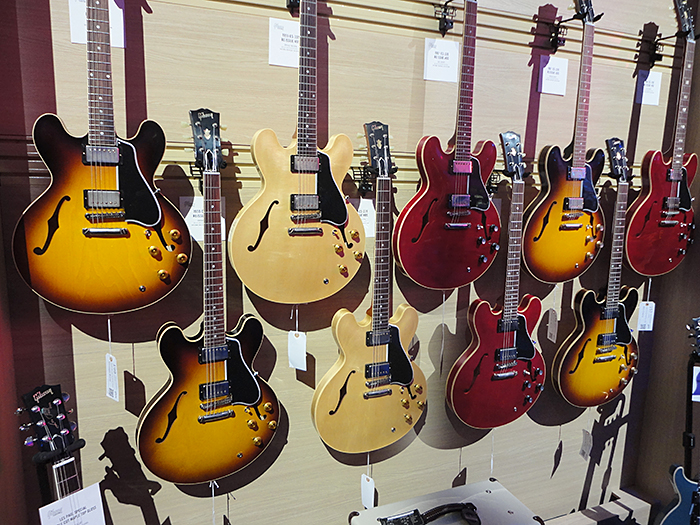 This part of the wall had me in joyful shivers. As a lover of ES-335 guitars, I got all my favourites here.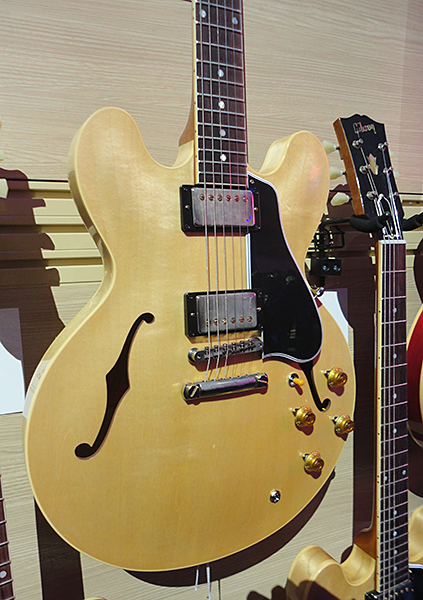 I tried this blonde dot neck and it was everything a 335 should be.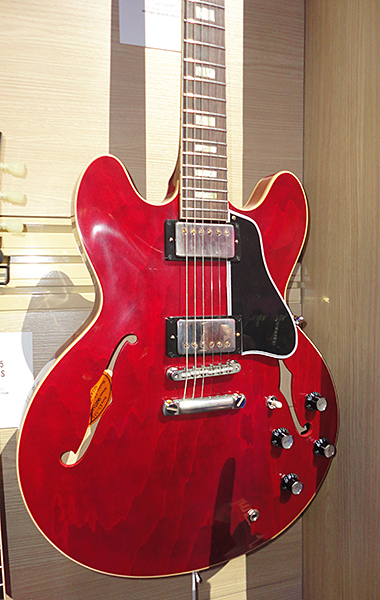 Then again, a block inlay in red is also very tempting.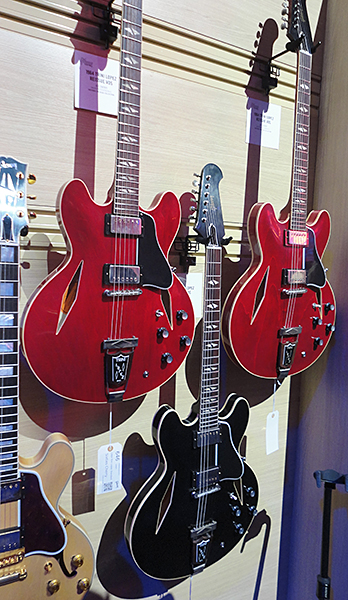 If you're into semi-hollow guitars but want a different vibe, here's the Trini Lopez for you.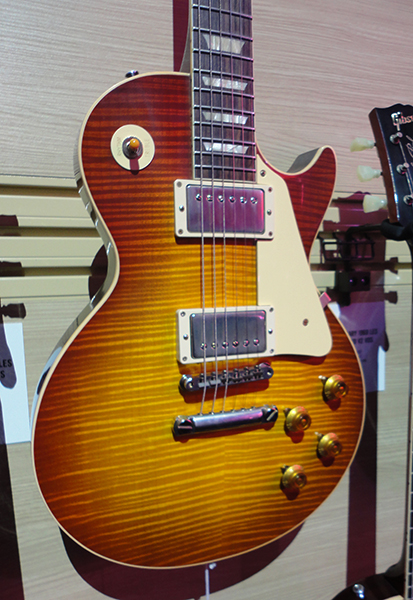 Now, this is interesting! It's the 60th anniversary of the 1960 Les Paul Standard. The interesting bit is that Gibson knows that the neck shape of the LP in 1960 changed quite a bit as did the sunburst finish. So Gibson is now offering three different versions of the 1960 LP Standard. This LP above is the V1 with a neck sahpe identical to the 1959 model. After trying all three versions, this was my clear favourite. I love the sunburst here.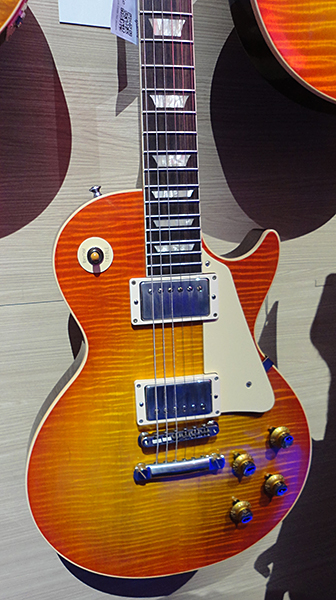 This is V2 with a somewhat slimmer neck and more red in the finish.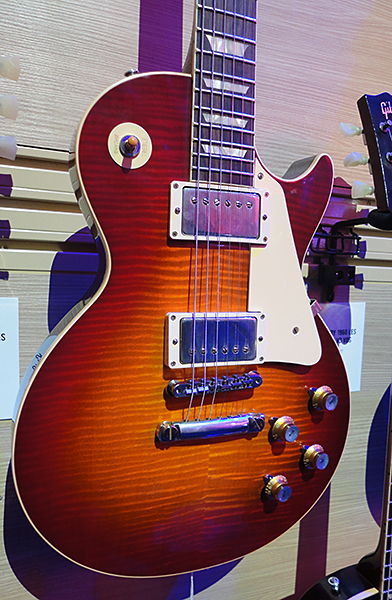 And, finally, V3 with the famous slim 60s neck profile and a darker burst.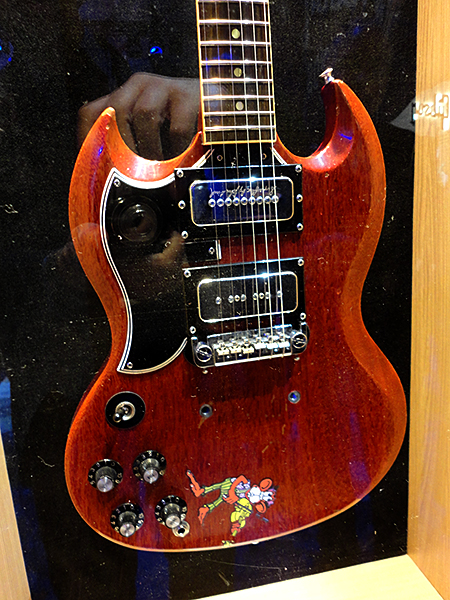 Gibson also likes their recrations of famous artist guitars. This is the Tony Iommi Monkey.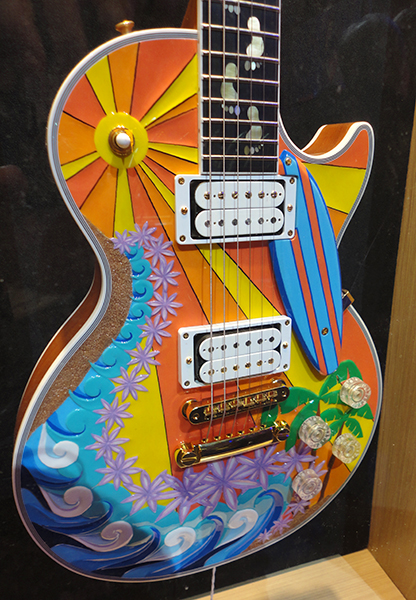 The top of this LP with a surf theme is completely hand carved by an artisan at the Custom Shop.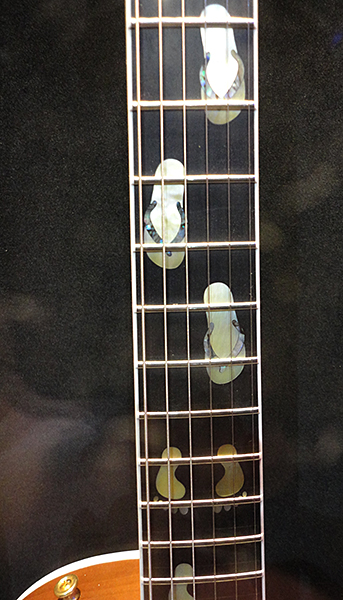 The surf theme starts at the top of the fretboard where you first have flip-flops and then go bare foot before you reach the surf board pick guard.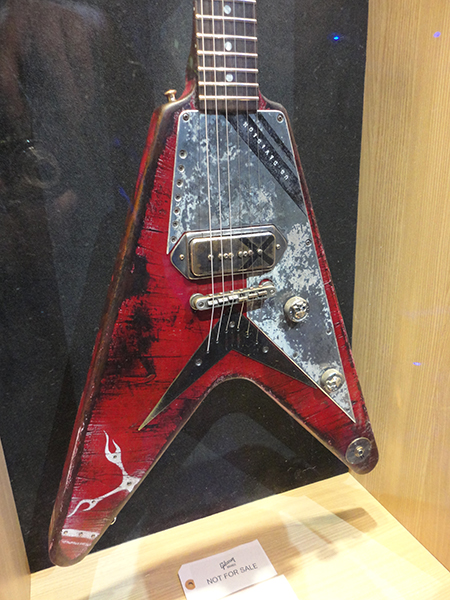 This Flying V was made by an artist and is a one off and not for sale.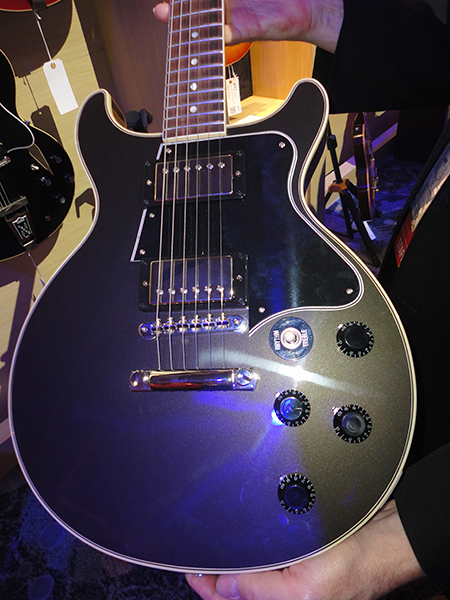 The Les Paul Double Cutaway is probably one of my favourite guitar body shapes ever. And this somber and elegant gray sparkle finish makes this the guitar James Bond would choose. It would match both his smoking and his Aston Martin.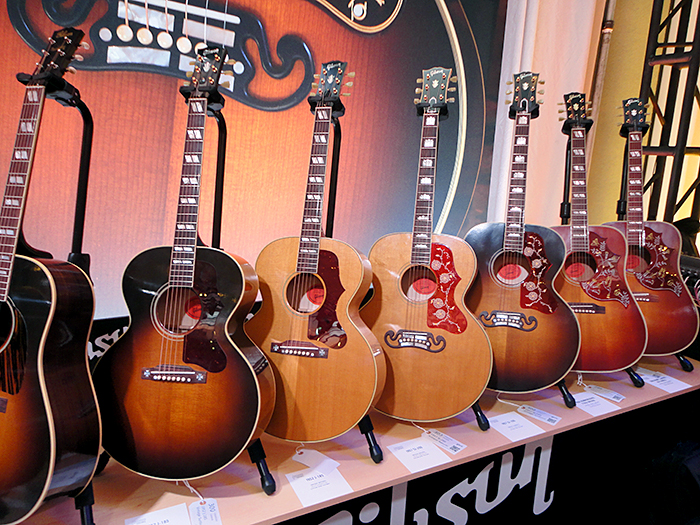 Let's not forget that Gibson also make nice acoustic guitars.
Another famous Gibson style acoustic.
Gold Tone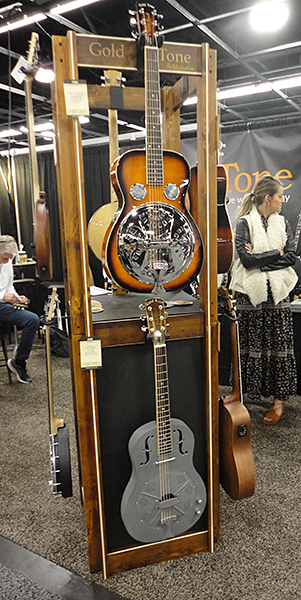 Resonator guitars are fun!
Gray Guitars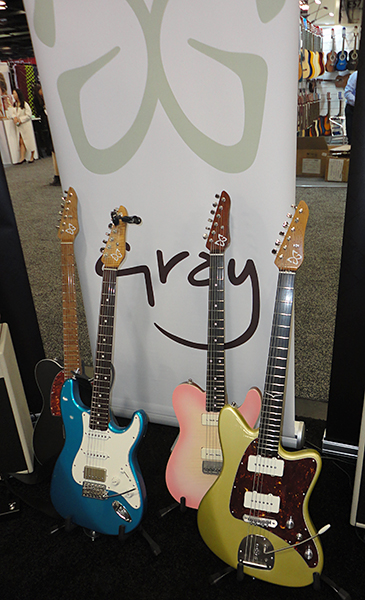 I have seen Gray Guitars on the Internet but had until this NAMM not had an opportunity to play them. Now I did and I must say that there is really no need to go to the US to find first rate luthiers. The blue Strat style is up there with the best of them and sounded absolutely fabulous.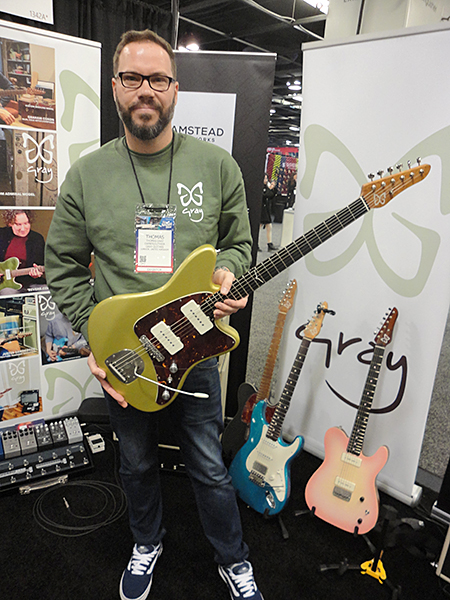 This gent is Thomas Gray, the man himself holding one of his babies.
Gyrock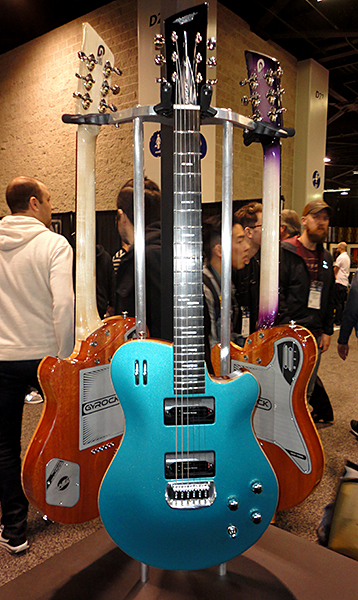 Gyrock has this interesting concept where the pickups are mounted in a round device. This device can then be turned so that you can easily change pickups using the levers seen on the upper bout.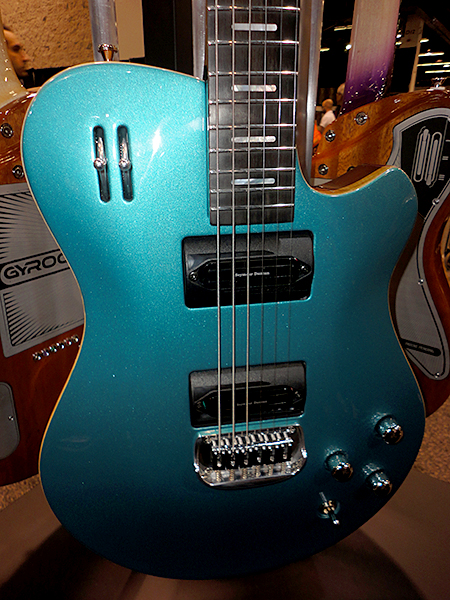 You can mount three pickups in each pu position.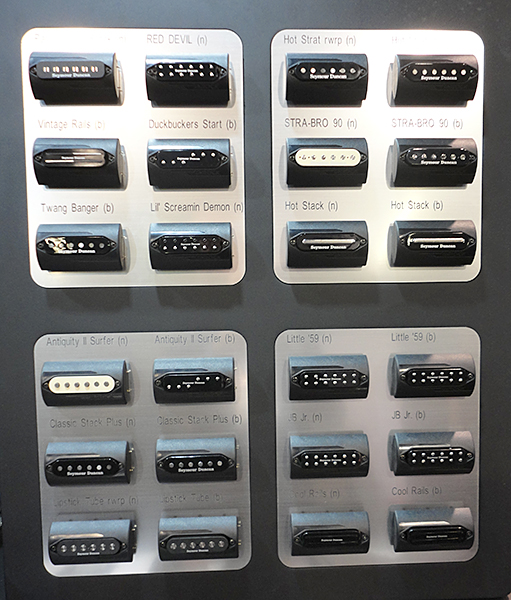 You can get almost any type of pickup you want from Seymour Duncan.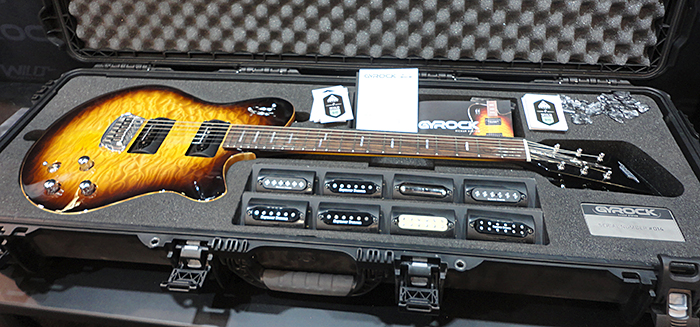 The complete set in a sturdy case.
Hagström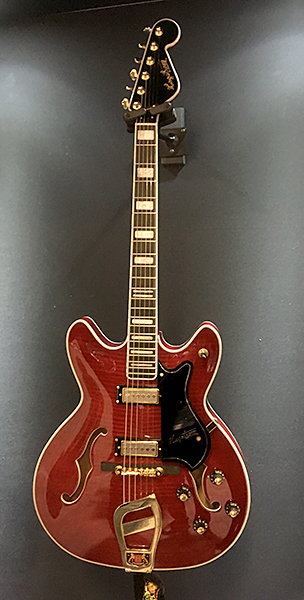 Hagström has now released the Elvis model. This guitar will be used in an upcoming movie about Mr Presley.