Winter NAMM 2020 - part 4
LsL Instruments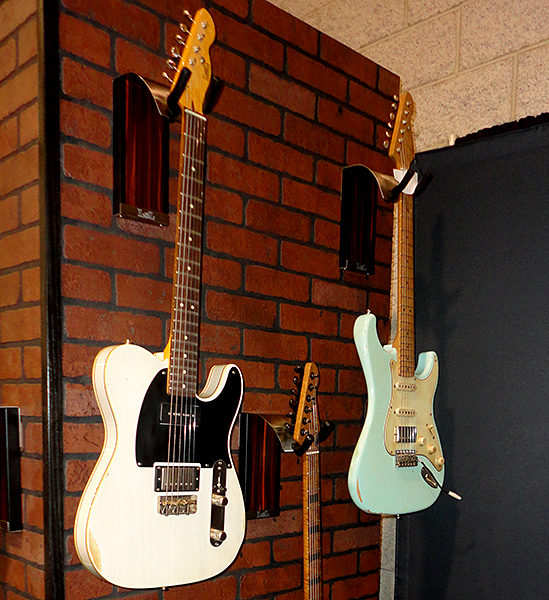 Many years ago I met Lance Lerman of LsL Instruments when he displayed at NAMM for the first time. Back then LsL made vintage style bolt-on guitars with a Fullrton design heritage but the guitars were so ridiculously good and his prices so good that they left most of the competition way behind.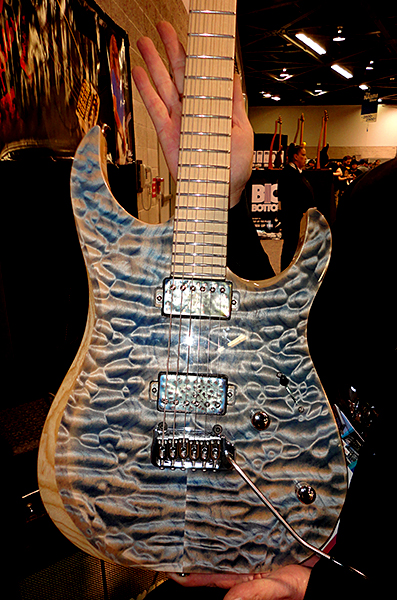 Since then LsL has expanded their offerings to include guitars with a more modern design and features. Like this one here.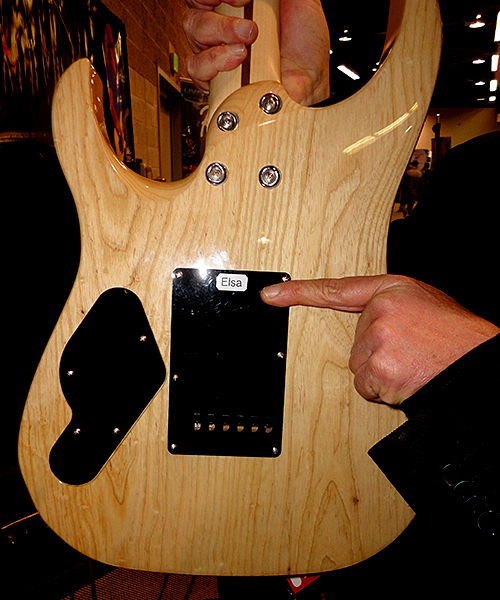 As you can see it has a modern bolt-on design. Lance names all of his guitars. Say hello to Elsa, everyone!
Mad Professor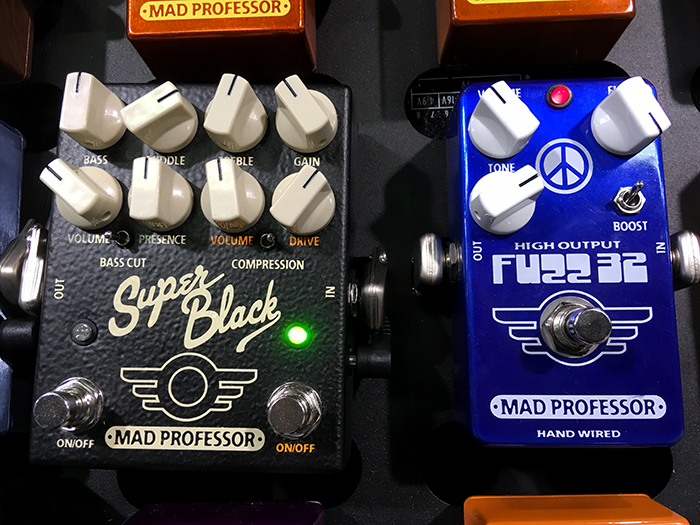 Finish company Mad Professor premiered their Super Black and FUZZ 32 pedals. According to spokesman Hari Koski , the interesting thing about the Super Black is that it contains a blackface circuit plus a a drive section. The demo sounded quite convincing.
Maegen Wells Mandolin and Guitars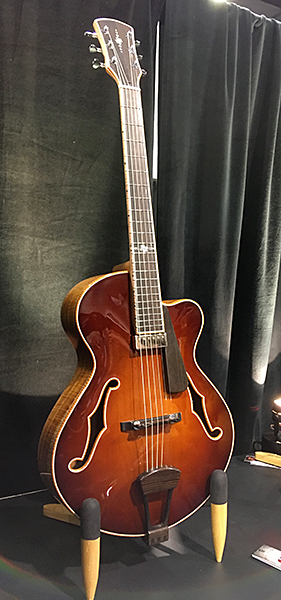 Also located in the Boutique Guitar Showcase, I found Meagen Wells' beautiful archtop. For some reason this guitar keeps haunting my dreams.
Malinoski Guitars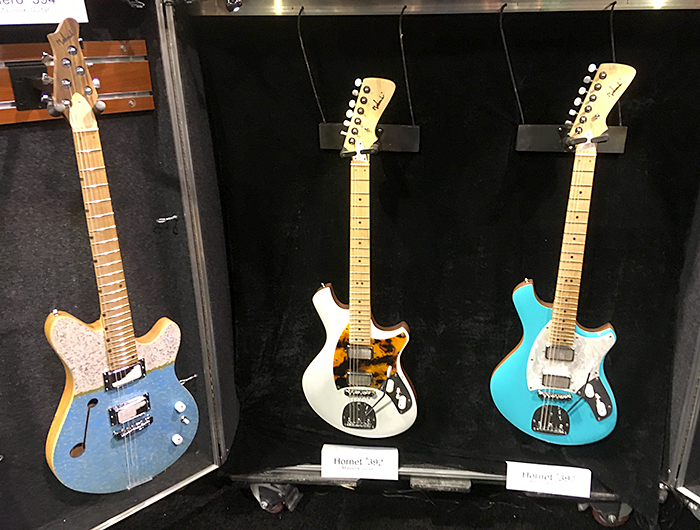 The best way to describe Malinoski guitars are "wacky & wonderful". If you ever have the fortune to meet Peter Malinoski, you will soon see that the guitars reflects his sense of humour. Mr Malinoski is also wonderfully generous with his time and knowledge. I always leave him feeling uplifted.
Marchione Guitars
Marchione archtops definitely have their own thing going.
Martin Guitars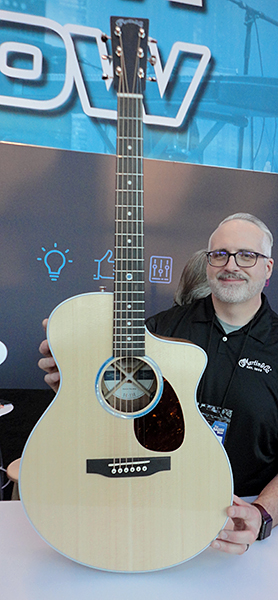 Martin showed a new kind of design called SC-13 e, aimed at the electric player. It's a heel-less design that make upper fret access easier as does the cutaway. It's a new body shape and a new neck profile shaped to feel more confortable and welcoming for palers used to playing electrics.
Martper Guitars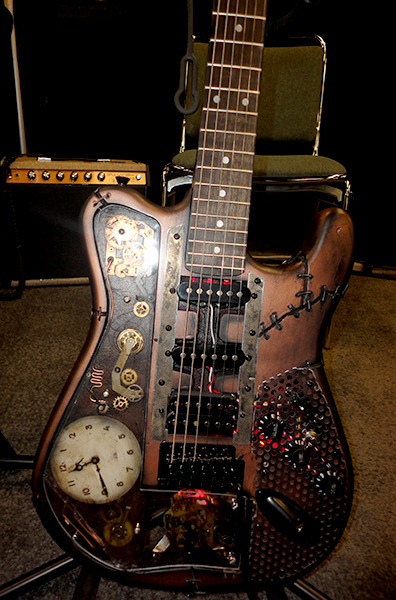 If you're into steampunk, you'll love the Martper instruments. Personally, I think these are among the coolest looking guitars at NAMM 2020.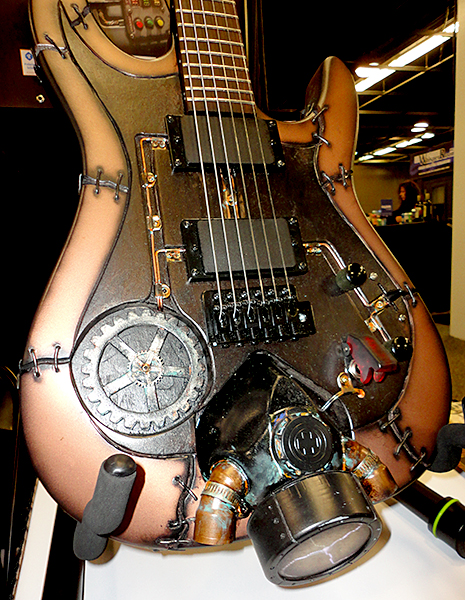 Another tricked out guitar from Martper.
Morley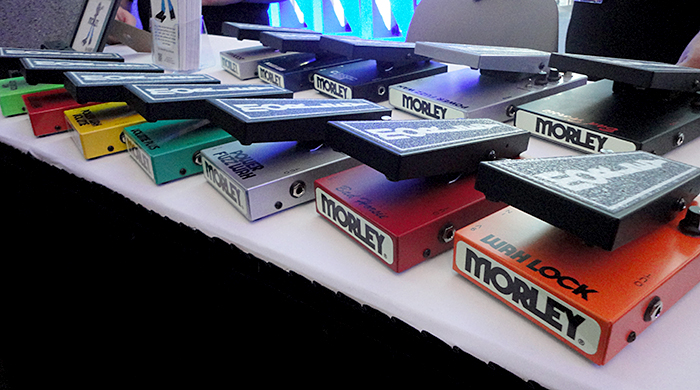 Tired of your black and boring wah pedal? Don't worry, Morley has got you covered!
NAMM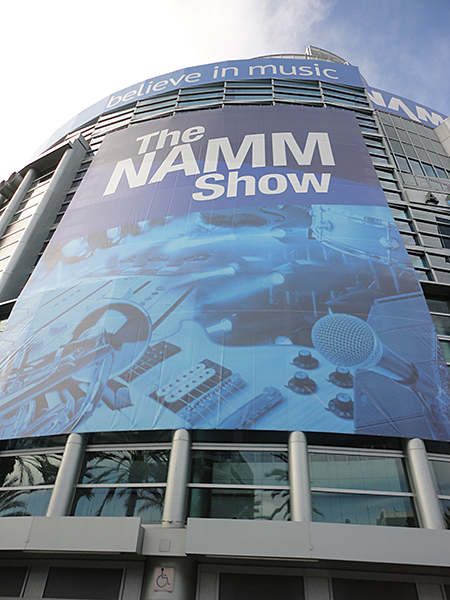 I feel I have to say something about the NAMM Show itself and the organisation behind it. COnsidering the size and scope of the show, it's amazing that it works as well as it does. I can't imagine how many people they have on the payroll during the show. Some of the people have been these for years and in the Media Center they actuall remember me and make me feel very welcome.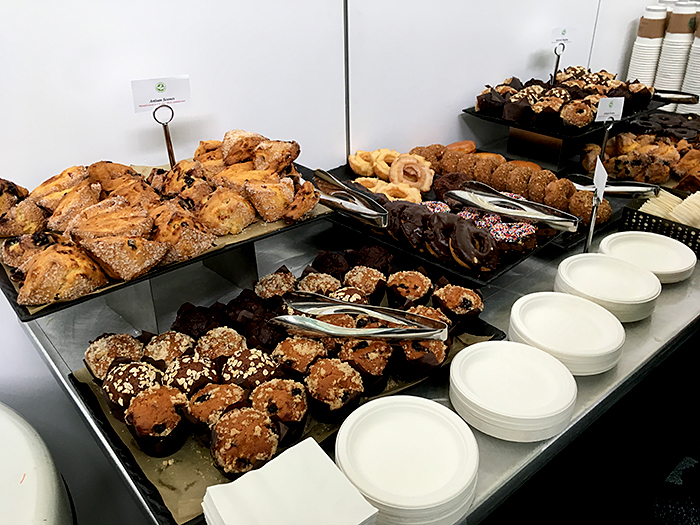 While on the subject of making me feel welcome, after a few years absence this year saw the return of the donut table. Living in a country (Sweden) where we don't have donuts, this is as close to sweet tooth heaven as you can get. Imagine starting the day sitting down with your favourite donut, a cup of tea (or coffe) and an issue of the NAMM Daily. It make me happy all day.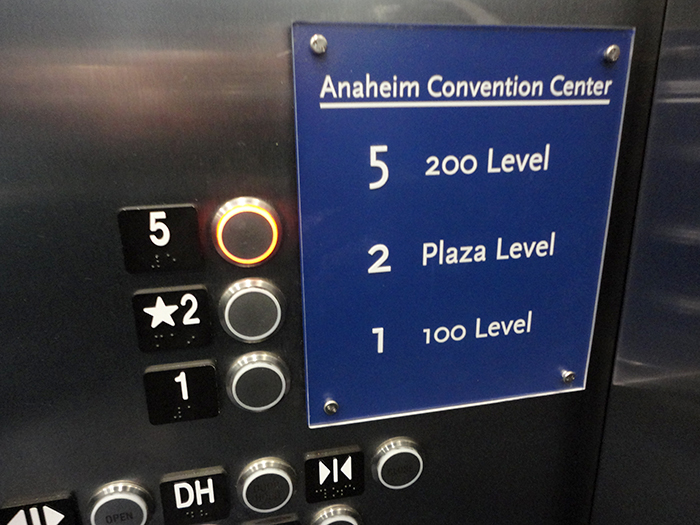 NAMM is also a place worthy of analysis of mystical thinking. Where did floors 3-4 go?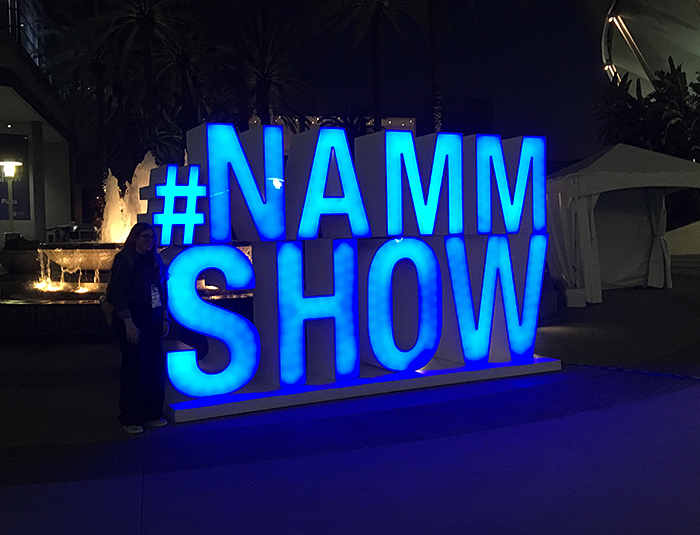 Leaving NAMM in the evening in pursuit of meetings, dinners, concerts or just puttning your feet up to be ready for the next day, I paased this sign telling me in no uncertain terms where I was and where I belong.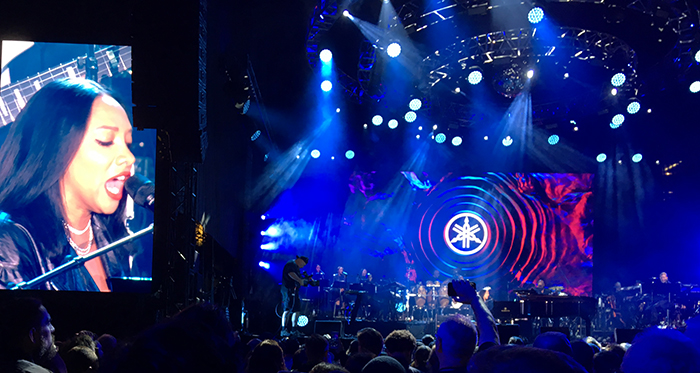 We were not only treated to culinary delights, but also to music of all kinds. In the evening there are numernous concerts at the hotals but also at the Grand Plaza Stage. On the Friday, Yamaha sponsored their annual surprise concert. A number of artists performed backed up by the the greatest "House band" in the world led by Nathan East and Greg Phillingaines. Tariqh Akoni played guitar with a wickedly funky right hand. Sahléa did a wonderful medley of Aretha Franklin tunes.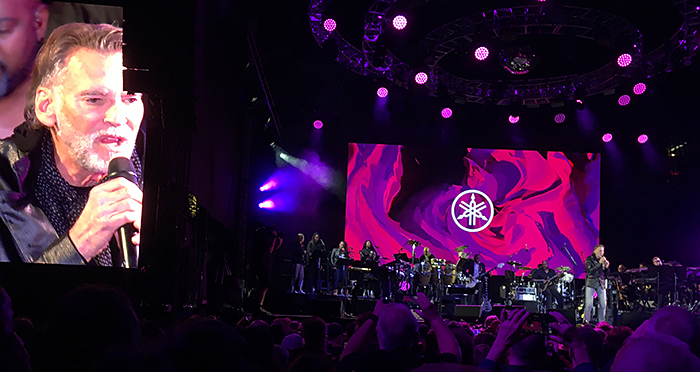 Kenny Loggins has long been on my bucket list so now I'm greatful to have checked that off. His voice is still strong and his songs really stand the test of time. I'd like to give a special mention to the female backing singer he brought along. You could tell from a great distance that she really was into it and brought a full musical positive energy to to the show.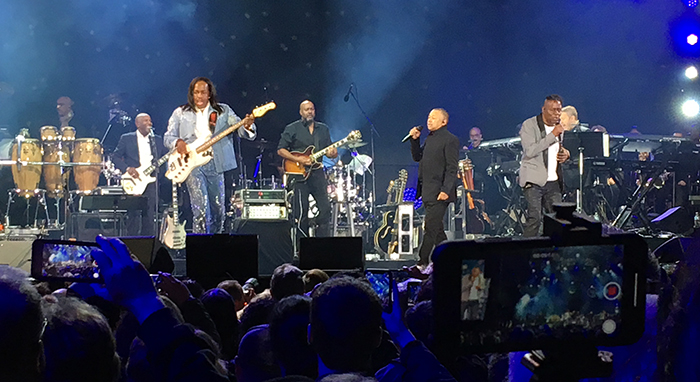 Last act for the night was what's left of Earth, Wind and Fire. The vocals are still there and Vardine WHite still amazes me with his ability to dance around and play bass at the same time.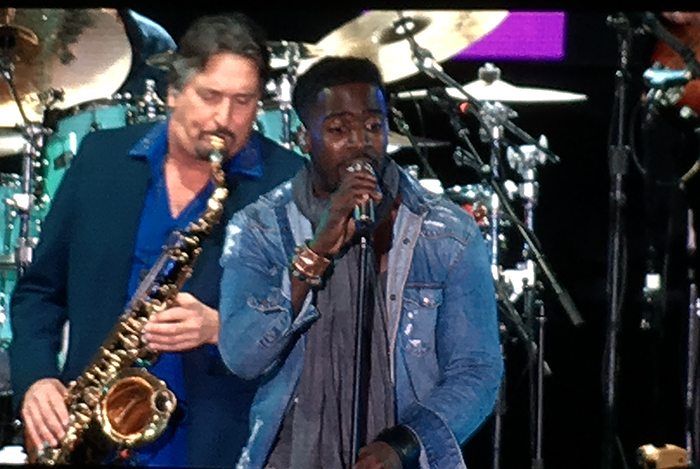 Saturday night at the Grand Plaza Stage saw the 50th anniversary concert with Tower of Power. It's very comforting to see all the "old guys" just blasting away and grooving along like there's no tomorrow.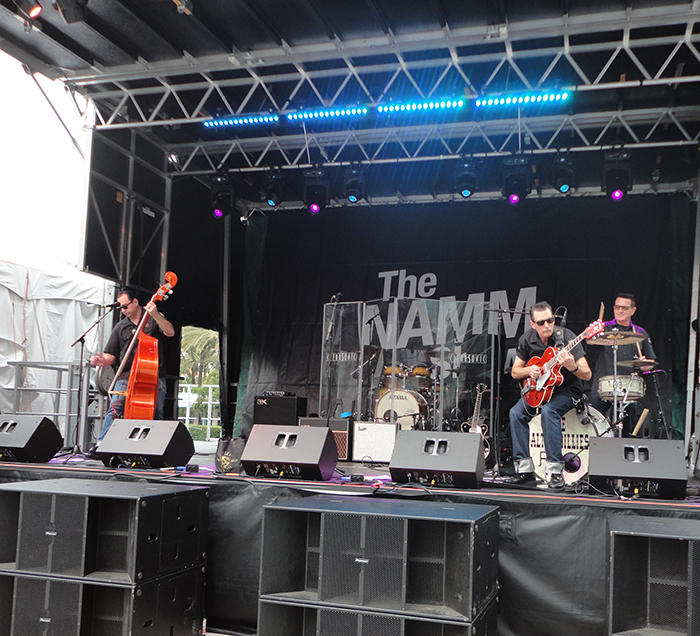 Closer to the exit at Katella Avenue, these's a smaller stage and on Sunday when I was leaving NAMM, I was treated to some swinging rockabilly.
Neural DSP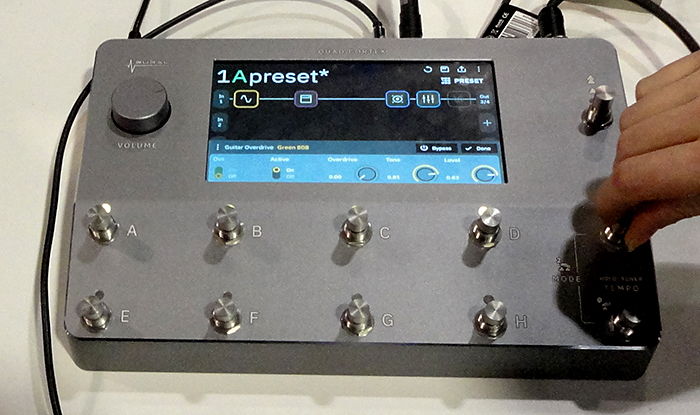 I have seldom seen such an interest in a product before a NAMM Show as with this Quad Core from Neural DSP. Unfortunately, Neural DSP did not have any finished product at NAMM to show what it will actually do when it hits the market. It looks good on paper but the demo units (which were few and you had to stand in a long line) were only able to do a basic configurations and some amps and effects. No presence of profiling at all. Amd almost all guitars were oriented toward heavy rock/metal playing, so for a traditionalist guy like myself, there were little to gain from the demo. I'll have to wait until it will be available.
Nik Huber Guitars
This year, Nik said he wanted to bring something new to NAMM so he brought a maple neck/alder body guitar. This was said with a sense of humour and he explained the design.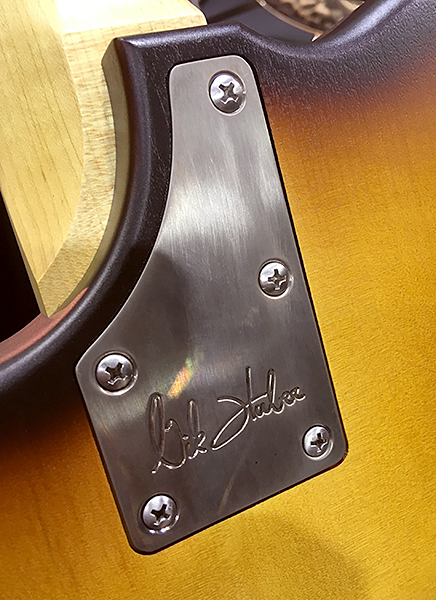 The neck joint is new with the recessed neck plate and easy access.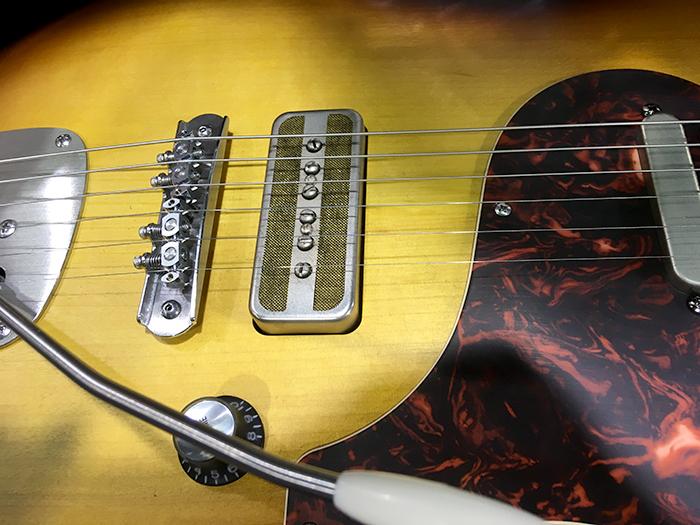 Nik asked pickup wizard Harry Heussel to build aP90 with a cooler look and this is the result and I love it. The vibrato is of the Jazzmatser variety.
Nutter Guitars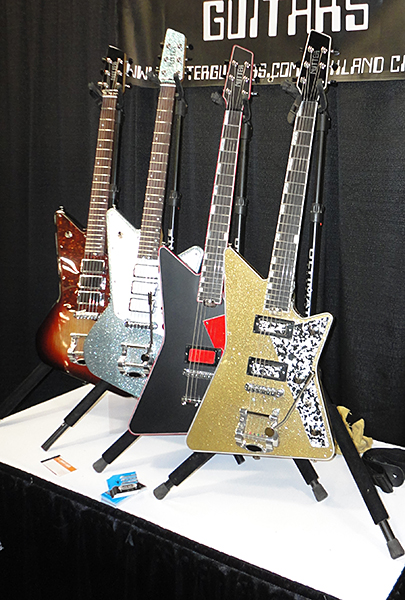 I used to watch The Jetsons on TV when I was a kid. These retro-futuristic designs make me remember that cartoon.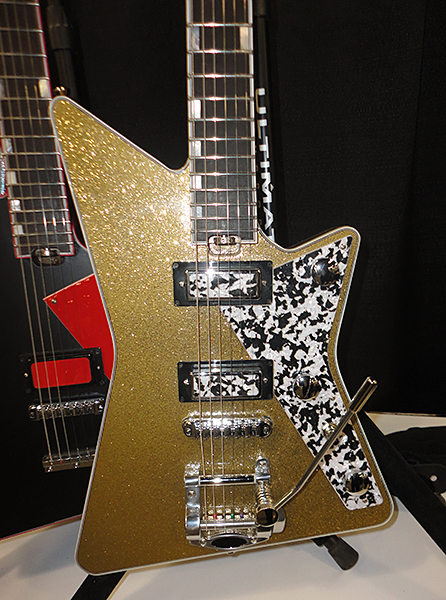 I think this design is absolutely great.
One Control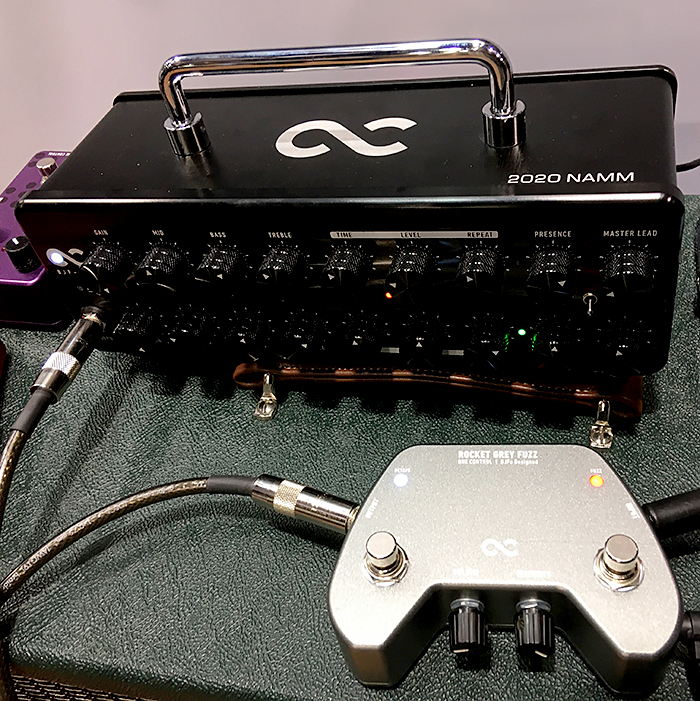 After the initial success of Björn Juhl's first solid state amp he decided to go for a second model based around a really big clean sound but also with a drive channel like a Marshall.
The Rocket Grey Fuzz is a lso new.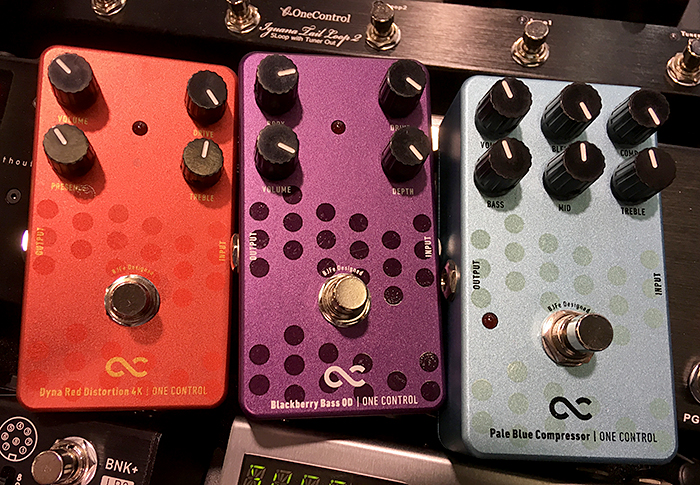 The Dyna Red Distorsion has received an overhaul and now works better with more types of amps. Blackberry Bass OD and the Pale Blue Compressor were also new offerings.
Ormsby Guitars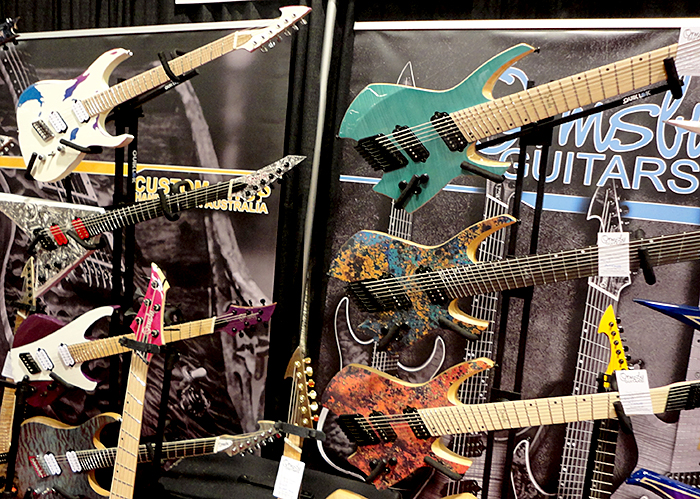 I have never seen as many Fan Fret guitars in any place as in the Ormsby booth. Many of them with more strings than I would know what to do with.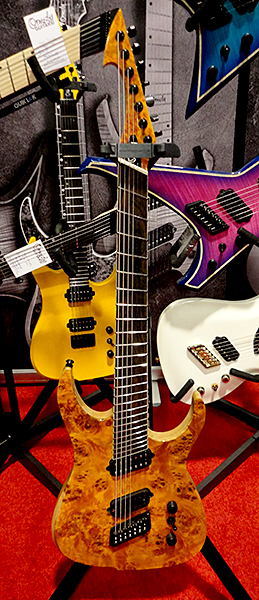 Having said that, this guitar certainly tickles my fancy and makes me wonder what I could do with it.
Output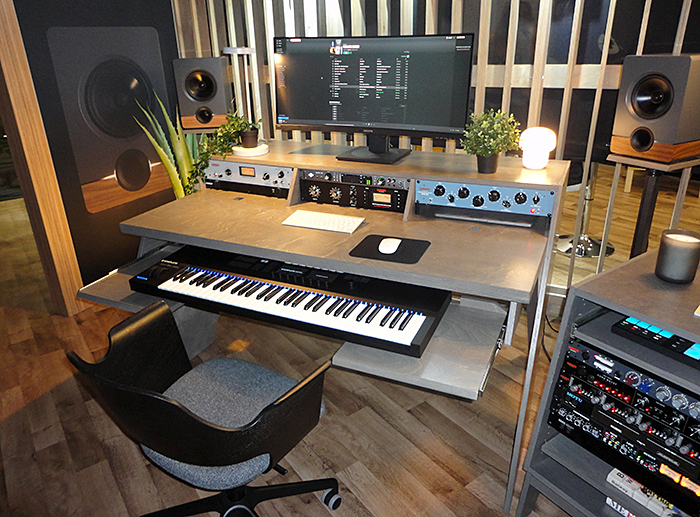 In addition to making very nice and creativity-inducing software instruments, Output also has a line of studio furniture at decent prices. This desk, called Platform, ticks all the boxes for me. This new grey finish looks the business and may well end up in the next version of my studio.
Paoletti Guitars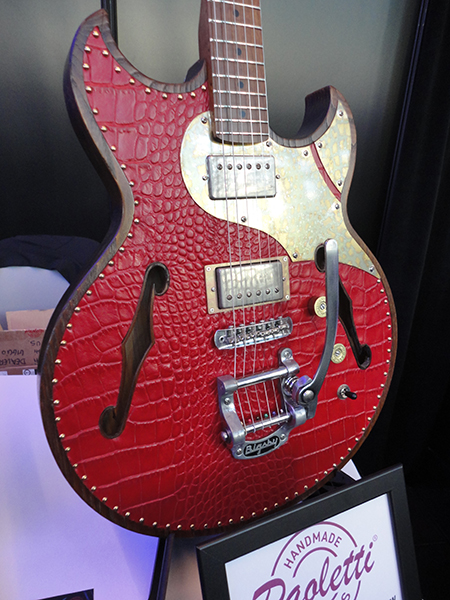 Italian guitar maker Paoletti has all these leather top guitars. They look really cool. feels good to play and sounds good. If you're located in EU, they are much easier to import than US guitars.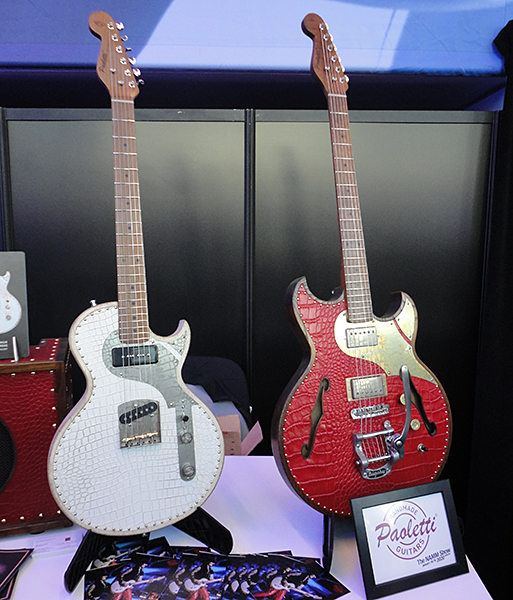 Two leather clad, spanking axes.
People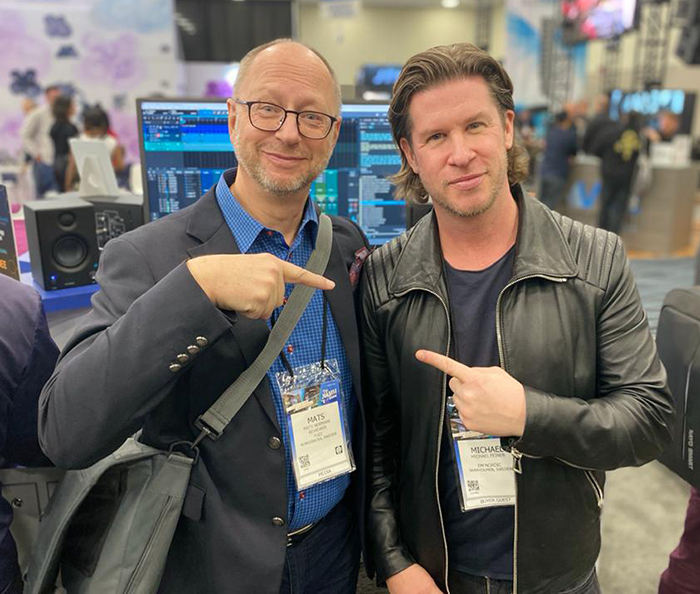 NAMM is definitely not only about seeing and trying out instruments. It's very much about meeting friends and making new friends. Composer and DJ Michael Feiner is Swedish and was one of my first customers when I got started in the MI business back in 1986. I was surprised and happy to meet him again. It took us less than 2 seconds to recognize each other.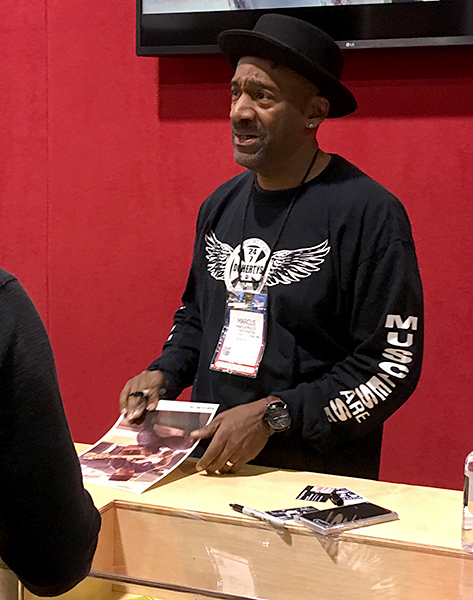 There's always a numer of famous musicians signing posters or other stuff. Marcus Miller is one of my favourite bass players.
Then there are so many not famous people that catches your eye. The way they dress makes it impossible not to notice them. This lady, I met on the escalator.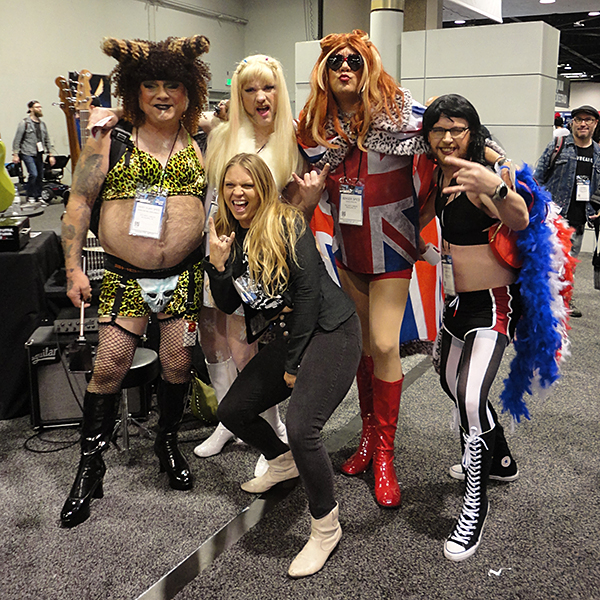 This group of ladies did not mind having their picture taken.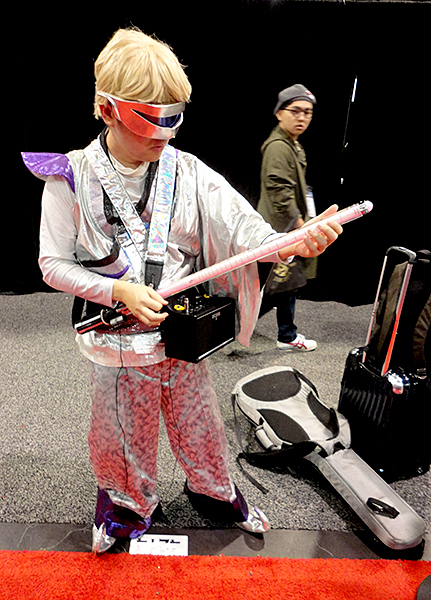 Kaptain Rock had traveled all the way from Tokyo to entertain us with his one string laser sword.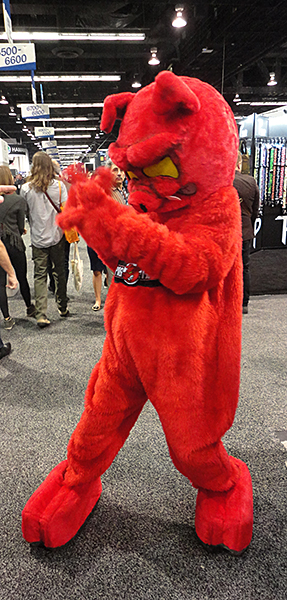 If space travelers are not far out enough for you, you could always socialize with a red pig.
Piano Arc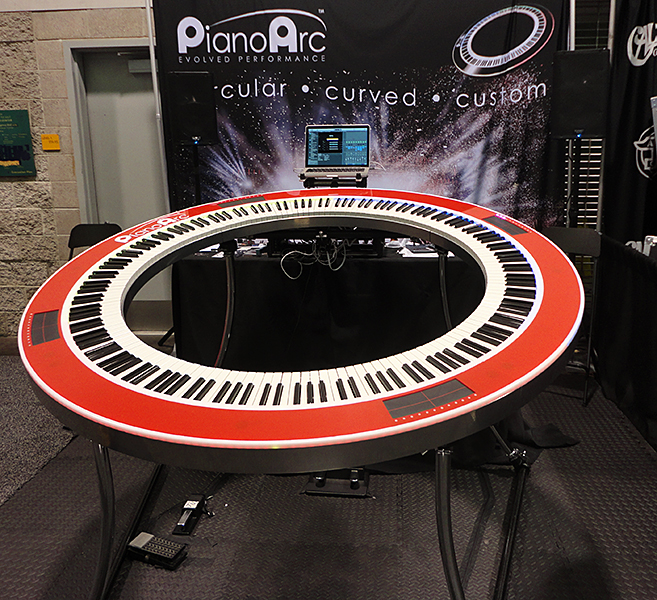 Performing on a round stage and think it's rude to turn your back on the audience? Then this Piano Arc keyboard controller is for you.
PreSonus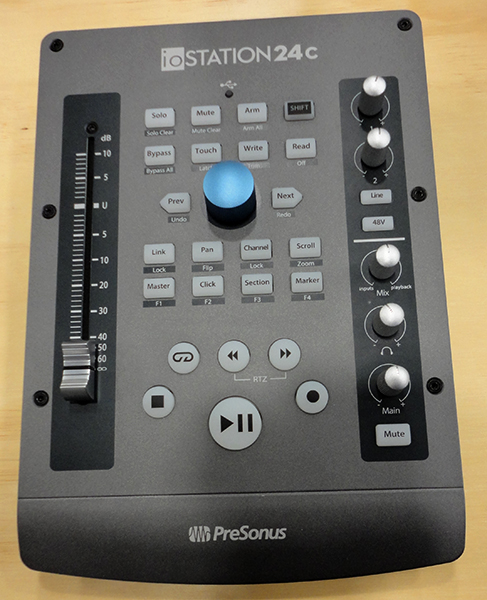 I think PreSonus is the coolest of all the companies that make studio gear for the average musician with an average economy. The Studio One DAW is my favourite as it is so fast and easy to work with. There's so little that hinder your creative work flow. They also come up with the coolest products to go with the software, like this brand new ioStation24c. This is a combination of a DAW, controller, moving fader, audio interface and monitor controller. If you buy it you get a license of Studio One Artist at no extra charge. All you need in one small box with an amazingly small price tag for what you get. I teach Music Production at a music school and this is the obvious choice for my classrooms.

For the studios that want the highest grade of audio interfaces, PreSonus now has expanded their range of Thunderbolt interfaces with the Quantum 2626.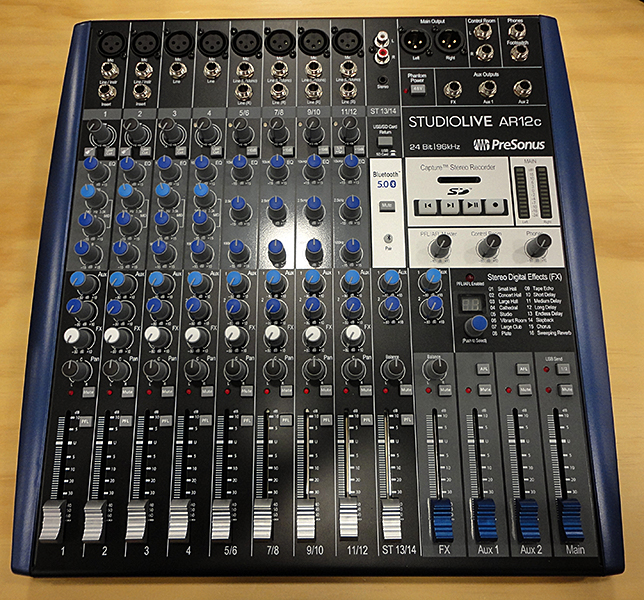 In their range of StudioLive mixer they have this AR12c analog mixer. It's a 14-channel mixer with a built-in USB-C compatible audio interface, new digital effects section and a stereo SD card recorder. Also available with 8 or 18 channels.
PRS Guitars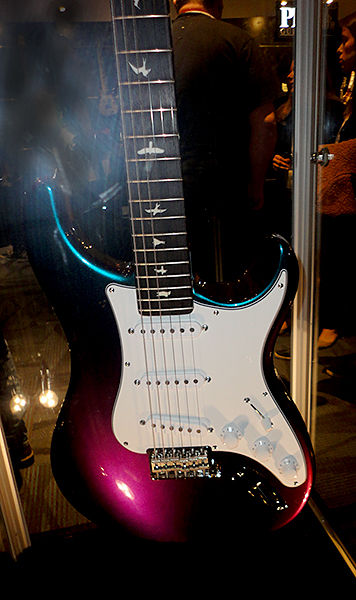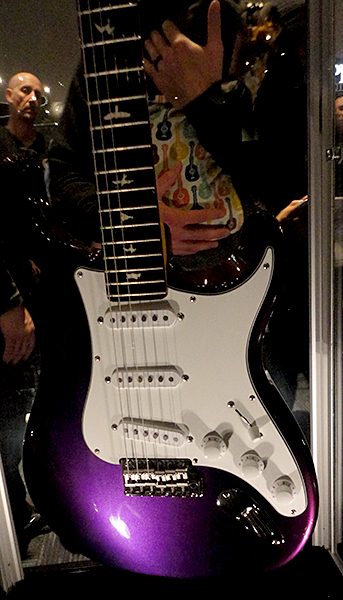 The PRS Silver Sky in a limited edition in a Nebula polychromatic finish, i.e. it changes hue depending on how the light hits the guitar.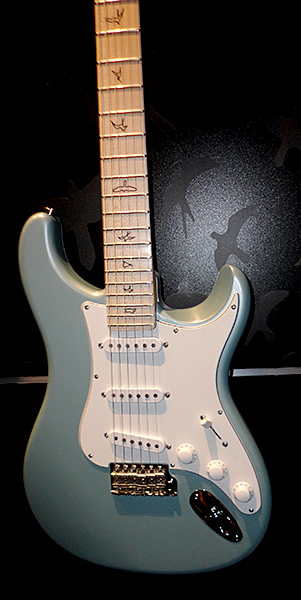 New at NAMM 2020 was the Silver Sky with the maple fretboard. Fretboard is laquered but the back of the neck is matte. Before NAMM 2020 it was easy to decide to get a Silver Sky as my next bolt-on, but now I have to choose between rosewood and maple. Hmmmmm!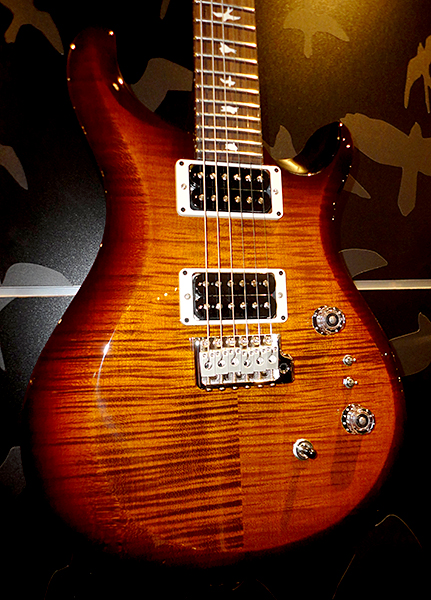 PRS has always been known for their wood tops. This 35th Anniversary S2 Custom 24 has a very nice tigh curl in the maple top.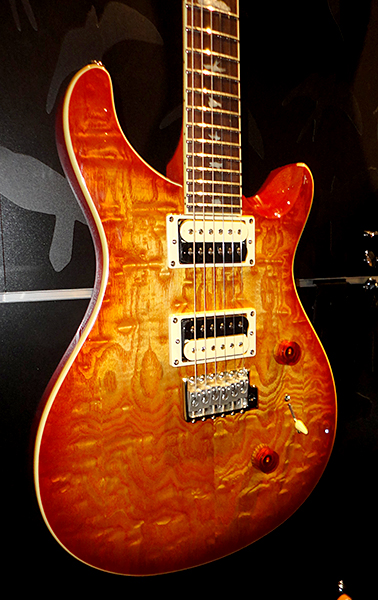 This is the SE Custom 24 Burled Ash.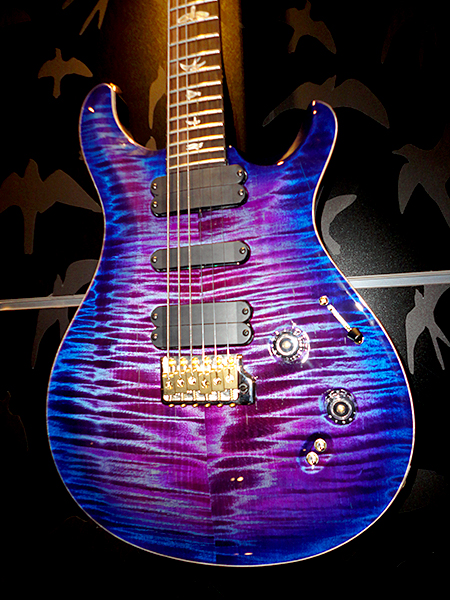 A PRS 509 in Violet Blueburst. Great all round instrument!