Winter NAMM 2015
Rockett Pedals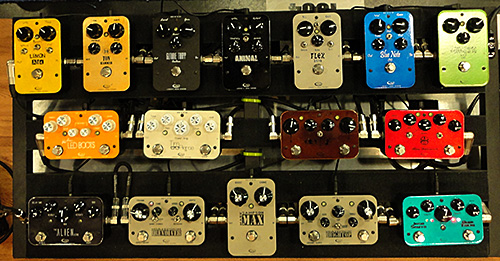 I haven't yet tried a Rockett pedal I didn't like. My Flex Drive is still on my main board since many years.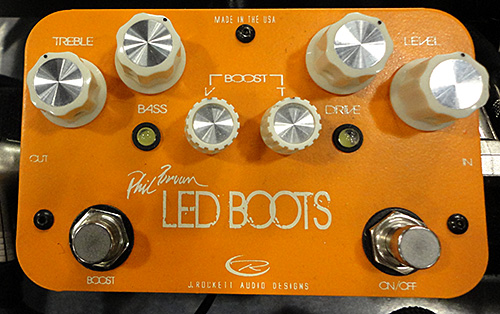 One of the most underrated and tasteful guitar players of our time according to me is Phil Brown. Therefore I think it's very appropriate that he gets a signature pedal. The name Led Boots is a clear nog to Jeff Beck and the pedal sounds very much like a fat Marshall. Raw and smooth at the same time. The boost can be used separately and the two knobs makes it more versatile than most. From what I gather, it works very well with vintage style single coils. Very cool pedal that may end up on my board.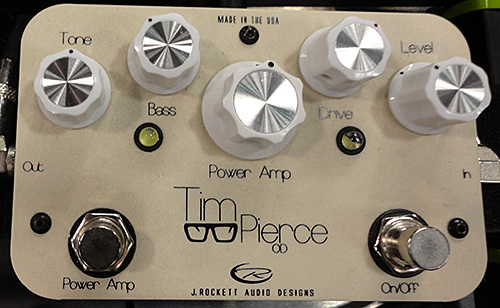 Studio ace Tim Pierce also has a signature pedal from Rockett. The boost is designed to emulate the power amp in a Naylor SD60.
Rocktron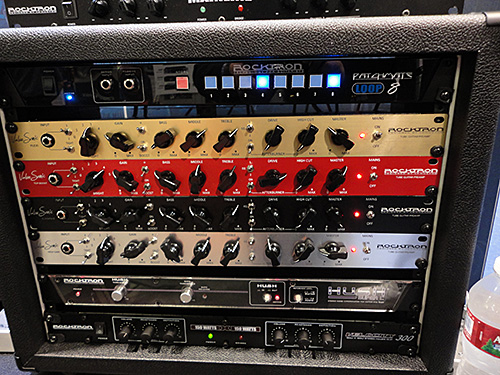 No less than 4 new tube preamps from Rocktron. One is a Fender/Dumble, number 2 is a Marshall style , number three a Vox and number 4 a Boogie. Having used and enjoyed Rocktron products extensively over the years, I'm very interested in checking these out when they hit the market.
Roland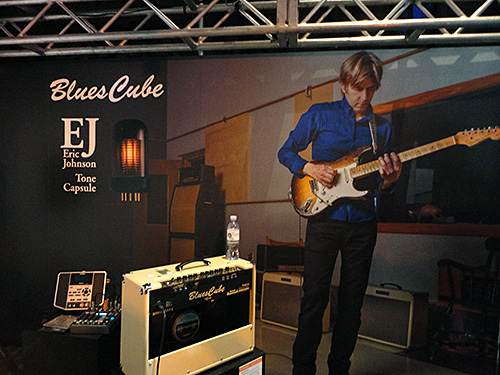 Roland presented an interesting surprise. The Eric Johnson Tone Capsule. Tone exprt Eric J has collaborated with Ronland to make the EJ Tone Capsule which, when mounted in a Roland Blues Cube, will reconfigure the inner workings of the amp to give you Eric's clean Twin in one channel and the Marshall (used on his famous Cliffs of Dover tune) in the lead channel. You may think that it's impossible and that THAT tone sits in Eric's fingers. Well, when I heard the demo it sounded pretty darn convincing to me. Some say that the amp plus the Tone Capsule is too expensive. But even more so is the combined cost of a vintage Twin and a vintage Marshall. Now I want to see a Larry Carlton and and a Brad Paisley Tone Capsule!!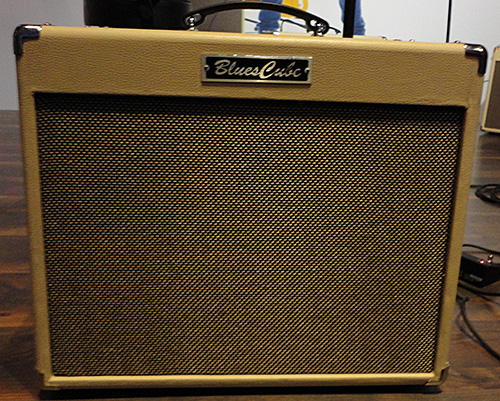 The amp in question.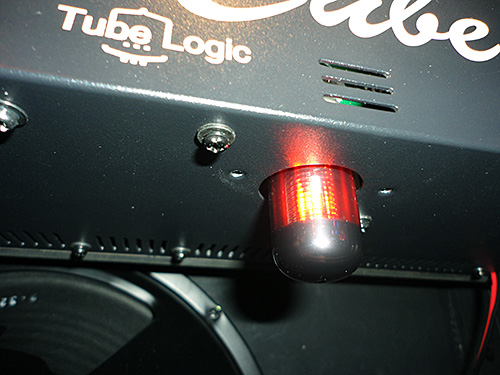 And the Tone Capsule.
Sadowsky Guitars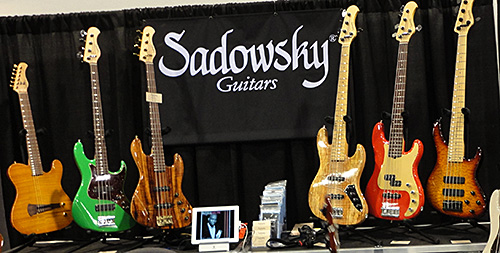 Sadowsky basses with an electric nylon string to the left. I'd love to have one of those.
| | | |
| --- | --- | --- |
| Roger Sadowsky is also known for his jazz guitars. | | |
Santa Cruz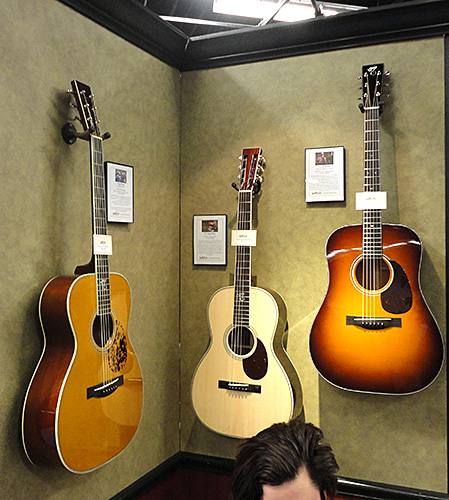 I tried a Santa Cruz guitar once. It had a huge price tag but was sounding heavenly. I went home to see if my wife would be ok with taking out a new mortgage on the house to finance the guitar. She said if I did it would be time for a divorce. So I haven't brought it up since. I haven't tried another Santa Cruz since then either, to ward off temptation.
| | | |
| --- | --- | --- |
| If I was to tempt myself again, this would be the guitar to do it with. No, I didn't try it but I heard other people play it and it sounded oh so good. | | |
Schecter Guitar Research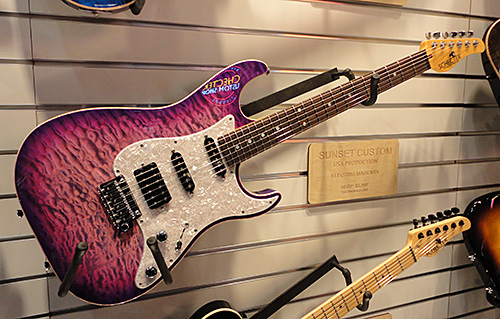 Schecter was the first brand I heard of way back then that made replacement parts and also put together guitars of those parts. Thus the first custom shop. This custom shop Schecter shows they still have it.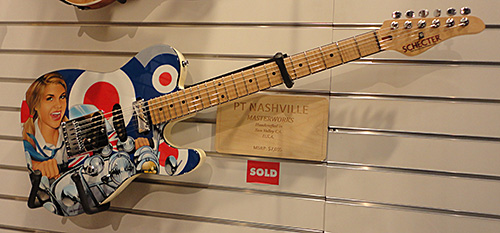 A fun tele style guitar with the same pickup configuration as used by Brent Mason.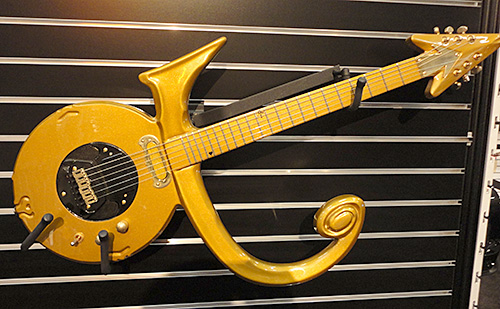 Schecter once made a guitar in this shape for Prince.
Shredneck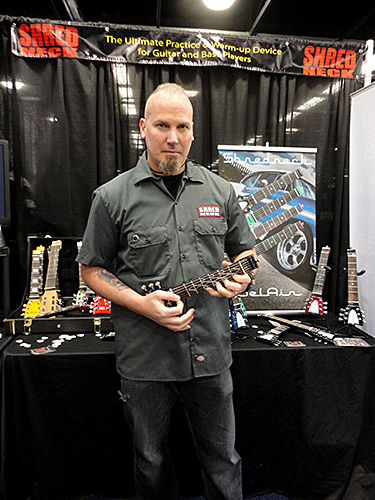 Practice silently and/or in crowded places? Then your answer may be a Shredneck As the name implies it's a short neck you can use to practice.
| | | |
| --- | --- | --- |
| If you can deal with something sligtly bigger in size you can get the guitar or bass that you can plaug in and amplify. | | |
Singleton Guitars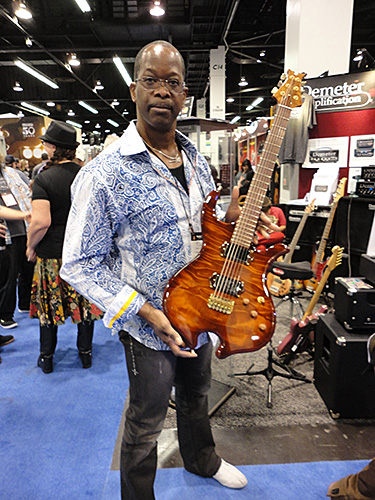 Luthier Touch Singleton showed some very nice hand built instruments. Here's Touch is holding his new model, the hollowbody Mantra. Personlly I would like to try his Triune Créme model.
Slaperoo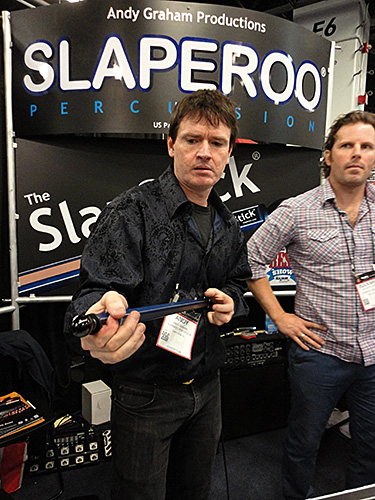 I have no idea how play this Slaperoo nor in what musical circumstances to use it. But everytime I see it being demonstrated, it just looks so much fun that I almost buy it.
Soul Tool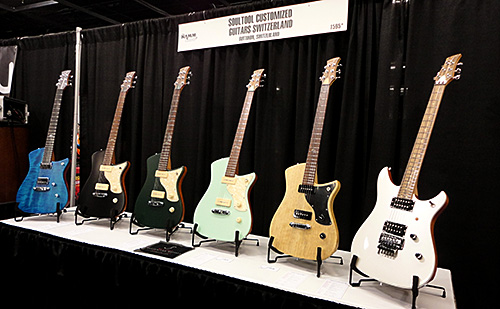 From across the ocean comes Soul Tool from Switzerland.I tried some of their instruments at the Holy Grail SHow in Berlin and I liked them. The cross between a Tele shape and a Les Paul shape appeals to me and was very comfortable to play.
Source Audio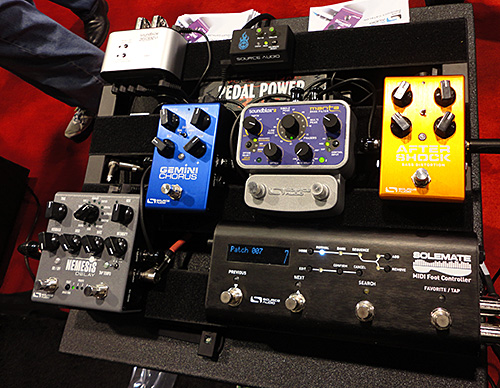 Source Audio was one of the most forward thinking pedal makers at this NAMM.

Their pedals are all equipped to be switchable for their new switching system.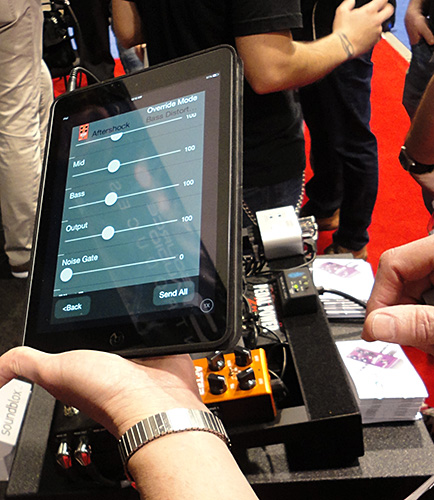 They are also equipped with an USB connector so you can deep edit them using an iPad.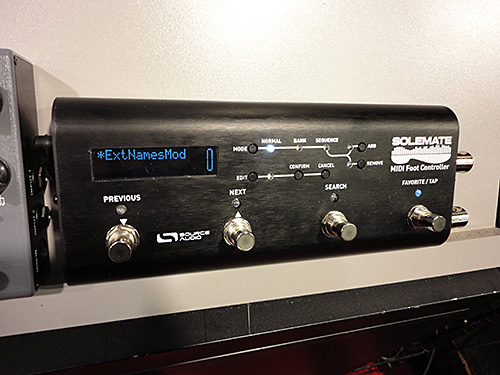 With this compact controller you can control the new switching system consisting of either Sound Source pedals or your old pedals connected with a new kind of inexpensive controllable loop. Cool and flexible concept.
Spectrasonics
| | | |
| --- | --- | --- |
| | | This man is one of my industry heroes and probably responsible for triggering my creativity many, many times. Meet Eric Persing, owner of Spectrasonics and sound designer extraordinaire. What few people know is that Eric also was the main programmer for Roland for many years. What even fewer people know is that Eric produced an album for the Icelandic fusion band Mezzoforte which is a great album. |
TC Electronic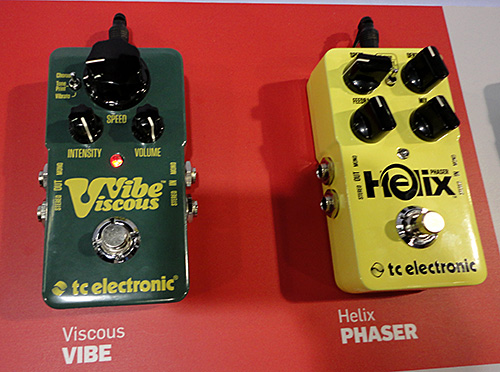 Two new pedals from TC Electronic Viscous Vibe and Helix phaser. According to Tore of TC they used the entire processing capacity to produce one great Vibe. I heard it and it works for me. The Helix will hopefully make players aware of the fact that there are more phaser sounds than what EVH used on Eruption.
Thomas Nordegg
One of the most knowledgable and enthusiastic people you can hope to bump into at NAMM is Thomas Nordegg. He's the guitar tech of choice for Steve Vai and DweezilI Zappa to name a few. He's working on a special guitar and his beta tester is Steve Via. The guitar is named after himself so it's Thomas.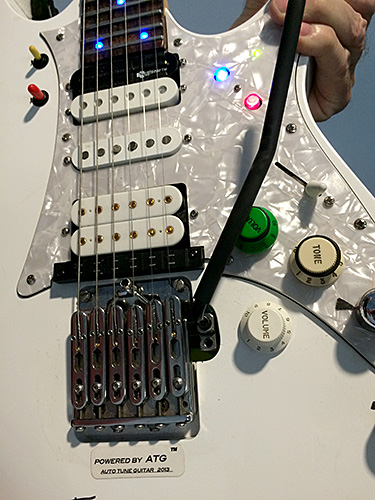 The guitar has all sorts of musical gadgetry built into it. But the first thing to catch my eye was the Linnear Tremolo by Don Ramsey. This works exceptionally well with the hex pickup as it always keeps the strings at the same distance from the pickup.
Then there's the Sustaniac. The hex pickup feeds the Antares Auto-Tune tuning and virtual guitar system.
| | | |
| --- | --- | --- |
| There are controls on the body slightly below the neck pickup to control the LEDs on the fretboard. | | |
| | | |
| --- | --- | --- |
| | | The back of the guitar shows all the electronics including the pack for the Line 6 wireless system. Not much wood left in this guitar. |
| | | |
| --- | --- | --- |
| The headstock features Ned Steinberger tuning keys and a special nut. | | |
Tom Anderson Guitarworks
I have admired Tom Anderson's work for years and years. I keep coming back to his booth every and his instruments are just getting better and better.

This year I found myself in a design discussion with Tom and he thought I should get the red guitar to the left. Who would have thought? It played beautifully!
Tone Bakery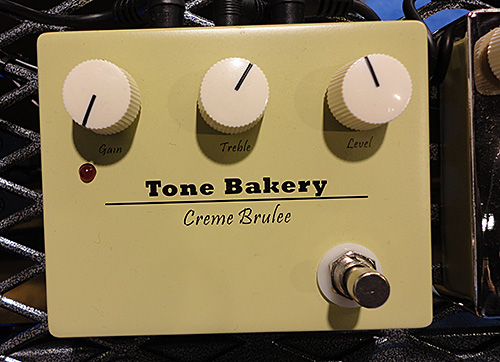 I love a good Creme Brulee and I love good guitar tone so this seems like just the right pedal for me. I've tried it and I do like it. It's like a very good boost comparable to the Klon. Some like this better.
Tone Lounge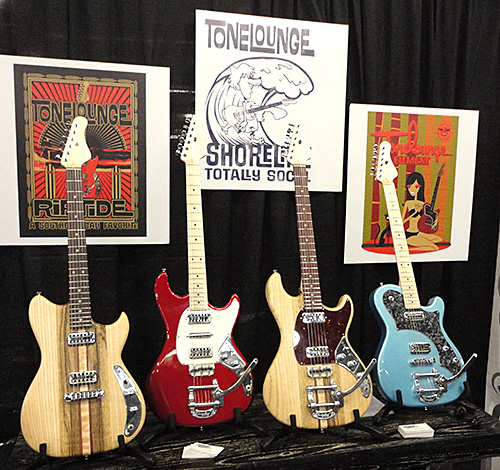 When Brian Swerdfeger is relaxing from his job as president of PBG, he builds guitars. These are his creations and the red one spoke to me. Lipstick and Filtertron in a good mix.
Trussart Guitars
| | | |
| --- | --- | --- |
| I'm hoping that one day I'll be bringing this home with me. Ever since I saw the first Fender Harley Davidson being built in the Fender Custom SHop I've wanted a Trussart metal body Strat. | | |
| | | |
| --- | --- | --- |
| | Two other nice instruments from Trussart's workshop. | |
Two-Notes Engineering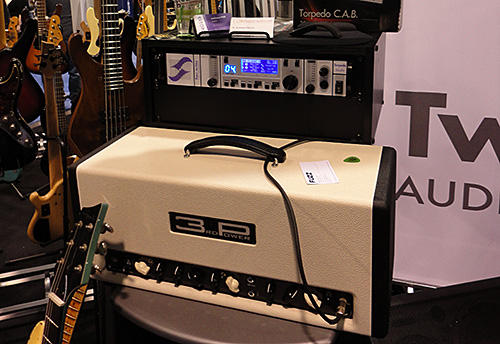 A 3rd Power Dreamweaver Top into the Torpedo Studio. It doesn't get better than this!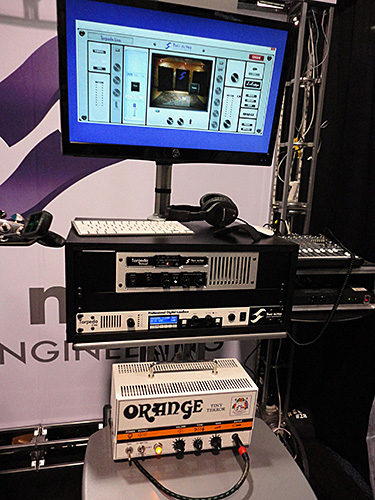 They had this rig setup as a reamping situation. The visitors could play back a clean track from the DAW and then experiment with the Orange amp to their delight. I tried and had loads of fun.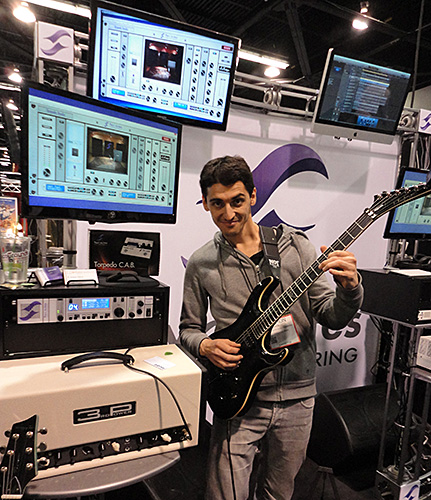 Simon did some nice playing at the booth.
| | | |
| --- | --- | --- |
| Two-Notes CEO and designer Guillaume Pille. Watch this space. He has some tricks going on! | | |
Wishbone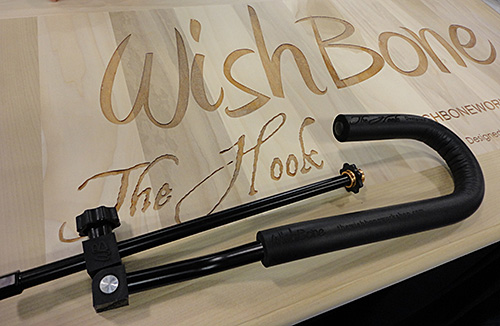 The Hook is a mike stand that makes it easy to mike your amp.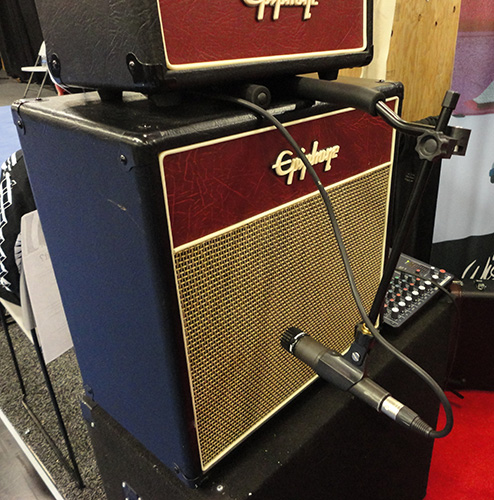 The Hook in action. Youn use the amp handle or a head on top of the speaker to keep the Hook in position. Or you can put the Hook on the floor with the amp/speaker on top to keep the microphone in place. Very practical!
Wooly Coats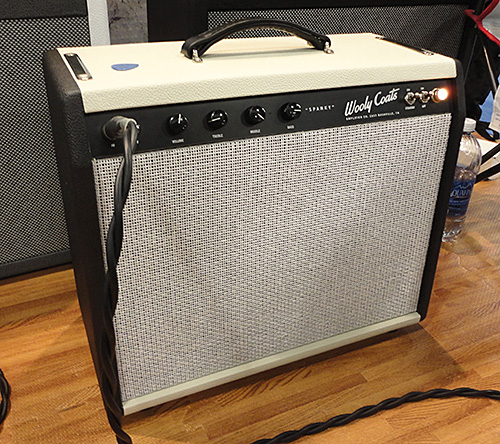 Wooly Coats is a new amps series by amp designer James Scott, the guy behind 3rd Power. This series is amied at a different player with different requirements. Very stylish and straight forward.
Yamaha
Yamaha can't fit in a regular booth so they rent an entire ballroom in the Mariott Hotel.

This year we saw even Yamaha jump on the gold foil band wagon with this good looking Pacifica. P90 and a gold foil may be an interesting combination.
Zematis
| | | |
| --- | --- | --- |
| | | The Zematis barnd is alive and well. At least from looking at the display in the Zematis booth. You have you choise of a metal top, or ... |
| | | |
| --- | --- | --- |
| ... abalone inlays in the top. It's all up to you and your wallet. | | |
The end
The NAMM Show is , once again, over and I'm back in Sweden with all the snow and the cold. I already want to return to California. I really enjoyed this NAMM but then again, I always do. The people, the music, the gear, the learning, the weather and the food. What part of that would you not want?
Thank you for being with me for my remenicing of this show and I hope you think it was time well spent. If you have the chance to attend NAMM, then by all means do so. If you keep an open mind, the place is brimming with experiences of all kinds. If you see me there, stop me and say hello!
Cheers,
Mats N