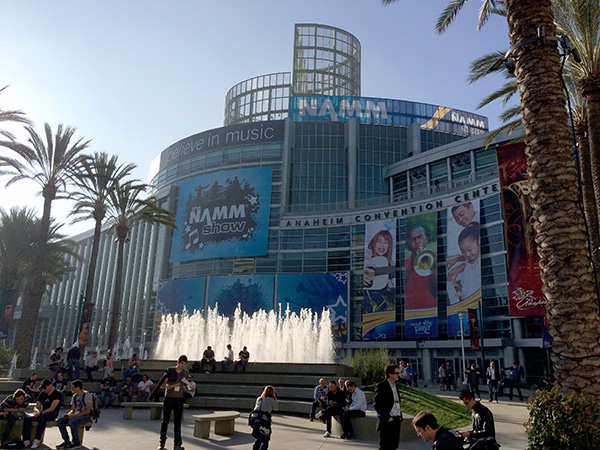 NAMM 2015
- a relaxed show with lots to hear and see
Back in Anaheim for yet another NAMM show. What I really like about Winter NAMM (apart from the great weather) is how unpredictable it is. I never know who I will meet, what music I will hear, what I will learn or what new cool products I will see. It is, however, a fairly safe bet that I will meet some really cool people. Some who are by now friends and some new wonderful people. I will definitely hear some great music. Learning new things is a sure thing if you keep your ears, eyes and mind open. And gear? Well, that's why we all come here. There are reputedly some people who seem to be here only to make money, but I seldom meet them.

Every year there are some organizational changes as the NAMM organizers are constantly trying to improve the NAMM experience. This year they had a central and very efficient set up for getting your badge. Quick and painless. For some reason there are very few ins and outs from the main building. Loads of doors but most of them manned by staff telling us we can't exit here. And for us media people there was a minor letdown. No donuts in the Press Center. As we don't have donuts to speak of in Sweden, my Thursday morning donut has always been a milestone in my culinary year plan. Having said this the NAMM people and convention staff I dealt with were either corteous or fun but mostly both. We had a great time at NAMM.

As always I have my usual disclaimer here in order not to offend anyone so please read.

This personal report should bee seen as my very own point of view and does not reflect the wiev and/or opinions of any other person or company of which I may be associated either through my work or in these pictures. If you find any faulty information in this report please e-mail me at mats.n[at]nermark.com.

I have placed the products in alphabetical order for your convenience. I also have divided the report into 5 sections. Otherwise the load times would be problematic.

Please also accept my apology for any language errors as English is not my native language.

Let go to the show and have fun!

You can either go directly to the report below which cover the entire acreage of the NAMM Show or you can start by watching the Hall E Crawl video. Yes, the infamous Hall E Crawl is back after a hiatus. Enjoy!

3rd Power Amplification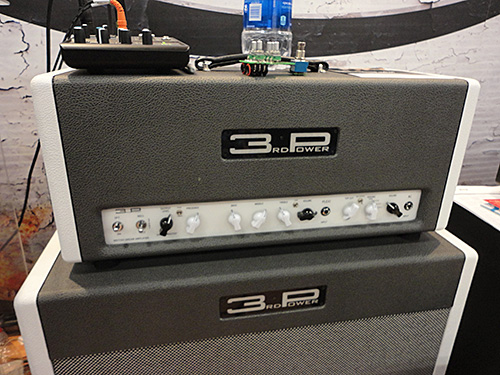 I have seen 3rd Power at some previous NAMM shows and been impressed. But this year I really got into them and they are superb amps. Good sounds and good looks. The Dreamweaver is one of my 3 favorite amps at NAMM this year.
| | | |
| --- | --- | --- |
| | | Designer and general cool guy, James Scott of 3rd Power, talks passionately about his amps. |
Allparts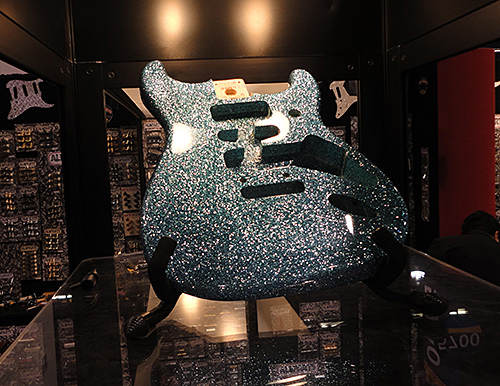 I have a weakness for the glittery and bright. The strat body from Allparts fits the bill.
Analog Alien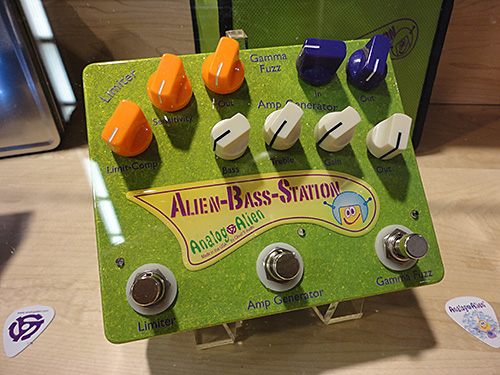 I also like colorful. I never got to listen to these pedals, but I do like the way they look.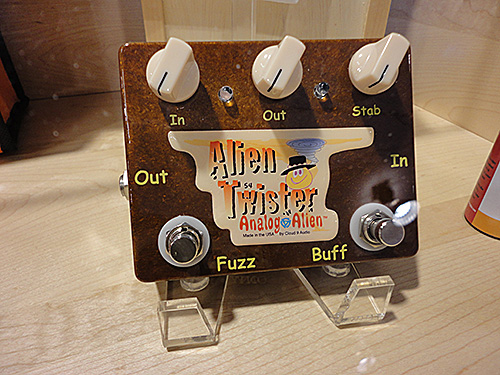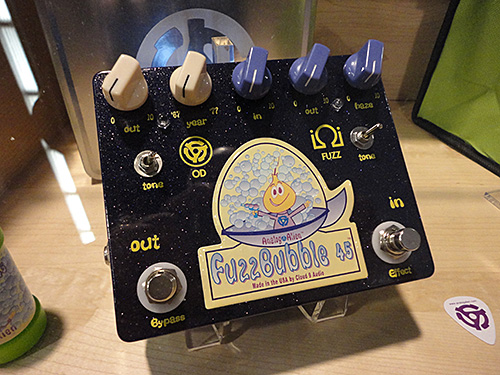 Angelbird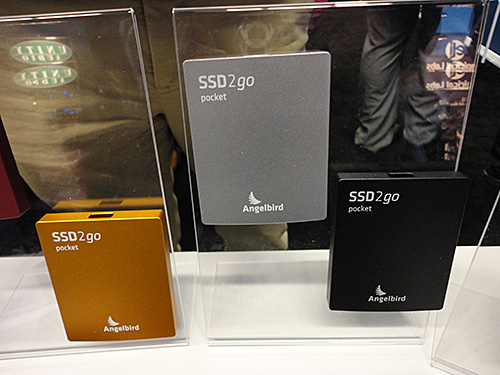 Ideal for reliable recording for people on the go. These solid state drives are small fast and due to the fact that there are no moving parts inside them, they should be way less prone to failure then ordinary hard drives.
Antares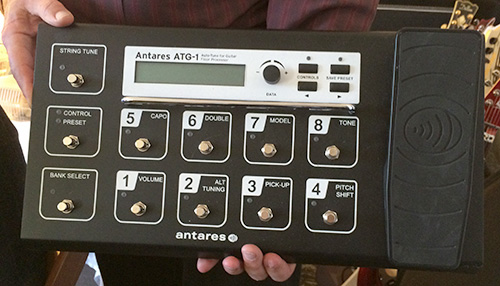 I was invited to an informal demo of the Antares ATG-1.This demo was one of the NAMM higlights for me.Not because of the high quality pitch correction as I already knew about that. The surprise was that it also includes guitar modeling that's really good. I wasn't prepared to like it but when I was invited to try it it was very playable with authentic sound and no discernable latency. And when I tried my jazz chord melody arrangements with the wide and quirky chords all over the fingerboard they were all in tune everywhere. That was an eye opener for me.
| | | |
| --- | --- | --- |
| | | Demo player at the event was Larry Mitchell. I've heard Larry in Youtube videos but to hear him live was a treat. I later got to jam with him, Henrik from Antares and percussionist Monette Marino. These players know how to keep a serious groove and I feel very privileged to have been let into their musical playground. |
Aristides Guitars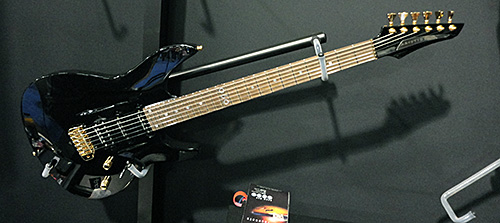 Aristides has expanded their 060 platform to offer a number of pickup configurations and even a Floyd Rose trem. Here's the original HSS.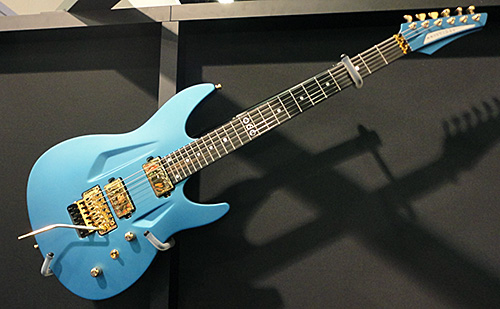 Metallic blue with dual HB and a Floyd.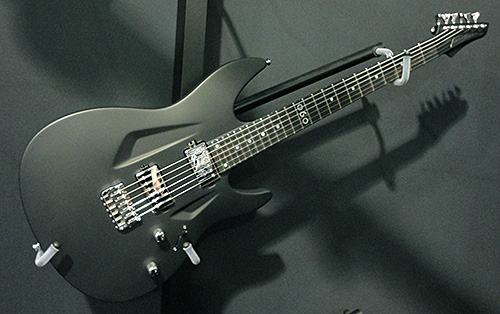 A grey 060 with dual HB but with a regular trem.
| | | |
| --- | --- | --- |
| | | A more traditional take with three single coil pickups. |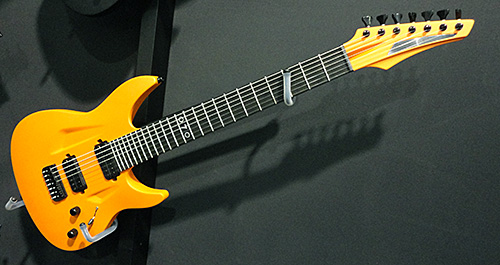 And finally for the heavies, a 7-string orange looker.
Asher Guitars
| | | |
| --- | --- | --- |
| | | I had read so much about Bill Asher and his guitars on the Internet that I was very happy to see him included in the exhibitor list for NAMM. The clips on Youtube got me interested (yeah, I know you can't trust Youtube clips!) and I think they a visually very appealing. So when I got to play a few of Bills T-Deluxe guitars I just fell in love with them. The shape fits my body, the pickup are everything I haven't been able to find in a Telecaster and the Tone Styles circuit makes this guitar the top contender for my next purchase. And it easily wins my Top Guitar at NAMM reward. |
| | | |
| --- | --- | --- |
| Asher Guitars also make lap steels, dobros and acoustics. But they also make the Mark Ford signaure model seen here up front that's a really nice option for us who like P90 guitars. | | |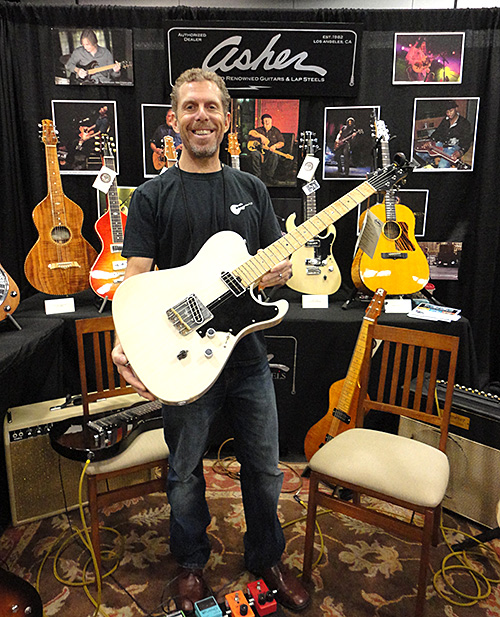 Bill Asher generously spend his time and knowledge and this gentleman definitely knows his business.
Atomic Amps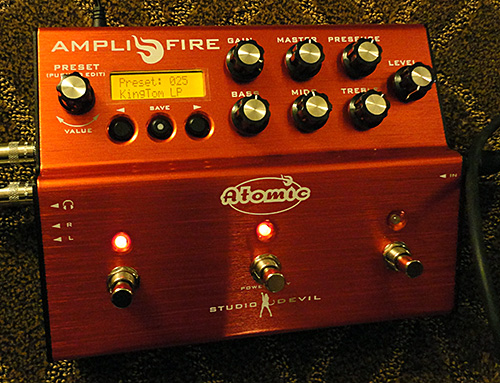 Last NAMM Atomic Amp's Tom King invited me for a test drive of their new Amplifire. I was pleasantly surprised and quality versus price point. This year I was once again invited for an audition of the unit and this year I was surprised at the quality, period. This is a very good sounding and good feeling amp modeler that sound wise rivals the big dogs.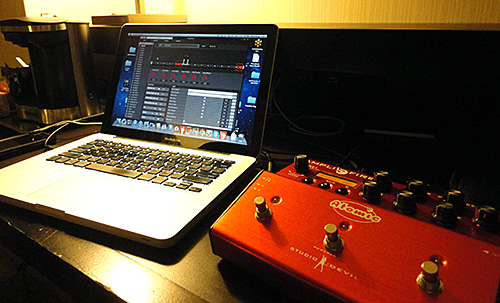 While the Amplifire is easy enough to edit on it's own, the new editor makes it even easier. Everything is clearly laid out and the editor willl be available as a free download for Mac and PC.
Avalon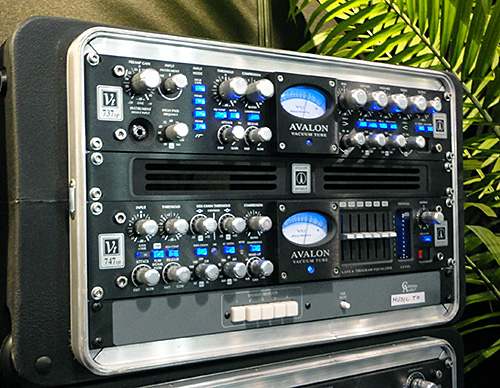 I'd love to have a few pieces from Avalon in my home studio. Not the least becuase how classy they look.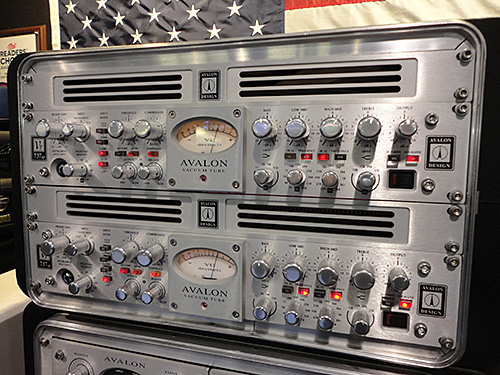 They also have a sound to match their looks.
Backbone T-Bone
| | | |
| --- | --- | --- |
| | | The T-Bone is a very interesting idea where the design idea is to connect the neck to the bridge to transfer more energy. According to the designer it is a very apparent improvment even on low cost instruments. |
BAE
| | | |
| --- | --- | --- |
| Something to make your studio space stand out from the competition? Get this phoine booth like BAE did. | | |
BC Rich
| | | |
| --- | --- | --- |
| | | Since I first saw the ad in Guitar Player (too many years ago for comfort) for the BC Rich with all the buttons, I've wanted one just because I thought it looked cool. This year it's back. |
| | | |
| --- | --- | --- |
| And it's handmade by this gentleman to the left. You can get the full package on a number of BC Rich models, so if you're into another shape but still want sound shaping flexibility just talk to the guys and they will set you up. | | |
Bogner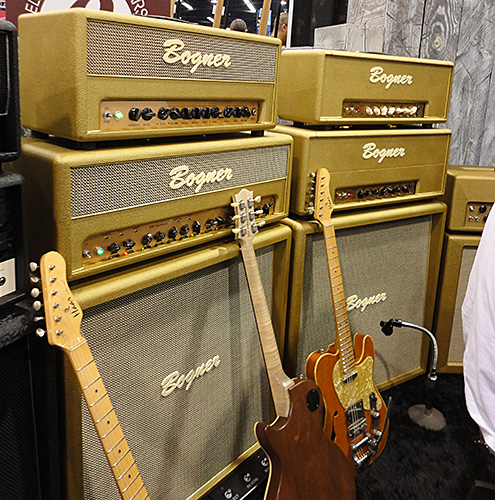 Well dressed in tweed comes this year's fashion statement from Bogner. Seems they dressed one of everything in tweed.
| | | |
| --- | --- | --- |
| Reinhold Bogner himself is not adverse to making a fashion statement. You can always count on the man himself to be the nattiest dresser at the show. As bold as his amps, I'd say. | | |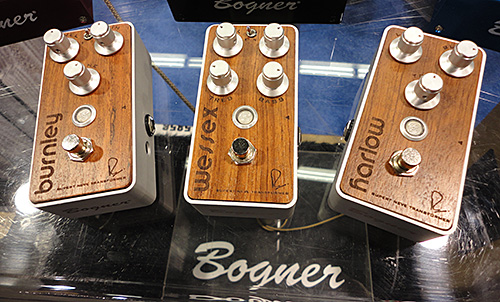 A trio of Bogner pedals based on a Rupert Neve transformer.
Bohemian Guitars
| | | |
| --- | --- | --- |
| | | Recycling at it's best? Didn't try these instruments made of gas cans but they will set you apart on your local blues jam. |
Boss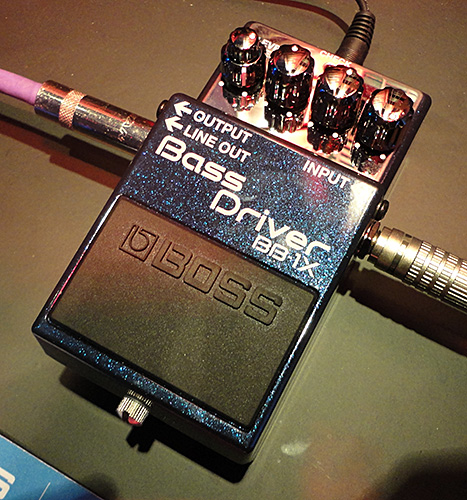 At first I thought this glittering thing was "just" a bass distorsion pedal. I was very wrong. It's a flexible and good sounding bass preamp in a pedal. The demo player showed it off to out pleasure and true to Boss tradition, it's not expensive either.

Boss ES-8 Effects Swithing System is a very flexible looper and MIDI controller with 8 loops with a buffer on each loop. It has a cool set of MIDI features, one being the ability to generate MIDI clock to other pedals that can accept that so all your pedals can be tempo synced. Also as a Boss unit, a lot less expensive than we first thought seeing the specifications.
Buzz Feiten
One of my favorite guitar players is Buzz Feiten. But many knows of him as the inventor of the Buzz Feiten Intonation System. But he also designs speaker cabinets and guitars, Here are two guitars from his Gemeni Series.

I had the pleasure of meeting Buzz a few years ago and if you bump into him ask the man to share a few fun stories from the road. Entertaining is an understatement.
CIOKS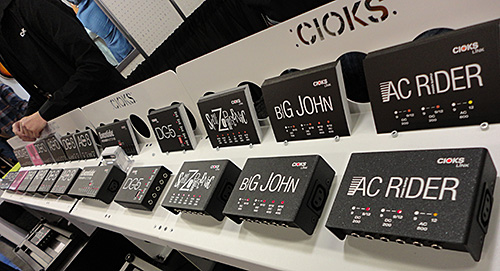 I use power supplies from CIOKS on my pedalboards and I have never had any problems whatsoever.
| | | |
| --- | --- | --- |
| Here is Poul Cioks the man behind (literally) the pedals. If you don't know what you need, which is very common considering the plethora of different pedal requirements today, Poul has a database of almost every pedal out there so his company can make sure you get the right supply for your rig. | | |
Collings Guitars
It's no secret I love Collings guitars. Every NAMM I get to play wonderful guitars made with an attention to detail that is refreshing in a world where "just about good enough" seems to be the norm. The people at Collings are guitar afficionados that works their art with a passion and everyone I get to talk to is an enthusiast who seem to love nothing better than to talk guitars.

To the left is a 360 with Lollar gold foil pickups. To the right is a rockabilly inspired semi with Lollartrons.
New from Colloings is the waterloo brand where they make guitars based on the war era budget guitars but in the same workshop as the ordinary models and with the same care.

Here's a small body sunburt held by industry legend Doug Chandler.
CruzTools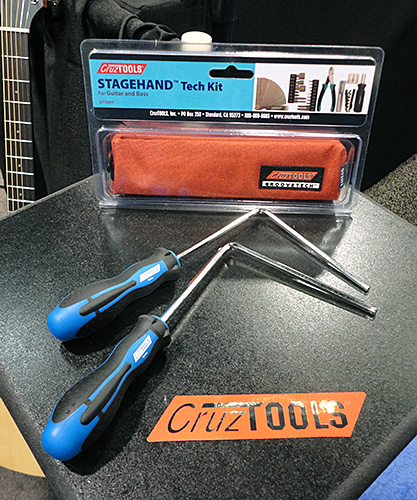 New from CruzTools are the Stagehand Tech Kit and truss rod wrenches for acoustics.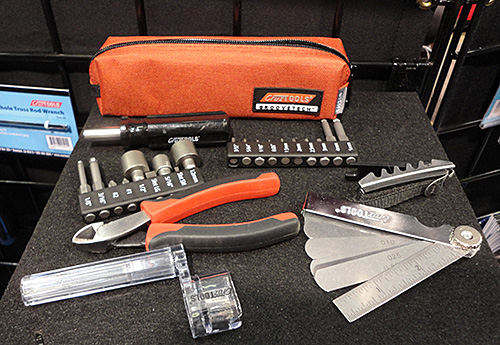 We didn't believe all these tools could fit into that small orange bag. After a demo we are now convinced that they do actually fit in there with space left over for your spare picks.
CruzTools inventor and CEO Dan Parks in a cool pose fitting the new company livery.

I met Dan for the first time many years ago while shooting a video with Craig Anderton for Harmony Central. Since then Dan's booth has always been a oasis of sanity among the mayhem of NAMM.