Winter NAMM 2015
Danelectro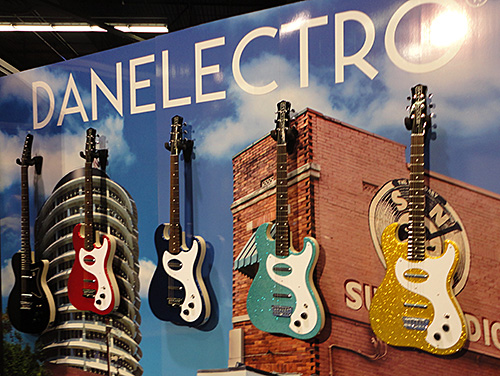 I must admit to having a weak spot for the odd and gaudy looking guitars from Danelectro. Cheap and cheerful, come to mind.
D'Angelico Guitars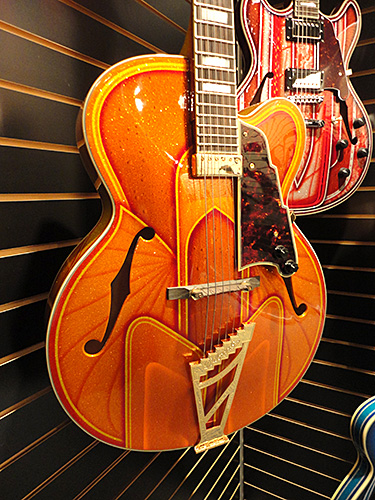 How do you develop an already great looking guitar? Make it even better looking! While we can all agree on that this is not in everybody's taste, we can also agree on it being striking and will catch the eye of the audience.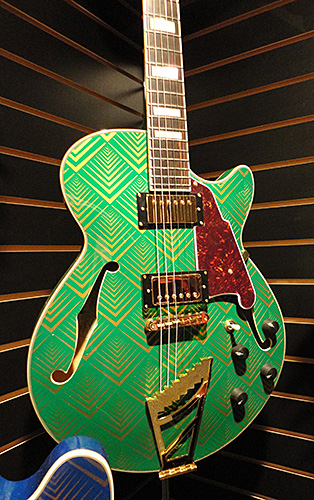 Another design idea for a jazzer. While I think these are cool, I still wnat a New Yorker in sunburst.
Dusenberg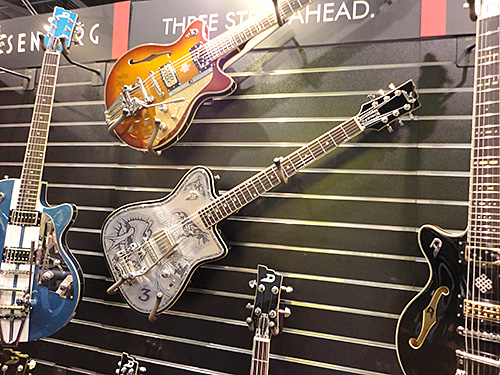 I see Dusenberg in the hands of an increasing numer of players on stage and on TV. Seems like they have managed to combined retro looks with modern playability.
Dwarfcraft Devices
Ben didn't show up this year. A sad day for lovers of unusual guitar sounds. I'm sincerely hoping that Ben will return with his sense of humor and exceptionally cool concepts like the Box of Doom and the Tractor Beam.
Egnater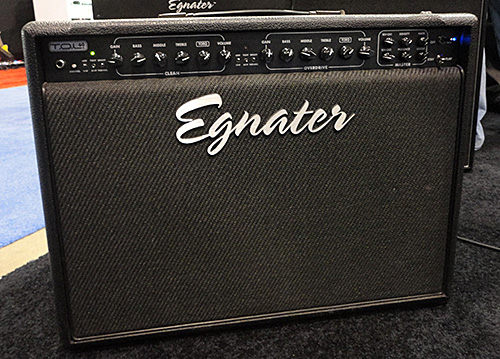 I tried to get to Bruce Egnater to get the skinny on the new TOL60 but he was engaged in discussions with some known players so you will have too find out elsewhere.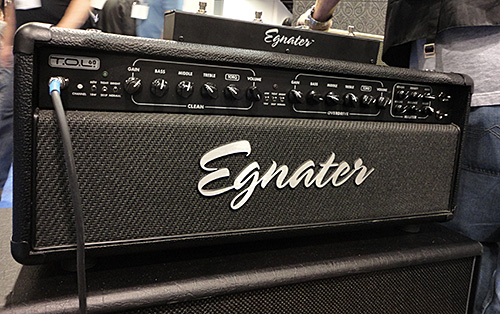 Also available as a head.
Electro-Harmonix
I was waiting for guitar tone wizard Bill Ruppert when this Super Pulsar stereo tap tremolo chaught my eye. EH has been turning out some very interesting pedals lately.
ESP Guitars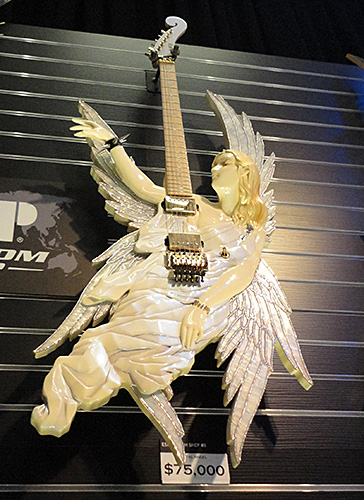 If you think ESP win the price for the most expensive guitar at the show, they don't. Not by a long shot. But they are definitely a strong contender for the most unusual guitars.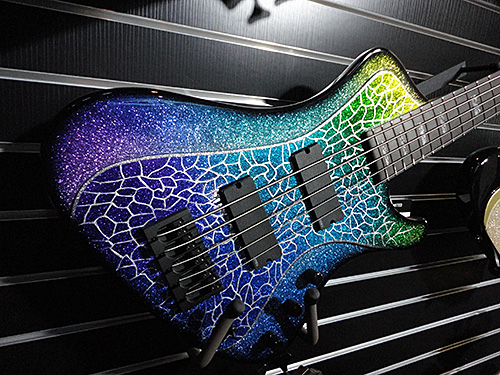 Didn't have the option to try this bass but the finsih is interesting.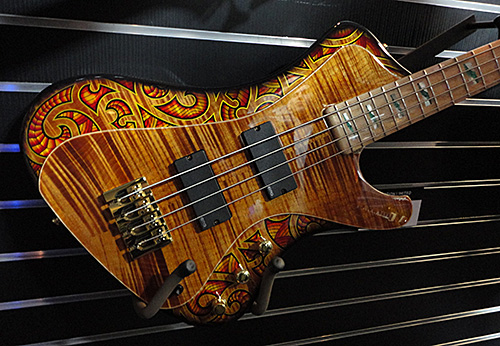 The woodwork on this bass shows the level of craftsmanship at the ESP workshop. Close up it was stunning.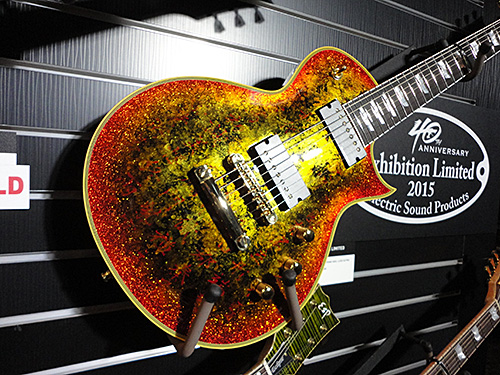 This glitter finish is unique to ESP. At least to my knowledge. And I assure you it looks much better in reality.
F-pedals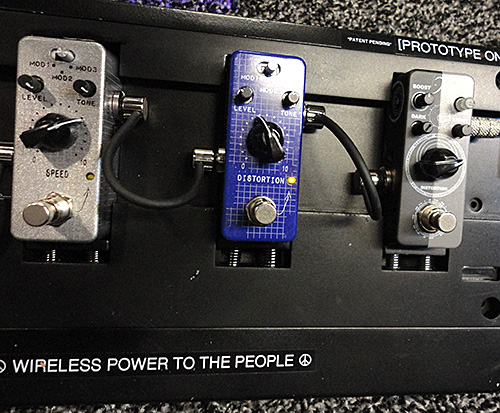 The F-pedals are powered wirelessly when they are connected to the pedalboard. You just slot them in and off you go. Very slick idea!
Fender
The day before the show starts, Fender has a Custom Shop events for dealers all over the world and we were invited to see what was going on.

During the year, the Custom Shop puts together a number of guitars that are not ordered by anyone. They are built based on the very creative ideas from the builders themselves And thus some of the guitars are breathtaking in either beauty, cost or absurdity. They are put on show for the dealers to look at and try. Then the dealers can put their dealer tag on the guitars they want to buy. If there are more than one dealers for a guitar, there's a lottery where Fender draws the winning dealer. Some of the guitars had 20+ tags.

One of the Master Builder guitars was this Cardinal Esquire.
| | | |
| --- | --- | --- |
| The Flicker Flame Strat attrackted its fair share of dealer tags. | | |
| | | |
| --- | --- | --- |
| | | Jazzy western music needs a leather bound carved top Tele. Includes the hand carved and specially designed strap. |
| | | |
| --- | --- | --- |
| This mosaic Strat is probably not going to the guy who loves a three tone sunburst. | | |
| | | |
| --- | --- | --- |
| | | A slightly more ornate Strat than the American Standard. |
The guitar to the right is inspired by the Fabergé, the famous jeweler who made the Fabergé egss.

This particular Strat is inspered by the Fabergé egg below and is, probably by a large margin. the most expensive guitar at NAMM. Rumor has it that the proice tag is USD 1.000.000.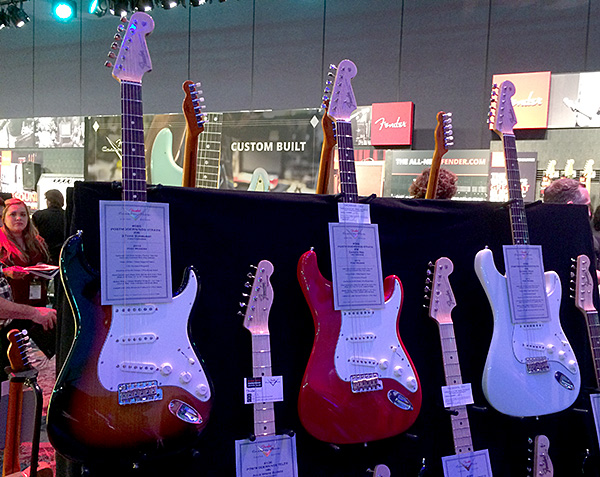 For most of us who can barely scrape together the money for what an average Custom Shop cost today, there are some new offerings. Like the Post Modern Stratocaster. Combines features young and old in a new package Fender is hoping will attract us.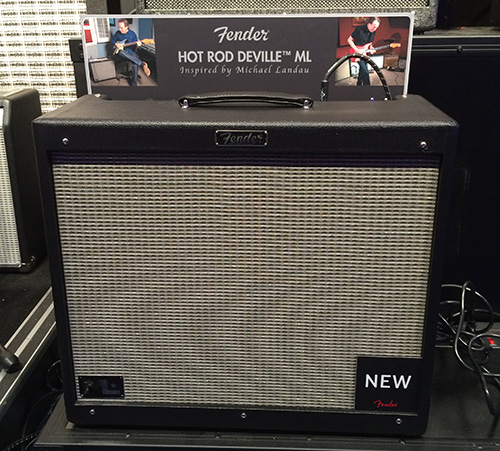 The Hot Rod Deville ML was designed together with guitar phenomena Michael Landau. Desined as a clean platform for pedals, this amp has no overdrive channel. All the dirt come from your pedalboard. The demo was convincing. Not cheap, but cost less than I thought. Maybe Mr Landau wasn't as tough in his royalty negotiations as other Fender artists.
Framus
| | | |
| --- | --- | --- |
| a | | From a design point of view I wasn't taken by the Music Man Armada nor some reverse variations of the Firebird coming up lately. Then I see this cross between the Armada and some reverse Firebirds. Hmmmm! |
Fret-King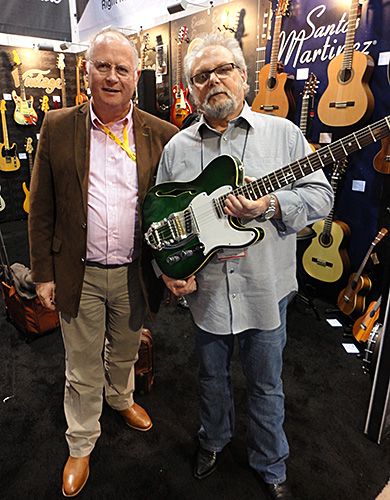 JHS Managing Director and inventor/luthier/industry legend Trevor Wilkinson treating us to some nice conversation and a look at the new Bigsby trickery Trevor has come up with.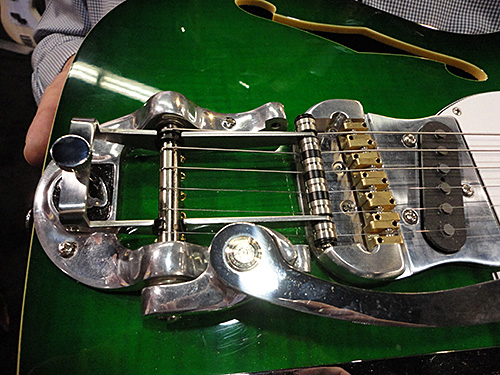 Trevor thought the world needs a better working Bigsby so he made an add-on that you put on your regular Bigsby. I think he did the right thing as I now will consider owning a Bigsby equipped guitar.
a

According to the saying, there are many ways to skin a cat. I'm quite certain that there are many more ways to put together a strat. And I'm equally certain that Trevor Wilkinson is the father behind the better part of them. :-)

Through the years in Frankfurt and in Anaheim I have seen more variations than I can count. Here's the latest one that I actually find intriguing with this pickup configuration.
Friedman Amplification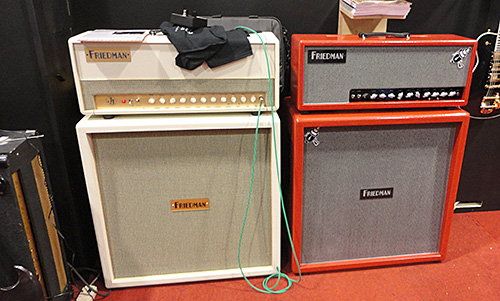 The Friedman BE100 was one of my three favorite amps on the show. The way I always wanted a Marsall to sound. Gives me goose bumps every time I hear it played by a good player. There were plenty of good players in his booth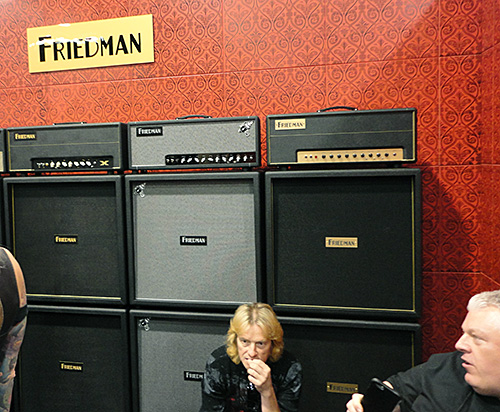 Fuchs Amps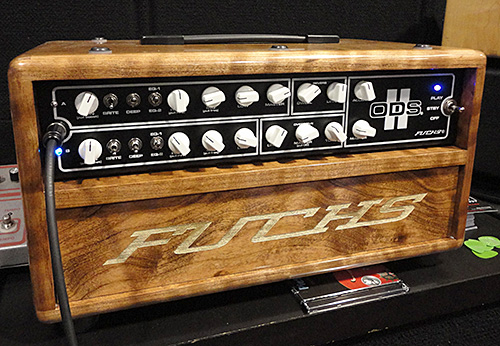 So, finally, the third of my three favorite amps at NAMM. The Fuchs ODS.
BUT ...
to my surprise in the shape of the new ODS II. Now with separate channels for clean and OD so you really can dial in your clean and OD independent of each other. All the sounds of the original ODS and then some.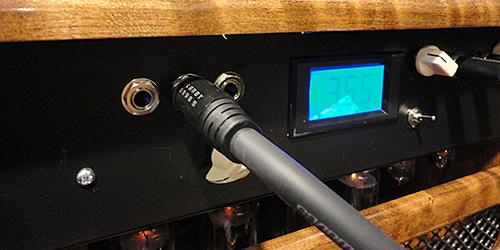 New for the ODS II is the digital readout in the back so you can bias your tubes at any time without any extra gadgets.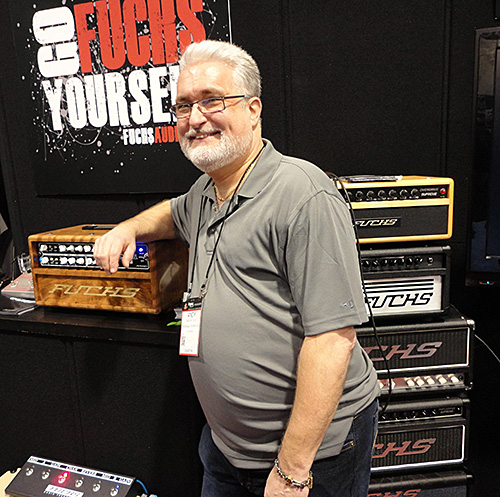 See Andy Fuchs' smile? I'd smile too if I could build such wonderful amps.
Gibson
| | | |
| --- | --- | --- |
| I had totally given up hope of ever again trying a new Gibson that actually made me want to play. To my extreme surprise, I found this reissue ES-335 that was very nice. And I really mean, very nice! | | |
| | | |
| --- | --- | --- |
| | | Most probably the most discussed guitar at NAMM. People have a hard time with the robot tuners, the Les Paul hand writing logo and the combined nut/zero fret made of metal. According to the Gibson representative the new nut is an idea that Gibson Chairman Henry J had about the open strings should have the same timbre as the fretted notes so therefore a zero fret. One cool feature is that the player can fairly easily change the height of the nut so if he/she wants to use the guitar for slide, that should be easy to set up. |
While not as talked about, it still caused some controversy with the acoustic crowd. Here is the Les Paul Acoustic. Robot tuners, electric style neck profile, three kind of /pickups/transducers, analog miodeling and a digital fx section. Morden, indeed!
| | | |
| --- | --- | --- |
| | | Those with sharp eye sight (or good glasses) can see the Voice selector. Among the voices you find banjo, violin, bass, jazz, dobro,mando, nylon,12-string, Les Paul and acoustic. According to the product manager these voicinges are accomplished by using analog filtering/eq and no digital shenigans. I didn't get to hear it, but based on previous efforts with eq I will remain sceptical until proven wrong. Which I would love to be. |
Gravity Picks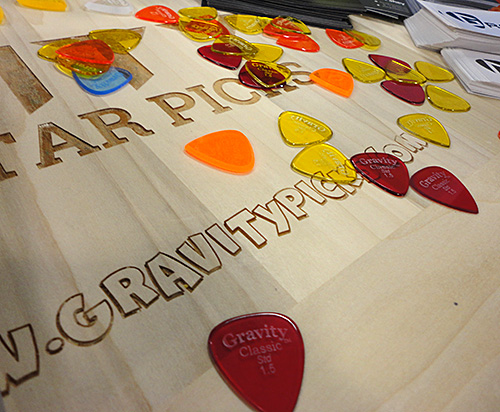 These colorful pieces of transparancy have gained a good reputation during the past couple of years. People of forums are saying good things about them so I went there to talk to them. TYhey seem to be constantly looking for new ways to do a better pick. I have tried it and it may become my next pick of choise.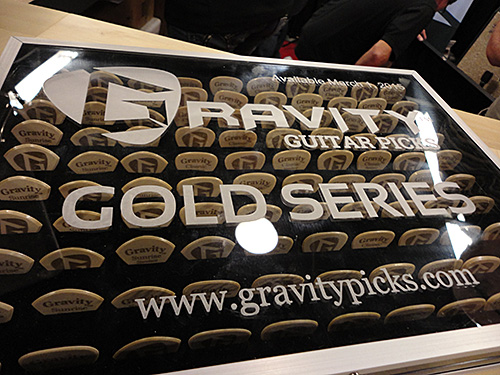 The Gold Series is a premium pick with a premium price tag. When hearing the price I didn't even dare opening the box to feel how they felt.
Gretsch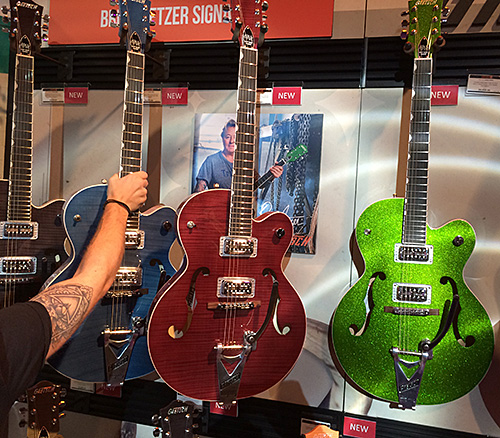 New from Gretsch was a revamp of almost all the Brian Settzer guitars. He's now into flame maple tops with a slightly lighter shade of the same color on the sides.
Grundorf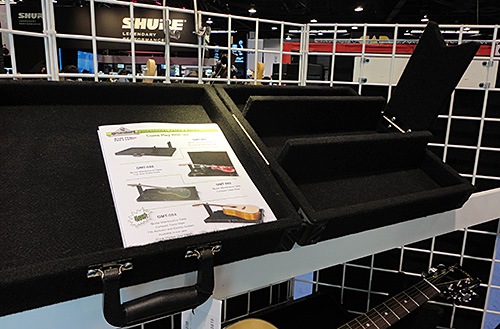 I have always wanted a guitar tech case that I fold and stow away somewhere. I would keep my tools in it and it would all come out easily and practically when I need to do something to a guitar. Problem was they were quite costly. Now Grundorf has such a case at a significantly lower price, so now I may act.