Winter NAMM 2014
Evidence Audio
| | | |
| --- | --- | --- |
| | | At all the NAMM Shows I've ever been to I don't think I have seen Tony Farinelly of Evidence Audio other than smiling. If I made cables like Tony, I guess I'd be smiling too. |
Extreme Strap
| | | |
| --- | --- | --- |
| Extreme Strap is a strap that is both ergonomic and allows you extra space for your wireless, iPhone and wallet so you don't have to leave them in less than secure dressing rooms. | | |
Fender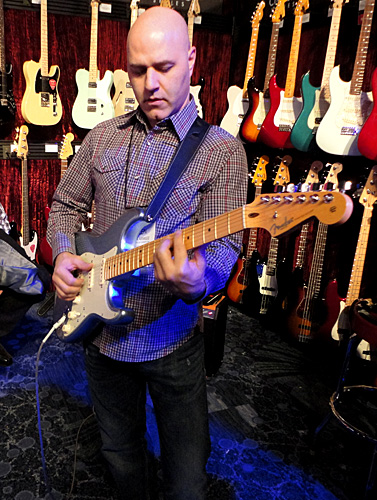 You may not catch it at first sight but this is, in my opinion, one of the more forward thinking technical designs for a guitar at NAMM. What looks like just another old Strat is in fact just that but with some features that are fresh.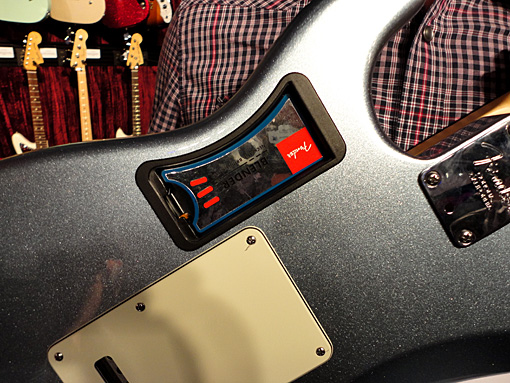 On the back of a guitar is a cover under wich you put a card that is a central connection central for the guitar. Nothing in the guitar is soldered so if you want to switch out pickups you just unscrew it from the pick guard and disconnect it using the solderless connections and put new ones in. The card provides you with defferent switching options.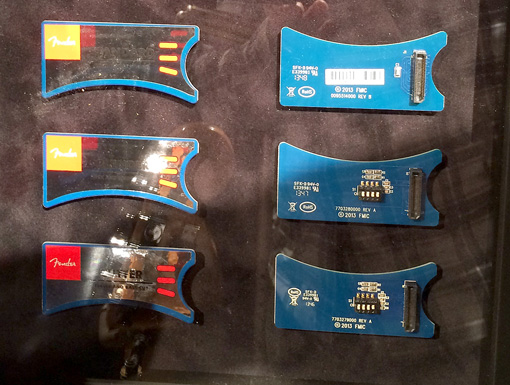 The Strat comes with three cards, the top one giving you the traditional Strat switching. The other two has DIP switches giving you fast access to different options.
This will be interesting to check out. What I didn't like is that the guitar is only available with a maple finger board. Unless you want an HSS version. But then that's only available with a rosewood board. When I asked Fender what I should do if I wanted a 3 sc version but with a rosewood board, the somewhat flippant answer was, "get a Fender replacement neck".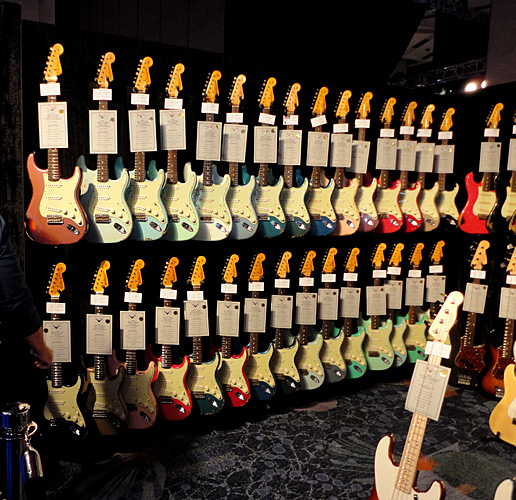 The "wall-o-Strats" from the Custom Shop. All sold and placed behind a rope so noone could try them out.
Artwork Teles from the Custom Shop.
Fishman
The biggest surprise at NAMM and the other recipient of my "Best New Product" award is Fishman's Fluence pickups. Withoput getting too technical here, I'll try to tell the story.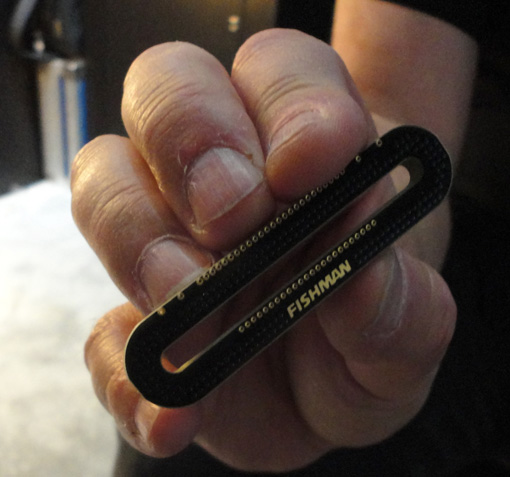 Instead of winding the pickups the traditional way, they have put the windings on a circuit board to ensure stability and consitence.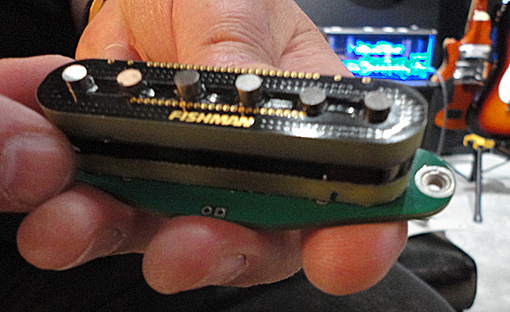 Then they put a number of these circuit boards on top of each other to get the required amount of turns. Following that they put two of these stacks on top of each other with a separator making them noiseless.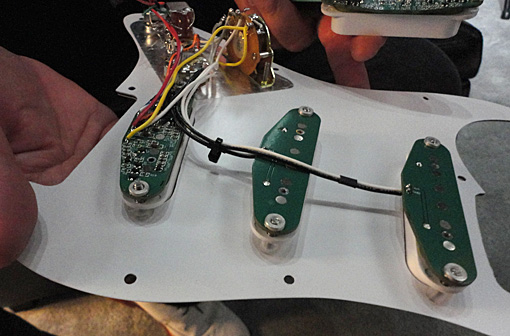 After putting the pickups together they do some technical magic on a circuit board to tailor the sounds to their liking.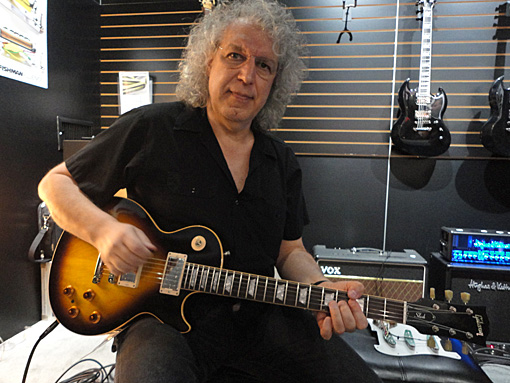 My old trade show aquaintance and good guitar player Richie Fliegler demoed the pickups and left me sitting with my jaw on the floor. The Strat pickups were exceedingly dynamic and the volume control worked so well that you could go from clean to scream using that alone. They were voiced like a very nice sounding 50's Strat pickups but silent. There is a switching option that turns the pickups into more 60's sounding pickups getting you into SRV territory with elegant ease.
The humbuckers sounded like very some of the better original PAFs I've heard through the years. When Greg Koch did his demo I was genuinely impressed.
Freaqboe Pedals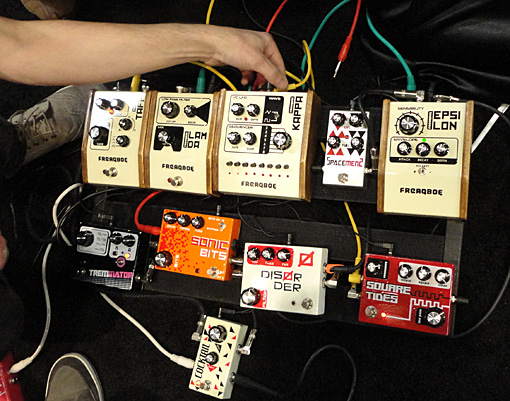 If you enjoy sonic mayhem, then Freaqboe is good place to visit. The creative and moving soundscapes that hit me when passing their bopoth was impressive.
Fret-King
| | | |
| --- | --- | --- |
| Fret King showed a model with both an arm cut and a T-cut. | | Dennis Drumm, managing Director of John Hornby Skewes and designer legend Trevor Wilkinson. These are the masterminds behind the FretKing line. |
Friedman Amplifiers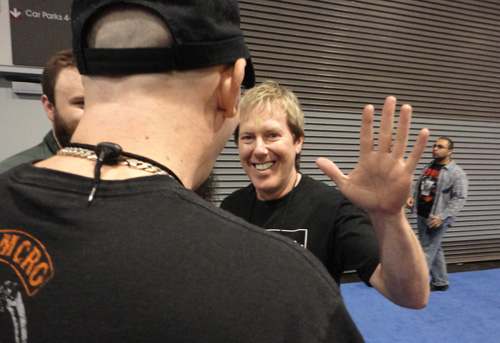 At Friedman AMplifiers there were so many people that it was hard to get a good shot of the amps. But I did get a smile and a wave from the ever cool Mark Day who spent his days talking about the poweful amps Dave Friedman designs.
Fuchs Amps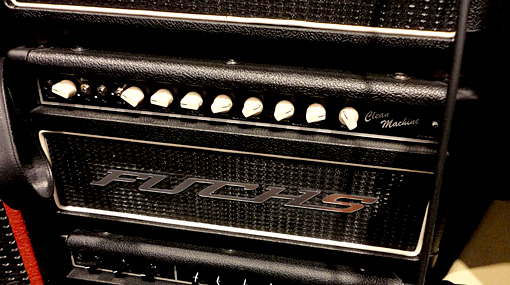 If you are into clean sounds, you haven't lived a full life until you've tried the Clean Machine from Fuchs. This is not a new product but who cares as long as it sounds as gorgeous as this amp. It also takes pedals very well if you want a clean platform for your pedalboard.
Andy Fuchs having a great day at NAMM. How do I know this? He was constantly besiged by customers to sit down and have his yearly chat with me. Maybe next year?

And I apologize to Andy for this overly bright picture. I need to hone my Photoshop editing skills.
Gearwheel guitar
| | | |
| --- | --- | --- |
| I didn't get the name of the maker of this Tele style guitar but the cool thing about it is that it has a motor driving all these gearwheels. It certainly is eya catching. | | |
Gibson
| | | |
| --- | --- | --- |
| An ES-335 Studio? I love 335s but I really don't know about this one ... | | |
| | | This is the Skunk Baxter Signature Firebird. According to Gibson it has "triple pickups with advanced electronics for striking tonal options". |
Hughes & Kettner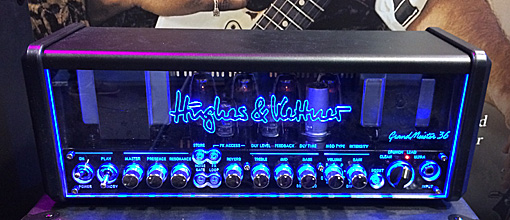 Hughes & Kettner has enjoyed success with their Tube Meister amps. The latest entry into that product line is the Grand Meister 36. Sounds very good and as versatile as the smaller amps.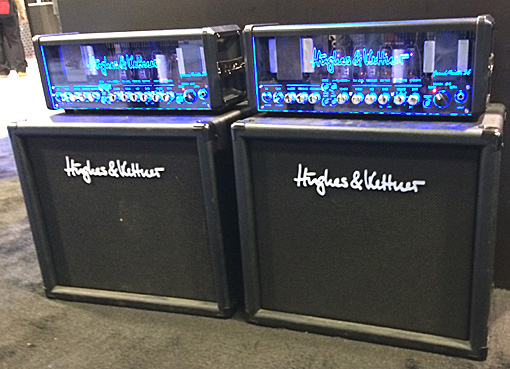 Heritage
| | | |
| --- | --- | --- |
| | | A music trade show would not be quite right without the carriers of the Kalamzoo traditions once started by Gibson and now by the Heritage Guitars Company. These are very nice guitars that deserves to be heard and seen. |