NAMM 2014
- a somewhat uneven show
When I left NAMM in January 2013 I thought it may be my last Winter NAMM. While it was the best NAMM for a few years it still was not as it was in the good old days in the 80s and 90s. That's when everybody thought the future was bright and there was a steady flow of new and exciting products based on new and equally exciting technology.

As it turned out I couldn't resist the temptation of leaving a snowy and cold Sweden for a few days of warm weather, sunshine and meeting a lot of very cool people, some of whom I proudly consider friends. There was a lower level of energy at NAMM 2014 than I have ever experienced before. A sort of tiredness and almost lack of enthusiasm. Fortunately this lack was not present everywhere and the contrast made it easier to find the gems at the show. As you can see in this report from winter NAMM 2014 there were some very nice new products to be seen, some extremely cool people to talk to and some new twists to old concepts. I have to warn you though. This is probably my most picture intense report ever and will take some precious time to wade through.

The NAMM organizers have upped their game once again and the show went without a problem. NAMM should be applauded for what they do as I can't see a single event in the year that is as important as the NAMM show for the MI business. There is indeed the Internet and its myraid of excellent forums for special interest groups but nothing, and I really do mean nothing, beats meeting face to face, exchange ideas and listen to the products for real. So I hope NAMM will continue to arrange NAMM and I hope the industry will stand solid behind it to make it and the industry solid.

I usually have a disclaimer here in order not to offend anyone and this year is no different so please read.

This personal report should bee seen as my very own point of view and does not reflect the wiev and/or opinions of any other person or company of which I may be associated either through my work or in these pictures. If you find any faulty information in this report please e-mail me at mats.n[at]nermark.com.

I have placed the products in alphabetical order for your convenience. I also have divided the report into 5 sections. Otherwise the load times would be problematic.

Please also accept my apology for any language errors as English is not my native language.

Enjoy!

Acacia Guitars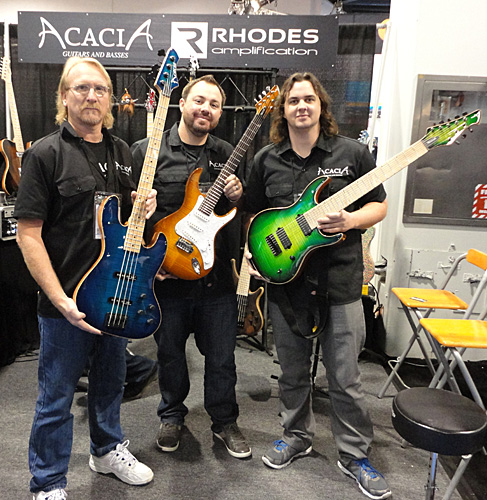 Acacia Guitar was a new company to me and this group of guys make nice guitars and basses.
| | | |
| --- | --- | --- |
| | | A special request from a customer resulted in the cow finish. Please note the "cow hide" fretbord. I like this level of detail! |
Amalfitano Pickups
| | | |
| --- | --- | --- |
| | | Jerry Amalfitano is a pickup maker whose name pops up more and more often and his pickups are the go-to choice for builders like Michael Lipe. |
Arena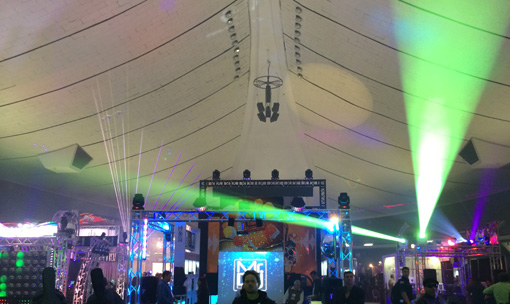 The arean at NAMM is set aside for stage and lighting companies and a visit in there is usually a visual delight.
Analog Alien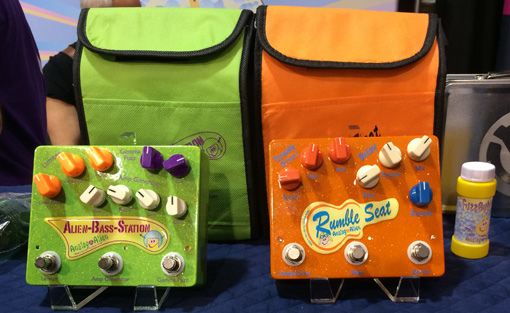 These colorful pedals in matching bags would be it for the fashion concious musicians. I didn't get the chance to hear them but the I heard good things through the grape vine.
Analog Outfitters
| | | |
| --- | --- | --- |
| | | The poeple at Analog Outfitters takes old organs, pianos and furniture and turn them into amps and speakers.I like both the idea and how it turned out. |
More amps and speakers.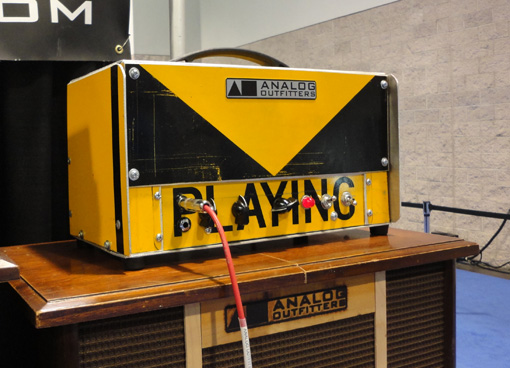 In their effort to recycle material, Analog Outfitters now take old road signs and turn them into amp tops.
Atomic Amps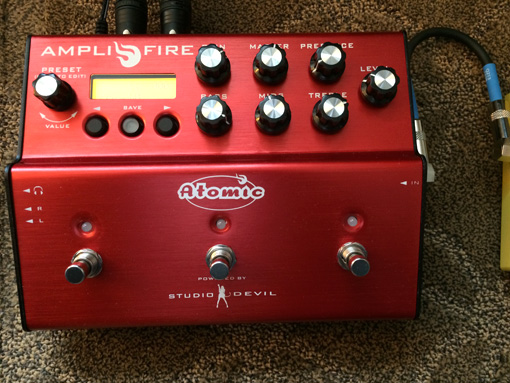 One of the suprises for the show was Atomic Amps Amplifire. Personally I thinks it's nice to see new contenders for the customer's money in the area of digital amp emulations. At $599 and with a good feature set, the Amplifire is going to tempt very many guitar players. Being fortunate of being invited to a full hour one-on-one sitting with the Amplifire I gave it a go with both a Les Paul and an LsL Saticoy with 3 single coils. Monitoring was done through 2 Atomic Amps CLR powered wedges and they are as good as they are revealing.
I came away from the audition feeling excited about the future of amp modeling as the Amplifire was very amp like in sound, feel and response and the clean sounds were much more dynamic than almost everything I have tried before (including the most expensive products on the market). I got stuck playing my catalog of funk licks and having blast with it. I'm very much looking forward to trying this extensively when it hits the market. One of the two products I would like to give my "Best New Product" award.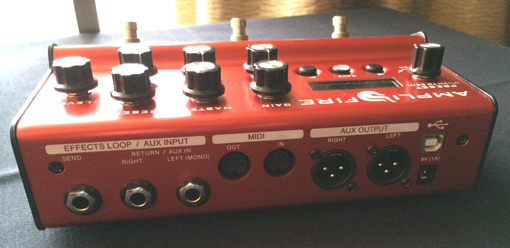 The connectivity of the Amplifire makes it a very all round guitar product.
Audiofly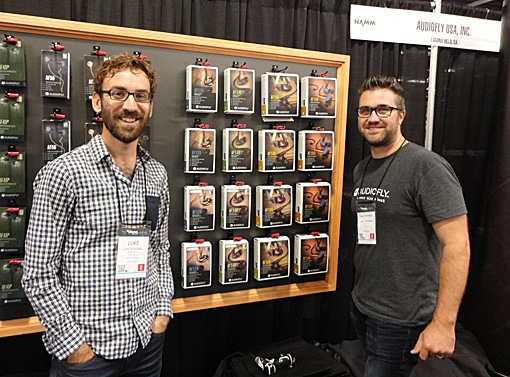 All the way from Australia came Audiofly with their interesting one-size-fits-all in-ears. They have combined two types of drivers with exchangable tips that you find in consumer ear phones. They are busy building their dealer network so if you can't find them in your local music store, you can shop at their web site.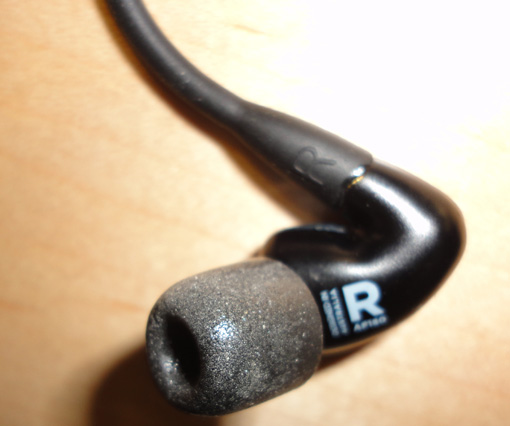 Axl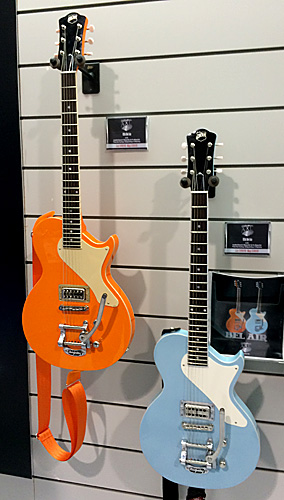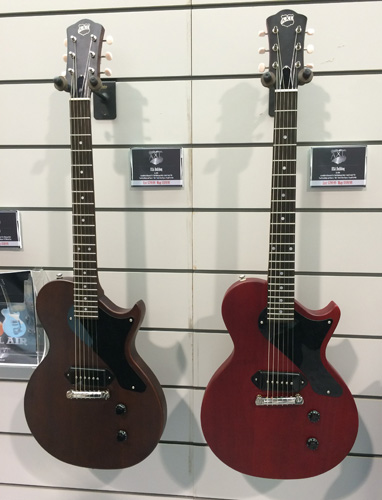 Cheap and cheerful, one pickup goodness comes in new shapes and colors from Axl. These instruments are supposedly assembled in the US to get better quality at a specific price point.
Baudier Guitars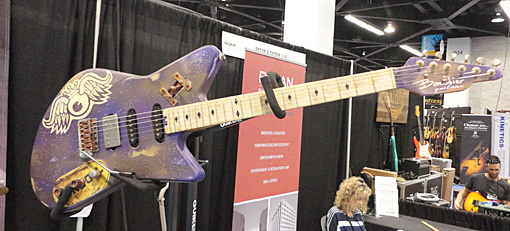 I simply love retro futuristic design and, to me, Baudier Guitars represents the pinnacle of that design language in the guitar world. He's mixing new, old, unusual, decals, relicing and all sorts of design elements to get where he's at.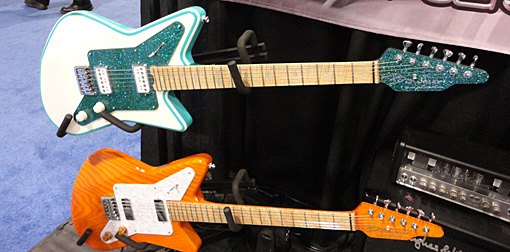 If George Jetson ever played guitar, I'm sure he would play the green and white one above.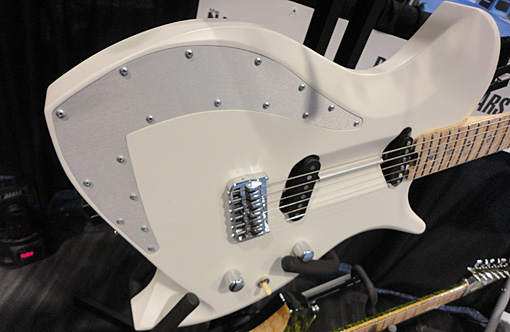 Metal on wood is cool.

BC Rich
| | | |
| --- | --- | --- |
| | | Matt from Hanser showed off this BC Rich 10 string. I know I'm most probably in the minoroty here but I really love all these knobs and switches. One of the coolest guitars I've ever seen is the original BC Rich Eagle with the full kit of electronic. When I find enough cash, I will hunt one down. |
Beat Buddy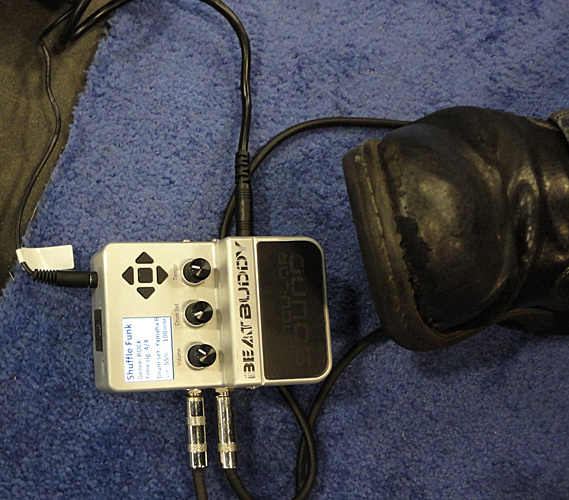 Here's a new thing that got a lot of interest. Beat Buddy is drum machine that you can control in real time with your foot. The demo of a enthusiastic guitarist showed us what can be done and the fact that you can control it in real time ensures things never get static or old.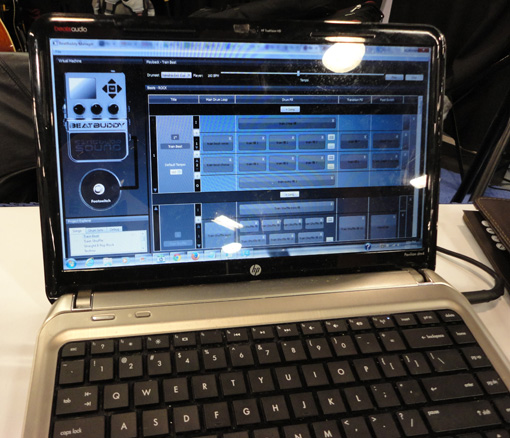 To make set-up simple and fast there's a computer editor for Beat Buddy.
Blackstar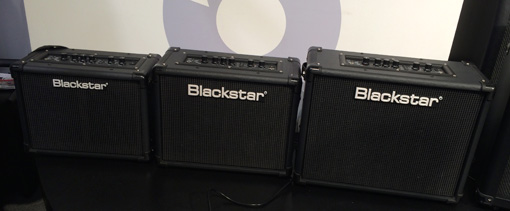 The British gentlemen from Blackstar showed ID-core, their new series of low powered amps. At first I thought, this is just another no interest entry into an over saturated market but once I hear the demo I realized how wrong my first impression was. First of all, these amps sound good and they are dynamic. Secondly, they have the Blackstar ISF control that allows you to seemlessly go from an American type of sound to a British sound. Finally they have the widest stereo spread I have ever heard. It sounded like two stereo speaker placed at least 5 meters apart. Just from this one tiny amp. Didn't get all the pricing but suppusedly these are not expensive att all. If you're in the market for a small amp, you should check these out before making a decision.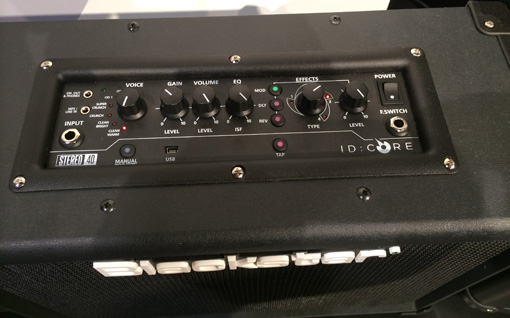 Simple but effective controls.
Blox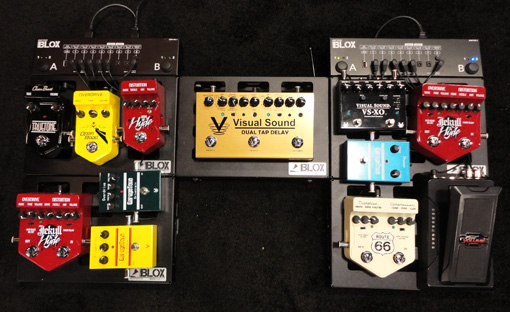 Blox Pedalboards is a modular system where you can have multiple pedalboards that you can connect in various ways. Instead of having one big board and a flyboard where you have to buy duplicates of favorite pedals to be able to bring on all types of gigs now you can hook up your flyboard to a larger board to have an expanded bigger board for local or larger tours with roadies.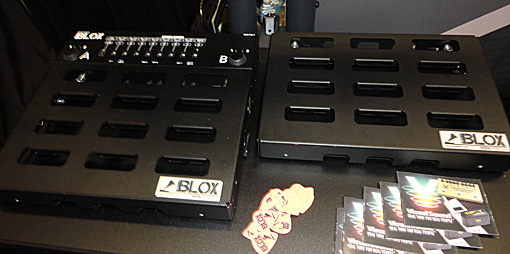 Here are the Blox without pedals for your scrutiny.
Bogner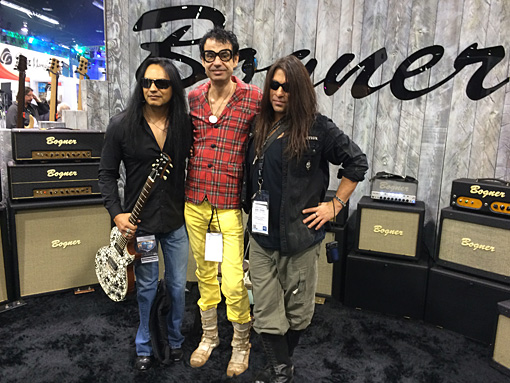 Reinhold Bogner, as usual showed off both his amps and his sense of fashion. Many people wanted to get close to the man and his amps. His amps really do sound phenomenal.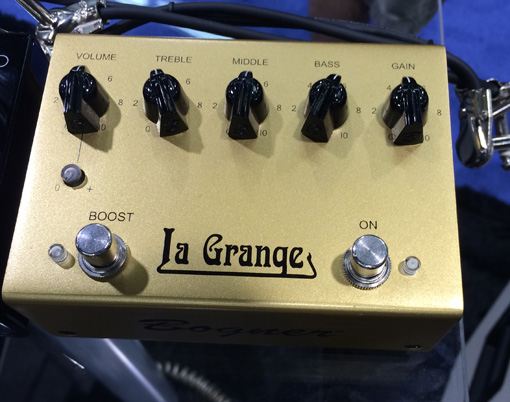 The latest addition to the Bogner pedal range is La Grange in a nice gold enclosure. Next year, maybe Mr Bogner will wear matching hat and suspenders.
Bohemian Guitars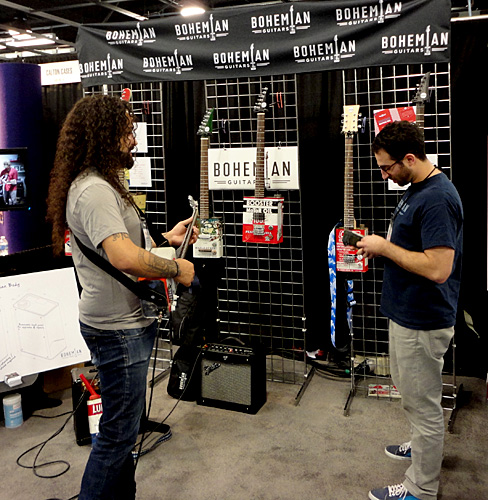 Recycling has come to the music instruments industry. Bohemian Guitars makes guitars out of old cans. They bear un uncanny likeness to some cigar box guitars from the past.
Boss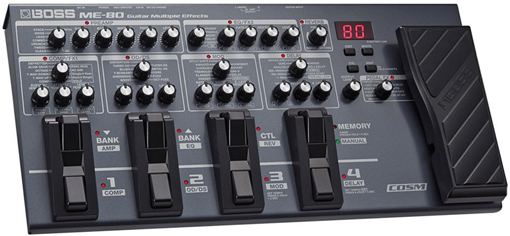 There was very little activity in the low cost modeler segment. Boss showed the ME-80 which is a step up from the ME-70.
Cassette tables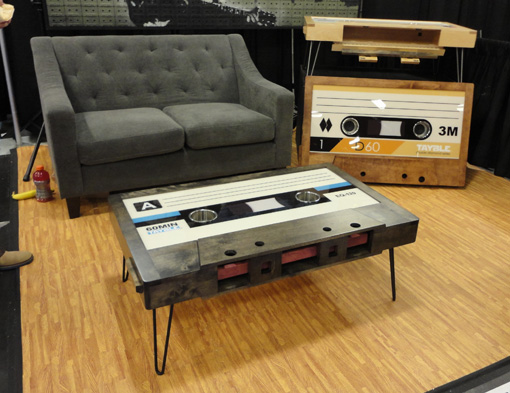 If you want to go nostalgic in your interior design efforts here is a very cool coffe table. You can open it up to store things inside and there are hidden lights in the two holes.