FUZZ Guitar Show 2019
Like most guitar shows, the FUZZ Guitar Show has changed over time. I estimate this year's to be slightly smaller in size and with a very slight decrease in visitors compared to 2018. But even thogh neither Fender nor Gibson had any official presence this year, the FGS 2019 was not smaller in scope. The show continues to attract interesting international exhibitors and there are of course many world famous Swedish brands present as you will se in this report.
As always, you're welcome to join me in my explorations, but before we embark on the journey, please read my standard disclaimer.
This personal report should bee seen as my very own point of view and does not reflect the wiev and/or opinions of any other person or company of which I may be associated either through my work or in these pictures.
I have divided the report i 5 sections so each section can be loaded fairly quickly even on slower connections.
Please also accept my apology for any language errors as English is not my native language.
BJFE - Björn Juhl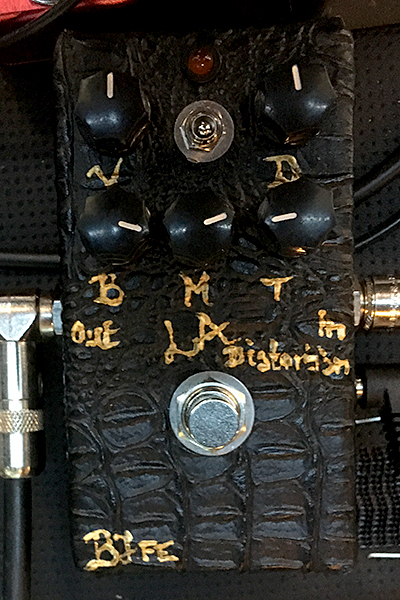 This was one of the best products at the show. The brand new BJFE LA Distorsion is a monster of a pedal. I have never experienced a pedal that allows such nuanced playing where the pedal reacts so well to both to picking dynamics and riding the guitar volume. This very pedal was painted by a graphic artist in a black snake skin finish and may not be for sale.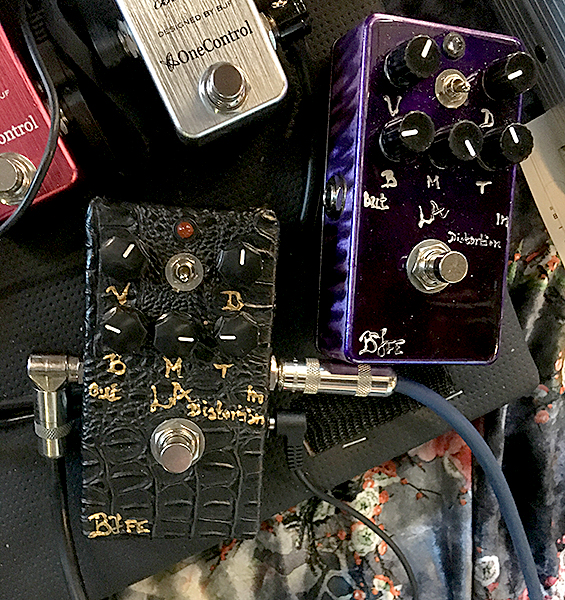 Now here to the right is an LA Distorsion in purple which may be the color for the regular LA Distorsion pedals Björn will build on order. Did I order one? Of course!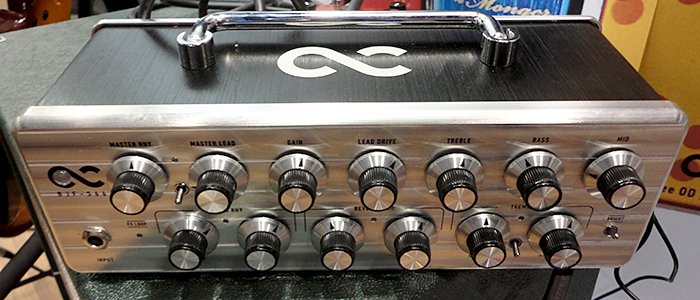 The pedals were played through the One Control S-66 amp which sounded very nice. Just the right shimmer in the treble and just the right kind of break up but at a volume you can actually use. All in a small and light package excellent for fly dates. I didn't get a good picture of it at the FGS so the one above is a repeat of the one I took at NAMM.
Blade Guitars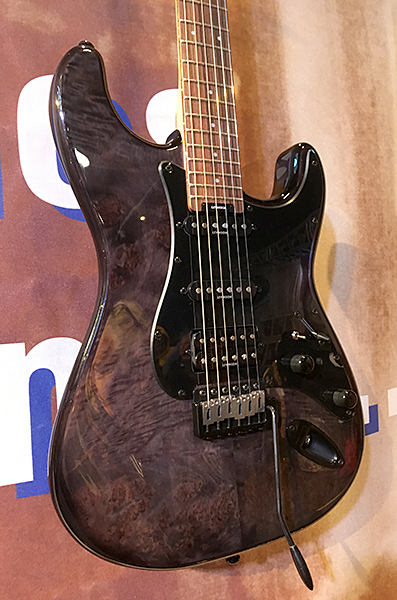 The man behind Blade Guitars, Gary Levinson, was on hand to answer any and all questions. As a fan and owner of a Blade guitar I was very curious about his new Custom Shop offerings. This is a RH-4 in see thru black and, yes, it has the latest version of the VSC electronics installed.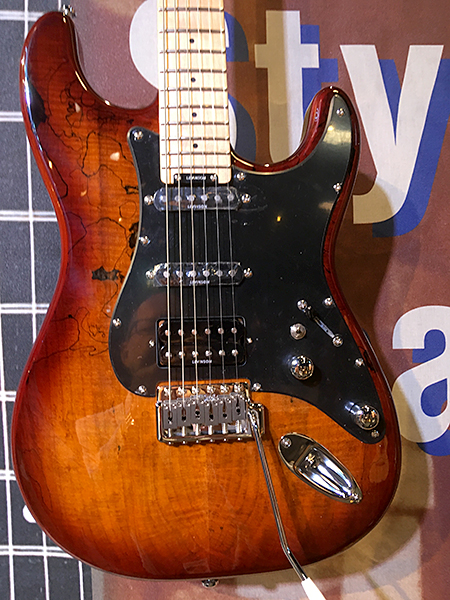 Another RH-4 from the Custom Shop. This one with a spalted maple top.
Boss
Boss has always been present at the FGS and this year they had a better booth than ever before. Here are the very excellent 500 series fx pedals in the top row.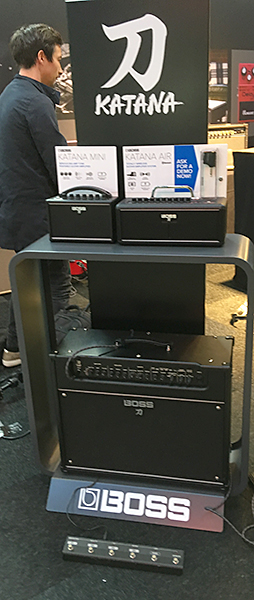 They displayed almost the entire series of Katana amps.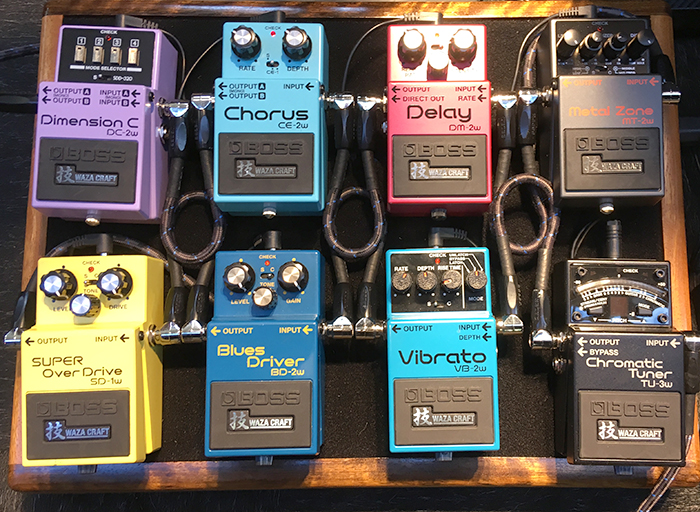 The Waze Craft version of some of the most popular pedals in history. I've been trying to find a Dimension C DC-2W but they are always sold out in every store I visit.
Boutique Amp Distribution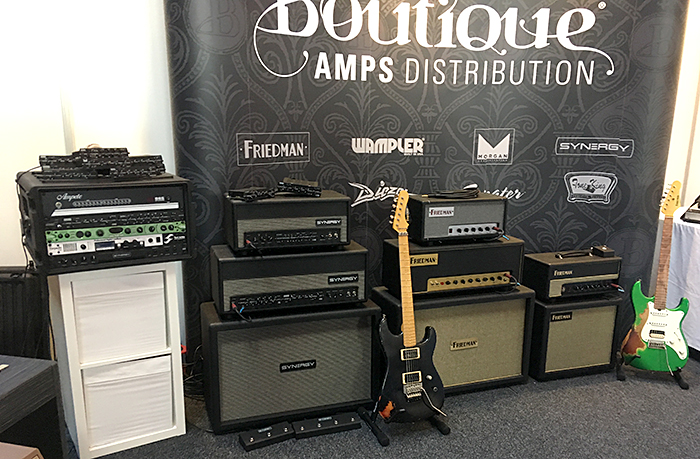 Boutique Amp Distribution and a lot on offer for the interested visitor. Freidman amps and the Synergy racks for most prominent regarding amplification.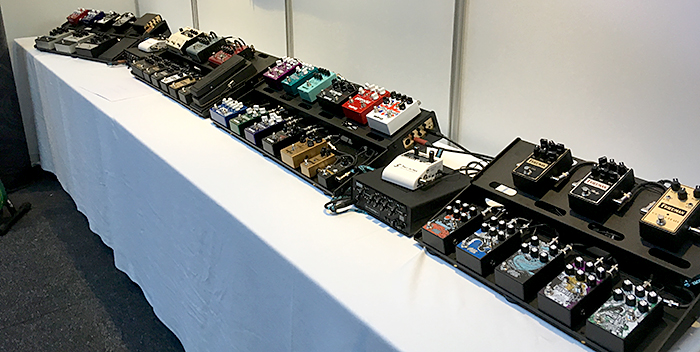 They showed a lot of pedals too and you could try them through a Synergy module. Interesting to see that they have connected the Synergy amp to a Two-Notes Torpedo CAB M as the Syergy itself has speaker emulation. Hmmm. Food for thought!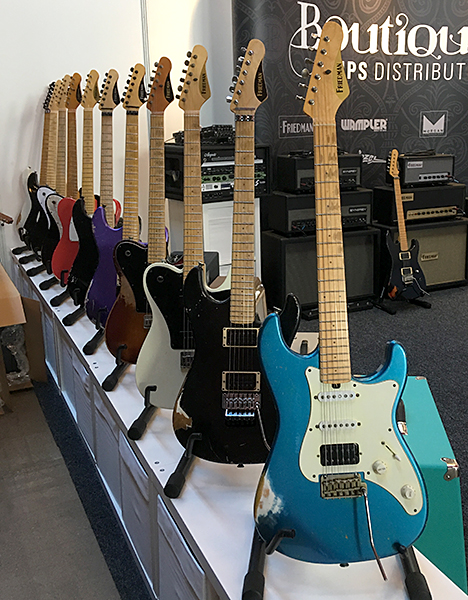 They also brought Friedman Guitars along for the ride. Some liked them and some commented that it looked like they to their headstock design from Shabat Guitars.
Chordinero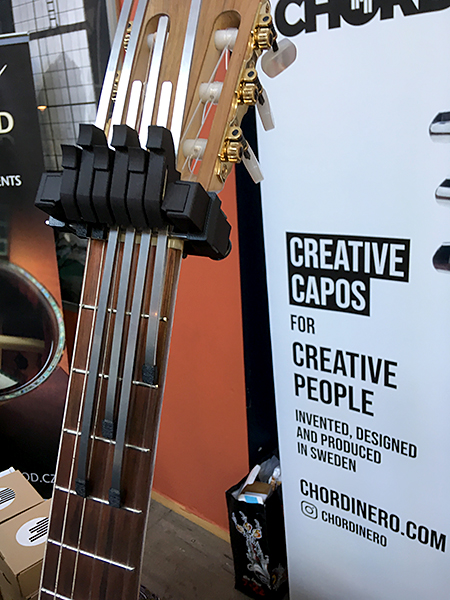 This is an utterly cool accessory for all guitar players interested in open chords but still want to play regularly up the neck. There are six arm that pushes the strings down of the frets you want. There are two versions. This one which sits at the nut and another that you fasten like a regular capo where ever you want on the neck. And it's not expensive either!
Dusenberg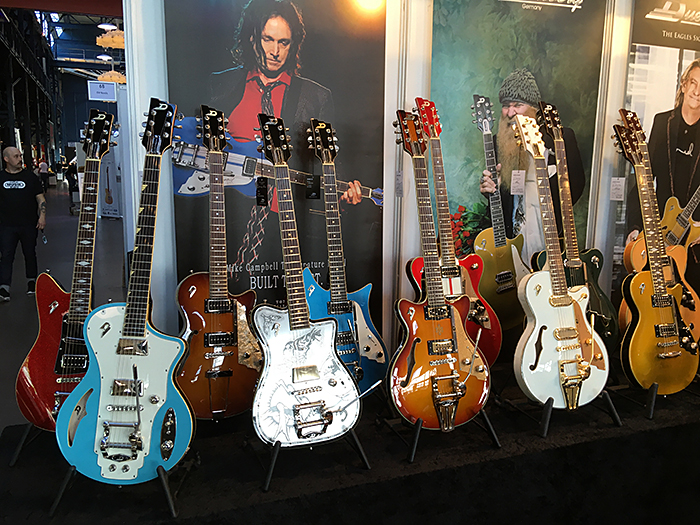 Dusenberg manages to grab a lot of stylistic esign elements from the past and put them together in a way that makes the guitar their own brand. I really think they look cool.
Eastman Guitars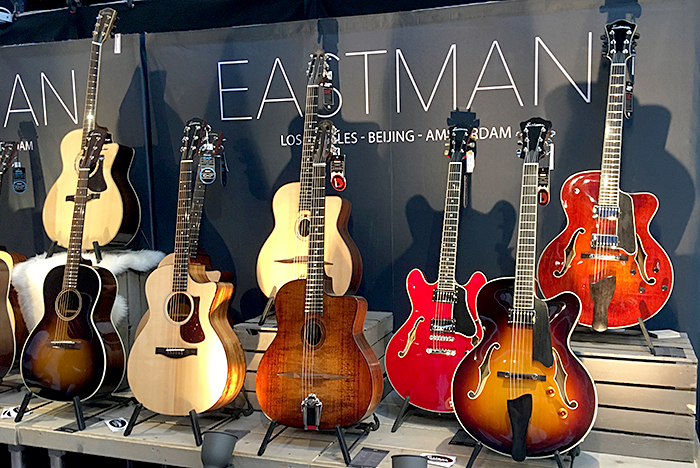 Eastman showed a varied assortment of electric and acoustic guitars. What struck me this year was that they seem to be higher priced than I had anticipated. The LP inspired electric solid body was as expensive as some Gibson Les Paul models.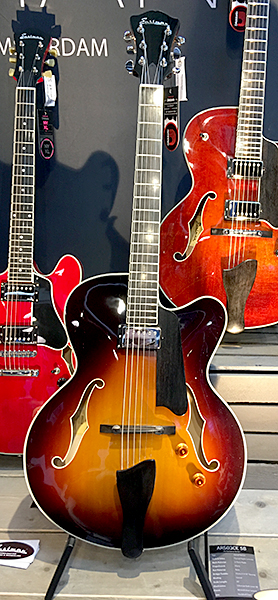 I got to try this AR503CE and it was a lovely instrument. I'd love to own it!