FUZZ Guitar Show 2019 - part 3
Lundgren Pickups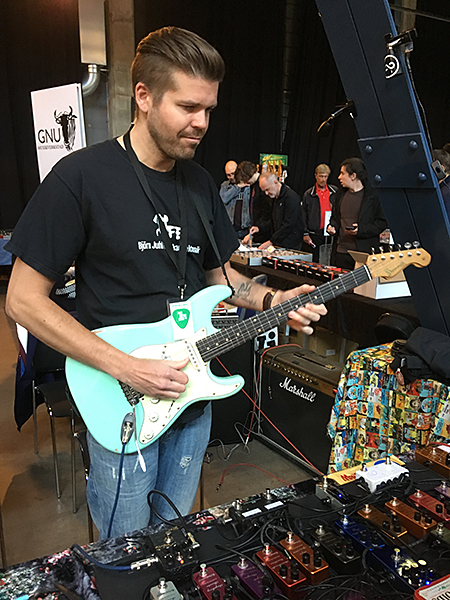 Lundgren Pickups had a booth behind BJFE and Hans Johansson who demoed the BJF and One Control range of pedals played a guitar with a Strat pickup set designed in collaboration between Johan Lundgren and Björn Juhl. I have never heard or played a Strat set that sounds so good both clean and with overdrive. After a brief discussion with Mr Lundgren himself, I decided to get a set for my self. My thanks to Hans for letting me play his guitar. BTW, if you get a chance to hear Hans, play don't miss it. He's a tasty monster player and I wish I had half his licks down.
Malmö Musikaffär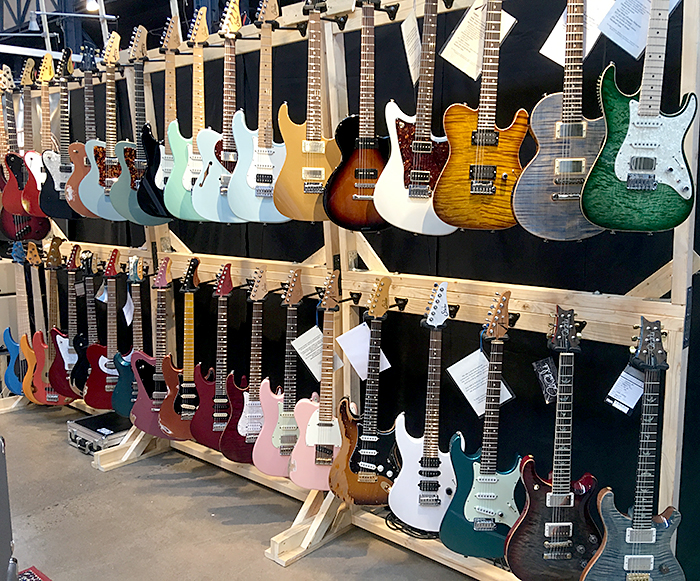 Malmö Musikaffär is one of the major guitar stores in Sweden and is located down south in Sweden's thrid largest city of Malmö across the bridge from Copenhagen, capital of Denmark.
The gold top Suhr Pete Thorn Signature in the top row spoke to me and whispered seductively. Unfortunately, my wallet talked back in harsh tones so there is no PT Signature in my life. At least not yet. :-)
Marconilab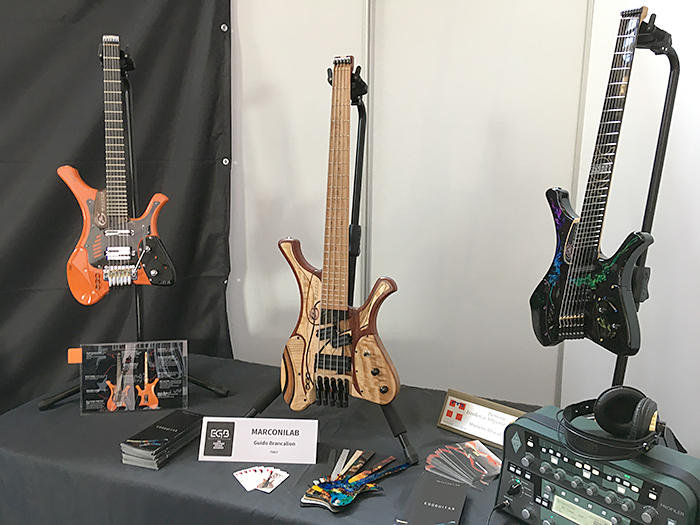 Yet another member of EGB, Marconilab from Italy also graced the FGS with some unique instruments. They showed some very artistic finishes that I would love to have on a guitar. I don't play much bass, but the bass in the picture is an awesome instrument.
Mås Instrumentmakare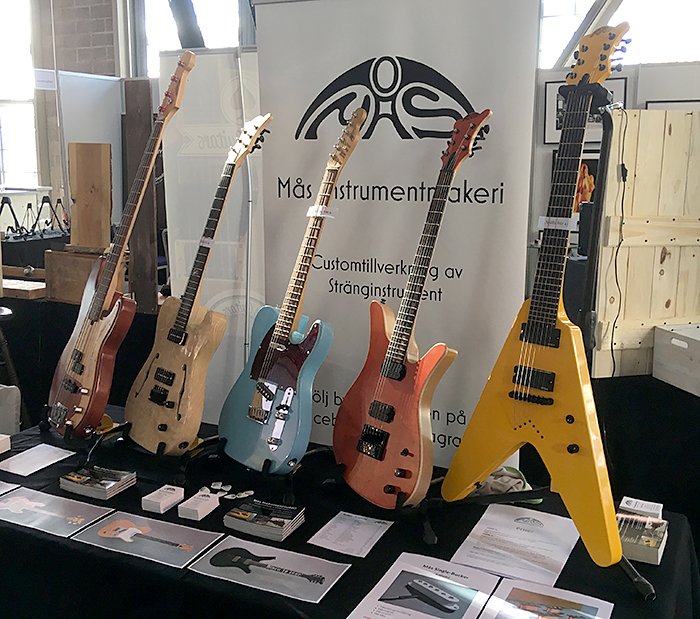 Intrumentmakare means "maker of instruments" and Mikael Åsberg is another new guy on the block. He has a very interesting business model as he has two base prices and then you can add items to the guitar according to taste and budget. His prices were very reasonable and the quilty of the instruments at hand was up there.
Mayones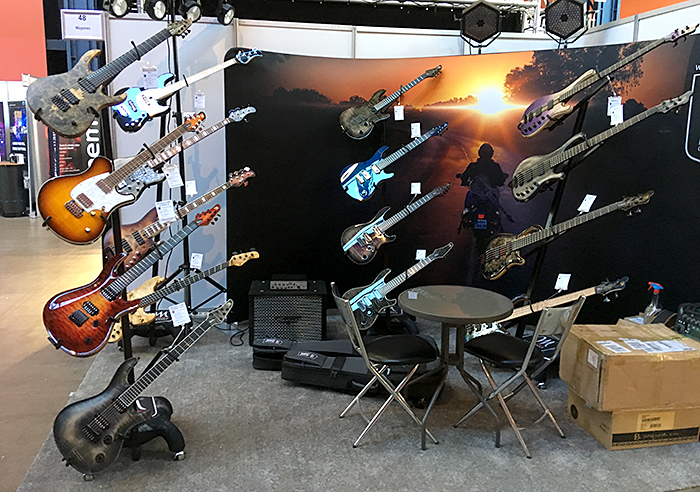 Also new to the FGS was Mayones from Poland. They make the Hadrien Feraud Signature bass. I heard Mr Feraud play and in his hand the bass sounds fenomenal.
Nordin Custom Guitars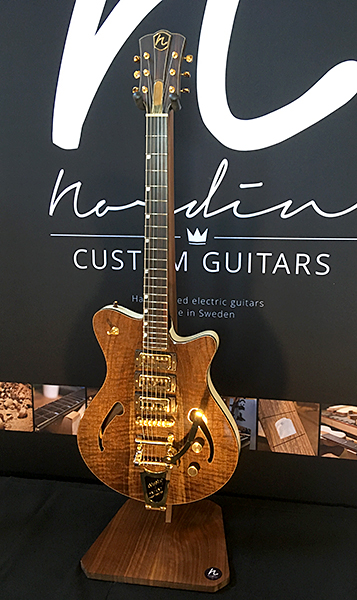 I was surprised by the number of Swedish lutheirs that were new to me and even more surprised by the very high quality of craftsmanship they displayed. And their sense of style and elegance. I stopped by many times to observe this very fine instrument clearly inspred by the Art Deco movement and by Gretsch but making it their own guitar. Absolutely lovely! Anybody would be proud to own this guitar.
Oliver Lang Instruments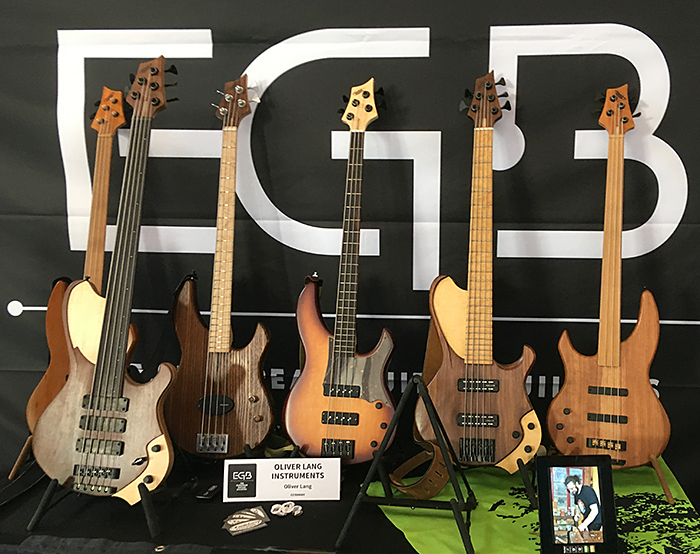 There were a surprising amout of international exhibitors and another EGB member was Oliver Lang Instruments. I like the way his guitars show natural wood.
Olson Amps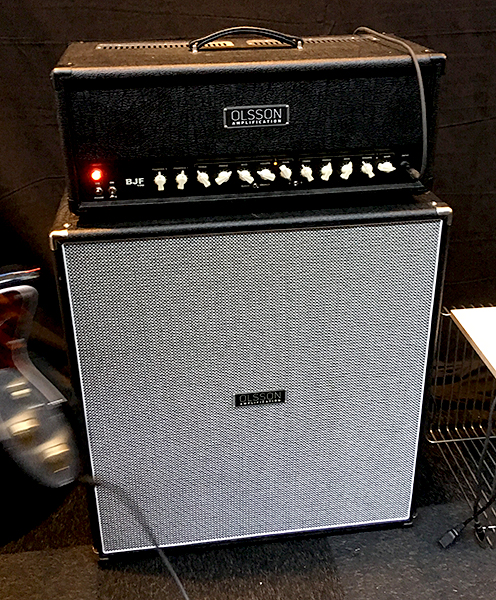 Bjön Juhl has his fingers in many pies and here's the BJF100, an amp designed in collaboration between amp designer/builder John Olsson and Björn Juhl.
Olson Custom Reverb amps. They sound soooo good!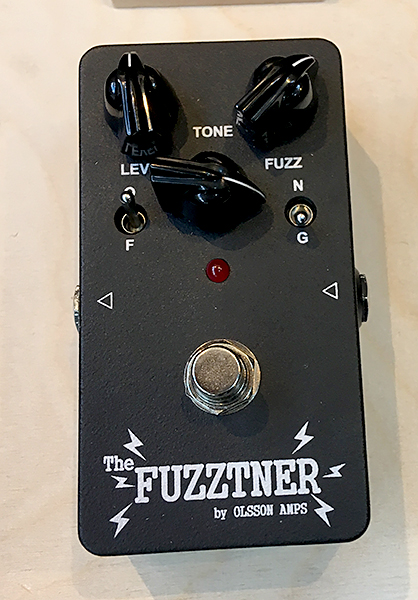 I'm old enough to have grown up together with the fuzz as a guitar effect. I can't name the number of records I've listened to when growing up with great fuzz sounds. Naturally, I have wanted to play with fuzz, but every fuzz I ever bought did not work for me. So I never tried an Octavie effect because I though it would not work either. But lately I've heard a few tunes that made me want to try one. So I got to try the Olsson Fuzztner, and man what a good octave fuzz that is. It can do the best octave effect I've ever heard all the way to almost some kind of guitar synthesis. What is really great is that you can switch off the octave effect and use it as a fuzz and to my absolute joy, it's a fuzz I can use. I loved it so I bought it! I still love it!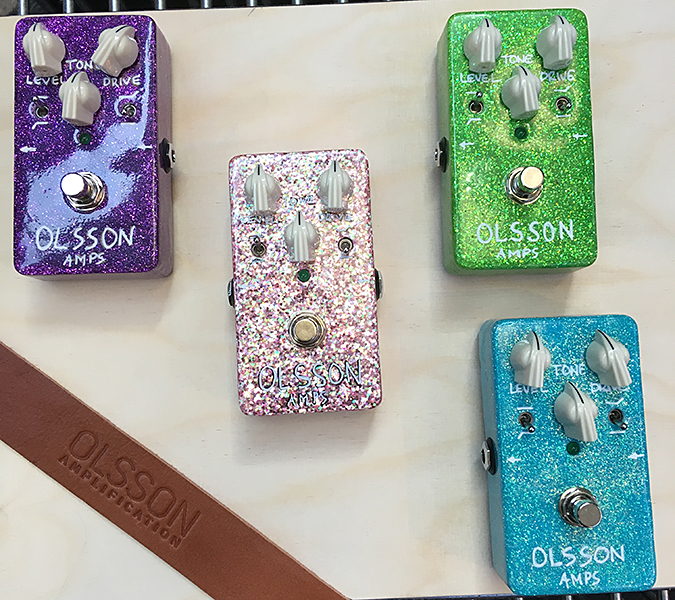 Olsson Amps introduced their new Green Light Overdrive. From the name you can deduce that it is indeed a TS style OD but this pedals has a Fat/Flat switch (with or w/o the typical TS mid hump) and a treble boost switch that makes it a very viable alternative to the green box. These four units were hand painted by Swedish guitar player Magnus Olsson. The stock pedals will be un-green, also known as black.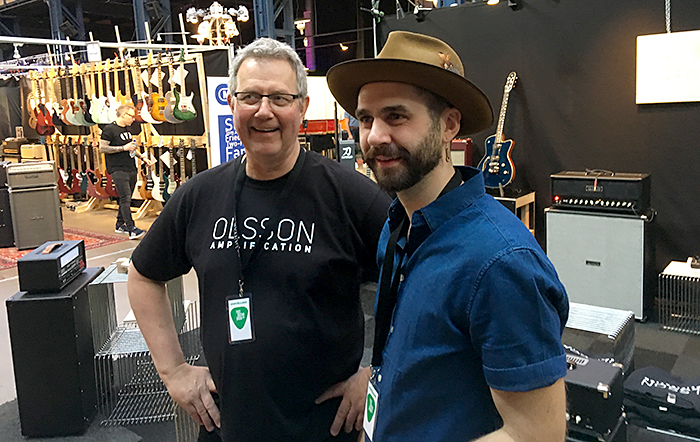 Here's John Olsson together with luthier Tobias Lindberg, luthier/owner of TLL Guitars which you should check out later in this report!