Winter NAMM 2017 - part 2
Elektron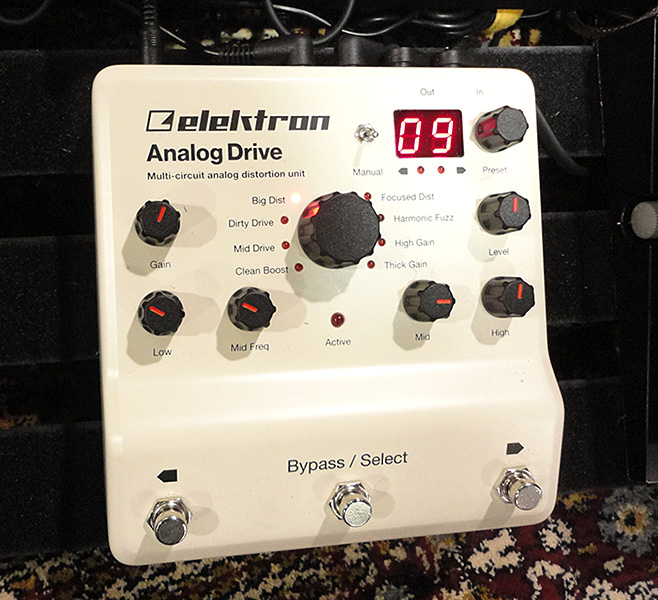 Elektron from Sweden is a household name among analog synthes enthusiasts, but may be new to guitar players. This is about to change with the introduction of the Analog Drive. This is a programmable totally analog dirt box. Yes. digital control over the analog domain and of course with MIDI In and Out. The overdirve/dist/fuzz circuits are heavily inspired by the the most popular pedals in history but with some Elektron twists along the way. Add the 3-band eq with a semi-parametric mid and you have a uniquely versatile pedal. The demos I heard put this pedal in the top 10 of my list of pedals to have.
ESP
| | | |
| --- | --- | --- |
| ESP has always show impressive wood skills. | | |
Eventide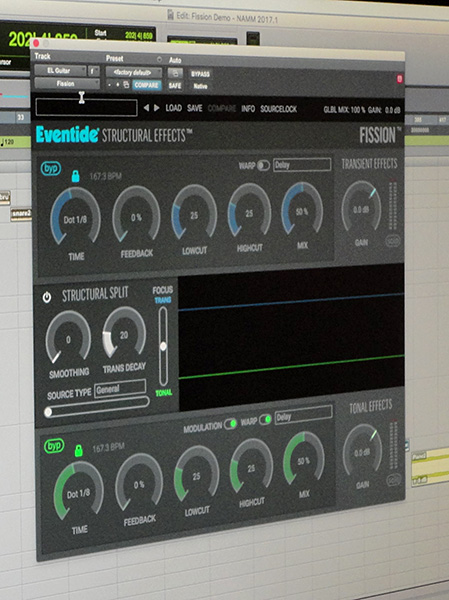 Eventide showed the brand new Fission plug-in and they say it will provide you with structural effects. What it does is divied the signal into a transient portion and a sustain portion and then let you apply different effects to the different portions. The demo was exceedingly interesting and I'm really looking forward testing this in depth.
Fender
Fender really pushed the new Professional Series which is replacing the American Standard series. Fender feels the name Professional is more accurately describing the features and quality of the series than the old name Standard.
| | | |
| --- | --- | --- |
| Sometimes I like the elegance of the understated, but I also love the exceptinally bright and in-your-face graphics of these two Custom Shop guitars. I would love to own both! | | |
| | | |
| --- | --- | --- |
| | | More graphic extravaganza from the Custom Shop! |
| | | |
| --- | --- | --- |
| This is from the "ordinary" offerings from the Custom Shop. | | |
Frank Hartung Guitars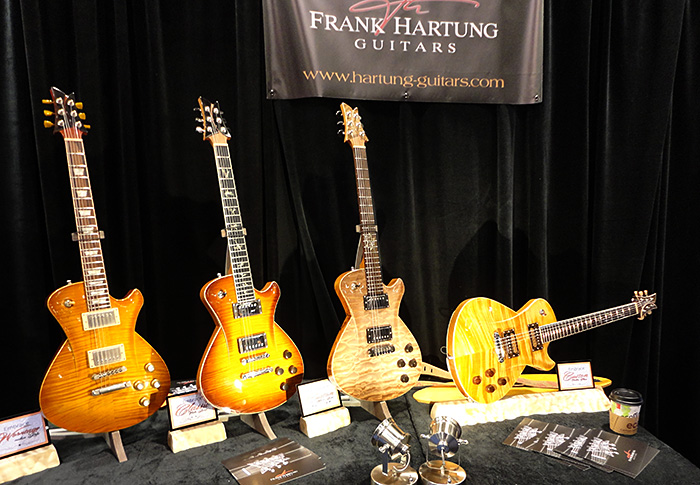 Frank Hartung is an artisan of the highest degree and his guitars are just so beautiful.
| | | |
| --- | --- | --- |
| Frank Hartung's Embrace model is aptly named. I my eyes this is elegantly sensual. It sounds as good as it looks, if not better! | | |
Fret-King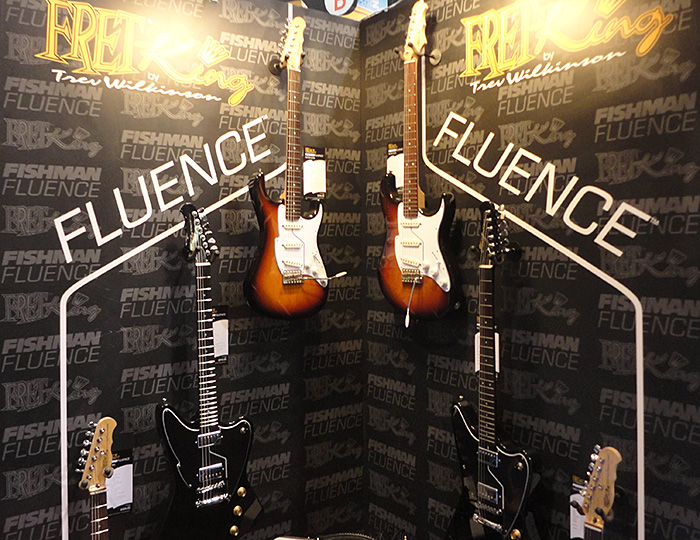 Fret-King introduced the Fluence Series of guitars consisting of an S-style, a T-style and dual humbucker Trever Wilkinson-style guitar all equippen by the very interesting Fishman Fluence pickups. These guitars are definitely priced to sell and it will be very interesting to see how they will fare.
Friedman Amplification

Friedman showed a batch of pedals I had not seen before.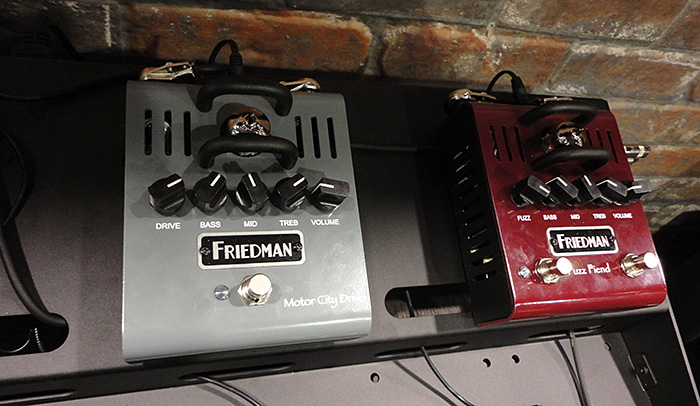 And they all sounded good in their own ways.
Fuzzrocious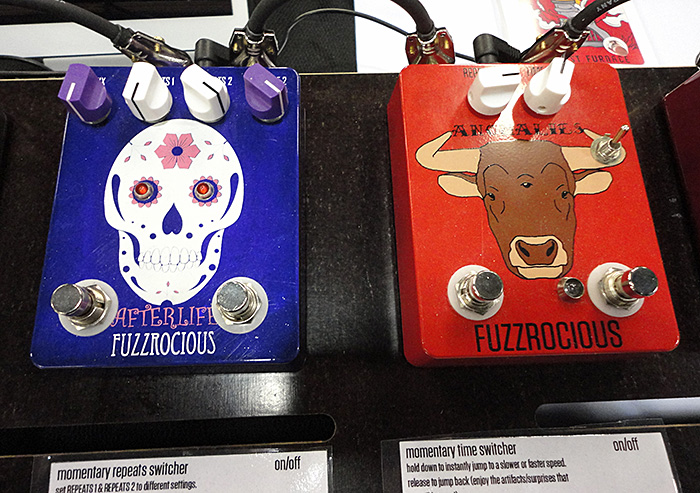 Fun names and graphics make these pedals stand out in a crowded market.
GFI System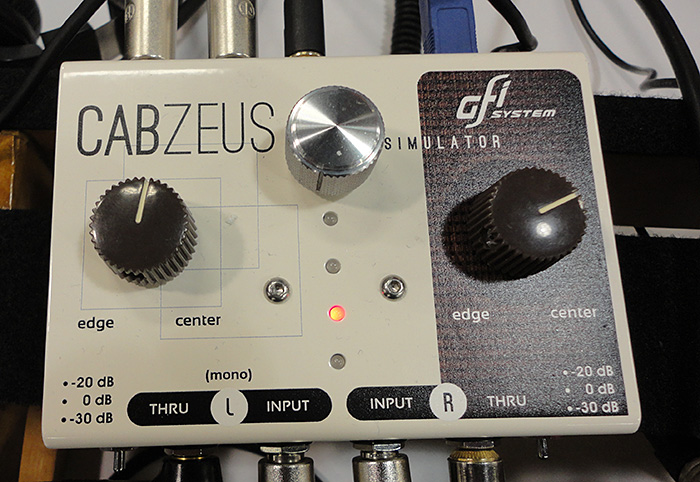 CabZeus from GFI System is a speaker simulator in a pedal. It has 8 different presets on board when used as stand-alone but you can edit exchange these with a computer You can use two speaker sims at the same time, one right and one left. Their own demo sounded good as did the demo station at the Elektron booth where they used this pedal.
Gibson
It is always a treat to get together with Thom Fowle who is the manager of the Gibson Custom Shop.

When I asked for his favorite in the Gibson booth he showed me this collaboration between Johnny A and Joe Bonamassa.
| | | |
| --- | --- | --- |
| | | It's a hollowbody with a spruce top. It was wonderfully light and played really well. |
| | | |
| --- | --- | --- |
| New from the Custom Shop is this L-5 with a solid finish on the top, no binding on the neck and in general less adorned, while still retaining the L-5 sound. Of course at a lower price point than the L-5 CES. | | |
| | | |
| --- | --- | --- |
| | | Here are two versions of the iconic ES-335. One is the 1958 model and the other is the 1959 model. I like both! |
| | | |
| --- | --- | --- |
| For the first time, another model than the LP Standard has been selected for the Collector's Choice series. This is Collector's Choice #19 and is the Dave Hinson 1959 Les Paul Junior DC. | | |
| | | |
| --- | --- | --- |
| | | Backstage in the Gibson area, they showed these Les Pauls that are in varying stages of prototyping. |
Greco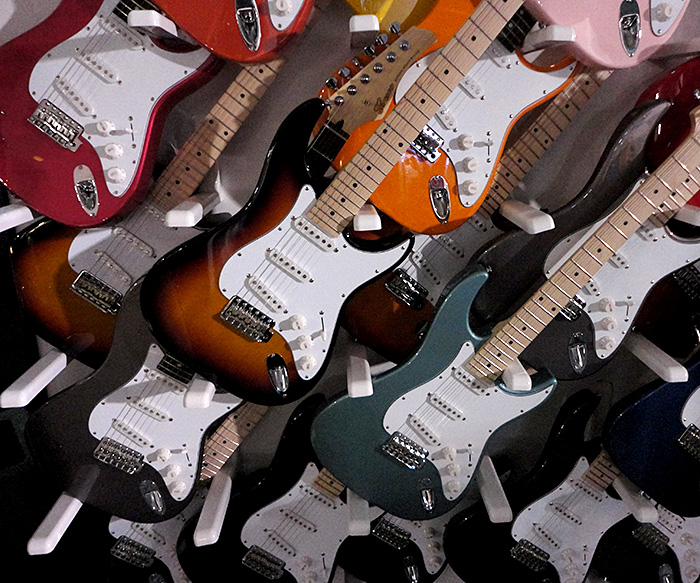 You would be forgiven if you thought this is a picture from the Fender booth. But it is actually from the Greco booth. But they do look familiar, don't they?
| | | |
| --- | --- | --- |
| This is also a Greco take on a familiar theme, but this time with some unusual variationslike mid pickup position and knob placement. | | |
Gretsch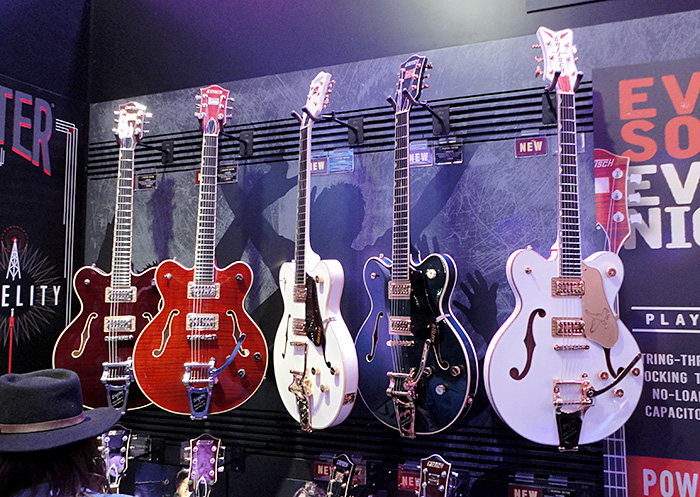 Gretsch introduced the new Broadkaster series. Looking like traditional Gretsches but thinline and with a centerblock like a Gibson ES-335.
GTC Sound Innovation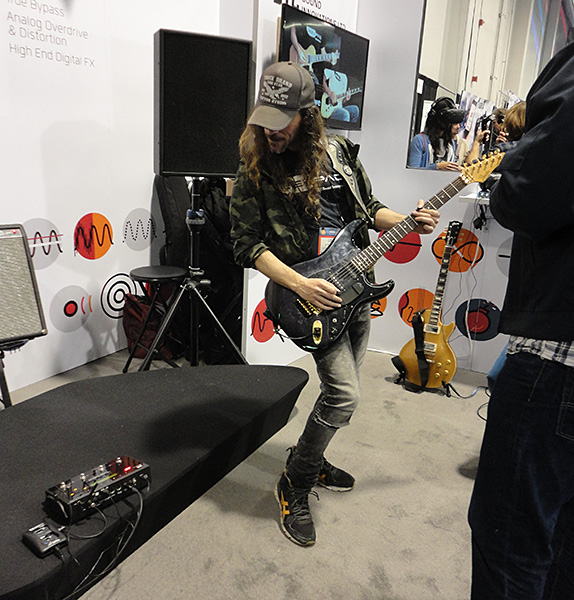 They say that the 3rd time's the charm. Well, this is the third year that I've had my creative senses tickled by the RevPad and according to the company they will start shipping as I write this. For those of you not in the know, you should check this out without delay. The RevPad could possibly be the next product that changes the way you play your guitar and create music.
Henrietta Engineering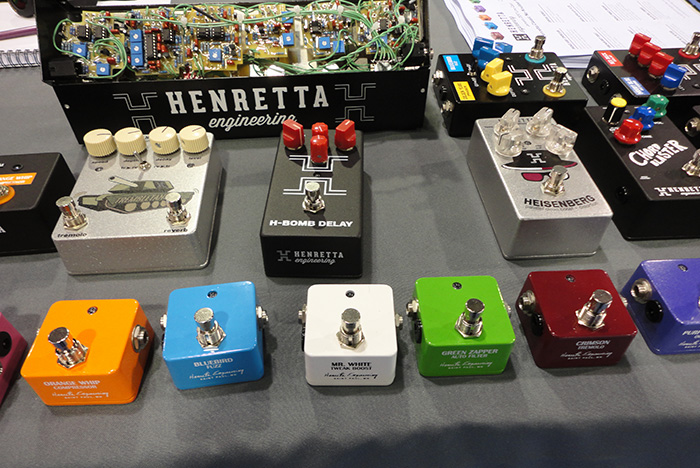 Many people think there are too many knobs on their pedals. They should go straight to Henrietta Engineering and check out their Classic No-Knobber pedals. So far, they have 12 to chose from and they cover all the usual effects and then some. In case you do want to change the sound of the pedal, they all have internal controls for the parameters you need. Just set and forget!
Hughes & Kettner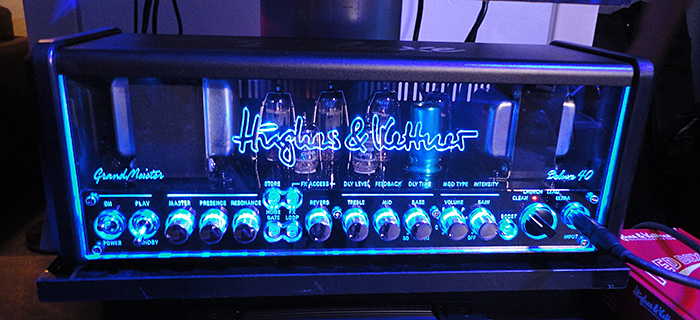 Last year we saw upgrades to the TubeMeister Series which proved popular so this year H&K showed a similar update to the GrandMeister amp and this is now the GrandMeister Deluxe 40. Sounds as cool as it looks.
iConnectivity

When I first heard that a acquaintance of mine had gone to work for a company making MIDI interface, I thought he must be wrong. Nobody today makes MIDI-interfaces, do they? Well, many actually do if you just consider the fact that the MIDI protocol is still alive and well even though it may be transmitted though other cables, like USB cables. So I got a very nice surprise when I went to visit iConnectivity as they have some novel and unique products. This iConnect MIDI 4 is indeed an interface but for MIDI whereever it may need to go. Here you have both MIDI DIN connectors and USB ports.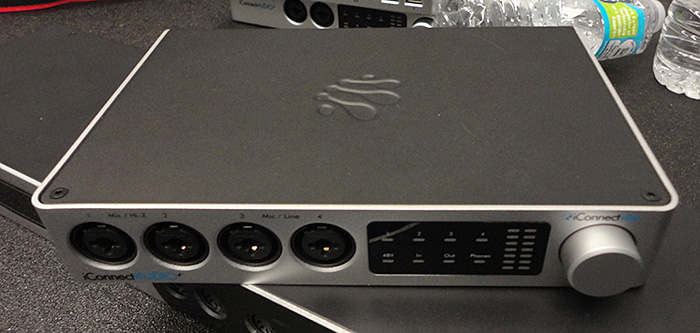 Next surprise was this iConnect Audio 4+. This is both a MIDI interface and an audio interface. It has the same MIDI functionality as the MIDI 4 but one outstanding feature is that you can connect a Mac and a PC and an iOS device and they will all show up as available audio channels on all the connected devices. So if you wanted to record something you did on your iPad into your DAW on your PC. Just select the iPad as input in your DAW, hit record and play and that's it.
IK Multimedia
| | | |
| --- | --- | --- |
| Star of the booth at IK Multimedia was the iRig Acoustic Stage. I liked the first iRig Acoustic but always though t was a bit bothersome to use in the studio. This is just what I was always hoping the iRig Acoustic could be. Easy to use, fast to mount and usable on all acoustics I may come across. Steel and nylon strings! It even has an input for your built-in pickup system and a balance control to make it even more flexible. And it's very inexpensive. | | |
| | | |
| --- | --- | --- |
| | | The iRig MIC is now available with an XLR connection. |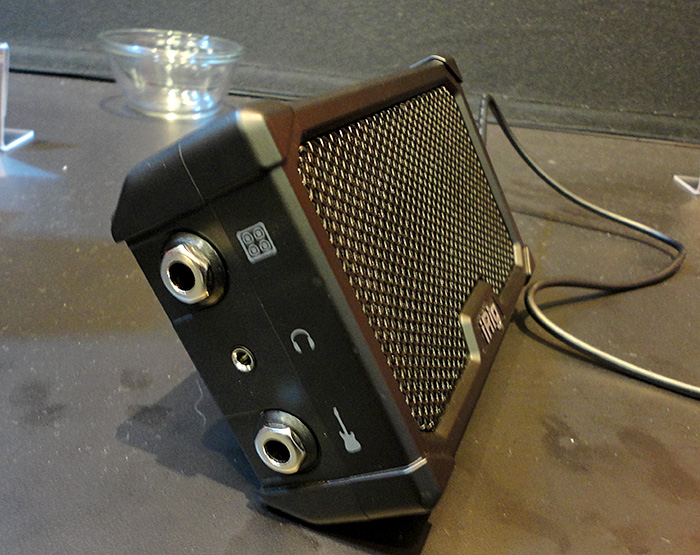 The iRig NanoAmp is a lot of things. It's a stand-alone micro guitar amp, it's an audio interface for an iOS device and you can even use it to drive a regular 4x12 guitar cabinet for bigger tones. And it has a headphone output for those situations where you don't want to be heard at all.
ISOVOX
There are many times I would like to record vocal in my home studio but when it just isn't practical. The IsoVox2 solves many the issues involved.
Italia
| | | |
| --- | --- | --- |
| Italia has a lot of charming guitar designs with some old school elements. | | |
Jam Pedals
I'm partial to the steam punk school of design so these pedals from Jam are right up my alley. Not only do Jam Pedlas look great, they also sound great.
James Trussart Guitars
| | | |
| --- | --- | --- |
| I always thought James Trussart guitars looks very cool. | | |