Holy Grail Guitar Show 2014
Kauer Guitars
| | | |
| --- | --- | --- |
| | | All Doug Kauer had to show the first day of the showwas pictures of the show guitars being stuck in customs due to a clerical error. But this banschee looks very attractive. It left Doug free to talk about general things and I had a great at his table. |
| | | |
| --- | --- | --- |
| Day 2 was an improvement for the Kauers. A customer drove 7 hours in oder to lend his Kauer Express Supreme for display. | | |
| | | |
| --- | --- | --- |
| | | This single pickup Banshee belongs to fellow luthier Nik Huber who brought it to help. The comradiere between the luthiers were a joy to behold. |
KD
| | | |
| --- | --- | --- |
| Kostadin Dimitrov from Bulgaria showed this guitar with LEDs as fret markers. | | |
| | | |
| --- | --- | --- |
| | | And here's a close-up for easier viewing. |
Kopo Guitars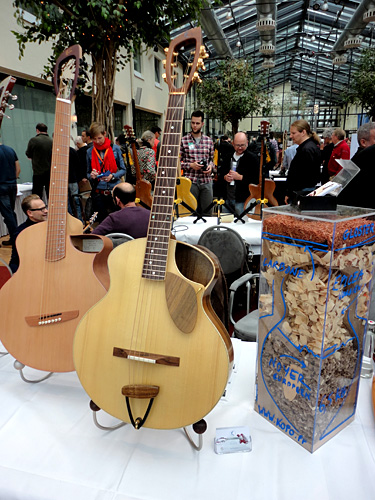 Kopo Guitars showed one soundhole idea of the many at the show.
Larsen Guitars (formerly Girl Brand Guitars)
Apart from being a creative luthier Chris Larsen is also a story teller of the first degree. He had me entertained with the story of this and other guitars for quite some time and I enjoyed it all.

Chris got the idea for this particular design after having had a brief conversation with the US armed forces about sending guitars to people in the service. While he couldn't do that, he nevertheless started thinking of what an army guitar ought to be and this is the result. The guitar is as compact as can be and the body is made out of metal. Chris had to invest a sizeable amount of USD to buy a metal CNC router and learn how to program the thing.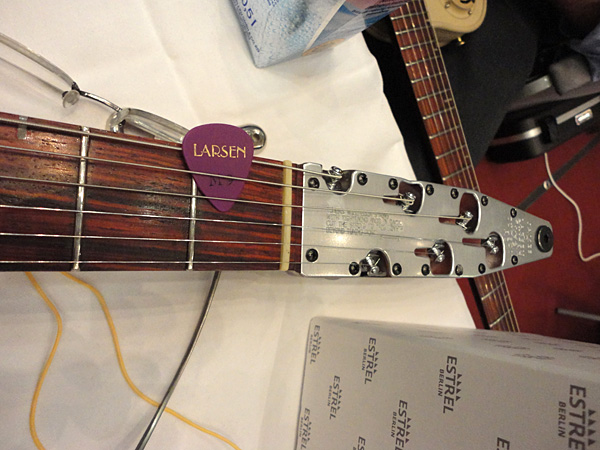 The headstock design is as small as can benot to take any unnecessary space in the field.
| | | |
| --- | --- | --- |
| | | In order to manage such a small headstock he had to angle the tuners which are of the Sperzel locking veriety. |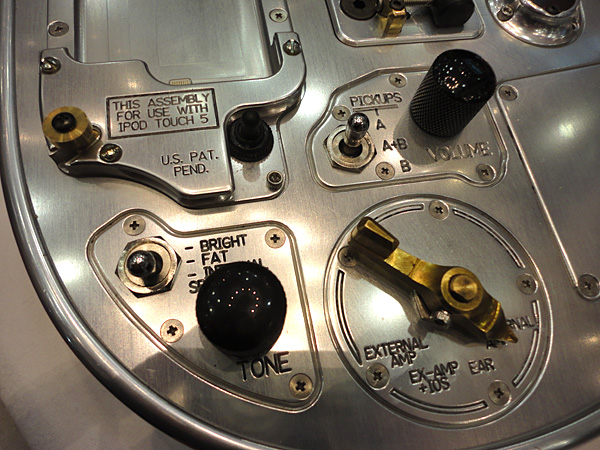 To make it useful in the field and to make it loud enough to compete with an acoustic, Chris designed an on-board amp and speaker. The problem was that the neck pickup created a problem being so close to the built-in speaker on the uppr bout. It created feedback all too easily. So then a low wind version of the pickup were mounted together with a transformer to make it work. In the control panel above there a switch above the tone control. That switch taps the transformer in different places to give alternate tone colors. Then Chris decided this guitar should be able to be played using modern technology like an iPod or Iphone so that functionality was added. Thus the switch lower right. External Amp takes pickups and transformer to the guitar output like regular electric. Internal Amp uses internal amp and speaker. Ear connects pickups to the connected iPhone and sends that to the headphone output and finally EX-Amp + IOS takes iOS signal to external amp output. Phew! Lots of info here to remember. When listening to Gary you have no time to take notes.
To the right you see thye phone bay with iPhone mouted using an amp simulator app.

As you see this yellow guitar is the German language version of the guitar.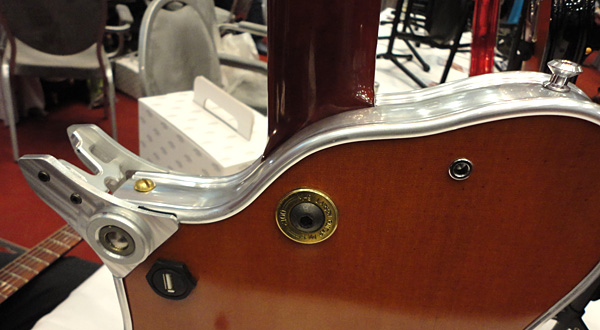 When designing this guitar Chris Larsen came up with a stable one bolt neck joint. This enables the user to take off the neck with the strings still attached and put it in a gig bag and then fold the gig bag for easy, light and compact transportation, something much appreciated by the arnmed forces.
| | | |
| --- | --- | --- |
| | | Many colors available in case you want to color match a certain stage costume. |
Laskin Guitars
William "Grit" Laskin is a truly gifted luthier, a visual artist and a story teller of extraordinary measure. The day before the show opened the European Guitar Builders had a day to themselves when they had a lecture delivered by Mr Laskin. During this lecture Mr Laskin told a captive audience about how he changed Canada's trade tariffs, failed at getting a patent, created a new kind of inlay filler, came up with the sound port on the side and the beveled arm rest and showed a number of examples of his incredible inlay work. This was done while displaying a seldom seen dedication of man to his art and was delivered with great humor. The man has a keen sense of comedy and great timing. After the lecture there was a Question & Answer set and Mr Lasking was very generous with his knowledge. A day to be treasured and remembered by many in the audience.
| | | |
| --- | --- | --- |
| | | This Laskin guitar displays all the good things about his work. The sound, the craft, the arm rest, the sound port and the incredible inlay work. |
| | | |
| --- | --- | --- |
| This guitar was inlayed with a motif covering the destruction of the Berlin Wall. Very apt regarding the city we were in. The artwork showed a very interesting mix of perspective. | | |
Lospennato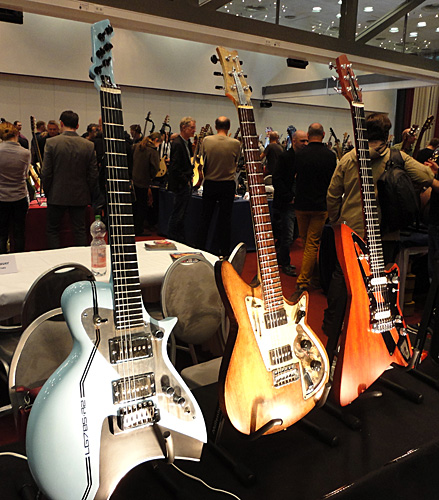 With a unique mix of Art Deco and Steampunk qualities Leo Lospennato stood out in the crowd.
| | | |
| --- | --- | --- |
| The control cavity is full of gears and what-not. I'm quite sure these are for design purposes only. | | |
| | | |
| --- | --- | --- |
| | | Leo Lospennato himself! |
Manzer Guitars
| | | |
| --- | --- | --- |
| | | If there is one living legend in the acoustic guitar world it must be Linda Manzer. How anyone could construct an instrument like this is totally beyond my comprehension. How anybody could come up with ideas to fully utilize is even more amazing. |
| | | |
| --- | --- | --- |
| If you, like myself, consider six strings challenging enough Ms Manzer offers guitars suitable for us too. | | |
Matsuda Guitars
| | | |
| --- | --- | --- |
| | | Michihiro Matsuda only brought one guitar, but what a guitar it was. Truly an astonishing instruments in many ways. If I ever could afford it I doubt I would bang out Smoke On The Water on it. |
Melo Guitars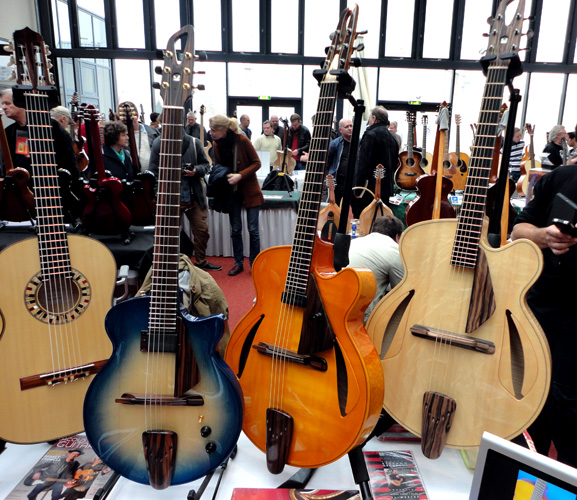 From Spain comes Melo Guitars. I have followed Mr JosepMelo I Valls a number of years and his work always looks beautiful. If I could afford a collection of archtops one of his guitars would have definitely place in it.
| | | |
| --- | --- | --- |
| One feature of a Melo archtop is the soundhole "doors" that can be opened to change to output of the guitar. | | |
Neubauer Guitars
| | | |
| --- | --- | --- |
| | | I love a good archtop and this was one. As Mr Neubauer was kind enough to insist I try it out I did. There was another guy playing it before me and he really showed the potential of this guitar. |
| | | |
| --- | --- | --- |
| Andreas Neubauer holding his instrument. | | |
Nik Huber Guitars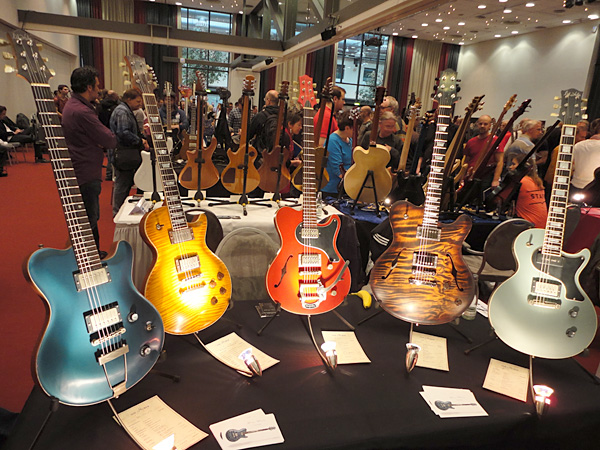 I always smile when I see Nik Huber's guitars. If it is because Nik is sunch a nice guy or his guitars are so nice, I'm not sure but probably a blend of both.
| | | |
| --- | --- | --- |
| A hollow Krautster II witha bound neck. | | |
| | | |
| --- | --- | --- |
| | | Nik Huber himself with a red rockabilly inspired beauty. |
o3 Guitars
| | | |
| --- | --- | --- |
| Some Spanish builds from luthier Alejandro Ramirez. I took a shine to the hollobody to the right. | | |
| | | |
| --- | --- | --- |
| | | Soundhole close up. Beautiful woodwork. |
Pagelli Guitars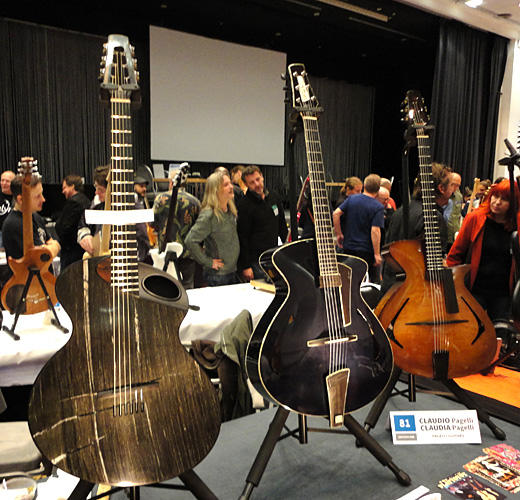 Wife and husband team of Claudia and Claudio Pagelli never ever ceases to amaze me with their guitars. The are always without exception one of the highligts at every show they attend. Their designs are so their very own.
| | | |
| --- | --- | --- |
| | | Just one example how a Pagelli guitar is both art and instrument. |
| | | |
| --- | --- | --- |
| If I owned this guitar I don't know if I would play it or just look at it. | | |
| | | |
| --- | --- | --- |
| | | The Pagelli's take on the soundport idea. I imagine that this also helps uppr fret access. |
Pellerin Guitars
| | | |
| --- | --- | --- |
| | | This is one of the four acoustics I saw at HGGS that I really want to own. The sound, playability and looks makes this a lifetime musical partner. |
| | | |
| --- | --- | --- |
| The nicest rosette at the show? | | |