Winter NAMM 2019 - this year a bit different
Winter NAMM 2019 was a bit different than what I have become used to. They keep chaning the routine for letting people in to the show area and the buildings and this year it was the best so far. It was quick and effortless to get in compared to some of the years past. This year the staff was uniformley informed about what badges could go where and when. This helps us who like to start the day early with preparations for all the meetings. More of the positive side of different were some really good products. Some new to me and some new to everybody.
For some reason the loudness restrictions were way less adhered to this year and it was a real problem for those of us who needed to talk to people (most of us). I really hope this will improve next year as this NAMM show was the first NAMM that induced headache.
Back to being positive! I was really concered about the weather as there has been a lot of rain in California lately. I know the rain shouldn't bother me as the show is mainly indoors. But everyone who has ever attended NAMM will attest to the fact that beautiful sunny weather has a major impact on almost all visitors.
The attandence this year seem to be up from last year if I judge from all the people who walked the show floors.
I was very much surprised by how many people I met who said they read all my report and that my NAMM report is their favorite NAMM read and a few manufacturers made a few very cool suggestions. So this alone made the show a personal success and has led me to decide on a few exciting career choices.
A few companies jokingly told me that I should not do my report in alphabetical order as they always came way back in the report. But my readers have told me they find it very practical so the format will stay.
Please read my usual disclaimer here.
This personal report should bee seen as my very own point of view and does not reflect the view and/or opinions of any other person or company of which I may be associated either through my work or in these pictures. If you find any faulty information in this report please e-mail me at mats.n[at]nermark.com.
I have placed the products in alphabetical order for your convenience. I also have divided the report into 5 sections. Otherwise the load times would be problematic.
Please also accept my apology for any language errors as English is not my native language.

Ampeg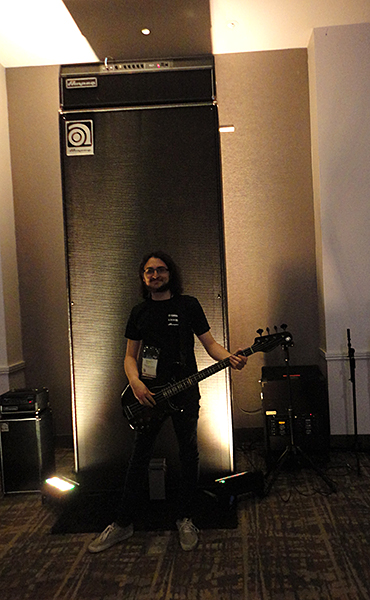 This Ampeg goes to 11. 11 feet that is. Ampeg, which was reciently bought by Yamaha, showed this huge working amp in the Marriott Hotel and people were encouraged to pose in front of it.
Anasounds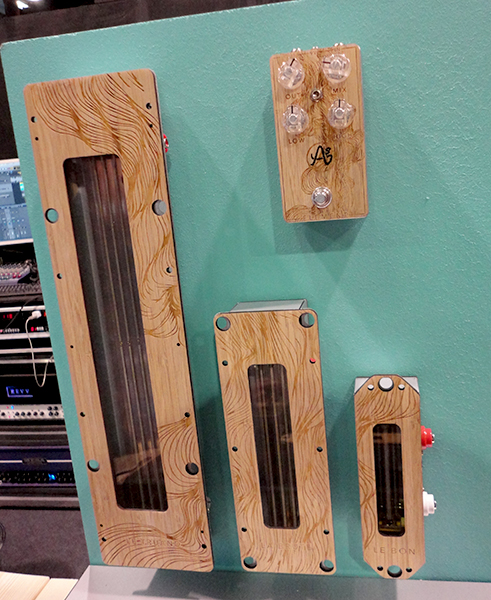 Anasounds is a French company and they make pedals of all kinds. They showed this really cool modular approach to spring reverb. This is the real deal. Analog to the bone. The unit to the top right is the control unit which you put on your pedalboard. Then you select which spring unit you want to use for the occastion. If you're in your studio where you have space, you can connect to the large unit with the long springs. If you're going to a gig and want to pack compact, the you can fasten the smaller unit under your pedalboard as you can see in the picture below.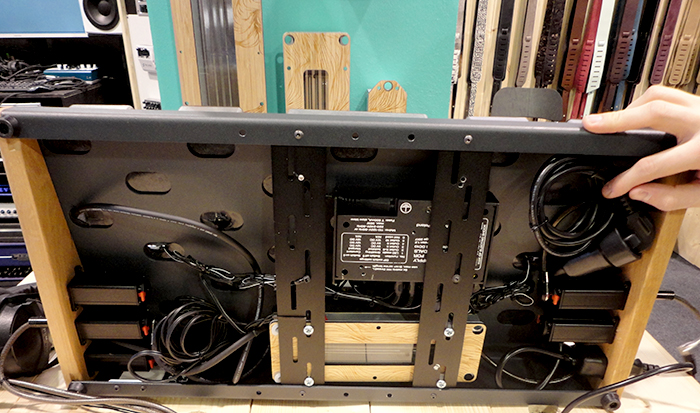 Atomic Amps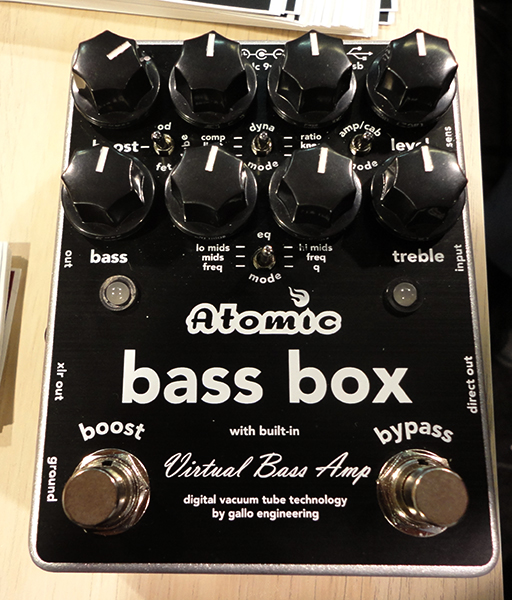 After the incredible success of the AmpliFirebox, it sort of comes natural to see this bass box. After getting the guided tour from the designer Marc Gallo, I'd be surprised if this won't be a huge hit. It has boost that you can use as a plain boost or an overdrive. The dynamics processor part can be set up as compressor or levler. The eq can be configured in three ways. A model of a 4-band API EQ, a three band with parametric mid or as a Sonic Maximizer. And yes, it also includes amp modeling. The SV Tee model newly released for the Amplifire models was so good that it had me buy a new bass. You can have three different amp models/IR loaded in the bass box and select between them. More models and IRs are available using the editor via USB. I fyou like the sound of going direct you can set one of the three slots to be empty. Forthermore it has XLR and direct out, headphone out and aux in so you can practice to tracks using only the bass box. This gets my Top Bass Product Award.
Beat Box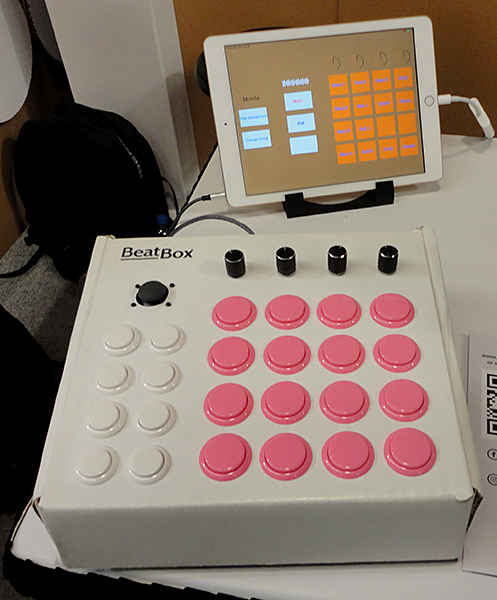 The Beat Box definitely is a fun and educational product. It's a drum machine that you assemble yourself. Everything is delivered in the cardboard box you see above. You open the box and take out all the parts, punch holes in the box and mount everything on said cardboard box which, according to the Beat Box guys, takes less than 30 minutes. You select the sounds and manage the Beat Box using the accompanying app. All the parts, the app and all the fun can be had at less than $100.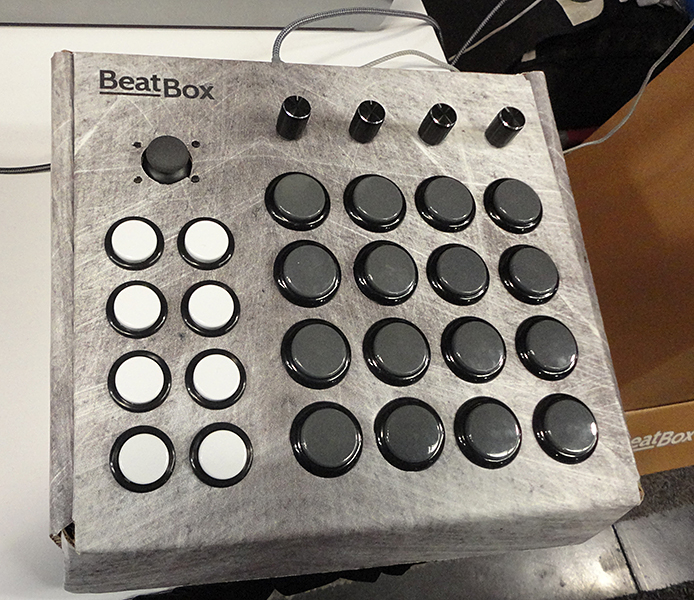 Another fun fact is that you can special order the cardboard box finish you would like.
Benedetto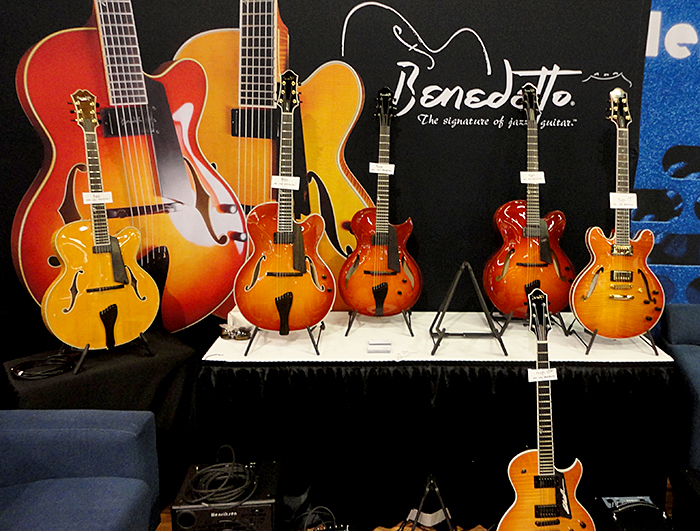 I never miss a chance to play a Benedetto. Even if it's in a noisy environment and ever so briefly. These guitars are, to me, uniquly beautiful and so expressive and a pure joy to play. I just wish I won the lottery so I could order one.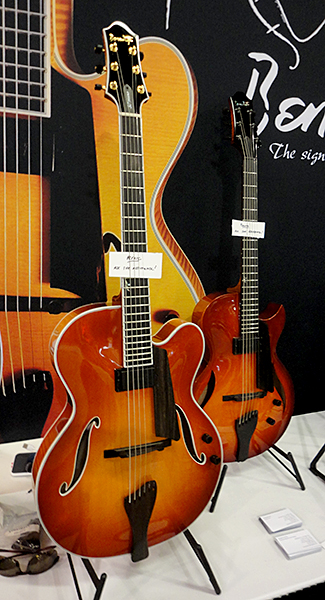 Black Volt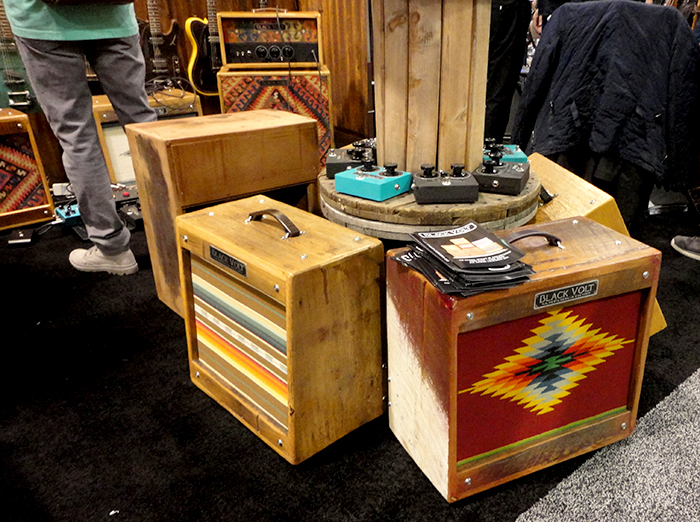 Black Volt makes amps and pedals. All amps are built one at a time and they start with finding old recycled wood. When they get that they decide what amp design will fit with the wood. The speaker grille is made out of old recucled carpets/blankets. This guarantees the customer a truly unique amp
Blue Cat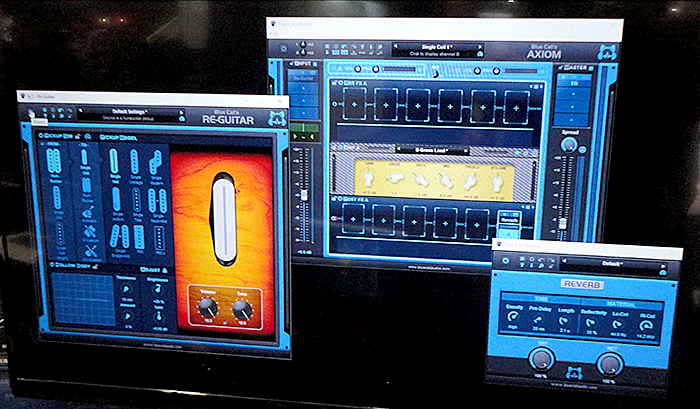 Blue Cat is known mainly for their Axiom amplifier and effects plugins. This year they showed a new interesting plugin.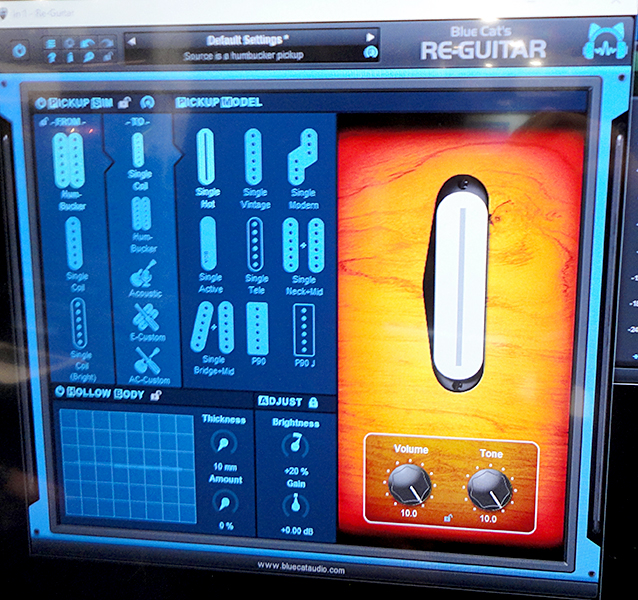 This is the Re-Guitar plugin which changes your pickup type from either humbucker, single coil or single coil bright to and number of other pickup types. In the picture above you see the the choices for single coil target type. I will review this at the earliest possible moment.
Bluesman Vintage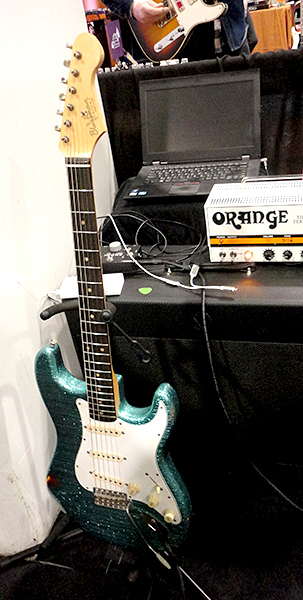 Last year was my first experience with Bluesman Vintage guitars when company owner John Scott showed me a Sedan that I almost bought on the spot.
This year I tried this glittery green beauty in the Diffusion Audio booth and realized why I liked the Sedan so much.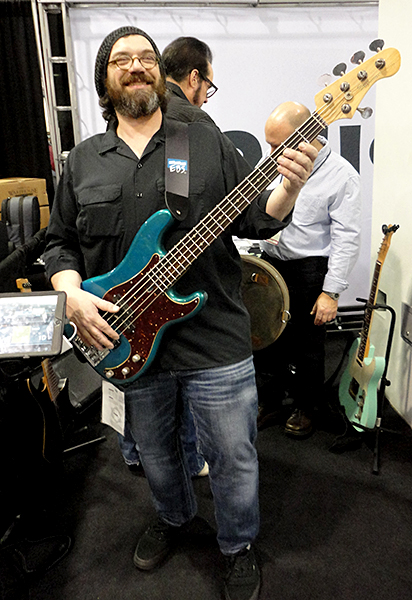 The inimitable Mike Van Tine from Diffusion Audio demonstrating a Bluesman Vintage 5-string bass with a cool mix of vintage and modern construction details. In the back to the right of Andy Cherna, you'll find a Bluesman Vintage Coupe.
Blue Guitar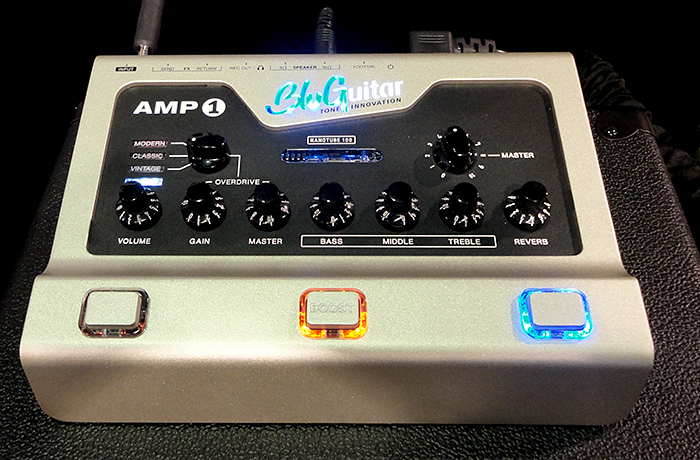 Guitar player and gear designer Thomas Blug brought the Marcury Edition of his AMP1 to the show. It's hard to believe that this pedal is not just an overdrive but a fully functioning, analog guitar amp with a powerful power amp. All you need is to connect it to a speaker. Thomas Blug's demo was as always great sounding and very inspirational.
Boss

Boss has freed themselves from feeling they have to lock all their product releases to the bigger trade shows like NAMM. Thus have we seen a number of product releases over the pats year like the Nextone amp series.
Information about the Waza Tube Amp Expander was released late 2018 but this is the first time it's been shown to the public.

The Tube Amp Expander is a the swiss army knife of guitar tools for the tube amp afficionado. It's a load box, an IR loader, amp control unit, fx loop, analog power amp, direct recording device and more.
Bourgeois
Dana Bourgeois showed some very nice instruments. His guitars have never failed to impress me when I've tried them.
Cable Wrangler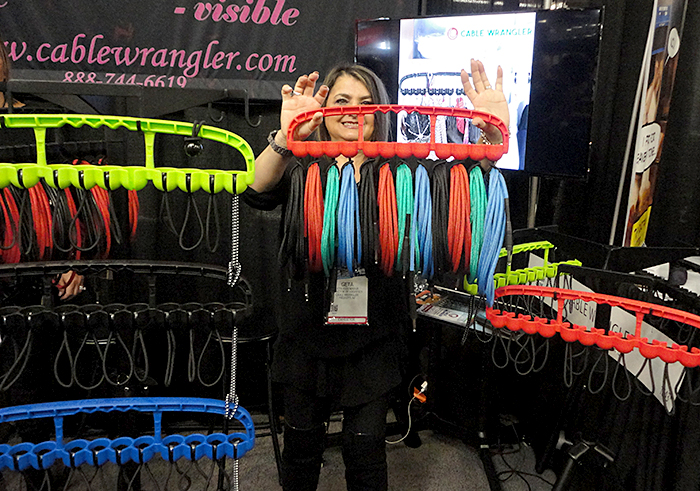 I'm obviously not the only one who has a problem with managing and storing cables. Cable Wrangler seem to be a practical solution.
Carlino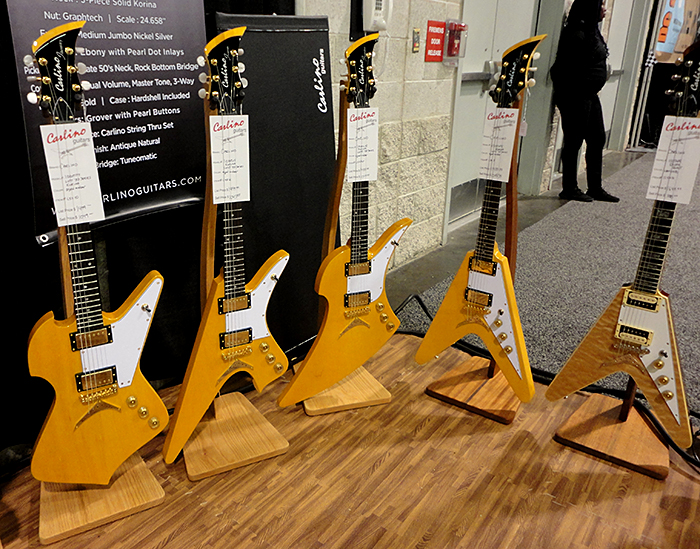 Carlino is obviously taken by Gibson's futuristic designs from late 50s. The Lost ´59 Series is a clear proof of that.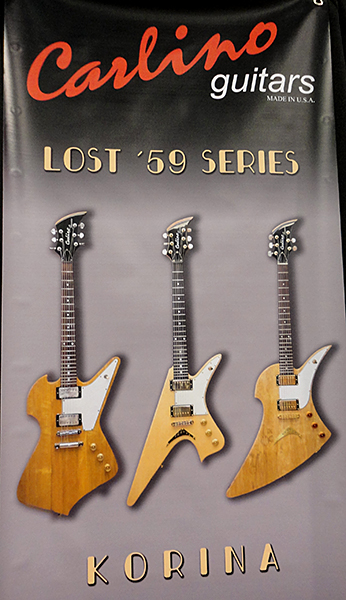 Catalinbread
The Nicompressor was on show and in two different colour schemes. According to a smiling company rep, they were looking for opinions to make a decisions of which one they should go with.
Chase Bliss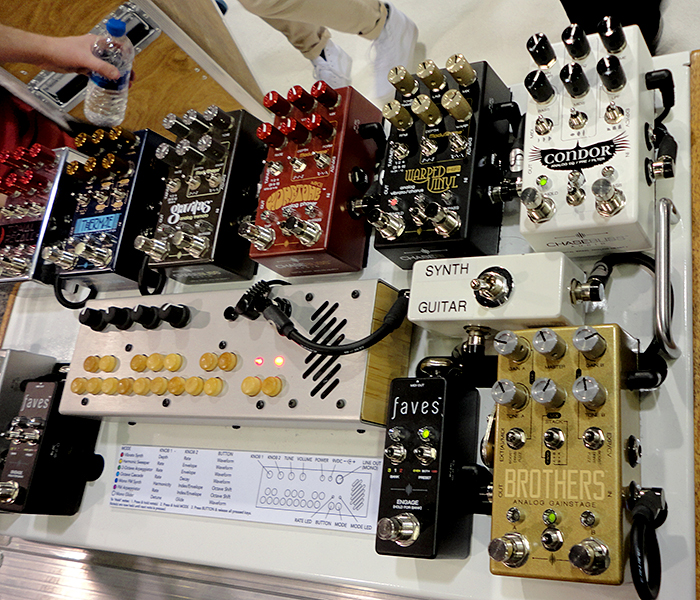 If you like the sound of analog but the possibilities of digital control, then Chase Bliss should be on your list of products to check out. They showed the Dark World reverb made in collaboration with Keeley and Cooper FX and the Blooper.
Chicken Picks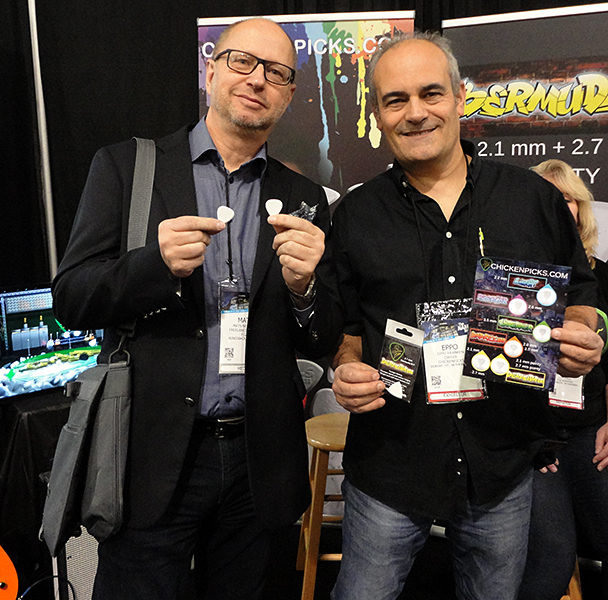 Small things can make a huge difference! There are always people at NAMM that tries to convince you that their new pick is the best thing since sliced bread. Being the positive person I am, I always gave them a try. Very few I gave a second try. Then I got back to using my regular pick. Three years ago I was given a Chicken Pick by Eppo and since the day I tried it it has been my steady companion. It made my sound more focused and my playing more fluid.
Cioks

If you have a pedal board, you need power! To me Poul Cioks has it all covered. Especiall with this Future Power Generation series which is a smart concept where you can piggy back several units on the the bigger unit as your needs changes. The fact that you can select you power requirements for each individual output means that you don't have to buy a new power supply just because you got a new pedal. Top marks!
A quick look at the back.
Claas Guitars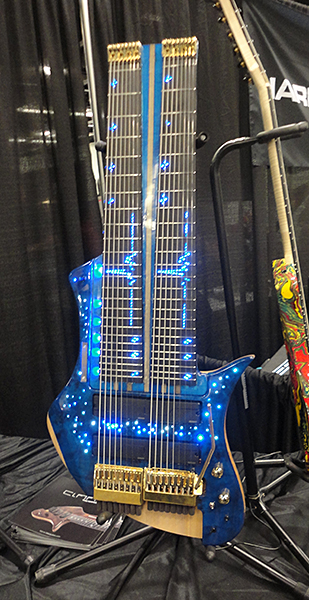 The one with the most lights and strings when he dies, wins? If that is true, Claas Guitars has a real contender here!
Collings Guitars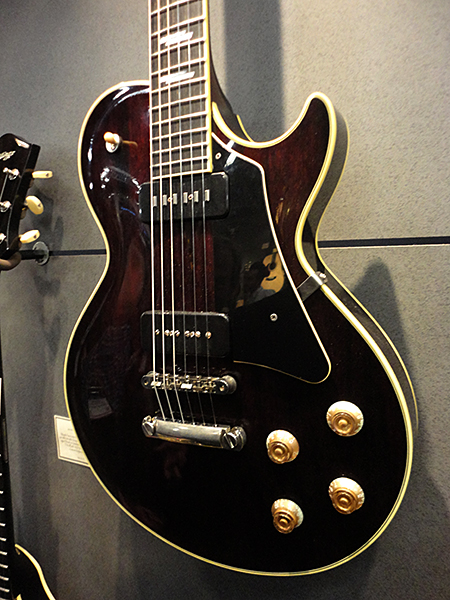 I've said it before and I'll say it again this year and probably next year as well. Collings is the company that has taken the Kalamazoo set neck tradition to the next level and keep doing it with skill and love.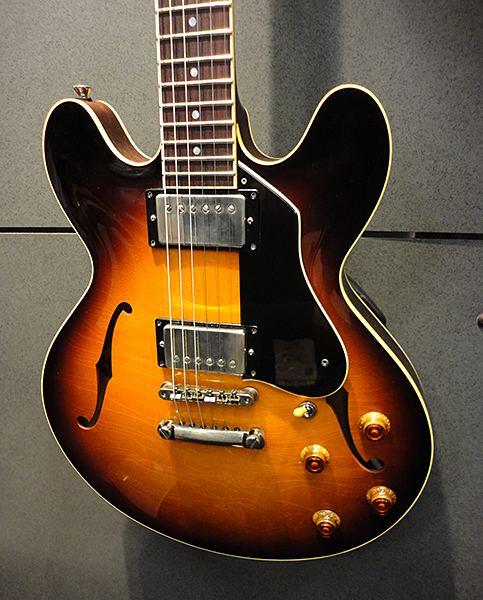 Here a slightly "oldifyed" version of the excellent I-35lc, a most wonderful guitar.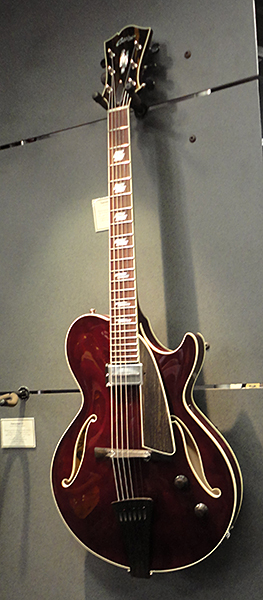 If I could bring home one guitar from the show this year it would probably be this Eastside Jazz. A supremely comfortable jazz guitar that oozes character.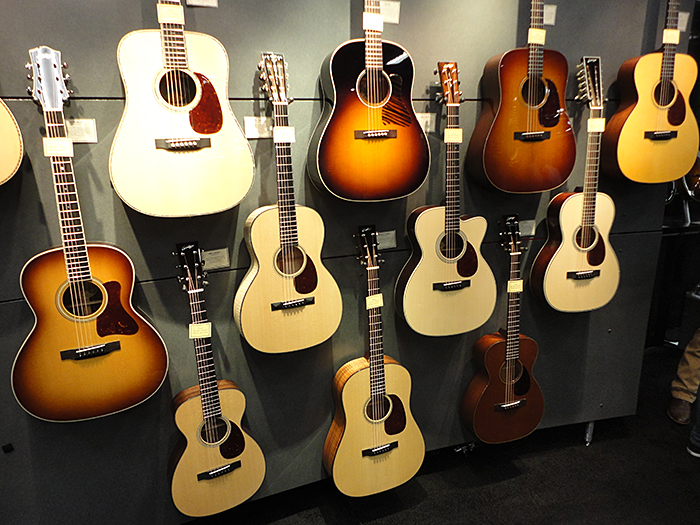 WHen people ask me if I prefer Martin or Gibson acoustics I always answer Collings. This is where its at for me.
Cruz Tools /GrooveTech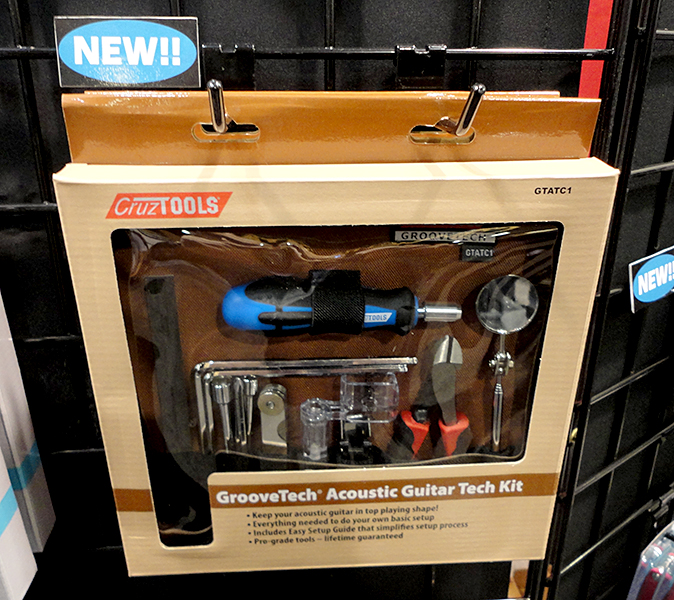 New for NAMM 2019 was a name change for the company to Groove Tech and this Acoustic Guitar Tech Kit. All you need to care for your acoustic guitars.
D'Angelico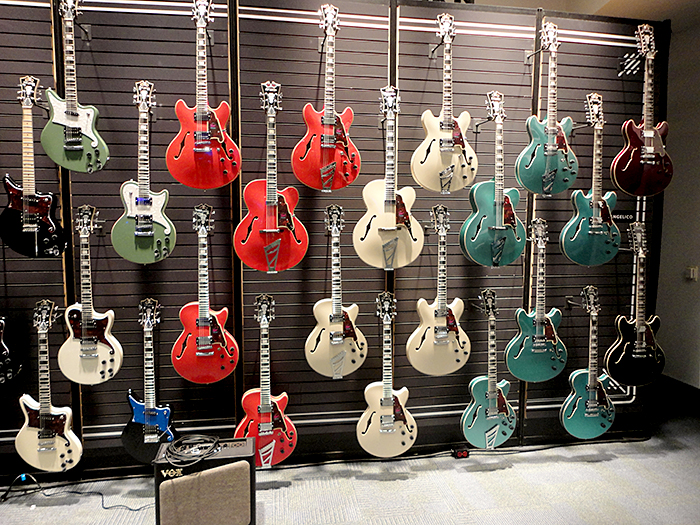 D'Angelico always have loads of colours for their guitars. This year was no different.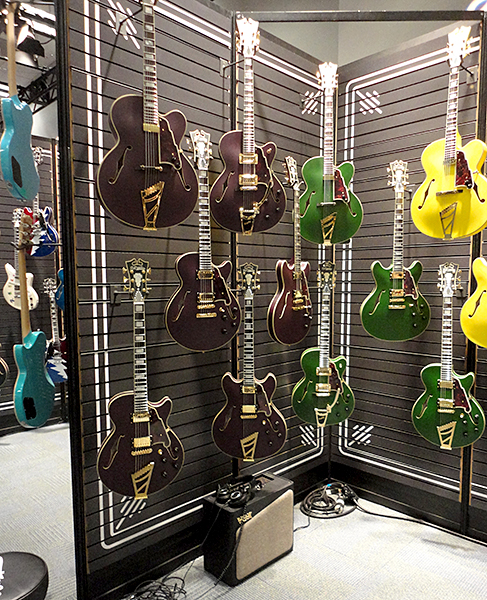 Any model in any colour!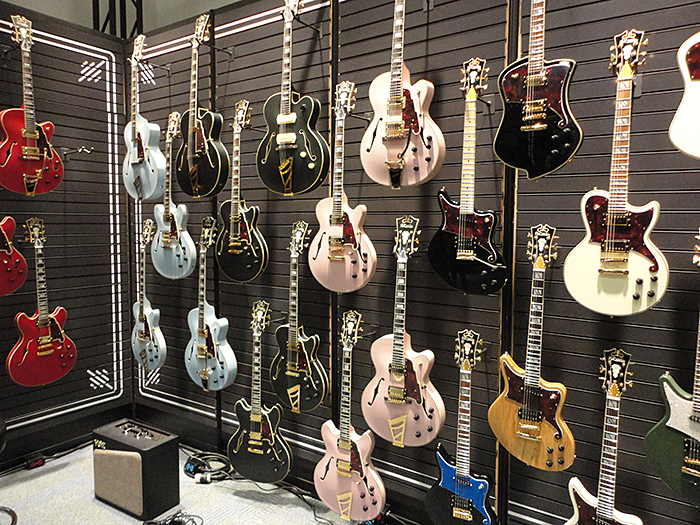 Maybe and Excel in pink or baby blue?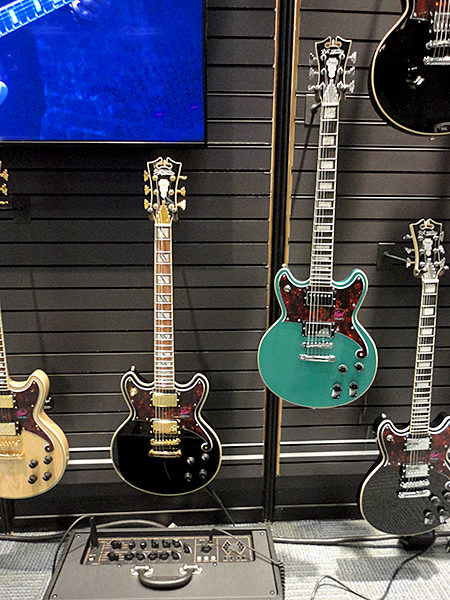 New solid body model for 2019.
Danelectro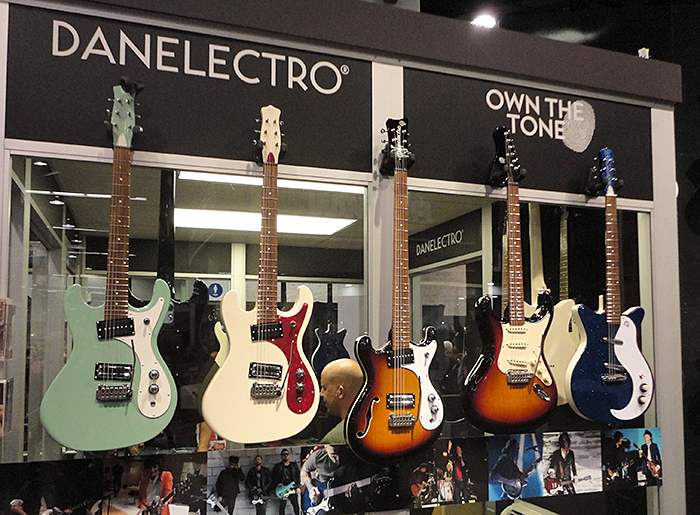 Some Mosrite inspired guitars from Danelectro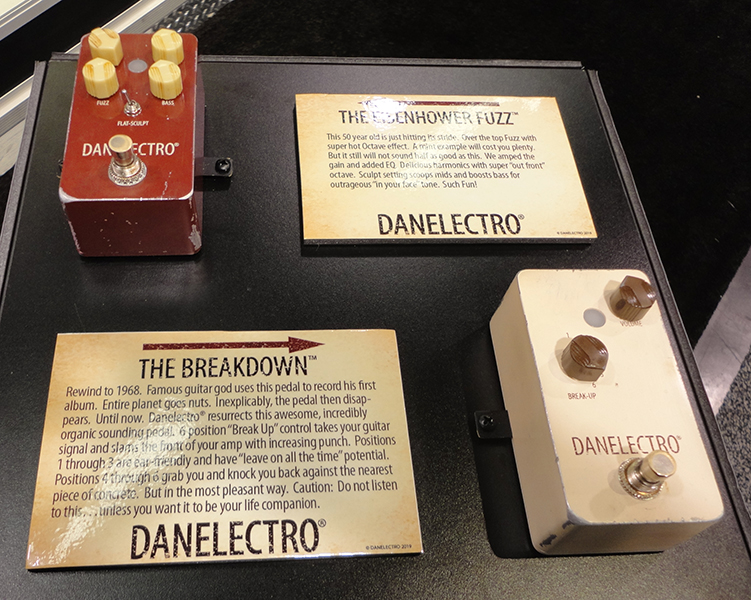 Two new pedals saw the light of day.The Breakdown boost/OD and the Eisenhower Octave Fuzz.
Darkglass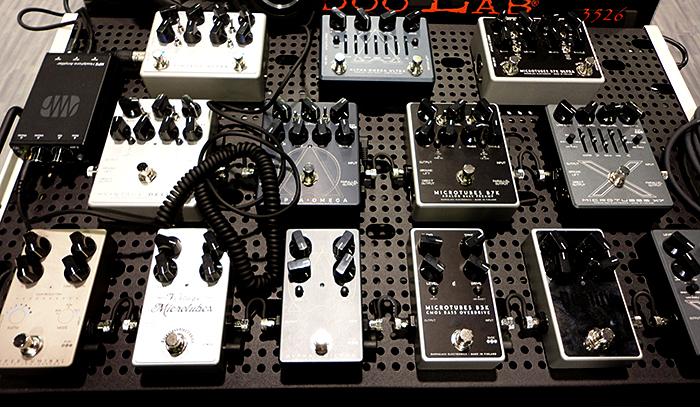 All the way from Finland, a pedalboard of goodies for the bass player.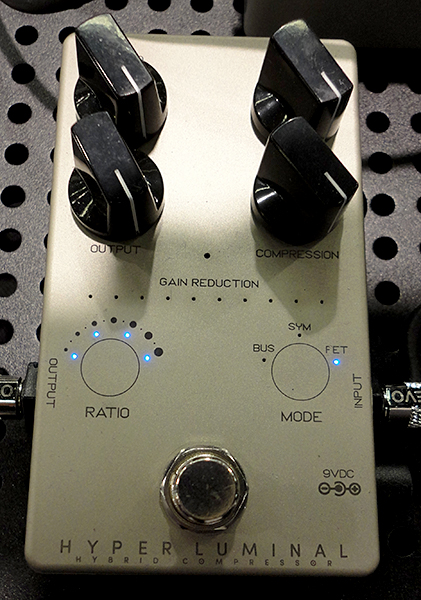 The Hyperluminal compressor has a few tricks upp its sleeve with touch sensors for Ratio and Mode. Mode selcts between three kinds of totally analog compressor models, BUS which is an SSL bus comp, FET wich is inspired by the legendary 1176 and the SYM which is Darkglass' discontinued Super Symmetry compressor.
Di Donato Guitars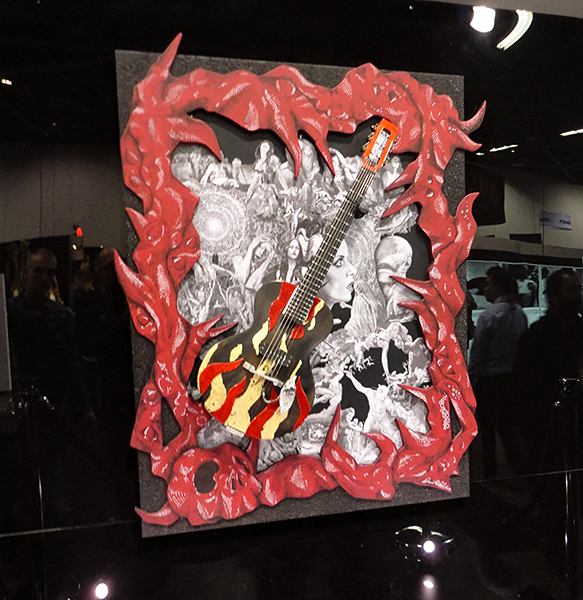 Luthier Di Donato was a part of the Boutique Guitar Showcase booth that gathered a number of fantastic luthiers. Some I've heard of, some I've met and some were new to me. Common to all of them is that they see guitar making as much as making art as making great guitars as the picture above clearly indicates.
Diamond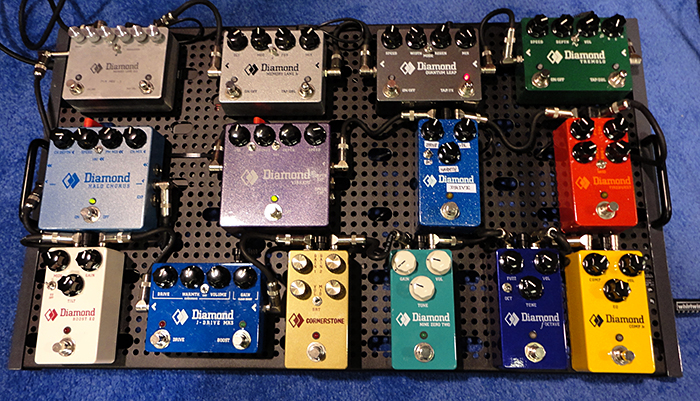 New for NAMM 2019 was the Diamond Drive, a small box Boost-EQ and Memory Lane Dlx.
Dingwall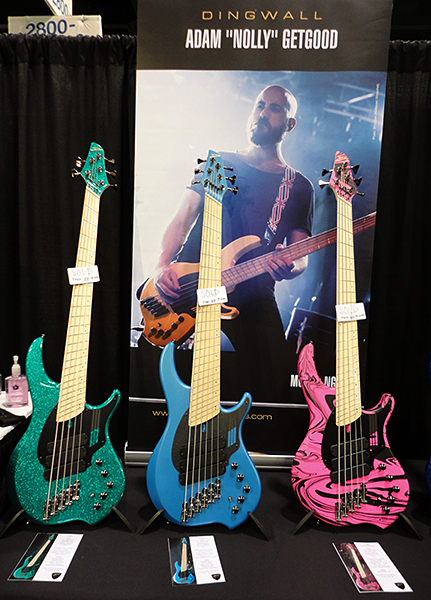 The people at Dingwall matches the fanned frets with fanned pickups and cool finishes.
Dusenberg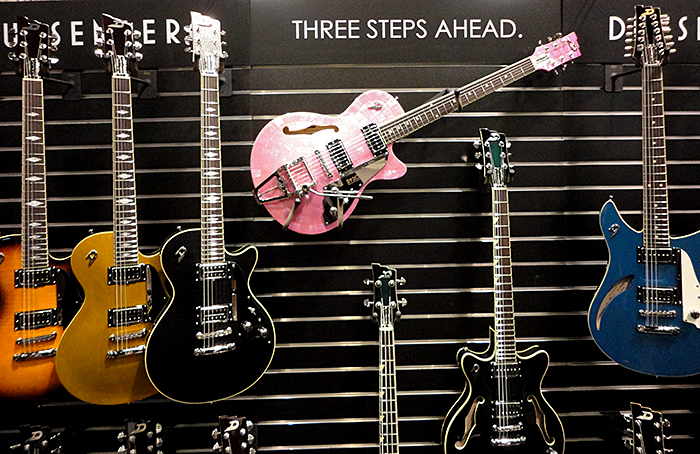 Dusneberg carries on with their loving design references to Gretsch and Rickenbackers ad I really like them.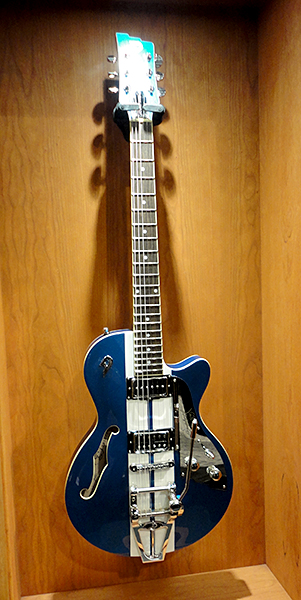 I especially like this two-tone in blue and white.
Empress
Empress wins the race towards getting to most knobs, buttons and switches on a pedal. But regardless of what you may think of that, Empress is a very innovatioe company that make great sounding pedals. The upside to the many controls is that the pedals are very versatile.
Ernie Ball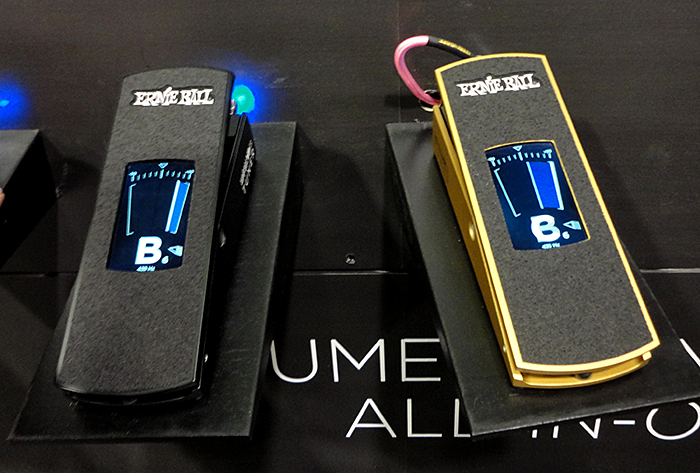 Now, where did I put that tuner again? With Erine Ball's new volume pedal with a built in tuner you never have to ask yourself that again.
ESP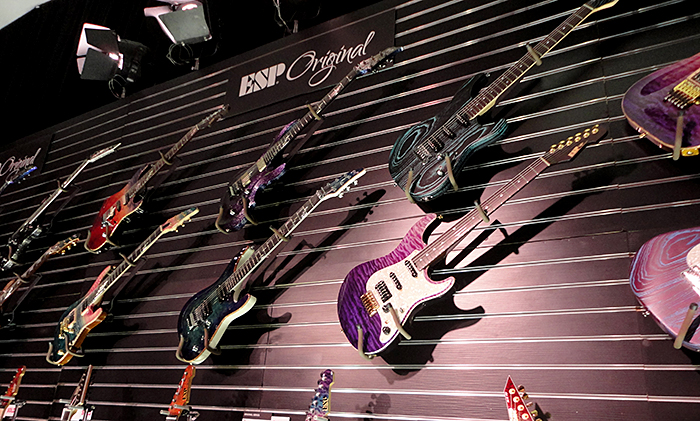 ESP continue their tradition of a custom shop wall un their booth. Unfortunately they also continue their use of coloured lights so it makes it hard to get good pictures.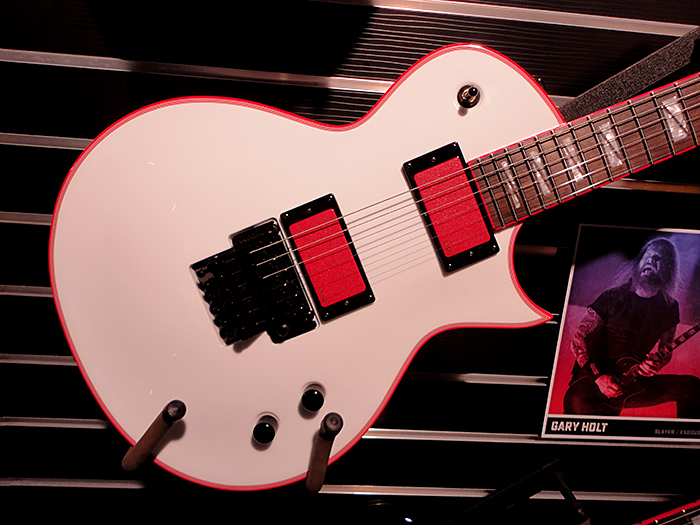 White guitar with red binding and matching EMG pickups.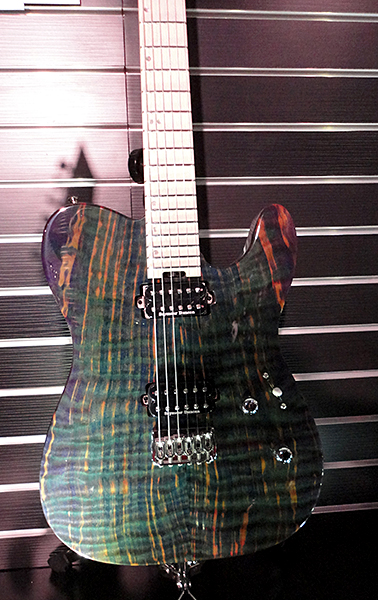 Interesting finish on this ESP.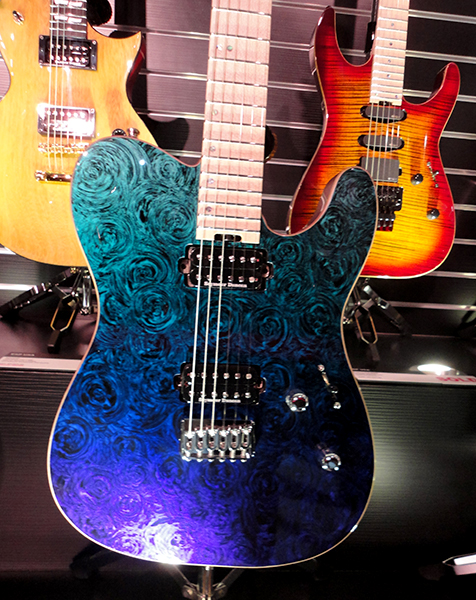 Faded flower something finish.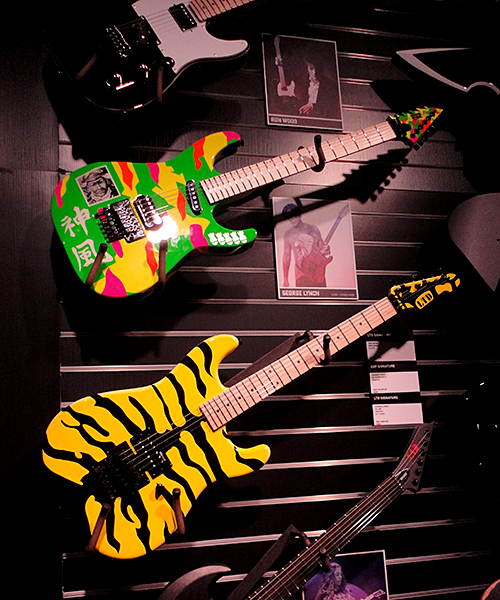 At the less expensive end of things, you'll find the Ltd range of guitars. Good bang for the buck!