Holy Grail Guitar Show 2015
Springer Guitars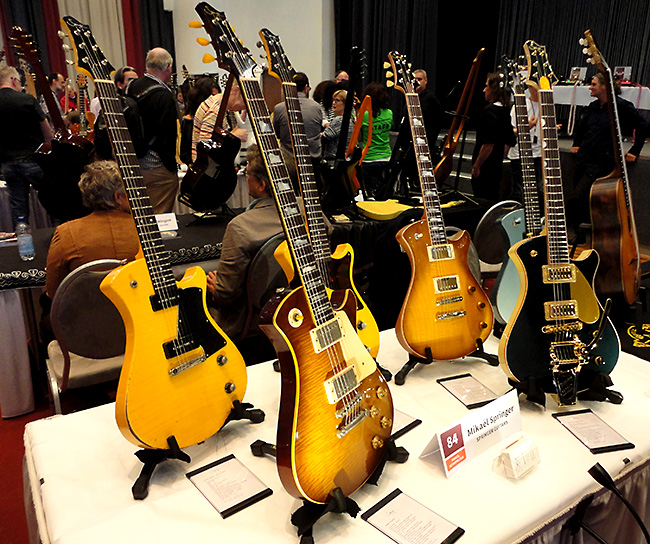 Mikael Springer continues to impress with his impeccable set-neck builds.
| | | |
| --- | --- | --- |
| This guitar was built to capture the sound, feel an essence of an old sunburst. | | |
| | | |
| --- | --- | --- |
| | | The finish is wonderful and the flame is so nice without being flambuoyantly over the top. Definitely one of the highlights of the show. |
| | | |
| --- | --- | --- |
| If you like, you can get the same model with other electronics and an, oh so comfortable, belly contour.. | | |
| | | |
| --- | --- | --- |
| | | If a slightly reliced, P90 Special style version is more your thing, then Mikael will be more than happy to accommodate you. |
| | | |
| --- | --- | --- |
| Mikael Springer looking happy with his guitar. I would look happy too, if I could build something like that. | | |
Steinbrecher Guitars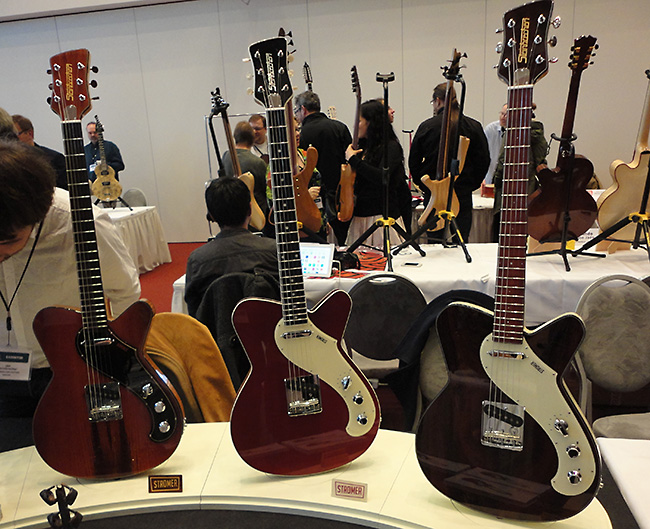 I love how some builders mix'n'match different design elements and comes up with something new that still looks instantly familiar. My eyes are seeing traces of Tele, Danelectro and Rickanbacker here.
Stoll Guitars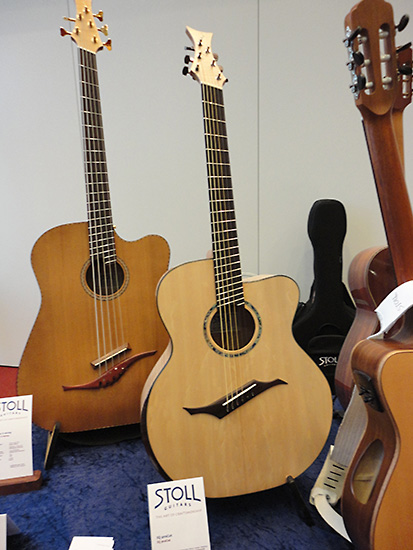 Christian Stoll has his own visions when it comes to acoustic guitars. I found his guitars to be special in a very good way.

| | | |
| --- | --- | --- |
| | | One of my favourite acoustics at the show. The soundhole on the top makes more of a difference than you might think. The arm contour makes it comfortable. I wish I could sit down for a full day with this guita and just find out the many nuances it has and maybe compare it with some other nice acoustic to see/hear what the slanted bridge brings to the equation. |
| | | |
| --- | --- | --- |
| I love the "double figuring" of the side wood. | | |
| | | |
| --- | --- | --- |
| | | The way Christian has let the arm contour be a continuation of the top binding is a touch of his creative genius and the wood is beautiful. |
| | | |
| --- | --- | --- |
| Christian Stoll posing at my request. While his guitar is indicative of the intrument quality at the show, his smile is equally indicative of the poitive mood among exhibitors and visitors alike. | | |
| | | |
| --- | --- | --- |
| | | A peek at the back not only shows some beautifully flamed maple but also an interesting neck joint. |
Tao Guitars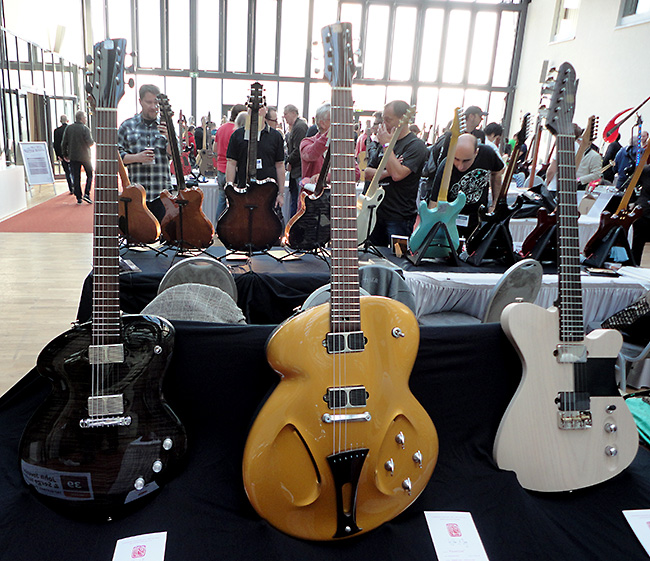 John Jouveniaux and Serge Michiels of Tao Guitars always strike me a truly individual designers. I always thought their big reverse style bodies would be cumbersome and difficult to play, but a short try-out proved me wrong.
Tausch Electric Guitars
Rainer Tausch makes a very interesting guitar with unusual wood choices and scale length. His 665 model has been one of the guitars that I have thought about the most since the HGGS 2014. While this may look like a bolt-on neck construction, it is actually a gled set-neck Rainer has developed.

This artwork is something I like a lot.
| | | |
| --- | --- | --- |
| Rainer's take on the Kalamzoo classic is his 659 model. | | |
| | | |
| --- | --- | --- |
| | | A mix of popular features in a guitar that is very much a Tausch. |
Teuffel
Ulrich Teuffel is without doubt one of the true visionaries in the guitar world I inhibit. In my opinion, nobody is a s free in his thinking as Ulrich and this is evident in every design he makes. His skills with metal, wood, alternative material and electronics is also evident. His interest in the physics of the guitar combined with his respect for the guitar building tradition and the playing guitarist makes him extremely interesting to listen to. I have been fortunate to have several conversations with him over the years and I always come away in awe of the man. In case you have guessed it yet, I'm a definite fan of his work.

Here's the anniversary model of the Birdfish.
| | | |
| --- | --- | --- |
| Here's one of the first original Birdfish guitars that Ulrich displayed at the Frankfurt Musik Messe many years ago. That was the first time I met Ulrich. | | |
| | | |
| --- | --- | --- |
| | | This is last years Birdfish edition.. |
TLL Guitars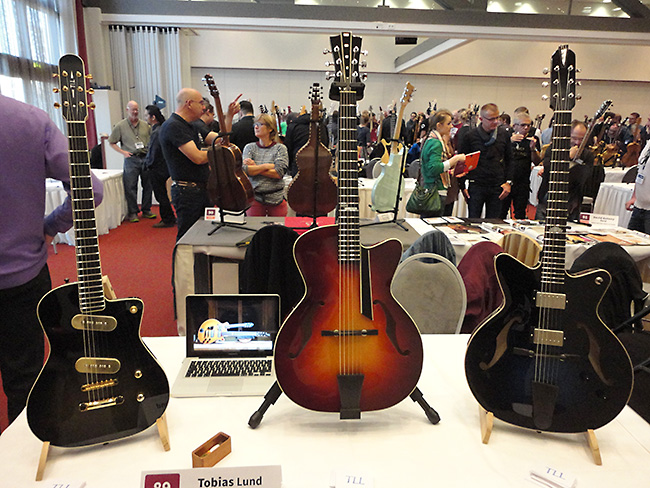 Behind the somewhat anonymous brand name of TLL Guitars, we find Swedish luthier Tobias Lund Lindberg. He brought with him these three Art Deco inspired beauties. One very cool thing about these guitars is that Tobias has designed each guitar as a total entity. Some builders develop a shape and a headstock and then everything is based on that. I'm not critisizing this approach in any way, but I do realize the creative effort it must take to design a new headstock for every guitar as we all know how much the headstock design means to us. And I think all these guitars look great and the headstock design on each is just right for them.
| | | |
| --- | --- | --- |
| | | Art Deco, indeed! |
| | | |
| --- | --- | --- |
| The with edge on two sides of the pick´guard enhances its form factor and its importance as a design element. I tried this guitar and it has excellent acoustic qualities. | | |
| | | |
| --- | --- | --- |
| | | Tobias Lund Lindberg himself! |
Tyyster Guitars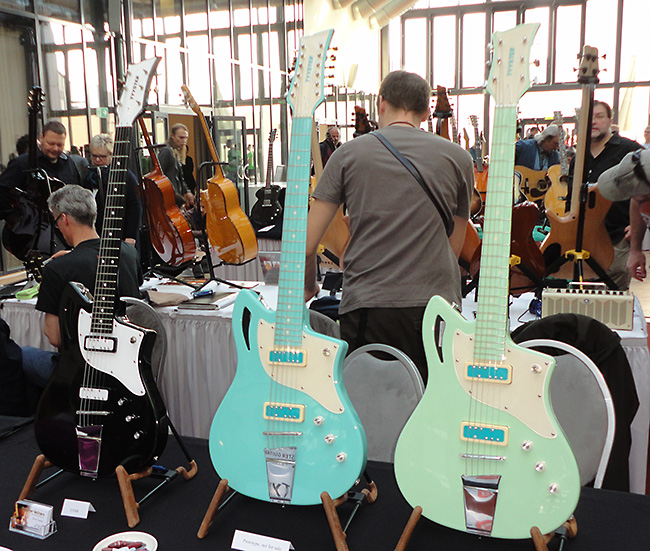 The first time I saw Ville Tyster's guitars, I thought they were made of plastic. After a quick inquery, I realized that they are made of metal with a pastic looking finish. These guitars have a carachter
The pickups are of a single coil split design.
Vice Guitars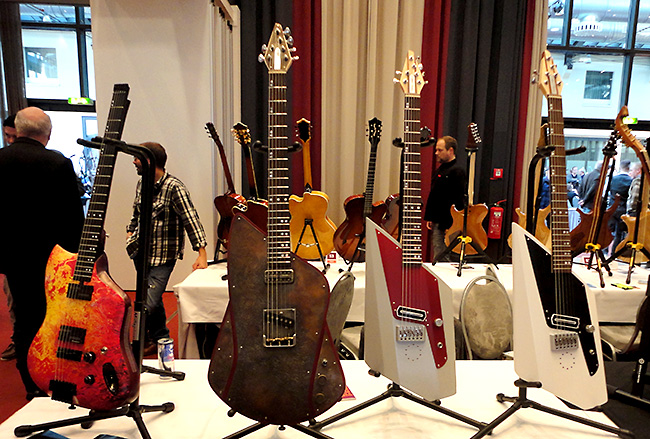 Combining modern tooling like CNC with old world craftsmanship, Vice Brekalo builds guitars using materials like wood, aluminum and corbon. I think the shapes are very well deisplayed on his table with being somewhat rounded to the left and then getting progressivly straighter and edgier to the right. I like the grey with the red pickguard.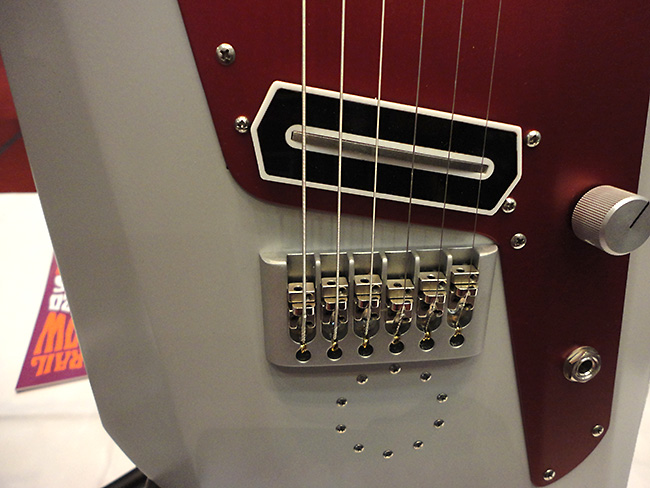 I've never seen this bridge befor, but I think it looks very appropriate for the guitar.
| | | |
| --- | --- | --- |
| | | There's an air of "no-nonsens" about this guitar. |
Wild Customs
| | | |
| --- | --- | --- |
| | | Like last year, Wild Customs from France displayed a guitar made out of a single piece of wood (except for the fingerboard) which they displaed in a "guitar hanger" made of the same piece of wood from which they made the guitar. The guitar looks great and the display idea is definitely gallery grade. |
Wingert Guitars
Kathy Wingert came all the way from San Pedro, California with her guitars and some excellent conversation. It never ceases to amaze me how much knowledge there is in this business. And how generous the luthiers are in sharing it.

In this picture Kathy is showing her fan fret guitar.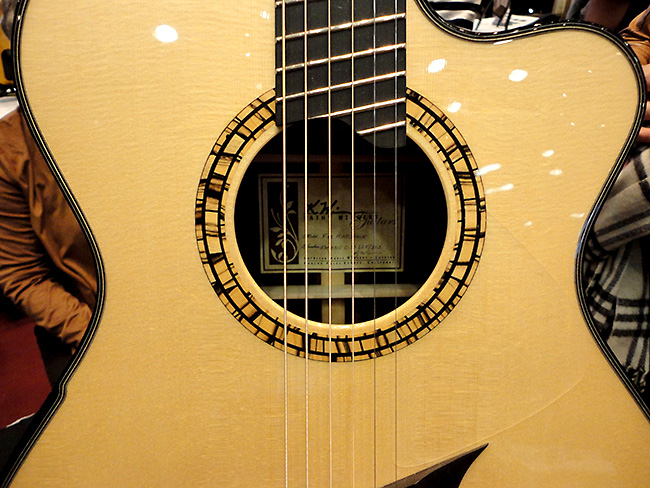 The roseete of an acoustic is, in my eyes, a very important part of how I percieve it as an entity of art. I like this one.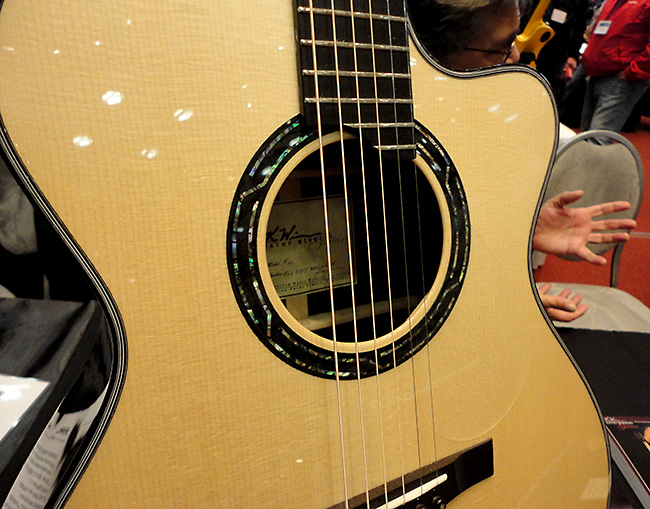 This is the rosette from her other guitars with ordinary fretting.
The end
Last year I ended my report by saying you should bring your partner to Berlin and make it into a "together thing". Well, I took myself seriously and my wife tagged along and she even spent some time with me at the show. Now she has a greater understanding of why I love guitars, she has seen first hand and remarked on the astounding dedication the luthiers have to their art and she has started her very own pick collection. We now have something in common. :-)
I would like to thank the European Guitar Builders Association for putting this show together and all the exhibitors for their warm welcome and willingness to share both their knowledge and their stories. You make this world a better place.
Cheers,
Mats N